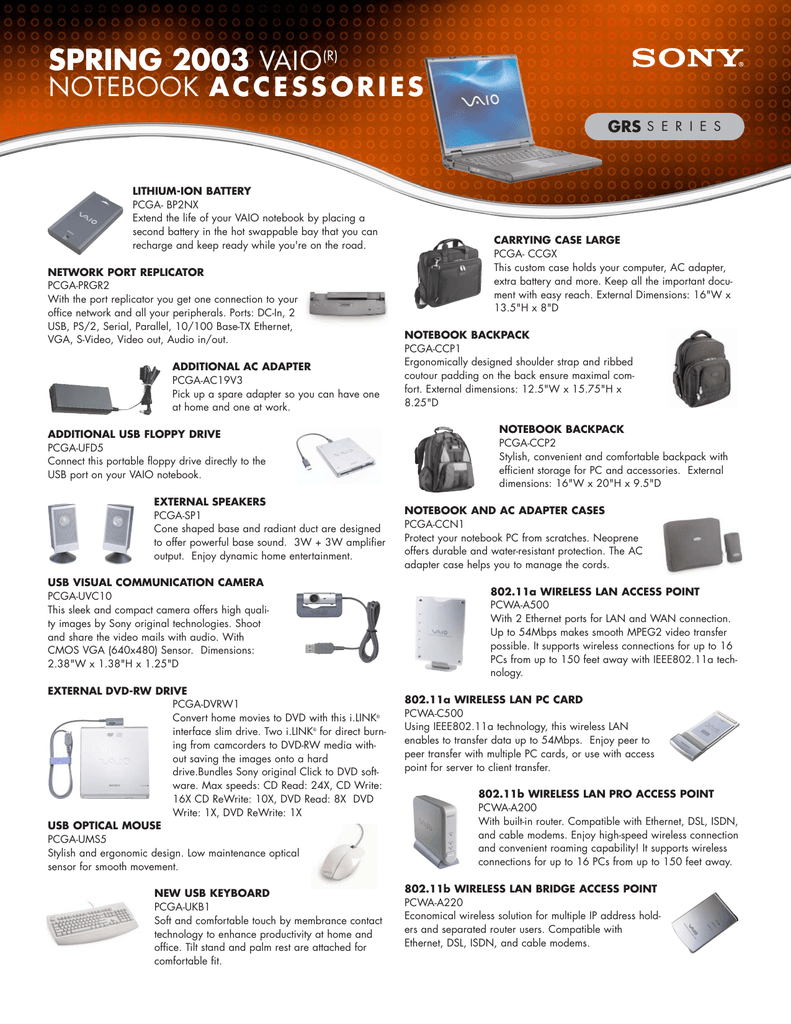 SPRING 2003 VAIO(R)
NOTEBOOK A C C E S S O R I E S
GRS S E R I E S
LITHIUM-ION BATTERY
PCGA- BP2NX
Extend the life of your VAIO notebook by placing a
second battery in the hot swappable bay that you can
recharge and keep ready while you're on the road.
NETWORK PORT REPLICATOR
PCGA-PRGR2
With the port replicator you get one connection to your
office network and all your peripherals. Ports: DC-In, 2
USB, PS/2, Serial, Parallel, 10/100 Base-TX Ethernet,
VGA, S-Video, Video out, Audio in/out.
ADDITIONAL AC ADAPTER
PCGA-AC19V3
Pick up a spare adapter so you can have one
at home and one at work.
ADDITIONAL USB FLOPPY DRIVE
PCGA-UFD5
Connect this portable floppy drive directly to the
USB port on your VAIO notebook.
EXTERNAL SPEAKERS
PCGA-SP1
Cone shaped base and radiant duct are designed
to offer powerful base sound. 3W + 3W amplifier
output. Enjoy dynamic home entertainment.
USB VISUAL COMMUNICATION CAMERA
PCGA-UVC10
This sleek and compact camera offers high quality images by Sony original technologies. Shoot
and share the video mails with audio. With
CMOS VGA (640x480) Sensor. Dimensions:
2.38"W x 1.38"H x 1.25"D
EXTERNAL DVD-RW DRIVE
PCGA-DVRW1
Convert home movies to DVD with this i.LINK®
interface slim drive. Two i.LINK® for direct burning from camcorders to DVD-RW media without saving the images onto a hard
drive.Bundles Sony original Click to DVD software. Max speeds: CD Read: 24X, CD Write:
16X CD ReWrite: 10X, DVD Read: 8X DVD
Write: 1X, DVD ReWrite: 1X
USB OPTICAL MOUSE
PCGA-UMS5
Stylish and ergonomic design. Low maintenance optical
sensor for smooth movement.
NEW USB KEYBOARD
PCGA-UKB1
Soft and comfortable touch by membrance contact
technology to enhance productivity at home and
office. Tilt stand and palm rest are attached for
comfortable fit.
CARRYING CASE LARGE
PCGA- CCGX
This custom case holds your computer, AC adapter,
extra battery and more. Keep all the important document with easy reach. External Dimensions: 16"W x
13.5"H x 8"D
NOTEBOOK BACKPACK
PCGA-CCP1
Ergonomically designed shoulder strap and ribbed
coutour padding on the back ensure maximal comfort. External dimensions: 12.5"W x 15.75"H x
8.25"D
NOTEBOOK BACKPACK
PCGA-CCP2
Stylish, convenient and comfortable backpack with
efficient storage for PC and accessories. External
dimensions: 16"W x 20"H x 9.5"D
NOTEBOOK AND AC ADAPTER CASES
PCGA-CCN1
Protect your notebook PC from scratches. Neoprene
offers durable and water-resistant protection. The AC
adapter case helps you to manage the cords.
802.11a WIRELESS LAN ACCESS POINT
PCWA-A500
With 2 Ethernet ports for LAN and WAN connection.
Up to 54Mbps makes smooth MPEG2 video transfer
possible. It supports wireless connections for up to 16
PCs from up to 150 feet away with IEEE802.11a technology.
802.11a WIRELESS LAN PC CARD
PCWA-C500
Using IEEE802.11a technology, this wireless LAN
enables to transfer data up to 54Mbps. Enjoy peer to
peer transfer with multiple PC cards, or use with access
point for server to client transfer.
802.11b WIRELESS LAN PRO ACCESS POINT
PCWA-A200
With built-in router. Compatible with Ethernet, DSL, ISDN,
and cable modems. Enjoy high-speed wireless connection
and convenient roaming capability! It supports wireless
connections for up to 16 PCs from up to 150 feet away.
802.11b WIRELESS LAN BRIDGE ACCESS POINT
PCWA-A220
Economical wireless solution for multiple IP address holders and separated router users. Compatible with
Ethernet, DSL, ISDN, and cable modems.

* Your assessment is very important for improving the work of artificial intelligence, which forms the content of this project