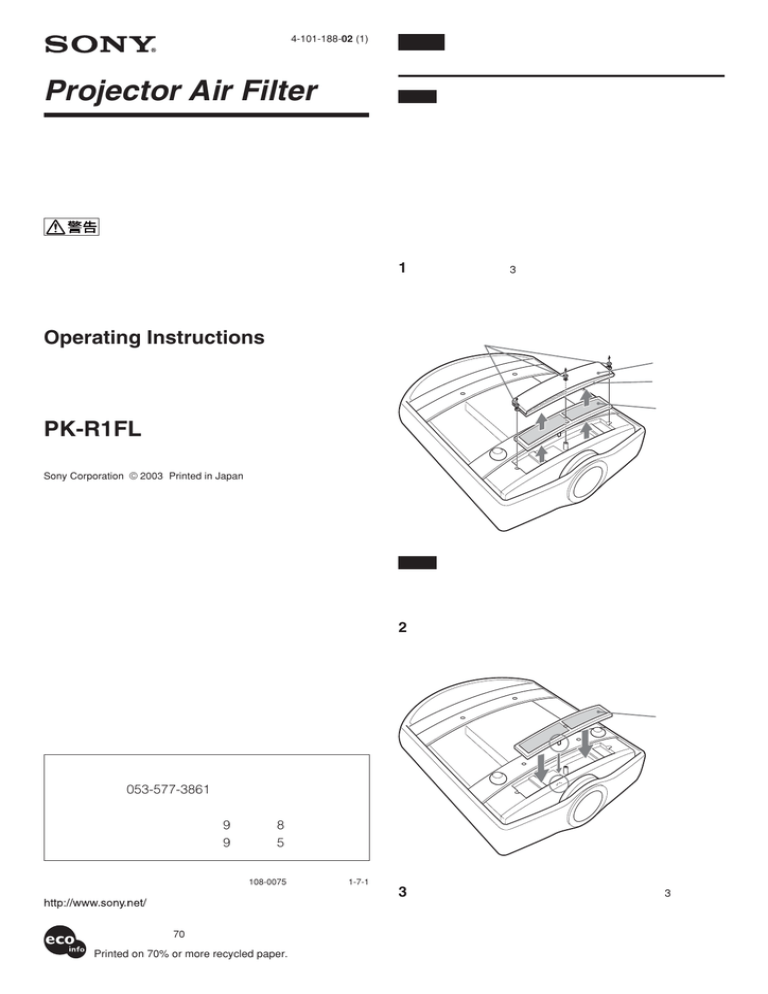 4-101-188-02 (1)
Projector Air Filter
1
3
Operating Instructions
PK-R1FL
Sony Corporation © 2003 Printed in Japan
2
053-577-3861
9
9
8
5
108-0075
1-7-1
3
70
Printed on 70% or more recycled paper.
3
English
Replacing the Air Filter
Notes
• When removing the air filter from the projector, take care that
no dust or object gets into the inside of the projector.
• Whenever you replace the lamp unit, be sure to replace the
air filter with a new one.
The illustrations below show the case when the air filter is
replaced with the projector installed on the ceiling.
If you replace the air filter with the projector placed on a table
or floor, place a protective sheet (cloth) and turn the projector
over so you can see its underside.
1
Loosen the three screws on the filter holder to remove
the air filter cover and filter holder, then remove the air
filter.
Screws
Air filter cover
Filter holder
Air filter
Note
The air filter cover is used only when the projector is installed
on a ceiling.
2
Insert a new air filter into the projector so that the
projection part on the air filter is aligned with a hole on
the projector.
Air filter
3
Replace the filter holder and air filter cover, then fasten
the three screws.

* Your assessment is very important for improving the work of artificial intelligence, which forms the content of this project