Sony SDM-HS75PS Specification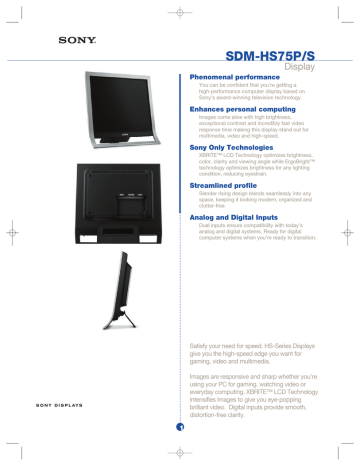 SDM-HS75P/S
Display
Phenomenal performance
You can be confident that you're getting a
high-performance computer display based on
Sony's award-winning television technology.
Enhances personal computing
Images come alive with high brightness,
exceptional contrast and incredibly fast video
response time making this display stand out for
multimedia, video and high-speed.
Sony Only Technologies
XBRITE™ LCD Technology optimizes brightness,
color, clarity and viewing angle while ErgoBright™
technology optimizes brightness for any lighting
condition, reducing eyestrain.
Streamlined profile
Slender rising design blends seamlessly into any
space, keeping it looking modern, organized and
clutter-free.
Analog and Digital Inputs
Dual inputs ensure compatibility with today's
analog and digital systems. Ready for digital
computer systems when you're ready to transition.
Satisfy your need for speed. HS-Series Displays
give you the high-speed edge you want for
gaming, video and multimedia.
Images are responsive and sharp whether you're
using your PC for gaming, watching video or
everyday computing. XBRITE™ LCD Technology
intensifies images to give you eye-popping
brilliant video. Digital inputs provide smooth,
distortion-free clarity.
SDM-HS75P/S
Display
Sony Electronics Inc.
16765 West Bernardo Drive
San Diego, CA 92127
1-866-357-7669
www.sony.com/displays
Model
SDM-HS75P/S
Model
SDM-HS75P/B
Viewable Image Size
17"
Color
Black with Black Chassis
X-BRITE™ LCD Technology
Native Resolution
1280 x 1024
Pixel Pitch
.264mm H/V
Horizontal Scan (kHz)
28k - 80 kHz
Vertical Refresh (Hz)
48-75Hz
Response Time
8ms
Luminance
400 cd/m2
Contrast Ratio
600:1
Viewing Angle
160 degree/ 160 degree
Tilt Range
0º to +20º
Video Input Connector
HD-15 (analog), DVI-D (digital)
Internal Power Supply
Yes
Power Management
45W (max), 36W (normal), 1W (sleep),
1W (off)
Color Systems
16.2 million
Product Measurements
15.3" x 15.1~13.7" x 5.5~8.1", Weight=
11.0 lbs.
ErgoBright™ Technology
High: 420cd/m2
ErgoBright™ Technology
Middle: 350cd/m2
ErgoBright™ Technology
250cs/m2
ErgoBright™ Technology
Auto/User: Auto 150~300cd/m2
ErgoStand™ System
Height: Ergonomic Fixed Height
Vesa Wall/Arm Mount
75mm
Kensington Lock
Compatible
ErgoBright™ Technology
High (typ.) Game: 36W
ErgoBright™ Technology
Middle (typ.) Movie: 35W
ErgoBright™ Technology
Low (typ.) PC: 30W
Limited Warranty
3 years (Parts, Labor, Backlight)
On Screen Control
Power, Menu, Contrast, Brightness, Eco
Modes, Color Temp, R/B Adj, Auto Input
Sense, Backlight, Auto Adjust, H/V Adjust,
Phase, Pitch, Reset, Gamma, Sharpness,
Menu Lock, OSD Position, Multi Lang.
(Eng, Fre, Spa, Ita, Ger, Jap, Dut, Swe,
Rus, Chi)
Regulation Compliance
UL, cUL, FCC, IC, Intl Energy Star, Eco
Info; Windows Logo Compliance,
Windows XP®; Macintosh®; Plug and
Play; DDC 2B
Size (H x W x D)
15 3/10 x 15 1/10~13 7/10 x 5 1/2~ 8
1/10" (389 x 384 ~348 x 140~206mm)
Weight
11 lbs (5 Kg)
Supplied Accessories
CD-ROM User Manual
AC Power Cord
Quick Setup Guide
Windows® & Macintosh® Utility Files
HD15 Video Signal Cable
Warranty Card
DVI Digital Cable
©2004 Sony Electronics Inc.
All rights reserved. Sony, ErgoBright, ErgoStand and
XBright are trademarks of Sony. All other
trademarks are property of their respective owners.

* Your assessment is very important for improving the work of artificial intelligence, which forms the content of this project