Controls, Connectors, and Access Points Initial Start Up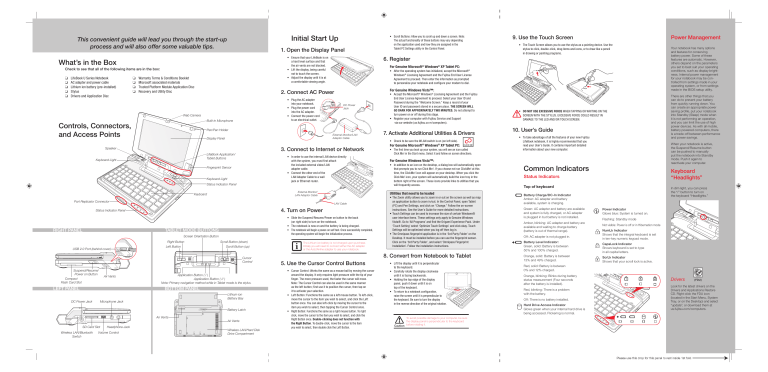 Initial Start Up
This convenient guide will lead you through the start-up
process and will also offer some valuable tips.
1. Open the Display Panel
• Ensure that your LifeBook is on
a hard level surface and that
the air vents are not blocked.
• Lift the display, being careful
not to touch the screen.
• Adjust the display until it is at
a comfortable viewing angle.
What's in the Box
Check to see that all of the following items are in the box:
❏
❏
❏
❏
❏
LifeBook U Series Notebook
AC adapter and power cable
Lithium ion battery (pre-installed)
Stylus
Drivers and Application Disc
❏
❏
❏
❏
Warranty Terms & Conditions Booklet
Microsoft associated materials
Trusted Platform Module Application Disc
Recovery and Utility Disc
Web Camera
Built-in Microphone
Controls, Connectors,
and Access Points
For Genuine Windows Vista™:
DC Power
Jack
• Accept the Microsoft ® Windows® Licensing Agreement and the Fujitsu
End User License Agreement to proceed. Select your User ID and
Password during the "Welcome Screen." Keep a record of your
User ID and password stored in a secure place. THE SCREEN WILL
GO DARK FOR APPROXIMATELY TWO MINUTES. Do not attempt to
turn power on or off during this stage.
• Register your computer with Fujitsu Service and Support
via our website (us.fujitsu.co m/computers).
7. Activate Additional Utilities & Drivers
• Check to be sure the WLAN switch is on (on left side).
®
3. Connect to Internet or Network
Keyboard Light
• In order to use the internal LAN device directly
with the system, you must first attach
the included external video/LAN
adapter cable.
• Connect the other end of the
LAN Adapter Cable to a wall
jack or Ethernet router.
Fingerprint Sensor
Keyboard Light
Status Indicator Panel
External Monitor/
LAN Adaptor Cable
Keyboard
Port Replicator Connector
4. Turn on Power
• Slide the Suspend/Resume/Power on button to the back
(on right side) to turn on the notebook.
• The notebook is now on and the battery is being charged.
• The notebook will begin a power-on self test. Once successfully completed,
the operating system will begin the initialization process.
TABLET MODE BUTTONS
Screen Orientation Button
Right Button
USB 2.0 Port (behind cover)
Left Button
Scroll Button (down)
Scroll Button (up)
Cursor
Control
Suspend/Resume/
Power on Button
Compact
Flash Card Slot
Air Vents
Application Button ( / )
Application Button ( // )
Note: Primary navigation method while in Tablet mode is the stylus.
BOTTOM PANEL
LEFT PANEL
Lithium ion
Battery Bay
DC Power Jack
Microphone Jack
Battery Latch
Air Vents
Air Vents
SD Card Slot
Wireless LAN/Bluetooth
Switch
Headphone Jack
Volume Control
Wireless LAN/Hard Disk
Drive Compartment
CLICK ME
• The first time you boot up your system, you will see an icon called
Click Me! in the Start menu. Select it and follow on screen directions.
The Lithium ion battery is not charged upon purchase.
Initially you will need to connect either the AC adapter
or the Auto/Airline adapter to use your notebook.
• The Zoom utility allows you to zoom in or out on the screen as well as map
an application button to zoom in/out. In the Control Panel, open Tablet
(PC) and Pen Settings, and click on "Change." Follow the on-screen
instructions. See the User's Guide for more detailed instructions.
• Touch Settings can be used to increase the size of certain Windows®
user interface items. These settings only apply to Genuine Windows
Vista®. Go to 'All Programs' and find the Origami Experience Pack. Under
'Touch Setting' select 'Optimize Touch Settings' and click okay. Touch
Settings will be optimized when you log off then log in.
• The Omnipass fingerprint application is in the '3rd Party Folder' on the
Desktop. It must be installed before you can use the fingerprint sensor.
Click on the '3rd Party Folder', and select 'Omnipass Fingerprint
Installation'. Follow the installation instructions.
8. Convert from Notebook to Tablet
5. Use the Cursor Control Buttons
• Cursor Control: Works the same as a mouse ball by moving the cursor
around the display. It only requires light pressure with the tip of your
finger. The more pressure used, the faster the cursor will move.
Note: The Cursor Control can also be used in the same manner
as the left button; first use it to position the cursor, then tap on
it to activate your selection.
• Left Button: Functions the same as a left mouse button. To left-click,
move the cursor to the item you wish to select, and click the Left
button once. You can also left-click by moving the cursor to the
item you wish to select, then tapping the Cursor Control once.
• Right Button: Functions the same as a right mouse button. To right
click, move the cursor to the item you wish to select, and click the
Right Button once. Double-clicking does not function with
the Right Button. To double-click, move the cursor to the item
you wish to select, then double click the Left Button.
• DO NOT USE EXCESSIVE FORCE WHEN TAPPING OR WRITING ON THE
SCREEN WITH THE STYLUS. EXCESSIVE FORCE COULD RESULT IN
DAMAGE TO THE LED AND/OR TOUCH SCREEN.
10. User's Guide
• To take advantage of all the features of your new Fujitsu
LifeBook notebook, it is highly recommended that you
read your User's Guide. It contains important detailed
information about your new computer.
• Lift the display until it is perpendicular
to the keyboard.
• Carefully rotate the display clockwise
until it is facing backwards.
• Holding the top edge of the display
panel, push it down until it is on
top of the keyboard.
• To return to a notebook configuration,
raise the screen until it is perpendicular to
the keyboard. Be sure to turn the display
in the reverse direction of the original rotation.
To avoid possible damage to your computer, be sure
the display panel is perpendicular to the keyboard
Caution before rotating it.
Common Indicators
Top of keyboard
In dim light, you can press
the "/" button to turn on
the keyboard "Headlights."
Battery Charge/DC-In Indicator
Amber: AC adapter and battery
available, system is charging.
Amber, blinking: AC adapter and battery are
available and waiting to charge battery
(battery is out of thermal range).
Off: AC adapter is not plugged in.
Battery Level Indicator:
Green, solid: Battery is between
50% and 100% charged.
Orange, solid: Battery is between
13% and 49% charged.
There are other things that you
can do to prevent your battery
from quickly running down. You
can create an appropriate power
saving profile, put your notebook
into Standby (Sleep) mode when
it is not performing an operation,
and you can limit the use of high
power devices. As with all mobile,
battery powered computers, there
is a trade-off between performance
and power savings.
Keyboard
"Headlights"
Status Indicators
Green: AC adapter and battery are available
and system is fully charged, or AC adapter
is plugged in but battery is not installed.
Your notebook has many options
and features for conserving
battery power. Some of these
features are automatic. However,
others depend on the parameters
you set to best suit your operating
conditions, such as display brightness. Internal power management
for your notebook may be controlled from settings made in your
operating system, or from settings
made in the BIOS setup utility.
When your notebook is active,
the Suspend/Resume button
can be pushed to manually
put the notebook into Standby
mode. Push it again to
reactivate your computer.
For Genuine Windows Vista™:
• In addition to an icon on the desktop, a dialog box will automatically open
that prompts you to run Click Me!. If you choose not run ClickMe! at this
time, the ClickMe! icon will appear on your desktop. When you click the
Click Me! icon, your system will automatically build the icon tray in the
bottom right of the screen. These icons provide links to utilities that you
will frequently access.
Utilities that need to be loaded
LAN Cable
Status Indicator Panel
RIGHT PANEL
®
For Genuine Microsoft Windows XP Tablet PC:
LifeBook Application/
Tablet Buttons
• The Touch Screen allows you to use the stylus as a pointing device. Use the
stylus to click, double-click, drag items and icons, or to draw like a pencil
in drawing or painting programs.
For Genuine Microsoft® Windows® XP Tablet PC:
External Monitor/LAN
Adaptor Cable
Speaker
Power Management
• After the operating system has initialized, accept the Microsoft ®
Windows® Licensing Agreement and the Fujitsu End User License
Agreement to proceed. Then enter the information as prompted
to personalize your notebook and configure your modem to dial.
Pen/Pen Holder
Display Panel
9. Use the Touch Screen
6. Register
2. Connect AC Power
• Plug the AC adapter
into your notebook.
• Plug the power cord
into the AC adapter.
• Connect the power cord
to an electrical outlet.
• Scroll Buttons: Allow you to scroll up and down a screen. Note:
The actual functionality of these buttons may vary depending
on the application used and how they are assigned in the
Tablet PC Settings utility in the Control Panel.
Power Indicator
Glows blue: System is turned on.
Flashing: Standby mode
Not visible: Power is off or in Hibernation mode
NumLk Indicator
Shows that the integral keyboard is set
in ten-key numeric keypad mode.
CapsLock Indicator
Shows keyboard is set to type
in all capital letters.
ScrLk Indicator
Shows that your scroll lock is active.
Red, solid: Battery is between
0% and 12% charged.
Orange, blinking: Blinks during battery
status measurement (Four seconds
after the battery is installed).
Red, blinking: There is a problem
with the battery.
Off: There is no battery installed.
Hard Drive Access Indicator
Glows green when your internal hard drive is
being accessed. Flickering is normal.
Drivers
(FDU)
Look for the latest drivers on the
Drivers and Applications Restore
CD. Right-click the FDU icon
(located in the Start Menu, System
Tray, or on the Desktop) and select
"update", or download them at
us.fujitsu.com/computers.
SAVE THESE INSTRUCTIONS
All repairs must be accomplished by an Authorized Repair Technician.
IMPORTANT SAFETY WARNINGS, CAUTIONS and INSTRUCTIONS
This unit requires an AC adapter to operate. Use only UL Listed I.T.E. Class 2 Adapters with an output rating of 16 VDC,
with a current of 25A (40W)
AC adapter output polarity:
+
When using your notebook equipment, basic safety precautions should always be followed to reduce the risk of fire, electric
shock and injury to persons, including the following:
• Do not use this product near water for example, near a bathtub, washbowl, kitchen sink or laundry tub, in a wet
basement or near a swimming pool.
• Avoid using a modem during an electrical storm. There may be a remote risk of electric shock from lightning.
• Do not use a modem to report a gas leak in the vicinity of the leak.
• Use only the power cord and batteries indicated in this manual. Do not dispose of batteries in a fire. They may
explode. Check with local codes for possible special disposal instructions.
• To reduce the risk of fire, use only No. 26 AWG or larger UL Listed or CSA Certified Telecommunication Line Cord.
• For TV tuner use: To protect from overvoltages and transients on the Cable Distribution System, make sure that
the outer shield of the coaxial cable is connected to earth (grounded) at the building premise as close to the
point of cable entrance as practicable, as required per NEC Article 820.93, ANSI/NFPA 70: 2005. If you have
questions about your CATV installation, contact your service provider.
For Authorized Repair Technicians Only
DANGER OF EXPLOSION IF LITHIUM (CLOCK) BATTERY IS INCORRECTLY REPLACED. REPLACE ONLY WITH
THE SAME OR EQUIVALENT TYPE RECOMMENDED BY THE MANUFACTURER. DISPOSE OF USED
BATTERIES ACCORDING TO THE MANUFACTURER'S INSTRUCTION
Warning
FOR CONTINUED PROTECTION AGAINST RISK OF FIRE, REPLACE ONLY WITH THE SAME TYPE
AND RATING FUSE.
Caution
Popular Accessories
Additional Main Battery
Auto/airline adapter
Additional AC adapter
Battery Charger
Battery Charger with AC Adapter
External USB DVD/CD-RW Combo Drive
External USB DVD+RW Drive
External monitor/LAN Adapter Cable
Have questions or need help?
• Visit our website at us.fujitsu.com/computers
• Call us anytime at 1.800.8FUJITSU
• Email us at [email protected]
Carrying cases
Fujitsu extended service plans available.
• Black Executive Leather Portfolio
• Purple Executive Leather Portfolio
• Duo Travel Bag
• Protégé Case
• Director Leather Case
• Convertible Bump Case
• Diplomat Nylon Case
•Tablet Mode Bump Case
Getting Started
Over time, the batteries that run your mobile computer will begin to hold a charge for a shorter amount of time; this
is a natural occurrence for all batteries. When this occurs, you may want to replace the battery with a fresh one*.
If you replace it, it is important that you dispose of the old battery properly because batteries contain materials
that could cause environmental damage if disposed of improperly.
Fujitsu is very concerned with environmental protection, and has enlisted the services of the Rechargeable Battery
Recycling Corporation (RBRC)**, a non-profit public service organization dedicated to protecting our environment
by recycling old batteries at no cost to you.
RBRC has drop-off points at tens of thousands of locations throughout the United States and Canada.
To find the location nearest you, go to www.RBRC.org or call 1-800-822-8837.
Remember—protecting the environment is a cooperative effort, and you should make every effort to protect
it for current and future generations.
* To order a new battery for your Fujitsu mobile computer, go to the Fujitsu shopping site at www.shopfujitsu.com
in the US or www.fujitsu.ca/products/notebooks in Canada.
**RBRC is an independent third party to which Fujitsu provides funding for battery recycling; RBRC is in no way
affiliated with Fujitsu.
Visit us.fujitsu.com/computers
to purchase any of these accessories
or to get more information.
Docking Cradle
Notebook Guardian lock
USB Optical Mouse
Recycling your battery
If there are no convenient RBRC locations near you, you can also go to the EIA Consumer Education Initiative
website (http://EIAE.org/) and search for a convenient disposal location.
Want more information on Fujitsu products?
• Visit our website at www.shopfujitsu.com
• Call us anytime at 1.800.FUJITSU
Record your notebook serial number here:
Serial #______________________
(see bottom of computer)
Fujitsu Computer Systems Corporation
1250 E. Arques Avenue M/S 122
Sunnyvale, CA 94085
Fujitsu, the Fujitsu logo, and LifeBook are registered trademarks of Fujitsu Limited.
Microsoft and Windows are registered trademarks of Microsoft Corporation.
All other trademarks mentioned herein are the property of their respective
owners. Product description data represents Fujitsu design objectives and is
provided for comparative purposes; actual results may vary based on a
variety of factors. Specifications are subject to change without notice.
©2007 Fujitsu Computer Systems Corporation. All rights reserved.
Get Started with your
®
LifeBook U810 Notebook
This guide will lead you through the start-up process for your new LifeBook notebook and will also provide
some valuable tips. To learn about all the exciting features that your new LifeBook notebook has to offer,
please see the User's Guide that can be accessed after completing the start-up procedure.

* Your assessment is very important for improving the work of artificial intelligence, which forms the content of this project