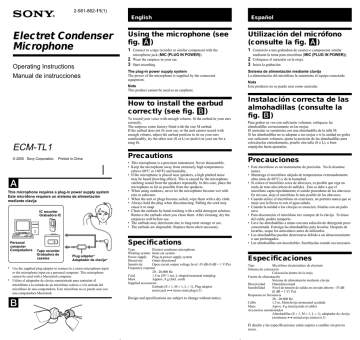 2-581-862-11(1)
English
Electret Condenser
Microphone
Operating Instructions
Manual de instrucciones
Using the microphone (see
fig. A)
Utilización del micrófono
(consulte la fig. A)
1 Connect to a tape recorder or similar component with the
1 Conéctelo a una grabadora de casetes o componente similar
2
3
microphone jack (MIC (PLUG IN POWER)).
Wear the earpiece in your ear.
Start recording.
The plug-in power supply system
The power of the microphone is supplied by the connected
equipment.
Note
This product cannot be used as an earphone.
How to install the earbud
correctly (see fig. B)
To record your voice with enough volume, fit the earbud in your ears
correctly.
The earpiece come factory fitted with the size M earbud.
If the earbud does not fit your ear, or the unit cannot record with
enough volume, adjust the earbud position to sit on your ears
comfortably, try the other size (S or L) or push it in your ear for a
snug fit.
ECM-TL1
© 2005 Sony Corporation
Printed in China
A
This microphone requires a plug-in power supply system
Este micrófono requiere un sistema de alimentación
mediante clavija
IC recorder
Grabadora IC
Personal
computer
Computadora
Plug adaptor*
Adaptador de clavija*
* Use the supplied plug adaptor to connect to a stereo microphone input
or the microphone input on a personal computer. This microphone
cannot be used with a Macintosh computer.
* Utilice el adaptador de clavija suministrado para conectar el
micrófono a la entrada de un micrófono estéreo o a la entrada del
micrófono de una computadora. Este micrófono no se puede usar con
una computadora Macintosh.
B
Precautions
• This microphone is a precision instrument. Never disassemble.
• Keep the microphone away from extremely high temperatures
(above 60°C or 140°F) and humidity.
• If the microphone is placed near speakers, a high pitched noise
may be heard (howling effect). This is caused by the microphone
catching sound from the speakers repeatedly. In this case, place the
microphone as far as possible from the speakers.
• When using outdoors, never let the microphone become wet with
rain or saltwater.
• When the unit or plugs become soiled, wipe them with a dry cloth.
• Always hold the plug when disconnecting. Pulling the cord may
cause it to snap.
• Clean the earbuds by hand-washing with a mild detergent solution.
Remove the earbuds when you clean them. After cleaning, dry the
earpieces well before use.
• The earbuds may deteriorate due to long-term storage or use.
• The earbuds are disposable. Replace them when necessary.
Specifications
Tape recorder
Grabadora de
casetes
Español
Type
Electret condenser microphone
Wearing system Inner ear system
Power supply
Plug-in power supply system
Directivity
Omni-directional
Sensitivity
Open circuit output voltage level -35 dB (0 dB = 1 V/Pa)
Frequency response
20 - 20,000 Hz
Cord
1.5 m (59 1/8 in), L-shaped monaural miniplug
Mass
Approx. 8 g (Incl. cord)
Supplied accessories
Earbuds (S × 1, M × 1, L × 1), Plug adaptor
(mini jack y stereo mini plug) (1)
Design and specifications are subject to change without notice.
mediante la toma para micrófono [MIC (PLUG IN POWER)].
2 Colóquese el auricular en la oreja.
3 Inicie la grabación.
Sistema de alimentación mediante clavija
La alimentación del micrófono la suministra el equipo conectado.
Nota
Este producto no se puede usar como auricular.
Instalación correcta de las
almohadillas (consulte la
fig. B)
Para grabar su voz con suficiente volumen, colóquese las
almohadillas correctamente en las orejas.
El auricular se suministra con una almohadilla de la talla M.
Si las almohadillas no se adaptan a sus orejas o si la unidad no graba
con suficiente volumen, ajuste la posición de las almohadillas para
colocárselas cómodamente, pruebe otra talla (S o L), o bien
empújelas hasta ajustarlas.
Precauciones
• Este micrófono es un instrumento de precisión. No lo desarme
nunca.
• Mantenga el micrófono alejado de temperaturas extremadamente
altas (más de 60°C) y de la humedad.
• Si coloca el micrófono cerca de altavoces, es posible que oiga un
ruido de tono alto (efecto de aullido). Esto se debe a que el
micrófono capta repetidamente el sonido procedente de los altavoces.
En tal caso, aleje el micrófono lo más posible de los altavoces.
• Cuando utilice el micrófono en exteriores, no permita nunca que se
moje con la lluvia ni con el agua salada.
• Cuando la unidad o las clavijas se ensucien, frótelas con un paño
seco.
• Para desconectar el micrófono tire siempre de la clavija. Si tirase
del cable, podría romperlo.
• Lave las almohadillas a mano con una solución de detergente poco
concentrada. Extraiga las almohadillas para lavarlas. Después de
lavarlas, seque los auriculares antes de utilizarlos.
• Las almohadillas pueden deteriorarse debido a un almacenamiento
o uso prolongados.
• Las almohadillas son desechables. Sustitúyalas cuando sea necesario.
Especificaciones
Tipo
Micrófono electrostático de electreto
Sistema de colocación
Colocación dentro de la oreja
Fuente de alimentación
Sistema de alimentación mediante clavija
Directividad
Omnidireccional
Sensibilidad
Nivel de tensión de salida en circuito abierto –35 dB
(0 dB = 1 V/Pa)
Respuesta en frecuencia
20 - 20.000 Hz
Cable
1,5 m, Miniclavija monoaural acodada
Masa
Aprox. 8 g (incluyendo el cable)
Accesorios suministrados
Almohadillas (S × 1, M × 1, L × 1), adaptador de clavija
(minitoma y miniclavija estéreo) (1)
El diseño y las especificaciones están sujetos a cambio sin previo
aviso.

* Your assessment is very important for improving the work of artificial intelligence, which forms the content of this project