Safety Recommendations Semi on-road vehicle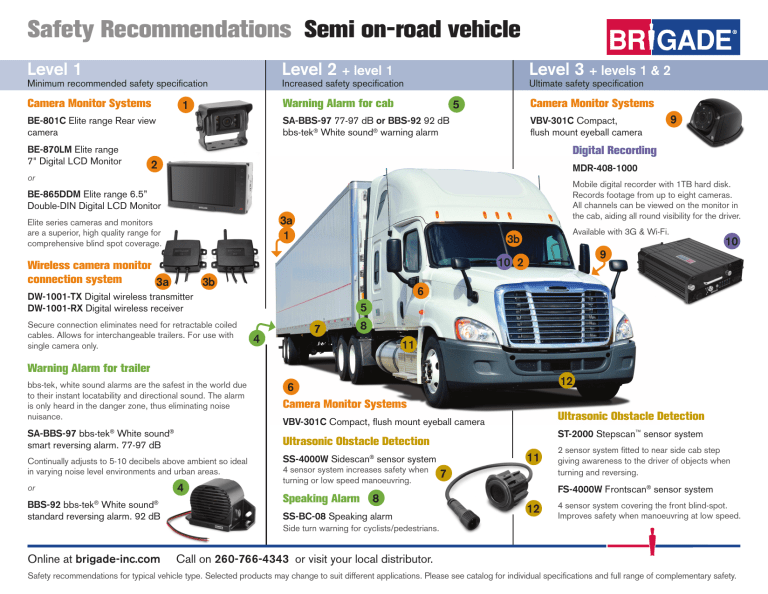 Safety Recommendations Semi on-road vehicle
Level 1
Level 2 + level 1
Minimum recommended safety specification
Camera Monitor Systems
Ultimate safety specification
Warning Alarm for cab
1
Camera Monitor Systems
5
SA-BBS-97 77-97 dB or BBS-92 92 dB
bbs-tek® White sound® warning alarm
BE-801C Elite range Rear view
camera
BE-870LM Elite range
7" Digital LCD Monitor
Level 3 + levels 1 & 2
Increased safety specification
VBV-301C Compact,
flush mount eyeball camera
9
Digital Recording
2
MDR-408-1000
or
Mobile digital recorder with 1TB hard disk.
Records footage from up to eight cameras.
All channels can be viewed on the monitor in
the cab, aiding all round visibility for the driver.
BE-865DDM Elite range 6.5"
Double-DIN Digital LCD Monitor
3a
1
Elite series cameras and monitors
are a superior, high quality range for
comprehensive blind spot coverage.
Available with 3G & Wi-Fi.
3b
9
10 2
Wireless camera monitor
connection system
3a
3b
6
DW-1001-TX Digital wireless transmitter
DW-1001-RX Digital wireless receiver
Secure connection eliminates need for retractable coiled
cables. Allows for interchangeable trailers. For use with
single camera only.
5
4
7
8
11
Warning Alarm for trailer
bbs-tek, white sound alarms are the safest in the world due
to their instant locatability and directional sound. The alarm
is only heard in the danger zone, thus eliminating noise
nuisance.
SA-BBS-97 bbs-tek White sound
smart reversing alarm. 77-97 dB
®
®
or
BBS-92 bbs-tek® White sound®
standard reversing alarm. 92 dB
12
6
Camera Monitor Systems
Ultrasonic Obstacle Detection
VBV-301C Compact, flush mount eyeball camera
ST-2000 Stepscan™ sensor system
Ultrasonic Obstacle Detection
Continually adjusts to 5-10 decibels above ambient so ideal
in varying noise level environments and urban areas.
4
10
11
SS-4000W Sidescan® sensor system
4 sensor system increases safety when
turning or low speed manoeuvring.
Speaking Alarm
8
SS-BC-08 Speaking alarm
7
2 sensor system fitted to near side cab step
giving awareness to the driver of objects when
turning and reversing.
FS-4000W Frontscan® sensor system
12
4 sensor system covering the front blind-spot.
Improves safety when manoeuvring at low speed.
Side turn warning for cyclists/pedestrians.
Online at brigade-inc.com
Call on 260-766-4343 or visit your local distributor.
Safety recommendations for typical vehicle type. Selected products may change to suit different applications. Please see catalog for individual specifications and full range of complementary safety.

* Your assessment is very important for improving the work of artificial intelligence, which forms the content of this project