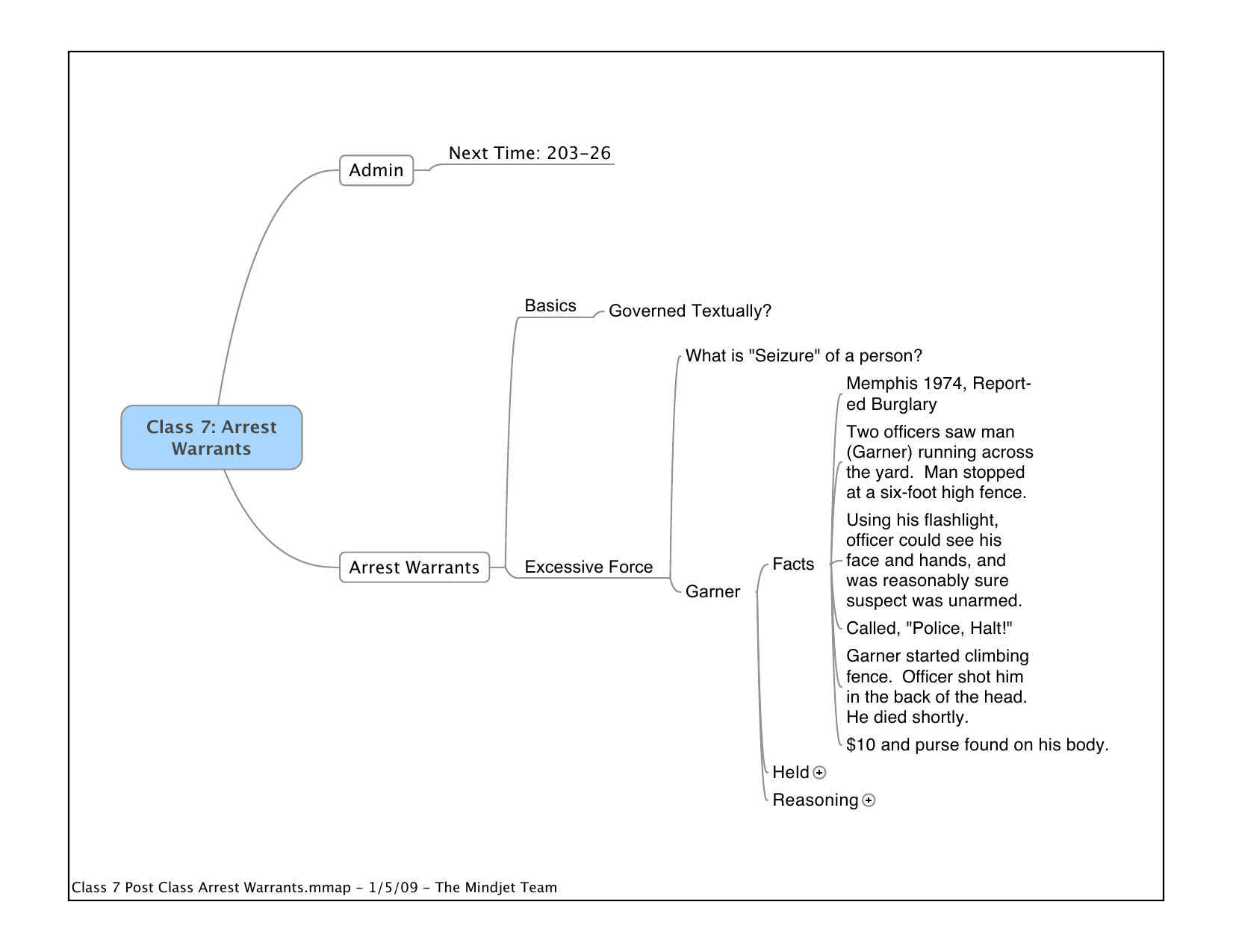 Admin
Next Time: 203-26
Basics
Governed Textually?
What is "Seizure" of a person?
Memphis 1974, Report‐
ed Burglary
Class 7: Arrest
Warrants
Two officers saw man
(Garner) running across
the yard. Man stopped
at a six-foot high fence.
Arrest Warrants
Facts
Excessive Force
Garner
Using his flashlight,
officer could see his
face and hands, and
was reasonably sure
suspect was unarmed.
Called, "Police, Halt!"
Garner started climbing
fence. Officer shot him
in the back of the head.
He died shortly.
$10 and purse found on his body.
Held
Reasoning
Class 7 Post Class Arrest Warrants.mmap - 1/5/09 - The Mindjet Team
19 year old speeding (73
mph in a 55 mph zone)
High speed chase down
two-lane roads in Georgia
12 cars passed
The video: key moments
Collision in the Mall
Facts
Excessive Force
Cars pulled over /
swerved
Ran two red lights
Scott (officer whose car was
hit in mall) rammed car.
Scott
Ran off road.
Quadriplegic
Other possibly relevant facts
Nationally approx. 350
deaths each year in
high-speed chases
1983 Case
Procedural Posture
Qualified Immunity
Summary Judgment
Arrest Warrants
Facts viewed in light
most favorable to nonmovant (plaintiff)
Held
Reasoning
Watson
Class 7: Arrest
Warrants
PC to Arrest
Facts
Payton
But no warrant, and
arrest made in arrestee's home.
Held
Reasoning
Warrantless Home Arrests
Facts
Steagold
Arrest warrant for Lyons.
Twelve officers enter
home of Steagald
Held
Reasoning
Close Calls
Olson
Class 7 Post Class Arrest Warrants.mmap - 1/5/09 - The Mindjet Team
Did not find Lyons.
Did find cocaine. Arrested Steagald.

* Your assessment is very important for improving the work of artificial intelligence, which forms the content of this project