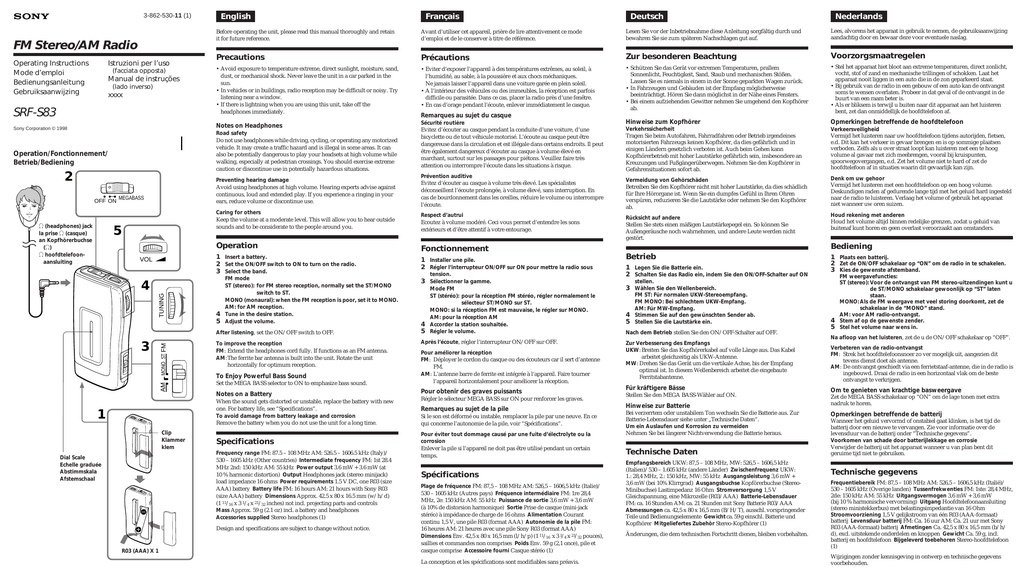 3-862-530-11 (1)
FM Stereo/AM Radio
Operating Instructions
Mode d'emploi
Bedienungsanleitung
Gebruiksaanwijzing
Istruzioni per l'uso
(facciata opposta)
Manual de instruções
(lado inverso)
xxxx
SRF-S83
Sony Corporation © 1998
2
OFF ON
MEGABASS
5
Zur besonderen Beachtung
Voorzorgsmaatregelen
• Avoid exposure to temperature extreme, direct sunlight, moisture, sand,
dust, or mechanical shock. Never leave the unit in a car parked in the
sun.
• In vehicles or in buildings, radio reception may be difficult or noisy. Try
listening near a window.
• If there is lightning when you are using this unit, take off the
headphones immediately.
• Eviter d'exposer l'appareil à des températures extrêmes, au soleil, à
l'humidité, au sable, à la poussière et aux chocs méchaniques.
Ne jamais laisser l'appareil dans une voiture garée en plein soleil.
• A l'intérieur des véhicules ou des immeubles, la réception est parfois
difficile ou parasitée. Dans ce cas, placer la radio près d'une fenêtre.
• En cas d'orage pendant l'écoute, enlever immédiatement le casque.
• Schützen Sie das Gerät vor extremen Temperaturen, prallem
Sonnenlicht, Feuchtigkeit, Sand, Staub und mechanischen Stößen.
Lassen Sie es niemals in einem in der Sonne geparkten Wagen zurück.
• In Fahrzeugen und Gebäuden ist der Empfang möglicherweise
beeinträchtigt. Hören Sie dann möglichst in der Nähe eines Fensters.
• Bei einem aufziehenden Gewitter nehmen Sie umgehend den Kopfhörer
ab.
• Stel het apparaat hiet bloot aan extreme temperaturen, direct zonlicht,
vocht, stof of zand en mechanische trillingen of schokken. Laat het
apparaat nooit liggen in een auto die in de zon geparkeerd staat.
• Bij gebruik van de radio in een gebouw of een auto kan de ontvangst
soms te wensen overlaten. Probeer in dat geval of de ontvangst in de
buurt van een raam beter is.
• Als er bliksem is terwijl u buiten naar dit apparaat aan het luisteren
bent, zet dan onmiddellijk de hoofdtelefoon af.
Notes on Headphones
Sécurité routière
Evitez d'écouter au casque pendant la conduite d'une voiture, d'une
bicyclette ou de tout véhicule motorisé. L'écoute au casque peut être
dangereuse dans la circulation et est illégale dans certains endroits. Il peut
être également dangereux d'écouter au casque à volume élevé en
marchant, surtout sur les passages pour piétons. Veuillez faire très
attention ou interrompre l'écoute dans les situations à risque.
Hinweise zum Kopfhörer
Opmerkingen betreffende de hoofdtelefoon
Verkehrssicherheit
Tragen Sie beim Autofahren, Fahrradfahren oder Betrieb irgendeines
motorisierten Fahrzeugs keinen Kopfhörer, da dies gefährlich und in
einigen Ländern gesetzlich verboten ist. Auch beim Gehen kann
Kopfhörerbetrieb mit hoher Lautstärke gefährlich sein, insbesondere an
Kreuzungen und Fußgängerüberwegen. Nehmen Sie den Kopfhörer in
Gefahrensituationen sofort ab.
Verkeersveiligheid
Vermijd het luisteren naar uw hoofdtelefoon tijdens autorijden, fietsen,
e.d. Dit kan het verkeer in gevaar brengen en is op sommige plaatsen
verboden. Zelfs als u over straat loopt kan luisteren met een te hoog
volume al gavaar met zich meebrengen, vooral bij kruispunten,
spoorwegovergangen, e.d. Zet het volume niet te hard of zet de
hoofdtelefoon af in situaties waarin dit gevaarlijk kan zijn.
Vermeidung von Gehörschäden
Betreiben Sie den Kopfhörer nicht mit hoher Lautstärke, da dies schädlich
für Ihre Hörorgane ist. Wenn Sie ein dumpfes Gefühl in Ihren Ohren
verspüren, reduzieren Sie die Lautstärke oder nehmen Sie den Kopfhörer
ab.
Denk om uw gehoor
Vermijd het luisteren met een hoofdtelefoon op een hoog volume.
Deskundigen raden af gedurende lange tijd met het geluid hard ingesteld
naar de radio te luisteren. Verlaag het volume of gebruik het apparaat
niet wanneer uw oren suizen.
TUNING
MONO ST FM
AM
Clip
Klammer
klem
Dial Scale
Echelle graduée
Abstimmskala
Afstemschaal
}
]
R03 (AAA) X 1
Remarques au sujet du casque
Preventing hearing damage
Avoid using headphones at high volume. Hearing experts advise against
continuous, loud and extended play. If you experience a ringing in your
ears, reduce volume or discontinue use.
Prévention auditive
Evitez d'écouter au casque à volume très élevé. Les spécialistes
déconseillent l'écoute prolongée, à volume élevé, sans interruption. En
cas de bourdonnement dans les oreilles, réduire le volume ou interrompre
l'écoute.
Caring for others
Keep the volume at a moderate level. This will allow you to hear outside
sounds and to be considerate to the people around you.
Respect d'autrui
Ecoutez à volume modéré. Ceci vous permet d'entendre les sons
extérieurs et d'être attentif à votre entourage.
FM mode
ST (stereo): for FM stereo reception, normally set the ST/MONO
switch to ST.
MONO (monaural): when the FM reception is poor, set it to MONO.
AM: for AM reception.
4 Tune in the desire station.
5 Adjust the volume.
To improve the reception
FM: Extend the headphones cord fully. If functions as an FM antenna.
AM: The ferrite bar antenna is built into the unit. Rotate the unit
horizontally for optimum reception.
1 Installer une pile.
2 Régler l'interrupteur ON/OFF sur ON pour mettre la radio sous
tension.
3 Sélectionner la gamme.
Mode FM
ST (stéréo): pour la réception FM stéréo, régler normalement le
sélecteur ST/MONO sur ST.
MONO: si la réception FM est mauvaise, le régler sur MONO.
AM: pour la réception AM
4 Accorder la station souhaitée.
5 Régler le volume.
Après l'écoute, régler l'interrupteur ON/OFF sur OFF.
Set the MEGA BASS selector to ON to emphasize bass sound.
Notes on a Battery
Pour obtenir des graves puissants
To Enjoy Powerful Bass Sound
Specifications
Frequency range FM: 87.5 – 108 MHz AM: 526.5 – 1606.5 kHz (Italy)/
530 – 1605 kHz (Other countries) Intermediate frequency FM: 1st 28.4
MHz 2nd: 150 kHz AM: 55 kHz Power output 3.6 mW + 3.6 mW (at
10 % harmonic distortion) Output Headphones jack (stereo minijack)
load impedance 16 ohms Power requirements 1.5 V DC, one R03 (size
AAA) battery Battery life FM: 16 hours AM: 21 hours with Sony R03
(size AAA) battery Dimensions Approx. 42.5 x 80 x 16.5 mm (w/h/d)
(1 11/16 x 3 1/4 x 21/32 inches) not incl. projecting parts and controls
Mass Approx. 59 g (2.1 oz) incl. a battery and headphones
Accessories supplied Stereo headphones (1)
Design and specifications are subject to change without notice.
Rücksicht auf andere
Stellen Sie stets einen mäßigen Lautstärkepegel ein. So können Sie
Außengeräusche noch wahrnehmen, und andere Leute werden nicht
gestört.
Régler le sélecteur MEGA BASS sur ON pour renforcer les graves.
Remarques au sujet de la pile
Si le son est déformé ou instable, remplacer la pile par une neuve. En ce
qui concerne l'autonomie de la pile, voir "Spécifications".
Pour éviter tout dommage causé par une fuite d'électrolyte ou la
corrosion
Enlever la pile si l'appareil ne doit pas être utilisé pendant un certain
temps.
Spécifications
Plage de fréquence FM: 87,5 – 108 MHz AM: 526,5 – 1606,5 kHz (Italie)/
530 – 1605 kHz (Autres pays) Fréquence intermédiaire FM: 1re 28,4
MHz, 2e: 150 kHz AM: 55 kHz Puissance de sortie 3,6 mW + 3,6 mW
(à 10% de distorsion harmonique) Sortie Prise de casque (mini-jack
stéréo) à impédance de charge de 16 ohms Alimentation Courant
continu 1,5 V, une pile R03 (format AAA) Autonomie de la pile FM:
16 heures AM: 21 heures avec une pile Sony R03 (format AAA)
Dimensions Env. 42,5 x 80 x 16,5 mm (l/h/p) (1 11/16 x 3 1/4 x 21/32 pouces),
saillies et commandes non comprises Poids Env. 59 g (2,1 once), pile et
casque comprise Accessoire fourni Casque stéréo (1)
La conception et les spécifications sont modifiables sans préavis.
Houd rekening met anderen
Houd het volume altijd binnen redelijke grenzen, zodat u geluid van
buitenaf kunt horen en geen overlast veroorzaakt aan omstanders.
Bediening
Fonctionnement
Pour améliorer la réception
FM: Déployer le cordon du casque ou des écouteurs car il sert d'antenne
FM.
AM: L'antenne barre de ferrite est intégrée à l'appareil. Faire tourner
l'appareil horizontalement pour améliorer la réception.
When the sound gets distorted or unstable, replace the battery with new
one. For battery life, see "Specifications".
To avoid damage from battery leakage and corrosion
Remove the battery when you do not use the unit for a long time.
1
Lees, alvorens het apparaat in gebruik te nemen, de gebruiksaanwijzing
aandachtig door en bewaar deze voor eventuele naslag.
Précautions
After listening, set the ON/OFF switch to OFF.
3
Lesen Sie vor der Inbetriebnahme diese Anleitung sorgfältig durch und
bewahren Sie sie zum späteren Nachschlagen gut auf.
Nederlands
Precautions
Operation
4
Deutsch
Avant d'utiliser cet appareil, prière de lire attentivement ce mode
d'emploi et de le conserver à titre de référence.
1 Insert a battery.
2 Set the ON/OFF switch to ON to turn on the radio.
3 Select the band.
VOL
Français
Before operating the unit, please read this manual thoroughly and retain
it for future reference.
Road safety
Do not use headphones while driving, cycling, or operating any motorized
vehicle. It may create a traffic hazard and is illegal in some areas. It can
also be potentially dangerous to play your headsets at high volume while
walking, especially at pedestrian crossings. You should exercise extreme
caution or discontinue use in potentially hazardous situations.
Operation/Fonctionnement/
Betrieb/Bediening
2 (headphones) jack
la prise 2 (casque)
an Kopfhörerbuchse
(2)
2 hoofdtelefoonaansluiting
English
Betrieb
1 Legen Sie die Batterie ein.
2 Schalten Sie das Radio ein, indem Sie den ON/OFF-Schalter auf ON
stellen.
3 Wählen Sie den Wellenbereich.
FM ST: Für normalen UKW-Stereoempfang.
FM MONO: Bei schlechtem UKW-Empfang.
AM: Für MW-Empfang.
4 Stimmen Sie auf den gewünschten Sender ab.
5 Stellen Sie die Lautstärke ein.
Nach dem Betrieb stellen Sie den ON/OFF-Schalter auf OFF.
1 Plaats een batterij.
2 Zet de ON/OFF schakelaar op "ON" om de radio in te schakelen.
3 Kies de gewenste afstemband.
FM weergavefuncties:
ST (stereo): Voor de ontvangst van FM stereo-uitzendingen kunt u
de ST/MONO schakelaar gewoonlijk op "ST" laten
staan.
MONO: Als de FM weergave met veel storing doorkomt, zet de
schakelaar in de "MONO" stand.
AM: voor AM radio-ontvangst.
4 Stem af op de gewenste zender.
5 Stel het volume naar wens in.
Na afloop van het luisteren, zet de u de ON/OFF schakelaar op "OFF".
Zur Verbesserung des Empfangs
UKW: Breiten Sie das Kopfhörerkabel auf volle Länge aus. Das Kabel
arbeitet gleichzeitig als UKW-Antenne.
MW: Drehen Sie das Gerät um die vertikale Achse, bis der Empfang
optimal ist. In diesem Wellenbereich arbeitet die eingebaute
Ferritstabantenne.
Verbeteren van de radio-ontvangst
FM: Strek het hoofdtelefoonsnoer zo ver mogelijk uit, aangezien dit
tevens dienst doet als antenne.
AM: De ontvangst geschiedt via een ferrietstaaf-antenne, die in de radio is
ingebouwd. Draai de radio in een horizontaal vlak om de beste
ontvangst te verkrijgen.
Für kräftigere Bässe
Om te genieten van krachtige basweergave
Stellen Sie den MEGA BASS-Wähler auf ON.
Hinweise zur Batterie
Bei verzerrtem oder unstabilem Ton wechseln Sie die Batterie aus. Zur
Batterie-Lebensdauer siehe unter "Technische Daten".
Um ein Auslaufen und Korrosion zu vermeiden
Nehmen Sie bei längerer Nichtverwendung die Batterie heraus.
Technische Daten
Empfangsbereich UKW: 87,5 – 108 MHz, MW: 526,5 – 1606,5 kHz
(Italien)/530 – 1.605 kHz (andere Länder) Zwischenfrequenz UKW:
1.: 28,4 MHz, 2.: 150 kHz, MW: 55 kHz Ausgangsleistung 3,6 mW +
3,6 mW (bei 10% Klirrgrad) Ausgangsbuchse Kopförerbuchse (StereoMinibuchse) Lastimpedanz 16 Ohm Stromversorgung 1,5 V
Gleichspannung, eine Mikrozelle (R03/AAA) Batterie-Lebensdauer
FM: ca. 16 Stunden AM: ca. 21 Stunden mit Sony Batterie R03/AAA
Abmessungen ca. 42,5 x 80 x 16,5 mm (B/H/T), ausschl. vorspringender
Teile und Bedienungselemente Gewicht ca. 59 g einschl. Batterie und
Kopfhörer Mitgeliefertes Zubehör Stereo-Kopfhörer (1)
Änderungen, die dem technischen Fortschritt dienen, bleiben vorbehalten.
Zet de MEGA BASS schakelaar op "ON" om de lage tonen met extra
nadruk te horen.
Opmerkingen betreffende de batterij
Wanneer het geluid vervormd of onstabiel gaat klinken, is het tijd de
batterij door een nieuwe te vervangen. Zie voor informatie over de
levensduur van de batterij onder "Technische gegevens".
Voorkomen van schade door batterijlekkage en corrosie
Verwijder de batterij uit het apparaat wanneer u van plan bent dit
geruime tijd niet te gebruiken.
Technische gegevens
Frequentiebereik FM: 87,5 – 108 MHz AM: 526,5 – 1606,5 kHz (Italië)/
530 – 1605 kHz (Overige landen) Tussenfrekwenties FM: 1ste: 28,4 MHz,
2de: 150 kHz AM: 55 kHz Uitgangsvermogen 3,6 mW + 3,6 mW
(bij 10 % harmonische vervorming) Uitgang Hoofdtelefoonaansluiting
(stereo ministekkerbus) met belastingsimpedantie van 16 Ohm
Stroomvoorziening 1,5 V gelijkstroom van één R03 (AAA-formaat)
batterij Levensduur batterij FM: Ca. 16 uur AM: Ca. 21 uur met Sony
R03 (AAA-formaat) batterij Afmetingen Ca. 42,5 x 80 x 16,5 mm (b/h/
d), excl. uitstekende onderdelen en knoppen Gewicht Ca. 59 g, incl.
batterij en hoofdtelefoon Bijgeleverd toebehoren Stereo-hoofdtelefoon
(1)
Wijzigingen zonder kennisgeving in ontwerp en technische gegevens
voorbehouden.
Funzionamento/Operação/
Note sulle cuffie
Sicurezza stradale
Non usare le cuffie durante la guida, in bicicletta e durante l'uso di
qualsiasi veicolo motorizzato. Questo può costituire un pericolo per il
traffico ed è illegale in alcune aree. Inoltre può essere pericoloso ascoltare
con le cuffie ad alto volume mentre si cammina, specialmente ai passaggi
pedonali. Prestare dunque particolare attenzione o sospendere l'uso
quando ci si trova in situazioni potenzialmente pericolose.
2
OFF ON
MEGABASS
Prevenzione di danni all'udito
Evitare di usare le cuffie ad alto volume. I medici ne sconsigliano l'uso
continuo, prolungato e ad alto volume. Se si avvertono ronzii alle
orecchie, ridurre il volume o sospendere l'uso.
5
Presa cuffie (2)
Tomada 2 (para
auscultadores)
xxxx
Rispetto per gli altri
Tenere il volume ad un livello moderato. Questo consente di sentire i
suoni provenienti dall'esterno e di e non disturba le persone circostanti.
VOL
AM
3
MONO ST FM
TUNING
4
Funzionamento
1 Inserire una pila.
2 Regolare l'interruttore ON/OFF su ON per accendere la radio.
3 Selezionare la banda.
Modo FM
ST (stereo): per la ricezione FM stereo, normalmente regorare
l'interruttore ST/MONO su ST.
MONO (monaurale): quando la ricezione FM non è buona,
regolarlo su MONO.
AM: Per la ricezione AM.
4 Sintonizzare la stazione desiderata.
5 Regolare il volume.
Dopo l'ascolto, regolare l'interruttore ON/OFF su OFF.
Per migliorare la ricezione
FM: Estendere completamente il cavo delle cuffie poiché funge da
antenna FM.
AM: Un'antenna a barra di ferrite è incorporata nell'apparecchio. Ruotare
l'apparecchio orizzontalmente per ottenere la ricezione ottimale.
1
Fermaglio
Presilha
xxxx
Scala delle frequenze
Escala do quadrante
xxxx
Per ascoltare un potente suono dei bassi
Regolare il selettore MEGA BASS su ON per enfatizzare il suono dei
bassi.
Note sulla pila
Quando il suono diventa distorto o instabile, sostituire la pila con un'altra
nuova. Per la durata della pila, vedere "Caratteristiche tecniche".
Per evitare danni dovuti a perdite di fluido dalla pila e corrosione
Rimuovere la pila quando non si usa l'apparecchio per un lungo periodo.
}
]
R03 (AAA) X 1
Nederlands
Italiano
Si dichiara che l'apparecchio è stato fabbricato in conformità all'art. 2,
Comma 1 del D.M. 28. 08. 1995 n. 548.
Prima di usare l'apparecchio, leggere attentamente questo manuale e
conservarlo per riferimenti futuri.
Precauzioni
• Evitare l'esposizione a temperature elevate, luce solare diretta, umidità,
sabbia, polvere o scosse meccaniche. Non lasciare mai l'apparecchio in
un'auto parcheggiata al sole.
• All'interno di veicoli o di edifici, la ricezione radio può risultare difficile
o disturbata. Provare ad ascoltare vicino alla finestra.
• In presenza di fulmini durante l'uso dell'apparecchio, togliersi
immediatamente le cuffie.
Caratteristiche tecniche
Campo di frequenza* FM: 87,5 – 108 MHz AM: 526,5 – 1606,5 kHz
(Italia)/530 – 1605 kHz (altri paesi) Frequenza intermedia FM: 1ª : 28,4
MHz, 2ª : 150 kHz AM: 55 kHz Potenza di uscita 3,6 mW + 3,6 mW
(al 10 % di distorsione armonica) Uscita Presa cuffie (minipresa stereo)
impedenza di carico 16 ohm Alimentazione 1,5 V CC, una pila R03
(formato AAA) Durata della pila FM: 16 ore AM: 21 ore con una pila
Sony R03 (formato AAA) Dimensioni Circa 42,5 x 80 x 16,5 mm (l/a/p),
esclusi comandi e parti sporgenti Massa Circa 59 g inclusa la pila e cuffie
Accessori in dotazione Cuffie stereo (1)
Disegno e caratteristiche tecniche soggetti a modifiche senza preavviso.
Nota
BANDE DI FREQUENZA
1. Bande di frequenza:
FM: 87,5 MHz – 108 MHz
OM: 526,5 kHz – 1606,5 kHz
2. Frequenza intermedia:
FM: Prima; 28,4 MHz
Seconda; 150 kHz
AM: 55 kHz
3. Oscillatore locale:
Frequenza oscillatore locale superiore a quella del segnale
* di cui al par. 3 dell'Allegato A al D.M. 25/06/85 e al par. 3 dell'Allegato
1 al D.M. 27/08/87
Português
Antes de utilizar o aparelho, leia atentamente este manual e guarde-o
para futuras consultas.
Precauções
• Evite expor o aparelho a temperaturas elevadas, luz solar directa,
humidade, areia, poeira ou choques mecânicos. Nunca o deixe no
interior de um automóvel estacionado sob o sol.
• Em veículos ou edifícios, poderão ocorrer interferências ou dificuldade
na recepção do rádio. Tente, então, a escuta nas proximidades de uma
janela.
• Na ocorrência de relâmpagos durante a utilização do aparelho, retire os
auscultadores imediatamente.
Notas sobre os auscultadores
Segurança no trânsito
Não utilize os auscultadores enquanto dirige, anda de bicicleta, ou maneja
qualquer veículo motorizado. Poderá causar acidentes de trânsito, além
de ser ilegal em certas áreas. É também potencialmente perigoso utilizar
os auscultadores a um volume elevado enquanto caminha, especialmente
em cruzamentos. Tenha o máximo de cuidado, ou deixe de utilizar os
auscultadores em locais de perigo em potencial.
Danos ao aparelho auditivo
Evite utilizar os auscultadores a um volume elevado. Especialistas do ramo
não recomendam o seu uso contínuo, prolongado, a altos volumes. Caso
escute tinidos, reduza o volume ou deixe de utilizar os auscultadores.
Respeito a terceiros
Mantenha o volume a um nível moderado. Isto permitir-lhe-á escutar
sons do exterior, em consideração a pessoas ao seu redor.
Operação
1 Insira uma pilha.
2 Posicione o interruptor ON/OFF em ON para activar o rádio.
3 Seleccione a banda.
Modo FM
ST (estéreo): para a recepção de FM estéreo, ajuste normalmente
o interruptor ST/MONO para ST.
MONO (monofónico): quando a recepção de FM for insatisfatória,
ajuste-o para MONO.
AM: para a recepção de AM.
4 Sintonize a estação desejada.
5 Ajuste o volume.
Terminada a escuta, posicione o interruptor ON/OFF em OFF.
Para melhorar as condições de recepção
FM: Estenda completamente o cabo dos auscultadores, pois este funciona
como antena FM.
AM: Uma antena de barra de ferrite encontra-se incorporada no aparelho.
Gire o aparelho horizontalmente para obter uma óptima recepção.
Para desfrutar de sons graves potentes
Ajuste o selector MEGA BASS para ON a fim de reforçar os sons graves.
Notas sobre a pilha
Ocorrendo distorção ou instabilidade do som, substitua a pilha por uma
nova. Quanto à duranção da pilha, consulte «Especificações».
Para evitar avarias causadas pela fuga do electrólito e posterior
corrosão
Retire a pilha quando preveja não utilizar o aparelho por um período
prolongado.
Especificações
Gama de frequências FM: 87,5 – 108 MHz AM: 526,5 – 1606,5 kHz
(Itália)/530 – 1605 kHz (Outros países) Frequência intermediária
FM: 1a : 28,4 MHz, 2a : 150 kHz AM: 55 kHz Potência de saída
3,6 mW + 3,6 mW (a 10% de distorção harmónica) Saída Tomada para
auscultadores (mini-tomada estéreo) com impedância de carga de
16 ohms Alimentação 1,5 V CC, uma pilha R03 (tamanho AAA)
Duração da pilha FM: 16 horas AM: 21 horas com uma pilha Sony R03
(tamanho AAA) Dimensões Aprox. 42,5 x 80 x 16,5 mm (l/a/p), não
incluindo partes e controlos salientes Peso Aprox. 59 g, incluindo uma
pilha e auscultadores Accessórios fornecidos 1 par de auscultadores
estéreo
Design e especificações sujeitos a alteração sem aviso prévio.