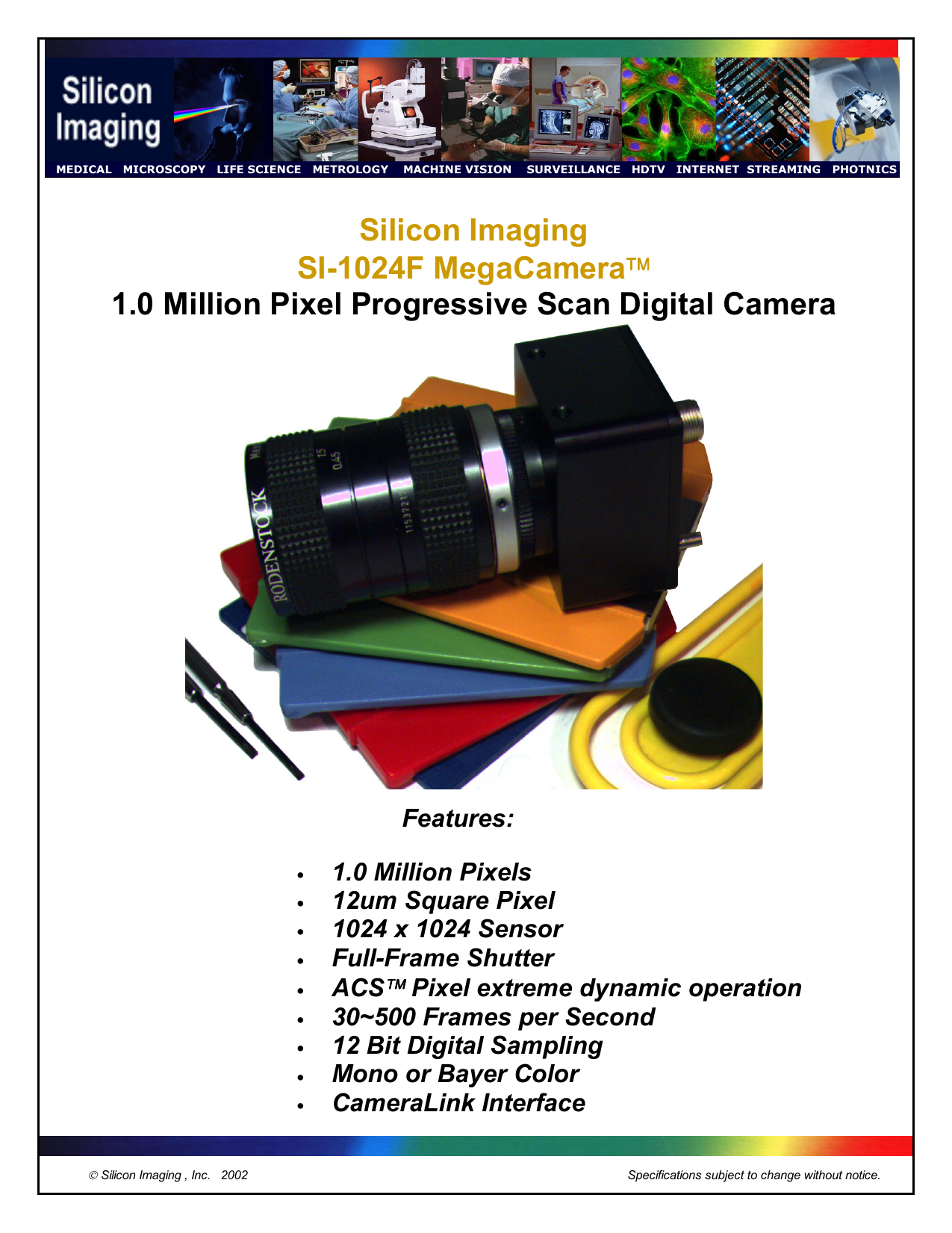 MEDICAL
MICROSCOPY
LIFE SCIENCE
METROLOGY
MACHINE VISION
SURVEILLANCE
HDTV
INTERNET STREAMING
PHOTNICS
Silicon Imaging
SI-1024F MegaCamera

1.0 Million Pixel Progressive Scan Digital Camera
Features:
•
•
•
•
•
•
•
•
•
 Silicon Imaging , Inc. 2002
1.0 Million Pixels
12um Square Pixel
1024 x 1024 Sensor
Full-Frame Shutter
ACS Pixel extreme dynamic operation
30~500 Frames per Second
12 Bit Digital Sampling
Mono or Bayer Color
CameraLink Interface
Specifications subject to change without notice.
Silicon Imaging MegaCamera
SI-1024F
1.0 Megapixel Progressive Scan, Full-Frame Shutter
12-bit, 30 Frames/sec Digital Camera
Silicon Imaging has introduced the world first 1.0 Million pixel Full-Frame Shutter,
All-digital, Active Column Sensor (ACS) CMOS camera capable of running at
video rates of 30 frames/second at its full 1024 x 1024 resolution. The entire
package is only 45 x 52 x 50mm and is small enough to placed on a robot for
semiconductor machine vision inspection, embedded into medical instrumentation
for cell biology or placed in an aerial drones for surveillance.
1024 x 1024 Megapixel CMOS Technology breakthrough
CMOS imagers are breaking technical barriers in noise, sensitivity and dynamic
range. Driven by the growing demand for consumer Digital Still Cameras, CMOS
sensors have been developed which surpass the performance characteristics of
CCD's in many photonic, imaging and consumer applications. By utilizing a single
highly integrated CMOS device, which incorporates Megapixel sensing areas, timing
generation, signal processing and high bandwidth outputs, Silicon Imaging has
developed a very compact, low power Megapixel digital camera system.
70dB Ultra-Wide Dynamic Range – No Blooming
The SI-1024F incorporates a patented ACS 12um pixel which provides high fill
factor (> 55%), Reduced Fixed Pattern Noise (FPN) with internal Correlated Double
Sampling (CDS) and large well capacity of 600K electrons, to yield scientific grade
imagery under extreme lighting or laser illuminated conditions. Unlike CCD's, these
CMOS cameras are anti-blooming and will not exhibit light streaks when they
become over saturated by X-ray or Image Intensifier.
12-Bit Pixel Clock Sampling – Sub-Pixel Accuracy
The MegaCamera uses 12-Bit digitizers to sample the pixel data at up to 30MHz to
achieve 30 Frames/sec data throughput at its full Megapixel resolution. Converting
the pixel data directly to digital at the sensor head eliminates pixel-sampling jitter
and enables accurate sub-pixel metrology, image analysis and improved live video
reconstruction.
Full-Frame Triggered Shutter – Stop the Motion
Most common CMOS sensors only have a "Rolling Shutter" to control the exposure
time for each line in the image. This method can produce unwanted motion tilts or
jagged edges, as each row ends integration after the previous one above it. The SI1024F provides a Full-Frame triggered shutter, which completely stops any motion
artifacts by exposing all pixels simultaneously and holding the exposed value until it
is progressively readout.
Long Integration, Binning & Adaptive Exposure Control – See low light
Low-light application often require an exposure period longer than a frame time.
The SI-1024F enables long integration, with minimum dark current accumulation.
The unique ACS pixel architecture allows a non-destructive readout of the image
while continuing to integrate to determine if the amplitude of the image has reached
the desired levels for adaptive exposure control. Alternatively, combine two images
of different exposures to obtain a enhanced dynamic range image. Binning of pixels
in either row or columns (2x or 4x) improves SNR for faster exposure speeds and
increased frame rates due to the reduced number of binned-pixels to be output.
2000 Frames per Second, Dual Region-of-Interest (ROI) Windowing
Ideal for object tracking and high-speed Motion analysis, the SI-1024 is capable of
generating imagery at over 2000fps by reducing the size of the readout image (ex.
100x100). Two independent regions of interest (ROI) can be selected to
automatically readout sequentially and their positions updated on a frame-by-frame
basis. Binning can also be applied to increase readout speeds even further.
All-Digital Interface - CameraLink
Traditionally, digital cameras required a large number of parallel output signals,
which becomes cumbersome to cable and physically large to connect. The SI1024F utilizes digital multiplexers to serialize the image data and transmit
480Mb/sec of data, clock and triggers over just a few twisted pairs, thereby
minimizing the cable size and increased flexibility. An industry standard forum has
adopted this method, called CameraLink, for low cost connectivity and cabling.
Silicon Imaging provides a PCI Frame Grabber board to receive the 12 bit per pixel
image and transfers the data directly to the host computer's memory.
 Silicon Imaging , Inc. 2002
FEATURES
•
•
•
•
•
•
•
•
•
•
•
•
•
•
•
•
•
1024 x 1024 Resolution (1.0 Million Pixels)
Full Frame Triggered Shutter, Progressive scan
1" Imaging Format , 12um Square Pixel
ACS Pixel for extreme dynamic operation
12 Bits per Pixel, 30MHz Sampling
High Speed Readout (30 ~ 2000FPS)
Row and column binning at 2x & 4x
Dual Region-of-Interest (ROI) windowing
CameraLink Digital Interface
Progressive Rolling Shutter Mode
1usec~4sec Precision High Speed Shutter
Long Integration (up to n-Frame Times)
Adaptive exposure with Non-Destructive readout
Programmable Gain, Offset, Clock, Shutter & ROI
External Clock Synchronization (FrameLock)
Monochrome & Color Bayer RGB Models
5VDC Low Power, Small Package
Specifications subject to change without notice.
SI-1204F Camera Block Diagram
Register
Programming
5VDC Power Supply
& Trigger Controller
VIDEO
CLOCK
LVAL
uP
Control
ChannelLink
MUX 28 : 4
PLL & Timing
Generator
LVDS
FVAL
DVAL
12 Bit A/D
Processor
LVDS
ACS-I
1024 x 1024
@ 30FPS
PCB OEM Version
MDR-26
44 x 33 x 14mm - 2PCB
Actual size
CAPTURE & CONTROL SOFTWARE (GRAB)
A free ready-to-run interactive capture program (GRAB) features camera control screens, line and column pixel plots, image sequence capture,
and image sequence display. Individual images can be saved to disk for processing by other programs.
COLOR BAYER CONVERSION & FLAT FIELD CORRECTION
Bayer color Image data from the SI-1024F-RGB is converted to 24Bit RGB using the most advanced signal color conversion algorithm
available. AWB Automatic White Balance functions are implemented to match the true world color to the calculated and displayed values.
These functions are also available in the Imaging Library (SDK-IP) for OEM applications.
LIVE VIDEO DISPLAY & SEQUENCE CAPTURE
Image display is provided by the host computer's video
graphics adapter (VGA) and monitor(s) or flat panel(s).
Display resolution is a function of the capabilities of these
devices. Some Super VGA (SVGA) monitors can display
the full resolution of the camera image. A software lookup-table feature allows display of 8 bits from the 12 bit
gray level image with gain and gamma controls.
IMAGE PROCESSING SOFTWARE (IPS)
This Windows application is a ready-to-run interactive
image processing and analysis program for qualitative
and quantitative image operations. A few mouse clicks
select histograms, morphology, measurements, edge
detection, correlations, FFT's, 3D plots, arithmetic
operations, and many other functions. The tools provide
analysis of the captured images using 12 bits of gray level
per pixel. The IPS can control up to 8 Frame Grabber
boards in a single computer.
CAPTURE & CONTROL LIBRARY (SDK-FG)
This Library of functions enables image capture and
camera control for custom developed applications using
Microsoft C/C++ and Visual C/Basic programming
environments.
IMAGE PROCESSING LIBRARY (SDK-IP)
The SDK-IP combines all the basic capture & control functions (SDK-FG) with an extensive programming library of image processing, feature
extraction and measurement functions. It includes sample code for image processing and allows application-specific code to be added to the
large selection of functions already developed. No royalties are required for software developed using our libraries.
SOLUTIONS and SUPPORT
The Silicon Imaging team has provided vision solutions and support for OEM machine vision manufacturers, camera manufacturers,
radiologists, astronomers, biologists, and engineers for 15 years
 Silicon Imaging , Inc. 2002
Specifications subject to change without notice.
FG-1024F FRAME GRABBER SPECIFICATIONS
FG-1024F PCI-Bus Frame Grabber
CameraLink Interface
Camera Link is a new digital transmission method designed by
imaging component manufacturers as an easy and standard way to
connect digital cameras to frame grabbers. The Camera Link
specification includes greater than 1.2Gb/sec data transmission as
well as camera control and asynchronous serial communications all
on a single cable with high-density 26pin connector. Only two
connections are required to quickly interface your digital camera to a
multitude of frame grabbers.
Silicon Imaging has provided the option to further simplify cabling by
allowing camera power (+5VDC) directly thru the CameraLink cable
using up to 3 pairs of wires in the standard cable.
Features
•
•
•
•
•
•
•
•
32 bits, 33 MHz PCI slot
132MB/sec burst transfer speed
85~100MB/sec Sustained
General purpose Differential Trigger & Power connector
1.55 Amps @ +5 Volts.
4.913 inches long by 4.20 inches high (short slot)
CameraLink MDR-26 pin Connection
Camera Power at +5VDC on header
Description
The FG-1024 is a 32-bit/33MHz PCI-bus Camera Link Frame Grabber
and Trigger control board optimized for capturing asynchronous triggered
images or live continuous video from the FG-1024F Camera.
Memory Sequences
Image data is transferred from the camera directly to PC Memory. For
high-speed recording, up to 3.5Gbytes of PC memory can be allocated in
WIN-NT/2000/XP for use in sequence capture.
Camera Serial Control
Camera features are all programmed via the integrated bi-directional
serial port. Control functions include: Full-Frame/Window Readout, ROI
settings, Triggering method, Clock speeds, Gain, Offset, binning, adaptive
image scan and Exposure duration.
Windowing
In addition to controlling the region of readout from the camera, the frame
grabber provides an additional level of windowing for height, width and
position, before data is transferred over the PCI bus.
As a standard that has been defined by industry members, Camera
Link provides the following benefits:
•
Standard Interface: Every Camera Link product uses the same
cable and signaling. Cameras and frame grabbers can easily be
interchanged using the same cable.
•
Simple Connection: Only two connections will be required to
interface a camera and frame grabber: Power and Camera Link.
•
Lower Cost: Because Camera Link is an industry-wide standard,
consumers will be able to take advantage of lower cable prices.
•
Smaller connectors & cables: The technology used in Camera
Link reduces the number of wires required to transmit data over
traditional LVDS or RS-422 parallel interfaces, allowing for
smaller cables. Smaller cables are more robust and less prone to
breakage.
•
Higher data rates: The technology used in Camera Link has a
maximum data rate of 2.3GB/s, for use in the most demanding
high definition, high frame rate and line scan.
Cable Diagram CameraLink
Triggering Functions
For high speed triggering for use in exposure timing or sequence capture
events, 2 differential signals are used for inputs and one for strobe output.
A TTL-to-Differential Module is also available.
System Requirements
The FG-1024 Requires a PCI motherboard capable of sustained transfer
rates of at least 100 MB per second for full resolution image capture to
motherboard DRAM. A 16/24/32 bit RGB SVGA compatible display
system. Display resolution as per installed VGA device driver. Advanced
Graphics Port (AGP) PCI motherboard and AGP VGA is recommended.
 Silicon Imaging , Inc. 2002
Specifications subject to change without notice.
SI-102F MegaCamera
 Specifications
Sensor:
Active Pixels
Optical Imaging Format
Pixel Size (pitch)
Pixel Type
Aspect Ratio
Spectral Response
Dynamic Range
Fill Factor
Sensitivity
Linearity (5-70%)
QE @ 500nm
Read Noise
Dark Current Noise
Saturation Capacity
Conversion Gain
Vsat / Vdark
Noise Reduction
Readout Method
Readout Types
Shutter
Shutter Speed / Integration
Minimum Blanking
1024 (H) x 1024 (V)
1" (13.21mm X 13.21mm)
12um x 12um
CMOS Active Column Sensor (ACS)
1:1
300 ~ 1100 nm (see curve)
60dB typ / 70dB max (Vsat/RMS Noise)
> 55%
0.5 Lux @ F1.0 (monochrome, Gain=on)
+/- 2.5% SAT
50.0% Nom
50 e- typ (100e- max)
< 2%SAT @ 1 second integtration
300,000 e10.0 uV/e2.8 Vsat, 0.9Vdark
Correlated Double Sampling (CDS)
Progressive Scan
Destructive or Adaptice Exposure
Full Frame Shutter or Rolling Shutter
Variable, 1 to 1024 Line times
40 Clocks/line
Frame Grabber Control & Communication:
Serial Communication
Signaling
GP Asynchronous Triggers
General Purpose I/O
High Speed Shutter
Long Integration
Region-of–Interest
RS-232 Protocol 9600bps
TX & RX (LVDS)
4 (LVDS) – CC1, 2, 3, 4
4 TTL (on Camera PCB header)
1usec ~ 4sec, in 1usec increments
n-Frame Times
Dual Regions
1 x 1 to 1024 x 1024
4 Settings (1.0x, 1.33x, 2.0x, 4x)
7 Settings (+/- 0.0, 0.3,0.6, 0.9V)
Full-Frame, Windowed, Dual Window
Adaptive Exposure (non-destructive)
Long Integration & Single-Shot
Next top of Frame
CameraLink (MDR-26)
Gain
Offset
Programmable Modes
Setting Timing
Data/Power/Trigger/
RS-232
Power
Input Voltage
Power
Power Connection
+5 VDC +/- 10%
2.5 Watts
Tajimi RO3-PB2M 2Pin Round or
Via CameraLink Connector using
CC 2, 3, 4 (optional order)
A/D Conversion & Sampling Clock Synthesizer
30Mhz (Nominal)
12 Bit
20 ~ 50Mhz Programmable
Serial command Protocol
67.5dB
0.2 LSB rms
Digital Video Output: 12 Bit Multiplexed LVDS (CameraLink)
Readout Rate
30 MHz @ 12 Bit (8 Bit transfer optional)
Readout Format
12 Bit (Ports A, B)
Frame Rate
1024 x 1024 @ 27 fps
1024 x 768 @ 37 fps XGA
800 x 600 @ 60 fps SVGA
640 x 480 @ 92 fps VGA
320 x 240 @ 347 fps
200 x 200 @ 625 fps
100 x 100 @ 2143 fps
64 x 64 @ 4500 fps
Line Readout Rate
35.5usec per line @ 30MHz
Signal-to-Noise
> 60dB (fc=20MHz, Gains=1.0)
Connector
MDR 26-pin (3M 10226-6212VC)
Mechanical
Lens Mount
Enclosure Size
Weight
Camera Mount
C-Mount, 7mm Back focus Adj.
45mm W x 52mm H x 50mm L
12 oz.
¼" x 20standard tripod mount
Spectral Response Curve
QE RESPONSE
1.2000
1.0000
Normalized
A/D Conversion
Vertical Resolution
Pixel Clock Frequency
Adjustment Method
A/D SNR
Output Noise
0.8000
0.6000
0.4000
0.2000
5
0
50
10
97
0
5
0
5
0
5
5
90
82
75
67
60
52
45
37
30
0
0.0000
Wavelength
ORDERING INFORMATION
SI-1024F-S
1.0 MP Digital Camera, 2M Cable, PCI Frame Grabber & Win 98/NT Imaging Software System
SI-1024F-RGB or 1024F-M
1.0 MP Digital Camera (RGB for Color, M for Monochrome)
FG-1024F
PCI bus Frame Grabber for the SI-1024
CL-2M
2 meter Digital Camera Cable
CL-5M
5 meter Digital Camera Cable
CL-10M
10 meter Digital Camera Cable
 Silicon Imaging , Inc. 2002
Specifications subject to change without notice.
SI-1024F Mechanical Drawings
 Silicon Imaging , Inc. 2002
Specifications subject to change without notice.