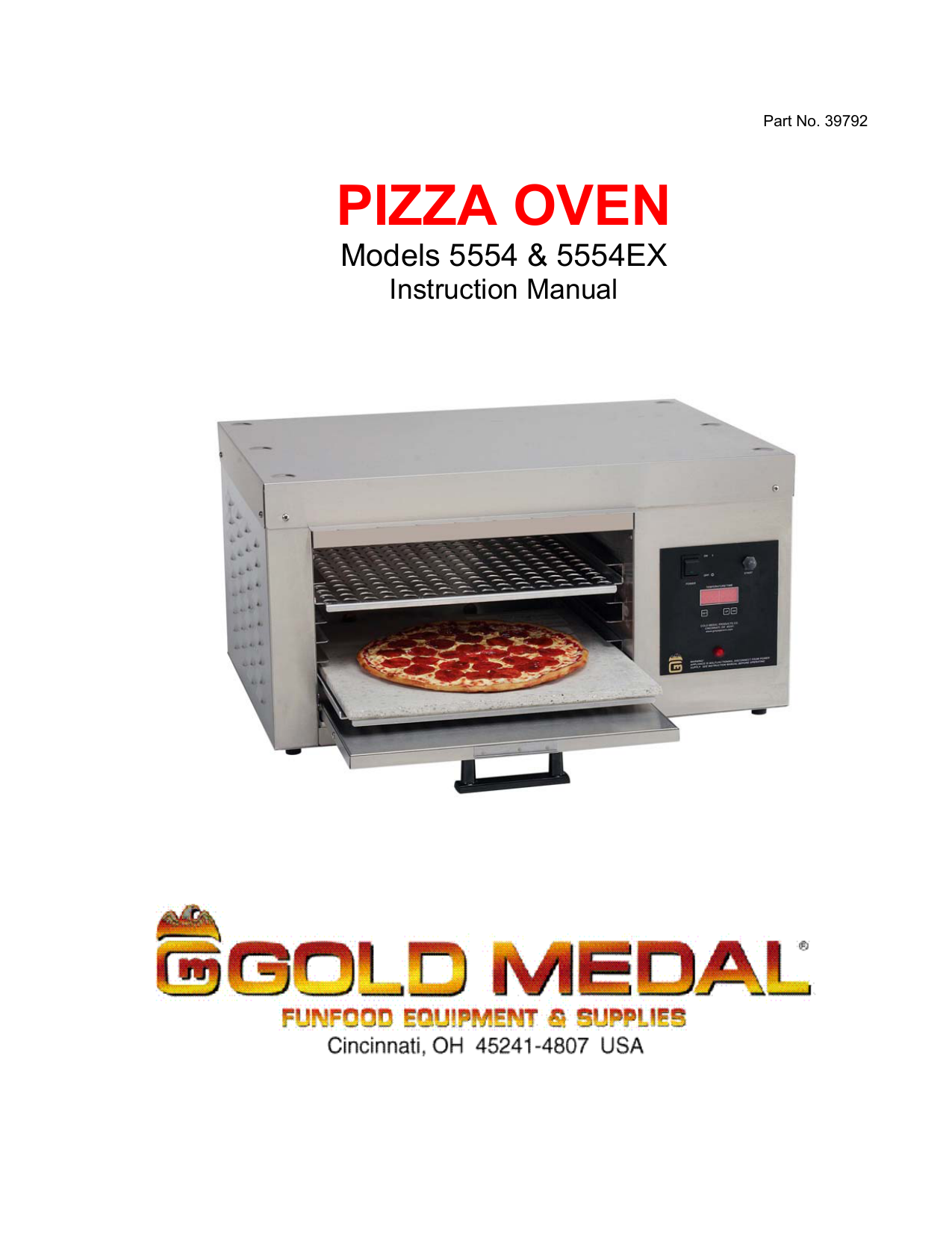 Part No. 39792
PIZZA OVEN
Models 5554 & 5554EX
Instruction Manual
SAFETY PRECAUTIONS
Installation Instructions
Inspection of Shipment:
Unpack all cartons and check thoroughly for any damage that may have occurred during
transit. Damage claims should be filed immediately with the transportation company.
Gold Medal is not responsible for any damage that occurs in transit.
Setup:
Your Pizza Oven was assembled and tested at the factory. Remove all packing material
and tape before starting operation.
Electrical Requirements:
The following power supply must be provided:
Model No. 5554:
Model No. 5554EX:
120 VAC, 60 Hz. 15 amp protected circuit.
230 VAC, 50 Hz. 15 amp protected circuit.
Your electrician must furnish sufficient current for proper machine operation. We
recommend this warmer be on a dedicated and circuit protected line. Failure to wire
properly will void the warranty and can result in damage to the heat elements, light,
motor and etc.
It is Gold Medal Products Company's recommendation that this machine be plugged
directly into a wall outlet. The use of extension cords is not recommended due to safety
reasons and the warmer's performance will be sacrificed/reduced.
Before You Plug In Machine:
1. Make sure that the wall outlet can accept the three (3) prong grounded plug on the
power supply cord. (Domestic only)
2. The wall outlet must have the proper polarity. If in doubt, have a competent
electrician inspect the outlet and correct if necessary.
3. DO NOT use a three (3) prong grounded to two (2) prong un-grounded adapter.
(Domestic Only)
3
Operating Instructions
Controls And Their Functions
On/Off Switch
Flipping this switch to the "ON" position energizes the machine turning on the fan motor
and the heat elements.
Malfunction Light
If the malfunction light goes on, the appliance is malfunctioning.
TURN OFF OR DISCONNECT THE MACHINE FROM THE POWER SUPPLY AND
HAVE IT SERVICED BY A QUALIFIED TECHNICIAN.
Start Button
This button starts the count-down sequence on the digital control.
Mode Button
Changes the mode from time setting, to temperature setting, to viewing the current
temperature.
Up Button
Depressing the button increases the time or temperature accordingly.
Down Button
Depressing the button decreases the time or temperature accordingly
On/Off
Switch
Start
Button
Mode
Button
Up and Down
Buttons
Malfunction
Light
4
EASY STEPS FOR USING UNIT
1. Prepare the oven for operation
a. Place the stone at the desired level. IF BEING USED FOR THE FIRST TIME, THE STONE
MUST BE PRE-DRIED. THIS IS A ONE TIME ONLY PROCEDURE WHEN A STONE IS
NEW OUT OF THE BOX. PLEASE FOLLOW THE INSTRUCTIONS BELOW FOR THE
PROCEDURE:
1. Place the stone on the baking pan in the center position of the oven.
2. Set the oven at 200°. Leave at 200 for 2 hours.
3. Set the oven at 300°. Leave at 300 for 2 hours.
4. Set the oven at 400°. Leave at 400 for 1 hour.
5. Set the oven at 450°. Leave at 450 for 1 hour.
CAUTION: a slight odor & outgassing may occur during the initial heat up. This is normal
as the decks are adjusting to their environment.
b. Turn on the power switch
c. Depress the mode button to time setting and enter the time using the up and down buttons.
d. Depress the mode button to temperature setting and enter the setting with the up and down
buttons.
e. When the oven reaches 200°F the L.E.D. will show the temperature.
f. Using oven mitts, load the food product into the oven when it reaches the desired
temperature.
g. Depress the start button to display the count-down sequence.
h. When the control beeps the cook cycle is complete. Carefully remove the food product
using oven mitts.
i. Repeat steps F thru H for additional cycles.
DO NOT BAKE FROZEN PRODUCTS ON THE PIZZA STONE.
DOING SO MAY CAUSE THE STONE TO SHATTER!
FOR FROZEN PRODUCTS, PLEASE REMOVE THE STONE AND
USE THE ALUMINUM BAKING PAN ONLY.
CARE AND CLEANING
The stainless steel body of the Warmer can be kept clean with cleaner designed for stainless
steel and a clean cloth. We recommend Gold Medal Products Company's Watchdog Stainless
Steel Polish (P/N 2088.) NEVER USE ABRASIVES on the stainless steel body.
5
MAINTENANCE INSTRUCTIONS
ORDERING SPARE PARTS
* Always speak to a Gold Medal Products Technical Service Advisor before
ordering any parts to help ensure accuracy for your product. Included
diagrams may not be the latest information.
1. Identify the needed part by checking it against the photos, illustrations, and/or parts list.
2. When ordering, please include part number, part name, and quantity needed.
3. Please include your model number, serial number, and date of manufacture (located on
the machine nameplate) with your order.
4. Address all parts orders to:
Parts Department
Gold Medal Products Co.
10700 Medallion Drive
Cincinnati, Ohio 45241-4807
Or, place orders by phone or online:
(800) 543-0862
(513) 769-7676
Fax: (513) 769-8500
E-mail: info@gmpopcorn.com
Web Page: www.gmpopcorn.com
1
2
3
4
6
5
7
8
9
Item
Part No. Description
1
39797
Oven Front Door Weldment
2
40807
Handle
3
42798
Switch, Lighted Rocker Green
4
41031
Switch, Oil Pump
5
41033
Pilot Light, 125V Red
6
47155
Rubber Feet 3/4" High
7
76540A Digital Baker Control
8
39794
Baking Pan
9
43288
Bottom Element (500 Watts)
10
50017
Top Element (900 Watts)
11
39790
Pizza Stone (Not Shown)
8
1
3
Item
1
Part No. Description
76542
Relay, 20A
2
76346
Thermocouple
3
76540A
Digital Control
9
2
2
1
3
4
Item
Part No. Description
1
55195
Thermostat
2
40721
Axial Fan
3
47199
Blower Plug and Cord
4
79058
High Limit Thermostat
10
PARTS LIST – OVEN / WARMER COMBO
Model # 5554
Item
Part
No.
No.
1
2
3
4
5
6
7
8
9
10
11
12
13
14
15
16
17
18
19
20
21
22
23
24
25
26
27
28
29
30
31
32
33
34
22038
38324
39763
39764
39796
39797
39799
39838
39840
39842
39781
39782
39786
39837
39845
39788
39390
40721
40807
41031
41033
42798
39846
43288
47199
47155
49673
50017
76346
76540
76541
76544
87163
39794
Description
Quantity
Lead-in Cord
Push Button Boot
Element Support Rod
Drip Pan
Back Panel Insulation
Oven Door Weldment
Oven Door Back Weldment
Oven Chamber Weldment
Left Side Panel Weldment
Right Side Panel Weldment
Right Access Plate
Dome Weldment
Bottom Plate
Back Panel
Left and Right Insulation
Top Insulation
Pizza Stone
Axial Fan
Handle
Switch, Oil Pump
Pilot Light
Switch, Lighted Rocker
Insulation, Oven Door
500 Watt Heat Element
Blower Plug and Cord
Rubber Feet ¾ inch
Heat Sink
Heat Element 900 Watt
Type "J" Thermocouple
Digital Baker Control
Solid State Relay
Spacer, .280 x .250 OD
Strain Relief
Baking Pan
11
1
1
2
1
1
1
1
1
1
1
1
1
1
1
2
1
1
1
1
1
1
1
1
1
1
6
1
1
1
1
1
5
1
1
12
13
WARRANTY
WE WARRANT to the original purchaser the Gold Medal equipment sold by us to
be free from defects in material or workmanship under normal use and service. Our
obligation under this warranty shall be limited to the repair or replacement of any
defective part for a period of six (6) months from the date of sale to the Original
Purchaser with regard to labor and two (2) years with regard to parts and does not
cover damage to the equipment caused by accident, alteration, improper use, voltage,
abuse, or failure to follow instructions.
THIS WARRANTY IS IN LIEU OF ALL OTHER WARRANTIES EXPRESSED
OR IMPLIED, AND OF ALL OTHER OBLIGATIONS OR LIABILITIES ON OUR
PART, INCLUDING THE IMPLIED WARRANTY OF MERCHANTIBILITY.
THERE ARE NO WARRANTIES WHICH EXTEND BEYOND THE DESCRIPTION
ON THE FACE HEREOF. We neither assume, nor authorize any other person
to assume for us, any other obligation or liability in connection with the sale of said
GOLD MEDAL equipment or any part thereof.
The term "Original Purchaser" as used in this warranty shall be deemed to mean that
person, firm, association, or corporation who was billed by the GOLD MEDAL
PRODUCTS COMPANY, or their authorized distributor for the equipment.
THIS WARRANTY HAS NO EFFECT AND IS VOID UNLESS THE ORIGINAL
PURCHASER FIRST CALLS GOLD MEDAL PRODUCTS COMPANY AT 1-800543-0862 TO DISCUSS WITH OUR SERVICE REPRESENTATIVE THE
EQUIPMENT PROBLEM, AND, IF NECESSARY, FOR INSTRUCTIONS
CONCERNING THE REPAIR OR REPLACEMENT OF PARTS.
GOLD MEDAL PRODUCTS COMPANY
10700 Medallion Drive
Cincinnati, Ohio 45241-4807 USA
www.gmpopcorn.com
Phone: 1-800-543-0862
Fax: 1-800-542-1496
© The text, descriptions, graphics and other material in this publication are the proprietary
and exclusive property of Gold Medal Products Company and shall not be used, copied,
reproduced, reprinted or published in any fashion, including website display, without its
express written consent.