Sony VN-CX1 Specification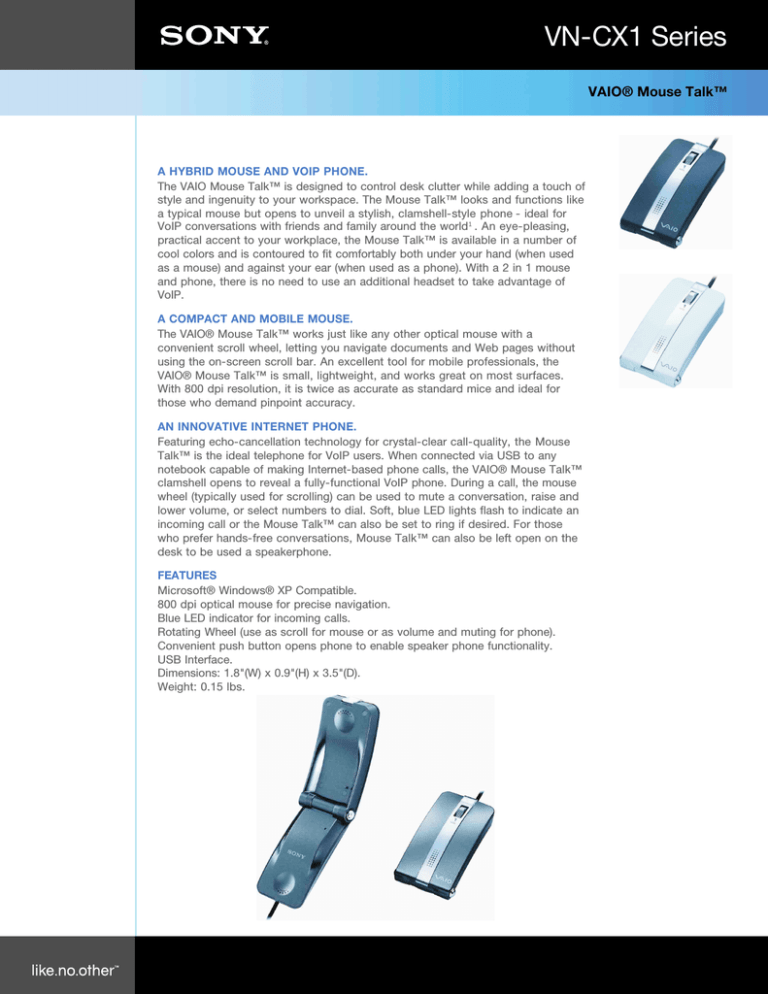 VN-CX1 Series
VAIO® Mouse Talk™
A HYBRID MOUSE AND VOIP PHONE.
The VAIO Mouse Talk™ is designed to control desk clutter while adding a touch of
style and ingenuity to your workspace. The Mouse Talk™ looks and functions like
a typical mouse but opens to unveil a stylish, clamshell-style phone - ideal for
VoIP conversations with friends and family around the world1 . An eye-pleasing,
practical accent to your workplace, the Mouse Talk™ is available in a number of
cool colors and is contoured to fit comfortably both under your hand (when used
as a mouse) and against your ear (when used as a phone). With a 2 in 1 mouse
and phone, there is no need to use an additional headset to take advantage of
VoIP.
A COMPACT AND MOBILE MOUSE.
The VAIO® Mouse Talk™ works just like any other optical mouse with a
convenient scroll wheel, letting you navigate documents and Web pages without
using the on-screen scroll bar. An excellent tool for mobile professionals, the
VAIO® Mouse Talk™ is small, lightweight, and works great on most surfaces.
With 800 dpi resolution, it is twice as accurate as standard mice and ideal for
those who demand pinpoint accuracy.
AN INNOVATIVE INTERNET PHONE.
Featuring echo-cancellation technology for crystal-clear call-quality, the Mouse
Talk™ is the ideal telephone for VoIP users. When connected via USB to any
notebook capable of making Internet-based phone calls, the VAIO® Mouse Talk™
clamshell opens to reveal a fully-functional VoIP phone. During a call, the mouse
wheel (typically used for scrolling) can be used to mute a conversation, raise and
lower volume, or select numbers to dial. Soft, blue LED lights flash to indicate an
incoming call or the Mouse Talk™ can also be set to ring if desired. For those
who prefer hands-free conversations, Mouse Talk™ can also be left open on the
desk to be used a speakerphone.
FEATURES
Microsoft® Windows® XP Compatible.
800 dpi optical mouse for precise navigation.
Blue LED indicator for incoming calls.
Rotating Wheel (use as scroll for mouse or as volume and muting for phone).
Convenient push button opens phone to enable speaker phone functionality.
USB Interface.
Dimensions: 1.8"(W) x 0.9"(H) x 3.5"(D).
Weight: 0.15 lbs.

* Your assessment is very important for improving the work of artificial intelligence, which forms the content of this project