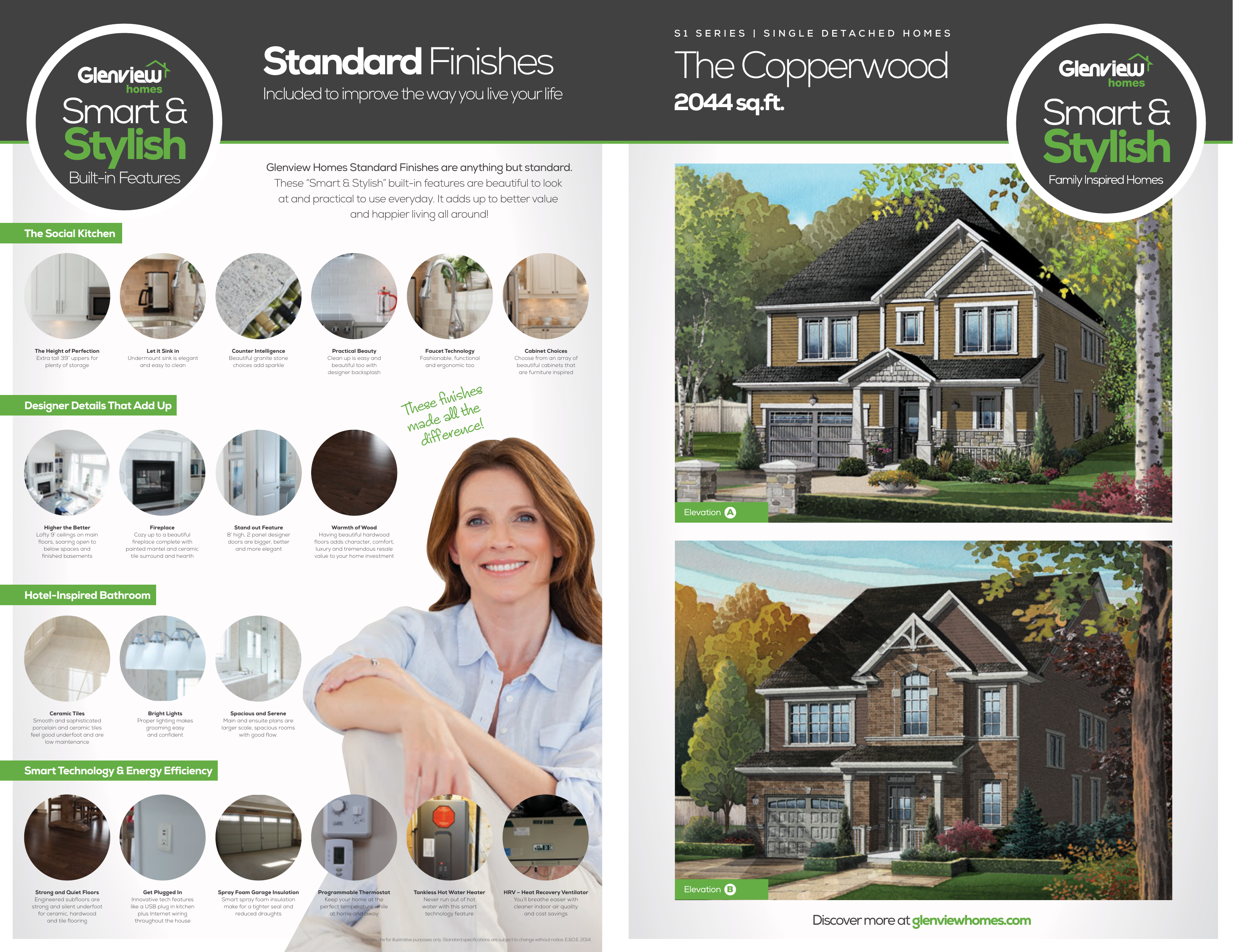 Standard Finishes
Smart &
Stylish
Built-in Features
Included to improve the way you live your life
S1 SERIES | SINGLE DETACHED HOMES
The Copperwood
2044 sq.ft.
Stylish
Glenview Homes Standard Finishes are anything but standard.
These "Smart & Stylish" built-in features are beautiful to look
at and practical to use everyday. It adds up to better value
and happier living all around!
The Social Kitchen
The Height of Perfection
Extra tall 39" uppers for
plenty of storage
Let it Sink in
Undermount sink is elegant
and easy to clean
Counter Intelligence
Beautiful granite stone
choices add sparkle
Practical Beauty
Clean up is easy and
beautiful too with
designer backsplash
Faucet Technology
Fashionable, functional
and ergonomic too
Cabinet Choices
Choose from an array of
beautiful cabinets that
are furniture inspired
hes
s
i
n
fi
These all the
made ence!
differ
Designer Details That Add Up
Elevation A
Higher the Better
Lofty 9' ceilings on main
floors, soaring open to
below spaces and
finished basements
Fireplace
Cozy up to a beautiful
fireplace complete with
painted mantel and ceramic
tile surround and hearth
Stand out Feature
8' high, 2 panel designer
doors are bigger, better
and more elegant
Warmth of Wood
Having beautiful hardwood
floors adds character, comfort,
luxury and tremendous resale
value to your home investment
Hotel-Inspired Bathroom
Ceramic Tiles
Smooth and sophisticated
porcelain and ceramic tiles
feel good underfoot and are
low maintenance
Bright Lights
Proper lighting makes
grooming easy
and confident
Spacious and Serene
Main and ensuite plans are
larger scale, spacious rooms
with good flow.
Smart Technology & Energy Efficiency
Strong and Quiet Floors
Engineered subfloors are
strong and silent underfoot
for ceramic, hardwood
and tile flooring
Get Plugged In
Innovative tech features
like a USB plug in kitchen
plus Internet wiring
throughout the house
Spray Foam Garage Insulation
Smart spray foam insulation
make for a tighter seal and
reduced draughts
Programmable Thermostat
Keep your home at the
perfect temperature while
at home and away
Tankless Hot Water Heater
Never run out of hot
water with this smart
technology feature
HRV – Heat Recovery Ventilator
You'll breathe easier with
cleaner indoor air quality
and cost savings
*Images are for illustrative purposes only. Standard specifications are subject to change without notice. E.&O.E. 2014.
Smart &
Elevation B
Discover more at glenviewhomes.com
S1 SERIES | SINGLE DETACHED HOMES
The Copperwood
2044 sq.ft.
Ground Level
Bonus
Second Level
Space
Optional - Second Floor with Executive Ensuite
Bonus Finished Basement
WINDOW WELL
(IF REQ'D)
WINDOW WELL
(IF REQ'D)
SHOWER
SLIDING DOOR
ENSUITE
GAS FIREPLACE
ENSUITE
MASTER BEDROOM
12'7" X 14'0"
BREAKFAST
3 PC.
ROUGH-IN
LOCATION
10'1" X 8'0"
SHELVES
W.I.C.
MASTER BEDROOM
10'1" X 8'0"
S
QUIET WALL
F
BEDROOM 2
H
LAUNDRY
D
W
T
OPT. UPPERS
BEDROOM 2
9'0" X 9'10"
(LOCATIONS
MAY VARY)
9'0" (9'8") X 9'4"
(DOOR SWING
W/ SUNKEN
MUDROOM)
DN
LAUNDRY
DINING ROOM
12'0" X 10'6"
DN
D
W
LOW
HEADROOM
(IF REQ'D)
KNEE WALL
(SUNKEN
IF REQ'D)
W.I.C.
11'0"(14'9") X 24'5"
(396 SF)
BEDROOM 3
9'6" X 11'0"
T
OPT. UPPERS
DN
LINEN
MUDROOM
QUIET WALL
RECREATION ROOM
QUIET WALL
KITCHEN
W.I.C.
FURN. NICHE
(OPT.SHELVES)
DW
SHELVES
12'7" X 14'0"
COFFERED CEILING
12'0" X 14'0"
LINEN
FAMILY ROOM
FLUSH BREAKFAST BAR
UNFINISHED
SPACE
BATH
DOOR
WHERE
GRADE
PERMITS
NICHE
BATH
UP
BEDROOM 3
GARAGE
10'3" X 11'0"
10'3" X 20'2"
KNEE WALL
CONC. LEDGE
SLOPED KNEE WALL
UP
UNEXCAVATED
DN
DN
LOW
HEADROOM
UNFINISHED
SPACE
Optional - Gourmet Kitchen
Optional - Bench with Shelf & Coat Hooks
DN
SLIDING DOOR
BENCH
W/ SHELF
& HOOKS
LOW
HEADROOM
FLUSH BREAKFAST BAR
PWD.
RM.
12'0" X 5'6" (6'6')
LOW
HEADROOM
(IF REQ'D)
PANTRY
LOFT
DW
(SUNKEN
IF REQ'D)
MIRRORED SLIDERS
FOYER
KNEE WALL
UNEXCAVATED
PORCH
13'6" X 5'0"
S
MUDROOM
(SUNKEN
IF REQ'D)
DN
DN
(DOOR SWING
W/ SUNKEN
MUDROOM)
KITCHEN
10'1" X 16'0"
DN
F
Here's What You'll Love About the Copperwood
/ Entertain in Style
/ Get Organized
/ Gathering Spaces
Formal sunken foyer and dining room
makes a nice first impression!
Practical mudroom and closets, handy
second level laundry and lots of walk-in
closets and storage.
Open concept kitchen and family room
for casual comfort.
/ Flex Space Loft
/ Room for Everyone
/ Bonus Basement
Teen hangout, Mom's reading nook,
Dad's home office – you choose!
Family-friendly 3 bedroom and 2-½
bath layout.
Lots of height, light and room for
relaxing and recreation.
Despite the best efforts of Glenview Homes and its affiliates, officers, directors, employees or agents (collectively "we", "us" or "our" as circumstances warrant) to provide accurate information, including but not limited to prices and availability of homes or lots, it is
regrettably not possible to ensure that all information contained in this brochure is correct. We do not warrant the accuracy and completeness of information, text, graphics or items contained in this brochure. All dimensions provided are approximate and sizes and
specifications are subject to change without notice. The floor plans and room dimensions shown apply to Elevation 'A' interior units of this model type. Illustrations are artist's concepts only. Actual usable floor space varies from indicated floor areas. Square footages
include finished space in the basement. E. & O.E. THIS BROCHURE IS PROVIDED 'AS IS' WITHOUT WARRANTY OF ANY KIND, EITHER EXPRESS OR IMPLIED, WARRANTIES OF MERCHANTABILITY, FITNESS FOR A PARTICULAR PURPOSE, OR NON-INFRINGEMENT.
The information and specifications contained in this brochure are subject to change without notice and represent no commitment on our part in the future. All products and services are provided subject to applicable taxes and accompanying terms and conditions.

* Your assessment is very important for improving the work of artificial intelligence, which forms the content of this project