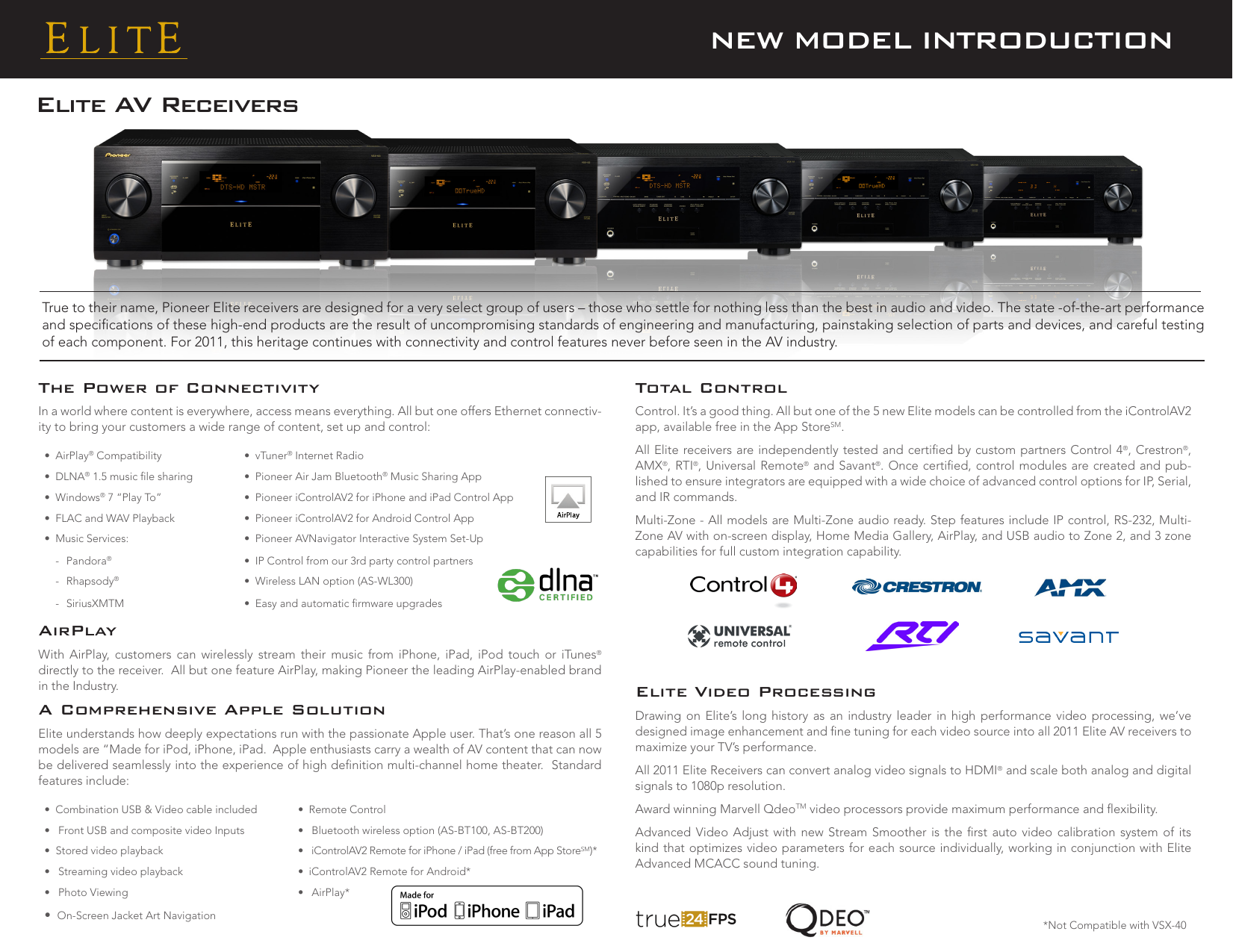 NEW MODEL INTRODUCTION
Elite AV Receivers
True to their name, Pioneer Elite receivers are designed for a very select group of users – those who settle for nothing less than the best in audio and video. The state -of-the-art performance
and specifications of these high-end products are the result of uncompromising standards of engineering and manufacturing, painstaking selection of parts and devices, and careful testing
of each component. For 2011, this heritage continues with connectivity and control features never before seen in the AV industry.
The Power of Connectivity
Total Control
In a world where content is everywhere, access means everything. All but one offers Ethernet connectivity to bring your customers a wide range of content, set up and control:
Control. It's a good thing. All but one of the 5 new Elite models can be controlled from the iControlAV2
app, available free in the App StoreSM.
• AirPlay® Compatibility
• vTuner® Internet Radio
• DLNA® 1.5 music file sharing
• Pioneer Air Jam Bluetooth® Music Sharing App
• Windows 7 "Play To"
• Pioneer iControlAV2 for iPhone and iPad Control App
• FLAC and WAV Playback
• Pioneer iControlAV2 for Android Control App
• Music Services:
• Pioneer AVNavigator Interactive System Set-Up
- Pandora®
• IP Control from our 3rd party control partners
®
- Rhapsody
• Wireless LAN option (AS-WL300)
- SiriusXMTM
• Easy and automatic firmware upgrades
®
All Elite receivers are independently tested and certified by custom partners Control 4®, Crestron®,
AMX®, RTI®, Universal Remote® and Savant®. Once certified, control modules are created and published to ensure integrators are equipped with a wide choice of advanced control options for IP, Serial,
and IR commands.
Multi-Zone - All models are Multi-Zone audio ready. Step features include IP control, RS-232, MultiZone AV with on-screen display, Home Media Gallery, AirPlay, and USB audio to Zone 2, and 3 zone
capabilities for full custom integration capability.
AirPlay
With AirPlay, customers can wirelessly stream their music from iPhone, iPad, iPod touch or iTunes®
directly to the receiver. All but one feature AirPlay, making Pioneer the leading AirPlay-enabled brand
in the Industry.
A Comprehensive Apple Solution
Elite understands how deeply expectations run with the passionate Apple user. That's one reason all 5
models are "Made for iPod, iPhone, iPad. Apple enthusiasts carry a wealth of AV content that can now
be delivered seamlessly into the experience of high definition multi-channel home theater. Standard
features include:
Elite Video Processing
Drawing on Elite's long history as an industry leader in high performance video processing, we've
designed image enhancement and fine tuning for each video source into all 2011 Elite AV receivers to
maximize your TV's performance.
All 2011 Elite Receivers can convert analog video signals to HDMI® and scale both analog and digital
signals to 1080p resolution.
• Combination USB & Video cable included
• Remote Control
Award winning Marvell QdeoTM video processors provide maximum performance and flexibility.
• Front USB and composite video Inputs
• Bluetooth wireless option (AS-BT100, AS-BT200)
• Stored video playback
• iControlAV2 Remote for iPhone / iPad (free from App StoreSM)*
• Streaming video playback
• iControlAV2 Remote for Android*
Advanced Video Adjust with new Stream Smoother is the first auto video calibration system of its
kind that optimizes video parameters for each source individually, working in conjunction with Elite
Advanced MCACC sound tuning.
• Photo Viewing
• AirPlay*
• On-Screen Jacket Art Navigation
*Not Compatible with VSX-40
NEW MODEL INTRODUCTION
2011 Elite
Receivers Common
Features
Feature
Comparison
VSX-40
Power (FTC)
The following features are common to all
2011 Elite receivers:
THX
APPLE PORTABLE
Front Panel
• Made for iPad & iPhone Certified
• iPad battery charger
• Supplied USB/Video Cable
VIDEO PROCESSING
•
•
•
•
HDMI (V.1.4a with 3D & ARC)
Video Conversion to HDMI
1080p Video Scaling & Processing
36-Bit Deep Color
AirPlay®
•
•
•
•
HDMI (V.1.4a with 3D & ARC)
Component Video Inputs
Digital Media USB
Bluetooth Ready – AS-BT100 / AS-BT200
AUDIO
• 7.1 Discrete Multi-Channel Amplification
• Dolby TrueHD / Pro-Logic IIz & dts-HD Master
• Auto MCACC
• Advanced Sound Retriever
• Sound Retriever - AIR
• Phase Control
• Auto Level Control
• Headphone Surround
90 watts x 7
VSX-53
110 watts x 7
-
Select 2 Plus
-
Aluminum
-
Yes
Yes
-
Yes
iControlAV2*
-
Yes
Network Content
-
DLNA 1.5 / vTuner
DLNA 1.5 / vTuner / Rhapsody / Pandora /
SiriusXM
Hi-Res PC Audio
USB / MP3 / WMA /
AAC
Network WAV 192kHz / 24-Bit, FLAC 96kHz –
24-Bit
Network WAV 192kHz / 24-Bit, FLAC 192kHz –
24-Bit
HDMI 1.4a In / Out
4/1
Video Processor
Pioneer Sound
Enhancements
Multi-Zone
AV Navigator
Custom
Wireless Lan Option
Remote
2 Zone Audio
On-Screen Display
12V Triggers
IR In / Out
Support
- Pioneer Custom Installation Site
- SOURCE Training Web site
- Regional Trainers
VSX-52
Pioneer Air Jam*
CUSTOM CONTROL
•
•
•
•
•
80 watts x 7
VSX-51
iPad/iPhone Certified
CONNECTIVITY
VSX-50
5/1
6 / 1 includes front
Advanced MCACC /
Phase Control Plus /
Auto Sound Retriever
2 Zone Audio
2 Zone Audio
7 / 2 includes front
Qdeo 1080p / 24fps / Triple HD Noise Reduction
/ Stream Smoother
HDMI 1080p / Advanced Video Adjust
Auto MCACC / Phase
Control
7 / 1 includes front
Jitter Reduction
Virtual Depth
2 Zone AV with AirPlay and OSD
Full Band Phase
Control
3rd Zone Audio
-
Yes
Partner Program (IR)
IP Control / RS232 / Assignable Ports / Detachable Power Cord
-
Optional AS-WL300
SR
Learning
Illuminated Learning
UPC
8-84938-13299-2
8-84938-13321-0
8-84938-13302-9
8-84938-13491-0
8-84938-13492-7
SRP
$500
$700
$750
$1000
$1250
MAP
$450
$600
$700
$900
$1100
*Compatible with iOS 4.2. May not be compatible with future iOS versions.
Specifications and design subject to modification without notice.
PIONEER and the Pioneer logo are registered trademarks of Pioneer Corporation.
The impedances indicated are actual values that speakers can present to an amplifier while playing back music. They do not refer to the nominal rated impedances of speakers you use.
HDMI connection may not allow transmission of copyright protected material, depending on the capability of the signal source.
Apple, AirPlay, iPad, iPhone, iPod and iPod touch are trademarks of Apple Inc. registered in the US and other countries.
DTS is a registered trademarks of DTS, Inc.
Bluetooth is a registered trademark of Bluetooth SIG, Inc. Bluetooth functionality requires a compatible A2DP profile Bluetooth-enabled device. Certain Bluetooth features may not
be supported by all compatible Bluetooth-enabled devices, and/or the functionality of such features may be limited in certain devices.
HDMI and High-Definition Multimedia Interface are trademarks or registered trademarks of HDMI Licensing, LLC.
Blu-ray Disc is a registered trademark of the Blu-ray Disc Association.
Control4 and the Control4 logo are registered trademarks of Control4 Corporation.
Crestron and the Crestron logo are registered trademark of Crestron Electronics, Inc.
AMX and the AMX logo are trademarks of AMX, LLC registered in the U.S. and other countries.
Universal Remote Control logo is a registered trademark of Universal Remote Control, Inc.
RTI logo is a registered trademark of Remote Technologies Incorporated.
Savant Logo is a registered trademark of Savant Systems, LLC.
DLNA Certified is a trademark of the Digital Living Network Alliance.
© 2011 Pioneer Electronics (USA) Inc.