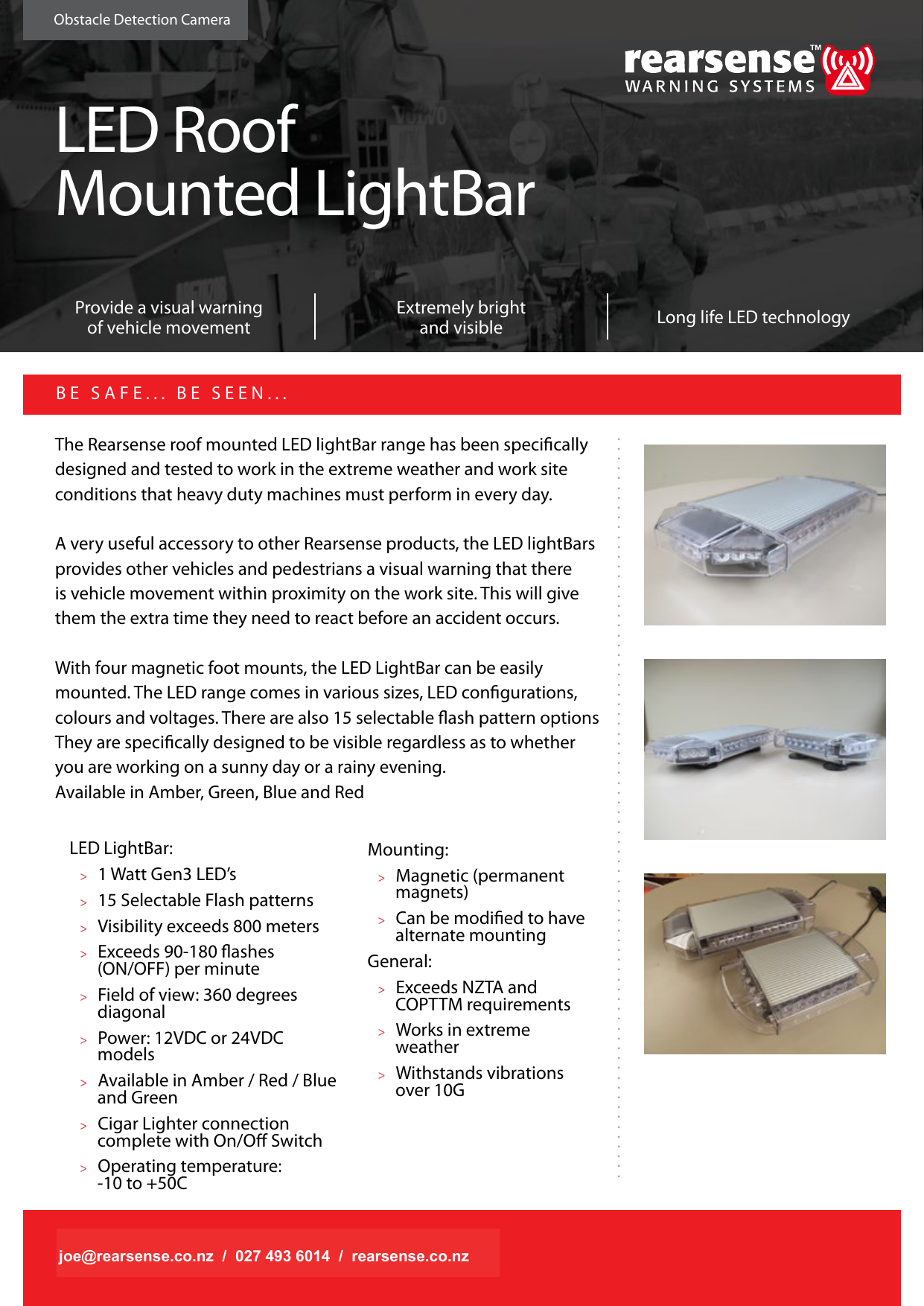 Obstacle
ObstacleDetection
DetectionCamera
Camera
LED Roof
Mounted LightBar
Provide a visual warning
of vehicle movement
Extremely bright
and visible
Long life LED technology
b E s A F E . . . be seen . . .
A very useful accessory to other Rearsense products, the LED lightBars
provides other vehicles and pedestrians a visual warning that there
is vehicle movement within proximity on the work site. This will give
them the extra time they need to react before an accident occurs.
With four magnetic foot mounts, the LED LightBar can be easily
mounted. The LED range comes in various sizes, LED configurations,
colours and voltages. There are also 15 selectable flash pattern options
They are specifically designed to be visible regardless as to whether
you are working on a sunny day or a rainy evening.
Available in Amber, Green, Blue and Red
LED LightBar:
> 1 Watt Gen3 LED's
> 15 Selectable Flash patterns
> Visibility exceeds 800 meters
> Exceeds 90-180 flashes
(ON/OFF) per minute
> Field of view: 360 degrees
diagonal
> Power: 12VDC or 24VDC
models
> Available in Amber / Red / Blue
and Green
> Cigar Lighter connection
complete with On/Off Switch
> Operating temperature:
-10 to +50C
Mounting:
> Magnetic (permanent
magnets)
> Can be modified to have
alternate mounting
General:
> Exceeds NZTA and
COPTTM requirements
> Works in extreme
weather
> Withstands vibrations
over 10G
New Zealand / + 64 7 575 6273 / www.rearsense.co.nz
[email protected] / 027 493 6014 / rearsense.co.nz
Australia / +64 2 952 59777 / www.rearsense.com.au
............................................................................
The Rearsense roof mounted LED lightBar range has been specifically
designed and tested to work in the extreme weather and work site
conditions that heavy duty machines must perform in every day.

* Your assessment is very important for improving the work of artificial intelligence, which forms the content of this project