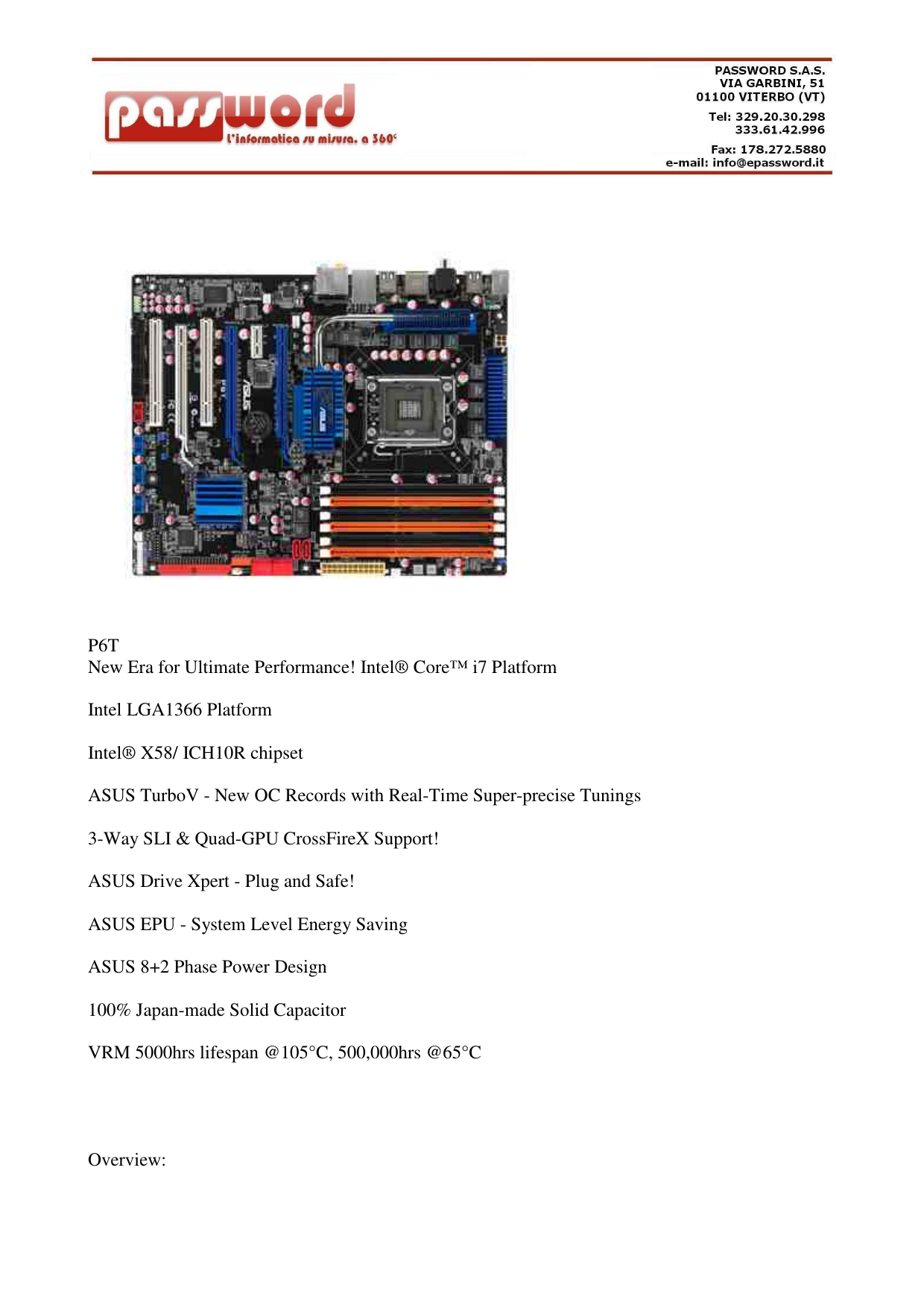 P6T
New Era for Ultimate Performance! Intel® Core™ i7 Platform
Intel LGA1366 Platform
Intel® X58/ ICH10R chipset
ASUS TurboV - New OC Records with Real-Time Super-precise Tunings
3-Way SLI & Quad-GPU CrossFireX Support!
ASUS Drive Xpert - Plug and Safe!
ASUS EPU - System Level Energy Saving
ASUS 8+2 Phase Power Design
100% Japan-made Solid Capacitor
VRM 5000hrs lifespan @105°C, 500,000hrs @65°C
Overview:
CPU, Chipset and Graphics features
LGA1366 Intel® Bloomfield Processor Ready
This motherboard supports the latest Intel® Bloomfield processors in LGA1366 package which has
memory controller integrated to support 3-channel (6 DIMMs) DDR3 memory. Support Intel(R)
QuickPath Interconnect (QPI) with system bus up to 6.4GT/s and a max bandwidth of up to
25.6GB/s. Intel® Bloomfield processor is one of the most powerful and energy efficient CPU in the
world.
PCIe 2.0
Double Speed; Double Bandwidth
This motherboard supports the latest PCIe 2.0 devices for double speed and bandwidth which
enhances system performance.
Intel X58
The Intel® X58 Express Chipset is the latest chipset designed to support latest Intel® Core™ i7
Processors and Intel's next generation system interconnect interface, Intel® QuickPath Interconnect
(QPI), providing improved performance by utilizing serial point-to-point links, allowing increased
bandwidth and stability. It also supports up to 36 PCI Express 2.0 lanes providing better graphics
performance.
3-Way SLI and Quad-GPU CrossFireX Support!
Flexible Multi-GPU solutions, Your Weapon of Choice!
The P6T breaks the boundaries to bring you the multi-GPU choice of either SLI™ or CrossFireX.
The motherboard features a dedicated graphics engine on the most powerful Intel X58 platform to
optimize PCIe allocation in multiple GPU configurations. Expect a brand-new gaming style you've
never experienced before!
Memory Features
Triple-Channel DDR3 2000(O.C.) / 1866(O.C.) / 1800(O.C.) / 1600(O.C.) / 1333 / 1066 support
The motherboard supports DDR3 memory that features data transfer rates of 2000(O.C.) /
1866(O.C.) / 1800(O.C.) / 1600(O.C.) /1333 / 1066 MHz to meet the higher bandwidth
requirements of the latest 3D graphics, multimedia, and Internet applications. The triple-channel
DDR3 architecture enlarges the bandwidth of your system memory to boost system performance.
ASUS Exclusive Features
ASUS TurboV
New OC Records with Real-Time Super-precise Tunings
Feel the adrenaline rush of real-time OC - now a reality with the ASUS TurboV. This extreme OC
tool lets you set new ambitions on the OC stage with an advanced and easy-to-use interface allowing you to overclock without exiting or rebooting the OS. With micro adjustments of the CPU
PLL, NB, NB-PCIe, and DRAM voltages in 0.02v intervals, there are no limits - only extreme
results to break new OC records!
ASUS Drive Xpert
Plug and Safe!
Without BIOS setups, the ASUS exclusive Drive Xpert is ideal for anyone who needs to secure data
on their hard drives or enhance hard drive performances without the hassles of complicated
configurations. With Drive Xpert's user-friendly graphical user interface, users can easily arrange
hard drive backups or enhance their hard drive transfer rates—making sure that data is looked after
every moment, every day.
ASUS True 8+2 Phase Power Design
With power efficiency so important to operating temperatures, ASUS 8+2 phase VRM design (8phase to vCore; 2-phase to vDRAM/QPI controller inside CPU) leads the industry with its 96%
power efficiency. High quality power components such as low RDS (on) MOSFETs for minimum
switching loss & lower temperatures, Ferrite core chokes with lower hysteresis loss, and high
quality Japanese-made conductive polymer capacitors all add up to ensure longer component life
and lower power loss—creating more energy efficiency.
ASUS Express Gate
0 to Internet in Seconds!
Express Gate™ is an ASUS exclusive OS that provides you with quick access to the Internet and
key applications before entering Windows®.
ASUS Power Saving Solution
ASUS EPU
System Level Energy Saving
The new ASUS EPU - the world´s first power saving engine, has been upgraded to a new six engine
version, which provides total system power savings by detecting current PC loadings and
intelligently moderating power in real-time. With auto phase switching for components (which
includes the CPU, VGA card, memory, chipset, drives and system fan), the EPU automatically
provides the most appropriate power usage via intelligent acceleration and overclocking - helping
save power and money.
AI Nap
Minimize noise and power consumption when temporarily away!
With AI Nap, users can instantly snooze your PC without terminating the tasks. System will
continue operating at minimum power and noise when user is temporarily away. It keeps
downloading files or running applications in quietest state while you´re sleeping. Simply click
keyboard or mouse, you can swiftly wake up the system in few seconds.
ASUS Quiet Thermal Solution
ASUS Fanless Design - Heat-pipe solution
The Heat Pipe design effectively directs the heat generated by the chipsets to the heatsink near the
back IO ports, where it can be carried away by existing airflow from CPU fan or bundled optional
fan. The purpose of the innovative heat pipe design on this motherboard is that the groundbreaking
fanless design does not have lifetime problems as a chipset fan does. Furthermore, it provides
options for users to install side-flow fan or passive cooler. The Heat Pipe design is the most reliable
fanless thermal solution to date.
Fan Xpert
Active Quiet & Cool
ASUS Fan Xpert intelligently allows users to adjust both the CPU and chassis fan speed according
to different ambient temperature , which is caused by different climate conditions in different
geographic regions and system loading.Built-in variety of useful profiles offer flexible controls of
fan speed to achieve a quiet and cool environment.
Up to 20°C(36°F) Cooler - Stack Cool 2
Effective Fanless Heat Dissipation at 0dB
Stack Cool 2 is a fanless cooling solution offered exclusively by ASUS. It effectively and
noiselessly transfers heat generated by the critical components to the other side of the specially
designed PCB (printed circuit board) for effective heat dissipation - making temperatures cooler by
up to 20°C.
ASUS Crystal Sound
Noise Filtering
Eliminate background noise while recording
This feature detects repetitive and stationary noises like computer fans, air conditioners, and other
background noises then eliminates it in the incoming audio stream while recording.
DTS Surround Sensation UltraPC
DTS Surround Sensation UltraPC delivers exceptional 5.1 surround experience through the most
common PC audio setups - your existing stereo speakers or headphones. In addition to virtual
surround, "Bass enhancement" provides stronger low frequency bass sound, and "Voice
clarification" provides clear human dialogue even with loud background sound. With these
technologies, you may experience a better home-theater audio with ease.
To experience DTS Surround Sensation UltraPC, download the updated audio driver & latest BIOS
at www.asus.com.
ASUS EZ DIY
ASUS Onboard Switch
With an easy press during overclock, this exclusive onboard switch allows gamer to effortless finetune the performance without having to short the pins!
Q-Connector
Make connection quick and accurate!
The ASUS Q-Connector allows you to connect or disconnect chassis front panel cables in one easy
step with one complete module. This unique adapter eliminates the trouble of plugging in one cable
at a time, making connection quick and accurate.
O.C. Profile
Conveniently store or load multiple BIOS settings
Freely share and distribute favorite overclocking settings The motherboard features the ASUS O.C.
Profile that allows users to conveniently store or load multiple BIOS settings. The BIOS settings
can be stored in the CMOS or a separate file, giving users freedom to share and distribute their
favorite overclocking settings.
Q- Shield
Easy and Comfortable Installations
The specially designed ASUS Q-Shield does without the usual ""fingers"" - making it convenient
and easy to install. With better electric conductivity, it ideally protects your motherboard against
static electricity and shields it against Electronic Magnetic Interference (EMI).
EZ-Flash 2
Simply update BIOS from a USB flash disk before entering the OS
EZ Flash 2 is a user-friendly BIOS update utility. Simply launch this tool and update BIOS from a
USB flash disk before entering the OS. You can update your BIOS only in a few clicks without
preparing an additional floppy diskette or using an OS-based flash utility.
Industry Standard
SATA on the Go
The motherboard supports the next-generation hard drives based on the Serial ATA (SATA) 3Gb/s
storage specification, delivering enhanced scalability and doubling the bus bandwidth for highspeed data retrieval and saves. The external SATA port located at the back I/O provides smart setup
and hot-plug functions. Easily backup photos, videos and other entertainment contents on external
devices.
High Definition Audio
Enjoy high-end sound system on your PC!
The onboard 8-channel HD audio (High Definition Audio, previously codenamed Azalia) CODEC
enables high-quality 192KHz/24-bit audio output, jack-sensing feature, retasking functions and
multi-streaming technology that simultaneously sends different audio streams to different
destinations. You can now talk to your partners on the headphone while playing a multi-channel
network games. All of these are done on one computer.
IEEE 1394a interface
IEEE 1394a interface provides high speed digital interface for audio/video appliances such as
digital television, digital video camcorders, storage peripherals & other PC portable devices.
S/PDIF-out on Back I/O Port
This motherboard provides convenient connectivity to external home theater audio systems via
coaxial and optical S/PDIF-out (SONY-PHILIPS Digital Interface) jacks. It allows to transfer
digital audio without converting to analog format and keeps the best signal quality.
RoHS
GreenASUS
The motherboard and its packaging comply with the European Union´s Restriction on the use of
Hazardous Substances (RoHS). This is in line with the ASUS vision of creating environmentfriendly and recyclable products and packaging to safeguard consumers´ health while minimizing
the impact on the environment.
Specifications:
CPU
Intel® Socket 1366 Core™ i7 Extreme Edition/Core™ i7 Processors
Supports Intel® Dynamic Speed Technology
Chipset
Intel® X58/ICH10R
Memory
6 x DIMM, Max. 24GB, DDR3 2000(O.C.)/1866(O.C.)/1800(O.C.)/1600(O.C.)/1333/1066 Hz
Memory
Triple Channel Memory Architecture
Supports Intel® Extreme Memory Profile (XMP)
* Hyper DIMM support is subject to the physical characteristics of individual CPUs.
* Refer to www.asus.com or user manual for the Memory QVL (Qualified Vendors Lists).
System Bus
Up to 6.4 GT/s
Multi-GPU Support
Supports NVIDIA® 3-Way SLI™ Technology
Supports AMD Quad-GPU CrossFireX™ Technology
Expansion Slots
2 x PCIe 2.0 x16 (dual x16, blue)
1 x PCIe 2.0 x16 (x4 mode, white)
1 x PCIe x1
2 x PCI
Storage
Built-in Controller : *1
6 x SATA 3Gb/s port(s), red
Support Raid 0, 1, 5, 10
JMicron® JMB363 controller :
1 x UltraDMA 133/100/66 for up to 2 PATA devices , red
1 x eSATA 3Gb/s port(s), red
JMicron® JMB322 controller : *2
1 x SATA 3Gb/s port(s), orange
1 x SATA 3Gb/s port(s), white
LAN
Realtek® 8111C, 1 x Gigabit LAN Controller(s), featuring AI NET2
Audio
Realtek® ALC1200 8-Channel High Definition Audio CODEC
- Supports : Jack-detection, Enumeration, Multi-streaming, Front Panel Jack-retasking
Audio Feature :
- DTS Surround Sensation UltraPC
- ASUS Noise Filter
- Coaxial and Optical S/PDIF out ports at back panel
IEEE 1394
VIA® 6315N controller
2 x IEEE 1394a port(s)
(1 at mid-board, 1 at back panel)
USB Ports
Built-in Controller :
12 x USB 2.0 port(s) (6 at back panel, black, 6 at mid-board)
Overclocking Features
Overclocking Protection :
- ASUS C.P.R.(CPU Parameter Recall)
Special Features
ASUS Power Design :
- 8 +2 Phase Power Design
- ASUS EPU-6 Engine
TurboV
ASUS Exclusive Features :
- AI Nap
- Express Gate
ASUS Quiet Thermal Solution :
- Stylish Fanless Design Heat-pipe solution
- Stack Cool 2
- ASUS Fan Xpert
ASUS Crystal Sound :
- ASUS Noise Filter
ASUS EZ DIY :
- ASUS Q-Shield
- ASUS O.C. Profile
- ASUS CrashFree BIOS 3
- ASUS EZ Flash 2
- ASUS MyLogo 2
- Multi-language BIOS
ASUS Q-Design :
- ASUS Q-Connector
Back I/O Ports
1 x PS/2 keyboard (purple)
1 x PS/2 mouse (green)
1 x eSATA 3Gb/s
1 x IEEE 1394a
6 x USB 2.0
1 x Coaxial S/PDIF out
1 x Optical S/PDIF out
6 x Audio jack(s)
Internal I/O Ports
3 x USB 2.0 connector(s) support(s) additional 6 USB 2.0 port(s)
1 x IDE connector(s)
1 x Floppy disk drive connector(s)
6 x SATA 3Gb/s connector(s)
2 x Drive Xpert SATA connector(s)
1 x IEEE 1394a connector(s)
1 x CPU Fan connector(s)
2 x Chassis Fan connector(s)
1 x Power Fan connector(s)
1 x S/PDIF out header(s)
1 x 24-pin EATX Power connector(s)
1 x 8-pin ATX 12V Power connector(s)
1 x Front panel connector(s)
1 x CD audio in(s)
1 x System panel(s) (Q-Connector)
1 x Chassis Intrusion connector(s)
1 x Power-on button(s)
1 x Reset button(s)
Accessories
User's manual
ASUS Q-Shield
1 x UltraDMA 133/100 cable(s)
4 x SATA 3Gb/s cable(s)
1 x 3-Way SLI bridge(s)
1 x SLI bridge(s)
1 x Q-connector(s) (2 in 1)
BIOS
16 Mb Flash ROM
AMI BIOS, PnP, DMI2.0, WfM2.0, SM BIOS 2.3, ACPI 2.0a, Multi-language BIOS, ASUS EZ
Flash 2, ASUS CrashFree BIOS 3
Manageability
WfM 2.0,DMI 2.0,WOL by PME,WOR by PME,PXE
Support Disc
Drivers
ASUS PC Probe II
ASUS AI Suite
Anti-virus software (OEM version)
ASUS Update
Image-Editing Suite
Form Factor
ATX Form Factor
12 inch x 9.6 inch ( 30.5 cm x 24.4 cm )
Note
*1: Due to the Windows XP/ Vista limitation, the RAID array with the total capacity over 2TB
cannot be set as a boot disk. A RAID array over 2TB can only be set as a data disk only. For more
information, please refer to http://support.microsoft.com/kb/946557/en-us
*2: Supports Drive Xpert technology, EZ Backup and Super Speed functions.