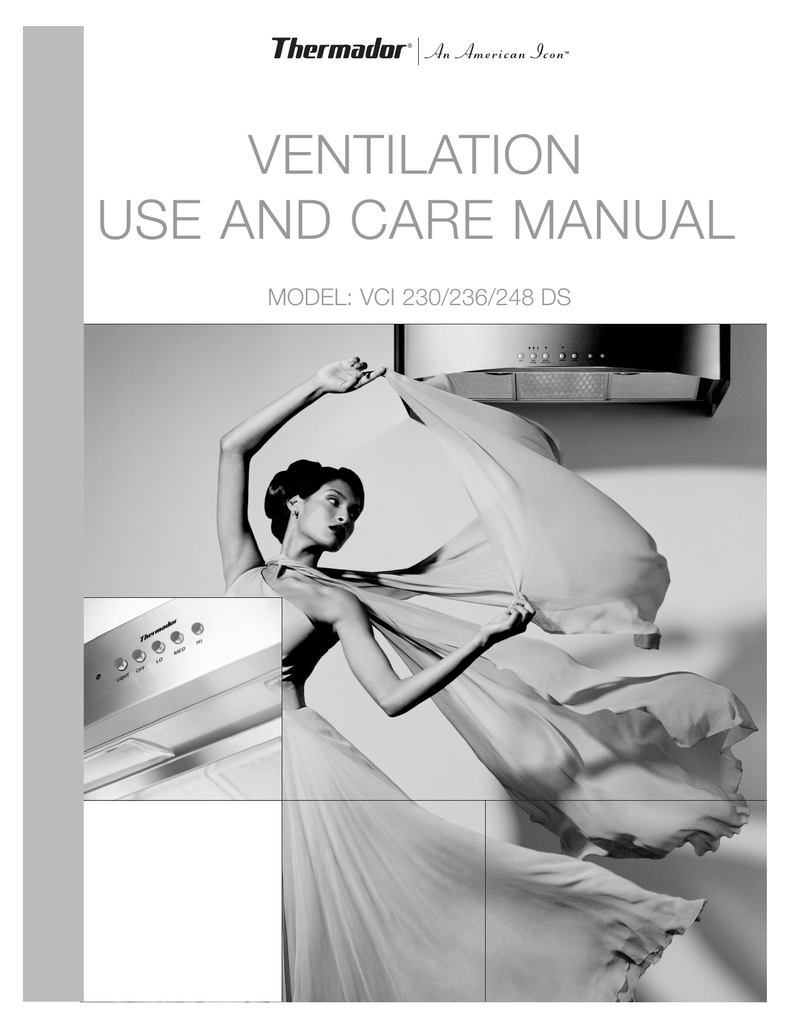 ATION
VENTIL
VENTILATION
USE
AND CARE MANUAL
MANUAL
INSTALLATION
MODEL:
VCI 230/236/248
MODELS:
CVS2 DS
PAGE 2
TABLE OF CONTENTS
Important Safety Instructions . . . . . . . . . . . .
Features . . . . . . . . . . . . . . . . . . . . . . . . . . . .
Operation . . . . . . . . . . . . . . . . . . . . . . . . . . .
Filters and Maintenance . . . . . . . . . . . . . . . .
Care and Cleaning . . . . . . . . . . . . . . . . . . . .
2
3
4
5
6
Replacing the Bulbs . . . . . . . . . . . . . . . . .
Customer Service . . . . . . . . . . . . . . . . . .
Fig. 1
GAS
ELECTRIC
PAGE 1
7
7+8
IMPORTANT SAFETY INSTRUCTIONS
READ ALL INSTRUCTIONS BEFORE USING THE APPLIANCE.
READ AND SAVE THESE INSTRUCTIONS.
WARNING – TO REDUCE THE RISK OF INJURY
TO PERSONS IN THE EVENT OF A COOKTOP
GREASE FIRE, OBSERVE THE FOLLOWING:
WARNING – TO REDUCE THE RISK OF A COOKTOP GREASE FIRE:
a)
b)
c)
d)
Never leave surface units unattended at high
settings. Boilovers cause smoking and greasy
spillovers that may ignite. Heat oils slowly on
low or medium settings.
Always turn hood ON when cooking at high
heat or when flambéing food (i.e. Crepes
Suzettes, Cherries Jubilee, Peppercorn Beef
Flambé).
Clean ventilating fans frequently. Grease
should not be allowed to accumulate on fan or
filter.
Use proper pan size. Always use cookware
appropriate for the size of the surface element.
a)
SMOTHER FLAMES with a close-fitting lid,
cookie sheet, or metal tray, then turn off the
burner. BE CAREFUL TO PREVENT BURNS.
If the flames do not go out immediately,
EVACUATE AND CALL THE FIRE
DEPARTMENT.
b)
NEVER PICK UP A FLAMING PAN.
You may be burned.
c)
DO NOT USE WATER, including wet dish
cloths or towels. A violent explosion will result.
d)
Use an extinguisher ONLY if:
1)
You know you have a Class ABC
extinguisher, and you already know how
to operate it.
2)
The fire is small and contained in the
area where it started.
3)
The fire department is being called.
4)
You can fight the fire with your back to
an exit.
Caution: Grease left on filters can remelt and
move into the vent.
When children become old enough to use the
appliance, it is the legal responsibility of the
parents or legal guardians to ensure that they
are instructed in safe practices by qualified persons.
WARNING: Whenever possible, do not operate
blower during a cooktop fire. However, DO NOT
REACH THROUGH FIRE TO TURN OFF BLOWER.
PAGE 2
FEATURES
Light/fan
switches
IMPORTANT NOTES:
❑ The Instructions for Use apply to several versions of
this appliance. Accordingly, you may find descriptions
of individual features that do not apply to your
specific appliance.
❑ This hood complies with all relevant safety regulations.
Repairs should be carried out by qualified technicians
only.
CAUTION
Filter grill
Improper repairs may put the user at considerable
risk.
❑ Before using your appliance for the first time, please
read these Instructions for Use carefully. They contain
important information concerning your personal safety
as well as on use and care of the appliance.
Lighting
EXHAUST-AIR MODE:
❑ Please retain the operating and installation instructions
for any subsequent owner.
❑ The hood fan extracts kitchen vapors and conveys
them through the grease filter and then into the air.
❑ The grease filter absorbs solid particles in the kitchen
vapors.
GAS COOKTOPS/GAS COOKERS:
❑ The kitchen is kept mostly free of grease and odors.
CAUTION
Avoid risk of burns or damage to hood.
When the hood is operated in exhaust-air mode
simultaneously with a different heating system that
also makes use of the same chimney (such as gas, oil
or coal-fired heaters, continuous-flow heaters, hot-water
boilers), care must be taken to ensure that there is an
adequate supply of fresh air, which will be needed by the
heating system for combustion.
Safe operation is possible provided that the negative
pressure in the room where the heating system is installed
does not exceed 4 Pa (0.04 mbar).
This can be achieved if combustion air can flow through
non-lockable openings, such as doors, windows and via
the air-intake/exhaust-air wall box, or by using other
technical means, such as reciprocal interlocking, etc.
D
Do not use all gas burners simultaneously at high settings
for a prolonged period of time (max.15 minutes).
If the hood is located over a gas cooktop, operate the
hood at maximum setting whenever three or more gas
burners are being used.
CAUTION
Avoid carbon monoxide poisoning by providing adequate air intake so combustion gases are not drawn
back into the room.
An air-intake/exhaust-air wall box by itself is no guarantee
that the maximum threshold will not be exceeded.
Note: When assessing the overall requirements, the
combined ventilation system for the entire household must
be taken into consideration. This rule does not apply to the
use of cooking appliances, such as cooktops and ovens.
PAGE 3
OPERATION
IMPORTANT: The most effective way to remove vapors
produced during cooking is to:
❑ Switch the ventilator ON
as soon as you begin cooking.
Switching the fan OFF:
❑ Switch the ventilator OFF
a few minutes after you have finished cooking.
Delay shut-off:
❑ Press the OFF button.
❑ Press the DELAY SHUT-OFF button.
The fan runs for 10 minutes on HI.
At the same time, a dot flashes in the display.
Then the fan switches off automatically. The illuminated
LED indicates that DELAY SHUT-OFF is working.
Lighting:
❑ Press the LIGHT button to switch the light on and off.
❑ The light can be switched on at any time, even if the
fan is switched off.
Switching the fan ON
❑ Press the FAN SPEED button.
Setting the required fan speed:
❑ Press the FAN SPEED button.
The fan speed increases by one level.
PAGE 4
FILTERS AND MAINTENANCE
GREASE FILTERS:
Removing and inserting the metal grease
filters:
Metal filters are used to trap the grease in vapors that
develop during cooking.
The filter mats are made from non-combustible metal.
Warning: Avoid risk of burns. The halogen bulbs must
be switched off and cool.
1. Press the grease filter locks and pull the filters down.
At the same time, hold the underside of the grease
filters with your other hand.
Caution:
As the filter becomes more and more saturated with
grease, not only does the risk of it catching fire increase,
but the efficiency of the hood can also be adversely
affected.
Important:
By cleaning the metal grease filters at appropriate intervals,
the possibility of them catching fire as a result of heat
build-up, such as when deep-fat frying or roasting, is
reduced.
Saturation indicator:
2. Clean the filters.
When the grease filters reach saturation point, the CLEAN
FILTER LED lights up. The grease filters should be cleaned
right away. To switch off the LED, press the CLEAN FILTER
button for 6 seconds.
3. Insert the clean filters back into the hood.
Cleaning the metal grease filters:
❑ Under normal use (1 to 2 hours daily), the metal grease
filters must be cleaned once a month.
❑ The filters can be cleaned in a dishwasher. They may,
however, become slightly discolored.
❑ The filter must be placed loosely, and NOT wedged,
in the dishwasher.
Important:
Do not wash grease-saturated metal filters together
with other dishes, etc.
❑ When cleaning the filters by hand, soak them in hot
soapy water.
Do not use aggressive, acidic or abrasive cleaners.
Brush the filters clean, rinse them thoroughly, shake off
water and let them dry.
PAGE 5
CARE AND CLEANING
WARNING: To avoid risk of fire and explosion, do not use flammable liquids or solvents.
Always unplug or disconnect the appliance from the power supply before servicing.
IMPORTANT: Do not clean the hood with abrasive
sponges or with cleaning agents that contain sand,
baking soda, acid or chlorine!
❑ Clean the hood with a hot soap solution or a mild
window cleaner.
❑ When cleaning the grease filters, remove grease
deposits from accessible parts of the housing.
This prevents the risk of fire and ensures that the hood
continues operating at maximum efficiency.
❑ Note: Do not use alcohol (spirits), as dull marks may
appear.
❑ Do not scrape off dried-on dirt. Wipe off with a damp
cloth instead.
Caution: Follow all instructions and precautions
provided with cleaners.
IMPORTANT: Clean the operating buttons with a mild
soapy solution and a soft, damp cloth only.
Do not use stainless steel cleaners to clean the operating
buttons.
Stainless steel surfaces:
❑ Use a mild non-abrasive stainless steel cleaner.
❑ Clean the surface in the same direction as the grain.
❑ We recommend stainless steel cleaners, such as
Fantastik® or Formula 409® sprayed onto a paper
towel.
Aluminum and plastic surfaces:
❑ Do not use dry cloths.
❑ Use a mild window cleaning agent.
❑ Do not use aggressive, acidic or abrasive cleaners.
Observe the warranty regulations in the enclosed
service booklet.
PAGE 6
REPLACING THE BULBS
CAUTION: Avoid risk of electric shock.
3. Replace the halogen light bulb (conventional halogen
bulb, 12 volts, 20 watts max., G4 bulb socket).
IMPORTANT: Grasp bulb with a clean cloth before
inserting bulb into bulb socket.
1. Switch off the hood and unplug the power cord, or
switch off the electrical power supply at the main fuse
box.
CAUTION: Avoid risk of burns.
Halogen bulbs become very hot and remain hot for some
time after being switched off.
2. Remove the bulb ring with a screwdriver or similar tool.
4. Reattach the bulb ring.
5. Restore the power by plugging in the power cord or
switching on the fuse or circuit breaker.
Note: If the light does not work, make sure the bulbs have
been inserted correctly.
CUSTOMER SERVICE
Before Calling for Service
If the blower does not operate:
❑ Ensure that the electrical cord is properly connected and that power is supplied to the electrical circuit.
❑ Make sure that the blower speed control knob is not in the OFF position.
❑ The hood manufacturer accepts no liability for complaints that can be attributed to the design and layout of the
ductwork.
How to obtain service
For authorized service or parts information, call 1-800-735-4328.
We want you to be a satisfied customer. If a situation arises that has not been resolved to your satisfaction,
please let us know.
Write to: Customer Support, BSH Home Appliances, Corp. 5551 McFadden Ave., Huntington Beach, CA 92649,
or call: 1-800-735-4328.
Please include the model number, serial number, and date of original purchase/installation.
PAGE 7
CUSTOMER SERVICE
Warranty
What is Covered
Scope of Warranty
Full One Year Warranty
For one year from the date of installation or date of
occupancy of a new, previously unoccupied dwelling, any
part that fails under normal home use will be repaired or
replaced free of charge. Save your dated receipt or other
proof of installation/date of occupancy. BSH shall pay for
any repairs and replacement of parts proven to be defective in material or workmanship. Service must be provided
by a BSH Authorized Service Agency during normal working hours.
This warranty applies to appliances used in normal family
households. It does not cover commercial use of
appliances.
This warranty is for products purchased and retained within the 50 states of the U.S.A., the District of Columbia and
Canada. The warranty applies even if you should move
during the warranty period. Should the appliance be sold
by the original purchaser during the warranty period, the
new owner shall continue to be protected until the
expiration date of the original purchaser's warranty period.
BSH DOES NOT ASSUME ANY RESPONSIBILITY FOR
INCIDENTAL OR CONSEQUENTIAL DAMAGES. Some
states do not allow the exclusion or limitation of incidental
or consequential damages, so the above limitation or
exclusion may not apply to you. This warranty gives you
specific legal rights, and you may also have other rights
which may vary from state to state or province to province.
What is not Covered
1. Service by an unauthorized agency. Damage or repairs
due to service by an unauthorized agency or the use of
unauthorized parts.
2. Service visits to:
❑ Teach you how to use the appliance.
Service Data
❑ Correct the installation. You are responsible for
providing electrical wiring and other connections.
For handy reference, the serial tag information has been
affixed below. Keep your invoice for warranty validation.
To obtain service, see previous page.
❑ Reset circuit breakers or replace home fuses.
3. Damage resulting from accident, alteration, misuse,
abuse, improper installation or installation not in
accordance with local electrical codes or plumbing
codes, or improper storage of the appliance.
4. Repairs due to use other than normal home use.
Serial Number/Data Plate Location: Are located on the name
plate inside the appliance after removal of the filter frame.
We reserve the right to change specifications or design without notice. Some models are certified for use in Canada.
BSH is not responsible for products which are transported form the U.S. for use in Canada. Check with your local Canadian
distributor or dealer.
PAGE 8
TABLE DES MATIÈRES
Instructions de sécurité importantes . . . . . . . . .2
Caractéristiques . . . . . . . . . . . . . . . . . . . . . . 3
Fonctionnement . . . . . . . . . . . . . . . . . . . . . . 4
Filtres et maintenance . . . . . . . . . . . . . . . . . 5
Entretien et nettoyage . . . . . . . . . . . . . . . . . 6
Remplacement des ampoules . . . . . . . . .
Services après-vente . . . . . . . . . . . . . . .
Fig. 1
GAZ
Fig. 1
ÉLECTRIQUE
30 po min.
30 po min.
PAGE 1
7
7+8
INSTRUCTIONS DE SÉCURITÉ IMPORTANTES
LISEZ TOUTES LES INSTRUCTIONS AVANT D'UTILISER CET APPAREIL.
LIRE ET CONSERVER CES INSTRUCTIONS.
AVERTISSEMENT– POUR RÉDUIRE LE RISQUE
DE LÉSIONS CORPORELLES, DANS
L'ÉVENTUALITÉ D'UN INCENDIE DE GRAISSE
SUR LA TABLE DE CUISSON, RESPECTEZ LES
CONSIGNES SUIVANTES :
AVERTISSEMENT – AFIN DE RÉDUIRE LE RISQUE D'INCENDIE DE GRAISSE SUR LA TABLE DE
CUISSON :
a)
b)
Ne laissez jamais les plans de cuisson réglés à
haute température sans surveillance.
L'ébullition peut provoquer des dégagements
de fumée et des débordements pouvant prendre feu. Chauffez l'huile lentement, à feu doux
ou moyen.
Veillez à toujours mettre la hotte en marche
(ON) quand vous cuisinez à haute température
ou quand vous faites flamber des aliments (p.
ex. des crêpes Suzette, des cerises jubilées
ou du bœuf flambé au poivre).
a)
ÉTOUFFEZ LES FLAMMES à l'aide d'un
couvercle bien étanche, d'une tôle à biscuits
ou d'un plateau en métal, puis éteindre le
brûleur. VEILLEZ À ÉVITER LES BRÛLURES.
Si les flammes ne s'éteignent pas immédiatement, ÉVACUEZ LES LIEUX ET FAITES
APPEL AU SERVICE D'INCENDIE.
b)
NE JAMAIS SOULEVER UNE POÊLE EN FEU.
Vous risquez de vous brûler.
c)
Nettoyez fréquemment les ventilateurs
d'aération. Ne laissez pas la graisse
s'accumuler sur le ventilateur ou le filtre.
c)
NE JAMAIS UTILISER D'EAU, ou des torchons et serviettes mouillés. Une violente
explosion s'en suivra.
d)
Utilisez des ustensiles de cuisson de la bonne
dimension. Utilisez toujours des ustensiles
adaptés à la taille des éléments de surface.
d)
N'utiliser un extincteur QUE SI :
Attention ! La graisse accumulée sur les filtres
peut se refondre et être expulsée dans l'orifice
de ventilation.
Dès que les enfants sont en âge d'utiliser
l'appareil, il est de la responsabilité des parents
ou des tuteurs légaux de veiller à ce qu'ils
soient informés des pratiques de sécurité par
une personne qualifiée.
1)
On dispose d'un extincteur de classe
ABC et l'on sait s'en servir.
2)
L'incendie est petit et limité à l'endroit où
il s'est déclaré.
3)
On a fait appel aux pompiers.
4)
Il est possible de combattre l'incendie le
dos à une sortie.
AVERTISSEMENT : lorsque possible, ne pas
actionner la soufflerie en présence d'un feu sur la
plaque de cuisson. Toutefois, NE PAS PASSER À
TRAVERS LE FEU POUR ÉTEINDRE LA
SOUFFLERIE.
PAGE 2
CARACTÉRISTIQUES
Commutateurs de lampe
d'éclairage/ventilateur
REMARQUES IMPORTANTES :
❑ Le mode d'emploi s'applique à plusieurs versions de
cet appareil. Ainsi, il se peut que certaines descriptions
de caractéristiques individuelles ne correspondent pas
exactement à votre appareil.
❑ Cette hotte se conforme à tous les règlements de
sécurité pertinents.
Les réparations doivent être effectuées uniquement
par des techniciens qualifiés.
Grille du filtre
MISE EN GARDE
Des réparations inexpertes peuvent engendrer des
risques considérables pour l'utilisateur.
Éclairage
❑ Avant la première utilisation de l'appareil, veuillez lire
attentivement le mode d'emploi. Celui-ci contient
d'importantes informations concernant votre sécurité
personnelle ainsi que sur l'utilisation et l'entretien de
l'appareil.
MODE D'ÉVACUATION D'AIR :
❑ Le ventilateur de la hotte extrait les vapeurs de cuisine
et les fait traverser un filtre à graisse avant de les
expulser dans l'atmosphère.
❑ Veuillez conserver la notice d'utilisation et d'installation
pour un futur propriétaire de l'appareil.
❑ Le filtre à graisse absorbe les particules solides qui
sont présentes dans les vapeurs de cuisine.
TABLES DE CUISSON/CUISINIÈRES
À GAZ :
❑ La cuisine est presque entièrement dépourvue de
graisses et d'odeurs.
D Lorsque la hotte est utilisée en mode d'évacuation
MISE EN GARDE
Évitez le risque de brûlures ou de dommage causé à la
hotte.
d'air simultanément avec un système de chauffage
différent utilisant également la même cheminée, (tels
des appareils de chauffage au gaz, au fuel ou au charbon,
des chauffe-eau instantanés ou des chaudières à eau
chaude), veillez impérativement à ce que l'apport d'air
frais nécessaire au système de chauffage soit suffisant
pour assurer la combustion.
Un fonctionnement sans risque est possible si la pression
négative dans la pièce où le système de chauffage est
installé ne dépasse pas 4 Pa (0,04 mbar).
On y parvient si l'air de combustion peut circuler à travers
des ouvertures non-obturables telles que portes et
fenêtres, et à travers la ventouse télescopique
d'admission/ d'évacuation d'air ou en utilisant d'autres
mesures techniques telles qu'un verrouillage réciproque,
etc.
N'utilisez pas tous les brûleurs à gaz simultanément à des
températures élevées pendant une période de temps
prolongée (max. 15 minutes).
Si la hotte est montée au-dessus d'une table de cuisson
à gaz, réglez la hotte sur la puissance maximale si vous
avez allumé trois brûleurs ou plus.
MISE EN GARDE
Évitez l'asphyxie par l'oxyde de carbone en prévoyant
une admission d'air suffisante de façon à ce que les
gaz de combustion ne soient pas refoulés dans la
pièce.
Une ventouse d'admission ou d'évacuation d'air fixée au
mur ne constitue pas à elle seule une garantie que le seuil
maximal ne sera pas dépassé.
Remarque : lors de l'évaluation des exigences globales, il
convient de tenir compte de l'ensemble des moyens
d'aération du logement. Cette règle ne s'applique pas à
l'utilisation des appareils de cuisson tels que les tables de
cuisson et les fours.
PAGE 3
FONCTIONNEMENT
IMPORTANT : la meilleure façon d'éliminer les vapeurs
générées au cours de la cuisson consiste à :
❑ mettez le ventilateur sous tension (ON)
dès que vous commencez à cuisiner.
Pour mettre le ventilateur hors tension (OFF) :
❑ mettez le ventilateur hors tension (OFF)
quelques minutes après avoir fini de cuisiner.
Arrêt temporisé :
❑ Appuyez sur la touche OFF.
❑ Appuyez sur la touche DELAY SHUT-OFF (Arrêt
temporisé).
Le ventilateur tourne pendant 10 minutes sur HI.
En même temps, un point clignote sur l'afficheur.
Puis, le ventilateur s'arrête automatiquement. La DEL
lumineuse indique que DELAY SHUT-OFF est activé.
Éclairage
❑ Appuyez sur la touche LIGHT (Lumière) pour allumer et
éteindre la lumière.
❑ On peut allumer et éteindre la lumière à n'importe quel
moment, même si le ventilateur est hors tension.
Pour mettre le ventilateur sous tension (ON) :
❑ Appuyez sur la touche FAN SPEED (Régime
ventilateur), ou tirez le plateau de filtre.
Réglage de la vitesse de ventilateur requise :
❑ Appuyez sur la touche FAN SPEED.
Le régime du ventilateur augmente d'un cran.
PAGE 4
FILTRES ET MAINTENANCE
FILTRES À GRAISSE :
Retrait et mise en place des filtres à graisse
en métal :
Les filtres métalliques sont utilisés pour intercepter la
graisse présente dans les vapeurs produites pendant que
vous cuisinez.
Les cartouches filtrantes sont en métal incombustible.
AvertissementÉvitez le risque de brûlures. Les
ampoules à halogène doivent être éteintes et avoir refroidi.
1. Appuyez sur les verrous de blocage du filtre à graisse
et tirez le filtre vers le bas. En même temps, tenez le
dessous du filtre à graisse de l'autre main.
Mise en garde :
Au fur et à mesure que le filtre se sature davantage de
graisse, non seulement le risque qu'il s'enflamme
augmente, mais le rendement de la hotte risque aussi
d'être affecté de façon négative
IMPORTANT :
En nettoyant les filtres à graisse en métal à intervalles
réguliers, vous réduisez le risque que ceux-ci ne prennent
feu en raison de l'accumulation de chaleur, comme par
exemple pendant la friture ou le rôtissage.
Voyant de saturation :
2. Nettoyez les filtres.
Lorsque les filtres à graisse atteignent un point de
saturation, la DEL CLEAN FILTER (Nettoyage filtre)
s'allume. Les filtres à graisse doivent être nettoyés
immédiatement. Pour éteindre la DEL, appuyez sur la
touche CLEAN FILTER pendant 6 secondes.
3. Remettez en place les filtres propres dans la hotte.
Nettoyage des filtres à graisse en métal :
❑ En fonctionnement normal (1 à 2 heures par jour), les
filtres à graisse en métal doivent être nettoyés une fois
par mois.
❑ Les filtres peuvent être nettoyés au lave-vaisselle.
Cela dit, ils peuvent se décolorer quelque peu.
❑ Le filtre doit être placé de manière lâche dans le lavevaisselle et NE doit PAS être coincé.
Important :
Ne pas nettoyer les filtres en métal saturés de graisse
avec la vaisselle.
❑ Si vous nettoyez les filtres à la main, faites-les tremper
dans de l'eau savonneuse chaude.
N'utilisez pas de produits de nettoyage trop puissants,
acides ou abrasifs.
Brossez les filtres puis rincez-les soigneusement et
égouttez l'eau et laissez-les sécher.
PAGE 5
ENTRETIEN ET NETTOYAGE
AVERTISSEMENT : Pour éviter le risque d'incendie et d'explosion, n'utilisez pas de liquides ou solvants
inflammables. Avant toute intervention, pensez toujours à débrancher ou à couper le courant de l'appareil
du réseau d'alimentation électrique.
IMPORTANT : Ne nettoyez pas la hotte avec des éponges
abrasives ou des détergents qui contiennent du sable, du
bicarbonate de soude, de l'acide ou du chlore !
❑ Nettoyez la hotte avec une solution d'eau savonneuse
chaude ou un produit nettoyant pour vitre non puissant.
❑ Lors du nettoyage des filtres à graisse, nettoyez la
graisse qui s'est déposée aux endroits accessibles du
bâti.
Vous évitez ainsi les risques d'incendie et garantissez
un rendement optimal de la hotte.
❑ Remarque : ne nettoyez pas avec de l'alcool
(essences), car vous risquez de les ternir.
❑ Ne raclez pas la surface pour déloger les aliments
séchés. Essuyez plutôt avec un chiffon humide.
Mise en garde : respectez toutes les consignes et
précautions fournies avec les produits de nettoyage.
IMPORTANT : Nettoyez les touches de commande avec
de l'eau légèrement savonneuse et utilisez un chiffon doux
et humide uniquement.
N'utilisez pas de produits de nettoyage pour acier
inoxydable pour nettoyer les touches de commande.
Surfaces en acier inoxydable :
❑ Utilisez un produit de nettoyage pour l'acier inoxydable
non abrasif.
❑ Nettoyez la surface dans la direction du grain.
❑ Nous recommandons d'utiliser des produits de
nettoyage pour acier inoxydable tels que Fantastik® ou
Formula 409®, vaporisés sur du papier essuie-tout.
Surfaces en aluminium et en plastique :
❑ N'utilisez pas de chiffons secs.
❑ Utilisez un produit de nettoyage pour vitres non
puissant.
N'utilisez pas de produits de nettoyage trop puissants,
acides ou abrasifs.
Respectez les règlements de la garantie du livret
d'entretien ci-joint.
PAGE 6
REMPLACEMENT DES AMPOULES
MISE EN GARDE : évitez le risque de choc électrique.
3. Remplacez l'ampoule à halogène (ampoule à halogène
classique, 12 volts, 20 watts maximum, douille G4).
IMPORTANT : Saisir l'ampoule avec un chiffon propre
avant de l'introduire dans la douille.
1. Mettez la hotte hors tension et débranchez la prise
secteur ou coupez l'alimentation électrique au niveau
de la boîte à fusibles principale.
MISE EN GARDE. évitez le risque de brûlures. Les
ampoules à halogène allumées deviennent très chaudes
et restent chaudes assez longtemps après avoir été
éteintes.
2. Enlevez l'anneau d'ampoule à l'aide d'un tournevis ou
d'un outil similaire.
4. Remise en place de l'anneau d'ampoule.
5. Remettez l'alimentation en service en branchant le
cordon d'alimentation ou en remettant le fusible ou le
disjoncteur.
Remarque : si la lumière ne fonctionne pas, vérifiez que
les ampoules sont correctement installées.
SERVICE APRÈS VENTE
Avant d'appeler le service après-vente
Si la soufflerie ne fonctionne pas :
❑ Assurez-vous que le cordon électrique est correctement branché et que le courant circule dans le circuit électrique.
❑ Assurez-vous que le bouton de réglage de la vitesse de la soufflerie n'est pas en position d'arrêt (OFF).
❑ Le fabricant de la hotte décline toute responsabilité pour toute plainte pouvant être attribuée à la conception et à
l'agencement du système de conduits.
Obtention du service
Pour un centre de service autorisé ou des informations sur les pièces, appelez le +1-800-735-4328.
Nous attachons une extrême importance à la satisfaction de nos clients. Si un problème n'est pas résolu à votre
satisfaction, veuillez nous en informer.
Écrivez à : Customer Support, BSH Home Appliances, Corp. 5551 McFadden Ave., Huntington Beach, CA 92649, USA
ou appelez le : +1-800-735-4328.
Veuillez inclure le numéro de modèle, le numéro de série et la date d'achat/d'installation d'origine.
PAGE 7
SERVICE APRÈS VENTE
Garantie
Ce qui est couvert
Champ d'application de la garantie
Garantie complète d'un an
Pendant un an à compter de la date d'installation ou
d'occupation pour une nouvelle résidence non précédemment occupée, toute pièce qui présente un défaut dans le
cadre d'un usage domestique normal sera réparée ou
remplacée sans frais. Conservez le reçu daté ou autre
preuve d'installation ou de la date d'occupation. BSH
assumera les frais de réparation et de remplacement des
pièces s'avérant défectueuses en raison d'un défaut de
matière ou de fabrication. Le service doit être fourni par
une agence de service autorisée par BSH pendant les
heures normales de travail.
Cette garantie s'applique aux appareils utilisés dans des
résidences familiales normales. Elle ne couvre pas l'usage
commercial des appareils.
Cette garantie concerne les produits achetés et gardés
dans les 50 états des É.-U., le district de Colombia et au
Canada. Elle s'applique même si l'utilisateur déménage
pendant la période de garantie. Si cet appareil est vendu
par l'acheteur d'origine pendant la période de garantie, le
nouveau propriétaire continue d'être couvert jusqu'à la
date d'expiration de la période de garantie du propriétaire
d'origine.
BSH N'EST PAS RESPONSABLE DES DOMMAGES
ACCESSOIRES OU INDIRECTS. Certains états ne
permettent pas l'exclusion ou la limitation des dommages
accessoires ou indirects, de sorte que les limitations ou
exclusions ci-dessus peuvent ne pas vous concerner.
Cette garantie vous donne des droits légaux spécifiques et
il se peut que vous ayez d'autres droits qui varient d'un
état à l'autre ou d'une province à l'autre.
Ce qui n'est pas couvert
1. Le service par une agence non autorisée. Les
dommages ou réparations à cause d'un service
effectué par une agence non autorisée ou l'utilisation
de pièces non autorisées.
2. Les visites de service pour :
Données concernant le service
❑ Vous montrer comment utiliser l'appareil.
À des fins de référence pratique, l'information de la plaque
signalétique figure ci-dessous. Conservez votre facture
pour la validation de la garantie.
Obtention du service, voir page précédente.
❑ Rectifier l'installation. Vous êtes responsable du
câblage électrique et autres branchements.
❑ Remettre les disjoncteurs ou remplacer des fusibles
de la résidence.
3. Les dommages consécutifs à un accident, une
modification, une mauvaise utilisation, un abus, une
installation inadéquate ou une installation non
conforme aux codes électriques locaux ou aux codes
de plomberie, ou un rangement inadéquat de
l'appareil.
4. Les réparations causées par un usage autre qu'un
usage normal à domicile.
Numéro de série/Plaque signalétique : sont placés à l'intérieur de
l'appareil sur la plaque d'identification après retrait du cadre
porte-filtre.
Nous nous réservons le droit de modifier les données techniques ou la conception sans préavis. Certains modèles sont
certifiés pour utilisation au Canada.
BSH n'est pas responsable des produits qui sont transportés des États-Unis pour une utilisation au Canada. Vérifiez auprès
d'un distributeur ou d'un revendeur canadien local.
PAGE 8
ÍNDICE
Instrucciones de seguridad importantes . . . .
Características . . . . . . . . . . . . . . . . . . . . . . .
Operación . . . . . . . . . . . . . . . . . . . . . . . . . .
Filtros y mantenimiento . . . . . . . . . . . . . . . .
Cuidado y limpieza . . . . . . . . . . . . . . . . . . . .
Fig. 1
A GAS
2
3
4
5
6
Reemplazo de focos . . . . . . . . . . . . . . . .
Servicio al Cliente . . . . . . . . . . . . . . . . . . .
Fig. 1
ELÉCTRICA
mín. 30"
mín. 30"
PÁGINA 1
7
7+8
INSTRUCCIONES DE SEGURIDAD IMPORTANTES
LEA TODAS LAS INSTRUCCIONES ANTES DE USAR EL ELECTRODOMÉSTICO.
LEA Y CONSERVE ESTAS INSTRUCCIONES
ADVERTENCIA – PARA REDUCIR EL RIESGO DE
LESIONES A PERSONAS EN CASO DE INCENDIO
OCASIONADO POR GRASA EN LA PLACA, SIGA
ESTAS INDICACIONES:
ADVERTENCIA – PARA REDUCIR EL RIESGO DE
INCENDIO OCASIONADO POR GRASA EN LA
PLACA:
a)
b)
c)
d)
Nunca deje las unidades de la superficie sin
vigilancia a temperaturas altas. Los derrames
por hervor causan humo y salpicaduras
grasosas que pueden prenderse fuego.
Caliente los aceites despacio a temperaturas
bajas o medianas.
Siempre encienda la campana al cocinar a
una temperatura alta o al flambear alimentos
(p. ej., crepas Suzette, cerezas Jubilee, carne
flambeada con granos de pimienta).
Limpie los ventiladores extractores con
frecuencia. No se debe permitir la
acumulación de grasa en el ventilador ni en el
filtro.
a)
SOFOQUE LAS LLAMAS con una tapa que
ajuste correctamente, una placa para galletas
o una bandeja de metal; luego, apague la
hornilla. SEA CUIDADOSO PARA PREVENIR
QUEMADURAS.
Si las llamas no se apagan de inmediato,
EVACUE EL ÁREA Y LLAME AL DEPARTAMENTO DE BOMBEROS.
b)
NUNCA LEVANTE UNA OLLA EN LLAMAS.
Se puede quemar.
c)
NO USE AGUA, ni repasadores ni toallas
húmedos. Puede ocasionar una violenta
explosión.
d) Use un extinguidor SÓLO si:
Use el tamaño adecuado de olla. Siempre use
utensilios de cocina apropiados para el
tamaño del elemento de la superficie.
Precaución: La grasa acumulada en los filtros
puede volver a derretirse y entrar en las
aberturas de ventilación.
Cuando los niños tienen la edad adecuada para
utilizar el electrodoméstico, es responsabilidad
legal de los padres o tutores legales asegurarse
de que reciban las instrucciones sobre prácticas seguras por parte de personas calificadas.
1)
Sabe que tiene un extinguidor Clase
ABC y ya sabe cómo usarlo.
2)
El incendio es pequeño y se limita al área
donde se originó.
3)
Alguien llamó al departamento de
bomberos.
4)
Puede combatir el incendio de espaldas
a una salida.
ADVERTENCIA: Cuando sea posible, no ponga el
soplador en funcionamiento durante un incendio en
la placa. Pero NO ATRAVIESE EL FUEGO CON LA
MANO PARA APAGAR EL SOPLADOR.
PÁGINA 2
CARACTERÍSTICAS
Interruptores de
luz/ventilador
NOTAS IMPORTANTES:
❑ Las instrucciones de uso se aplican a varias versiones
de este electrodoméstico. Por lo tanto, puede
encontrar descripciones de características individuales
que no se apliquen a su electrodoméstico específico.
❑ Esta campana cumple con todas las reglamentaciones
de seguridad pertinentes.
Las reparaciones deben ser realizadas por
técnicos calificados únicamente.
Rejilla de filtro
PRECAUCIÓN
Las reparaciones incorrectas pueden poner en
grave riesgo al usuario.
Iluminación
❑ Antes de usar su electrodoméstico por primera vez,
lea atentamente estas instrucciones de uso. Contienen
información importante sobre su seguridad personal,
así como también sobre el uso y cuidado del
electrodoméstico.
MODO DE AIRE DE SALIDA:
❑ El ventilador de la campana extrae los vapores de
cocina y los conduce por el filtro de grasa al aire libre.
❑ Conserve las instrucciones de operación e instalación
para un propietario posterior.
❑ El filtro de grasa absorbe las partículas sólidas de los
vapores de cocina.
❑ La cocina se mantiene prácticamente sin grasa ni
olores.
PLACAS A GAS/ESTUFAS A GAS:
D Cuando se utiliza la campana en el modo de aire
PRECAUCIÓN
Evite el riesgo de quemaduras o daños a la campana.
de salida simultáneamente con un sistema de
calentamiento diferente que también utiliza la misma
chimenea (como calentadores a gas, aceite o carbón,
calentadores de flujo continuo, calentadores de agua), se
debe asegurar que haya un suministro de aire fresco
suficiente, que será necesario para la combustión en el
sistema de calentamiento.
La operación segura es posible siempre que la subpresión
de la habitación donde está instalado el sistema de
calentamiento no supere los 4 Pa (0.04 mbar).
Esto es posible si el aire de combustión puede circular a
través de aberturas que no puedan trabarse, como ser
puertas y ventanas, y a través de cajas de entrada/salida
de aire en la pared, o mediante otros medios técnicos,
como enclavamiento recíproco, etc.
No use todas las hornillas a gas simultáneamente a
temperaturas altas durante un período prolongado
(máx. 15 minutos).
Si la campana se encuentra sobre una placa a gas,
haga funcionar la campana en el valor máximo cuando
se usen tres o más hornillas a gas.
PRECAUCIÓN
Evite la intoxicación por monóxido de carbono
proporcionando una entrada de aire suficiente para
que los gases de la combustión no vuelvan a ingresar
a la habitación.
Una caja de entrada/salida de aire en la pared por sí sola
no garantiza que no se superará el umbral máximo.
Nota: Al evaluar los requisitos totales, se debe tener en
cuenta el sistema de ventilación combinado para todo el
hogar. Esta norma no se aplica al uso de electrodomésticos de cocina, como placas y hornos.
PÁGINA 3
OPERACIÓN
IMPORTANTE: La manera más efectiva para eliminar los
vapores producidos mientras cocina es:
❑ Encender el ventilador
apenas comienza a cocinar.
Para apagar el ventilador:
❑ Apagar el ventilador
unos minutos después de haber terminado de cocinar.
Apagado con demora:
❑ Presione el botón OFF (APAGADO).
❑ Presione el botón DELAY SHUT-OFF (APAGADO CON
DEMORA).
El ventilador funciona durante 10 minutos en el valor
HI).
En el mismo momento, en la pantalla aparecerá
titilando un punto.
Luego, el ventilador se apaga automáticamente. El
LED iluminado indica que la función DELAY SHUT-OFF
(APAGADO CON DEMORA) está activada.
Iluminación:
❑ Presione el botón LIGHT (LUZ) para encender y apagar
la luz.
❑ La luz se puede encender en cualquier momento,
incluso cuando el ventilador está apagado.
Para encender el ventilador
❑ Presione el botón FAN SPEED (VELOCIDAD DEL
VENTILADOR) o jale la bandeja del filtro hacia afuera.
Para programar la velocidad requerida del
ventilador:
❑ Presione el botón FAN SPEED (VELOCIDAD DEL
VENTILADOR).
La velocidad del ventilador aumenta de a un nivel
por vez.
PÁGINA 4
FILTROS Y MANTENIMIENTO
FILTROS DE GRASA:
Los filtros de metal se utilizan para atrapar la grasa
de los vapores que se producen mientras cocina.
Las láminas de filtro están hechas de metal no
combustible.
Precaución:
Para retirar y colocar los filtros de grasa de
metal:
Advertencia: Evite el riesgo de quemaduras. Los
focos halógenos deben estar apagados y fríos.
1. Presione las trabas de los filtros de grasa y jale los
filtros hacia abajo. Al mismo tiempo, sujete la parte
inferior de los filtros de grasa con la otra mano.
A medida que el filtro se va saturando de grasa, no sólo
aumenta el riesgo de que se incendie, sino que la
eficiencia de la campana se ve afectada adversamente.
IMPORTANTE:
Limpiando los filtros de grasa de metal en intervalos
adecuados, disminuye la posibilidad de que se incendien
como consecuencia de la acumulación de calor, como
cuando se fríe con abundante aceite o se asan alimentos.
Indicador de saturación:
Cuando los filtros de grasa alcanzan el punto de
saturación, se ilumina el LED CLEAN FILTER (LIMPIE EL
FILTRO). Los filtros de grasa deben limpiarse de
inmediato. Para apagar el LED, presione el botón CLEAN
FILTER (LIMPIE EL FILTRO) durante 6 segundos.
2. Limpie los filtros.
3. Vuelva a colocar los filtros limpios en la campana.
Para limpiar los filtros de grasa de metal:
❑ Con el uso normal (1 a 2 horas por día), los filtros de
grasa de metal deben limpiarse una vez por mes.
❑ Los filtros pueden limpiarse en un lavavajillas. Sin
embargo, es posible que se decoloren ligeramente.
❑ El filtro debe quedar suelto en el lavavajillas, no
debe quedar atascado.
Importante:
No lave filtros de metal saturados con grasa junto con
los demás platos, etc.
❑ Al limpiar los filtros a mano, sumérjalos en agua
jabonosa caliente.
No utilice limpiadores agresivos, ácidos ni abrasivos.
Cepille los filtros para limpiarlos, enjuáguelos bien,
sacúdalos para eliminar el agua y déjelos secar.
PÁGINA 5
CUIDADO Y LIMPIEZA
ADVERTENCIA: Para evitar el riesgo de incendio y explosión, no utilice líquidos ni solventes inflamables.
Siempre desenchufe o desconecte el electrodoméstico de la fuente de alimentación eléctrica antes de
realizar el servicio técnico.
IMPORTANTE: ¡No limpie la campana con esponjas
abrasivas ni con agentes de limpieza que contengan
arena, bicarbonato de sodio, ácido ni cloro!
❑ Limpie la campana con una solución jabonosa caliente
o un limpiador suave para ventanas.
❑ Cuando limpie los filtros de grasa, retire los depósitos
de grasa de las partes accesibles de la carcasa.
Esto previene el riesgo de incendio y asegura que la
campana continúe funcionando en su nivel máximo de
eficiencia.
❑ No raspe la suciedad seca. Límpiela con un paño
húmedo.
❑ Nota: No use alcohol, ya que pueden aparecer marcas
opacas.
Precaución: Siga todas las instrucciones y
precauciones incluidas con los limpiadores.
IMPORTANTE: Limpie los botones de operación solamente con una solución jabonosa suave y un paño suave
húmedo. No use limpiadores para acero inoxidable para
limpiar los botones de operación.
Superficies de acero inoxidable:
❑ Use un limpiador para acero inoxidable no abrasivo
suave.
❑ Limpie la superficie en la misma dirección del grano.
❑ Recomendamos limpiadores para acero inoxidable,
como Fantastik® o Formula 409®. Rocíe este
producto en una toalla de papel.
Superficies de aluminio y plástico:
❑ No use paños secos.
❑ Use un agente de limpieza suave para ventanas.
No utilice limpiadores agresivos, ácidos ni abrasivos.
Siga las reglamentaciones de la garantía incluidas en
el manual de servicio técnico adjunto.
PÁGINA 6
REEMPLAZO DE FOCOS
PRECAUCIÓN: Evite el riesgo de descarga eléctrica.
1. Apague la campana y desenchufe el cable de
alimentación o apague la alimentación eléctrica en la
caja de fusibles principal.
3. Coloque el foco de luz halógena (foco halógeno
convencional de 12 voltios, 20 vatios como máximo,
portalámparas G4).
IMPORTANTE: Tome el foco con un paño limpio
antes deintroducir el foco en el portalámparas.
PRECAUCIÓN: Evite el riesgo de quemaduras.
Los focos halógenos se calientan mucho y permanecen calientes durante algún tiempo después de
que se apagaron.
2. Retire el aro del foco con un destornillador o una
herramienta similar.
4. Vuelva a colocar el aro del foco.
5. Restablezca la alimentación eléctrica enchufando el
cable de alimentación o encendiendo el fusible o
disyuntor.
Nota: Si la luz no funciona, asegúrese de que los focos
estén correctamente insertados.
SERVICIO AL CLIENTE
Antes de llamar al servicio técnico
Si el soplador no funciona:
❑ Verifique que el cable eléctrico esté correctamente conectado y que se suministre alimentación al circuito eléctrico.
❑ Verifique que la perilla de control de velocidad del soplador no esté en la posición OFF (APAGADO).
❑ El fabricante de la campana no asume responsabilidad alguna por las reclamaciones que puedan atribuirse al diseño y
a la distribución del conducto.
Cómo obtener servicio técnico
Para obtener información sobre servicio técnico autorizado o sobre las piezas, llame al 1-800-735-4328.
Queremos que esté conforme como cliente. Si usted no ha quedado conforme respecto de la resolución de una situación,
infórmenos.
Escriba a: Customer Support, BSH Home Appliances, Corp. 5551 McFadden Ave., Huntington Beach, CA 92649,
o llame al: 1-800-735-4328.
Incluya el número de modelo, el número de serie y la fecha original de compra/instalación.
PÁGINA 7
SERVICIO AL CLIENTE
Garantía
Lo que cubre
Alcance de la garantía
Garantía total por un año
Durante un año a partir de la fecha de instalación o de la
fecha de ocupación de una vivienda nueva, que no haya
estado ocupada previamente, cualquier pieza que no
funcione en condiciones de uso doméstico normales será
reparada o reemplazada sin cargo. Conserve su recibo
fechado o cualquier otro comprobante de la fecha de
instalación/ocupación. BSH pagará por todas las
reparaciones y las piezas de repuesto que tengan
defectos en los materiales o en la mano de obra.
El servicio técnico debe ser brindado por una Agencia de
Servicio Técnico Autorizada por BSH durante el horario
normal de trabajo.
Esta garantía se aplica a los electrodomésticos utilizados
para fines domésticos normales de una familia. No cubre
el uso comercial de los electrodomésticos.
Esta garantía cubre productos comprados y mantenidos
dentro de los 50 estados de los Estados Unidos de
América, el Distrito de Columbia y Canadá. La garantía se
aplica incluso si usted se muda durante el período de
garantía. Si el comprador original vende el electrodoméstico durante el período de garantía, el nuevo propietario
seguirá contando con la protección de la garantía hasta la
fecha de vencimiento del período de garantía del comprador original.
BSH NO ASUME RESPONSABILIDAD POR LOS DAÑOS
INCIDENTALES O CONSECUENTES. Algunos estados no
permiten la exclusión o limitación de daños incidentales o
consecuentes; por lo tanto, es posible que la limitación o
exclusión precedente no se aplique en su caso. Esta
garantía le otorga derechos legales específicos, y también
pueden corresponderle otros derechos que pueden variar
según el estado o la provincia.
Lo que no cubre
1. El servicio técnico brindado por una agencia no
autorizada. Los daños o las reparaciones debidos al
servicio técnico brindado por una agencia no
autorizada o el uso de piezas no autorizadas.
2. Las visitas del servicio técnico para:
Datos para el servicio técnico
❑ Enseñarle cómo usar el electrodoméstico.
Para una referencia rápida, se ha incluido la información
de la etiqueta con el número de serie a continuación.
Conserve su factura para la validación de la garantía. Para
obtener servicio técnico, consulte la página anterior.
❑ Corregir la instalación. Usted es responsable de
proporcionar el cableado eléctrico y demás
conexiones.
❑ Reponer disyuntores o reemplazar fusibles
domésticos.
3. Los daños que resulten del accidente, alteración, uso
indebido, abuso, instalación incorrecta o instalación no
conforme a los códigos de electricidad o plomería
locales, o almacenamiento incorrecto del electrodoméstico.
4. Reparaciones requeridas debido a uso distinto del uso
doméstico normal.
Ubicación de la placa de datos/número de serie: en la placa de
nombre dentro del electrodoméstico después de retirar el marco
del filtro.
Nos reservamos el derecho de modificar las especificaciones o el diseño sin previo aviso. Algunos modelos cuentan con
certificación para uso en Canadá.
BSH no se responsabiliza por los productos que se transportan desde los EE. UU. para uso en Canadá. Consulte a su
distribuidor o agente local de Canadá.
PÁGINA 8
5551 McFadden Avenue, Huntington Beach CA, 92649 • 800-735-4328 • www.thermador.com
9000201949 • 10013 RevB • 02/07 © BSH Home Appliances Corporation • Litho in U.S.A.