TRENDnet TE100-PCIWN 10/100Mbps PCI Adapter Quick Installation Guide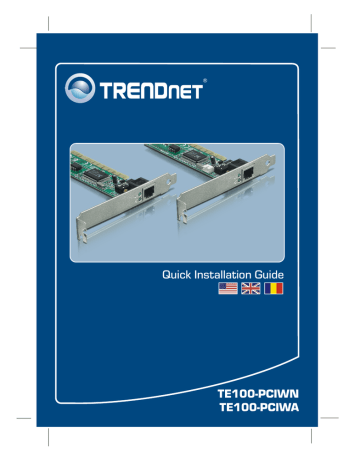 Quick Installation Guide
TE100-PCIWN
TE100-PCIWA
Table ofofContents
Table
Contents
Româna .......................................................................................... 1
1. Inainte de a incepe .................................................................. 1
2. Cum instalati ........................................................................... 2
Troubleshooting................................................................................ 3
Version 04.10.2006
1. Inainte de a incepe
Continutul Pachetului
TE100-PCIWN/TE100-PCIWA
Ghidul Rapid de Utilizare
Disketa de driver
cablu Wake-on-LAN cu 3 fire
(TE100-PCIWA numai)
Cerinte de Sistem
Slot PCI 32-bit 2.1 (2.2 pentru Wake-on-LAN)
Unitate Floppy
CPU: Intel Pentium 300Mhz sau mai bun
Memorie: 32MB RAM sau mai mult
Windows 2003 Server/XP/2000/ME/98SE
Cablu A RJ-45 Ethernet
Aplicatie
Workstations with
10/100Mbps Fast Ethernet
PCI Adapter
Workstations with
10/100Mbps Fast Ethernet
PCI Adapter
(TE100-PCIWN)
(TE100-PCIWA)
Internet
8-Port 10/100Mbps
Fast Ethernet Mini Switch
(TE100-S88Eplus)
Cable/DSL
Modem Router
Printer
10/100Mbps
Multi-Port Print Server
(TE100-P21)
1
Româna
Printer
2. Cum instalati
1. Opriti computerul iar apoi
deschideti cacasa.
2. Introduceti Placa PCI Card in slotul
PCI disponibil,iar apoi reporniti
calculatorul si asteptati pana apare
desktopul Windows.
Nota: Windows 2003 Server/XP/2000/ME va detecta si instala automat drivere
cuvenite. Pentru Windows ME, va rugam sa restartati PC-ul dupa terminarea
instalarii driverelor. Pentru Windows 98/98SE, va rugam sa apelati la
sectiunea Probleme pentru instructiuni cu privire la instalarea driverelor.
3. Conectati un cablu de retea RJ-45
de la PC la un port Ethernet
disponibil de la switchul sau
routerul dvs.
Instalarea este gata acum.
2
Româna
Troubleshooting
Q1: Windows is unable to recognize my hardware. What should I do?
A1: First, verify that your computer meets the system requirements as specified in
Section 1. Second, go to Start -> Control Panel -> System > Hardware > Device
Manager. In the list of device types, double-click on Network Adapters. If you see the
device with a yellow question mark or exclamation point next to it, double-click on it, click on
Drivers and click Update Drivers. Follow the Hardware Update Wizard instructions as
illustrated in Section 2. Third, if the device manager fails to recognize the presence of a
new network adapter, verify that the network adapter is firmly seated in the PCI Slot. Fourth,
insert the adapter into a different PCI slot on the computer.
Q2: Windows recognizes my new hardware, but I'm unable to connect to my network. What
should I do?
A2: First, verify that the RJ-45 Ethernet Cable is securely connected from your switch or
router to your network adapter. Second, verify that the LEDs on your network card are lit.
Third, verify that the TCP/IP settings are set to Obtain an IP address automatically.
Q3: How do I install the drivers on Windows 98?
A3: Follow the steps below:
1. When the Add New Hardware Wizard appears, click Next.
2. Click Search for the best driver for your device (Recommended) and then click Next.
3. Click Specify a location and then click Next.
4. Insert the Driver Floppy Disk into your computer's Floppy disk drive. Double-click the
Floppy disk drive, click on Win98, click OK and then click Next
5. If prompted to, insert your Windows 98 CD-ROM, and then click OK.
6. Click Finish.
7. Click Yes to restart your computer.
If you still encounter problems or have any questions regarding the TE100-PCIWN/TE100-PCIWA,
please contact TRENDnet Technical Support Department.
Certifications
This equipment has been tested and found to comply with FCC and CE Rules.
Operation is subject to the following two conditions:
(1) This device may not cause harmful interference.
(2) This device must accept any interference received. Including interference that may cause
undesired operation.
Waste electrical and electronic products must not
be disposed of with household waste. Please
recycle where facilities exist. Check with you Local
Authority or Retailer for recycling advice.
NOTE: THE MANUFACTURER IS NOT RESPONSIBLE FOR ANY RADIO OR TV
INTERFERENCE CAUSED BY UNAUTHORIZED MODIFICATIONS TO THIS
EQUIPMENT. SUCH MODIFICATIONS COULD VOID THE USER'S AUTHORITY TO
OPERATE THE EQUIPMENT.
3
Limited Warranty
TRENDnet warrants its products against defects in material and workmanship, under
normal use and service, for the following lengths of time from the date of purchase.
TE100-PCIWN/TE100-PCIWA - 5-Year Warranty
If a product does not operate as warranted above during the applicable warranty period,
TRENDnet shall, at its option and expense, repair the defective product or deliver to
customer an equivalent product to replace the defective item. All products that are
replaced will become the property of TRENDnet. Replacement products may be new or
reconditioned.
TRENDnet shall not be responsible for any software, firmware, information, or memory
data of customer contained in, stored on, or integrated with any products returned to
TRENDnet pursuant to any warranty.
There are no user serviceable parts inside the product. Do not remove or attempt to
service the product through any unauthorized service center. This warranty is voided if
(i) the product has been modified or repaired by any unauthorized service center, (ii) the
product was subject to accident, abuse, or improper use (iii) the product was subject to
conditions more severe than those specified in the manual.
Warranty service may be obtained by contacting TRENDnet office within the applicable
warranty period for a Return Material Authorization (RMA) number, accompanied by a
copy of the dated proof of the purchase. Products returned to TRENDnet must be preauthorized by TRENDnet with RMA number marked on the outside of the package, and
sent prepaid, insured and packaged appropriately for safe shipment.
4
WARRANTIES EXCLUSIVE: IF THE TRENDNET PRODUCT DOES NOT OPERATE
AS WARRANTED ABOVE, THE CUSTOMER'S SOLE REMEDY SHALL BE, AT
TRENDNET'S OPTION, REPAIR OR REPLACEMENT. THE FOREGOING
WARRANTIES AND REMEDIES ARE EXCLUSIVE AND ARE IN LIEU OF ALL OTHER
WARRANTIES, EXPRESSED OR IMPLIED, EITHER IN FACT OR BY OPERATION OF
LAW, STATUTORY OR OTHERWISE, INCLUDING WARRANTIES OF
MERCHANTABILITY AND FITNESS FOR A PARTICULAR PURPOSE. TRENDNET
NEITHER ASSUMES NOR AUTHORIZES ANY OTHER PERSON TO ASSUME FOR IT
ANY OTHER LIABILITY IN CONNECTION WITH THE SALE, INSTALLATION,
MAINTENANCE OR USE OF TRENDNET'S PRODUCTS.
TRENDNET SHALL NOT BE LIABLE UNDER THIS WARRANTY IF ITS TESTING AND
EXAMINATION DISCLOSE THAT THE ALLEGED DEFECT IN THE PRODUCT DOES
NOT EXIST OR WAS CAUSED BY CUSTOMER'S OR ANY THIRD PERSON'S
MISUSE, NEGLECT, IMPROPER INSTALLATION OR TESTING, UNAUTHORIZED
ATTEMPTS TO REPAIR OR MODIFY, OR ANY OTHER CAUSE BEYOND THE
RANGE OF THE INTENDED USE, OR BY ACCIDENT, FIRE, LIGHTNING, OR OTHER
HAZARD.
LIMITATION OF LIABILITY: TO THE FULL EXTENT ALLOWED BY LAW TRENDNET
ALSO EXCLUDES FOR ITSELF AND ITS SUPPLIERS ANY LIABILITY, WHETHER
BASED IN CONTRACT OR TORT (INCLUDING NEGLIGENCE), FOR INCIDENTAL,
CONSEQUENTIAL, INDIRECT, SPECIAL, OR PUNITIVE DAMAGES OF ANY KIND,
OR FOR LOSS OF REVENUE OR PROFITS, LOSS OF BUSINESS, LOSS OF
INFORMATION OR DATE, OR OTHER FINANCIAL LOSS ARISING OUT OF OR IN
CONNECTION WITH THE SALE, INSTALLATION, MAINTENANCE, USE,
PERFORMANCE, FAILURE, OR INTERRUPTION OF THE POSSIBILITY OF SUCH
DAMAGES, AND LIMITS ITS LIABILITY TO REPAIR, REPLACEMENT, OR REFUND
OF THE PURCHASE PRICE PAID, AT TRENDNET'S OPTION. THIS DISCLAIMER OF
LIABILITY FOR DAMAGES WILL NOT BE AFFECTED IF ANY REMEDY PROVIDED
HEREIN SHALL FAIL OF ITS ESSENTIAL PURPOSE.
Governing Law: This Limited Warranty shall be governed by the laws of the state of
California.
Note: AC/DC Power Adapter, Cooling Fan, and Power Supply carry 1-Year Warranty
5
TRENDnet Technical Support
US . Canada
Toll Free Telephone: 1(866) 845-3673
24/7 Tech Support
Europe (Germany . France . Italy . Spain . Switzerland . UK)
Toll Free Telephone: +00800 60 76 76 67
English/Espanol - 24/7
Francais/Deutsch - 11am-8pm, Monday - Friday MET
Worldwide
Telephone: +(31) (0) 20 504 05 35
English/Espanol - 24/7
Francais/Deutsch - 11am-8pm, Monday - Friday MET
Product Warranty Registration
Please take a moment to register your product online.
Go to TRENDnet's website at http://www.trendnet.com
20675 Manhattan Place
Torrance, CA 90501
USA
Copyright ©2006. All Rights Reserved. TRENDnet.

* Your assessment is very important for improving the workof artificial intelligence, which forms the content of this project