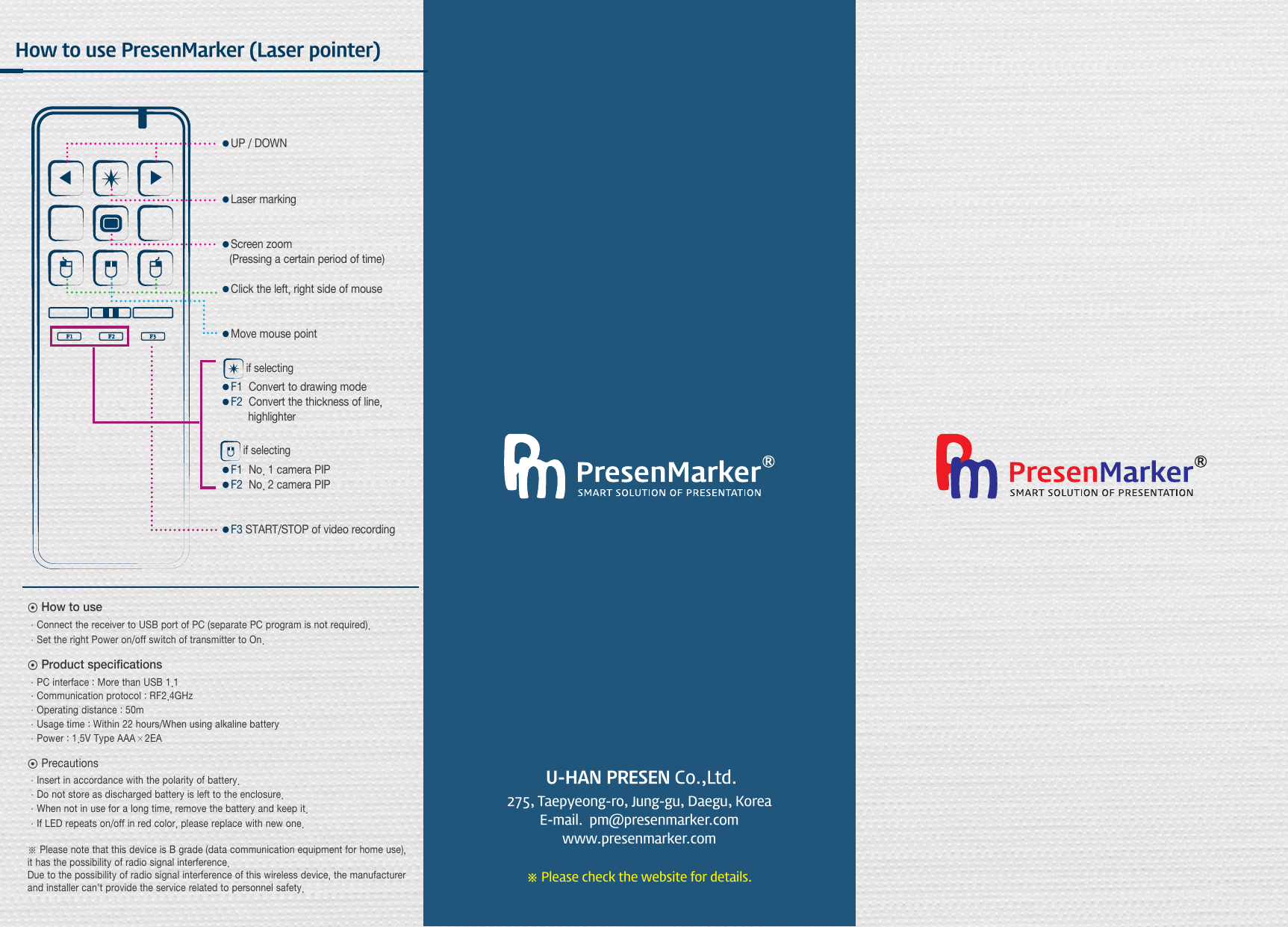 How to use PresenMarker (Laser pointer)
●UP / DOWN
●Laser marking
●Screen zoom
(Pressing a certain period of time)
●Click the left, right side of mouse
●Move mouse point
if selecting
●F1 Convert to drawing mode
●F2 Convert the thickness of line,
highlighter
if selecting
●F1 No. 1 camera PIP
●F2 No. 2 camera PIP
●F3 START/STOP of video recording
⊙ How to use
·Connect the receiver to USB port of PC (separate PC program is not required).
·Set the right Power on/off switch of transmitter to On.
⊙ Product specifications
·PC interface : More than USB 1.1
·Communication protocol : RF2.4GHz
·Operating distance : 50m
·Usage time : Within 22 hours/When using alkaline battery
·Power : 1.5V Type AAA×2EA
⊙ Precautions
·Insert in accordance with the polarity of battery.
·Do not store as discharged battery is left to the enclosure.
·When not in use for a long time, remove the battery and keep it.
·If LED repeats on/off in red color, please replace with new one.
※ Please note that this device is B grade (data communication equipment for home use),
it has the possibility of radio signal interference.
Due to the possibility of radio signal interference of this wireless device, the manufacturer
and installer can't provide the service related to personnel safety.
U-HAN PRESEN Co.,Ltd.
275, Taepyeong-ro, Jung-gu, Daegu, Korea
E-mail. pm@presenmarker.com
www.presenmarker.com
※ Please check the website for details.
What is PresenMarker?
Presenmarker S/W Setting
Smart Solution of Presentation
It refers to the integrated solution of presentation
in which laser marking, screen zoom, wireless
mouse functions and video storage are available.
⑬
27.03 fps
Left Top
Right Top
Left Top
Configuration of PresenMarker
①
Left Top
Left Bottom
tion of
Smart Solu
Laser Detector
Right Top
②
Right Top
Right Bottom
Left Bottom
Right Bottom
on
Presentati
(sensor)
Left Bottom
Right Bottom
⑤
③
⑧
⑨
⑥
⑦
⑫
Laser Pointer
(presenter)
⑩
Function of PresenMarker
④
⑪
Laser marking
It can express straight lines, circles, ellipses and
freehand Line with laser pointer.
Screen zoom
H/W Linkage
⇒
It can enlarge desired part with laser pointer.
※ Description
per program number
Wireless mouse
It can control PC mouse with laser pointer.
S/W Installation
⇒
Video (Contents storage)
Realtime saving of PT contents + description of
laser point + voice + video
※ Presen Marker is used for existing beam projector and screen facility.
Setting
①
②
③
④
⑤
⑥
⑦
⑧
⑨
⑩
⑪
⑫
⑬
Sensing area of laser detector
Calibration screen of No. ① area
Manual setting of coordinate value
Auto setting mode of coordinate value
Video convert mode of laser detector
Initialization of laser detector
Bright mode of laser detector video
Dark mode of laser detector video
Setting exposure value of laser
Audio selecting mode during recording
Setting PC saving channel
Saving setting value
Closing setting window
<Setting window of
Presenmarker>
<Detailed function
of Presenmarker>
※ Auto setting
1. Program execution
2. Laser detector video displays within No. ① area.
3. Selecting Preset Bright
4. Selecting Auto calibration
5. Selecting Preset Dark
6. Selecting Apply/Save (exit)
7. Closing setting window (setting completion)
※ Manual setting
1. Program execution
2. Laser detector video displays within No. ① area.
3. Mouse manual setting by using No. ③ area.
4. Selecting Apply/Save (Exit)
5. Closing setting window (setting completion)
※This S/W is only for windows.

* Your assessment is very important for improving the work of artificial intelligence, which forms the content of this project