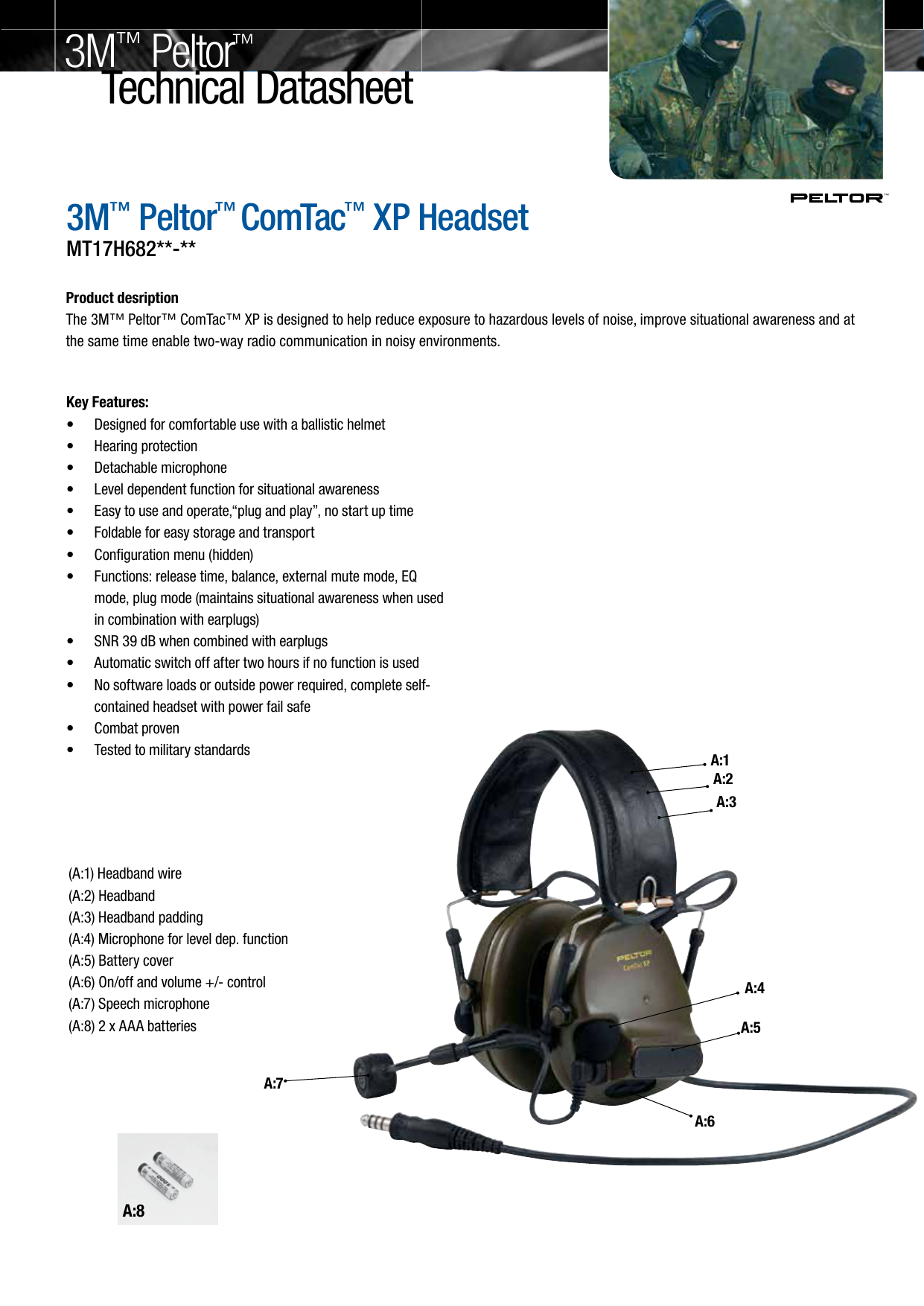 3M™ Peltor™
Technical Datasheet
3M™ Peltor™ ComTac™ XP Headset
MT17H682**-**
Product desription
The 3M™ Peltor™ ComTac™ XP is designed to help reduce exposure to hazardous levels of noise, improve situational awareness and at
the same time enable two-way radio communication in noisy environments.
Key Features:
• Designed for comfortable use with a ballistic helmet
• Hearing protection
• Detachable microphone
• Level dependent function for situational awareness
• Easy to use and operate,"plug and play", no start up time
• Foldable for easy storage and transport
• Configuration menu (hidden)
• Functions: release time, balance, external mute mode, EQ
mode, plug mode (maintains situational awareness when used
in combination with earplugs)
• SNR 39 dB when combined with earplugs
• Automatic switch off after two hours if no function is used
• No software loads or outside power required, complete selfcontained headset with power fail safe
• Combat proven
• Tested to military standards
A:1
A:2
A:3
(A:1) Headband wire
(A:2) Headband
(A:3) Headband padding
(A:4) Microphone for level dep. function
(A:5) Battery cover
(A:6) On/off and volume +/- control
(A:7) Speech microphone
(A:8) 2 x AAA batteries
A:4
A:5
A:7
A:6
A:8
3M™ Peltor™
Technical Datasheet
Applications
Peltor ComTac XP is designed to be used by infantry soldiers
and emergency response units within law enforcement.
Standards and Approval:
PPE directive 89/686/EEC
EMC directive 89/336/EEC
MIL-STD-810F
EMC-MIL-STD-461F
Technical Data Specifications:
Power: Battery Type: 2 x AAA 1,2-1,5V batteries
Operating time: ~ 500h (battery & temperature dependent)
Net Weight: 335g (inc. batteries)
Operating temperature: -40 °C to +55 °C (battery dependent)
Storage Temperature: -50 °C to +70 °C
Attenuation
MT17H682FB**-**
Frequency (Hz)
In the Box:
1 x ComTac XP
1 x User manual
2 x AAA batteries
125
250
500
1000
2000
4000
Mean attenuation (dB)
63
11.5
17.9
27.8
30.0
32.1
36.2
40.3
Std deviation (dB)
2.5
2.7
1.8
2.3
3.0
2.0
3.1
Assumed Protection Value (dB)
9.0
15.3
25.9
27.7
29.1
34.2
37.2
SNR=28 db H=31 db M=25 db L=16 db
MT17H682FB-** in combination with 3M EAR Classic earplug
Frequency (Hz)
Mean attenuation (dB)
8000
63
125
250
500
1000
2000
4000
8000
33,6
35,5
40,8
51,4
44,7
37,0
48,1
44,8
Std deviation (dB)
4,4
5,8
5,0
6,6
4,8
3,6
4,9
4,8
Assumed Protection Value (dB)
29,1
29,7
35,8
44,9
40,0
33,5
43,3
40,0
SNR=39 db H=36 db M=38 db L=36 db
Versions:
"NATO wired" J11 versions, for use with adapter*:
Description
3M art. no.
EAN/UPC
Colour
MT17H682FB-86
J11, headband XH001678107
7318640055957
Olive Green
* Modern military communication radios can have different configura-
MT17H682FB-86 SV
J11, headband XH001678115
7318640055964
Black
tions depending on how it is programmed. Users are advised to
MT17H682BB-86
J11, Neckband XH001678123
7318640055971
Olive Green
connect headset to actual radio and configuration being used, in order
MT17H682BB-86 SV J11, Neckband
XH001678131
7318640055988
Black
to test functions and features before purchase.
MT17H682P3AD-86
J11, helmet att OPS-core
XH001678222
7318640056060
Olive Green
MT17H682FB-87
J11, headband,goose neck mic
XH001678149
7318640055995
Olive Green
MT17H682FB-87 SV
J11, headband,goose neck mic
XH001678156
7318640056008
Black
MT17H682FB-19B
J11, headband, dual comm.
XH001674064
7318640052222
Olive Green
Description 3M art. no.
EAN/UPC
Colour
MT17H682FB-69
XH001660634 7318640048553
Direct lead bone conduction mic . versions*:
Marconi PRR , bone conduction mic MT17H682FB-T5187 Motorola GP328, bone conduction mic XH001660659
MT17H682FB-72
7318640049529
Olive Green
Olive Green
Harris 7800, bone conduction mic
CDS1010025 Rev b Peltor™ Marketing Communication
Accessories and Spare parts:
Description
3M art. no.
EAN
1079 SV
Battery lid
11003065544
93045933242
HY68 Hygiene kit (attenuation cushions & foam)
XH001652482
7318640025615
HY68-02 Hygiene kit (attenuation cushions & foam) for bone mic headsets
XH001667639
7318640049048
MT7N
Microphone, dynamic
XL0016340447318640061484
MT21E Goose neck dynamic mic XL001650263
MT90-02 Throat mic, dynamic
XL001644068
4046719397938
MT90-03 Throat mic, electrets
XL001644076
4046719397914
3M Personal Safety Division
3M Svenska AB, Box 2341
SE-331 02 Värnamo
Sweden
Phone: +46 (0) 370 65 65 65
Fax: +46 (0) 370 65 65 99
Email: [email protected]
Internet: www.3M.com/Peltorcomms
Important Notice:
3M does not accept liability of any kind, be it direct or consequential (including, but
not limited to, loss of profits, business and/or goodwill) arising from reliance upon any
information herein provided by 3M. The user is responsible for determining the suitability
of the products for their intended use. Nothing in this statement will be deemed to
exclude or restrict 3M's liability for death or personal injury arising from its negligence.
Warranty:
The warranty does not cover any damage caused by neglected maintenance
or careless handling. For more information on maintenance, please see the user
instruction. For complete warranty condition, contact your dealer or local 3M office.
Please recycle. Printed in Sweden.
© 3M 2014. All rights reserved.
Bluetooth is a registered trademark of Bluetooth SIG Inc.