model: s2098cs/ns/os roman bathtub faucet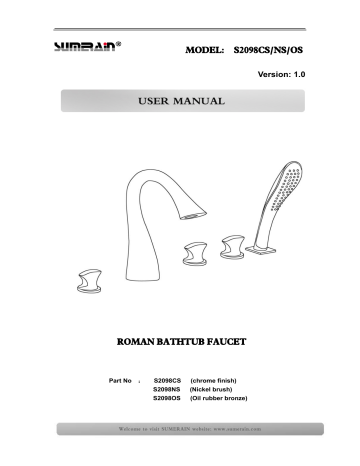 MODEL: S2098CS/NS/OS
Version: 1.0
ROMAN BATHTUB FAUCET
Part No : S2098CS (chrome finish)
S2098NS (Nickel brush)
S2098OS (Oil rubber bronze)
Dear Valued Customer,
SUMERAIN would like to take this opportunity to thank you for purchasing SUMERAIN products. It is our sincere hope that you are completely satisfied with your new purchase. We welcome any questions or comments you may have and look forward to assisting you in the future.
Sincerely,
SUMERAIN customer service department
1. Unpack your new product and ensure that all the parts are contained in the packaging. Keep the product in its original box until you ready to install it.
2. Shut off the water supply if replacing a previously-installed faucet.
3. Observe all plumbing and building codes in your area.
4. It is recommended that installation of the product be done by a professional plumber.
5. SUMERAIN reserves the right to make revisions in the design of faucets without notice, as specified with the price book.
Tools you may need when installing the faucet
Specification
Function
Feature
Style
Finish
Installation Holes
Number of Handles
Spout total Height
Spout Reach
Spout Width
Spout Height
Hand shower height
Max deck thickness
Valve Type
Faucet Body Material
Faucet Spout Material
Hand shower Material
Hand shower hose length
Spout Net Weight
Gross Weight
Working water press
Flow Rate
Packing box size
Bathtub Faucets
Roman
Contemporary
Chrome
Five Holes
Three knobs
215mm [8.50 Inch]
115mm [4.50 Inch]
45mm [1.77 Inch]
105mm [4.10 Inch]
240mm [9.45 Inch]
32mm [1.26 Inch]
Ceramic Disc Valve
Brass
Brass
ABS plastic
1500mm [ 59 Inch ]
1.0 KG [ 2.2 lbs ]
3.4 KG [ 7.49 lbs ]
0.2 ~0.8 Mpa
6.8L/M [1.8GPM ]
300mm[11.8"] x 220mm[8.7"] x 150mm[5.9"]
Dimension
Front view
Image2: Right side view of spout
Image3: Top view of Knob
CODE
A
C
E
G
I
K
M
O
Q
S
U
ITEM NAME QTY
Spout 1PCS
Rubber washer 1PCS
Lock nut 1PCS
Lock nut 3PCS
Lock Nut
Lock Nut
3PCS
1PCS
Cold valve body 1PCS
Hand shower holder
1PCS
Plastic lock nut 1PCS
Screw 3PCS
40cm G1/2'' hose 1PCS
CODE
J Hot
T
V
ITEM NAME QTY
1PCS
20cm G1/2'' hose 2PCS
1.5m Hand shower hose
1PCS
Step 1:
Dig hole "A", hole "B", hole "C", hole "D" and hole "E" on mounting surface according to below dimension if the mounting surface doesn't have the hole for installing this faucet.
Step 2:
Attach the O-ring "B" to the bottom of spout "A" and Install the spout through the center hole "B" of mounting surface, please mounting
Rubber washer "C" on spout shank "D" and attach with spout shank locknut "E".
Step 3:
Disassemble hot water valve assembly to prepare for next step's installation.
Image: Hot/cold water valve assembly
Unscrew the inside screw of knob anticlockwise by Allen wrench and disassemble the Knob from the hot water valve assembly.
Step 4:
Hold the valve body "J" in proper position, make sure the top of the
faucet body's handles is 30mm(1.18") above the top of the mounting
surface, Mount the Rubber washer "H" and locknut "I" from
underneath the sink, mount the lock nut "G" to valve body "J" from
above the sink and fasten the screw by the Allen wrench. Repeat the
same procedure for the right (cold valve assembly).
Step 5:
5.1 Install diverter valve "L" from underside of mounting surface, screw handle lock nut "G" to secure valve .
5.2 Install handle assembly (as step4). Hold the diverter valve body in the proper position. Assemble Rubber washer and tighten lock nut onto the valve body underside of sink
Step 6:
Install spray support assembly as below.
Tighten the Rubber washer "P" and mounting plastic nut "Q" onto underside of Hand shower holder "O",
Through the center hole of Hand shower holder with the handheld Hand shower hose as below diagram:
Step 7:
7.1 Connect cold valve's outlet connecter to one of the Diverter's inlet connecter with G1/2" hose
7.2 Connect hot valve's outlet connecter to another Diverter's inlet connecter with G1/2" hose
7.3 Connect spout water inlet connecter with one of Diverter's outlet connecter with G1/2" hose
7.4 Connect Hand shower water inlet connecter to Diverter's another outlet connecter with Hand shower hose " V".
:
Step 8:
8.1 Inspect hot and cool water supply tube, please clean it at first before connect to faucet.
8.2 Connect hot valve body's inlet connector and cold water inlet connector to stop valve separately.
■
Clean the faucets and showers as and when required. Regular cleaning can prevent calcification.
■
Never use cleaning materials contain hydrochloric, formic, phosphoric or acetic acid, which may cause considerable damage.
■
Never use cleaning materials or ap pliances with an abrasive effect, such as unsuitable cleaning powders, sponge pads, or micro fiber cloths.
■
After cleaning, rinse thoroughly the faucet with clean water to remove any cleaner residue.
■
Unscrew and clean the aerator regularly.
TROUBLESHOOTING
Symptom
Solution
A. Tighten the packing nut
Faucet leaks from the handle
B. Replace the "O" ring or packing pressure is too low
B. Clean or replace the aerator
C. Check plumbing system for water pressure problems
The spout sprays water all over
A. Clean or replace the aerator
B. Replace the aerator washer
Water is leaking A. Check the water supply connections to the faucet from the faucet B. Inspect the water supply lines or hoses for leaks under the sink
Handle is loose
A. Remove the cap and tighten the screw
B. Locate and tighten the hex set screw
C. Remove the handle and check for stripped teeth on the stem.
B. Clean the strainer of hot and cold water inlet illuminate
HONGKONG SUMERAIN SANITARY INDUSTRY CO..LIMITED
Address: ROOM 1018, HOLLYWOOD PLAZA 610 NATHAN ROAD MONGKOK, KL
Factory Address: Shuikou Industrial Park, Kaiping City, Guangdong Province,
China (Mainland)
Tel: +86-750-2731579
Toll Free: 400-0999-075 (China mainland)
Fax: +86-750-2715258
Web: www.sumerain.com
E-mail:[email protected]
SUMERAIN INTERNATIONAL GROUP – AMERICA Branch
Address: 13455 Harper Dr.
Saratoga, CA 95070
USA
Tel: +1-408-867-8884
FAX: +1-408-867-4272
E-mail:[email protected]
* Your assessment is very important for improving the work of artificial intelligence, which forms the content of this project