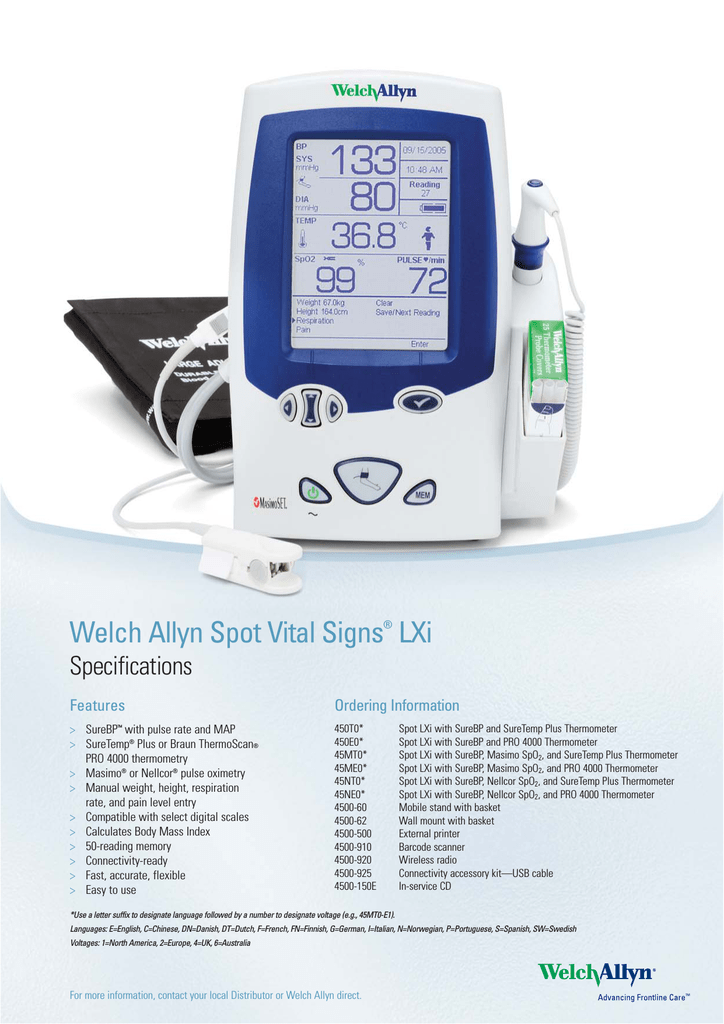 ®
Welch Allyn Spot Vital Signs LXi
Specifications
Features
Ordering Information
> SureBP™ with pulse rate and MAP
> SureTemp® Plus or Braun ThermoScan®
PRO 4000 thermometry
> Masimo® or Nellcor® pulse oximetry
> Manual weight, height, respiration
rate, and pain level entry
> Compatible with select digital scales
> Calculates Body Mass Index
> 50-reading memory
> Connectivity-ready
> Fast, accurate, flexible
> Easy to use
450T0*
450E0*
45MT0*
45ME0*
45NT0*
45NE0*
4500-60
4500-62
4500-500
4500-910
4500-920
4500-925
4500-150E
Spot LXi with SureBP and SureTemp Plus Thermometer
Spot LXi with SureBP and PRO 4000 Thermometer
Spot LXi with SureBP, Masimo SpO2, and SureTemp Plus Thermometer
Spot LXi with SureBP, Masimo SpO2, and PRO 4000 Thermometer
Spot LXi with SureBP, Nellcor SpO2, and SureTemp Plus Thermometer
Spot LXi with SureBP, Nellcor SpO2, and PRO 4000 Thermometer
Mobile stand with basket
Wall mount with basket
External printer
Barcode scanner
Wireless radio
Connectivity accessory kit—USB cable
In-service CD
*Use a letter suffix to designate language followed by a number to designate voltage (e.g., 45MT0-E1).
Languages: E=English, C=Chinese, DN=Danish, DT=Dutch, F=French, FN=Finnish, G=German, I=Italian, N=Norwegian, P=Portuguese, S=Spanish, SW=Swedish
Voltages: 1=North America, 2=Europe, 4=UK, 6=Australia
For more information, contact your local Distributor or Welch Allyn direct.
Welch Allyn Spot Vital Signs® LXi
Specifications
Non-invasive Blood Pressure (NIBP)
Cuff Pressure Range
0 to 300 mmHg (0 to 40.0 kPa)
Systolic Range
60 to 250 mmHg (8.0 to 33.3 kPa)
Diastolic Range
30 to 160 mmHg (4.0 to 21.3 kPa)
Mean Arterial
Pressure Range
Blood Pressure Accuracy
40 to 190 mmHg (5.3 to 25.3 kPa)
Overpressure Cutoff
315 mmHg ±15 mmHg (42.0 kPa ±1.9 kPa)
Blood Pressure
Determination Time
Typical: 15 seconds
Pulse Rate Range
35 to 199 bpm
Pulse Rate Accuracy
±5.0%
Meets or exceeds AAMI SP10:2002
Temperature
Electrical
Temperature Range
SureTemp® Plus: 26.7° C to 43.3° C
Braun ThermoScan® PRO 4000: 20° C to 42.2° C
Calibration Accuracy
SureTemp Plus: ±0.1° C (Monitor Mode)
Braun ThermoScan PRO 4000 for displayed temperature ranges:
±0.2° C to 35.5° C to 42° C ±0.25° C (outside this temperature range)
Display Resolution
-17.7° C
SureTemp Plus Predict Time Oral
Adult Axillary
Paediatric Axillary
Rectal
Probe and Probe Well
Approx. 4 to 6 seconds
Approx.12 to 15 seconds (age 18 years and older)
Approx. 10 to 13 seconds (age 17 years and younger)
Approx. 10 to 13 seconds
Oral/Axillary
Rectal
• AC power supply: 8V DC at 0.75 A
• Rechargeable sealed lead acid internal battery
• Battery recharge time: 90% to 100% after 6 hours; 1 additional hour for PRO 4000;
4 additional hours for external printer
• Simultaneously operates device and charges battery when AC power adapter is plugged in
Wireless Radio
Wireless Network Interface IEEE 802.11b DSSS, WiFi compliant
Frequency
2.4 to 2.4835 GHz
Blue
Red
Environmental
Operating Temperature
(Device)
10° C to 40° C
Performance Measurement 1% to 100%
Operating Relative
Humidity
15% to 95% (non-condensing)
Range
25 to 240 bpm
Operating Altitude
-170 m to +4,877 m
SpO2 Accuracy
70% to 100%
Storage Temperature
Pulse Rate Accuracy
25 to 240 bpm ±3 digits
Device with SureTemp Plus: -25° C to 55° C
Device with PRO 4000: -20° C to 50° C
Storage Humidity
15% to 95% (non-condensing)
EMC Standard
IEC/EN 60601-1-2:2001
SpO2
Mechanical
Dimensions
Weight
Height
Length/PRO 4000
Length/SureTemp Plus
Depth
27 cm
20.32 cm
19 cm
13.34 cm
Warranty
• Two-year warranty on device parts and labour
• Service contracts available
3.4 kg
Only Masimo SET SpO2 sensors, including LNOP durable adhesive
and NR value disposable sensors should be used with Masimo
pulse oximetry. Masimo, Masimo SET, LNOP, and NR are registered
trademarks of Masimo Corporation.
Only Nellcor OxiMax® pulse oximetry sensors should be used
with the Nellcor pulse oximetry option. Nellcor and OxiMax
are registered trademarks of Nellcor Puritan Bennett, Inc.
Welch Allyn U.K. Ltd.
Cublington Road, Aston Abbotts, Buckinghamshire HP22 4ND England
Tel: 0 207 365 6780 Fax: 0 207 365 9694
Welch Allyn European Customer Service
Navan Business Park, Dublin Road, Navan, County Meath, Ireland
Tel: +353 46 906 7790 Fax: +353 46 906 7754
Welch Allyn PTY. LTD, S. Africa
394 Surrey Ave, Ferndale, Randburg 2194 South Africa
P O Box 809, Fontainebleau, South Africa 2032
Tel: 0 11 777 7555 Fax: 0 11 777 7556
www.welchallyn.com
SureTemp and Spot Vital Signs are registered trademarks of Welch Allyn, Inc.
© 2005 Welch Allyn. All rights reserved. SM2871EU Rev B
Braun ThermoScan® is a registered trademark
of the Braun Company.