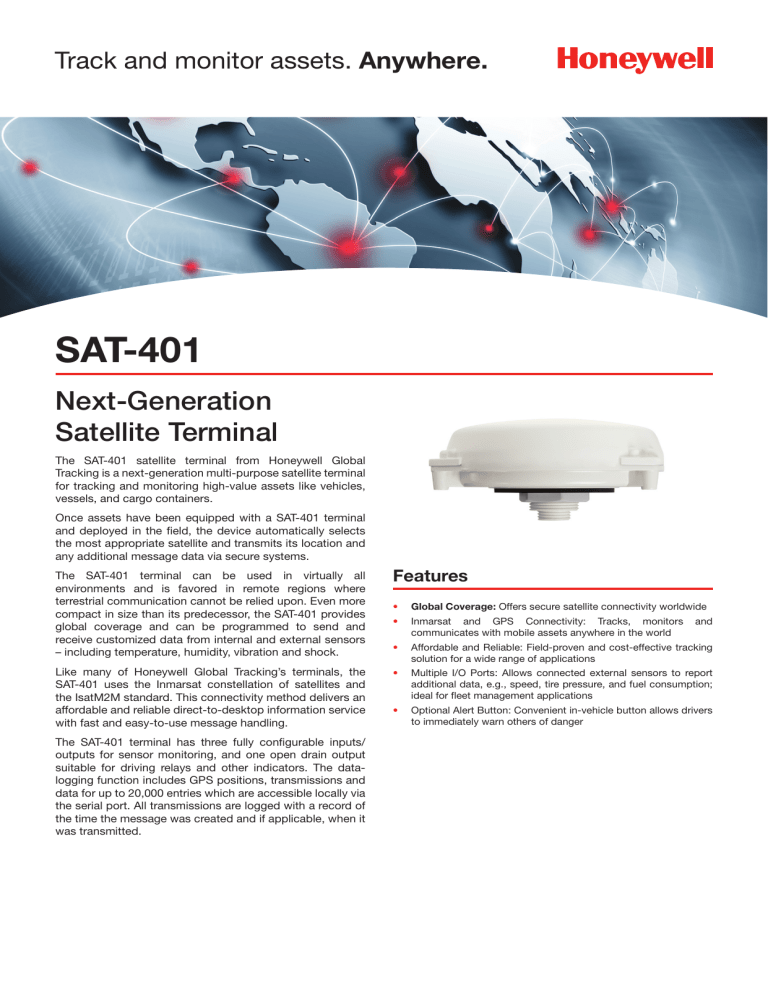 Track and monitor assets. Anywhere.
SAT-401
Next-Generation
Satellite Terminal
The SAT-401 satellite terminal from Honeywell Global
Tracking is a next-generation multi-purpose satellite terminal
for tracking and monitoring high-value assets like vehicles,
vessels, and cargo containers.
Once assets have been equipped with a SAT-401 terminal
and deployed in the field, the device automatically selects
the most appropriate satellite and transmits its location and
any additional message data via secure systems.
The SAT-401 terminal can be used in virtually all
environments and is favored in remote regions where
terrestrial communication cannot be relied upon. Even more
compact in size than its predecessor, the SAT-401 provides
global coverage and can be programmed to send and
receive customized data from internal and external sensors
– including temperature, humidity, vibration and shock.
Features
Like many of Honeywell Global Tracking's terminals, the
SAT-401 uses the Inmarsat constellation of satellites and
the IsatM2M standard. This connectivity method delivers an
affordable and reliable direct-to-desktop information service
with fast and easy-to-use message handling.
• Multiple I/O Ports: Allows connected external sensors to report
additional data, e.g., speed, tire pressure, and fuel consumption;
ideal for fleet management applications
The SAT-401 terminal has three fully configurable inputs/
outputs for sensor monitoring, and one open drain output
suitable for driving relays and other indicators. The datalogging function includes GPS positions, transmissions and
data for up to 20,000 entries which are accessible locally via
the serial port. All transmissions are logged with a record of
the time the message was created and if applicable, when it
was transmitted.
• Global Coverage: Offers secure satellite connectivity worldwide
• Inmarsat and GPS Connectivity: Tracks, monitors
communicates with mobile assets anywhere in the world
and
• Affordable and Reliable: Field-proven and cost-effective tracking
solution for a wide range of applications
• Optional Alert Button: Convenient in-vehicle button allows drivers
to immediately warn others of danger
SAT-401, SAT-401C & SAT-401E Technical Specifications
Physical
Dimensions
112mm x 37mm (4.4˝ x 1.5˝)
Weight
220g (12.0 oz) (excluding cable)
Connector
12-way Bulgin
Environmental
Operating Temperature
-40°C to +70°C (-40°F to +158°F)
Humidity
≤ 95% @ +40°C (+104°F)
Vibration & Shock
Meets Inmarsat-D requirements
IP Rating
IP66
Power (Typical)
Sleep
1.5 mW
Receive
1.5W (incl. GPS)
Transmit
6W
Power Supply Voltage
9.6V to 32V 'smoothed' DC
Interfaces
Serial Interface
Asynchronous serial RS232
Baud Rate
4800 or 9600 bps
Parity/Data Bits/Stop Bits
N, 8, 1
Configurable Inputs/Outputs
Three
Open Drain Output
250mA max. sink current
Satellite Connectivity
Transmitter
EIRP: 0-9dBW
Tx Burst Duration: 2s or 8s (auto select)
Message length: Standard burst up to 85 bits, Double burst up to 170 bits
Receiver
User data rate: ~36 bits per second
Message length: Up to 800 bits
Elevation Angle
0° - 90°
Frequency Range
Transmit: 1626.5-1660.5 MHz
Receive: 1525.0-1559.0 MHz
GPS: 1575.42 ± 1.0 MHz
This product operates in the L-band frequency spectrum, as defined by IEEE standard 521-1984
Message Latencies
Poll/Response: up to 1 minute (typically less)
Time to first transmission: up to 45 seconds
Forward message delivery: up to 45 seconds
Return message delivery: up to 20 seconds
GPS
Channels: 50
Typical position accuracy (SA Off): 2.5m (CEP, 2D)
Capabilities/Applications
Custom Features
Advanced scripting capabilities enable custom features and functionality
Geofencing
Alert areas, Safe Areas, Route corridors, Curfews, Waypoints, Checkpoints, Overdue and more. (Via ViewPoint)
Third-Party Connectivity
Can be integrated with existing ERP systems
Certifications
Inmarsat Type Approval
Yes
FCC
Yes
CE
Yes
ANATEL
Yes
ICASA
Pending
Per ulteriori informazioni
www.tenenga.it
Tenenga srl
via S. Quasimodo 40, 40013
Castel Maggiore (BO) Italia
Telefono: 051 0397133
Fax: 051 0397129
[email protected]
SAT-401 DS Rev E, 11/13
© 2013 Honeywell International Inc.

* Your assessment is very important for improving the work of artificial intelligence, which forms the content of this project