SE-LCRKE specifications.pub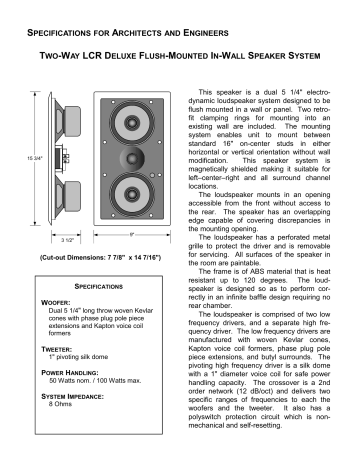 SPECIFICATIONS FOR ARCHITECTS AND ENGINEERS
TWO-WAY LCR DELUXE FLUSH-MOUNTED IN-WALL SPEAKER SYSTEM
15 3/4"
9"
3 1/2"
(Cut-out Dimensions: 7 7/8" x 14 7/16")
SPECIFICATIONS
WOOFER:
Dual 5 1/4" long throw woven Kevlar
cones with phase plug pole piece
extensions and Kapton voice coil
formers
TWEETER:
1" pivoting silk dome
POWER HANDLING:
50 Watts nom. / 100 Watts max.
SYSTEM IMPEDANCE:
8 Ohms
This speaker is a dual 5 1/4" electrodynamic loudspeaker system designed to be
flush mounted in a wall or panel. Two retrofit clamping rings for mounting into an
existing wall are included. The mounting
system enables unit to mount between
standard 16" on-center studs in either
horizontal or vertical orientation without wall
modification.
This speaker system is
magnetically shielded making it suitable for
left–center–right and all surround channel
locations.
The loudspeaker mounts in an opening
accessible from the front without access to
the rear. The speaker has an overlapping
edge capable of covering discrepancies in
the mounting opening.
The loudspeaker has a perforated metal
grille to protect the driver and is removable
for servicing. All surfaces of the speaker in
the room are paintable.
The frame is of ABS material that is heat
resistant up to 120 degrees. The loudspeaker is designed so as to perform correctly in an infinite baffle design requiring no
rear chamber.
The loudspeaker is comprised of two low
frequency drivers, and a separate high frequency driver. The low frequency drivers are
manufactured with woven Kevlar cones,
Kapton voice coil formers, phase plug pole
piece extensions, and butyl surrounds. The
pivoting high frequency driver is a silk dome
with a 1" diameter voice coil for safe power
handling capacity. The crossover is a 2nd
order network (12 dB/oct) and delivers two
specific ranges of frequencies to each the
woofers and the tweeter. It also has a
polyswitch protection circuit which is nonmechanical and self-resetting.

* Your assessment is very important for improving the work of artificial intelligence, which forms the content of this project