listings - PRODUCERS - Tour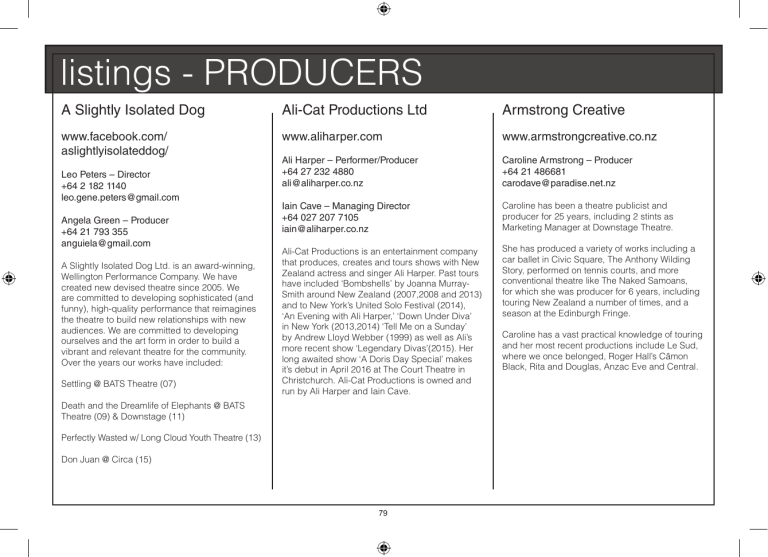 listings - PRODUCERS
A Slightly Isolated Dog Ali-Cat Productions Ltd www.facebook.com/ aslightlyisolateddog/ www.aliharper.com
Leo Peters – Director
+64 2 182 1140 [email protected]
Ali Harper – Performer/Producer
+64 27 232 4880 [email protected]
Angela Green – Producer
+64 21 793 355 [email protected]
A Slightly Isolated Dog Ltd. is an award-winning,
Wellington Performance Company. We have created new devised theatre since 2005. We are committed to developing sophisticated (and funny), high-quality performance that reimagines the theatre to build new relationships with new audiences. We are committed to developing ourselves and the art form in order to build a vibrant and relevant theatre for the community.
Over the years our works have included:
Settling @ BATS Theatre (07)
Death and the Dreamlife of Elephants @ BATS
Theatre (09) & Downstage (11)
Perfectly Wasted w/ Long Cloud Youth Theatre (13)
Don Juan @ Circa (15)
Iain Cave – Managing Director
+64 027 207 7105 [email protected]
Ali-Cat Productions is an entertainment company that produces, creates and tours shows with New
Zealand actress and singer Ali Harper. Past tours have included 'Bombshells' by Joanna Murray-
Smith around New Zealand (2007,2008 and 2013) and to New York's United Solo Festival (2014),
'An Evening with Ali Harper,' 'Down Under Diva' in New York (2013,2014) 'Tell Me on a Sunday' by Andrew Lloyd Webber (1999) as well as Ali's more recent show 'Legendary Divas'(2015). Her long awaited show 'A Doris Day Special' makes it's debut in April 2016 at The Court Theatre in
Christchurch. Ali-Cat Productions is owned and run by Ali Harper and Iain Cave.
Armstrong Creative www.armstrongcreative.co.nz
Caroline Armstrong – Producer
+64 21 486681 [email protected]
Caroline has been a theatre publicist and producer for 25 years, including 2 stints as
Marketing Manager at Downstage Theatre.
She has produced a variety of works including a car ballet in Civic Square, The Anthony Wilding
Story, performed on tennis courts, and more conventional theatre like The Naked Samoans, for which she was producer for 6 years, including touring New Zealand a number of times, and a season at the Edinburgh Fringe.
Caroline has a vast practical knowledge of touring and her most recent productions include Le Sud, where we once belonged, Roger Hall's Câmon
Black, Rita and Douglas, Anzac Eve and Central.
listings - PRODUCERS
Atamira Dance Company Auckland Theatre Company www.armstrongcreative.co.nz
www.atc.co.nz
Zoe Williams – Producer
+64 21 256 2527 [email protected]
Stephen Bain – Project Coordinator
+64 21 191 1120 [email protected]
Atamira Dance Company is the leading creator and presenter of Maori contemporary dance theatre in Aotearoa, New Zealand. The work embodies a unique landscape shaped by the cultural identity of people and their stories.
Atamira's choreographers, dancers and designers are a reflection of the diverse cross-section of voices in Aotearoa today. The company creates compelling, high-quality Maori contemporary dance theatre that reaches out to audiences and reflects the many aspirations of Aotearoa's Mana
Whenua.
Lynne Cardy – Associate Director
+64 21 445 935 [email protected]
Established in 1992, Auckland Theatre Company presents a main bill season of seven to eight plays to over 70,000 people from throughout Auckland and the Upper North Island each year. By the end of 2015, Auckland Theatre Company has presented 156 professional productions.
Barbarian Productions www.barbarian.co.nz/grand-opening www.singtomyface.com
Joanna Randerson – Artistic Director
+64 22 380 0793 [email protected]
Gina Moss – Producer
+64 22 678 0651 [email protected]
Barbarian Productions is a Wellington-based theatre company with a 12-year history of making innovative, original, high-quality theatre.
We write, perform and make media that is fierce, funny and counter-cultural. We make work inside and outside of theatres, with groups and individuals, amateurs and professionals. We strive for a new economics in performance that allows a broader audience to participate in our work.
listings - PRODUCERS
Binge Culture Blackbird Ensemble www.bingeculture.co.nz/whales.html
https://blackbirdensemble. wordpress.com
Ralph Upton – Producer/ Director
+64 27 349 2546 [email protected]
Claire Cowan – Director
+64 21 519 666 [email protected]
Fiona McNamara – Producer/ Director
+64 27 631 0742 [email protected]
Binge Culture is a multi-award winning performance collective, based in Wellington New
Zealand.
Binge Culture builds performance experiences for modern media consumers. We reach beyond the established languages of performance to involve and empower the audience, examining and pointing a finger at the absurdities of our society in order to re-engage the audience with the world.
Serene Lorimer – Producer
+64 21 519 666 [email protected]
The Blackbird Ensemble's aim is to produce musical experiences that are holistic in their approach. Not only are the audience given the chance to hear music rarely performed and of exquisite beauty and energy, it is also presented in such a way that extra musical elements are integrated to enhance and strengthen the ideas behind the music. Ranging in size from 5-25 players, the orchestra is made from highly talented classical, jazz and electronic musicians. It's latest production in development "The Afterlife" features ten musicians playing characters who use physical theatre and classical music to explore themes of what lies beyond this world and the next.
Borderline Arts Limited www.borderlinearts.com
Lucy-Margaux Marinkovich – Artistic Director
+ 64 27 422 6364 [email protected]
The Borderline Arts Ensemble is a project-based performing arts collective from Wellington, NZ.
Established in 2015 by dancer and choreographer
Lucy Marinkovich to facilitate her choreographic work, the groups primary medium is contemporary dance performance. Regular collaborators include musician and composer Lucien Johnson, and filmmaker Jeremy Brick.
listings - PRODUCERS
Canadian Stage Capital E National Theatre for Children www.canadianstage.com
Sherrie Johnson – Producer [email protected]
www.capitale.org.nz/portfolio-posts/ an-awfully-big-adventure/
Stuart Grant – Director
+64 4 913 3734 [email protected]
Canadian Stage is one of the country's leading not-for-profit contemporary theatre companies.
Under the direction of Artistic & General Director
Matthew Jocelyn and Managing Director Su
Hutchinson, the company produces and presents theatre with a focus on emerging performance styles that integrate theatre with other artistic media such as dance, film, visual arts and more.
Sharing innovative and vibrant performance work from Canada and around the world, we stage an annual season at three Toronto venues (The Bluma
Appel Theatre, St. Lawrence Centre for the Arts;
The Berkeley Street Theatre; and the High Park
Amphitheatre), in addition to running a series of artist training, education and community outreach initiatives.
Marianne Taylor – Creative Producer
+64 4 913 3729 [email protected]
Sonia Hardie – Production Manager
+64 4 913 3726 [email protected]
Capital E ignites the creative spark in young people, through digital workshops, live performance and events. We are a not-for-profit organisation based in Te Whanganui a Tara,
Wellington providing quality experiences to schools and public.
Our live performance comprises of Capital E
National Arts Festival and Capital E National
Theatre for Children. The Capital E National Arts
Festival is a biennial two-week celebration of the arts, made especially for young people and their families. Local and international talent join forces to bring families their fix of theatre, music, dance and circus. Capital E National Theatre for Children tours shows all around Aotearoa for schools every year.
Chocolate Stigmata www.goodbyemyfeleni.co.nz
David Mamea – Producer
+64 21 668 346 [email protected]
listings - PRODUCERS
Company of Giants Deadbeat Records Ltd /
Southbound www.facebook.com/companyofgiants/ www.ebandsparrow.co.nz
Matt Keene – Producer
+64 021 361123 [email protected]
Ebony Lamb
+64 27 2424 646 [email protected]
Ash Holwell – Company of Giants
+64 022 151 7305 [email protected]
Eb & Sparrow might hail from Wellington city New
Zealand, but their heart and musical home is set firmly in the country.
Company of Giants is a Whangarei based theatre collective specializing in new work, space activation and community focused processes. We are made up of independent professionals and emerging young performers. We currently occupy a central Whangarei Council owned building where we are creating a vibrant community arts space which we hope will also attract visiting performing artists. We are committed to creating performance work with and for diverse people in our community and beyond, believing theatre is a vital part of healthy cities. The company is led by
Laurel Devenie, Ash Holwell and Katy Maudlin.
With their pastoral, expansive ballads, rollicking good-time songs, and a few tear inducing torch burners thrown in for good measure, the five piece led by Ebony Lamb have been travelling up and down the country for the past three years.
Slowly making their way to each and every town that'll have them, they've been winning over New
Zealand audiences not only with their songs, but also with their cheeky wit, oft hilarious tales, and dynamite performances.
The hard working band have been gaining a glowing reputation having opened for a string of international acts including folk star Beth Orton
(UK), the sugar man himself Rodriguez (USA), and Pokey LeFarge (USA). Their constant touring has led them to perform alongside local legends including The Eastern, Marlon Williams, Delaney
Davidson, and The Warratahs.
Diva the Agency www.diva-agency.co.nz
Rodney Fisher – Agent / Producer
+64 21 1309 599 [email protected]
Diva the Agency is an off-shoot of Diva
Productions, established by Arani Cuthbert in
1992 to manage the Topp Twins and produce their TV shows. It has since evolved into a diverse production company, producing original entertainment for stage and screen. The Agency represents the cream of NZ entertainers, including
Nathan Haines, Jackie Clarke, Tami Neilson, as well as bespoke ensemble groups such as the Barefoot Divas with Whirimako Black and four other indigenous Aust/NZ singers, and the
Jubilation choir.
listings - PRODUCERS
Emerging Artists Trust,
Summer Shakespeare Trust
Emma Murray
Sally Thorburn – Producer
+64 27 432 8935 [email protected]
Emma Murray – Artist
41797694666 [email protected]
Potential greatness needs support - Emerging
Artists Trust assists practitioners in theatre, film and visual arts who are looking to create sustainable careers in the arts. EAT runs a mentoring programme, matching experienced professionals with upcoming talent on a flexible, individualised basis. EAT also runs writers groups, industry events, gives grants annually and is an advisory service - anything that supports the realisation and expression of creative talent!
Summer Shakespeare Trust produces large cast
Shakespeare works annually.
Emma Murray is a dancer/choreographer living in Bern, Switzerland. She danced as a soloist with the Royal New Zealand Ballet from the age of 19 before moving to Europe in 1997. She then danced with the Konzert Theater Bern for
8 years, leaving in 2008 to establish herself as a Swiss based choreographer and performer.
As well as performing and producing her own work she continues to teach, act and assist in choreographic and theater projects throughout
Switzerland.
She was appointed Associated Artist at the
Dampfzentrale Bern from 2013-2015 where her work is regularly co-produced. Since 2013, and in recognition of her emerging presence in both national and international settings, she has been the recipient of support from the City of Bern and
ProHelvetia Switzerland, to aid in the distribution and artistic development of her work.
Murray's interest in creative practices led to the launch of WORKING SESSIONS in 2014, an exchange based research platform which facilitates the collaboration and curation of artists, working across disciplines in performance, choreography, writing and music.
Flaxworks www.flaxworks.com
Alex Ellis – Producer
+64 2 134 5784 [email protected]
Phil Ormsby – Producer
+64 21 552 500 [email protected]
Flaxworks is the creative partnership of Alex
Ellis and Phil Ormsby and is a theatre company committed to produce an extensive portfolio of New Zealand theatre. Flaxworks have successfully produced and toured previous productions including Biscuit & Coffee, Murder by Chocolate, Carol & Nev and Drowning in
Veronica Lake throughout New Zealand with hundreds of performances nationwide as well as at the Melbourne International Comedy Festival,
Adelaide Fringe Festival, and Gasworks Theatre in
Melbourne to rave reviews and toured New South
Wales and Victoria in Australia in 2015. Flaxworks most recent production, Wild Bees premiered at
The Basement in Auckland in September 2014 directed by Stuart Devenie. Miss Jean Batten will be Flaxworks seventh production.
listings - PRODUCERS
Footnote New Zealand Dance Foster Group www.footnote.org.nz
www.sarahfostersproull.com/#!orchids/ cz7i
Richard Aindow – General Manager
+64 021 844 210 [email protected]
As New Zealand's longest-running contemporary dance company, Footnote has always been about the future. Moving dance forward: taking artistic risks while supporting sustainable careers. Each year we create new work and tour it around New
Zealand and overseas, we visit schools and galleries, and perform in a wide range of festivals and events.
Sarah Foster-Sproull – Director Choreographer
+64 21 205 3013 [email protected]
Natalie Clarke – Choreographer, Dancer
& Producer [email protected]
Foster Group (Auckland, New Zealand) was founded in 2015 by New Zealand dance maker Sarah Foster-Sproull to umbrella her choreographic work. Sarah's new work Orchids has been generously funded by Creative New
Zealand and will premiere in late 2016. Natalie is a 2011 graduate of Unitec Contemporary Dance.
She has collaborated on numerous performances, including 3 independently-produced choreographies: How To Make Friends and Still
Appear Normal (5 NZ festivals 2012-13, Best
Dance & Best Newcomer 2013 NZ Fringe); Apt Y
Idos (Q Theatre, 2014); and Presence (Hamilton
Gardens, 2015).
Natalie is currently assisting Sarah Foster produce
'Orchids'.
Free Theatre Christchurch www.freetheatre.org.nz
George Parker – Actor/Producer
+64 22 395 4037 [email protected]
Free Theatre Christchurch (est. 1979) is a professional theatre collective based in
Christchurch, New Zealand. As the country's longest running producer of experimental theatre, the award-winning company pushes the boundaries of contemporary performance to offer artists and audiences unique, exhilarating and unforgettable experiences.
listings - PRODUCERS
Freshmans Dance Crew Grace Taylor - Freelance Artist
Grace Taylor – Artist
+64 21 128 3966 [email protected]
www.freshmans.org
Hadleigh Pouesi [email protected]
+64 21 1408 825
Welcome to the Station, a place where all walks of life come together, though we don't know where each has come from or where each other is going for a brief moment we share the same space. Come along with Freshmans Dance Crew
[1] as they use Hip Hop and urban movement to tell different stories of what life is like through various eyes and the conflicts that arise when multiple sets of eyes share the same space. The
Station is a family friendly show that fuses Hip
Hop movement, Pacific dance, Kapa Haka and
Contemporary dance into one melting pot of creativity The Station is an hour long show. After a successful sell out first season we are now into phase two of the development of this show which will be taken to a town near you.
Hillary Clinton / Young Lover www.hillaryclintonyounglover.org
Geoff Pinfield – Director
+64 22 160 1632 [email protected]
Arthur Meek – Performer
+64 21 774 291 [email protected]
Geoff creates imaginative theatrical mischief through energetic collaborations with exciting artists. Geoff was awarded the Chapman Tripp
Director of the Year in 2013 for The Magic
Chicken, which recently performed at the Sydney
Opera House. Notable work includes Real Fake
White Dirt and The Thing From The Place.
www.arthurmeek.com
Arthur creates delightfully enterprising work for all kinds of stages, platforms and screens. His plays include On The Upside Down of the World.
He recently spent 18 months in the USA as the recipient of the Harriet Friedlander New York
Residency.
listings - PRODUCERS
Java Dance Theatre Last Tapes Theatre Company www.javadancecompany.co.nz/ portfolios/dirt-and-other-deliciousingredients www.lasttapestheatre.co.nz
Robin Kelly – Producer
+64 21 069 3919 [email protected]
Sacha Copland – Artistic Director
+64 27 663 9481 [email protected]
Java Dance Company's mission is to capture audiences in NZ and Internationally with visceral dance theatre that clambers into their senses. We realise this mission by creating and presenting original dance theatre works built on intense physicality, sensory engagement and full audience immersion.
'It was contagious' audience member, Festival of
Colour Wanaka, The Wine Project 2015. Founded in 2003 by artistic director Sacha Copland, Java has created 16 new works, performing to over
100,000 people in NZ, Australia and the UK. In
2015 Java will tour The wine Project to Edinburgh
UK and the Dunedin Festival NZ.
Nicky Vella – Producer
+64 21 926 500 [email protected]
Rebekah Guy – Producer
+64 21 112 5804 [email protected]
Last Tapes Theatre Company are an Aucklandbased emerging production company making a name for themselves by producing work of standout quality, social import, and supporting and nurturing new and emerging artists.
Mahuika Theatre www.facebook.com/Mahuika-Theatre-
426111200909158/?fref=ts
Gracie-Rose Kay – Producer
+64 21 265 6555 [email protected]
Mahuika Theatre is an Up and Coming Theatre
Company, the core of the company being predominantly female (with the exception of our artistic director Pedro Ilgenfritz) who have been developing their current work as a company for the duration of 2015. Our company currently has
6 unique New Zealand half masks that create the characters of our Company by our 6 young, talented female actors. We use the theatrical techniques of Commedia dell arte, Clowning and
Physical Theatre.
listings - PRODUCERS
Massive Company Momentum Productions www.massivecompany.co.nz
Kayla Paige – Director
+64 27 027 3527 [email protected]
Grant Mouldey – General Manager
+64 21 180 0062 [email protected]
Andrew Cesan – Director
+64 21 0244 2889 [email protected]
Marion Prebble – Producer
+64 22 155 9027 [email protected]
Founded 24 years ago by Samantha Scott
MNZM, Massive is a contemporary physical theatre ensemble company that started out as the
Maidment Youth Theatre and was later renamed
Massive Company.
Specialising in creating new theatre for emerging and professional actors, the work performed by
Massive springboards from real New Zealand stories and real people, and expresses authentic emotions.
rs from ages 14 right through to a professional life. Extensive forums, workshops and feedback sessions play an integral part in all of the company's work. Our ongoing programme of activities offers development for theatre practitioners.
With boundless energy and playfulness the ensemble's work evokes the human spirit in its most present and vulnerable state.
Momentum Productions is an Auckland based production company specialising in commercial dance and the producing and curating of dance based Theatre shows. Directors Andrew Cesan and Kayla Paige have recently showcased two highly anticipated productions at Tempo dance festival receiving positive reviews for both shows and also touring to the south island to perform at the Nelson arts festival with "Out of the box" which again, received rave reviews. 2016 is set to be an exciting year for momentum productions with a
"All That" and "Out of the box" showcasing again at Tempo Dance festival in Auckland as well as producing works for large scale commercial and sporting events.
Movement of the Human www.movementofthehuman.com
Malia Johnston - Artistic Director
+64 21 520 170 [email protected]
Movement Of The Human Is a project based company involving artists Malia Johnston
(choreography & direction), Rowan Pierce (Audio visual design), Eden Mulholland (musician, composer), John Verryt (Set Design) and Ian
Hammond (Performance designer and UX design).
Alongside associate artists such as Emma Willis
(theatre and dramaturge), Tui Ranipiri Ransfield
(Tikanga and Te Reo specialist), Movement Of the human is a diverse collection of artists interested in performance design and collaboration with a diverse range of performers, artists and audience.
Movement of The Human creates a range of collaborative work including large scale outdoor activations, installations, dance theatre and movement design, through to intimate performance work. The artists in Movement Of The Human have long standing creative relationships and an extensive historic repertoire. The work they offer ranges from re-imaginging existing works for new communities through to creating new concepts within existing spaces and environments.
Movement Of The Human is able to work at a development or consulting level right through to implementation. Basically we are interested in what is possible on any level when it comes to moving performers and audiences alike.
listings - PRODUCERS
Muscle Mouth Nairobi Trio www.musclemouth.co.nz/ www.nairobitrio.co.nz
Melanie Hamilton – Producer and Dramaturg
+64 21 711 191 [email protected]
Muscle Mouth is a visual dance theatre company that delivers performance and installation works. The company's Artistic Director, Ross
McCormack, is one of New Zealand's leading young performance makers, and known for his extensive career with Belgium's Les Ballets C de la B. Muscle Mouth's first work AGE was commissioned by the 2014 New Zealand Festival.
In 2015, the company premiered Triumphs and
Other Alternatives to much acclaim and presented a series of performance installations at Enjoy
Public Art Gallery. Muscle Mouth will premiere
The Weight of Force at the 2016 Hong Kong Arts
Festival's Asia Pacific Dance Platform VIII.
John Quigley – Manager
+64 274 984 658 [email protected]
Richard Adams – Performer
+64 21 677 887 [email protected]
Since their inception in 1989 the Nairobi Trio have become New Zealand's favourite jazz entertainers, touring regularly throughout the world, appearing at major festivals in New Zealand, the UK, Europe,
Australia and Asia. Now in their 16th year together,
Nairobi Trio are more passionate about their music than ever. They have released a total of eight albums together...
Nothing But Co-operative
John Smythe – Producer /Playwright /Actor
+64 4 382 9850 | 027 447 9850 [email protected]
Nothing But Co-Operative produced John
Smythe's WHERE THERE'S A WILL, directed by
David Lawrence, at BATS' Propeller Stage in April
2015. A 75-minute 3-hander. Cast: James (John
Marwick), Barry (John Smythe), Dita (Neenah
Dekkers-Reihana). It is available for Regional Arts
Festivals.
listings - PRODUCERS
Notorious Management Ltd Nuts & Bolts www.ncomedy.com
Hayley Sproull – Creator/Performer
+64 27 437 4850 [email protected]
Richard Carrington – Director
+64 021 488 760 [email protected]
Notorious has been managing and producing the best of New Zealand comedy for ages.
Tim Nuttall – Producer
+64 27 696 9426 [email protected]
Hayley Sproull is a Wellington based actor, comedian and musician. She is a 2011 graduate of
Toi Whakaari: NZ Drama School. Sproull has create a number of successful comedy works, including
Miss Fletcher Sings the Blues, Outsiders' Guide and Tighty Whiteys, Vanilla Miraka, and You Make
Me Feel Like a Natural Woman, earning her an array of praise and accolades, including Best New
Comer at the NZ International Comedy Festival
2012, Chapman Tripp Theatre Award for Most
Promising Female New Comer in 2013 and The
People's Choice Award at the NZ Fringe 2014.
Tim has worked in a variety of roles within the Arts sector across mediums stage, screen and events.
Other work includes, Producer, Production and Tour
Manager of award winning Miss Fletcher Sings the Blues, Edinburgh Fringe Festival, Melbourne
Fringe, NZ South Island Tour and several other seasons. Producer of The Bakery Theatre Company
(Outsiders Guide, Tighty Whiteys, You Make me
Feel Like a Natural Woman), Producer of award winning NZ Fringe Show 'I Could Live Here'.
NZTrio Foundation www.nztrio.com
Vanessa Zigliani – Manager
+64 21 773 304 [email protected]
NZTrio, New Zealand's leading piano trio, comprises three born and bred kiwis,three
Doctorates of Music, 14 years playing together and one shared vision: to champion NZ music within a vast and vibrant repertoire, uniting sound and soul for people around the world.
listings - PRODUCERS
Okareka Dance Company Old Rockers Inc.
www.okareka.com
www.sh48.co.nz
Taane Mete – Artistic Director
+64 21 263 8418 [email protected]
Formed in 2007, Okareka was established to fuse contemporary dance with indigenous
Maˉori themes and other genres to create authentic, diverse works. Led by senior performers Taane Mete and Taiaroa Royal,
Okareka has become one of New Zealand's most sought after and prolific dance companies.
Okareka holds its provenance close to its heart.
Through choreography, set design, and costume, the company strives to tell bold, spiritual stories that are of and from New Zealand. Through careful collaboration the company seeks to extend its creativity and its influence by engaging experienced artists from around the Globe – the sole driver – to create evocative, beautiful dance works that tell a story.
Okareka is a company guided by Maˉori beliefs.
These beliefs are brought to its work and its audiences.
Chris Williams – Writer
+64 27 453 3960 [email protected]
Nick Wilkinson – Director
+64 27 462 6402 [email protected]
Shaun Bugden – Producer
+64 21 714 360 [email protected]
Old Rockers Inc writes, composed and produces original musical theatre. Our first show, State
Highway 48, has been through the last stage of development after two very successful seasons in Hamilton. Now we are preparing for a New
Zealand tour while we set our sights on the world.
Omphalos Co www.thequietroomplay.com/
Renee Liang – Writer/Producer
+64 21 265 9131 [email protected]
Renee, a second-generation Chinese Kiwi, is a poet, playwright, paediatrician, medical researcher and fiction writer. Renee has collaborated on visual arts works, film and music, produced and directed theatre works, worked as a dramaturge, taught creative writing and organized community-based arts initiatives. She organises community arts events such as New Kiwi Women
Write, a writing workshop series for migrant women. She contributes to The Big Idea which links NZ's arts community. Renee has written, produced and toured six plays: Lantern, The Bone
Feeder, Under The Same Moon, Bubblelands,
The Quiet Room, and The First Asian AB. The Two
Farting Sisters, a kid's play, was made with Petit
Workshop in 2015.
listings - PRODUCERS
One Music Orchestra of Spheres https://www.onemusicnz.com
www.orchestraofspheres.com
Greer Davies – Deputy Director - One Music
+64 09 623 4727 [email protected]
OneMusic is a joint initiative between APRA and
Recorded Music NZ (previously known as PPNZ
Music Licensing). We exist to simplify the music licensing process, offering a single music licence that covers both the copyright in the music
(owned by the songwriter) and the recording
(owned by the record company/artist). The annual licence is currently only offered to businesses and doesn't extend to events or productions.
Daniel Beban
+64 21 0245 6165 [email protected]
The Intergalactic History of Pairs is a thematic concert with theatrical form. An eyeball arrives as a solitary object onstage, soon it finds another eyeball, a nose and a mouth. They fit together like magic and soon form a kind of unity. The face becomes a body, the body becomes a collection of pairs. Each phase is a seemless integration of video, music, performance and objects.
Comissioned for Capital E (the National Children's festival of New Zealand), The Intergalactic History of Spheres allows a visual theme to drive a loose narrative around a tight collection of new tunes from one of New Zealand's most unique and popular bands. The musicians, each adept performers in their own right, embody a shifting landscape of mood and theatrical discovery.
Highly regarded worldwide for their originality and ability to make a crowd of any size get up and dance, The Orchestra of Spheres have toured with the best of European bands through the All
Tomorrow's Parties concert series. Their music rides the wave of both critical and popular aclaim.
This concert sees them focus on theatricality and accessibility to young audiences to great success earlier this year at the Paramount Theatre in
Wellington."
Performing Lines www.performinglines.org.au
Fenn Gordon – Producer [email protected]
Performing Lines develops, produces and tours new and innovative Australian performing arts regionally, nationally and internationally.
Performing Lines makes things happen. We nurture and recognize creativity, provide artists with access to broader audiences, and contribute to the enhancement of a distinctly Australian culture both in Australia and overseas.
Performing Lines is present at every level of the
Australian performing arts sector. We work with emerging independent artists to help increase their skills and sector awareness; we produce the work of these artists as well as that of more established artists and companies; we connect artists with national and international presenters; and broker and manage the tours that result.
Performing Lines acknowledges the traditional land and its owners and the contribution of the
Aboriginal and Torres Strait Islander peoples of
Australia both past, present and future.
Performing Lines presented the Online and One
One One Pitching Workshops for PANNZ Arts
Market 2016 artists in conjunction with Canadian
Stage. Performing Lines is supported by the
Australia Council, the Australian Government's arts funding and advisory body.
listings - PRODUCERS
Portable Union Red Leap Theatre www.facebook.com/portableunion/ www.redleaptheatre.co.nz/
Tim Carlsen – Artist/Producer
+64 27 630 9668 [email protected]
Portable Union creates original, innovative New
Zealand Theatre. Creators of the award-winning
ONE DAY MOKO.
Our passion lies within community consultation - inspired by our individual curiosities: from the city streets to the skyscrapers.
We wish to explore and create dialogue around issues of social awareness and concern, as previously stated not with judgment or resolution but in order to create a performative social response.
Julie Nolan – Artistic Director
+64 09 837 2418 [email protected]
Amie Moffat – Producer
+64 09 837 2418 [email protected]
Red Leap Theatre is an award- winning theatre company celebrated for its unique blend of striking visual imagery and highly physical ensemble work. Founded by Julie Nolan and
Kate Parker the company are best known for their production The Arrival commissioned by the
2009 Auckland Arts Festival and based on Shaun
Tan's graphic novel. Other works include Paper
Sky commissioned by the 2011 Auckland Arts
Festival and major new work SEA which premiered in March 2014.Their latest show Dust Pilgrim premiered at the Loft, Q Theatre in June 2015 and will be touring nationally in 2016.
Rowena Simpson - Freelance
Rowena Simpson – Freelance
+64 21 548 006 [email protected]
Rowena Simpson is a singer and small scale producer who collaborates with fellow artists on new projects that bring music and words together in theatrical ways, as well as performing in traditional chamber music concerts and operas.
Rowena has worked on two productions written and directed by Jacqueline Coats ('Home' which toured in 2012, and 'Lines from the Nile' which toured in 2015), has co-created programmes of old and new music for Chamber Music NZ and has sung in the 'The Mirror of Time' series for
Stroma New Music Ensemble.
listings - PRODUCERS
Show Pony Silo Theatre www.showponynz.com
www.silotheatre.co.nz
Adrianne Roberts – Producer
+64 021 222 8212 [email protected]
Vicky Aitchison – Production Assistant
+64 27 356 2584 [email protected]
Show Pony is a creative stable that holds some of Aotearoa New Zealand's finest independent arts performances, led by Producer Adrianne
Roberts. Founded in 2012, Show Pony's kaupapa is to produce kick ass original pieces of theatre and dance, and present them to domestic and international audiences. Show Pony has produced nearly 20 productions from largescale extravaganzas, to solo suitcase shows and community engagement works. Our most recent hits include the domestic and Australia tours of
The Pianist, the 8-region national tour of Welsh work Hiraeth, newsmedia satire Live at Six, and award-winning children's works Beards! Beards!
Beards! and Caterpillars.
Jessica Smith – Producer
+64 21 732 256
We're Auckland's leading producer of contemporary theatre.
We create bold work: showcasing energetic and uncompromising performance. Epic in scale, with no embargo on either ambition or artistic risk. We deliver cutting-edge next generation storytelling from around the world and New Zealand. We're global in our outlook - speaking to contemporary concerns, dealing with human, emotional and sexual politics.
We work with the very best of New Zealand talent.
Stephen Blackburn www.circa.co.nz
Stephen Blackburn
+64 27 452 3412 [email protected]
Kate De Goldi is one of New Zealand's most loved authors, popular with both adults and children.
Quirky humour, playfulness and intergenerational love are at the heart of this adaptation of her
2012 novel, The ACB with Honora Lee. A charming exploration of kindness, patience and acceptance, it explores the relationship between young Perry and her eccentric Gran, Honora Lee, who's losing her memory and lives in the Santa
Lucia Rest Home. As more and more words slip from Gran's grasp, Perry furiously gathers them up, turning them into an illustrated and disorderly alphabet book, which becomes a gift of love to her grandmother.
listings - PRODUCERS
Sugarlicks Taki Rua Productions www.sugarlicks.com/artist-agency/ mara-tk/ www.tikitaanemahuta.wordpress.com/
Gareth Farry – Director
+64 21 657 497 [email protected]
Sugarlicks is a boutique production house operating in the music and arts industries in
Auckland Aotearoa New Zealand. The label was established in 2001 as a result of the live nights at famous Auckland venue Khuja Lounge, where a melting pot of artists came to mash together
Pacific soul and hiphop, percussion and electronic music with spoken word and performance. The label came to specialise in electronic soul music with a Pacific yet global flavour.
Tanemahuta Grey – Kahukura/ Chief Executive [email protected]
OUR VISION
'Connecting Our Heritage – Past, Present &
Future'
'Topa ana te kaeaea, oˉna whatu tau ana ki te ukaipo, te koˉpuˉnga, te uri whakatupu'
OUR MISSION
'Ensuring the foundation for Maˉori voices to be heard worldwide'
OUR STORY
For 29 years Taki Rua has been an arts industry leader – a creative rule breaker, unpredictable and unconventional, challenging and evolving the definition of Maˉori theatre. We exist to connect our heritage, past and present and ensure the foundation for Maˉori voices to be heard worldwide.
Tawata Productions http://www.tawataproductions.com
Miria George – Co-Director
+64 21 050 1765 [email protected]
Based in Wellington, New Zealand, Tawata
Productions is a Maori and Cook Islands performance company.
Specialising in the development and production of new work, Tawata blurs the lines between text, movement, film and music, presenting a diverse performance experience from Aotearoa to the world beyond.
Tawata Productions has performed in national and international festivals throughout New Zealand,
Australia, Canada, the United Kingdom, the South
Pacific, and the Hawai'ian Islands.
Tihei mauri ora! Kia manuia!
listings - PRODUCERS
THAT BLOODY WOMAN www.facebook.com/ thatbloodywomanmusical/?fref=ts Theatre-Company
Luke Di Somma
+44 7497 466582 [email protected]
THAT BLOODY WOMAN is a rock musical about
Kate Sheppard, the suffrage movement she lead and the personal sacrifice she made along the way. Kate Sheppard's successful campaign to win the vote for women changed the world. But it wasn't easy. The show is presented as a theatrical rock concert - Kate and her band (the Hallelujah
Bonnets) take us through Kate's arrival in New
Zealand, the early stages or her life in her new home, the beginnings of the suffrage movement and the struggles along the way (through her rivalry with political adversary and the bearded bastion of nineteenth-century patriarchy, Richard
'King Dick' Seddon) all of which leads to New
Zealand becoming the first country in the world to give women the vote. Radical, riotous and bursting with wit, this bold new musical experience about one of New Zealand's greatest heroes is a red-hot hit that pulsates with passion.
Amber Curreen – Producer
+64 21 775 276 [email protected]
Regan Taylor – Peoducer/Performer
+64 22 018 9218 [email protected]
"Toi tu te kupu, toi tu te mana, toi tu te whenua"
¯hia Theatre is all about presenting innovative Maori theatre that promotes
Te Ao Maori.
Our shows include Albert Belz's 'Te Awarua',
Tainui Tukiwaho's 'Hoki Mai Tama Ma
Donaldson's 'Ruia Te Ko
¯' Matthew
¯kano: Nga¯ Atua Series' a
¯ori initiative for tamariki and Regan Taylors
'SolOTHELLO'.
We are leading the way in developing Ma performance mask, 'Te Mata Ko of our works.
¯kako o Re¯hia' which we are developing and building on in many
¯hia Theatre is headed by Amber Curreen,
Regan Taylor and Tainui Tukiwaho.
The Clinic
Julieanne Eason – Director
+64 22 376 7819 [email protected]
The Clinic performance company devises original works, experimenting with multimedia and site-specific theatre. Director Julieanne has a passion for creating audio visuals for installation and theatre productions, utilising multiple video projections, sensors and audio within the set design. Investigating the relationships between audiovisual media, its audience, and the architecture of its presentation, these interactive installations are made possible with the use of lights, electronics, video mapping, the softwares Isadora and processing which have been developed especially for use in installation and performance, and arduino, the open-source electronics platform.
listings - PRODUCERS
The New Zealand Dance
Company
The Rebel Alliance www.nzdc.org.nz
Shona McCullagh – Chief Executive/Artistic
Director
+64 9 378 7361
Behnaz Farzami – Producer
+64 27 845 4343 [email protected]
Anders Falstie-Jensen – Producer & Director
+64 21 101 8857 [email protected]
The Rebel Alliance is an independent Auckland based theatre company. We have been around since 2006. Our work is often based on true stories. Previous works include: Manifesto 2083,
Standstill, Yours Truly, Heroic Faun No. One & The
Orderly
The New Zealand Dance Company is a dynamic, innovative, high-calibre dance company - a company that contributes to the fabric of New
Zealand culture and enhances and supports the growth of a vibrant arts economy. Our vision is to create new connections to dance by staging contemporary dance in highly engaging ways and different contexts, in ways that continue to break new ground, creating new partnerships, new collaborations with other creative disciplines, new stages, new fusion of styles and a dance culture that stays fresh and relevant. The company is a hotbed of creative collaboration, a safe place to be artistically brave, and presents compelling work that moves and inspires our dedicated and growing audience.
The Unity Creative
Jodie Bate – Co-Director
+64 21 115 5555 [email protected]
The Unity Creative is an elastine collaborative organism that pushes and pulls together the creative passions of the individuals involved as together we explore the lengths and depths of the human heart and our shared experience of being human for the purpose of creating and presenting multi-faceted and multi-disciplinary works.
listings - PRODUCERS
Three Bridges Tikapa Productions
Giles Burton – Director
+64 22 350 3130 [email protected]
Three Bridges produces theatre and events. We create theatre in New Zealand and also tour small scale work from overseas. Although fairly new to
NZ we were previously based in Hong Kong (as
HKMicrofest).
www.facebook.com/
TikapaProductions/?fref=ts
Tikapa Productions
+64 21 0228 6790 [email protected]
Documentary maker, Maisey Mata, has been invited in Te Whaˉriki Manawaˉhine Oˉ Hauraki
(Hauraki Women's Refuge) to document the women currently using their service. After meeting the bubbly and compassionate case worker,
Moira Parau, she is taken to the safe house to be introduced to the residents. She meets Cat, a
Maori in her fifties trying to get ahead in life but is dependent on the Womens Refuge. Sasha, who arrives at home after taking her issues with the government to the local MP who doesn't listen to her and gets her escorted out of his office. But she enjoys the fact that a documentary maker is in her house. And new resident Carol Cummings, who is married to a famous resident of the town,
David Cummings and has endured physical and psychological for over thirty years and has decided to speak up for once. What Maisey experience's is that all these women have had a lot of the same experiences but have very different circumstances. She tries to portray the fact that
Domestic violence comes in all shapes and sizes and it certainly has no prejudice."
Tim Bray Productions www.timbrayproductions.org.nz
Tim Bray – Artistic Director
+64 9 486 2261 [email protected]
Gail Rotherham – Business Development
Manager
+64 9 486 2261 [email protected]
Celebrating 25 Years 1991 – 2016
Tim Bray Productions is recognised as Auckland's leading theatre for children. Overseen by a charitable trust, The Operating Theatre Trust, we create world-class theatre most often based on
New Zealand literature.
We see live theatre as a way to engage children with literature, and to encourage reading.
We know that theatre is more than "just" entertainment; we also see it as an integral part of their education, their growing up experiences, socilaisation skills, and encouraging and exploring their imaginations.
Our shows are supported by an ever-growing fan base, with shows being enjoyed by over 20,000 people a year. Typically the productions are based on New Zealand literature with plays based on stories by local authors.
listings - PRODUCERS
Tom Simcock & Jonathan Lewis Trick of the Light Theatre
Tom Simcock – Writer/Producer
Tom +64 27 666 1229 [email protected]
www.trickofthelight.co.nz
Hannah Smith – Director
+64 27 513 7137 [email protected]
Nic Sampson – Writer / Performer [email protected]
1/272 Wakefield Street
Te Aro, Wellington, 6011
Tom Simcock and Jonathan Lewis are both young professionals who have been involved in independent theatre production for a number of years. From 2008-2011 they wrote and starred in the annual Auckland Law School Revue at the
Maidment Theatre, producing and directing the
2011 production. In 2015 they created, developed and produced a new-format 24-hour play festival
One Night Stand at The Basement Theatre, which featured some of Auckland's best young theatrical talents and was a critical and commercial success. They also produced a repeat season of
Ernest Rutherford: Everyone Can Science! a oneman comedy written by and starring Nic Sampson
(Billy T Award nominee 2015, Head Writer for
TV3's Jono and Ben, The Brokenwood Mysteries).
Ralph McCubbin Howell – Direction
+64 27 347 7661 [email protected]
Trick of the Light is an award-winning theatre company from Wellington, New Zealand, founded by Hannah Smith and Ralph McCubbin Howell.
We like to make theatre that is playful, inventive, thought-provoking, and that speaks to the here and now. Our shows have ranged from intelligent children's theatre to biting political satire, but are unified by their attention to narrative, inventive visual design, and belief that theatre should resonate with the wider world.
Waiti Theatre Company
Cian Elyse White – Producer
+64 22 430 1860 [email protected]
Waiti theatre company was formed in 2013 by
Maˉori emerging artist, Cian Elyse White. Waiti theatre company mission is to pay homage to, celebrate and transmit Maˉori stories through theatre to aotearoa and the world.
Supported by CNZ through two rounds of development funding, TE PUHI is Waiti Theatre
Companies first original contribution to NZ theatre.
listings - PRODUCERS
ZKC
Notes
www. zkc.co.nz/The-Fallen-Mystery
Zahra Killeen-Chance – Director
+64 22 154 2297 [email protected]
ZKC was founded by New Zealand dance maker Zahra Killeen-Chance to Umbrella her choreographic work. Killeen-Chance is an award winning choreographer and performer who has made numerous works both nationally and internationally for theatre shows and gallery exhibitions. She graduated with a Diploma of
Dance Performance in Contemporary Dance from the New Zealand School of Dance, and with a
Postgraduate Diploma in Dance (Distinction) from
The University of Auckland.
listings - INDUSTRY GUESTS
DANNZ EVANZ iTICKET www.danz.org.nz
www.iticket.co.nz
www.evanz.co.nz
Anton Carter – Chief Executive
+64 4 802 0534 [email protected]
Miles Davidson [email protected]
Kate Ward-Smythe – New Business
Development Manager
+64 21 842 538 [email protected]
DANZ is the service organisation for NZ dance in all its diversity. We provide advice, information, links, advocacy, professional development and dance in education support. We are based in
Wellington have a regional office in Auckland and part-time coordinator in Dunedin. We work in partnership with REMAP dance collective in
Christchurch to provide services there.
PO Box 27501
Wellington 6141
+64 4 977 1144
EVANZ is the peak body representing over 100 performing arts centres, arenas, indoor and outdoor stadiums and convention centres in New
Zealand. EVANZ is a professional organisation providing leadership and building excellence for entertainment venues.
The entertainment industry requires greater skills in management, marketing, staff training, research and innovation. EVANZ was formed to encourage the development of these skills through communication and exchange of information.
All member venues and associate members are listed on www.evanz.co.nz iTICKET was founded in 2004 by two software engineers with big dreams. Reece Preston and
Phil Jobbins have spent the last ten years building a thriving, Kiwi-owned and operated business that punches well above its weight, delivering millions of tickets for thousands of events - ranging from theatre, music and dance productions; local sports events, through to major concerts and large-scale festivals. We work all over NZ, and have entered the Australian market. iTICKET specialises in online and mobile ticketing via its website www.iticket.co.nz; box office software, outlet sales, on-site support and sales, telephone support, and most importantly - customer love and promoter support. We offer our clients unique and cutting-edge ways of marketing their shows to the public. Finally, we love supporting innovative, creative kiwis and we will go the extra mile to make sure your show or season, is a success.
listings - INDUSTRY GUESTS
Ticketmaster Playmarket Patronbase www.ticketmaster.co.nz
www.playmarket.org.nz
www.patronbase.com
Justin Pule – General Manager, New Zealand
+64 29 200 4899 [email protected]
+64 9 970 9757
Ticketmaster is recognised as a market leader in the ticketing and entertainment industry, the business is constantly investing in technology and innovation and has a commitment to deliver world class service across the sector. Ticketmaster is a popular and trusted destination for tickets, offering retail and marketing support to hundreds of clients every year. With local offices in Auckland and Wellington, Ticketmaster brings to its clients advanced entertainment ticketing, ecommerce and access control solutions. Ticketmaster sells thousands of tickets for sport, music, performing arts, theatre, comedy and attractions and offers its clients access to the very best in retail ticketing services and box office systems solutions.
Murray Lynch – Director
+64 4 382 8464 [email protected]
Salesi Le'ota – Client Promotion
+64 4 382 8462 [email protected]
Playmarket is a service organisation for playwrights and a key advocate for the continued growth of NZ theatre. The organisation has three strands:
Agency issues performance licences, manages commission and collaboration agreements, collects royalty payments, and circulates plays to producers and theatres in NZ and internationally;
Advisor supporting playwrights to write and the development of new work including a development programme for Maori, Pasifika and
NZ Asian playwrights;
Bookshop a comprehensive bookshop selling
New Zealand plays.
David Martin [email protected]
PatronBase provides arts management software, working with venues to enable them to build audiences. Patronbase software offers a broad range of functionality, from event marketing and ticketing through to membership and venue management. This range of features is available with a flexible pricing model that is highly competitive. The ultimate measure of success for us is that you are able to build an audience your way.
listings - INDUSTRY GUESTS
Crombie Lockwood Soar Print
Notes
www.crombielockwood.co.nz
www.soarprint.co.nz
Gareth Knight
New Zealand's trusted Insurance Brokers –
Crombie Lockwood.
At Crombie Lockwood we have one focus - to position you to financially survive any insurable event.
You don't plan for things to go wrong in your business. But you should plan for the risk that something outside of your control might go wrong.
Soar Printing is a leading New Zealand print solutions and printing services company. We work with clients in every industry sector, providing offset printing, digital printing, label printing, online print management, large-format printing and more.
We're almost 100 years young, because we stay future-focused.
Sure, we've got the latest technology...but it's what we do with it that counts.
Talk to us about how we can help you to achieve better print quality that's also better value for money.
We take our role in the community seriously. Proud sponsors of PANNZ Arts Market, Soar sponsors several not-for-profit organisations and donates to good causes every year.
listings - PRESENTERS
Arts Festival Dunedin Arts On Tour NZ www.artsfestivaldunedin.co.nz
www.aotnz.co.nz
Nicholas McBryde – Director [email protected]
Level 4, Dunedin House
9 Moray Place
Dunedin 9016
Arts Festival Dunedin (formerly Otago Festival of the Arts) is a biennial pan-art form Festival in
Dunedin. We've presented 8 Festivals since 2000 and our next Festival is this year; 30 Sept - 9 Oct
2016
Steve Thomas – General Manager [email protected]
Steve Lowndes – Chairman [email protected]
Lindon Puffin – Board member [email protected]
Arts On Tour NZ is a community focussed agency with a high level of professional expertise. We are the pre-eminent touring agency to rural and remoter centres of New Zealand. Arts On Tour NZ provides access for audiences in the communities of all three islands (including Stewart Island) through the delivery of an annual Menu of quality professional performing arts opportunities.
As a wholesale arts delivery system, we offer effective management, timely delivery, an achievable price and a guarantee of quality to our retailers, who are arts councils, repertory societies, regional galleries, music societies, festivals and individual patrons.
Ashburton Trust Event Centre www.ateventcentre.co.nz
Roger Farr – Manager [email protected]
Gudrun Weber – Office Manager [email protected]
+64 3 307 2010
211a Wills Street, Ashburton 7700
This facility, completed in May 2008, is set in the
Ashburton CBD; the heart of Mid Canterbury; located only one hour's drive south of Christchurch
International Airport.
The Ashburton Trust Event Centre contains the
500seat O-Reilly Auditorium and two smaller performance areas. The venue opened its doors in May 2008 and has the most up to date technical facilities available. The stage is serviced by a 48 line fly tower with stage dimensions of 12mtrs wide x 9mtrs deep. The depth can be extended with the addition of the 3mtr thrust that easily manoeuvres between orchestra pit or stage extension.
listings - PRESENTERS
Auckland Live BATS Theatre www.bats.co.nz
www.aucklandlive.co.nz
Bernie Haldane – Head of Programming and Presenter Services [email protected]
Cherie Jacobson – Programme Manager [email protected]
Helaina Keeley – Manager, Programme
Development [email protected]
Janelle Bish – Producer, Programme
Development [email protected]
Anders Falstie-Jensen – Producer [email protected]o.nz
Auckland Live seeks to create a vibrant city where Aucklanders and visitors alike have the opportunity to experience an exciting range of live arts and entertainment.
Located in the Aotea Precinct in Auckand's CBD,
Auckland Live manages a range of venues across
Auckland presenting both local and international work across a wide-range of artforms.
The Programme Development team leads the organisation in the delivery of its family and young people's programming.
1 Kent Terrace, Mt Victoria, Wellington 6011
+64 4 802 4176
BATS Theatre is at the forefront of new New
Zealand work and talent, with over 80 shows presented annually. We are a risk-share presenting venue with a focus on NZ stories, artists at the riskier end of the performance spectrum and supporting the development of independent practitioners. Our flagship is the annual STAB commission which challenges and funds performance practitioners to push boundaries and take risks they couldn't take elsewhere. In 2015, BATS presented its largest programme ever at its newly earthquake strengthened and renovated 1 Kent Terrace home which now has two main performance spaces and a studio for rehearsals, workshops and smaller performances.
Baycourt Theatre www.baycourt.co.nz
Megan Peacock Coyle – Manager [email protected]
+64 7 577 7189
38 Durham Street, Tauranga, 3110
Baycourt is located in the heart of downtown
Tauranga and is the Western Bay of Plenty's only full service theatre and performing arts venue, capable of hosting a wide variety of events.
Baycourt is a presenter venue and is focused on delivering a balanced and diverse programme of events that enriches, engages and contributes to a vibrant arts community.
listings - PRESENTERS
Christchurch Arts Festival Clarence St Theatre www.artsfestival.co.nz
www.founderstheatre.co.nz/36/ venues/clarence-st-theatre
Craig Cooper – Festival Director [email protected]
Jason Wade – General Manager [email protected]
Vanessa Thompson – General Manager [email protected]
+64 3 365 2223
PO Box 705, Christchurch 8140
Christchurch Arts Festival is the largest biennial arts event in New Zealand's South
Island, presenting a pan-art form programme from leading international and New Zealand artists. Venue options remain limited so we are particularly interested in work that is suitable for a spiegel tent or found spaces.
59 Clarence Street. PO Box 314, Hamilton
3240
Clarence St Theatre is a proscenium arch theatre seating up to 550 or 400 in restaurant style. It is
Hamilton's 2nd largest theatre and one of only two with an operational fly system.
Clarence St Theatre was previously owned by the
Hamilton City Council but un July 2015 was gifted to the Clarence Street Theatre Trust. Having been neglected for many years it is now our focus to grow and build audiences by programming new and exciting works for the region suited to the versatile theatre.
Expressions Whirinaki Arts and
Entertainment Centre www.expressions.org.nz
Leanne Wickham – Director [email protected]
836 Fergusson Drive
Upper Hutt 5140
Expressions Whirinaki Arts & Entertainment Centre is a vibrant arts centre featuring art, culture, history and entertainment. Three galleries have a constantly changing programme of exhibitions ranging from the best New Zealand and international art, to local exhibitions, with a special focus on family friendly experiences. Upstairs in the theatre the spotlight is on theatre, comedy, film, dance and music with a dynamic programme ranging from circus acts to classical music. Our Recreation Hall offers a wide range of sporting and cultural events and is also available for hire. Expressions Whirinaki is situated in the heart of the Upper Hutt's Civic Precinct, right next door to H20 Xtream just 30 minutes from
Wellington at 836 Fergusson Drive, Upper Hut.
listings - PRESENTERS
Festival of Colour – Wanaka Gallagher Academy of
Performing Arts www.festivalofcolour.co.nz
www.waikato.ac.nz/academy
Philip Tremewan – Director [email protected]
Jeremy Bell – Manager [email protected]
Lindsey Schofield – General Manager [email protected]
+64 3 443 4172
Unit 10, Helard House
4 Helwick Street, Wanaka 9305
+64 7 858 5105
Knighton Rd (Uni Gate 2b)
Hillcrest, Hamilton 3216
The Southern Lakes Festival of Colour is an exciting biennial celebration of the arts. Six exciting days and nights of astounding performances and inspiring exhibitions set against the spectacular autumnal backdrop of the Southern Lakes. The
Festival is based in Wanaka but reaches out to the wider region – to Queenstown, Luggate, Hawea and Cromwell. The next festival will take place 4 to 9 April 2017 and will feature top class theatre, music, dance and visual arts from local, national and international performers.
The Academy of Performing Arts at the University of Waikato has two venues. The Concert Chamber
(289) is renowned for its acoustics and is used mainly for classical concerts. The Playhouse (183) is a multi-configurable theatre used mainly for theatre and dance.
The Festival of Colour is a flagship event for the region, and also has a growing reputation as the
'best little arts festival in New Zealand'. We also run an ideas festival - Aspiring Conversations - which takes place in the festival off year, this will be 22 - 24
April 2016.
Gasworks Arts Park www. www.gasworks.org.au
Tony Smith – Creative Producer [email protected]
0061 3 86064200
21 Graham St, VIC, Australia 3206
Gasworks is an inner metropolitan venue in
Melbourne, Australia, with a 200 seat theatre & 60 seat black box. We present a subscription season of quality professional theatre, dance, and hybrid performance. Gasworks is noted for its circus and physical theatre programming, and regular children's and family theatre programs and is increasing its capacity as a theatre maker, working with artists and industry groups to develop new works. Gasworks is also a hub for the Midsumma
Festival, Melbourne's queer arts festival, and
Melbourne Fringe Festival, where Gasworks showcased more circus and physical theatre than any other Melbourne fringe venue.
listings - PRESENTERS
Isaac Theatre Royal Kokomai Creative Festival www.isaactheatreroyal.co.nz
www.kokomai.co.nz
Andy Brigden
Business Development Manager, Events [email protected]
+64 3 260 5253
145 Gloucester Street, Christchurch 8011
Offering versatility, unparalleled historical features and a breathtaking environment, the newly rebuilt and restored Isaac Theatre Royal is ideal for a large variety of events.
The spectacular Auditorium seats up to 1292 over three levels. The theatre is equipped with a full theatrical lighting system, state-of-the-art digital
AV equipment, surround sound PA capability and comprehensive backstage facilities. The orchestra pit features an impressive hydraulic lift creating an optional stage thrust.
Located on the first floor the new 190m2
Gloucester Room, including kitchen servery, is a multi-purpose space suitable for functions and intimate performances of up to 110 seated theatre-style.
Heidi Holbrook – Festival Director [email protected]
Jenny Gasson – Marketing Manager [email protected]
Judy Sears – Schools Co-ordinator [email protected]
PO Box 18 Carterton, Wairarapa
The Kokomai Creative Festival is an explosion of world class entertainment held biennially over
10 days in October right across the Wairarapa region.The programme features local, national and international talent including Theatre, Music,
Dance, Visual Art, Film and Literature. The next
Festival is in 2017.
Marlborough Civic Theatre Trust www.mctt.co.nz
Andrew Scott - General Manager [email protected]
18 Arthur St, Blenheim 7201
+64 3 520 8558
MCTT is building a new theatre, the ASB Theatre
Marlborough, due to open in early 2016. It has two dedicated performance spaces: a main theatre with fly tower & up to 700 seats; a flexible black box studio theatre which will accommodate up to
180 patrons.
listings - PRESENTERS
Native Earth Performing Arts
& Aki Studio
NBS Theatre www.nbstheatre.co.nz
www.nativeearth.canativeearth.ca
Debbie Crackett – Manager [email protected]
Ryan Cunningham – Artistic Director [email protected]|
105 Palmerston Street, Westport
PO Box 84, Westport
250-585 Dundas St East, Toronto, ON M5A 2B7
| 416-531-1402 |
Native Earth Performing Arts (NEPA) is Canada's oldest and leading professional Indigenous theatre company now in it's 33rd season. NEPA operates it's own 120 seat black-box theatre,
The Aki Studio which is becoming the national and international Indigenous performance and presenting venue in Canada. NEPA has received seven Dora Mavor Moore Awards and twentyfour Dora Mavor Moore Award nominations, two
Floyd S. Chalmers Canadian Play Awards and the 1997 James Buller Award for Aboriginal
Theatre Excellence. NEPA produces the annual
Weesageechak Begins To Dance Festival which supports, develops and presents new Indigenous multi-disciplinary work from across Turtle Island and around the world.
NBS Theatre is Buller's Premier Entertainment
Venue and boasts a 350 seat auditorium and 2 separate cinemas. The auditorium has a flat floor stage and the venue has great disability access and a 3 meter wide cross over to the back of the stage, a Green Room, two Dressing Rooms, backstage toilets and shower, and even a kitchen.
The loading dock, just to the back left of the stage has flat floor access to the stage area - perfect for pack-in. The venue staff can take care of all your ticketing needs. Check out our website www.nbstheatre.co.nz
Nelson Arts Festival www.nelsonartsfestival.co.nz
Charlie Unwin - Festival Programming [email protected]
Amanda Raine – Marketing Coordinator [email protected]
PO Box 645 Nelson
+64 3 546 0254
The Nelson Arts Festival is an annual pan-arts festival held in October in the Nelson and Tasman areas.
listings - PRESENTERS
New Zealand Festival New Zealand Fringe Festival www.festival.co.nz
www.fringe.co.nz
KICK UP THE ARTS!
26 February – 20 March 2016
For booking detals see P7
At the New Zealand Festival, we've been creating extraordinary encounters between artists and audiences since 1986. The New Zealanders who established the Festival were pioneers, achieving their highly ambitious goal of bringing the best live arts experiences from across the world to audiences in New Zealand. And we've been doing it on every even year ever since.
As we prepare to celebrate our 30th birthday, we continue to realise our founders' vision, and to take it in ground-breaking new directions, inspired by our commitment to originality, excellence and to make the world a better place through that most vital, life-giving force – art.
Hand in hand with our belief that art and culture are crucial to society go all the other things we do to champion them, from presenting the annual
Wellington Jazz Festival and biennial Lexus Song
Quest to one-off occasions such as this year's
Shakespeare's Globe touring production of Hamlet and the
Royal Edinburgh Military Tattoo,
18 – 21 February 2016.
Hannah Clarke – NZ Fringe Festival Director [email protected]
Emma Giesen – General Manager,
Creative Capital Arts Trust [email protected]
(+64 4) 212 4725
Level 1, 107 Cuba Street, Wellington 6011
5 February – 5 March 2016
An annual event on the Wellington calendar since
1990, the New Zealand Fringe Festival is the oldest and largest Fringe Festival in New Zealand featuring over 1,100 artists from around New
Zealand and the world.
CREATIVE CAPITAL ARTS TRUST
Fringe is overseen by Creative Capital Arts Trust
(CCAT), an umbrella organisation established in
2011 to facilitate the delivery of key arts events in Wellington, including the new CubaDupa and create a reliable resource for the emerging arts in
Wellington, New Zealand.
Oamaru Opera House www.oamaruoperahouse.co.nz
Frances McElhinney – Director [email protected]
David McFarlane – Marketing & Audience
Development Manager [email protected]
+64 3 433 0779
94 Thames St, Oamaru 9400
The Oamaru Opera House seats 548 (2 levels) and 113 theatre spaces. There is an active audience development programme in place and three main festivals a year in Oamaru - Jazz in
March, Steam Punk in June and the Victorian
Festival in November. The Opera House is a venue for hire but is also interested in shared risk and working with other venues for a touring circuit.
listings - PRESENTERS
Orange Studios Q Theatre orangestudio.co.nz
www.qtheatre.co.nz
Michael Bell – Director [email protected]
Charlotte Crone – Event Coordinator [email protected]
1063c Ferry Rd, Ferrymead, Christchurch
+64 03 365 7974
This unique Christchurch venue is a recording studio by day and at night hosts a wide variety of concerts, shows and events: jazz, rock, reggae, folk, stand up comedy and cabarets! Local and international touring acts stop by the studio to perform, record and film their music live in front of audiences of up to 50.
Orange also has a digital printing facility providing artists with very affordable indie rates for posters, fliers and programmes.
James Wilson – Chief Executive [email protected]
Sarah Graham – Producer [email protected]
+64 9 309 8324
305 Queen Street, Auckland 1010
Located in Auckland, Q Theatre is a purpose built, fully flexible arts venue, which provides a year-round curated programme that delivers a diverse range of professional performing arts including theatre, dance, music, comedy and film across 4 venues.
A ticketed audience in excess of 89,000 people enjoy over 500 performances at Q Theatre on an annual basis. Sarah's role as Producer focuses on programming Q's venues and spaces through building relationships with New Zealand Performing
Arts Companies and Independent Artists. Sarah has a background as a devised theatre maker, performer and producer through her work with The Outfit
Theatre Company and Duffy Books in Homes.
Regent Theatre Dunedin www.regenttheatre.co.nz
Sarah Anderson – Director [email protected]
+64 3 477 8597
17 The Octagon, Dunedin
With an auditorium that seats 1617 people and state of the art infrastructure, the Regent Theatre is Dunedin's premier entertainment venue. Our professional and experienced team will work with you to ensure you reach your audience and your event goes seamlessly.
listings - PRESENTERS
Royal Wanganui Opera House Taranaki Arts Festival Trust www.royaloperahouse.co.nz
www.taft.co.nz
Suzanne Porter – CEO [email protected]
John Richardson – Manager [email protected]
69 St Hill Street, Whanganui 4501
+64 6 349 0511
The Royal Wanganui Opera House is New
Zealand's last Victorian theatre. Located in St
Hill Street in central Wanganui, the 110-year-old theatre seats 830 and is the venue for many local, national and international events.
Jane James – Marketing and Event Coordinator
- TSB Showplace [email protected]
+64 6 759 8412
Corner of Brougham and Powderham Streets,
New Plymouth
The Taranaki Arts Festival Trust (TAFT) presents five festivals; WOMAD New Zealand, Taranaki
International Festival of the Arts, Powerco
Garden Spectacular, Tropfest and Kinetika. TAFT also manages the performing arts venue - TSB
Showplace.
Tauranga Arts Festival www.taurangafestival.co.nz
Jo Bond – Director [email protected]
+64 7 577 7018
Grey St, Tauranga
Tauranga Arts Festival is held every two years with a programme of music, theatre, dance, visual arts and literature. The next festival will be held from
22 October - November 2015.
listings - PRESENTERS
Tauranga City Council Tempo Dance Festival www.tauranga.govt.nz
www.tempo.co.nz
Pip Loader – Manager: Strategic & City Events [email protected]
Michaela Blackman – Event Design & Delivery
Manager [email protected]
Tauranga City Council support festivals, events and activities year round in the city. We are looking for innovative and fresh ideas to engage and delight our community and visitors throughout the year.
We are connected with event managers across the city and work collaboratively to share knowledge and help them deliver experiences that are memorable and distinctive.
Carrie Rae Cunningham – Artistic Director [email protected]
PO Box 5072, Wellesley Street, Auckland
Tempo Dance Festival, governed by the New
Zealand Dance Festival Trust, is held annually in October in Auckland, New Zealand. Tempo is the largest and most comprehensive dance festival in New Zealand, meeting the needs of the diverse dance community (professional, emergent, cultural, community and youth) and a broad audience demographic. The festival provides a wide range of innovative artistic work as well as popular and accessible performances.
A high-quality mixture of carefully curated shared programmes, full-length works, forums, workshops and other performance-based events showcases a vibrant local and international dance culture and maximises audience diversity.
The Basement Theatre www.basementtheatre.co.nz
Gabrielle Vincent – Programming and Artist
Development Manager [email protected]
Sam Snedden – Co-General Manager [email protected]
+64 9 309 7433
Greys Ave, Auckland
The Basement is Auckland's culture-defining powerhouse - home to an artistic mixtape of theatre makers, dancers, visual artists, poets, musicians, comedians and everyone in between.
We proudly showcase the best new voices and fresh perspectives, with world premieres making up over half of our programme. So come watch sweat drip and spit fly as some of the brightest new talent earn their chops at our place. You can't download theatre - come get something live.
listings - PRESENTERS
The Meteor Theatre
UPSURGE Bay of Islands Arts
Festival www.themeteor.co.nz
www.upsurgefestival.co.nz
Deborah Nudds – Theatre Manager [email protected]
Sophie Kelly – Artistic Director [email protected]
Level 1/1 Victoria Street, Hamilton West 3204
+64 7 838 6600
The Meteor is NZ's biggest and best 'Black Box' theatre and a landmark in central Hamilton. Our flexible space, staging and seating works for
EVERY kind of performance, and allows you to experiment with your audience or fill a classic configuration with 120+ punters. We operate on a low day rate or risk-share model, while providing the professional on-site support you expect.
UPSURGE Bay of Islands Arts Festival Arts
Festival is a biennial festival that celebrates the arts around the Bay of Islands region. The 2017 programme will take place over five action packed days from 5 - 9 April 2017. With events hosted in an array of venues in Russell, Paihia, Kerikeri,
Kaikohe, Omapere, Hokianga and Kohukohu.
The Meteor is the Waikato's most affordable, accessible and attractive performing arts venue!
War Memorial Theatre
Gisborne www.gdc.govt.nz/war-memorialtheatre
Jo Thorpe – Performing Arts Promoter [email protected]
+64 6 867 5968
Bright St Gisbourne 4010
The War Memorial Theatre is a concert style theatre: modern, comfortable and air conditioned.
The seating is arranged theatre style.
This is a fully equipped small theatre with dressing rooms, properly equipped with lights and mirrors, toilet and kitchen facilities.
It has a capacity of 480 seats.
listings - PRESENTERS
World Buskers Festival
Notes
www.worldbuskersfestival.com
Glen Pickering – Festival Director [email protected]
For 23 years the people of Christchurch have enjoyed the Festival the defines the Christchurch summer. During this time the Festival has established itself as New Zealand's largest outdoor festival attracting 250,000 visitors every year, enjoying 10 days of fun, excitement and entertainment. It is one of the Christchurch City
Council's major events, is Australasia's largest
Street Theatre festival, showcases the top street performers, fringe artists and comedians, and is regarded as one of the best in the world.
* Your assessment is very important for improving the work of artificial intelligence, which forms the content of this project