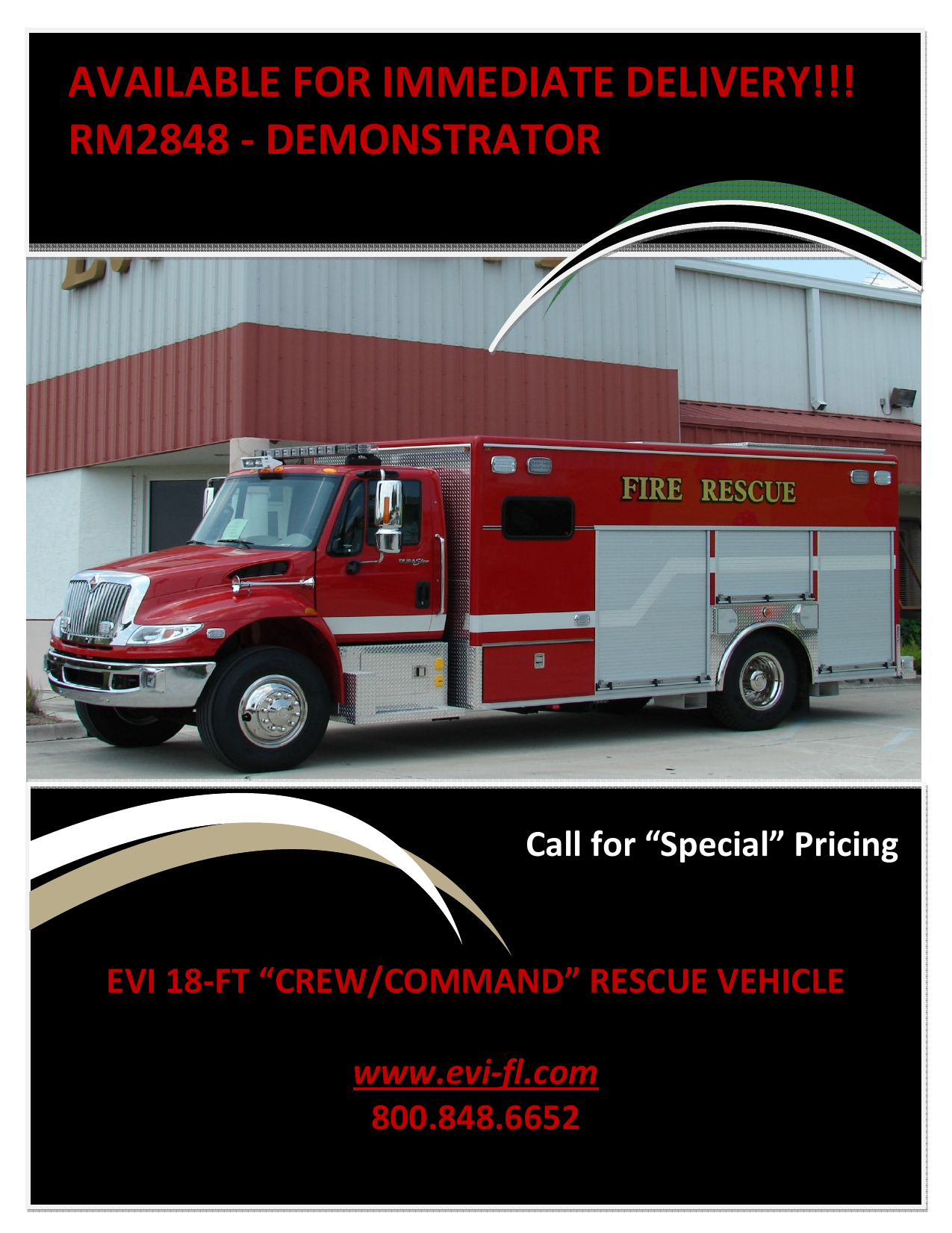 AVAILABLE FOR IMMEDIATE DELIVERY!!!
RM2848 - DEMONSTRATOR
Call for "Special" Pricing
EVI 18-FT "CREW/COMMAND" RESCUE VEHICLE
www.evi-fl.com
800.848.6652
Chassis Specifications
2012 International 4400 Chassis
2-Door Conventional Cab
107" BBC (Bumper to Back of Cab)
35,000# GVWR
205" Wheelbase – 138" Cab-to-Axle
77" Frame Overhang (AF)
Steel Channel Frame; 120,000 psi Rating
Heavy Duty Chrome Plated Front Bumper
(2) OEM Front Tow Hooks
12,000# Front Axle Rating
Front Oil Filled Wheel Bearings
23,000# Rear Axle Rating; Single Speed
4.56 Rear Gear Ratio
Heavy Duty Front Shocks
Power Hydraulic Assist Steering
18" Steering Wheel
Tilting/Telescopic Steering Column
Anti-Lock Braking System
Full Air; Cam Type; Dual System
16.5 CFM Air Compressor
Automatic Slack Adjusters
Heated Air Dryer
Automatic Moisture Ejector
Traction and Roll Stability Control
MGM Spring Actuated Parking Brake
International MaxxForce 9 Turbo Diesel Engine
330 Horsepower @ 2200 RPM - Electronic
950 Lb-Ft Torque @ 1200 RPM
Engine Speed Control (Set @ 1120 RPM for PTO)
Heavy Duty Cooling/Radiator
Viscous Fan Drive
1250 Watt Block Heater
Engine Programmed for 75 MPH Top Speed
Engine Exhaust Brake
Horizontal Muffler/Exhaust – RH Side Exit
Filtered Air Intake
Ember Protection Screen
Allison 3000 EVS_P Automatic 5-Speed Transmission
w/Auto Neutral
PTO Provisions
Transmission Oil Filter
Heavy Duty Tubular Drive Shaft
50 Gallon Capacity Fuel Tank – RH Side
Heated Fuel/Water Separator
12 Volt, Negative Ground Electrical System
Delco Remy 38MT Type 300 Starter
Manual Reset Circuit Breakers
Warning Alarms: Low Oil, High Water Temperature
Tail Light Connector (Back of Cab)
High Idle Harness Near Engine
320 Amp Leece Neville Alternator
(3) Heavy Duty 2775 CCA (Total) Batteries
Dual Electric Horns
Fiberglass Tilt Hood and Fender Assembly
Insulation Under Hood and Splash Panel
Chrome Front Grille
Tinted Safety Glass – All Windows
Bright Finish Rectangular Motorized Mirrors w/Heat Element
102" Wide Mirror Spacing
Integral Convex Mirrors – Separately Adjustable
Gauges:
Tachometer
Speedometer
Odometer
Voltmeter
Fuel Level
Oil Pressure
Electronic Engine Hourmeter
Water Temperature
Air Restriction Indicator Dash Mounted
Transmission Temperature
Dual Air Pressure
Electric Wipers and Washers
Intermittent Wiper Switch
Exterior Red Paint #2303
Cab Air Conditioning
Heavy Duty Heater
Windshield Defroster
Air Suspension/High-Back NFPA Compliant Seating –
Driver and Passenger (Grey Vinyl)
3-Point NFPA Bright Color Seat Belts
Seat and Seat Belt Sensors
Plug In for Body Builder Supplied Data Recorder/Seat Belt
Sensors
Premium Interior Trim Level
Grey Interior
Black Floor Mat with Insulation
Goodyear 11R22.5 14-Ply Tires
(2) Front Highway Tread G662 Fuel Max
(4) Rear Traction Tread G622 RSD
(6) 22.5" Steel Disc Wheels
LH/RH Sun Visors
Moulded Door Panels with Arm Rests
Courtesy Lights
AM/FM Weather Band CD/Stereo with Speakers
LH/RH NFPA Cab Entry Grab Handles w/Rubber Inserts
Halogen Headlamps
12 Volt Power Point - Cigar Type
(2) Interior Yellow Grab Handles
Headlights "On" with Wipers
Body Specifications
18-FOOT EVI "CREW/COMMAND" RESCUE VEHICLE
Chassis/VDR Interface Package
#SBA210 VDR/Seat Belt Monitor with Vehicle Message Display
Tire Pressure Indicators
Chassis Preparation
Chassis Frame Rail Preparation
Drop Rear Frame of Chassis
(1) Battery Compartment/Cab Step
(1) Diamond Plate Fuel Tank Cover – RH
(2) Open Grid Inserts for Cab Steps
(1) Rear Step and Bumper Assembly
(1) Pair Rear Black Rubber Wheel Mud Flaps
(1) Pair Rear Under Bumper Bolt-In Tow Rings
(1) Heavy Duty Trailer Hitch
(1) Hitch Receiver for Portable Winch – Rear Mounted
(2) Hitch Receivers for Portable Winch – Side Mounted
Cab to Body Opening with Bellows Section
ALL ALUMINUM MODULAR BODY – 18 Foot Length
Diamond Plate Entire Module Front Wall
Diamond Plate Module Roof
Exterior Sheeting - 1/8" Thickness
Rounded Body Vertical Corners
Drip Rail Package
Diamond Plate Exterior Wheelwell Panels
Rear Diamond Plate Kick Panel
Recessed Roof Walkway – Diamond Plate
Recessed Roof Walkway Extension Step – Diamond Plate
Recessed Light Tower Compartment
Side Entry Door with #400 Latch and 22" x 11" Sliding Window
(1) Stepwell with Intermediate Step
Lower Body Rub Rails – "C" Channel
(1) Pair 51" Stainless Steel Wheel Fenderettes
(1) Knurled Grab Rail
(1) 15" x 30" Solid Window
(1) Aluminum Roof Access Ladder
(2) Zico #SAC-44-E Collapsible Wheel Chocs
(2) Zico #SQCH-44-H Horizontal Folding Choc Holders
Body Installation
(7) 1/8" Exterior Compartments – Diamond Plate
(2) Roof Mounted Compartments
(1) Lower Side Body Storage Compartment w/Integral Tray
(7) Robinson "Anodized" Roll-up Locking Compartment Doors
(4) Compartment Modifications – Rear Suspension
(3) Exterior Compartment Shelf Tracks
(4) Exterior Compartment Adjustable Shelves
(1) Roll-Out/Drop-Down Equipment Tray
(1) .188" Aluminum Vertical Compartment Divider
(2) Slide-Out .188" Aluminum Tool Boards
(9) 4" Diameter Compartment Vents
(7) Turtle Tile Covering for Compartment Floors (Black)
(10) Turtle Tile Covering for Compartment Shelves (Black)
(5) Air Cylinder Cradles
(4) SCBA Cylinder Compartments in Wheelwell
(1) Stokes and Backboard Storage Rack
(1) Speedy Dry Dispenser
(5) SlideMaster Roll-Out Trays/Steel Slides (600# Capacity)
o Spring Lock Handles
o Silver Powder Coated Slides
Exterior Modular Body Painted Polyurethane Red
Stainless Steel Wheel Inserts – 22.5"
Vehicle Undercoating
6" Scotchlite White Reflective Stripe
3M #3900 Diamond Scotchlite Chevron Striping
Imitation Gold Leaf Lettering Package w/Black Shadow
Interior Cab/Crew Door Reflective Material
FORWARD CREW AREA:
o Modular Body Polystyrene Insulation
o Modular Body Insulated Aluminum Sub-Floor
o Aluminum Diamond Plate Interior Finish Floor
o Aisle Walls – ABS Finish
o Interior Ceiling – ABS Finish
(6) Map Storage Tubes
(1) Set Interior Cabinet Shelf Tracks
(1) Adjustable Shelf for Interior Cabinet
(1) Aluminum Storage Cabinet
Plexiglas Sliding Door for Cabinet
(1) Squad Bench with Lift-up Lids – Cordura
(1) Squad Bench Hold Open Device
(2) SCBA Wall Mount Seat Back Assemblies (NFPA)
(1) High Back Bucket SCBA Seat – Individual w/Swivel Base
(3) SCBA 911 Parade Panels – Grey/Black
(3) Seatbelt Sets w/Sensor for Seatbelt Monitor
(2) Seat Sensors – Each Seating Position
(1) Module Entry Door Grab Rail
(3) Zico #ULLH Load & Lock Walkaway Brackets
(1) Work Station
(1) Danby Small 120V Refrigerator
12 Volt Electrical System
Driver's Console – Floor Mount
Switch Console - Module
(1) Switch Label Package
(1) ICC Marker Light/Reflector LED Package
(4) Whelen Red/White LED Interior Dome Lights w/Switch
(7) Whelen #3SC0CDCR LED 3" Exterior Compt. Lights
(6) Whelen #PELCC LED Walkway/Step Lights
(4) Whelen #F27PC Fluorent Plus LED Strip Lights
(10) Whelen #F54PC Fluorent Plus LED Strip Lights
(11) "Door Open" Warning Circuits with LED Light
(2) Cab Doors Connected to Door Open Warning Circuit
(6) Tecniq #E10-WS00-1 LED Ground Illumination Lights
(1) Pair LED Side Facing Turn Signals
(1) Pair Whelen #M6BTT LED Stop/Tail Lights
(1) Pair Whelen #M6BUW LED Back-up Lights
(1) Pair Whelen #M6T LED Amber Directional Lights
(1) Pair Whelen #M6FCV4 Chrome Flange for (4) Vertical
Light Heads
Body Specifications – Cont'd.
18-FOOT EVI "CREW/COMMAND" RESCUE VEHICLE
(1) Back-up Alarm
(1) 12 Volt Low Voltage Alarm and Light
(1) Pair of Tecniq #E10-WS00-1 LED Cab Area Ground
Illumination Lights
Whelen #3SC0CDCR 3" LED Surface Mounted Stepwell Light
(1) Green Battery Indicator Light
(1) Independent 12 Volt A/C-Heat
(1) A/C Exterior Condensor
(1) Separate A/C Engine Compressor Kit
(1) License Plate Housing
(1) Wiring Access Cove Package
(1) Compartment Wire Cover Package
(3) Wiring for Portable Winches
(1) Trailer Light Wiring – 7-Pin RV Connector
(2) SoundOff #ECVCLLED42 Roof Top Compartment LED 42"
Strip Lights
(1) TST #VM-100 Digital Voltmeter
(1) Cole Hersee #284 Master Module Disconnect Switch
(1) Electronic Throttle Device
(1) Flex Shaft Console Light
Kussmaul #091-53-12 Auto Charge On-Board Battery
Charger
Kussmaul #091-55-20-120 20A Super L/L Inlet w/Auto-Eject
Cole Hersee #284 Chassis Battery System Shut-Off Switch
12 VDC Battery/Charging System - Single
(1) TST #VM-200 Digital Ammeter Gauge
(1) Class 1 Total System Manager
(1) Chain Ignition Key
(1) Whelen #3SC0CDCR 3" LED Surface Mounted Engine
Compartment Light
(1) 120/240 Volt Distribution Panel - Commercial
120/240 VAC High Voltage Electrical System
(1) 120/240 VAC High Voltage Multi-Meter
25KW Onan #25.0YDCR621 Protec AC PTO Generator
(2) Twistlock Nema #L5-15R 120V/15A Ext. Receptacles
EMERGENCY VEHICLES, INC.
705 13th Street
Lake Park, FL 33403-2303
800.848.6652
[email protected]
www.evi-fl.com
(4) Household 15 Amp Interior Receptacles
(1) 240 Volt Interior Receptacles – 20 Amp
(2) 110V Power Strips with (6) 15A Plug-Ins
(1) 6000W Will-Burt #NS4.5-6000 Optimum Night Scan
Light Tower
Cab Mounted Tower Up Indicator Light
(1) Hannay #ECR-1620-17-18 Electric Cord Reel
200-Feet of 10/3 Safety Electrical Cord
(1) Ball Stop
(1) Four-Way Roller Guide - Reel
(1) Circle D #PF-51G 4-Way 120 Volt Junction Box
(1) Junction Box Mounting Bracket
Warn 9,000 lb. Electric Winch
(1) Air System Recharge Inlet – Auto Eject
(1) Air Protection Valve – 80 psi
(1) Grover #1510 Dual Air Horn System
(2) Unity #491 Air Horn Foot Switches – Driver/Officer
Whelen #295SLSA1 Siren System
(1) Pair Forewarn Speakers – Through Bumper
(6) Whelen #M9LZC Linear Super LED Scene Lights
(1) Whelen #PFP2 Pioneer Plus Dual Panel Super LED
Flood Light
(1) Whelen International Chassis Brow Light Kit
(2) Whelen #M4RC Super LED Warning Lights w/Flange
(8) Whelen #M6RC Super LED Warning Lights w/Flange
(2) Whelen #M9AC Super LED Warning Lights w/Flange
(6) Whelen #M9RC Super LED Warning Lights w/Flange
(1) Whelen #TANF65 LED Traffic Advisor
Whelen #FN60QLED 60" NFPA LED Light Bar
Permanent Light Bar Mounting Kit – Cab Roof
(2) Chassis Owner's Manuals
(2) Body Manufacturers Manuals
(2) Wiring Manuals
NFPA Label Package
DOT FMVSS 125 Emergency Safety Kit
This combination Command and Crew Rescue Vehicle is loaded
with all the latest options including; Whelen's M-Series LED
warning and scene lights, Will-Burt NightScan Tower and Onan
Pro-Tech PTO Generator. The forward "crew area" is built into
the front of the module body to provide a riding area designed
for (3) firefighters with SCBA seats. One outer seat swivels
around to a side work counter for "command" incidents. The
rear section contains ample storage with "transverse"
compartments and multiple slide-out trays and adjustable
shelves. The rear facing compartment extends down to bumper
level for even more space. A roof access ladder and upper
walkway leads to the "recessed" light tower and (2) large "coffin
style" roof compartments. Just add your loose equipment and
unit will meet the latest NFPA Standards!

* Your assessment is very important for improving the work of artificial intelligence, which forms the content of this project