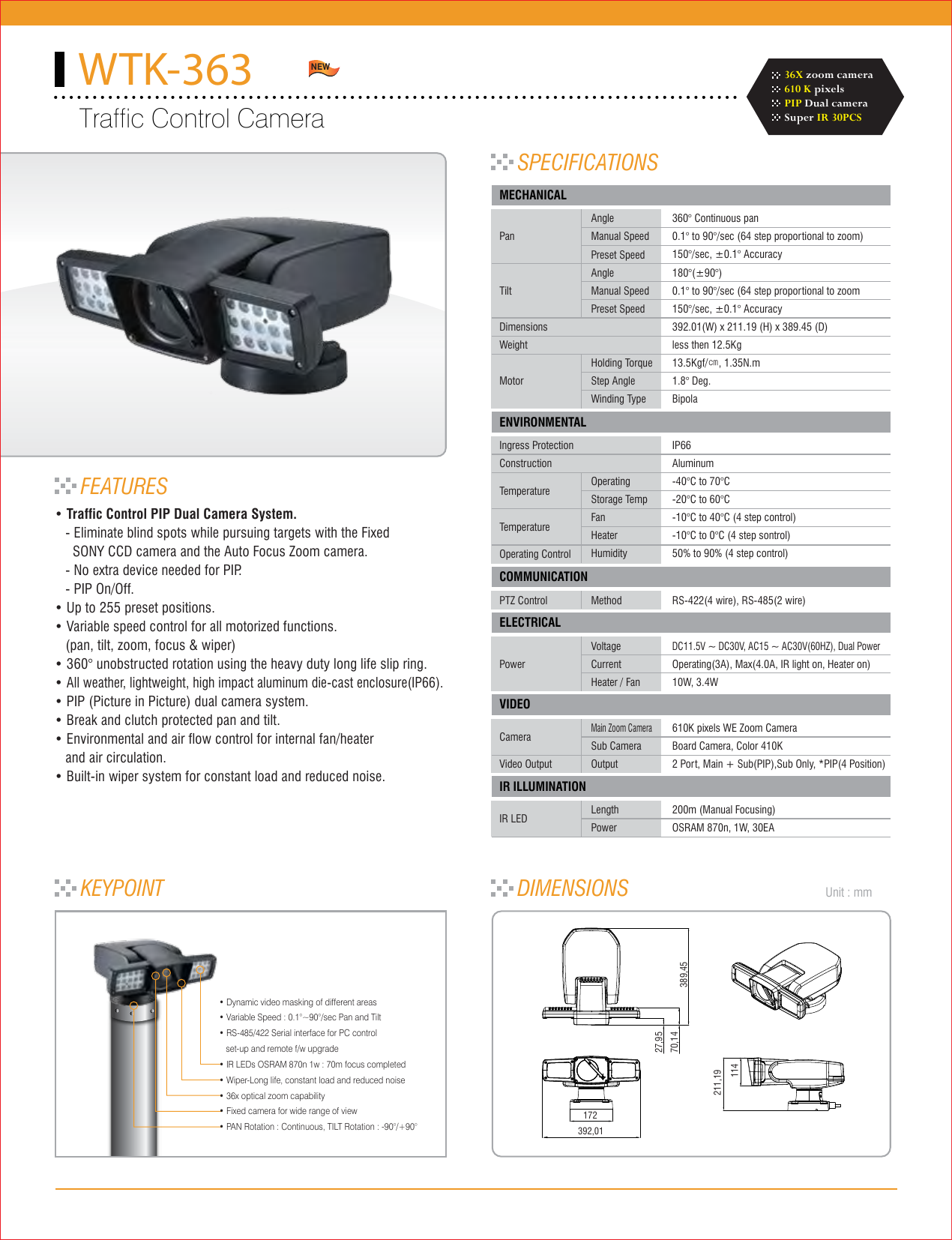 WTK-363
NEW
36X zoom camera
610 K pixels
PIP Dual camera
Super IR 30PCS
Traffic Control Camera
SPECIFICATIONS
MECHANICAL
Pan
Tilt
Angle
360° Continuous pan
Manual Speed
0.1° to 90°/sec (64 step proportional to zoom)
Preset Speed
150°/sec, ±0.1° Accuracy
Angle
180°(±90°)
Manual Speed
0.1° to 90°/sec (64 step proportional to zoom
Preset Speed
150°/sec, ±0.1° Accuracy
Dimensions
392.01(W) x 211.19 (H) x 389.45 (D)
Weight
less then 12.5Kg
Motor
Holding Torque
13.5Kgf/㎝, 1.35N.m
Step Angle
1.8° Deg.
Winding Type
Bipola
ENVIRONMENTAL
IP66
Ingress Protection
Aluminum
Construction
FEATURES
Temperature
• Traffic Control PIP Dual Camera System.
- Eliminate blind spots while pursuing targets with the Fixed
SONY CCD camera and the Auto Focus Zoom camera.
- No extra device needed for PIP.
- PIP On/Off.
• Up to 255 preset positions.
• Variable speed control for all motorized functions.
(pan, tilt, zoom, focus & wiper)
• 360° unobstructed rotation using the heavy duty long life slip ring.
• All weather, lightweight, high impact aluminum die-cast enclosure(IP66).
• PIP (Picture in Picture) dual camera system.
• Break and clutch protected pan and tilt.
• Environmental and air flow control for internal fan/heater
and air circulation.
• Built-in wiper system for constant load and reduced noise.
Temperature
Operating Control
-40°C to 70°C
Storage Temp
-20°C to 60°C
Fan
-10°C to 40°C (4 step control)
Heater
-10°C to 0°C (4 step sontrol)
Humidity
50% to 90% (4 step control)
Method
RS-422(4 wire), RS-485(2 wire)
Voltage
DC11.5V ~ DC30V, AC15 ~ AC30V(60HZ), Dual Power
Current
Operating(3A), Max(4.0A, IR light on, Heater on)
Heater / Fan
10W, 3.4W
Main Zoom Camera
610K pixels WE Zoom Camera
Sub Camera
Board Camera, Color 410K
Output
2 Port, Main + Sub(PIP),Sub Only, *PIP(4 Position)
Length
200m (Manual Focusing)
Power
OSRAM 870n, 1W, 30EA
COMMUNICATION
PTZ Control
ELECTRICAL
Power
VIDEO
Camera
Video Output
IR ILLUMINATION
IR LED
DIMENSIONS
Unit : mm
389,45
KEYPOINT
Operating
• Dynamic video masking of different areas
set-up and remote f/w upgrade
211,19
• IR LEDs OSRAM 870n 1w : 70m focus completed
• Wiper-Long life, constant load and reduced noise
• 36x optical zoom capability
• Fixed camera for wide range of view
• PAN Rotation : Continuous, TILT Rotation : -90°/+90°
172
392,01
114
27,95
• RS-485/422 Serial interface for PC control
70,14
• Variable Speed : 0.1°~90°/sec Pan and Tilt
WTK-363
NEW
Traffic Control Camera
CAMERA SELECTION
MODEL
GEAR
WCA-E361NR / WCA-E361PR
Image Sensor
1/4" SONY Super HAD Ⅱ CCD
Effective Pixels
NTSC: 520K, PAL: 410K Pixels
Lens
Optical 36x, Digital 32x (Total :1152x)
f=3.4 to 122.4mm(F1.6 to 4.5)
Digital Zoom
ON/OFF(Max. 32x)
Angle Field of View
H : 57.8˚(wide) to 1.7˚(tele)
Scanning System
Interlace
Synchronization
Frequency
Internal
NTSC: 15.734 Khz(H), 59.94 Hz(V)
PAL: 15.625 Khz(H), 50.00 Hz(V)
Resolution
700 TV Lines in Color
Min. Illumination
0.001 Lux (Color DSS)
S/N (Y signal)
Video Output
Focus
1 ~ 18
ON/OFF
Day & Night
ON/OFF (IR Cut Filter Removable)
Intelligent
Electronic Shutter Speed
Control Output
Scene Mode
Operating Temperature
On / Off (Max 30dB)
ATW/ One push/ Indoor/ Outdoor/ Manual/ Auto
Privacy Mask, Motion detection, Object detection fucntions
22 steps 1/1 to 1/10,000
2400, 4800, 9600, 19200, 38400 bps
User/ Normal/ Traffic/ Back Light/ Day&Night/ Casino
-40˚~70˚C (Fan /Heater power ON)
Weight
Dimensions
90˚
-90˚
CVBS : 1.0Vp-p/75Ω
Auto / Manual / One-Push
Camera Title
White Balance
360˚ Endless Pan Rotation(-90˚ to 90˚ Tilt Angle)
more than 50 dB (AGC off)
IRIS Control
Gain Control
Heavy-duty Slip Ring allows for long-lasting unobstructed 360° rotation
and 180° flip.
12.5kg
392.01(W) x 211.19 (H) x 389.45 (D)
APPLICATION
PIP (Picture in Picture)
Auto ICR
These cameras offers optimal sensitivity in both day- and night-shooting
applications. At a set level of darkness, the IR-cut filter is automatically
disabled (ICR ON) and the near-infrared sensitivity is increased. At a set
level of brightness, the filter is automatically enabled (ICR OFF). The IR-cut
filter automatically engages depending on the ambient light, allowing
the camera 24/7 operation in a variety of lighting conditions.