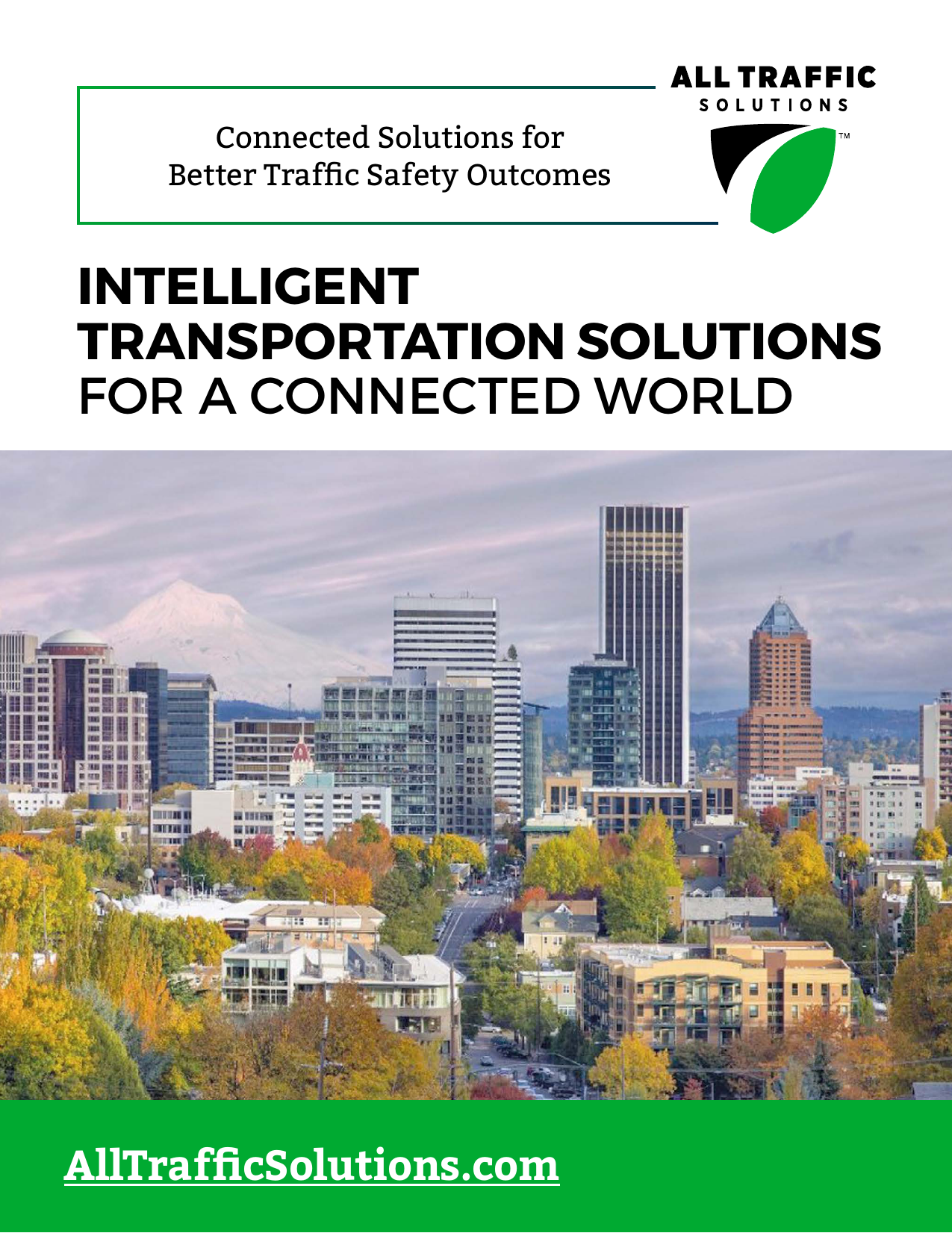 Connected Solutions for
Better Traffic Safety Outcomes
INTELLIGENT
TRANSPORTATION SOLUTIONS
FOR A CONNECTED WORLD
AllTrafficSolutions.com
INTELLIGENT TRANSPORTATION SOLUTIONS FOR A CONNECTED WORLD
Connecting the world's traffic
infrastructure for happier cities
Become a smarter city now and build your traffic ecosystem for the future. Benefit from
the latest sensor–driven IoT technologies our data-driven approach to achieve better traffic,
transportation and mobility outcomes.
Reduce costs, improve safety, maximize resources, increase efficiencies,
lower emissions, inform decision-making and facilitate growth.
CUSTOM MESSAGING SOLUTIONS
TIME TO DESTINATION
Display live time-to-destination messages with no sensors.
Show up-to-the-minute travel times for custom routes on a connected
variable message sign (VMS)—updated continuously in TraffiCloud—
with no sensor infrastructure. Configure routes using the TraffiCloud
interface and display your messages. Dynamically share the best route
based on current travel times. Easy to configure, practical for use on
roads, in parking facilities or work zones.
Drivers are more patient when they
know about travel times and delays.
VIRTUAL DRIVE TIMES
Help drivers select the best route before they hit the road.
Alert drivers to the best exit strategy as they head to their
vehicles from hotel lobbies, parking garages or public
elevators to reduce downstream congestion. Display up
to five different options, along with the travel time for
each, so drivers know the best route.
WRONG WAY DETECTION AND ALERTS
Wrong Way Detection prevents accidents by detecting wrong-way
direction, warning drivers and alerting authorities. and other vehicles.
A system-triggered LED message warns the approaching driver to turn
around, preventing dangerous situations from escalating. If the driver
passes the sign, a second sensor sends a text or email alert to designated
responders to intercept the vehicle. Displays alerts to other vehicles so
they can take care.
INTELLIGENT TRANSPORTATION SOLUTIONS FOR A CONNECTED WORLD
PARKING AVAILABILITY AND NOTIFICATION
Guide drivers to available parking with dynamic
messaging that changes as availability changes.
Reduce congestion in parking facilities using
cloud-based data from TraffiCloud to direct drivers
to available spaces and premium spots.
A plug and play parking counting system uses laser technology
to count vehicles with over 98% accuracy. Dynamic VMS
messages display up-to-the-minute parking availability.
LED indicator bollards display availability with a simple
red or green indicator.
COUNTER CLASSIFIERS
AND AUTOMATED DATA COLLECTION
Our non-intrusive sensing technology
lets you say goodbye to road tubes!
ATS Counters are small, fully integrated multi-lane,
bi-directional traffic data gathering devices:
•No-hassle, off-road field setup
•Non-intrusive sensing technology
•Runs on extremely low power, ensuring operational
safety during installation and data retrieval
•Collect data locally or automatically uploaded to TraffiCloud
•Generate reports from any Internet-connected computer
CONDITIONAL SENSOR MESSAGING
Display dynamic messages based on live inputs.
Incorporate sensor or network data into messages displayed on
variable message signs. Display items such as time to destination,
road surface or air temperatures, timer values, wait times, weather
or emergency notifications, vehicle weights, available parking
spaces and more from a variety of device sensors. Information
can include digital inputs, analog inputs or serial strings.
SCHOOL ZONE SAFETY
Grab their attention, keep students safe.
The only radar speed displays with built-in Audible
Alerts and flashing beacons you schedule for "school
zone" hours from any Internet-ready device. Alert
sounds when speeding drivers are near so students can
find safety. Set alerts to go to law enforcement so that
officers can locate speeding vehicles and take action.
INTELLIGENT TRANSPORTATION SOLUTIONS FOR A CONNECTED WORLD
WORK ZONE SAFETY
Enable safer work zones for workers,
vehicles and pedestrians.
Notify drivers with variable message signs before they
enter work zones. Use conditional messaging to provide
alternate routes and drive times. Radar speed displays
with Audible Alerts and BLE beacons you schedule from
anywhere that activate when a speeding vehicle passes
the sign– alerting the driver to slow down and warning
pedestrians to get to safety.
Manage every component of your traffic
safety program with TraffiCloud
Integrate hardware from other manufacturers into TraffiCloud. Ask us for
details. All our industry-leading traffic devices are TraffiCloud-ready and
engineered and manufactured in the USA.
1
1. RADAR MESSAGE SIGNS
4
Flexible, portable signs now available
with Audible Alerts and beacons
2. RADAR SPEED DISPLAYS
The most flexible, portable signs available.
2
5
3. VARIABLE MESSAGE SIGNS
The only folding portable message sign
– compact and versatile.
4. HANDHELD LIDAR
Speed enforcement in affordable
lightweight packages.
3
5. COUNT AND CLASSIFY
Portable, easy to install off-road counter
classifiers that collect bidirectional traffic
in up to four lanes at once.
All Your Traffic Safety
Program Data In One Place
TraffiCloud is our secure, web-based ecosystem for
managing all your traffic safety data and equipment.
View dashboards and reports of all collected data. Make more
insightful decisions based on data analytics from all your
program components. Save time by managing the status
of connected devices and dynamic messaging all from one
central location. TraffiCloud functionality includes:
PREMIERCARE
IMAGE MANAGEMENT
Get a perpetual warranty and remote
diagnostics for the duration of
your subscription.
Achieve greater awareness with alarms
or by requesting generated images.
• 50% discount on accidental damage
•Capture images based on speeds,
tampering, time intervals or upon request*
• Real-time remote diagnostic monitoring
•Review, edit, print and act on useful images
REPORTING
ENFORCEMENT
Save time collecting, organizing,
compiling and distributing information.
Automate the collection of Lidar captures.
•Automated, daily uploads of new data
into a centralized, SAS70-certified environment
• Minimize data collection time
•Identify trends to allocate resources
and be proactive
MAPPING
•Schedule reports for regular delivery
to your inbox
• Ensure data accuracy
Manage your entire program through
an intuitive visual interface.
•Interactive map provides a window
to all system information
EQUIPMENT MANAGEMENT
Stop wasting time driving to
equipment to update and monitor it.
•Check status and change settings
from any Internet-connected device
•Send single message to multiple signs at once
•Respond immediately to changing situations
ALERTS
Specify when and whom to notify upon
occurrence of certain conditions.
•Receive email or text as events happen
•Be aware of low batteries, high speeds,
tampering, congestion and more
*Images can be used to identify vehicle make and color but are not ALPR quality.
Take a demo of TraffiCloud, our secure, web-based traffic management and
reporting solution that manages all your traffic safety devices and data remotely!
Call 866.366.6602 or email [email protected]
All Traffic Solutions 12950 Worldgate Drive, Suite 310, Herndon, VA 20170
©All Traffic Solutions
TraffiCloud leverages our patented technology (US Patents 8,417,442; 8,755,990; 9,070,287; 9,411,893) to deliver unique cloud-based management, features and functionality.