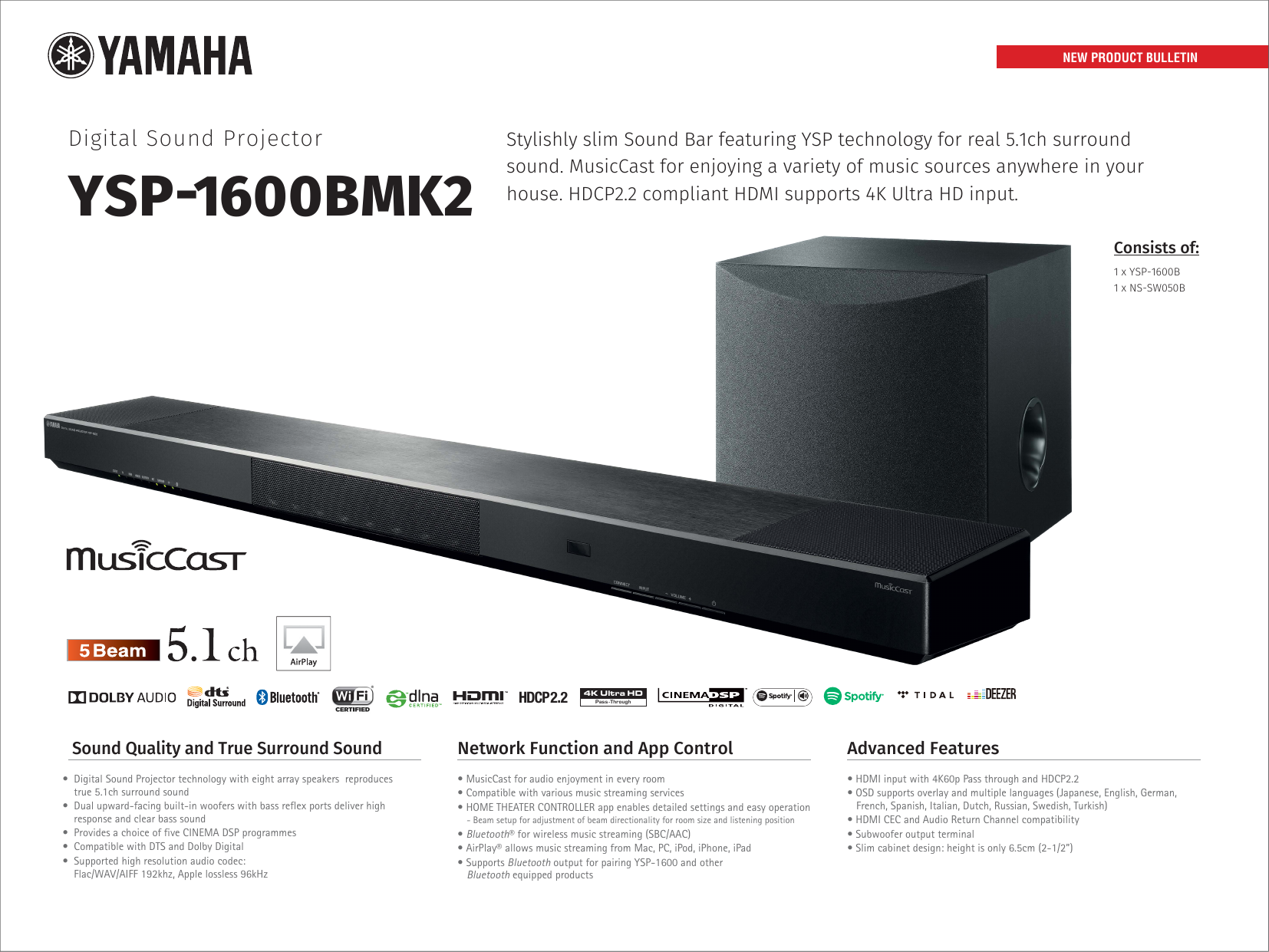 NEW PRODUCT BULLETIN
Digital Sound Projector
YSP-1600BMK2
Stylishly slim Sound Bar featuring YSP technology for real 5.1ch surround
sound. MusicCast for enjoying a variety of music sources anywhere in your
house. HDCP2.2 compliant HDMI supports 4K Ultra HD input.
Consists of:
1 x YSP-1600B
1 x NS-SW050B
HDCP2.2
Sound Quality and True Surround Sound
• Digital Sound Projector technology with eight array speakers reproduces
true 5.1ch surround sound
• Dual upward-facing built-in woofers with bass reflex ports deliver high
response and clear bass sound
• Provides a choice of five CINEMA DSP programmes
• Compatible with DTS and Dolby Digital
• Supported high resolution audio codec:
Flac/WAV/AIFF 192khz, Apple lossless 96kHz
4K Ultra HD
Pass -Through
Network Function and App Control
Advanced Features
• MusicCast for audio enjoyment in every room
• Compatible with various music streaming services
• HOME THEATER CONTROLLER app enables detailed settings and easy operation
• HDMI input with 4K60p Pass through and HDCP2.2
• OSD supports overlay and multiple languages (Japanese, English, German,
French, Spanish, Italian, Dutch, Russian, Swedish, Turkish)
• HDMI CEC and Audio Return Channel compatibility
• Subwoofer output terminal
• Slim cabinet design: height is only 6.5cm (2-1/2")
- Beam setup for adjustment of beam directionality for room size and listening position
• Bluetooth® for wireless music streaming (SBC/AAC)
• AirPlay® allows music streaming from Mac, PC, iPod, iPhone, iPad
• Supports Bluetooth output for pairing YSP-1600 and other
Bluetooth equipped products
Digital Sound Projector YSP-1600BMK2
NEW PRODUCT BULLETIN
Fits neatly in front of the TV –
the quick and easy way to great sound!
Digital Sound Projector Technology
Delivers True Surround Sound
Yamaha's unique Digital Sound Projector technology achieves actual (not
virtual) surround sound in your home theatre. Eight 2.8cm high quality array
speakers create beams of sound that are precisely time- and directioncontrolled using digital signal processing. The sound reflects off the walls,
enveloping you in true surround sound. Beam positions can be adjusted using
the remote control or a smartphone app, allowing many people to enjoy the
realistic, expansive sound.
True Realism and Powerful Surround
Sound from a Slim Body
Provides a Choice of Five
CINEMA DSP Programmes
The slim body makes it extremely easy to position the unit in front of a TV,
ensuring that the screen is not blocked. The 76W digital amplifier, eight beam
speakers and two built-in subwoofers produce truly high quality surround sound
from your TV, smartphone or other source.
Yamaha's ultra-sophisticated Cinema DSP technology creates thrillingly
realistic soundscapes in any room. You can use the app to select five different
programmes: Movie, Music, Sports, Game or TV programme.
Clear Voice Makes Dialogue and Narrations Easy to Hear
Dialogue
Dual Built-in Woofers
Two upward-facing powerful 8.5cm Woofers are
built into the ends of the unit. Combined with
the bass reflex port and wide, large volume body,
the YSP-1600 will deliver clear, deep and
expansive bass to enhance the enjoyment of
movies and music.
Clear Voice raises the level of dialogue and narrations while maintaining
overall sound quality. Movies and TV shows, sports commentary and news
broadcasts are more clearly audible.
Movie
Music
Sports
Game
Compatible with DTS and Dolby Digital
The YSP-1600 is compatible with popular
surround sound formats, such as Dolby Digital
and DTS Digital Surround, so you get the full
effect of multichannel movie sound.
TV programme
ON
Dialogue
Digital Sound Projector YSP-1600BMK2
NEW PRODUCT BULLETIN
HDMI Terminal and 4K Ultra HD Support
with 4K60p, HDCP2.2
The YSP-1600 completely supports
the latest HDMI standards. Thanks to
transmission of 4K video at 60 frames per
second pass-through, you can fully enjoy
the high definition video quality of 4K
without degradation. It also adheres to the
HDCP2.2 copyright protection standard for
4K video transmission.
Other Notable Features
Wireless Music Streaming via Bluetooth or AirPlay
MusicCast Expands Entertainment Possibilities
Enjoy music from your smartphone or tablet wirelessly using a Bluetooth
connection. You can also use the convenient AirPlay function for wireless
music streaming from iPhone or iPads. In addition, a Network Standby function
provides the convenience of having the YSP-1600 turn on and off automatically.
MusicCast employs a high performance wireless network to deliver music and
audio enjoyment. It can stream digital music content from your smartphone,
PC or NAS to other MusicCast devices in your home. It can also share the music
from external devices such as a TV or BD player connected to the YSP-1600.
Audio content from Bluetooth-connected smartphones or tablets can also be
streamed to MusicCast devices in multiple rooms.
Streaming from external devices
TV Program
• OSD supports overlay and multiple languages (Japanese, English,
German, French, Spanish, Italian, Dutch, Russian, Swedish, Turkish)
• HDMI CEC and Audio Return Channel compatibility
Main Specifications
YSP-1600
Output Power
76W total power:
2.0W x 8 beam drivers + 60W (30W x 2) subwoofer
Drivers
2.8 cm (1-1/8") x 8 beam drivers, Dual 8.5 cm (3-1/4") subwoofers
System Frequency Response 50 Hz–22 kHz
Terminals
[Input] HDMI:1, Optical:1, Stereo mini:1
[Output] HDMI:1, Subwoofer output:1
Network Functions
[Network connections]: Ethernet, Wi-Fi , Wireless direct
[Bluetooth]: (Version) Ver. 2.1 + EDR (Profile) A2DP, AVRCP (Audio Codec) SBC, AAC
Standby Power Consumption 0.4W (HDMI Control OFF, Network Standby OFF), 1.8W ( Network standby ON, Wi-Fi connection)
Dimensions (W x H x D)
1000 x 65 x 130 mm (with antenna up: 1000 x 134 x 152 mm)
Weight
Blu-ray
4.7 kg
YSP-1600
NS-SW050
Bluetooth Output for Convenient Music Streaming
The YSP-1600 is equipped with the latest Bluetooth technology, making wireless
operation more convenient than ever. You can stream music from the YSP-1600
to Bluetooth headphones for private listening or to Bluetooth speakers for
enjoying your music in another room.
CD
MusicCast
App
Streaming Services Offer a Huge Range
of Listening Choices
Type
Driver
Dynamic Power
Dimensions (W x H x D)
Weight
Advanced Yamaha Active Servo Technology
20cm
100W
291 x 292 x 341 mm
8.48kg
Support for the music streaming services Spotify, Tidal and Deezer means you'll
enjoy a wide variety of music content. Furthermore, support for Internet Radio
enables sampling of Internet radio broadcasts from around the world.
Bluetooth®
headphones
Bluetooth®
speakers
* Bluetooth streaming can only be used for one device at a time.
*Streaming service availability varies by region.
Although care is taken to ensure the accuracy of information presented, some variations may occur. Yamaha Music Australia Pty Ltd reserves the right to correct any errors, omissions or misprints. Errors and omissions excepted.
Al
• The Wi-Fi CERTIFIED Logo is a certification mark of the Wi-Fi Alliance. The Wi-Fi Protected Setup Identifier Mark is a mark of the Wi-Fi Alliance. • DLNA™ and DLNA CERTIFIED™ are trademarks or registered trademarks of Digital Living Network Alliance. All rights reserved. Unauthorized use is
strictly prohibited. • Spotify and Spotify logo are registered trademarks of the Spotify Group. • Napster and the Napster logo are trademarks and registered trademarks of Rhapsody International. • JUKE and JUKE logo are registered trademarks of Media-Saturn-Holding GmbH.• The Bluetooth®
word mark and logos are registered trademarks owned by Bluetooth SIG, Inc. • Dolby and the double-D symbol are registered trademarks of Dolby Laboratories. • DTS, the Symbol & DTS and the Symbol together are registered trademarks of DTS, Inc. • HDMI, the HDMI logo and HighDefinition Multimedia Interface are trademarks or registered trademarks of HDMI Licensing LLC in the United States and other countries. • CINEMA DSP is trademarks of Yamaha Corporation.