Leaflet LPL42X1 Released United Kingdom (English) High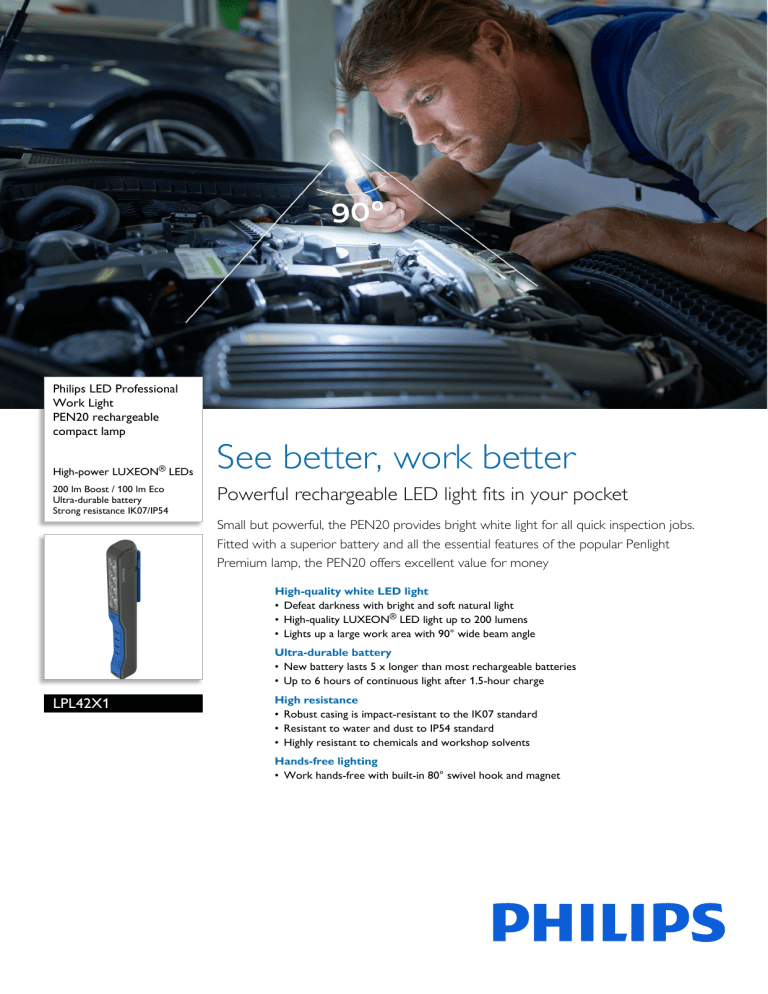 Philips LED Professional
Work Light
PEN20 rechargeable
compact lamp
High-power LUXEON® LEDs
200 lm Boost / 100 lm Eco
Ultra-durable battery
Strong resistance IK07/IP54
See better, work better
Powerful rechargeable LED light fits in your pocket
Small but powerful, the PEN20 provides bright white light for all quick inspection jobs.
Fitted with a superior battery and all the essential features of the popular Penlight
Premium lamp, the PEN20 offers excellent value for money
High-quality white LED light
• Defeat darkness with bright and soft natural light
• High-quality LUXEON® LED light up to 200 lumens
• Lights up a large work area with 90° wide beam angle
Ultra-durable battery
• New battery lasts 5 x longer than most rechargeable batteries
• Up to 6 hours of continuous light after 1.5-hour charge
LPL42X1
High resistance
• Robust casing is impact-resistant to the IK07 standard
• Resistant to water and dust to IP54 standard
• Highly resistant to chemicals and workshop solvents
Hands-free lighting
• Work hands-free with built-in 80° swivel hook and magnet
LPL42X1
PEN20 rechargeable compact lamp
High-power LUXEON® LEDs 200 lm Boost / 100 lm Eco, Ultra-durable battery, Strong resistance IK07/IP54
Specifications
Ordering information
• Order entry: LPL42X1
• Ordering code: 39631731
Electrical characteristics
•
•
•
•
•
•
•
•
Battery capacity: 1200 mAh
Battery charging time: < 2 hrs
Battery type: Lithium
Plug type: USB
Power source: Rechargeable
Wattage: 1.8 W
Voltage: 3.2 V
Battery run time: 2 hrs/4.5 hrs
Light characteristics
•
•
•
•
•
Beam angle: 80° degree
Beam angle (pointer): N/A degree
LED lifetime: 50,000 hrs
Light output: 200 lumen
Light output (Eco): 100 lumen
Outer pack information
•
•
•
•
Gross weight per piece: 133 g
Height: 3.0 cm
Length: 21.0 cm
Width: 5.5 cm
Highlights
Packaging Data
• EAN3: 8727900396324
Packed product information
•
•
•
•
•
•
•
Cable length: 0.5 m
Height: 2.1 cm
Length: 5.5 cm
Pack Quantity / MOQ: 6
Weight with cable: 112 g
Weight without cable: 93 g
Width: 3.0 cm
Product description
•
•
•
•
•
•
•
•
•
•
Hook
Impact protection rating (IK): IK07
Magnet
Materials and finishing: Plastic and Rubber/texture
Number of LEDs: 4
Operating Temperature: lamp -20 to 60° °C
Orientable light
Resistant to: workshop solvents, Chemicals
Technology: LED
Headband: N/A
•
Bright light defeats darkness
The Philips PEN20 features powerful LUXEON®
LEDs for an intense white light to help you defeat
darkness. The wide beam evenly spreads bright light
over a large work area, so you can see every little
detail. With a colour temperature of 6000 K, our
LUXEON® LEDs produce a natural white light that
reduces eye strain, allowing you to work more
comfortably for longer.
High-quality LUXEON® LED light
Like the Penlight Premium, the Philips PEN20 is a
small yet powerful inspection lamp. It is fitted with
high-quality LUXEON® LEDs, and you get up to
200 lumens of bright light to illuminate your work.
So you can always spot the smallest of details. And if
you need a softer light, or wish to preserve the
battery, simply switch to the 100-lumen eco mode.
See more with 90° wide beam
Perfect for lighting up a large work area, the Philips
PEN20 produces a wide beam angle of 90°. So when
performing quick inspection jobs, you can easily see
everything you need to.
5 x longer battery lifetime
The Philips PEN20 is fitted with an advanced battery
that lasts 5 x longer than traditional rechargeable
batteries. With 1500 charging cycles, instead of the
standard 300, this durable battery provides the
equivalent of approximately five working years of
continuous use – significantly reducing replacement
costs.
Fast charge for 6 hours' light
It's frustrating when a battery dies halfway through a
job. After a super-fast USB charge in less than
1.5 hours, you get up to 6 hours of continuous usage
in eco mode. So from a single charge, you can use
your PEN20 inspection lamp for most of the working
day.
Survives workshop accidents
Just because the PEN20 is small, don't underestimate
how strong it is. Built from highly durable materials,
it's designed to withstand the toughest working
conditions. It meets impact-resistance standard
IK07, so you can be sure it will survive most
workshop accidents.
Water- and dust-resistant
In a busy factory or workshop environment, you
need tools that can withstand tougher working
conditions. Conforming to the international IP54
standard, the Philips PEN20 LED inspection lamp is
highly resistant to water and dust. So when you need
your light to work, you can be sure it will.
Highly resistant to chemicals
Even when you're being careful, it's easy to spill or
splash corrosive chemicals on your equipment. With
a superior design, the outer casing of the Philips
PEN20 inspection lamp is impermeable, making it
highly resistant to solvents and other workshop
chemicals.
Work with hands-free lighting
Issue date 2017-01-15
© 2017 Koninklijke Philips N.V.
All Rights reserved.
Version: 3.0.1
Specifications are subject to change without notice.
Trademarks are the property of Koninklijke Philips N.V.
or their respective owners.
12 NC: 8670 001 40633
www.philips.com
With the 80° swivel hook and strong magnet, you
can place your Philips PEN20 inspection lamp on any
surface. So when you need both hands for the job,
you can still easily light up the area in front of you.

* Your assessment is very important for improving the work of artificial intelligence, which forms the content of this project