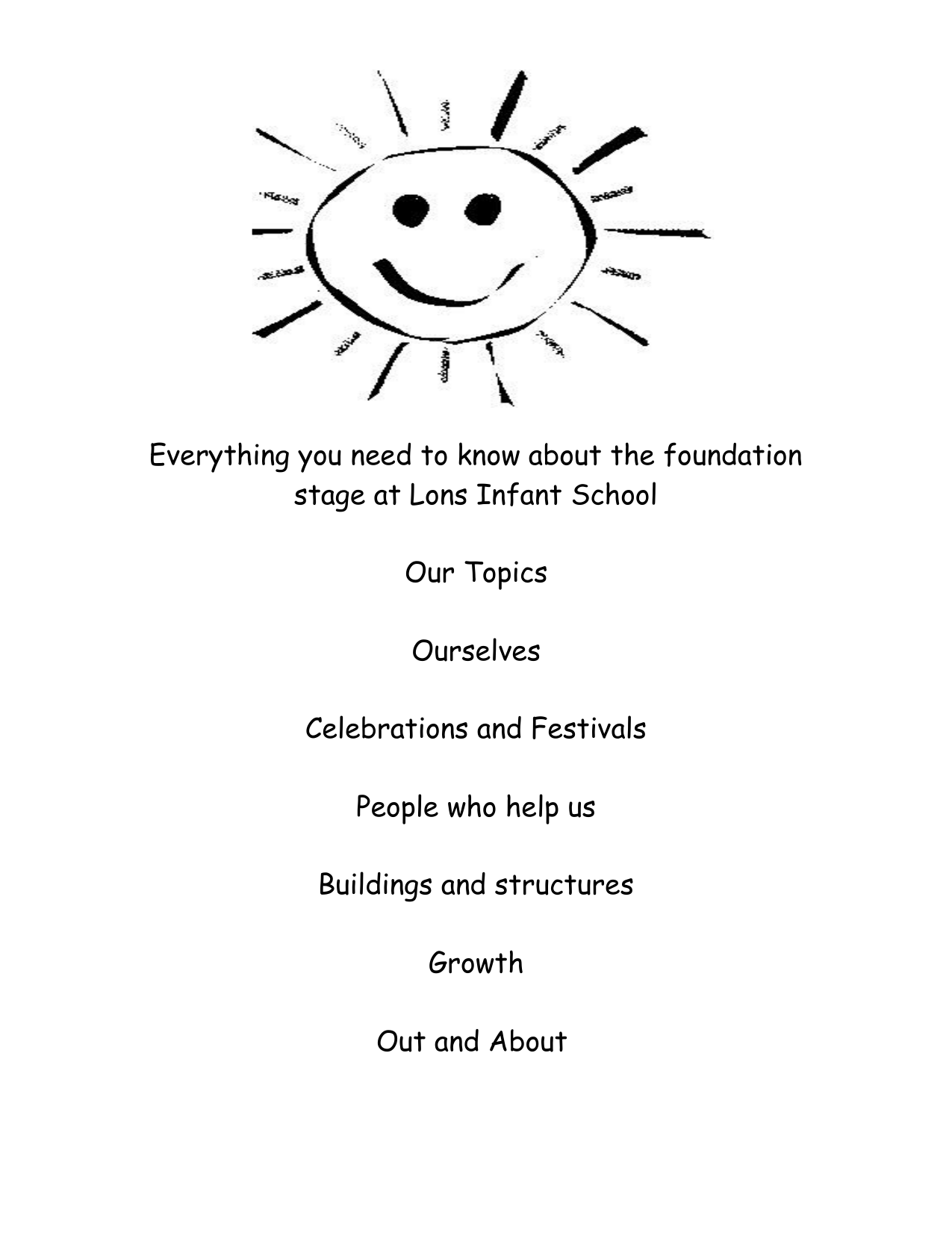 Everything you need to know about the foundation
stage at Lons Infant School
Our Topics
Ourselves
Celebrations and Festivals
People who help us
Buildings and structures
Growth
Out and About
What happens in the reception class?
Now that your child has a place at Lons infant school we welcome the chance
to work in partnership with you and your child to explore the world of
learning through structured play and stimulating activities in preparation for
future school life.
This book is intended to be used as a reference book during your child's time
in the foundation stage. We know that supportive parents working in cooperation with school ensures that children are happy and purposeful making
good progress in all areas of development. We hope that the contents of the
book will be of use to you in understanding life in the early years foundation
stage, and we welcome every opportunity to speak with you about your child
throughout his/her time with us.
Who is who in our foundation stage team?
Teacher – Mrs Barber
Higher level teaching assistant – Mrs Foster
We look forward to working with you this year.
PE Kits and PE days
You are expected to bring shorts, t-shirts and plimsolls for PE. Please ensure
your PE kit is clearly labelled and placed in a named PE bag. Bags and PE
shirts and shorts are available from school, please see Mrs Purser.
Please ensure your PE kit is in school every day. These will be sent home for
washing every term.
All children –
Coats will be needed throughout the year except during the hot weather. We
will not allow your child to play outdoors without a coat on chilly days.
A pair of Wellington boots and a raincoat need to be available at all times as
we use the outdoor in all weathers.
Hats should be brought on sunny days and sun cream should be applied at
home in the morning.
Picking up children
Please let us know if there is a change in the arrangements of the collection
of your child/ren from school.
Illness
It is normal for young children to pick up a lot of viral illness. We do not
wish to spread these at school and therefore we ask you to keep your child
at home if he/she;
 Has been sick or has an upset stomach
 Is off his/her food
 Has a temperature
Please give your child 24 hours free of illness before returning him/her to
school.
Encourage hand washing to reduce the spread of germs.
If your child is to be absent please contact the school on 01773 744319.
Assessments
We are constantly monitoring and assessing your child's progress, both
informally through observations, photographs and shared activities and
formally through the use of assessment each term. This evidence will be
held in your child's learning journey folder.
These assessments allow us to recognise any difficulties which your child
may be having and act upon them.
At the end of the foundation stage your child will be assessed to find out
which early learning goal s/he has reached to inform you and the year 1
teacher and to indicate future targets. If we feel your child has a special
educational need we will speak to you about the most suitable course of
action.
All assessments made and targets set, plus samples of your child's work, are
passed onto the next teacher so that she can quickly gain an understanding
of your child's development.
If you have any concerns or require specific support for your child, please do
not hesitate to contact us.
Parent's consultation
At the end of each term you will be given the opportunity to chat to the
staff members. In the autumn term this will be about how your child has
settled and in spring to discuss your child's progress. At this time targets
will be shared from the foundation stage curriculum. This ensures that each
child is making progress at his/her own rate.
Other agencies
We work closely with the health visitor, speech and language service and
other medical agencies to gather information of relevance to your child's
development. The parents of reception children will be asked to complete a
health consent form to enable the school nurse to monitor your child's health
within school.
Our expectations
Do be gentle, don't hurt anyone.
Do listen to people, don't interrupt.
Do be kind and helpful, don't hurt people's feelings.
Do be honest, don't cover up the truth
Do work hard, don't waste time
Do look after property, don't waste or damage things
It is important that we all follow the expectations to make our school a
happy place to learn and work in. all children who follow our expectations are
rewarded on a regular basis.
Money
Please send all money in a sealed and labelled bag/envelope. This can be
handed to your class teacher in a morning.
Homework
On a regular basis we will have;
 Reading books
 Maths bags
 Phonic books
How you can help your child
We would appreciate you supporting your child by hearing them read as
often as possible.
We encourage you to take an active role in any work sent home and to
inform us of any difficulties as soon as possible.
Thank you.
The place of play
Well planned play, both indoors and outdoors, is a key way in which young
children learn with enjoyment and challenge. In playing they behave in
different ways. Sometimes their play will be boisterous, sometimes they
will describe and discuss what they are doing, and sometimes they will be
quiet and reflective as they play.
Through play, in a secure environment, with effective adult support,
children can:
• Explore, develop and represent learning experiences, which help them make
sense of the world;
• Practice and build up ideas, concepts and skills;
• Learn how to control impulses and understand the need for rules;
• Be alone, be alongside others or co-operate as they talk or rehearse their
feelings, and take risks;
• Think creatively and imaginatively;
• Communicate with others as they investigate or solve problems;
• Express fears or relive anxious experiences in controlled and safe
situations.
The role of the practitioner is crucial in:
• Planning and resourcing a challenging environment;
• Supporting children's learning through planned play activities;
• Extending and supporting children's spontaneous play;
• Extending and developing children's language and communication in their
play.
A day in the life of a Foundation Stage pupil
A typical session might be as follows:
Arrival – children are asked to come into school through the main entrance
between 8.40am and 8.50am.
Lunch trolley – children place their packed lunch boxes on the lunch trolley
which is in the cloakroom.
Coat pegs - each child has their own named peg.
Book bags – each child will be expected to bring their Book bag to school
every day with their reading book and reading diary in it. There will be a box
where they can put these each morning as they enter their classroom.
Water bottle- please bring a water bottle filled with fresh water each day.
This is to be placed in a box as they come into the classroom.
Assembly – each morning starts with a whole school 15 minutes assembly.
Group time - This may be a Literacy or Numeracy session, a Circle Time
activity or any one of the seven areas of learning. They are led by the
teacher and the children may do a follow-up activity with the teacher or
other adult throughout the day.
Child initiated learning - after the teacher-led input of the Group time
session, children may independently select an activity or choose to visit a
particular area within the setting e.g. Creative Area or Book Corner or
outside area.
Tidying up - all children are expected to help tidy up at the end of each
session.
Snack time - each day the children will be able to enjoy a healthy snack.
Outdoor play - we vary the equipment that is available for the children to
visit. On rainy days children are encouraged to wear their Wellington boots
and waterproof coat.
End of the day – after the children have tidied up they will sit on the
carpet for a story/songs/review of the day and then Book bags, packed
lunches, water bottles, coats and any models or pictures they have made will
be gathered.
A DAY IN THE LIFE OF THE UNDER-FIVES
Oh! What a busy morning
I've been playing with the dough
And with a little help upon a card
I've even learnt to sew
I've helped my friend nurse Sarah
Perform an operation
Then fixed the track together
For my train and built a station.
I popped inside the home corner
To make a cup of tea
And stood beside the cooker
Making lunch for 30.
I completed three whole jigsaws
And played a new board game
And had a turn on all the bikes
The slide and climbing frame.
I gave out all my apples
At milk and music time
Then listened to a story and
Sang a nursery rhyme.
But now the day is over
And the mummies are all waiting,
I hope my mother doesn't say
"Oh, darling where's your painting?"
OUR AIMS FOR YOUR CHILD
In all early years settings throughout the country children from age 3 years
are at the Early Years Foundation Stage of learning. The curriculum for
the Foundation Stage should underpin all future learning by supporting,
fostering, and promoting children's;
 Personal, social and emotional development
 Physical development
 Communication and language
 Literacy
 Mathematics
 Understanding the world
 Expressive arts and design.
During your child's time in the Foundation Stage we plan and provide a rich
and varied range of structured play activities to enable all children to
progress through the Early Learning Goals to the end of the foundation
stage.
We believe that parents/carers have a shared role to play in their child's
development and for this reason we send home curriculum overviews.
The following sections describe the seven areas of early development on
which we base our activities.
On the following page of each description are listed some ideas of ways in
which you can reinforce the learning taking place at school.
Personal, Social and Emotional Development.
At The Lons Infant School we place a great deal of emphasis on this area of
development by:
 Helping children to be confident to speak to others about own needs,
wants, interests and opinions.
 Can describe self in positive terms and talk about abilities.
We balance noisy activity with quiet moments and we value fun and laughter
as key elements of a happy learning environment.
By the end of the foundation stage most children will:
 Play co-operatively, taking turns with others. They take account of
one another's ideas about how to organize their activity. They show
sensitivity to others needs and feelings, and from positive
relationships with adults and other children.
 Be confident to try new activities, and say why they like some
activities, and say why they like some activities more than others.
They are confident to speak in a familiar group, will talk about their
ideas and will chose the resources they need for their chosen
activities. They say when they do or don't need help.
 Talk about how they and others show feelings, talk about their own
and others behavior and its consequences, and know that some
behavior is unacceptable. They work as part of a group or class and
understand and follow the rules. They adjust their behavior to
different situations, and take changes of routine in their stride.
How can I help at home with personal, social and emotional development?
• Show a real interest in your child's play and conversation;
• Praise your child for all effort no matter what the end result may be!
• Play together and show your child how much fun you are having;
• Encourage your child to try a bit harder or do a bit more each time e.g.
tidying toys or sorting clean socks;
• Play simple board games as a family so that your child learns to take turns
and share and so that winning is not always the outcome but the fun of
playing becomes more important;
• Enable your child to mix with other children by having a friend to play or by
going to the park;
• Develop in your child an understanding approach towards other people and
their needs choosing story books which represent other cultures and
lifestyles;
• Explain to your child when he/she asks a question or is insecure;
• Try to deal with conflict by offering a compromise showing your child that
his/her feelings are important too.
Communication and language / literacy
At The Lons Infant School we provide opportunities for all children to talk
and communicate in a widening range of situations, to respond to adults and
to each other, to practice and extend the range of vocabulary and
communication skills they use and to listen carefully. We give all children
opportunities to explore, enjoy, learn about and use words and text in a
broad range of contexts and to experience a rich variety of books.
Our emphasis on talking gives the children constant opportunities to speak in
small and large groups and we have high expectations of all children so that
they have every encouragement to become confident and motivated to share
information. We read together daily and children gradually start
to9recognize words using their growing phonic awareness so that many are
keen to "read" to the group at story time with some or little adult support.
By the end of the foundation stage, most children will be able to:
 Listen attentively in a range of situations. They listen to stories,
accurately anticipating key events and respond to what they hear with
relevant comments, questions or actions. They give their attention to
what others say and respond appropriately, while engaged in another
activity.
 Children follow instructions involving several ideas or actions. They
answer 'how' and 'why' questions about their experiences and is
response to stories or events.
 Express themselves effectively, showing awareness of listeners needs.
They use past, present and future forms accurately when talking
about events that have happened or are to happen in the future. They
develop their own narratives and explanations by connecting ideas or
events.
How can I help at home with communication, language and literacy
development?
• Talk with your child explaining events and activities involving him/her in
family discussion and decisions;
• Listen to what your child has to say and show a real interest;
• Introduce your child to a range of stories, rhymes and songs reading
together daily;
• Use reference books together to help answer your child's questions children are fascinated by facts;
• Make up stories with your child and get involved in imaginative games
together by suggesting ideas or offering items to create a setting;
• Help your child to listen to the sounds in words in particular the first and
last sound;
• Play games on journeys thinking of words that start with a chosen sound;
• Distinguish between the sound that a letter makes and its name.
Physical Development
At The Lons we provide opportunities for all children to develop and practice
their fine and gross motor skills (small and large body movements) and to
increase their understanding or how their bodies work and what they need
to do to be healthy and safe by:
• Providing a selection of constructional toys, play dough and creative
materials to develop muscle tone and co-ordination;
• Giving free access to a range of pencils, felts pens, chalks, paints etc;
• Offering plenty of activities involving scissors, threading and sewing and
the use of simple technology
• Providing a changing selection of outdoor toys including tricycles and
climbing apparatus;
• Discussing how our bodies work and testing skills such as hopping and
skipping during movement sessions;
• Promoting healthy eating through fruit time and during cooking activities.
By the end of the foundation stage most children will be able to:
 show good control and coordination in large and small movements. They
move confidently in a range of ways, safely negotiating space. They
handle equipment and tolls effectively, including pencils for writing.
 Know the importance for good health of physical exercise, and a
healthy diet, and talk about ways to keep healthy and safe. They
manage their own basic hygiene and personal needs successfully,
including dressing and going to the toilet independently.
How can I help at home with physical development?
• Provide a few basic outdoor toys - a plank and two boxes are ideal for
balancing, over and under games, jumping and a range of imaginative games.
• Ensure that you discuss your child's activity so that he/she develops the
ability to describe what he/she is doing e.g. going through a tunnel or
wriggling under a rope.
• Let you child have a place to freely use pens, paints etc. Whilst such
activities may be messy, careful preparation by you and some clear
instructions will allow your child to have valuable opportunities to experiment
and create.
• Give your child old cards, catalogues and scissors. Your child will enjoy
making birthday cards for relatives and friends and vital early skills will be
practiced in a fun way.
• Simple fun can be had with pastry and a few cutters, or a handful of nuts
and bolts or different sizes, or empty food boxes and sticky tape, or a few
kitchen containers and a bowl full of water.
• Encourage simple exercise such as walking or swimming and discuss the
need to keep active.
• Offer healthy snacks and involve your child in shopping by planning meals
together and making shopping lists in categories of food e.g. fruit for
vitamins, cake for treat etc.
Literacy – Reading
Your child/ren will be taking part in a daily Phonics session where they will
be learning the sounds of the letters. Once your child/ren is secure in that
knowledge, reading books will be sent home. It is important that they bring
their reading book and reading diary to school every day as we change their
book three times a week.
Here are some suggestions as to how you can help your child with early
reading and work in partnership with us:
(1) Understanding the contents of a book:
You can share a book even with babies and toddlers by reading to them and
talking in detail about the pictures, characters and storyline. This increases
the child's stock of words (vocabulary) and develops his/her general
understanding (oral comprehension). Sharing a book is a pastime which can go
on for years even when your child can read successfully by him/herself.
I share a book with my child several times a week. Sometimes it is a
favourite book read many times and sometimes it is a new book:
• I read to my child and we talk about the contents of the book together.
• We share different types of books including fiction and non-fiction.
(2) Understanding how the book works: Finger-track the text as you read it,
modeling that you read from the top of the left page and by tracking words
from left to right. Talk about different types of books, for example, fiction
'storybooks' and nonfiction 'information books'. Point out the title, the
author and illustrator, how the contents page works and how books differ.
I model how I read a book to my child:
• I point out the title and the author and illustrator.
• I track the words that I am reading with my index finger.
• We talk about different types of books and how they can be used
differently including fiction books (stories, poetry) and non-fiction books.
(3) Learning how to read the words of a book:
This starts with learning how the alphabetic code of our English writing
system works. Children are taught to recognise letters and letter groups and
the 40+ spoken sounds these represent. They learn the skill of sounding out
and blending all-through-a-word (starting with simple words) so that they
can hear and say the target word. The children can only be expected to read
books by themselves with letters and letter groups that they can recognise
and when they can blend the sounds together and 'hear' the word. It is
important that children do not resort to guessing words because the words
in the book are too hard for them to sound out and blend independently or
by looking at the picture to guess the word.
I support the school in helping my child to practice learning:
• how to sound out and blend all-through-the-word to 'hear and say' the word
• to say the letter sounds confidently and how to blend them before learning
the letter names (to avoid confusion)
• If a grapheme in a reading book has not yet been taught (or learnt), say,
"In that word, those letters represent the sound /or/. Sound it out with
/or/".
Note: I understand that my child is also learning to identify the sounds allthrough-spoken- words for spelling, how to hold a pencil with the tripod hold
and form the letter shapes correctly.
By the end of the reception year most children will be able to:
 Read and understand simple sentences. They use phonic knowledge to
decode regular words and read them aloud accurately; they also read
some common irregular words. They demonstrate understanding when
talking with others about what they have read.
Literacy – writing
We praise all writing from initial mark making through to being able to make
accurate attempts at letter formation and accurate attempts at spelling by
focusing on the sounds that letters make (phonics)
How can I help at home with writing?
Let your child have free access to paper, pencils, crayons so that your child
can practice writing when s/he wants to.
Encourage your child to write in lower case letters not capitals except for
the beginning of a name or the start of a sentence.
Ensure that from the start you explain how to form letters correctly (please
speak to your class teacher if you are unsure as there is a specific style of
handwriting used at Lons – short cuts must be discouraged.
Label objects around your home with blu tacked labels and play games mixing
them up and relocating them.
By the end of the reception year most children will be able to;
 Use their phonic knowledge to write words in ways which match their
spoken sounds. They also write some irregular common words. They
write simple sentences which can be read by themselves and others.
Some words are spelt correctly and others are phonetically plausible.
Mathematics
At The Lons Infant School, we provide opportunities for all children to
develop their understanding of number, measurement, pattern, shape and
space by providing a broad range of contexts in which they can explore,
enjoy, learn, practice and talk about them.
We encourage a variety of language at the sand and water tray by regularly
changing the available equipment and by making changes to the sand and
water themselves. We use mathematical language during practical tasks, and
we constantly expose the children to the use of number both in their free
play and also through games and problem solving activities.
We aim to help the children to quickly discover that maths is fun.
By the end of the foundation stage most children will be able to:
 Count reliably with numbers one to 20, place them in order and say
which number is one more or one less than a given number. Using
quantities and objects they add and subtract two single digit numbers
and count on or back to find the answer. They solve problems including
doubling, halving and sharing.
 Use everyday language to talk about size, weight, capacity, position,
distance, time and money to compare qualities and objects and to solve
problems. They explore characteristics of everyday objects and
shapes and use mathematical language to describe them.
How can I help at home with mathematics?
• Be aware of the language you use and help your child to notice similarities
and differences and to make comparisons;
• Be aware of the way that numbers feature in our everyday lives and involve
your child by talking about and reading door numbers, telephone numbers,
prices at the shops, car number plates etc;
• Count routinely whenever you can e.g. stairs in shops, red cars passing by,
apples into a bag etc;
• Find ways to let your child practice his/her number skills by asking him/her
to fetch 4 forks, count out coins etc;
• Let your child write numbers and draw shapes (the bathroom tiles can be
great fun to write on with soapy fingers at bath time);
• Encourage your child to add numbers to give detail to drawings e.g. a car
needs a registration number; a house needs a door number;
• Give your child empty packets to play a shopping game and give real coins or
realistic plastic ones to develop the ability to add numbers together;
• Test each other by playing maths games on journeys e.g. what number
comes after 5? How many times did I clap? Which animal is bigger than a
cat?
• Cake making provides plenty of mathematical opportunities to count out and
weigh ingredients and there is a reward at the end.
Understanding the world
At The Lons Infant School we provide opportunities for all children to solve
problems, make decisions, experiment, predict, plan and question in a variety
of contexts, and to explore and find out about their environment and people
and places that have significance in their lives.
We aim to develop in your child a keen interest in everything around
him/her. We provide many opportunities for your child to make discoveries
through the play materials available, and our topic based activities ensure
that the children are finding out new information, making comparisons and
asking questions.
I.C.T. skills are developed through the provision of appropriate software and
all children have many opportunities to use a range of materials and simple
technology.
By the end of the foundation stage most children will be able to:
 Talk about past and present events in their own lives and in the lives
of family members. They know that children don't always enjoy the
same things, and are sensitive to this. They know about similarities
and differences between themselves and others, and among families,
communities and traditions.
 Know about similarities and differences in relation to places, materials
and living things. They talk about the features of their immediate
environment and how environments might vary from one another. They
make observations of animals and plants and explain why some things
occur, and talk about changes.
 Recognize that a range of technology is used in places such as homes
and schools. They select and use technology for particular purposes.
How can I help at home with understanding of the world development?
• It is important to realise that children only learn if they are interested
and that nurturing interest will ensure that your child becomes a motivated
life-long learner;
• Give your child safe opportunities to explore and discover e.g.
A section of garden for him/her to dig
A box of photographs to browse through
A magnifying glass to look through
A family walk or outing
• Talk as you walk about trees, the seasons, buildings, traffic etc;
• Follow up any adventures by discussing the photographs or collected items
- a scrapbook of the event will be treasured forever;
• Introduce your child to elements of other cultures in a positive way so that
he/she realises that other people live their lives differently;
• Talk about your childhood or that of an older relative highlighting events
and changes - a little tale at bedtime is an excellent way to get your child to
go to bed and he/she will be keen to learn more;
Make sure you show an interest in the world too - children pick up on other
peoples' enthusiasm.
Learn and make new discoveries together.
Expressive arts and design
At The Lons we provide opportunities for all children to explore and share
their thoughts, ideas and feelings through a variety of art, design and
technology, music, movement, dance and imaginative and role play activities.
We offer your child a variety of creative materials with which to experiment
initially, and later on with which to plan, design and produce representations
of their world. We use percussion instruments to accompany taped music and
songs and to explore rhythm and express emotion. We encourage your child
to move to music and to act out favourite stories.
The key element of creative development that we encourage is:
• The ability to look closely observing detail;
• The ability to listen carefully to distinguish sounds;
• The ability to think before doing in order to plan out a picture, decide on a
suitable movement or choose the best resource for a task for example.
By the end of the foundation stage most children will be able to:
 Sing songs, make music and dance, and experiment with ways of
changing them. They safely use and explore a variety of materials,
tools and techniques, experimenting with colour, design, texture, form
and function.
 Use what they have learnt about media and materials in original ways,
thinking about uses and purposes. They represent their own ideas,
thoughts and feelings through design and technology, art, music,
dance, role play and stories.
How can I help at home with creative development?
• Help your child to experience the world through his/her senses,
encouraging him/her to see, hear, smell, touch and feel;
• Play a variety of music at home talking about who wrote it and when and
encouraging your child to dance, clap or sing along;
• Let your child have simple items for music making e.g. lids, spoons, pots
filled with rice;
• Sing around the house making up words to suit the occasion!
• Keep the television off except at choice times to enable your child to enjoy
silent times, and provide a quiet place that is special and private for your
child. This could be put in his/her bedroom and a blanket over a clotheshorse
creates a land of imaginary ideas in seconds.
• Talk about feeling in relation to music choosing gentle music when your
child needs to relax and lively pop songs when he/she has energy to release;
• Discuss how pictures in books generate feeling as you read stories to your
child:
• Find a place in your home or garden where your child can use paint, clay,
glue etc. Don't be worried about mess - just explain some simple rules and
have a cloth and a bowl of soapy water nearby;
• Demonstrate to your child such as knitting, woodwork or playing a guitar to
raise your child's awareness of creative ability and possibly develop early
skills in your child.
RECIPES FOR DOUGH
Salt dough (This does not keep but may be air-dried or baked in a slow oven
before painting)
Use: 2 cups of flour
1 cup of salt
Enough water (added gradually) to form a stiff dough
Combine ingredients and knead on a floured surface until smooth.
Play dough (This keeps well for some time)
Use: 1 cup of plain flour
½ cup of salt
1 cup of water
A few drops of food colouring
2 teaspoons of cream or tartar
1 tablespoon of cooking/baby oil
Put all ingredients in a saucepan and heat on stove on a moderate setting
stirring gently all the time. As soon as one large lump forms tip onto a
floured surface and knead until smooth. When it has cooled the dough should
be stored in an airtight plastic box or in a sealed plastic bag and kept in the
fridge. You can also add different spices to flavour your play dough e.g.
curry, chocolate, orange oil and glitter is always nice around Christmas
time.
COPING WITH PAINT STAINS
All paints used in the Foundation Stage are sold as "washable" but we know
from our own experience that some colours are difficult to remove! The best
way to cope is by treating the clothing as soon as possible and by rubbing
neat washing-up liquid into the mark, rinsing it out and washing in your usual
way.
TEN CHILDCARE RECOMMENDATIONS
1. Give continuous, consistent loving care - it is essential for the minds
health as food is for the body.
2. Give generously of your time and understanding; playing with and reading
to your child matters more than a tidy, smooth-running home.
3. Provide new experiences and bathe your child in language from birth
onwards - they enrich his/her growing mind.
4. Encourage her/him to play in every way, both alone and with other
children - exploring, pretending and creating.
5. Give more praise for effort than for achievement.
6. Give her/him ever increasing responsibility - like all skills it needs to be
practised.
7. Remember that every child is unique - so suitable handling for one may not
be right for another.
8. Make the way you show your disapproval fit you child's temperament, age
and understanding.
9. Never threaten that you will stop loving her/him or give her/him away, you
may reject his/her behavior, but never suggest that you might reject
him/her.
10. Don't expect gratitude; your child did not ask to be born, the choice was
yours.
(Mia Kellmer Pringle - The Needs of Children.)
Helping your child get ready for school
Be on time! Don't miss a minute of learning fun!
Checklist
 Practice using a knife and fork or eating from a packed lunch box.
 Encourage your child to manage by themselves in the toilet, flushing
the toilet and washing their hands on their own.
 Practice putting on and taking off clothes and shoes. Can they turn
their jumper or cardigan back the right way round?
 Can your child put their coat on by themselves? Try
 the superman way…hood first then arms are in the right place!
 Can your child take turns when playing? Use games to help them
practice.
 Are they able to recognise their name?
 Talk lots about school in a positive way and find out things together.
Fridge Notes
Things to remember every day about starting school.
Clothes and Shoes
 Clothes have a name in, especially coats, jumpers & shoes!
 Sensible shoes allow movements like climbing and riding a bike.
 Easy to fasten shoes are best for school.
 Please make sure your child has a named P.E. kit in a named bag with
shorts and a t-shirt
 A pair of Wellington boots & a waterproof coat, named, in a bag & left
on their peg for those spontaneous moments when the weather is bad
but we are still learning and exploring outside!
 A drinks bottle named and with water only in it each day to be used
throughout the day and kept in class.

Don't forget!
Have you changed your phone? Does the school know the number?
Is there someone different collecting your child today – does the teacher
know?
Are there any letters to reply to?
The school phone number is 01773 744319
School starts at 8.50am and finishes at 3.05 pm.