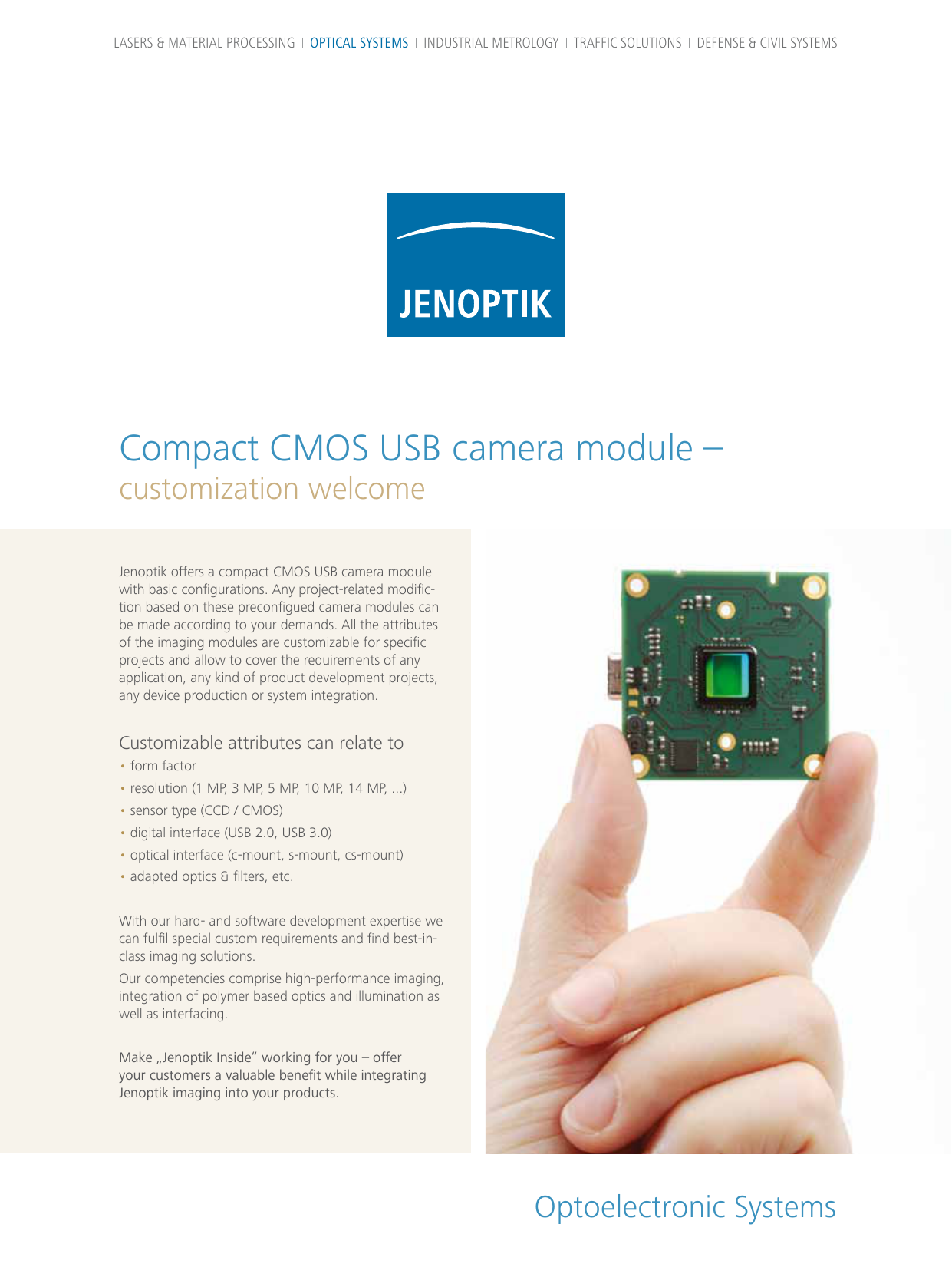 LASERS & MATERIAL PROCESSING OPTICAL SYSTEMS INDUSTRIAL METROLOGY TRAFFIC SOLUTIONS DEFENSE & CIVIL SYSTEMS
Compact CMOS USB camera module –
customization welcome
Jenoptik offers a compact CMOS USB camera module
with basic configurations. Any project-related modifiction based on these preconfigued camera modules can
be made according to your demands. All the attributes
of the imaging modules are customizable for specific
projects and allow to cover the requirements of any
application, any kind of product development projects,
any device production or system integration.
Customizable attributes can relate to
• form factor
• resolution (1 MP, 3 MP, 5 MP, 10 MP, 14 MP, ...)
• sensor type (CCD / CMOS)
• digital interface (USB 2.0, USB 3.0)
• optical interface (c-mount, s-mount, cs-mount)
• adapted optics & filters, etc.
With our hard- and software development expertise we
can fulfil special custom requirements and find best-inclass imaging solutions.
Our competencies comprise high-performance imaging,
integration of polymer based optics and illumination as
well as interfacing.
Make "Jenoptik Inside" working for you – offer
your customers a valuable benefit while integrating
Jenoptik imaging into your products.
Optoelectronic Systems
Compact CMOS USB camera module –
customization welcome
Basic configuration
Imaging Module
SDK included with basic functions (extendable)
Image sensor
1/2.5" CMOS color
Sensor type:
Aptina
Active pixels [H x V]
2592 x 1944 pixel
Digitization
12 bit
Color / Monochrome
Color / Monochrome
Sensor resolution [max]
2592 x 1944 [5 Mpix]
Pixel size
2.2 x 2.2 µm
Dynamic range
66 dB
Max. frame rate [image size]
6 fps [2592 x 1944 pixel]
Digital interface
USB 2.0
Optical connection
with or without c-mount/
s-mount
Trigger In / Out
software
Software requirements
Windows XP/ Windows 7
Power consumption
2,5 Watt (via USB 2.0)
Dimensions
35 x 35 mm
Housing
optional deliverable in a robust
metal housing
camera Set Parameter
Image mode
resolution
skipping
binning
trigger
Acquisition parameter
gain
exposure time
Color interpolation
white balance
matrix interpolation
low light mode
Output format
24bit RGB /
10 bit compressed-RAW /
8 bit RAW
Sensor resolution [max]
2592 x 1944 [5 Mpix]
start Live
starts live image
get Image
fetches the last captured image
Benefits Customer value
Application fields
• Compact single-board construction Miniaturization & light-weight
• Health care & life science
• Most widespread digital interface USB 2.0 Easy plug & play
• Industrial inspection & machine vision
• High resolution of 5 megapixel Sharp high-quality images
• Automotive
• High frame rates Fast live image & quick focussing
• Digital Imaging
• Cost-effective (high-volume) solutions Saving of costs
• Including software development kit Easy to integrate
Customization examples
JENOPTIK I Optical Systems
Optoelectronic Systems Business Unit
JENOPTIK Optical Systems GmbH
Goeschwitzer Strasse 25 I 07745 Jena I Germany
Phone +49 3641 65-3083 I Fax -2144
[email protected] I www.jenoptik.com/digitalimaging
Office USA:
JENOPTIK Optical Systems, LLC.
16490 Innovation Drive I Jupiter, FL 33478-6428
Phone +1 561 628-8837 I Fax +1 561 881-1947
[email protected]
017xxx-301-99-14-0113-en
It is our policy to constantly improve the design and specifications. Accordingly, the details represented herein cannot be regarded as final and binding.

* Your assessment is very important for improving the work of artificial intelligence, which forms the content of this project