Ultra compact and affordable with high capacity.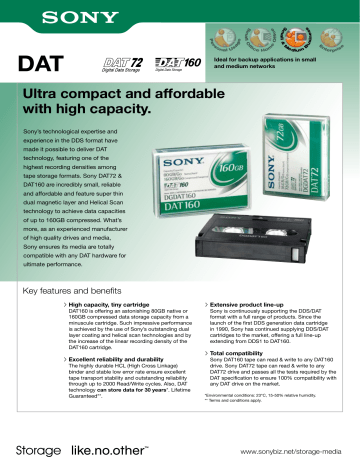 m
s
ines
us
M
ed
ium
nt
e
Ho
B
Office
e
ge
a
ce
E
fi
mall &
DAT
s
al U
m a l l Of
r
on
S
S
Pe
s
erpris
Ideal for backup applications in small
and medium networks
Ultra compact and affordable
with high capacity.
Sony's technological expertise and
experience in the DDS format have
made it possible to deliver DAT
technology, featuring one of the
highest recording densities among
tape storage formats. Sony DAT72 &
DAT160 are incredibly small, reliable
and affordable and feature super thin
dual magnetic layer and Helical Scan
technology to achieve data capacities
of up to 160GB compressed. What's
more, as an experienced manufacturer
of high quality drives and media,
Sony ensures its media are totally
compatible with any DAT hardware for
ultimate performance.
Key features and benefits
> High capacity, tiny cartridge DAT160 is offering an astonishing 80GB native or
160GB compressed data storage capacity from a
minuscule cartridge. Such impressive performance
is achieved by the use of Sony's outstanding dual
layer coating and helical scan technologies and by
the increase of the linear recording density of the
DAT160 cartridge.
> Excellent reliability and durability
The highly durable HCL (High Cross Linkage)
binder and stable low error rate ensure excellent
tape transport stability and outstanding reliability
through up to 2000 Read/Write cycles. Also, DAT
technology can store data for 30 years*. Lifetime
Guaranteed**.
> Extensive product line-up
Sony is continuously supporting the DDS/DAT
format with a full range of products. Since the
launch of the first DDS generation data cartridge
in 1990, Sony has continued supplying DDS/DAT
cartridges to the market, offering a full line-up
extending from DDS1 to DAT160.
> Total compatibility
Sony DAT160 tape can read & write to any DAT160
drive. Sony DAT72 tape can read & write to any
DAT72 drive and passes all the tests required by the
DAT specification to ensure 100% compatibility with
any DAT drive on the market.
*Environmental conditions: 23°C, 15-50% relative humidity.
** Terms and conditions apply.
www.sonybiz.net/storage-media
DAT
Helical Scan A Standard in Video Recording
Sony Helical Scan technology has redefined
professional and home video tape recording
performance. The tape is wound at an angle
around the rotary head so that data is recorded
on the tape diagonally, instead of linearly.
DAT Roadmap
DDS4
DDS1
DDS2
DAT 72
DAT
8th Gen
DAT
7th
Gen
DAT 160
DDS3
Tape in
Tape out
90m
Tape
Media
Compressed
Capacity
Compressed
Transfer Rate
Assumes 2:1
compression
4 GB
366KB/s
1990
Longer
W ide
Tape
Longer
Wide
Tape
120m
Tape
125m
Tape
150m
Tape
170m
Tape
150m
Wide
Tape
8 GB
24 GB
40 GB
72 GB
160 GB
~300 GB
~600 GB
≤1.4MB/s
≤3MB/s
2-6MB/s
≥6MB/s
≥10MB/s
≥16MB/s
≥32MB/s
1999
2003
2007
1993
1996
Counter-rotating heads
As a result, tape speed is much slower and tape
stress is dramatically reduced. Although tape
speed is slow, head-to-tape speed is much
faster and this allows rapid data transfer.
Approx +2 years
per generation
Drive / Media Compatibility
Format
Media Model
Drive Type
DAT160
DAT72
DDS4
DDS3
DAT160 DGDAT160
Read/Write
DAT72 DGDAT72
Read/Write
DDS-4 DGD150
Read/Write
DDS-3
DGD125
DDS-2 DDS-1
DDS2
DDS-1
Read/Write
Read/Write
Read/Write
Read/Write
Read/Write
Read/Write
DGD120
Read/Write
Read/Write
Read/Write
DGD90 Read/Write*
Read/Write
Read/Write
Read/Write
DGD60 Read/Write*
Read/Write
Read/Write
Read/Write
* This depends on the drive's specifications. Sony's DDS-4 drive is read and write compatible
Specifications
General Characteristics
DGDAT72
DGDAT160
Format
DAT72 DAT160
Storage Capacity: Compressed (Native)*
72GB (36GB)
160GB (80GB)
Linear Recording Density (kbpi)
163
174
Magnetic Characteristics
Coercive Force (kA/m)
195
190
Physical Characteristics
Tape Width (mm)
3.81
8.0
Tape Thickness (µm)
5.3
5.6
Tape Length (m)
170
154
Environmental Requirements
Operating Conditions (°f (°c); %RH)
41~113 (5~45); 10~80
41~113 (5~45); 10~80**
Storage Conditions (°f (°c); %RH
41~89.6 (5~32); 20~60 41~89.6 (5~32); 20~60**
Transportation conditions (°f (°c); %RH) -40~113 (-40~45); 5~80 -40~113 (-40~45); 5~80**
Tape Dimensions (nominal)
External Dimensions (mm)
73x54x10.5
80x60x19
Weight (g)
42 (with case)
54 (with case)
* Compression ratio 2:1 ** Maximum wet bulb temperature: No condensation at 26°C (79°F)..
Logistics
Sub carton
External Dimensions (mm)
Weight (kg)
Quantity
Master carton
External Dimensions (mm)
Weight (kg)
Quantity
DGDAT72
82x61x165
0.46
10
DGDAT72
319x341x117
5.01
100
DGDAT160
202 x 83 x 63
0.571
10
DGDAT160
334 x 221 x 203
6.1
100
DDS/DAT technology
To ensure downward compatibility with DDS4
and DAT72 formats, DAT160 format is required to
have higher accuracy, performance and durability.
Developed for the DDS/DAT72 format, the ultrathin dual layer coating technology featured in the
DAT160 cartridge, provides superb durability, which
withstands repeated write/read operations in addition
to offering high output and low noise level in the
high frequency band. Moreover, the cartridge design
technology helps ensure downward compatibility with
DDS4 and DAT72 and provides stable operation and
high reliability.
Dual-layer Ultra-thin Coating
Sony DAT media features a dual-layer coating of
ultra-thin magnetic and nonmagnetic layers to give
exceptional magnetic-layer thickness of 0.15 μm for
DAT72 and 0.18 μm for DAT160 or less in the upper
layer. These ultra-thin magnetic layers increase signal
output and decrease noise in the high frequency
range for even higher density recording. The nonmagnetic layer enhances the smoothness of the tape surface for higher stability and durability in tape transport.
Lower Layer
Keeping drive heads clean is essential. The Sony
DGD15CL Cleaning Tape is designed for use
with all DDS and DAT72 drives. Tape thickness
has been reduced and head wear minimized to
make it ideally suited for the DDS3, DDS4, and
DAT72 drives and ensure the best possible headcleaning performance. It provides approximately
50 cleanings and is recommended for use every
25 hours of operation (depending on the drive).
Upper Layer
(Magnetic Layer)
About Sony storage media
Upper Layer
Lower Layer
Back Coating
DAT72 Cleaning Tape
Base Film
Less than
0,5µm
Base Film
Excellent Reliability
The chart shows results for repeated write/read
80GB (native) back-up testing using the full length
of a Sony DAT160 cartridge. Under these severe
conditions simulating actual use, Sony DAT160 media
maintains an extremely stable low error rate to assure
outstanding reliability.
Durability characteristics
Error rate
Sony Standard Drive
Shuttle Number (passes)
Sony has spent more than 50 years
driving innovation and this pioneering
spirit has led us to develop many
popular storage standards. Today, Sony
manufactures media for many different
formats – including AIT and half-inch tape
formats such as S-AIT, LTO and DLT, as
well as optical discs like MO, Blu-ray,
DVD and CD – all to the same demanding
standards for absolute performance and
reliability. Businesses and consumers get
the widest choice of storage solutions
from a single supplier. And with the
backing of Sony technical support and
time-saving services like pre-labelling,
the answer is clear: whether you need
archival, backup or file transfer, trust Sony
with your data.
Copyright 2008 Sony France S. A. All rights reserved. All other
trademarks are trademarks or registered trademarks of the respective
companies. Reproduction in whole or in part without written
permission is prohibited. Features and specifications are given as
an indication and are subject to change without notice. Sony is a
trademark of Sony Coporation, Tokyo, Japan. Recording Media and
Energy, a division of Sony France S. A. 712 034 800 RCS Nanterre.

* Your assessment is very important for improving the work of artificial intelligence, which forms the content of this project