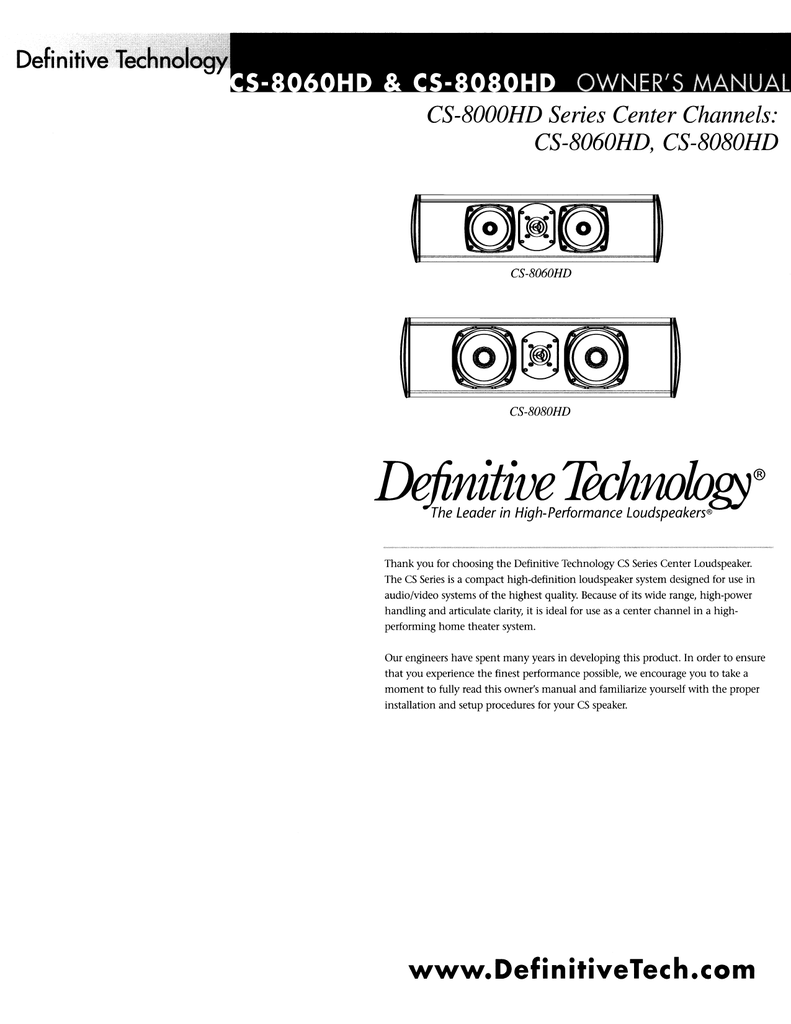 Definitive Tec~A~t\
5-
HD & CS-
HD OWNER'S MANUAL
CS-8000HD Series Center Channels:
CS-8060HD, CS-8080HD
CS-8060HD
CS-8080HD
DeFnitive Techno!fJgy®
The Leader in High-Performance Loudspeakers®
Thank you for choosing the Definitive Technology CS Series Center Loudspeaker.
The CS Series is a compact high-definition loudspeaker system designed for use in
audio/video systems of the highest quality. Because of its wide range, high-power
handling and articulate clarity, it is ideal for use as a center channel in a highperforming home theater system.
Our engineers have spent many years in developing this product. In order to ensure
that you experience the finest performance possible, we encourage you to take a
moment to fully read this owner's manual and familiarize yourself with the proper
installation and setup procedures for your CS speaker.
www.DefinitiveTech.com
og~
Safety Precautions
RISK OF ELECfRIC SHOCK
DO NOT OPEN
Power Supply
1. The fuse and power disconnect device are located on the back of the speaker.
2. The disconnect device is the power cord, detachable at either the speaker or
the wall.
3. The power cord must be disconnected from the speaker before servidng.
Unpacking Your Model
Please Inspect For Shipping Damage
CAUTION! To reduce the risk of electric shock and fire, do not remove the
cover or back plate of this device. There are no user serviceable parts inside.
Please refer all servicing to licensed service technicians. Avis: Risque de choc
electricque, ne pas ouvrir.
Each loudspeaker leaves our plant in perfect condition. Any visible or concealed
damage most likely occurred in handling after it left our plant and should be
reported at once to your Definitive dealer or the delivery company that
delivered your loudspeaker. Please unpack your system carefully. Save all cartons
and packing materials in case you move or need to ship your system. Record the
serial number found on the back of the Center Channel in the Notes section of
this owner's manual.
CAUTION! The international symbol of a lightning bolt inside a triangle is
intended to alert the user to uninsulated "dangerous voltage" within the
device's enclosure. The international symbol of an exclamation point inside
a triangle is intended to alert the user to the presence of important operating, maintenance and servicing information in the manual accompanying
the device.
Positioning Your Speakers
CAUTION! To prevent electrical shock, match wide blade of plug to wide
slot, fully insert. Attention: Pour eviter les chocs electriques, introduire la
lame la plus large de la fiche dans la borne correspondante de la prise et
pousser jusqu'au fond.
Your new CS Series speaker is designed to add clarity and focus to the vocal range
and extend the musical image of your home theater. To optimize its performance,
please follow these simple guidelines. Although the follOWing recommendations
will usually yield the best results, whatever sounds best to you is correct.
CAUTION! To reduce the risk of electrical shock, do not expose this equipment to rain or moisture.
1. Read Instructions-All safety and operating instructions should be read
before operating the device.
2. Retain Instructions-The safety and operating instructions should be
retained for future reference.
3. Heed Warnings-All warnings on the device and in the operating
instructions should be adhered to.
4. Follow Instructions-All operating and safety instructions should be
followed.
5. Water & Moisture-The device should never be used in, on or near
water for risk of fatal shock.
6. Carts & Stands-The device should only be used on carts or stands recommended by the manufacturer.
7. Wall & Ceiling Mounting-The device should be mounted on a wall or
ceiling only as recommended by the manufacturer.
8. Ventilation-The device should always be located in such a way that it
maintains proper ventilation.
It should never be placed in a built-in installation or anywhere that
may impede the flow of air through its heat sink.
9. Heat-Never locate the device near heat sources such as radiators, floor
registers, stoves or other heat-generating devices.
10. Power Supply-The device should only be connected to a power supply
of the type described in the operating instructions or as marked on the
device.
11. Power Cord Protection-Power cables should be routed so they are not
likely to be stepped on or crushed by items placed on them or against
them. Special attention should be paid to areas where the plug enters a
socket or fused strip and where the cord exits the device.
12. Cleaning-The device should be cleaned in accordance with manufacturer's instructions.
13. Periods Of Non-Use-The device should be unplugged when not being
used for extended periods.
14. Dangerous Entry---Care should be taken that no foreign objects or
liquids fall or are spilled inside the device.
15. Damage Requiring Service-The device should be serviced by licensed
technicians when:
• The plug or power supply cord has been damaged.
• Objects have fallen on or liquid has spilled inside the device.
• The device has been exposed to moisture.
• The device does not appear to be operating properly or exhibits a
marked change in performance.
• The device has been dropped or the cabinet becomes damaged.
16. Service-The device should always be serviced by licensed technicians.
Only replacement parts specified by the manufacturer should be used.
The use of unauthorized substitutions may result in fire, shock, or other
hazards.
Figure 1 - Positioning CS series Center Channel
above
A Center
Channel
Speaker should
be placed as
close to the
center of your
television as
possible without obstructing
your view.
or
below
.-..
1-2"~
(2.5-5 em)
II
8[~J8
II
To receive the full benefit of the bass radiators built into your CS Speaker leave at
least 1-2" (2.5-5 cm) ofspace between the top of the speaker and any surface.
Connecting Your Speakers
Figure 2 - Wiring and Polarity
Strip 1/4" (6mm) wire.
Identify markings on wire and assign +/-.
-
Receiver/Amplifier
-
-
I
nl
..--t-.
1. Unscrew binding post and insert wire. Ensure that the speaker is always connected to
2. Tighten until wire is secure.
the receiver or amplifier + to + and - to -.
VERY IMPORTANT:
Troubleshootin
Do not use your receiver's auto set-up functions as they are
often ineHective in setting up and adjusting speakers with builtin powered subwoafers!
Use the manual speaker setup functions in your receiver to set speaker
configuration, speaker distance and channel balance. Consult your receiver's or
processor's manual to learn how to access and use the setup menus. Set center
speaker as "Large".
Figure 3 - Connection Option 1 and Connection Option 2
••
Mi~ Mol<
~
Low
+
Le--.I
If you experience any difficulties with your CS Center Channel loudspeaker, try
the suggestions below. If you still have problems, contact your Definitive
Technology Authorized Dealer for assistance.
1. Audible distortion when the speaker is playing at loud levels is caused
by turning up your receiver or amplifier louder than the receiver or the
speaker is capable of playing. Most receivers and amplifiers put out their
full-rated power well before the volume control is turned all the way up, so
the position of the volume control is a poor indicator of its power limit. If
your speakers distort when you play them loud, tum the volume down!
2. If you experience a lack of bass, it is likely that one speaker is out of phase
(polarity) with the other speakers in the system and needs to be rewired with
closer attention to connecting positive to positive and negative to negative
on both channels. Most speaker wire has some indicator (such as colorcoding, ribbing or writing) on one of the two conductors to help you maintain consistency. It is essential to connect both speakers to the amplifier in
the same way (in phase).
~t
-I
3. Make sure all your system interconnects and power cords are solidly in place.
Receiver/Amplifier
IOPJ!onal Pre-Out
I
Speaker Setup:
Speakers-Out
l R C
+
000
-
SllFE SR
Lorge
l R C Sl SR SC
OO~OOO
OOG) 000
j
"""-,,,.-
All Dolby/DTS multi-channel receiver/amplifiers feature a dedicated channel for a center
speaker. Consult your receiver's owner's manual for the appropriate connection procedure.
S. The system has sophisticated internal protection circuitry. If for some
reason the protection circuitry trips, tum off your system and wait five
minutes before trying the system again. If the speakers' built-in amplifier
should over-heat, the system will tum off until the amplifier cools down
and resets.
6. Check to be sure that your power cord has not been damaged.
7. Check that no foreign objects or liquid has entered the speaker cabinet.
8. If you cannot get the subwoofer driver to tum on or if no sound comes out
and you are sure the system is set up properly, please bring the loudspeaker
to your Definitive Technology Authorized Dealer for assistance; call first.
Powering the Active Subwoofer
Your CS Speaker contains a built-in, powered woofer designed to extend the
frequency response and dynamic range of the center channel. Do not connect
the Low Level input to your receiver's LFE output. The CS speakers are not
designed to be a dedicated subwoofer.
Your CS speaker must be plugged into an electrical socket of the appropriate
voltage (as indicated on the back of your unit) using the electrical cord which
you have attached to the back of the speaker. The CS Speaker has a special circuit
which automatically turns the powered woofer section on when a signal is fed to
the loudspeaker and does not require an on-off switch. The LED on the back
panel will light up when a signal is sensed and the amplifier turns on. After the
cessation of a signal, it may take up to an hour for the amplifier to actually tum
off. In some instances, because of stray radio signals (RF) in your area, the LED
may not tum off. However, this is nothing to be concerned about as the
amplifier draws little power when at idle.
•
•
•
•
•
•
•
•
Min
•
•
Technical Assistance
It is our pleasure to offer assistance if you have any questions regarding your
Center Channel or its setup, please contact your nearest Definitive Technology
dealer or call us directly at (800) 228-7148 (US & Canada), 01 (410) 363-7148
(all other countries) or e-mail info®definitivetech.com. Technical support is
offered in English only.
Definitive Technology Offices
11433 Cronridge Drive, Owings Mills, Maryland 21117
Phone: (800) 228-7148 (US & Canada),
01 (410) 363-7148 (all other countries)
Service
Service and warranty work on your Definitive loudspeakers will normally be
performed by your local Definitive Technology dealer. If, however, you wish to
return the speaker to us, please contact us first, describing the problem and
requesting authorization as well as the location of the nearest factory service
center. Please note that the address given in this booklet is the address
of our offices only. Under no circumstances should loudspeakers be
shipped to our offices or returned without contacting us first and
obtaining return authorization.
Setting Your Speakers' Low-Frequency Level
Control
Your CS Speaker has a bass level control which
allows you to tune the output level of the
woofer to match your room and personal
listening preferences. Please note that there
are no controls to vary the crossover points
or phase because these have been
factory-calibrated and set to provide perfect
blending. We suggest beginning with the level
control set at approximately 12 o'clock.
4. Should you hear hum or noise coming from your speakers, try plugging
the speakers' power cords into a different AC circuit than your amplifier.
• Max
Notes
CS·8060HD
CS·8080HD
30Hz - 30kHz
92
8 Ohm
20-250w
150w
20Hz - 30kHz
92
8 Ohm
20-300w
150w
Dimensions
Height
Width
Depth
5-3/4" (14.5 em)
21-1/8" (53.68 em)
12" (30.4 em)
6-3/4" (17.15 em)
14" (59.7 em)
14" (35.56 em)
Speaker Complement
Active Woofer Quantity
Woofer Diameter
Bass Radiator Quantity
Bass Radiator Diameter
Midrange Driver Quantity
Midrange Diameter
Tweeter Quantity
Tweeter Diameter
1
8" (20.25 em)
n/a
n/a
2
4 1/2" (11.43 em)
1
1" (2.54 em)
1
5"x10" (12.7x 25.4 em)
2
5"x10" (12.7x 25.4 em)
2
5 1/4" (13.34 em)
1
1" (2.54 em)
Performance Specifications
Overall Frequency Response
Sensitivity
Nominal Impedance
Recommended Associated Amplifier Power
Built-In Subwoofer Amplifier Power
i----·--·-- - - - - - - - - - - - - - - - - - - . - - - - - - - - - - - - . - - - - - - - - - - - - - - - - - - - - - - - - - - - - - - - - - - - - - - - - . . . ,
Limited Warranty: 5·Years for Drivers and Cabinets, ]·Years for Electronic Components
DEI Sales Co.• dba Definitive Technology (herein "Definitive") warrants to the original retail purchaser only that
this Definitive loudspeaker product (the "Product") will be free from defects in material and workmanship for a period of five (5) years covering the drivers and cabinets, and three (3) years for the electronic components from the date
ofthe original purchase from a Defmitive Authorized Dealer. If the Product is defective in material or workmanship,
Definitive or its Authorized Dealer will, at its option, repair or replace the warranted product at no additional charge,
except as set forth below. All replaced parts and ProdUCI(S) become the property of Definitive. Product that is
repaired or replaced wlder this warranty will be returned to you, within a reasonable time, freight collect. This warranty is non-tnmsferrable and is automatically void if the original purchaser sells or otherwise transfers the Product
to any other party.
771i5 WantlnlY does not include sell'ice or pans to repair damage caused by accident, misuse, abuse. negligence,
inadequate packing or shipping procedures. commercial use, vQltage ill excess ofthe rated maximum a/the IIl1it,
cosmetic appearance ofcabilleny lIot direC/~l' amiburable to dejects ill material or worll.7llanship. This wonrl1lty does
not cover the elimination q(extema/~" generated static or noise. or the con-ection ofa1J1enna pmblems or weak
reception. This wann1l1Y does 1101 cover labor costs or damage to the Product caused by installation or fFmo\lal of
the Pmducl. Dejinili\>e Technology makes no wannnty wilh respecl10 its pIVduCIS purchasedjivm dealers or outlets
other thon Definitive Technology Authorized Dealel:
THE WARRANTY IS AUTOMATICALLY VOID IF:
1) 77,e pmdud has been damaged. altered in any \t~ mishandled dW1ng trollspol1arion, or tampered wit/r.
2) Tile producI is damaged due 10 accident, fire, flood. unreasonable use, misuse. abuse. cus/Omer
applied cleaners.fiJilure 10 obsen>e manuftcturers w011li"gs, neglecl or related evetlls.
3) Repair or modification oJthe Product has not been made or authorized by Definitive Technology.
4) Tile ptoduct has been implVpedv illStalled or used.
Product must be returned (insured and prepaid), together with the original dated proof of purchase to the Authorized
o
Dealer from whom the Product was purchased, or to the nearest Definitive factory service center. Product must be
shipped in the original shipping container or ils equivalent. Definitive is not responsible or liable for loss or damage
to Product in transit.
THIS LIMITED WARRANTY IS THE ONLY EXPRESS WARRANTY THAT APPLIES TO YOUR PRODUCT.
DEFINITIVE NEITHER ASSUMES NOR AUTHORIZES ANY PERSON OR ENTITY TO ASSUME FOR IT
ANY aTHER OBLIGATION OR LIABILITY IN CONNECTION WITH YOUR PRODUCT OR THIS WARRANTY. ALL OTHER WARRANTIES, INCLUDING BUT NOT LIMITED TO EXPRESS, IMPLlED,WARRANTY OF MERCHANTABILITY OR FITNESS FOR A PARTICULAR PURPOSE, ARE EXPRESSLY
EXCLUDED AND DISCLAIMED TO THE MAXIMUM EXTENT ALLOWED BY LAW ALL IMPLIED WARRANTIES 0 PRODUCT ARE LIMITED TO THE DURATION OF THIS EXPRESSED WARRANTY. DEFINITIVE HAS NO LIABILITY FOR ACTS OF THIRD PARTIES. DEFrNlTIVE'S LIABILITY, WHETHER BASED
ON CONTRACT, TORT, STRICT LIABILITY, OR ANY OTHER THEORY, SHALL NOT EXCEED THE PURCHASE PRICE OF THE PRODUCT FOR WHICH A CLAIM HAS BEEN MADE. UNDER NO CIRCUMSTANCE WILL DEFINITIVE BEAR ANY LIABILITY FOR
INCIDENTAL, CONSEQUENTIAL OR SPECIAL DAMAGES. THE CONSUMER AGREES AND CONSENTS
THAT ALL DISPUTES BETWEE THE CO SUMER AND DEFINITIVE SHALL BE RESOLVED IN
ACCORDANCE WITH CALIFORNIA LAWS IN SAN DIEGO COUNTY, CALIFORNIA. DEFINITIVE
RESERVES THE RIGHT TO MODIFY THIS WARRANTY STATEMENT AT ANY TIME.
Some states do not allow the exclusion or limitation of consequential or incidental damages, or implied warranties,
so the above limitations may not apply to you, This warranty gives you specific legal rights, and you may also have
other rights which vary from state to state.
©2009 DEI Sales Co.
All rights reserved.
CE:
This product complies with the essential requirements
of the EMe directive 89/336/EEC.
7083A 100 06022010
"
For more information on Definitive Technology Loudspeakers and accessories,
visit www.definitivetech.com. or email info@definitivetech.com.
Definitive Technology, Owings Mills, Maryland, USA. 800·228·7148
,
"
DefinitiveTechnologj®
The Leader in High-Performance Loudspeakers.
•
~-
.~
You could win a FREE powered subwoofer worth $400 retail value*
There are important benefits to registering your new Definitive Technology product:
• We'll automatically enter your name into a monthly drawing for a FREE $400 powered subwoofer*
• You'll have peace of mind knowing that we have a permanent record of your product purchase for
warranty verification (with upload of receipt scan)
• You'll be assured of receiving service/upgrade alerts
• It's fast and easy
• Privacy. The data we gather during on-line registration is never sold
http://www.DefinitiveTech.com
*Definitive Technology ProSub 800 or equivalent. See Official Rules for Details. No purchase necessary.
Sweepstakes void outside the SO United States and the District of Columbia. and where prohibited by law.
ProSub 800
Failure to complete and submit the product registration form does not diminish your warranty rights.
Warranties apply as stated in the product manual. Please be sure to keep your original purchase receipt.
No Internet access?
Call Definitive Technology Customer Service M-F 9:30 AM - 6:00 PM US Eastern Standard Timeat (410) 363-7148, and we'll help you with the simple registration process.
Or you can send us a letter to Definitive Warranty Registration at the address below with your name, address, phone number, serial number(s) of the product(s) and
a photocopy of your sales receipt. Your name will be entered into the drawing regardless of how you choose to register.

* Your assessment is very important for improving the work of artificial intelligence, which forms the content of this project