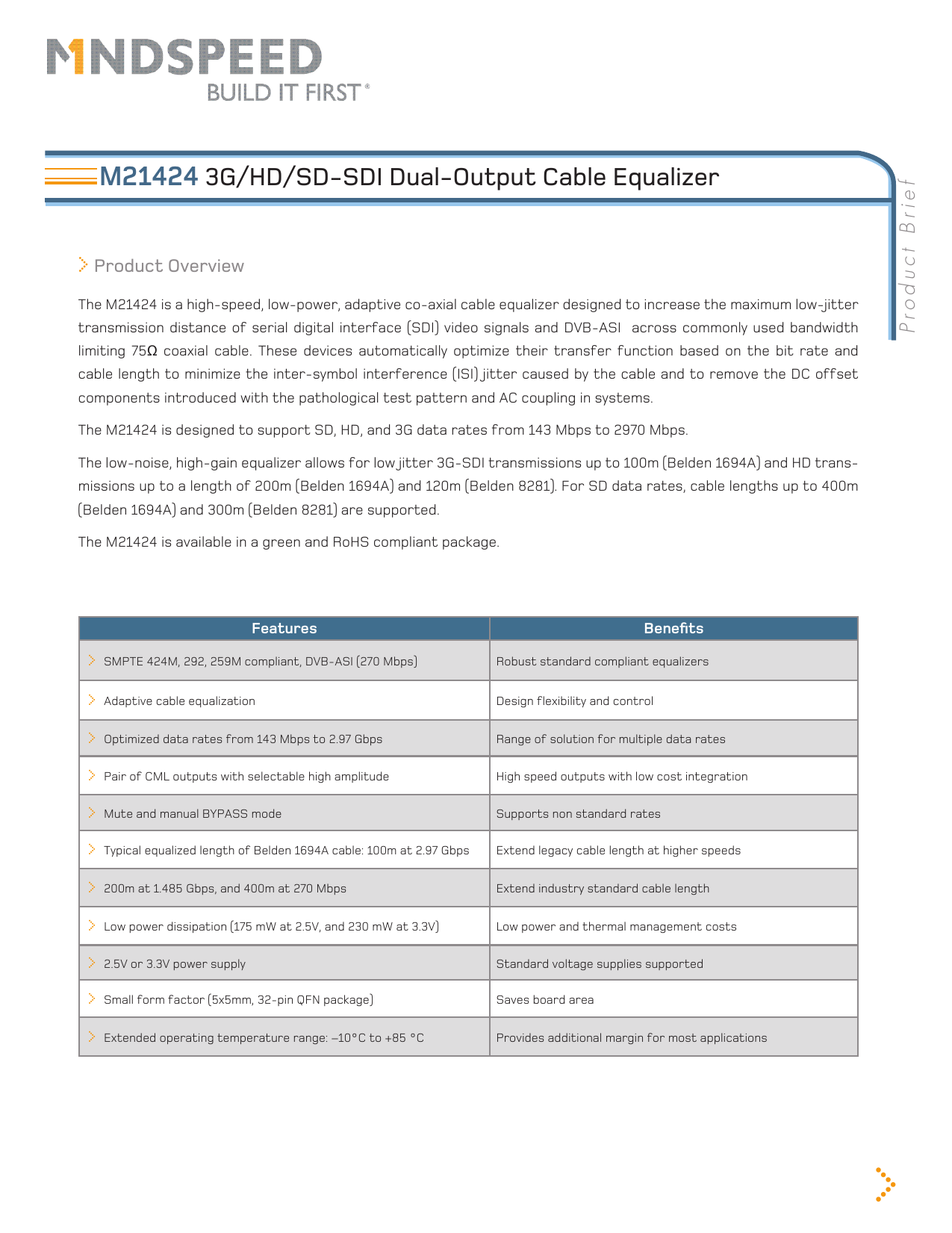 > Product Overview
The M21424 is a high-speed, low-power, adaptive co-axial cable equalizer designed to increase the maximum low-jitter
transmission distance of serial digital interface (SDI) video signals and DVB-ASI across commonly used bandwidth
Product Brief
M21424 3G/HD/SD-SDI Dual-Output Cable Equalizer
limiting 75Ω coaxial cable. These devices automatically optimize their transfer function based on the bit rate and
cable length to minimize the inter-symbol interference (ISI) jitter caused by the cable and to remove the DC offset
components introduced with the pathological test pattern and AC coupling in systems.
The M21424 is designed to support SD, HD, and 3G data rates from 143 Mbps to 2970 Mbps.
The low-noise, high-gain equalizer allows for low jitter 3G-SDI transmissions up to 100m (Belden 1694A) and HD transmissions up to a length of 200m (Belden 1694A) and 120m (Belden 8281). For SD data rates, cable lengths up to 400m
(Belden 1694A) and 300m (Belden 8281) are supported.
The M21424 is available in a green and RoHS compliant package.
Features
Benefits
>> SMPTE 424M, 292, 259M compliant, DVB-ASI (270 Mbps)
Robust standard compliant equalizers
>> Adaptive cable equalization
Design flexibility and control
>> Optimized data rates from 143 Mbps to 2.97 Gbps
Range of solution for multiple data rates
>> Pair of CML outputs with selectable high amplitude
High speed outputs with low cost integration
>> Mute and manual BYPASS mode
Supports non standard rates
>> Typical equalized length of Belden 1694A cable: 100m at 2.97 Gbps
Extend legacy cable length at higher speeds
>> 200m at 1.485 Gbps, and 400m at 270 Mbps
Extend industry standard cable length
>> Low power dissipation (175 mW at 2.5V, and 230 mW at 3.3V)
Low power and thermal management costs
>> 2.5V or 3.3V power supply
Standard voltage supplies supported
>> Small form factor (5x5mm, 32-pin QFN package)
Saves board area
>> Extended operating temperature range: –10°C to +85 °C
Provides additional margin for most applications
>
M21424
Equalizer
Cable Driver
Crosspoint
Output Card
Input Card
Switch Card
Reclocker
Backplane
Fig. 1 - Routing Switcher Application Diagram
> Product Features
S D/ M UTE
THRE S H S W ING _ L/H
Applications
C ON TR OL
LOGIC
M 21424 Cable E qualizer
•• SDI Routers
•• SDI Switches
OUTPUT
BUFFER
•• SDI Distribution Amplifier
•• SDI Camera
S DI
Standards Compliance
S DI
IN PU T
B U FFER
EQU A LIZER
S DO 1
1
DC
RESTORE
C OR E
0
•• SMPTE 259M, 292, 344M, 424M
OUTPUT
BUFFER
•• Supports DVB-ASI (270 Mbps)
Package (RoHS Compliant)
S DO 1
C A B LE
LEN GTH
IN D IC A TOR
S DO 2
S DO 2
•• 5x5 mm, 32-pin QFN
CLE N
E Q_ B Y P
S DO 2_E N
Fig. 2 - M21424 Block Diagram
For more product information, please visit www.mindspeed.com
www.mindspeed.com/salesoffices
© 2010 Mindspeed Technologies, Inc. All rights reserved. Mindspeed and the Mindspeed logo are
General Information: (949) 579-3000
trademarks of Mindspeed Technologies. All other trademarks are the property of their respec-
Headquarters – Newport Beach
4000 MacArthur Blvd., East Tower
Newport Beach, CA 92660-3007
M21424-BRF-001-E.pdf
tive owners. Although Mindspeed Technologies strives for accuracy in all its publications, this
material may contain errors or omissions and is subject to change without notice. This material is
provided as is and without any express or implied warranties, including merchantability, fitness
for a particular purpose and non-infringement. Mindspeed Technologies shall not be liable for
any special, indirect, incidental or consequential damages as a result of its use.

* Your assessment is very important for improving the work of artificial intelligence, which forms the content of this project