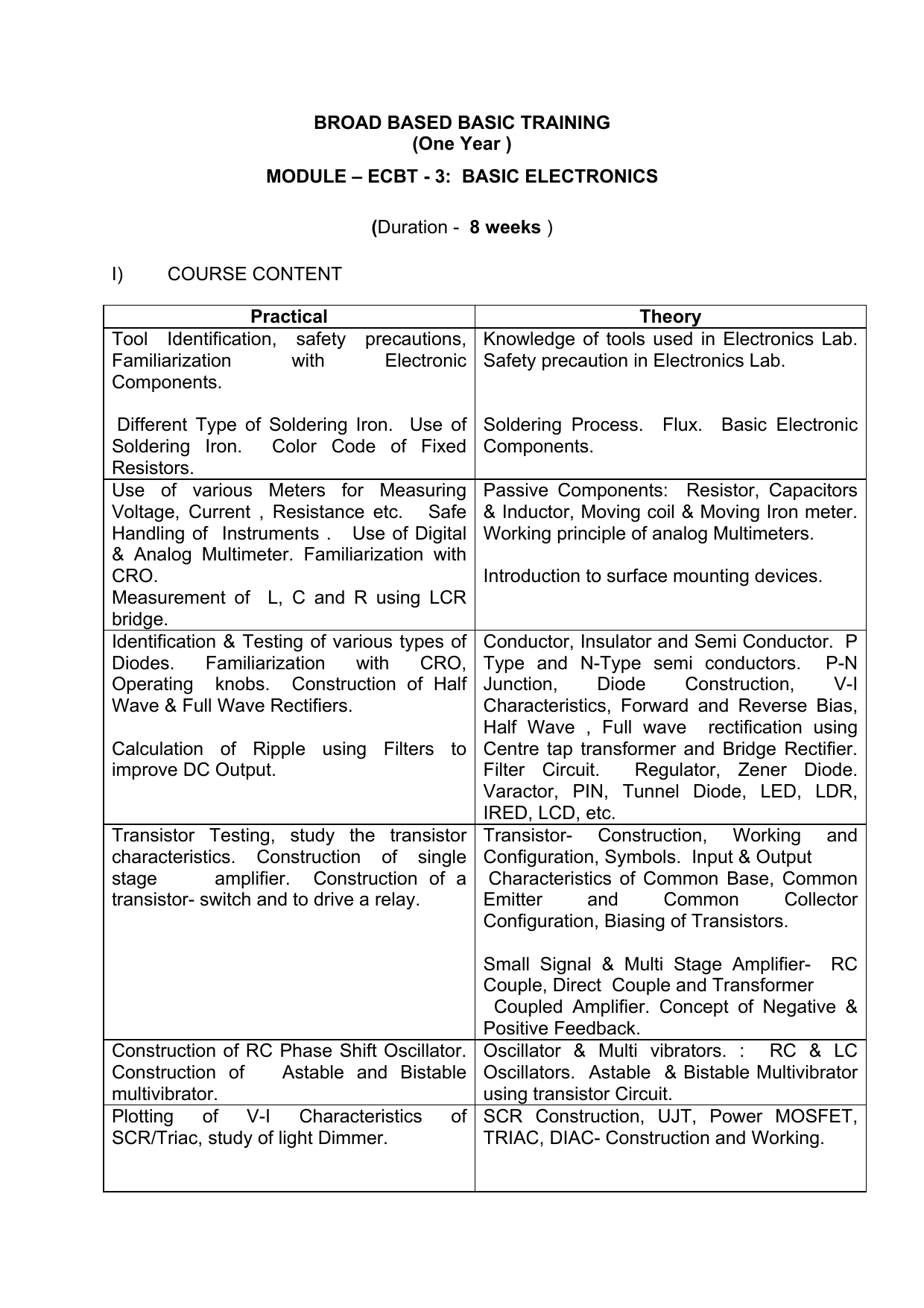 BROAD BASED BASIC TRAINING
(One Year )
MODULE – ECBT - 3: BASIC ELECTRONICS
(Duration - 8 weeks )
I)
COURSE CONTENT
Practical
Tool Identification, safety
Familiarization
with
Components.
Theory
precautions, Knowledge of tools used in Electronics Lab.
Electronic Safety precaution in Electronics Lab.
Different Type of Soldering Iron. Use of
Soldering Iron.
Color Code of Fixed
Resistors.
Use of various Meters for Measuring
Voltage, Current , Resistance etc. Safe
Handling of Instruments . Use of Digital
& Analog Multimeter. Familiarization with
CRO.
Measurement of L, C and R using LCR
bridge.
Identification & Testing of various types of
Diodes.
Familiarization
with
CRO,
Operating knobs. Construction of Half
Wave & Full Wave Rectifiers.
Calculation of Ripple using Filters to
improve DC Output.
Transistor Testing, study the transistor
characteristics. Construction of single
stage
amplifier. Construction of a
transistor- switch and to drive a relay.
Soldering Process.
Components.
Flux. Basic Electronic
Passive Components: Resistor, Capacitors
& Inductor, Moving coil & Moving Iron meter.
Working principle of analog Multimeters.
Introduction to surface mounting devices.
Conductor, Insulator and Semi Conductor. P
Type and N-Type semi conductors. P-N
Junction,
Diode
Construction,
V-I
Characteristics, Forward and Reverse Bias,
Half Wave , Full wave rectification using
Centre tap transformer and Bridge Rectifier.
Filter Circuit.
Regulator, Zener Diode.
Varactor, PIN, Tunnel Diode, LED, LDR,
IRED, LCD, etc.
Transistor- Construction, Working and
Configuration, Symbols. Input & Output
Characteristics of Common Base, Common
Emitter
and
Common
Collector
Configuration, Biasing of Transistors.
Small Signal & Multi Stage Amplifier- RC
Couple, Direct Couple and Transformer
Coupled Amplifier. Concept of Negative &
Positive Feedback.
Construction of RC Phase Shift Oscillator. Oscillator & Multi vibrators. : RC & LC
Construction of
Astable and Bistable Oscillators. Astable & Bistable Multivibrator
multivibrator.
using transistor Circuit.
Plotting
of
V-I
Characteristics
of SCR Construction, UJT, Power MOSFET,
TRIAC, DIAC- Construction and Working.
SCR/Triac, study of light Dimmer.
Lab Demonstration of all types of Digital Digital Electronics- Introduction, Number
System, Binary to decimal conversion and
Logic Gates.
vice versa. Digital Logic Gates, Op Amps
applications, IC 555.
Verification of all truth table.
Introduction to assembly of different types of
ICs used in Electronics circuits.
Familiarization with various IC and their Concept of static charge
Packages.
Terminal Objective :
After completion the participants will be able to :
use the hand tools correctly & safely
use wire gauge, feeler gauge, read colour code of resisters etc.
capacitors, verify ohms law, series, parallel connections etc.
use voltmeter, ammeter, ohm meter & multimeter correctly, observing safety
precautions in handling them.
use of Wheat-stone bridge, LCR bridge to measure L C & R
solder wires on PCB, using proper soldering iron of different wattages correctly.
identify & test hf, af coils, wind small coils & test them
Read data book for semiconductors, connect them properly in circuits, plot
characteristics.
Use of oscilloscope, signal generator, transistor tester etc..
Trace circuit diagrams & interpret circuit diagrams.