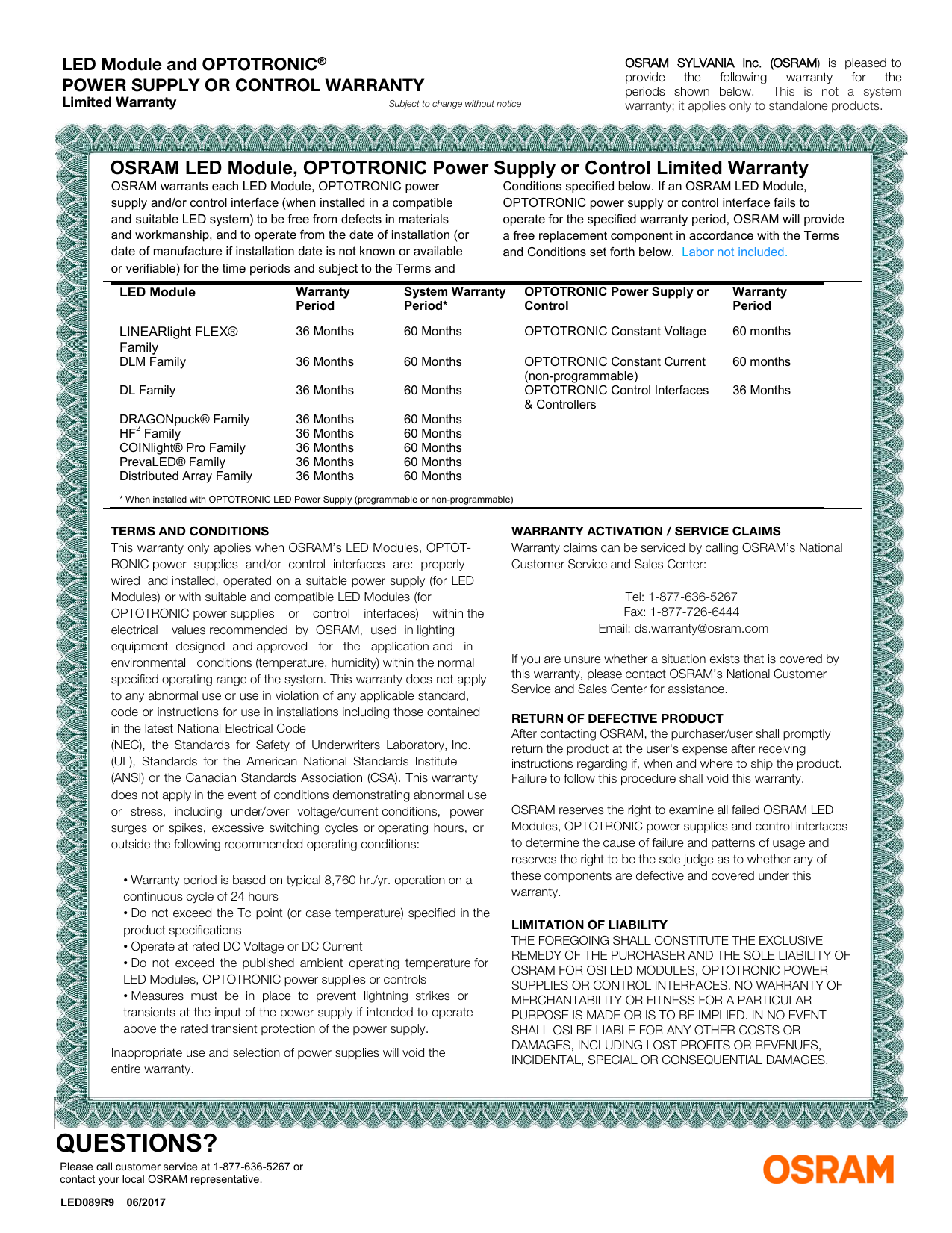 LED Module and OPTOTRONIC®
POWER SUPPLY OR CONTROL WARRANTY
Limited Warranty
Subject to change without notice
OSRAM SYLVANIA Inc. (OSRAM) is pleased to
provide
the
following
warranty
for
the
periods shown below. This is not a system
warranty; it applies only to standalone products.
OSRAM LED Module, OPTOTRONIC Power Supply or Control Limited Warranty
OSRAM warrants each LED Module, OPTOTRONIC power
supply and/or control interface (when installed in a compatible
and suitable LED system) to be free from defects in materials
and workmanship, and to operate from the date of installation (or
date of manufacture if installation date is not known or available
or verifiable) for the time periods and subject to the Terms and
Conditions specified below. If an OSRAM LED Module,
OPTOTRONIC power supply or control interface fails to
operate for the specified warranty period, OSRAM will provide
a free replacement component in accordance with the Terms
and Conditions set forth below. Labor not included.
LED Module
Warranty
Period
System Warranty
Period*
OPTOTRONIC Power Supply or
Control
Warranty
Period
LINEARlight FLEX®
Family
36 Months
60 Months
OPTOTRONIC Constant Voltage
60 months
DLM Family
36 Months
60 Months
60 months
DL Family
36 Months
60 Months
DRAGONpuck® Family
HF2 Family
COINlight® Pro Family
PrevaLED® Family
Distributed Array Family
36 Months
36 Months
36 Months
36 Months
36 Months
60 Months
60 Months
60 Months
60 Months
60 Months
OPTOTRONIC Constant Current
(non-programmable)
OPTOTRONIC Control Interfaces
& Controllers
36 Months
* When installed with OPTOTRONIC LED Power Supply (programmable or non-programmable)
TERMS AND CONDITIONS
This warranty only applies when OSRAM's LED Modules, OPTOTRONIC power supplies and/or control interfaces are: properly
wired and installed, operated on a suitable power supply (for LED
Modules) or with suitable and compatible LED Modules (for
OPTOTRONIC power supplies or control interfaces) within the
electrical values recommended by OSRAM, used in lighting
equipment designed and approved for the application and in
environmental conditions (temperature, humidity) within the normal
specified operating range of the system. This warranty does not apply
to any abnormal use or use in violation of any applicable standard,
code or instructions for use in installations including those contained
in the latest National Electrical Code
(NEC), the Standards for Safety of Underwriters Laboratory, Inc.
(UL), Standards for the American National Standards Institute
(ANSI) or the Canadian Standards Association (CSA). This warranty
does not apply in the event of conditions demonstrating abnormal use
or stress, including under/over voltage/current conditions, power
surges or spikes, excessive switching cycles or operating hours, or
outside the following recommended operating conditions:
• Warranty period is based on typical 8,760 hr./yr. operation on a
continuous cycle of 24 hours
• Do not exceed the Tc point (or case temperature) specified in the
product specifications
• Operate at rated DC Voltage or DC Current
• Do not exceed the published ambient operating temperature for
LED Modules, OPTOTRONIC power supplies or controls
• Measures must be in place to prevent lightning strikes or
transients at the input of the power supply if intended to operate
above the rated transient protection of the power supply.
Inappropriate use and selection of power supplies will void the
entire warranty.
QUESTIONS?
Please call customer service at 1-877-636-5267 or
contact your local OSRAM representative.
LED089R9
06/2017
WARRANTY ACTIVATION / SERVICE CLAIMS
Warranty claims can be serviced by calling OSRAM's National
Customer Service and Sales Center:
Tel: 1-877-636-5267
Fax: 1-877-726-6444
Email: [email protected]
If you are unsure whether a situation exists that is covered by
this warranty, please contact OSRAM's National Customer
Service and Sales Center for assistance.
RETURN OF DEFECTIVE PRODUCT
After contacting OSRAM, the purchaser/user shall promptly
return the product at the user's expense after receiving
instructions regarding if, when and where to ship the product.
Failure to follow this procedure shall void this warranty.
OSRAM reserves the right to examine all failed OSRAM LED
Modules, OPTOTRONIC power supplies and control interfaces
to determine the cause of failure and patterns of usage and
reserves the right to be the sole judge as to whether any of
these components are defective and covered under this
warranty.
LIMITATION OF LIABILITY
THE FOREGOING SHALL CONSTITUTE THE EXCLUSIVE
REMEDY OF THE PURCHASER AND THE SOLE LIABILITY OF
OSRAM FOR OSI LED MODULES, OPTOTRONIC POWER
SUPPLIES OR CONTROL INTERFACES. NO WARRANTY OF
MERCHANTABILITY OR FITNESS FOR A PARTICULAR
PURPOSE IS MADE OR IS TO BE IMPLIED. IN NO EVENT
SHALL OSI BE LIABLE FOR ANY OTHER COSTS OR
DAMAGES, INCLUDING LOST PROFITS OR REVENUES,
INCIDENTAL, SPECIAL OR CONSEQUENTIAL DAMAGES.

* Your assessment is very important for improving the work of artificial intelligence, which forms the content of this project