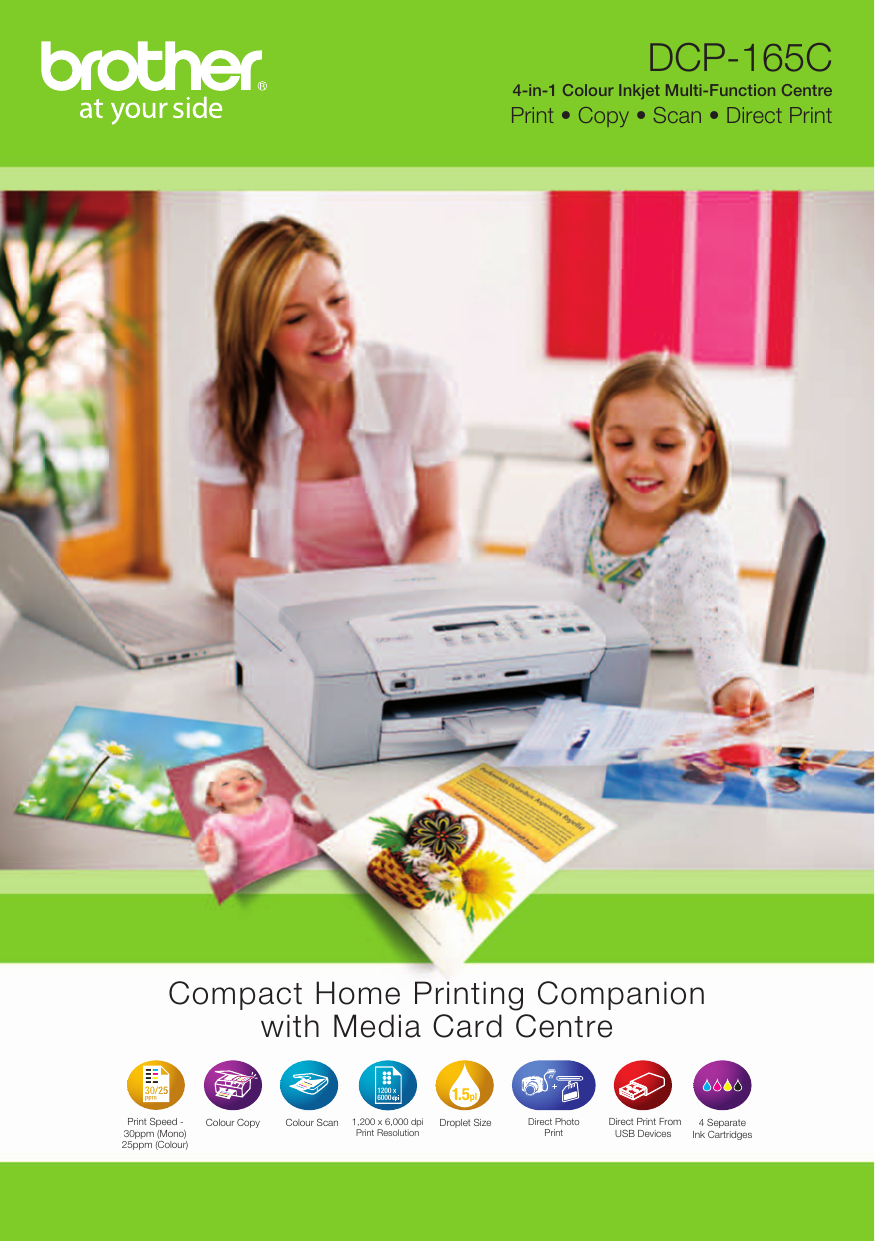 DCP-165C
4-in-1 Colour Inkjet Multi-Function Centre
Print • Copy • Scan • Direct Print
Compact Home Printing Companion
with Media Card Centre
Print Speed 30ppm (Mono)
25ppm (Colour)
Colour Copy
Colour Scan
1200 x
6000
1.5pl
1,200 x 6,000 dpi
Print Resolution
Droplet Size
Direct Photo
Print
Direct Print From
USB Devices
4 Separate
Ink Cartridges
DCP-165C
Brother's stylish DCP-165C combines colour printing, copying and scanning into a single compact
machine. Perfectly suited for all your printing needs, this all-in-one printer is designed with ease-ofuse in mind and delivers great performance to all family members.
DCP-165C's flatbed design makes it the perfect solution for confined spaces and for scanning and copying
bound documents and books. With high quality colour print capability and up to 1,200 x 6,000 dpi in print
resolution, you will be able to print amazing photos and colourful documents in the comfort of your own home.
Furthermore, its economical and cost-saving 4-cartridge ink system means you only replace the colours you need. Printing borderless photos is easy and convenient,
as you can now bypass your PC altogether. Print your photos directly from your digital camera using the PictBridge™ interface, or from media cards by using Brother's
PhotoCapture Centre™. Additionally, print directly from, or scan to, a USB flash memory drive using the host USB connection for ultimate convenience. Bundled with
the FaceFilter software, you can adjust skin tones, remove skin blemishes and correct red eyes for perfect pictures every time. Packed with nifty tools for your digital
lifestyle needs, there is always a Brother at your side.
Technical Specifications
GENERAL
Printing Technology
Display
Memory Capacity
Interfaces
COLOUR PRINTING
Print Speed
Print Resolution
Borderless Printing
Colour Enhancement
Minimum Droplet Size
COLOUR COPYING
Copy Speed
Copy Resolution
Multi-copy
Enlargement/ Reduction Ratio
N-in-1
Poster Printing
COLOUR SCANNING
Colour and Monochrome Scanning
Scanning Resolution Optical
Interpolated
Scan Speed
Greyscale
Colour Depth
"Scan'' key
PAPER HANDLING
Paper Input
Paper Output
Paper Handling Sizes
Media Type
DIRECT PHOTO PRINTING
PictBridge™
USB Direct Interface
PhotoCapture Centre™
(Acceptable Media Cards)
Media Card Drive
Image Format
Inkjet
1 line x 16 characters
32 MB
USB 2.0 Full Speed / USB Direct1 / PictBridge™ /
Media Cards
Up to 30 ppm (Monochrome) & 25 ppm (Colour)
Up to 1,200 x 6,000 dpi
Available for A4, LTR, A6, Photo 4x6",
Index Card, Photo-2L, Post Card 1
Brother image enhancement allows you to
customise colour output
1.5pl 2 (picolitres)
Up to 20 cpm (Monochrome) & 18 cpm (Colour)
Up to 1,200 x 1,200 dpi (Monochrome)
Up to 600 x 1,200 dpi (Colour)
Produces up to 99 copies of each original
25% - 400% in 1% increments
Reduce 2 or 4 pages onto a single sheet
(Monochrome only)
Enlarge an image to print onto 3 x 3 pages of
A4 size (available for A4 only)
Yes
Up to 1,200 x 2,400 dpi
Up to 19,200 x 19,200 dpi
From 4 secs (Monochrome) & from 5 secs (Colour)
(A4 size, 100 x 100 dpi)
256 shades of grey
36 / 24-bit colour processing
Allows the user to scan to E-mail, OCR,
image, file, card or a USB flash memory drive.
Supporting: JPEG, PDF, TIFF
100 sheets standard paper tray
50 sheets
A4, LTR, LGL, EXE, JISB5, A5, A6, Photo 4x6"
(102x152mm), Index Card (127x203mm),
Photo-2L (127x178mm), Post Card 1
(100x148mm), Post Card 2 (148x200mm),
C5 Envelope, Com-10, DL Envelope, Monarch,
JE4 Envelope
Plain, inkjet, glossy, transparency
Print directly from a PictBridge™ enabled
digital camera
Print directly from a USB Flash Memory Drive
Memory Stick™: 16MB - 128MB
(Memory Stick Duo™ with Adapter)
Memory Stick Pro™: 256MB - 8GB (MagicGate:
Yes if not using MG function)
Secure Digital: 16MB - 2GB
(MiniSD with Adapter)
Secure Digital High Capacity (SDHC): 4 - 8GB
xD Picture Card: 16MB - 512MB
xD Picture Card Type M/Type H: 256MB - 2GB
Save and retrieve files using any of the above
listed media cards
Photo Print: JPEG
Scan to Card: JPEG, PDF (Colour), TIFF,
PDF (Monochrome)
Microsoft, Windows, the Windows logo and / or other Microsoft products referenced herein are either
registered trademarks of Microsoft Corporation in the U.S. and / or other countries. Brother and its logo
are trademarks of Brother Industries Ltd., Japan. All specifications are subject to change without notice. All
registered trademarks referenced herein are the property of their respective companies.
SOFTWARE
Driver Software Included
Windows ®
Macintosh ®
Reallusion FaceFilter Studio
Software
Supported Operating System
CONSUMABLES
Innobella™ Ink Cartridges 3
Brother Paper
Brother MFL-Pro Suite
Brother ControlCentre3, ScanSoft ™ Paperport ™
11 SE with OCR
Brother ControlCentre2, NewSoft Presto! ®
PageManager®
A simple and easy to use photo editor that enables
you to fine-tune your photos to print perfect,
professional-looking photos with or without
borders
Windows Vista ® / Windows ® XP Professional
(32 & 64 bit editions) / XP Home Edition /
Windows ® 2000 Professional (SP4) /
Mac OS ® X 10.2.4 or greater
LC-38BK
LC-38C/M/Y
BP71GA4
BP71GP20
BP60MA
BP60PA
DIMENSIONS & WEIGHT
With Carton
Without Carton
1
2
3
Black: up to 300 pages
Cyan/Magenta/Yellow:
up to 260 pages each
Innobella™ A4 Glossy Photo
Paper (20 sheets)
Innobella™ 4x6" Glossy Photo
Paper (20 sheets)
A4 matte inkjet paper
(25 sheets)
A4 plain inkjet paper
(250 sheets)
465(W) x 460(D) x 225(H)mm / 9.6kg
390(W) x 365(D) x 150(H)mm / 7.1kg
Print & scan directly from/to a USB flash memory drive (supports up to 8GB). Brother does not
guarantee the compatibility of all brands of USB flash drives.
When used with Brother BP71 photo paper - see Consumables section
Approximate page yields in accordance with ISO 24711. The supplied ink will be lesser due to initial purging.
For more information regarding system requirements, please visit http://solutions.brother.com
"Celebrating 100 years in operation, Brother International is a leading
global manufacturer of laser printers, Multi Function Centres®, fax
machines, P-touch electronic labellers, typewriters and sewing machines.
A specialist in its product lines, Brother combines customer satisfaction
and comprehensive measures for environmental conservation, to
manufacture innovative, reliable and practical products to enhance the consumer's lifestyle. Brother
International Australia is a major sponsor of the Planet Ark program 'Cartridges 4 Planet Ark' in addition
to adopting a printing system that reduces consumable wastage. The printing system ensures users only
need to replace the empty cartridge rather than the entire drum or inkjet print head. Brother International
Australia and each of their state branches have also been awarded the strict ISO 14001:2004 standard for
Environmental Management Systems; and their products are Energy Star approved, a standard governing
product safety and total environmental management strategy. All Brother Products are designed to help
you conduct business in the most environmentally sustainable manner; please visit www.brother.com.au"
Brother strongly recommends the use of genuine Brother consumable products only.
Benefits include better quality prints, greater yields per consumable, protection of your
machine from damages and achievement of optimum performance. As a precaution,
please note that your machine warranty may not cover any damages arising from the
use of non-genuine consumables.