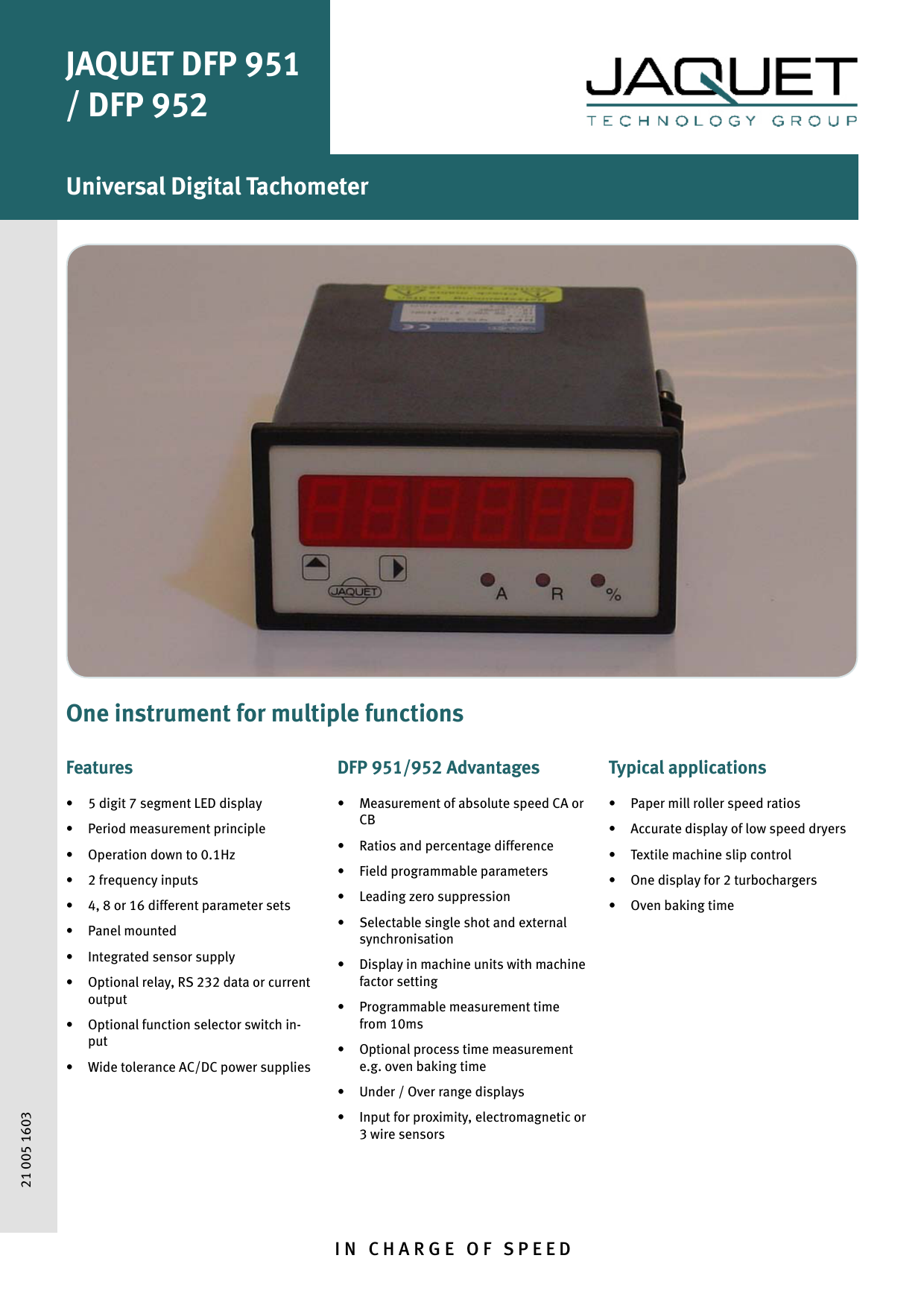 JAQUET DFP 951
/ DFP 952
Universal Digital Tachometer
One instrument for multiple functions
Features
DFP 951/952 Advantages
Typical applications
•
5 digit 7 segment LED display
•
•
Paper mill roller speed ratios
•
Period measurement principle
Measurement of absolute speed CA or
CB
•
Accurate display of low speed dryers
•
Ratios and percentage difference
•
Textile machine slip control
•
Field programmable parameters
•
One display for 2 turbochargers
•
Leading zero suppression
•
Oven baking time
•
Selectable single shot and external
synchronisation
•
Display in machine units with machine
factor setting
•
Programmable measurement time
from 10ms
•
Optional process time measurement
e.g. oven baking time
•
Under / Over range displays
•
Input for proximity, electromagnetic or
3 wire sensors
•
•
21 005 1603
•
Operation down to 0.1Hz
2 frequency inputs
4, 8 or 16 different parameter sets
•
Panel mounted
•
Integrated sensor supply
•
Optional relay, RS 232 data or current
output
•
Optional function selector switch input
•
Wide tolerance AC/DC power supplies
IN CHARGE OF SPEED
Universal-Digital-Tachometer
2/4
DFP 952
DFP 951
Measured Values and Ranges
DFP 951
With hidden push buttons for programming
DFP 952
Front panel push buttons
Options
I
Current output 0/4...20mA, = display range,
max 500 Ohm load, potential free, resolution 10 bit,
9-pole Sub-D connector
D5
Serial interface RS 232, 9-pole Sub-D connector
R
2 relay outputs 220 Vac, 1A, 50W, 9-pole Sub D connector
K4
External switch selection of 1 from 4 parameter sets
K16
External selection of 1 from 16 parameter sets
S3
Turbocharger sensor input
s4
Process time measurement
The options I, D5 and R are mutually exclusive.
Measured Values and Ranges
Absolute value (A)
CA oder CB
0...9.9999
CA-CB -9.9999...0...9.9999
0...99.999
-99.999...0...99.999
0...999.99
-999.99...0...999.99
-9999.9...0...9999.9
-99999...0...99999
Ratio (R)
CA/CB
0...9999.9
Percentage Difference
(%)
(CA-CB)/CB-100.00...0...+999.99%
CB/CA
0...99999
(CB-CA)/CB
-999.99...0...+100.00%
-100.0 ...0...+9999.9%
-9999.9...0...+100.0%
-100 ... 0... +99999%
-99999 ...0...+100%
Parameters
Standard 8 parameter sets configured via two push buttons
Select currently effective parameter set
Trigger level (V) for channel A and channel B
Measured quantity, measuring range
21 005 1603
Machine factor A and B
Fix-time (measurement time)
Option settings e.g. limit values, analogue range.
Power supply
UC 2
93...264 Vac / 45...450 Hz / 130...375 Vdc
UC 3
18...58 Vac / 45...450 Hz / 18...60 Vdc
DC 0
9...18 Vdc
Universal-Digital-Tachometer
3/4
Operating modes
Automatic update
Repetitive update of measured quantity based on the "Fix time"
External synchronisation
Measuring cycle is reset via an external 0V clock pulse. The display is then blanked. A new measuring
cycle starts when the clock goes high with the measured value being displayed as normal.
Single measurement
Following an external reset signal, the instrument calculates the measured quantity once. The display is
maintained until the falling edge of the next reset pulse.
The modes "external synchronisation" and "single measurement" are not possible with options K4 and K16.
Machine factor
Input in exponential notation
Mantisse: 0.001...9.999
Exponent: -4...0...+4
Technical Data
Display
5 digit, 7 segment red LED, height 14mm, leading zero suppression
Frequency range
0,1 Hz...50 kHz
Accuracy
Better than ±(4 x 105) ± 1 unit
Frequency inputs
Grounded on one side, input impedance approx. 200 kOhms
Input voltage
50 mV...80 Vrms
Trigger level
Adjustable between ±50 mV and ±4,55 V
Signal input
Facility for connecting electromagnetic, Ferrostat, HF transmitters & proximity switches
Sensor supply
12 V, max. 120 mA
Measuring time
Adjustable between 10 ms and 9.6 seconds in binary multiples or fractions of 0,6 s
(Fix time)
Environment
Operating temperature: 0...55 °C
Storage temperature: -25...+65°C
Dimensions
21 005 1603
Full technical details can be seen in the detailed technical specification.
JAQUET DFP 951
/ DFP 952
4/4
JAQUET TECHNOLOGY GROUP is your speed sensing specialist. We offer high quality, technically advanced speed sensing solutions that boost and protect the high
performance and efficiency of our customers' specific applications in wide variety of
industries.
JAQUET Mission Statement
To design, manufacture, market and service both standard and customised products
that detect, measure, control and interpret SPEED under any circumstances.
To create a competitive edge to our customers' applications, and secure high quality
and reliability standards.
To foster long term OEM and end user customer satisfaction by keeping a finger on
the pulse of market trends.
To be dedicated to excellence and continuously developing new innovative solutions
JAQUET Product Lines
• Speed sensors – standard – custom - intelligent
• Over / under speed protection systems and instruments
• Tachometers / speed measurement and switching instruments
• Application specific, complete speed sensing, measurement & diagnostic
systems.
JAQUET Markets
Our solutions are typically used in
• automotive,
• diesel and gas engines
• energy / power
• turbines & compressors
• hydraulics
• railway
• marine
JAQUET Quality Management
• ISO 9001
• QS 9000
12 005
21
00011603
3002
JAQUET Worldwide
JAQUET is headquartered in Basel, Switzerland and has 5 subsidiaries (Belgium, Germany, Netherlands, United Kingdom, United States) along with a worldwide distributor and end-user service network.
IN CHARGE OF SPEED
JAQUET TECHNOLOGY GROUP • Thannerstrasse 15 • 4009 Basel • Switzerland
Tel: +41 61 306 8822 • Fax +41 61 306 8818 • [email protected] • www.jaquet.com
www.jaquet.com
• industrial machinery markets.

* Your assessment is very important for improving the work of artificial intelligence, which forms the content of this project