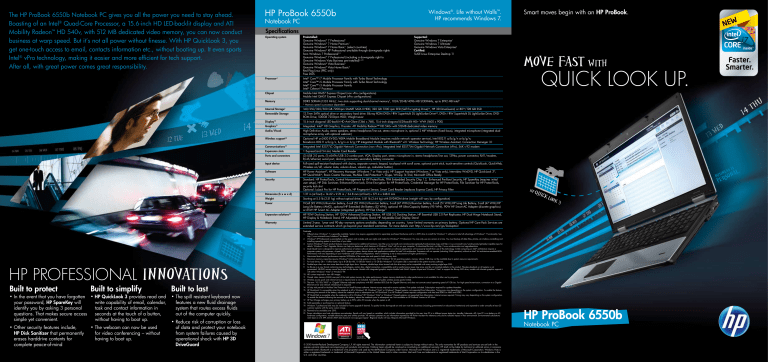 The HP ProBook 6550b Notebook PC gives you all the power you need to stay ahead.
Boasting of an Intel® Quad-Core Processor, a 15.6-inch HD LED-backlit display and ATI
Mobility Radeon™ HD 540v, with 512 MB dedicated video memory, you can now conduct
business at warp speed. But it's not all power without finesse. With HP QuickLook 3, you
get one-touch access to email, contacts information etc., without booting up. It even sports
Intel® vPro technology, making it easier and more efficient for tech support.
After all, with great power comes great responsibility.
HP ProBook 6550b
Notebook PC
Windows®. Life without Walls™.
HP recommends Windows 7.
Smart moves begin with an HP ProBook.
Specifications
Operating system
Preinstalled:
Genuine Windows® 7 Professional1
Genuine Windows® 7 Home Premium1 Genuine Windows® 7 Home Basic1 (select countries)
Genuine Windows® XP Professional available through downgrade rights from Windows 7 Professional1,2
Genuine Windows® 7 Professional (including a downgrade right to
Genuine Windows Vista Business pre-installed)1,3,19
Genuine Windows® Vista Business3
Genuine Windows® Vista Home Basic3
Red Flag Linux (PRC only)
Free DOS
Supported:
Genuine Windows 7 Enterprise1
Genuine Windows 7 Ultimate1
Genuine Windows Vista Enterprise3
Certified:
SUSE Linux Enterprise Desktop 11
Processor4 Intel®
Intel®
Intel®
Intel®
Chipset
Mobile Intel HM57 Express Chipset (non vPro configurations)
Mobile Intel QM57 Express Chipset (vPro configurations)
Memory
DDR3 SDRAM (1333 MHz)*, two slots supporting dual-channel memory5, 1024/2048/4096 MB SODIMMs, up to 8192 MB total6
Move fast with
Quick Look Up.
Core™ i7 Mobile Processor Family with Turbo Boost Technology
Core™ i5 Mobile Processor Family with Turbo Boost Technology
Core™ i3 Mobile Processor Family
Celeron® Processor
* Memory speed is processor dependent
Internal Storage7
160/250/320/500 GB 7200rpm SMART SATA II HDD, 320 GB 7200 rpm SED (Self Encrypting Drive)20, HP 3D DriveGuard; or 8020/128 GB SSD
Removable Storage
12.7mm SATA optical drive or secondary hard drive: Blu-ray ROM DVD+/-RW SuperMulti DL LightScribe Drive8,9, DVD+/-RW SuperMulti DL LightScribe Drive, DVDROM Drive; 500GB 7200rpm HDD; Weight saver
Display10 15.6-inch diagonal LED-backlit HD Anti-Glare (1366 x 768), 15.6-inch diagonal LED-backlit HD+ WVA (1600 x 900)
Graphics11
Integrated: Intel® HD Graphics, Discrete: ATI Mobility Radeon™ HD 540v with 512MB dedicated video memory
Audio/Visual
High Definition Audio, stereo speakers, stereo headphone/line out, stereo microphone in, optional 2 MP Webcam (fixed focus), integrated microphone (integrated dualmicrophone array with optional webcam)
Wireless support12
Optional HP un2420 EV-DO/HSPA Mobile Broadband Module (requires mobile network operator service), Intel 802.11 a/b/g/n or b/g/n;
Broadcom 802.11 a/b/g/n, b/g/n or b/g; HP Integrated Module with Bluetooth® v2.1 Wireless Technology; HP Wireless Assistant, Connection Manager 3.1
Communications13
Integrated Intel 82577LC Gigabit Network Connection (non vPro), Integrated Intel 82577LM Gigabit Network Connection (vPro), 56K v.92 modem
Expansion slots
1 ExpressCard/54 slot, Media Card Reader
Ports and connectors
(3) USB 2.0 ports, (1) eSATA/USB 2.0 combo port, VGA, Display port, stereo microphone in, stereo headphone/line out, 1394a, power connector, RJ-11/modem,
RJ-45/ethernet, serial port, docking connector, secondary battery connector
Input device
Full-sized spill-resistant keyboard with drains, separate numeric keypad, touchpad with scroll zone, optional point stick, touch-sensitive controls (QuickLook, QuickWeb,
Wireless on/off, volumn mute, volumn down, volumn up, calculator button)
Software
HP Power Assistant21, HP Recovery Manager (Windows 7 or Vista only), HP Support Assistant (Windows 7 or Vista only), Intervideo WinDVD, HP QuickLook 315,
HP QuickWeb16, Roxio Creator Business, McAfee Total Protection14, Skype, WinZip 14 Trial, Microsoft Office Ready
Security
Standard: HP ProtectTools, Central Management for HP ProtectTools, TPM Embedded Security Chip 1.2, Enhanced Pre-Boot Security, HP SpareKey (requires initial
user setup), HP Disk Sanitizer, Enhanced Drive Lock, Drive Encryption for HP ProtectTools, Credential Manager for HP ProtectTools, File Sanitizer for HP ProtectTools,
security lock slot
Optional: LoJack Pro for HP ProtectTools, HP Fingerprint Sensor, Smart Card Reader (replaces Express Card), HP Privacy Filter
Dimension (h x w x d)
1.37 in (at front) x 14.62 x 9.76 in / 34.8 mm (at front) x 371.4 x 248.0 mm
Weight
Starting at 5.5 lb (2.51 kg) without optical drive; 5.81 lb (2.64 kg) with DVD-ROM drive (weight will vary by configuration)
Power
9-Cell (93 WHr) Lithium-Ion battery, 6-cell (55 WHr) Lithium-Ion battery, 6-cell (47 WHr) Lithium-Ion battery, 6-cell (51 WHr) HP Long Life Battery, 3-cell (47 WHr) HP
Long Life Battery (AMO), optional HP Extended Life Battery (52 WHr), optional HP Ultra-Capacity Battery (95 WHr), 90W HP Smart AC Adapter (discrete graphics)
or 65W HP Smart AC Adapter (integrated grahics), HP Fast Charge17
Expansion solutions18
HP 90W Docking Station, HP 120W Advanced Docking Station, HP USB 2.0 Docking Station, HP Essential USB 2.0 Port Replicator, HP Dual Hinge Notebook Stand,
HP Display & Notebook Stand, HP Adjustable Display Stand, HP Adjustable Dual Display Stand
Warranty
Limited 3-year, 1year and 90-day warranty options available, depending on country, 1-year limited warranty on primary battery. Optional HP Care Pack Services are
extended service contracts which go beyond your standard warranties. For more details visit: http://www.hp.com/go/lookuptool
HP Q
UICK
LOO
K3
Footnote
HP PROFESSIONAL INNOVATIONS
Built to protect
Built to simplify
Built to last
• The webcam can now be used
for video conferencing – without
having to boot up.
• Reduce risk of corruption or loss
of data and protect your notebook
from system failures caused by
operational shock with HP 3D
DriveGuard
• In the event that you have forgotten • HP QuickLook 3 provides read and
your password, HP SpareKey will
write capability of email, calendar,
identify you by asking 3 personal
task and contact information in
questions. That makes secure access
seconds at the touch of a button,
simple yet convenient.
without having to boot up.
• Other security features include,
HP Disk Sanitizer that permanently
erases harddrive contents for
complete peace-of-mind
• The spill resistant keyboard now
features a new fluid drainage
system that routes excess fluids
out of the computer quickly.
1. Offered when Windows® 7 is generally available. System may require upgraded and/or separately purchased hardware and/or a DVD drive to install the Windows® 7 software to take full advantage of Windows® 7 functionality. See
http://www.microsoft.com/windows-7 for details
2. Windows® XP Professional is preinstalled on this system and includes end user rights and media for Windows® 7 Professional. You may only use one version at a time. You must backup all data (files, photos, etc.) before uninstalling and
installing operating system to avoid loss of your data.
3. Certain Windows® Vista® product features require advanced or additional hardware. See http:www.microsoft.com/windowsvista/getready/hardwarereqs.mspx and http://www.microsoft.com/windowsvista/getready/capable.mspx for
details. Windows® Vista® Upgrade Advisor can help you determine which features of Windows® Vista® will run on your computer. To download the tool, visit http://www.windowsvista.com/upgradeadvisor
4. Dual/Quad Core is designed to improve performance of certain software products. Not all customers or software applications will necessarily benefit from use of this technology. 64-bit computing on Intel® architecture requires a
computer system with processor, chipset, BIOS, operating system, device drivers and applications enabled for Intel® 64 architecture. Processors will not operate (including 32-bit operation) without an Intel® 64 architecture-enabled BIOS.
Performance will vary depending on your hardware and software configurations. Intel's numbering is not a measurement of higher performance.
5. Maximised dual-channel performance requires SODIMMs of the same size and speed in both memory slots.
6. Maximum memory capacities assume Windows® 64-bit operating systems or Linux. With Windows® 32 bit operating system, memory above 3 GB may not be available due to system resource requirements.
7. For hard drives, GB = 1 billion bytes. Up to 8 GB (for XP), 10 GB (for Vista®) or 15 GB (for Windows® 7) of system disk is reserved for the system recovery software.
8. Double-layer discs can store more data than single layer discs. However, double-layer discs burned with this drive may not be compatible with many existing single layer DVD.
9. As Blu-ray is a new format containing new technologies, certain disc, digital connection, compatibility and/or performance issues may arise, and do not constitute defects in the product. Flawless playback on all systems is not
guaranteed. HD-DVD movies cannot be played on this device. Models with integrated graphics require Mobile Intel GM45 Express chipset and Windows® Vista® to support the Blu-ray DVD drive; models with discrete graphics support it
with either Windows® Vista® or Windows® XP.
10. HD content required to view HD images.
11. Shared video memory (UMA) uses part of the total system memory for video performance. System memory dedicated to video performance is not available for other use by programs.
12. Wireless access point and internet service is required and is not included. Availability of public wireless access points limited.
13. The term "10/100/1000" or "Gigabit" Ethernet indicates compliance with IEEE standard 802.3ab for Gigabit Ethernet, and does not connote actual operating speed of 1GB/sec. For high speed transmission, connection to a Gigabit
Ethernet server and network infrastructure is required.
14. 60 day trial period for McAfee Total Protection for Small Business software. Internet access required to receive updates. First update included. Subscription required for updates thereafter.
15. HP QuickLook 3 is accessible when the notebook is off in Windows® XP, Windows® Vista® or Windows® 7-based systems; not supported from hibernation. Timing may vary depending on the system configuration. To enable the feature
following the removal of the battery, reboot the notebook prior to subsequent use. HP QuickLook 3 on HP ProBook S-series requires configuration with Intel and DDR3 or AMD and DDR2.
16. HP QuickWeb is accessible when the notebook is off in Windows® XP, Windows® Vista® or Windows® 7-based systems; not supported from hibernation. Internet access required. Timing may vary depending on the system configuration.
To enable the feature following the removal of the battery, reboot the notebook prior to subsequent use. Not available on HP ProBook S-series or HP Minis.
17. HP Fast Charge recharges your primary battery up to 90% within 90 minutes when the system is off.
18. Sold separately or purchased as an optional feature.
19. Windows 7 professional disk may be included for future upgrade if desired. To quality for this downgrade an end user must be a business (including governmental or educational institutions) and expected to order annually at least 25
customer systems with the same custom image.
20. Planned to be available June 2010.
21. Power calculations and cost calculations are estimates. Results will vary based on variables, which include information provided by the user, time PC is in different power states (on, standby, hibernate, off), time PC is on battery or AC,
hardware configuration, variable electricity rates and utilities provider. HP advises customers to use information reported by HP Power Assistant for reference only and to validate impact in their environment. Environmental calculations
were base on U.S. EPA eGride 2007 data found at www.epa.gov/egrid/. Regional results will vary. Requires Microsoft Windows.
HP ProBook 6550b
Notebook PC
© 2010 Hewlett-Packard Development Company, L.P. All rights reserved. The information contained herein is subject to change without notice. The only warranties for HP products and services are set forth in the
express warranty statements accompanying such products and services. Nothing herein should be construed as constituting an additional warranty. HP shall not be liable for technical or editorial errors or omissions
contained herein. Bluetooth is a trademark of its proprietor and used by Hewlett-Packard Company under license. Microsoft and Windows are U.S. registered trademarks of Microsoft Corporation. Windows Vista is
either a registered trademark or trademark of Microsoft Corporation in the United States and/or other countries. Intel and Core are trademarks or registered trademarks of Intel Corporation or its subsidiaries in the
U.S. and other countries.
Move fast with
Quick Look Up
The HP ProBook 6550b Notebook PC boasts a sleek
design that packs an array of features normally reserved
for more expensive notebooks.
HP ProBook 6550b Notebook PC
2MP Webcam
(optional)
HP offers you a comprehensive range of accessories to
enhance and enrich your computing experience.
HP 90W Docking Station
Part No: VB041AA
Memory – Extract maximum performance from your notebook.
HP Memory DDR3
1333 MHz
Part No:
2GB - AT912AA
Up to 1.6 GHz – the new Intel Core i7
processors
™
4GB - AT913AA
Intel® vPro technology helps businesses cut costs and
increase efficiency by taking advantage of intelligent
performance and unique hardware assisted security
and manageability features.
Part No: AX727AA
• Energy-efficient power adapters designed to draw minimal power.
Power solution – The stamina to stay in the field longer.
HP Long Life Battery
Part No: AU213AA#UUF
Touchpad with scroll zone
Media Card Reader
Full-size, spill-resistant keyboard
with drain
• The HP Long Life Battery has a lifespan which is up to three times longer than most
Li-Ion notebook batteries, maintaining 80% of original charge for up to 3 years, and
helps businesses reduce the overall cost of investing in batteries.
• Three year limited warranty.
HP 8-cell Extended
Life Battery
Part No: AJ359AA
HP/Kensington Security
Cable Lock
HP Notebook Projector
Companion
Left view
Vent
Display port
Hard drive activity LED indicator
• Stay productive longer without adding significant weight.
• Sleek form factor allows notebook or tablet to be docked to enjoy the use of
additional ports and devices.
Security options – Keeping your data and notebook safe.
Part No: AX325AA
Wireless switch with LED indicator
• Comes with a USB power port that can be used to power or charge USB devices.
• Integrated suge protection to guard against power fluctuations.
Part No: PC766A
Serial port
• Thoroughly tested and qualified ensuring the highest reliability for your HP notebook.
• HP is committed to protecting the environment. New technology reduces overall
battery waste by requiring fewer batteries to be used over the life of the notebook.
Intel vPro technology
Front view
• More cost effective than upgrading the processor or adding a hard drive.
• Optimised slim form factor makes for an ideal travel companion.
®
Right view
• Faster start-up times with fewer delays during routine operations.
• Adapters can be leveraged across multiple HP Business Notebook platforms for a
convenient, worry-free experience.
With the low-profile 15.6-inch diagonal, 16:9 HD LEDbacklit display, you get improved brightness, contrast
and clarity from a screen that is more power-efficient
than regular LCD screens.
Separate numeric
keypad
• Maximise system performance by reducing bottlenecks caused by memory-intensive
applications.
HP 65W Slim
AC Adapter
Widescreen HD display with LED backlit
HP QuickLook 3
and HP QuickWeb
buttons
• Protect your investment with certified and warranted HP Memory.
Adaptor solution – Power and charge your battery simultaneously.
Experience new levels of system responsiveness when
running multiple applications and smarter battery
performance designed to help extend mobility.
15.6-inch diagonal,
LED-backlit HD display
• Ports and connectors include 4 USB, 2 PS/2, Serial, Parallel, Display Port, VGA,
Dual-link DVI, audio, Ethernet and modem.
• Features a new energy-efficient 90W Smart AC adapter that guards against power
fluctuations with integrated surge protection.
1GB - AT911AA
®
• Easy-to-use docking station provides port replication and cable management.
• Optional integrated HP/Kensington Cable Lock.
The keyboard's innovative layout provides a visually open
and spacious keyboard with keys raised from the surface,
resulting in fewer places for dirt and dust to gather,
making it easy to clean.
WWAN antennas
(select models)
Notebook docking solution – Turn your notebook into a desktop.
• Optional HP Docking Station Cable Lock.
New sleek and maintenance-free full-sized
spill-resistant keyboard with drain
KEY FEATURES
Integrated
microphone
HP UNIVERSAL ACCESSORIES
A brand new business style
Windows®. Life without Walls™.
HP recommends Windows 7.
ExpessCard/54 slot
• Physically secure your notebook and docking accessories.
• Can be used as a regular cable security lock for any notebook PC.
Make a big impression on your next presentation.
• Ultra portable projector - only 0.42kg.
• DLP technology at 858 x 600 (SVGA) resolution and 100 lumens brightness for
excellent sharpness and brightness.
• LED light source allows up to 10,000 hours (or approx. 5 years of usage life) and
lowers total ownership costs since it does not use conventional bulbs.
• Share the same power supply as your HP notebook so it's easier to travel with.
Case – Stylish protection for your notebook.
USB 2.0 port
Optical drive
1394a port
Stereo speaker
USB 2.0 ports
eSata/USB 2.0
comboports
Headphone jack
Microphone jack
HP Business Nylon
Backpack
Part No: BP849AA
• Sturdy, all-purpose backpack for professionals and students on the move.
• Constructed from durable nylon, with extra padding in the back and shoulder straps
for extra comfort.
• Ample room for materials and books in the three zippered sections, plus an external
slot for a cell phone or PDA.

* Your assessment is very important for improving the work of artificial intelligence, which forms the content of this project