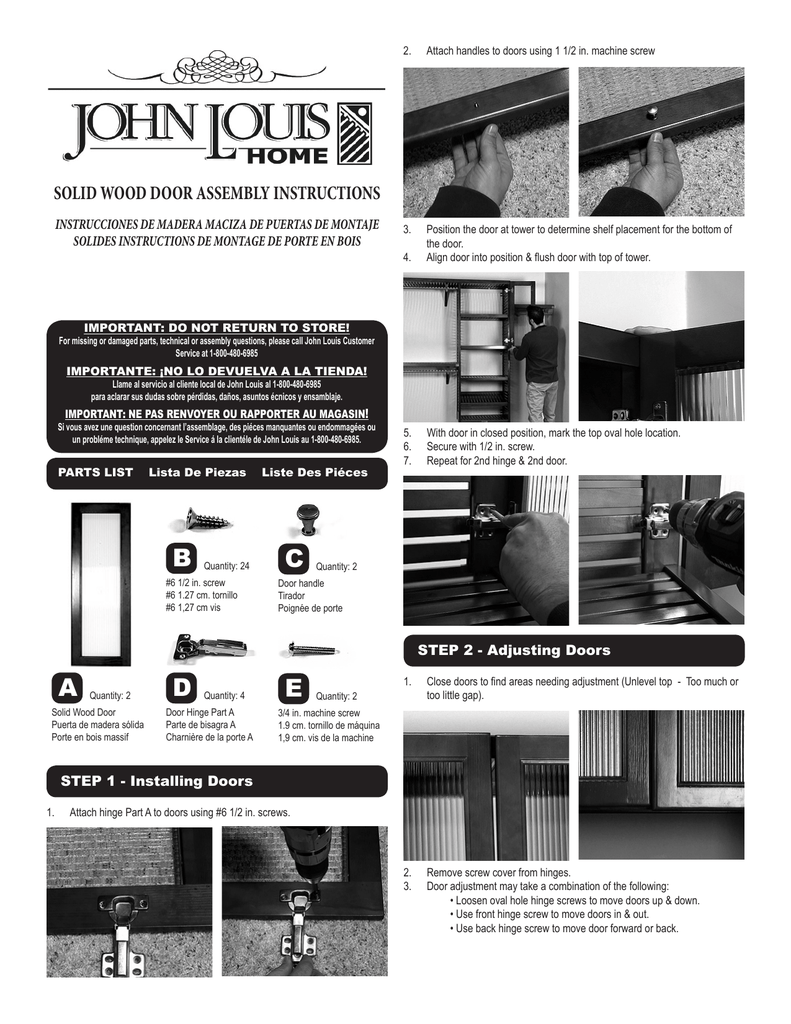 2.
Attach handles to doors using 1 1/2 in. machine screw
3.
4.
Position the door at tower to determine shelf placement for the bottom of
the door.
Align door into position & flush door with top of tower.
5.
6.
7.
With door in closed position, mark the top oval hole location.
Secure with 1/2 in. screw.
Repeat for 2nd hinge & 2nd door.
SOLID WOOD DOOR ASSEMBLY INSTRUCTIONS
INSTRUCCIONES DE MADERA MACIZA DE PUERTAS DE MONTAJE
SOLIDES INSTRUCTIONS DE MONTAGE DE PORTE EN BOIS
IMPORTANT: DO NOT RETURN TO STORE!
For missing or damaged parts, technical or assembly questions, please call John Louis Customer
Service at 1-800-480-6985
IMPORTANTE: ¡NO LO DEVUELVA A LA TIENDA!
Llame al servicio al cliente local de John Louis al 1-800-480-6985
para aclarar sus dudas sobre pérdidas, daños, asuntos écnicos y ensamblaje.
IMPORTANT: NE PAS RENVOYER OU RAPPORTER AU MAGASIN!
Si vous avez une question concernant l'assemblage, des piéces manquantes ou endommagées ou
un probléme technique, appelez le Service á la clientéle de John Louis au 1-800-480-6985.
PARTS LIST
Lista De Piezas
B
Quantity: 24
#6 1/2 in. screw
#6 1.27 cm. tornillo
#6 1,27 cm vis
Liste Des Piéces
C
Quantity: 2
Door handle
Tirador
Poignée de porte
STEP 2 - Adjusting Doors
A
Quantity: 2
Solid Wood Door
Puerta de madera sólida
Porte en bois massif
D
Quantity: 4
Door Hinge Part A
Parte de bisagra A
Charnière de la porte A
E
Quantity: 2
1.
Close doors to find areas needing adjustment (Unlevel top - Too much or
too little gap).
2.
3.
Remove screw cover from hinges.
Door adjustment may take a combination of the following:
• Loosen oval hole hinge screws to move doors up & down.
• Use front hinge screw to move doors in & out.
• Use back hinge screw to move door forward or back.
3/4 in. machine screw
1.9 cm. tornillo de máquina
1,9 cm. vis de la machine
STEP 1 - Installing Doors
1.
Attach hinge Part A to doors using #6 1/2 in. screws.
PASO 1 – Instalación de puertas
4.
5.
1.
Fije la parte A de la bisagra a las puertas con tornillos N.º6 de 1.27 cm.
2.
Fije las manijas a las puertas con 1 tornillo para metales de 3.81 cm.
3.
4.
Coloque la puerta en la torre para determinar la ubicación de los estantes
para la parte inferior de la puerta.
Ubique la puerta alineada al ras de la parte superior de la torre.
5.
6.
7.
Con la puerta cerrada, marque el lugar del orificio ovalado superior.
Fije con un tornillo de 1.27 cm.
Repita estos pasos para la segunda bisagra y la segunda puerta.
After adjusting doors, secure hinges to tower using 1/2 in. screws at hole
locations.
Snap screw cover onto hinges.
STEP 3 - Quick Release Hinge
Remove doors by quick release to add or adjust shelves
1. Pull on back lever to remove hinge.
2. Snap back into place to secure hinge.
PASO 2 – Regulación de las puertas
1.
Cierre las puertas para detectar las áreas que necesiten regularse (parte
superior no nivelada - mucho o poco espacio libre).
2.
3.
Quite la cubierta de los tornillos de las bisagras.
La regulación de las puertas puede implicar una combinación de lo
siguiente:
• Aflojar los tornillos de las bisagras colocados en los orificios ovalados para subir o bajar las puertas.
• Usar el tornillo frontal de las bisagras para mover las puertas hacia
adentro o hacia afuera.
• Usar el tornillo posterior de las bisagras para mover las puertas hacia
adelante o hacia atrás.
ÉTAPE 1 - Installation des portes
4.
5.
1.
Fixez la charnière Partie A aux portes à l'aide de vis de 12,5 mm #6.
2.
Fixez les poignées aux portes à l'aide de vis à métal de 38 mm.
3.
Placez la porte sur la colonne pour déterminer l'emplacement de l'étagère
à partir du bas de la porte.
Alignez la porte en position et alignez la porte avec le haut de la colonne.
Luego de regular las puertas, fije las bisagras a la torre colocando tornillos
de 1.27 cm en los orificios.
Coloque la cubierta de los tornillos en las bisagras hasta oír un chasquido.
4.
PASO 3 – Bisagra de desenganche rápido
Retire las puertas mediante el mecanismo de desenganche rápido para agregar
o regular los estantes.
1. Tire la palanca trasera para quitar la bisagra.
2. Vuelva a colocar en su lugar hasta oír un chasquido para fijar la bisagra.
5.
6.
7.
La porte étant en position fermée, marquez le trou ovale du haut
Fixez avec une vis de 12,5 mm.
Répétez pour la 2ème charnière et la 2ème porte.
4.
5.
Après l'ajustement des portes, fixez les charnières à la colonne à l'aide des
vis de 12,5 mm dans les trous.
Replacez les couvertures de vis sur les charnières.
ÉTAPE 3 - Charnière à dégagement rapide
ÉTAPE 2 - Ajustement des portes
1.
Fermez les portes pour trouvez les endroits nécessitant un ajustement
(haut inégal - Trop ou pas suffisamment d'espace)
2.
3.
Retirez les couvertures de vis des charnières.
L'ajustement de porte peut nécessiter une combinaison des actions
suivantes :
• Desserrez les vis de charnière du trou ovale pour déplacer les portes
vers le haut ou le bas.
• Utilisez la vis de charnière avant pour déplacer les portes vers
l'intérieur ou l'extérieur.
• Utilisez la vis de charnière arrière pour déplacer les portes vers
l'avant ou l'arrière.
Retirez les portes par dégagement rapide pour ajouter ou ajuster des étagères
1. Tirez sur le levier arrière pour retirer la charnière.
2. Remettez en place pour fixer la charnière.
For questions concerning missing or damaged parts, technical specs and / or
assembly help, please contact John Louis Home Customer Service at:
Si tiene preguntas sobre partes faltantes o dañadas, especificaciones técnicas o
asistencia para el armado, comuníquese con el Servicio al Cliente de John Louis
Home:
Pour toute question relative à des pièces manquantes ou endommagées, toute
spécification technique et/ou aide au montage, contactez le service après-vente
de John Louis Home au :
1.800.480.6985
service@johnlouishome.com
www.johnlouishome.com
John Louis Home
4301 Rider Trail North Suite 150
Earth City, Missouri 63045 USA
© 2012 John Louis Inc., All Rights Reserved.

* Your assessment is very important for improving the work of artificial intelligence, which forms the content of this project