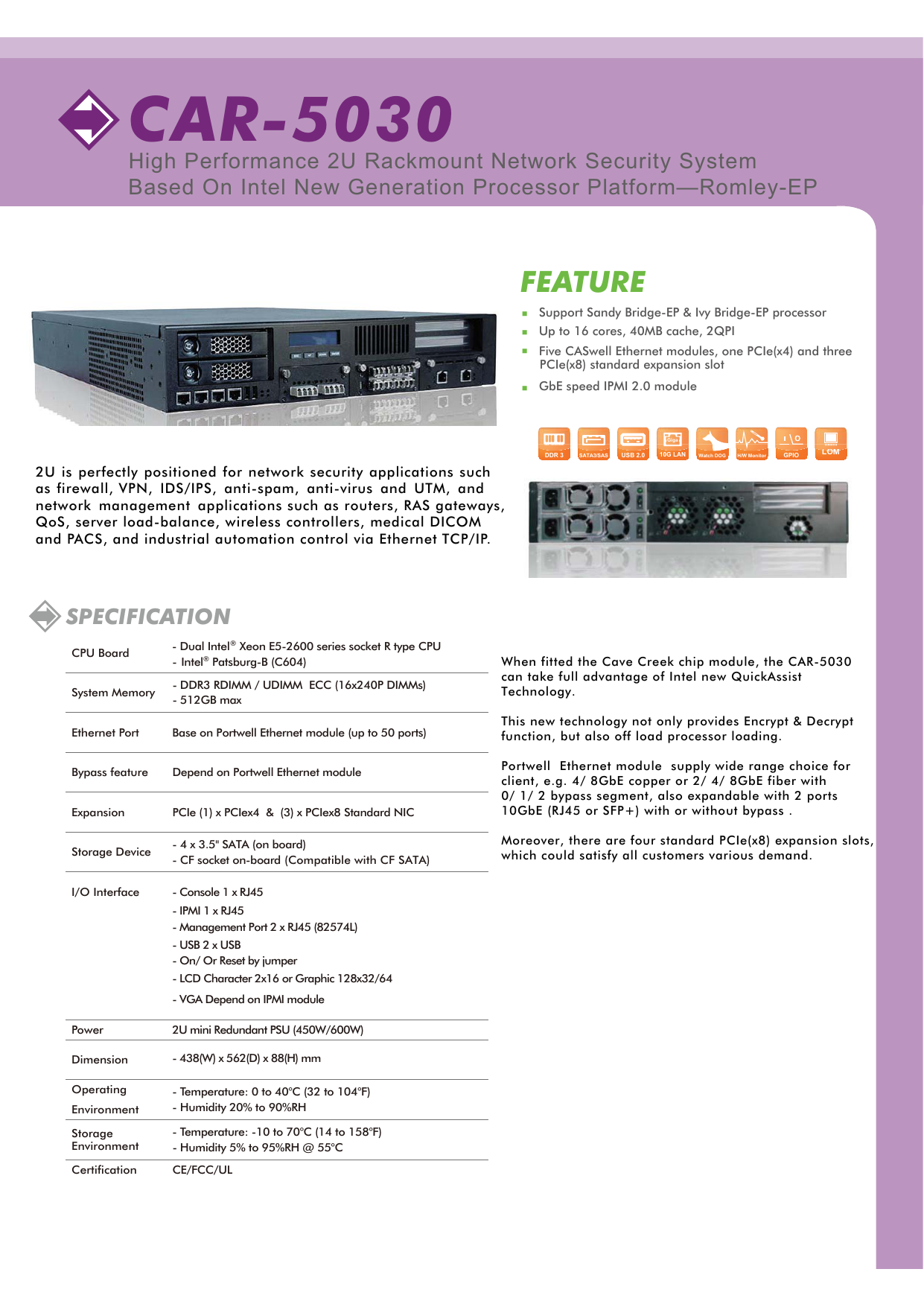 CAR-5030
High Performance 2U Rackmount Network Security System
Based On Intel New Generation Processor Platform—Romley-EP
FEATURE
"
"
Support Sandy Bridge-EP & Ivy Bridge-EP processor
Up to 16 cores, 40MB cache, 2QPI
"
Five CASwell Ethernet modules, one PCIe(x4) and three
PCIe(x8) standard expansion slot
"
GbE speed IPMI 2.0 module
Giga
DDR 3
SATA3/SAS
USB 2.0
10G LAN
Watch DOG
H/W Monitor
GPIO
LOM
2U is perfectly positioned for network security applications such
as firewall, VPN, IDS/IPS, anti-spam, anti-virus and UTM, and
network management applications such as routers, RAS gateways,
QoS, server load-balance, wireless controllers, medical DICOM
and PACS, and industrial automation control via Ethernet TCP/IP.
SPECIFICATION
CPU Board
- Dual Intel® Xeon E5-2600 series socket R type CPU
- Intel® Patsburg-B (C604)
System Memory
- DDR3 RDIMM / UDIMM ECC (16x240P DIMMs)
- 512GB max
Ethernet Port
Base on Portwell Ethernet module (up to 50 ports)
Bypass feature
Depend on Portwell Ethernet module
Expansion
PCIe (1) x PCIex4 & (3) x PCIex8 Standard NIC
Portwell Ethernet module supply wide range choice for
client, e.g. 4/ 8GbE copper or 2/ 4/ 8GbE fiber with
0/ 1/ 2 bypass segment, also expandable with 2 ports
10GbE (RJ45 or SFP+) with or without bypass .
Storage Device
- 4 x 3.5" SATA (on board)
- CF socket on-board (Compatible with CF SATA)
Moreover, there are four standard PCIe(x8) expansion slots,
which could satisfy all customers various demand.
I/O Interface
- Console 1 x RJ45
- IPMI 1 x RJ45
- Management Port 2 x RJ45 (82574L)
- USB 2 x USB
- On/ Or Reset by jumper
- LCD Character 2x16 or Graphic 128x32/64
- VGA Depend on IPMI module
Power
2U mini Redundant PSU (450W/600W)
Dimension
- 438(W) x 562(D) x 88(H) mm
Operating
Environment
- Temperature: 0 to 40°C (32 to 104°F)
- Humidity 20% to 90%RH
Storage
Environment
- Temperature: -10 to 70°C (14 to 158°F)
- Humidity 5% to 95%RH @ 55°C
Certification
CE/FCC/UL
When fitted the Cave Creek chip module, the CAR-5030
can take full advantage of Intel new QuickAssist
Technology.
This new technology not only provides Encrypt & Decrypt
function, but also off load processor loading.

* Your assessment is very important for improving the work of artificial intelligence, which forms the content of this project