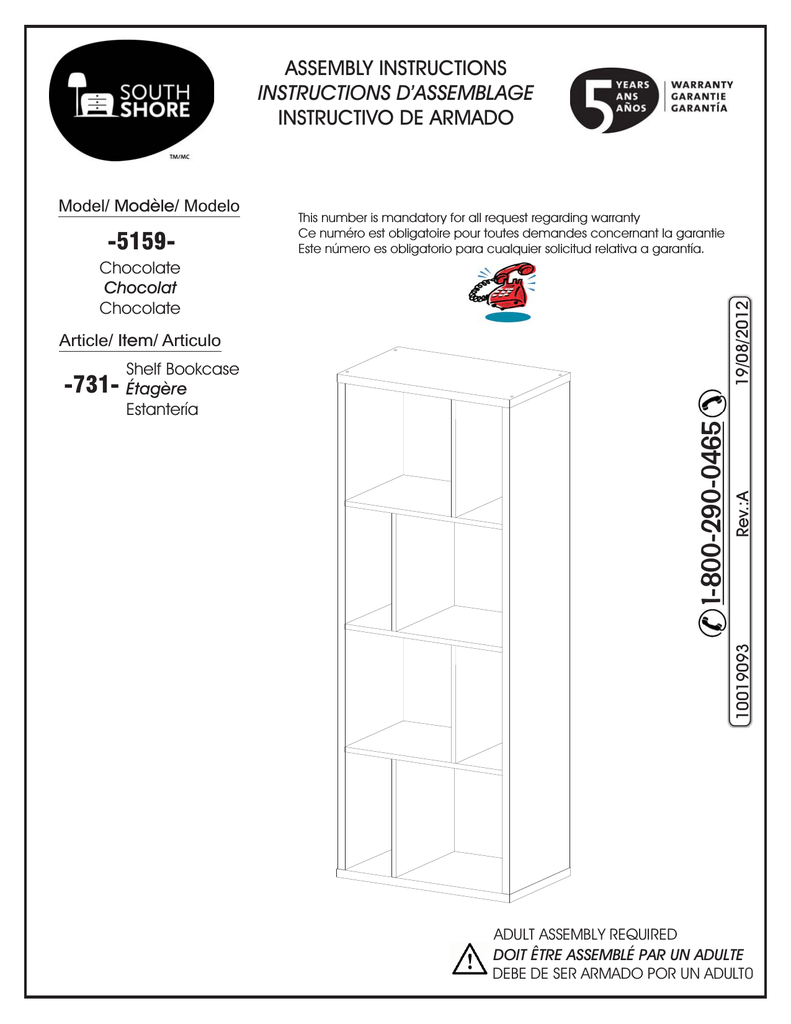 ASSEMBLY INSTRUCTIONS
INSTRUCTIONS D'ASSEMBLAGE
INSTRUCTIVO DE ARMADO
-5159-
This number is mandatory for all request regarding warranty
Ce numéro est obligatoire pour toutes demandes concernant la garantie
Este número es obligatorio para cualquier solicitud relativa a garantía.
19/08/2012
Chocolate
Chocolat
Chocolate
Article/ Item/ Articulo
10019093
1-800-290-0465
-731-
Shelf Bookcase
Étagère
Estantería
Rev.:A
Model/ Modèle/ Modelo
ADULT ASSEMBLY REQUIRED
DOIT ÊTRE ASSEMBLÉ PAR UN ADULTE
DEBE DE SER ARMADO POR UN ADULT0
Use of tip-over restraints only
reduce, but not eliminate, the risk
of tip-over.
at a time.
• Never open more than one drawer
hang on drawers, doors, or shelves.
objects on the top of this product.
Never allow children to climb or
• Do not set TVs or other heavy
drawers.
• Place heaviest items in the lowest
can occur from furniture tip-over.
To help prevent tip-over:
Serious or fatal crushing injuries
WARNING
La vocadura del mueble puede ser
causa de lesiones graves o de un
Atropellamiento fatal.
Para evitar la volcadura:
• Ponga las cosas pesadas en los
cajones más bajos.
• No ponga televisores u otros
objetos pesados encima de este
producto.
Nunca permita que un niño se
Suba o se cuelgue en cajones,
puertas o estantes.
• Nunca abra más de un cajón a la
vez.
El uso de sujetadores para evitar
La volcadura sólo puede disminuir
el riesgo de una volcadura,
Pero no lo elimina.
• Placer les items les plus lourds
dans les tiroirs du bas.
• Ne pas placer de TV ou d'autres
objets lourds sur ce produit.
Ne jamais laisser un enfant grimper
sur les tiroirs, les portes et les
tablettes ou s'accrocher à ceux-ci.
• Ne jamais ouvrir plus d'un tiroir à
la fois.
L'utilisation de dispositif antibasculement ne peut que réduire
les risques de basculement, sans
les éliminer totalement.
ADVERTENCIA
Des blessures graves ou fatales
peuvent résulter du basculement
du meuble.
Afin d'éviter le basculement :
AVERTISSEMENT
-01-
-03-
N.B.: It is important to carefully read the instructions
before beginning the assembly.
Keep the assembly instructions for future use and for warranty purposes.
-01-
N.B. Il est important de bien lire les instructions
avant de commencer l'assemblage.
Gardez les instructions d'assemblage pour utilisation future et pour la garantie,
N.B. Lea con detenimiento las instrucciones
antes de comenzar a ensamblar su mueble.
Guarde el instructivo de ensamble para un futuro uso y para usos de garantía.
* TOOLS REQUIRED/OUTILS REQUIS/HERRAMIENTAS REQUERIDAS:
- HAMMER/MARTEAU/MARTILLO
- STANDARD/PLAT/PLANO
- PHILLIPS/ÉTOILE/CRUZ
or/ou/o
- ROBERTSON/CARRÉ/CUADRADO
-731-
A
RIGHT SIDE
CÔTÉ DROIT
LADO DERECHO
F
H
G
C
F
H
C
G1
F
H
G
F
LEFT SIDE
CÔTÉ GAUCHE
LADO IZQUIERDO
H
A
HARDWARE / QUINCAILLERIE / FERRETERÍA
#6
6X
8X
4X
#170
#144
4X
#411
24X
8X
#231
#158
4X
#171
#161
20X
-438-
Each contain
Chacun contient
Cada uno contiene
#438-2
#438-1
1X
1X
#438-4
#438-3
2X
* Hardware package may have spare parts .
1X
* Le sac de quincaillerie peut contenir des pièces de remplacement .
* La bolsa de herraje puede contener piezas adicionales de repuesto .
1
#144
4X
#114
C(2)
2
#411
24X
#411
H(4)
G(2)
3
#231
20X
#231
F(4)
C(2)
4
#158
4X
#158
G1
#158
5
G1
H
#158
6
G1
H
G
F
7
G1
H
8
G1
H
G
F
9
#171
2X
G
G1
G
C
#158
-158-171-
10
#171
2X
G
G1
G
C
#158
-158-171-
11
G
H
12
#161
4X
#170
4X
G
C
C
H
A
F
-161-170-
13
G
H
14
#161
4X
#170
4X
G
C
C
H
A
F
-161-170-
#6
6X
-6Pull the paper off.
Enlever le papier.
Quitar el papel.
-01-
-Safety bracket installation, according to the position of the furniture.
-Installation de l'équerre de sécurité, en fonction de la position du mobilier.
-Instalación del escuadra de seguridad, segun la posición del mueble.
Wall/
Mur/
Muro
438-4
438-3
Aproximately 2
A..
Aproximadamente 2
438-2
438-1
-01-
Wall/
Mur/
Muro
T O PREVENT THE UNIT FALLING ON CHILDREN
Locate a stud in the wall behind the unit.
Screw 438-3 under the top with 438-4. And with 438-1 into the solid part of the wall. Ensure the brackets with 438-2.
If the safety brak et is not in the box, please contact the consumers service in order to obtain another one before using the furniture.
•POUR EMPÊCHER LE MEUBLE DE BASCULER SUR LES ENFANTS
Localiser un colombage, dans la largeur du meuble.
Visser 438-3 sous le dessus du meuble avec 438-4. Et avec 438-1, dans la partie solide du mur. Assure que les supports avec 438-2.
•Si le crochet est absent, veuillez contacter notre service aux consommateurs pour obtenir cette pièce avant l'utilisation
POR IMPEDIR QUE EL MUEBLE VOLQUE SOBRE LOS NIÑOS.
Localizar una viga, en la anchura del mueble.
Atornillar 438-3 debajo la pieza del encima con 438-4. Y con 438-1, en la parte sólida del muro. Asegurar las escuadras con 438-2.
Si falta el gancho de seguridad , deba ponerse en contacto con nuestro servicio al cliente para obtener un gancho antes de utilizar el mueble.
GARANTIE LIMITÉE DE 5 ANS
1.South ShoreMR garantizan al comprador original, por un
período de 5 años a partir de la fecha de compra, todas las
piezas que componen el mueble contra los «defectos» de
material y mano de obra.
2.La palabra «defecto» utilizada en esta garantía se define como
toda imperfección que pueda alterar la utilidad para la cual se
destina el producto.
3.Esta garantía se limita estrictamente a la reparación o
reemplazo de las piezas que tengan componentes defectuosos.
Esta garantía no incluye cualquier gasto directo o indirecto hasta
el límite permitido por la legislación vigente en su lugar de
residencia.
4.En el caso de una reclamación referente a un producto o pieza
descontinuada, South ShoreMR se compromete a reembolsar
el valor del producto o pieza en cuestión.
5.A falta de poder suministrar la pieza de repuesto, la
responsabilidad de South ShoreMR no puede exceder el valor
equivalente al costo de producción de la pieza en litigio.
6.Esta garantía se aplica bajo las condiciones de uso doméstico
normal y no cubre los defectos que puedan resultar de un uso
comercial, daños intencionales, negligencia, uso abusivo,
modificaciones personales, un accidente, exposicíon a los
elementos y mantenimiento sin respetar los consejos que se
describen en este sitio web.
7.Como condición para suministrar una pieza de repuesto,
South ShoreMR se reservan el derecho de verificar el fundamento
de la solicitud, así como de exigir la prueba de compra del
comprador original.
8.Esta garantía sólo será válida si la compra se efectuó en una
tienda autorizado por Muebles South ShoreMR de canadá,
estados Unidos, México, Puerto rico o las Bermudas.
9.Esta garantía define los límites de la responsabilidad de
South ShoreMR y otorga el comprador original los derechos
específicos. Cualquier garantía legislativa que prevalece en su
lugar de residencia está límitada a un período de 5 años. Si esta
restricción no está permitida por la legislación de su lugar de
residencia, ésta no se aplica.
10.South ShoreMR no hará ningún rembolso por muebles
defectuosos, pero le enviará uno de valor equivalente.
GARANTIA LIMITADA DE 5 AÑOS
6168, Rue Principale, C.P. 190
SAINTE-CROIX, QUÉBEC
CANADA, G0S 2H0
CANADA / USA
1-800-290-0465
fg
sdfviojsdfoij
jgvisofdivipjgv
shdf;isudhfpiu sfdougliufhglis
hsdg;iuhsdg dfuhjgiuhsggf
oijfgoàsijf`kdjg
v
gr87f08g3nt
FAX: 1-877-586-5339
(CANADA / USA)
toll free number / lada sin costo
001-800-514-5320
MEXICO
E-MAIL: service@southshore.ca
WEB: www.southshore.ca
INTERNATIONAL
418-926-2961
CUSTOMERS SERVICE / SERVICE À LA CLIENTÈLE / SERVICIO AL CLIENTE
1.Meubles South ShoreMC garantit à l'acheteur original, pour
une période de 5 ans à partir de la date d'achat, toutes les
composantes des meubles contre les «défauts» de matériaux et
de main- d'œuvre.
2.Le mot «défaut» utilisé dans cette garantie signifie une
imperfection pouvant altérer l'utilité pour laquelle le produit
est destiné.
3.Cette garantie se limite strictement à la réparation ou au
remplacement des pièces composantes défectueuses. Cette
garantie exclut tous les autres frais et dépenses directs ou
indirects et ce, jusqu'à la limite permise par la législation en
vigueur dans votre lieu de résidence.
4.Dans le cas d'une réclamation concernant un produit ou une
pièce discontinué, Meubles South ShoreMC s'engage à
rembourser la valeur du produit ou de la pièce en question.
5.À défaut de pouvoir fournir la pièce de remplacement,
la responsabilité de Meubles South ShoreMC ne peut excéder la
valeur équivalente au coût de production de la pièce en litige.
6.Cette garantie s'applique sous des conditions d'usage
domestique normal et ne couvre pas les défauts pouvant résulter
d'un usage commercial, de dommages intentionnels, de la
négligence, de l'usage abusif, de modifications personnelles,
d'un accident, de l'exposition aux éléments ou d'un entretien ne
respectant pas les conseils décrits sur notre site Internet.
7.Comme condition pour fournir une pièce de remplacement,
Meubles South ShoreMC se réserve le droit de vérifier le
fondement de la requête, de même que d'exiger la preuve
d'achat de l'acheteur original.
8.Cette garantie n'est valide que si et seulement si l'achat a été
effectué chez un marchand autorisé par Meubles South ShoreMC
au canada, aux États-Unis, au Mexique, à Puerto rico et
aux Bermudes.
9.Cette garantie définit les limites de la responsabilité de
Meubles South ShoreMC et donne à l'acheteur original des droits
spécifiques. Toute garantie législative prévalant dans votre lieu de
résidence est limitée à une période de 5 ans. Si cette restriction
Afin de bénéficier de votre garantie, nous vous invitons à remplir n'est pas permise par la législation de votre lieu de résidence,
le formulaire d'enregistrement en ligne (meublesrivesud.com)
elle ne s'applique pas.
10.Meubles South ShoreMC ne remboursera pas un meuble
Para obtener su garantìa, tenga a bien llenar nuestro formulario défectueux, mais le remplacera par un autre de valeur
en lìnea (southshorefurniture.com)
équivalente.
1. South ShoreTM Furniture provides the original buyer with a
warranty covering "defects" on furni-ture parts and workmanship
for a period of 5 years from the date or purchase.
2. The word "defect" as used in this warranty is defined as any
imperfection that may impair the intended use of the product.
3. This warranty is strictly limited to the repair or replacement of
defective component parts, and excludes all other direct or
indirect charges and expenses up to the limit permitted by law
in your state/province.
4. In the case of a discontinued part or product, South ShoreTM
Furniture promises to reimburse the value of that part or product.
5. If a replacement part is unavailable, South ShoreTM Furniture's
liability to the buyer will not exceed the production cost of the
part in question.
6. This warranty only applies under conditions of normal domestic
use. It does not cover defects resulting from commercial use,
intentional damage, negligence, abuse, product modification,
accidents, exposure to the elements, or maintenance that does
not comply with the guidelines on our website.
7. To honor this warranty, South ShoreTM Furniture reserves the
right to verify the grounds of any request and to ask for the
original buyer's proof of purchase.
8. This warranty is only valid on purchases made at authorized
South ShoreTM Furniture retailers in canada, the U.S., Mexico,
Puerto rico and Bermuda.
9. This warranty defines the limits of South ShoreTM Furniture's
liability, and entitles the original buyer to specific rights. Any
warranty defined by law in your state/province is limited to a
period of 5 years. If the law in your state/province prohibits this
restriction, then it does not apply.
10. South ShoreTM Furniture will not reimburse defective furniture,
but will replace it with an item of equivalent value.
--------------------------------------------------------------------------------------To qualify for your warranty, please take a moment to fill out our
on-ligne registration form (southshorefurniture.com)
5 YEAR LIMITED WARRANTY
-01-
-02-
MAINTENANCE TIPS / CONSEILS D'ENTRETIEN / CONSEJOS DE MANTENIMIENTO
- Never let liquids or damp cloths sit on this furniture.
- Ne jamais laisser de liquide ou linge humide sur le meuble.
- Nunca deje un líquido o un trapo húmedo sobre el mueble.
- Never use chemical cleaning products. They can damage the finish. For cleaning,
use only a slightly damp cloth and wipe dry.
- Ne jamais utiliser de nettoyeurs à base de produits chimiques,
cela va endommager le fini. Utiliser seulement un linge légèrement humide.
- Nunca utilice limpiadores a base de químicos, estos dañaran el acabado. Use sólo
un paño húmedo.
- To avoid dulling of the finish, do not place furniture in direct sunlight.
- Ne pas placer le meuble directement au soleil pour prévenir le ternissement.
- No exponga el mueble directamente al sol para prevenir empañamiento.
- Do not put plastic or rubber rings under appliances.
Use cloth of felt protectors.
- Évitez de déposer des appareils avec des rondelles de plastique ou de caoutchouc.
Utilisez un protecteur en tissu ou en feutre.
- Evite apoyar aparatos con redondeles de plástico o de goma.
Utilizar un protector de tela o de fieltro.
- To clean, use a soft or slightly damp cloth, then wipe with a clean, dry cloth.
- Pour nettoyer, utilisez un linge doux ou légèrement humecté.
Essuyez par la suite avec un linge propre et sec.
- Para limpiar, utilice un trapo suave o ligeramente humedecido.
Seque luego con un trapo limpio y seco.