Ferrule fuse-links 22x58 gG 500 to 690VAC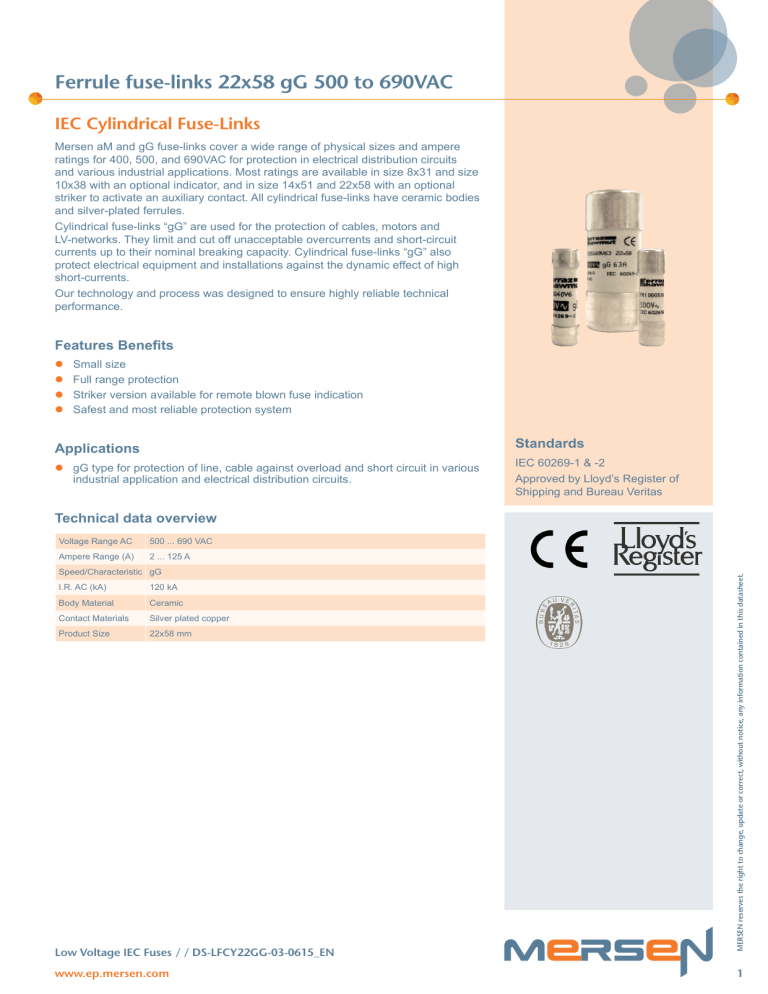 Ferrule fuse-links 22x58 gG 500 to 690VAC
IEC Cylindrical Fuse-Links
Mersen aM and gG fuse-links cover a wide range of physical sizes and ampere ratings for 400, 500, and 690VAC for protection in electrical distribution circuits and various industrial applications. Most ratings are available in size 8x31 and size
10x38 with an optional indicator, and in size 14x51 and 22x58 with an optional striker to activate an auxiliary contact. All cylindrical fuse-links have ceramic bodies and silver-plated ferrules.
Cylindrical fuse-links "gG" are used for the protection of cables, motors and
LV-networks. They limit and cut off unacceptable overcurrents and short-circuit currents up to their nominal breaking capacity. Cylindrical fuse-links "gG" also protect electrical equipment and installations against the dynamic effect of high short-currents.
Our technology and process was designed to ensure highly reliable technical performance.
Features Benefits
z
Small size z
Full range protection z
Striker version available for remote blown fuse indication z
Safest and most reliable protection system
Applications
z
gG type for protection of line, cable against overload and short circuit in various industrial application and electrical distribution circuits.
Technical data overview
Voltage Range AC
Ampere Range (A)
500 ... 690 VAC
2 ... 125 A
Speed/Characteristic gG
I.R. AC (kA)
Body Material
Contact Materials
Product Size
120 kA
Ceramic
Silver plated copper
22x58 mm
Standards
IEC 60269-1 & -2
Approved by Lloyd's Register of
Shipping and Bureau Veritas
Low Voltage IEC Fuses / / DS-LFCY22GG-03-0615_EN www.ep.mersen.com
1
Ferrule fuse-links 22x58 gG 500 to 690VAC
Product range
FR22G-
G69V4P
FR22G-
G69V2
Size 22,2x58 500/690VAC with striker
Catalog number
FR22GG69V2P
FR22GG69V4P
FR22GG69V6P
Reference number
Rated voltage
AC (IEC)
N093760 690 V
R214628 690 V
A215648 690 V
FR22GG69V8P F216665 690 V
FR22GG69V10P W217691 690 V
FR22GG69V12P W218726 690
FR22GG69V16P L219775 690 V
FR22GG69V20P P222975 690 V
FR22GG69V25P M201307 690 V
FR22GG69V32P S211041 690 V
FR22GG69V40P R212075 690 V
FR22GG69V50P M213612 690 V
FR22GG50V63P S214629 500 V
FR22GG50V80P F216159 500 V
FR22GG50V100P T217183 500 V
FR22GG50V125P H218208 500 V
25 A
32 A
40 A
50 A
63 A
80 A
100 A
125 A
8 A
10 A
12 A
16 A
20 A
Rated current
I n
2 A
4 A
6 A
120 kA
120 kA
120 kA
120 kA
120 kA
120 kA
120 kA
120 kA
Rated breaking capacity AC
120 kA
120 kA
120 kA
120 kA
120 kA
120 kA
120 kA
120 kA
Size 22,2x58 500/690VAC without indicator
Catalog number
FR22GG69V2
FR22GG69V4
FR22GG69V6
Reference number
F219241
Rated voltage AC
(IEC)
690 V
H219772 690 V
P222216 690 V
FF22GG69V8 L222972
FR22GG69V10 T200761
FR22GG69V12 J201304
690 V
690 V
690 V
FR22GG69V16 S201818
FR22GG69V20 P211038
690 V
690 V
FR22GG69V25 N212072 690 V
FR22GG69V32 F212594 690 V
FR22GG69V40 J213609
FR22GG69V50 P214626
690 V
690 V
FR22GG69V63 Y215646 690 V
FR22GG69V80 Q217180 690 V
FR22GG50V100 E218205
FR22GG50V125 J219773
500 V
500 V
Rated current I n
40 A
50 A
63 A
80 A
16 A
20 A
25 A
32 A
100 A
125 A
2 A
4 A
6 A
8 A
10 A
12 A
120 kA
120 kA
120 kA
120 kA
120 kA
120 kA
120 kA
120 kA
120 kA
120 kA
Rated breaking capacity AC
120 kA
120 kA
120 kA
120 kA
120 kA
120 kA
2.5 W
3.4 W
3.5 W
3.7 W
4.3 W
5.3 W
6.3 W
7.4 W
8.3 W
11.3 W
Power dissipation at I n
0.9 W
1.25 W
1.4 W
1.6 W
1.9 W
2 W
3.5 W
3.7 W
4.3 W
5.3 W
4.8 W
6.2 W
8.3 W
11.3 W
Power dissipation at I n
0.9 W
1.25 W
1.4 W
1.6 W
1.9 W
2 W
2.5 W
3.4 W
Weight
54 g
54 g
54 g
54 g
55 g
54 g
54 g
54 g
56 g
54 g
54.6 g
54 g
5.4 g
54 g
54 g
56 g
Weight
54 g
54 g
54 g
54 g
54 g
54 g
54 g
54 g
54 g
54 g
54 g
54 g
54 g
54 g
54 g
54 g
Low Voltage IEC Fuses / / DS-LFCY22GG-03-0615_EN www.ep.mersen.com
2
Ferrule fuse-links 22x58 gG 500 to 690VAC
Time current characteristic curves
Size 22x58 690V gG
1
0.7
0.5
0.3
0.2
0.1
0.07
0.05
0.03
0.02
3
2
10
7
5
0.01
0.007
0.005
0.003
0.002
0.001
0.0007
0.0005
0.0003
0.0002
0.0001
1000
700
500
300
200
100
70
50
30
20
10000
7000
5000
3000
2000
RMS value of prearc current (A) +/- 8%
Low Voltage IEC Fuses / / DS-LFCY22GG-03-0615_EN www.ep.mersen.com
2 A
4 A
3
Ferrule fuse-links 22x58 gG 500 to 690VAC
Time current characteristic curves
Size 22x58 690V gG
1
0.7
0.5
0.3
0.2
0.1
0.07
0.05
0.03
0.02
0.01
0.007
0.005
0.003
0.002
0.001
0.0007
0.0005
0.0003
0.0002
0.0001
10000
7000
5000
3000
2000
1000
700
500
300
200
100
70
50
30
20
3
2
10
7
5
RMS value of prearc current (A) +/- 8%
Low Voltage IEC Fuses / / DS-LFCY22GG-03-0615_EN www.ep.mersen.com
6 A
8 A
10 A
12 A
16 A
20 A
25 A
32 A
40 A
50 A
63 A
80 A
4
Ferrule fuse-links 22x58 gG 500 to 690VAC
Time current characteristic curves
Size 22x58 500V gG
0.1
0.07
0.05
0.03
0.02
0.01
0.007
0.005
0.003
0.002
0.001
0.0007
0.0005
0.0003
0.0002
0.0001
1
0.7
0.5
0.3
0.2
10000
7000
5000
3000
2000
1000
700
500
300
200
100
70
50
30
20
3
2
10
7
5
RMS value of prearc current (A) +/- 8%
100 A
125 A
Low Voltage IEC Fuses / / DS-LFCY22GG-03-0615_EN www.ep.mersen.com
5
Ferrule fuse-links 22x58 gG 500 to 690VAC
Current limiting diagram
Size 22x58 690V gG
3000
2000 lm = 2.3 lp
1000
700
500
300
200
100
70
50
30
50 Hz RMS symetrical prospective current (Ip)(A)
4 A
2 A
Low Voltage IEC Fuses / / DS-LFCY22GG-03-0615_EN www.ep.mersen.com
6
Ferrule fuse-links 22x58 gG 500 to 690VAC
Current limiting diagram
Size 22x58 690V gG
70000
50000
30000
20000
1000
700
500
300
200
10000
7000
5000
3000
2000
100
70
50
30
20
10
690V
400V pre-arcing I²t
50 Hz RMS symetrical prospective current (Ip)(A)
Size 22x58 500V gG
200000
500V
290V pre-arcing I²t
100000
70000
50000
30000
20000
10 000
50 Hz RMS symetrical prospective current (Ip)(A)
Low Voltage IEC Fuses / / DS-LFCY22GG-03-0615_EN www.ep.mersen.com
7
Ferrule fuse-links 22x58 gG 500 to 690VAC
Pre-arcing and operating I2t characteristics
Size 22x58 690V gG
100
70
50
30
20
400V
230V pre-arcing I²t
3
2
10
7
5
1
Pre-arcing and clearing I²t (A²s)
Size 22x58 690V gG
100
70
50
30
20
1000
700
500
300
200
10
70000
50000
30000
20000
10000
7000
5000
3000
2000
690V
400V pre-arcing I²t
Low Voltage IEC Fuses / / DS-LFCY22GG-03-0615_EN www.ep.mersen.com
8
Ferrule fuse-links 22x58 gG 500 to 690VAC
Pre-arcing and operating I2t characteristics
Size 22x58 500V gG
200000
500V
290V pre-arcing I²t
100000
70000
50000
30000
20000
10 000
Dimensions
Size 22x58 gG without indicator
(10012114)
Ø 22.2 ± 0.1
Dimensions in mm
Low Voltage IEC Fuses / / DS-LFCY22GG-03-0615_EN www.ep.mersen.com
9
Ferrule fuse-links 22x58 gG 500 to 690VAC
Dimensions
Size 22x58 gG with striker
(1001213)
Striker
Ø 22.2 ± 0.1
Dimensions in mm
Low Voltage IEC Fuses / / DS-LFCY22GG-03-0615_EN www.ep.mersen.com
10
* Your assessment is very important for improving the work of artificial intelligence, which forms the content of this project