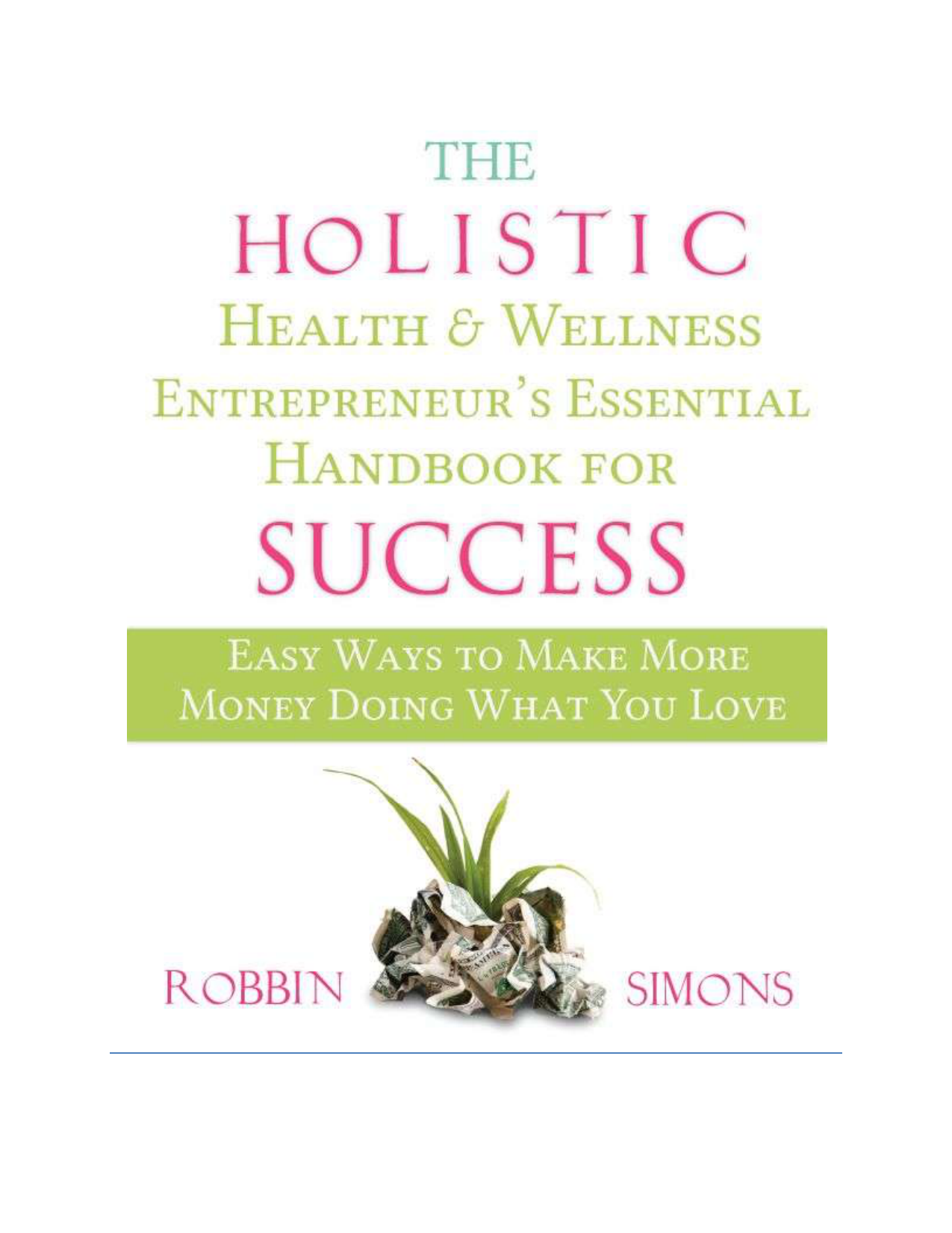 THE HOLISTIC HEALTH & WELLNESS
ENTREPRENEUR'S ESSENTIAL HANDBOOK
FOR SUCCESS
MAKE MORE MONEY DOING WHAT
YOU LOVE
ROBBIN SIMONS
Copyright © 2012 By Robbin Simons
All Rights Reserved under International Copyright Law and may not be
reproduced, transmitted, downloaded in whole or in part in any form without the
express written consent of the Publisher.
www.robbinsimons.com
Editing by Rosita-Frieda Novenario
Table of Contents
Why this book is for you...
Chapter 1
Two Very Simple Steps to Identify Clients YOU'LL LOVE to Work With
Chapter 2
How & Where to Find Your FIRST 10 CLIENTS
Chapter 3
Your Website: Just Start with the Essentials
Chapter 4
Your Client List:
The Single Most Important Asset You Need to Focus On for SUSTAINABLE PROFITS
Chapter 5
The ONLY 3 Ways to Increase Your Revenue
Chapter 6
How to Turn New Customers into Repeat Clients with LOYALTY PROGRAMS
Chapter 7
Choosing the RIGHT Social Media
Chapter 8
EASY eZines & Newsletters
Chapter 9
Networking for Newbies
Chapter 10
The KEY TO SELLING Holistic Services to Conservative Clients
Chapter 11
Build Your Business & Help More People with eBooks
Wrapping Things Up...
Resources
About Robbin Simons
Why this book is for you...
Holistic therapists and business owners belong to a unique business group. Many
practitioners I"ve had the pleasure of working with have struggled with a mind-set that attaches guilt
when charging money for their services – as if their gifts are meant to be given away for free,
without consideration of their own financial realities.
Many holistic therapists and business owners have struggled to make ends meet because of
this. It, then, becomes necessary for many therapists and practitioners to take on other jobs, creating
a situation where the work they love has essentially become only a part-time hobby.
My motivation for writing this book is based on my desire to help holistic therapists learn
how to make more money doing what they love and what they were meant to do. I want them to
find success in their chosen field. If that can happen, then perhaps, this world might be a better
place for all of us. It is my soul"s purpose to help holistic therapy practitioners and business owners
reach their potential, feel worthy of abundance, and embrace their success.
Chapter 1
Two Very Simple Steps to
Identify Clients YOU'LL
LOVE to Work With
In this chapter, you will:
1. Become clear on your "why"
2. Identify your TRUE ideal client
3. Learn a super-simple strategy for writing emails and web copy
Who is Your Ideal Client?
If I were to ask you "Who is your ideal client?" you would likely answer with something like this:
Middle-aged female living a stressful life
Overweight, junk food eating couch potatoes
Vegetarians who practice yoga and meditation
You may think everyone with money is an ideal client, but you will be more successful if you
shift your mind-set to becoming clear about who you really want to work with every day. Would it
make sense to spend your marketing time and dollars casting your net in the direction of all women?
Or, would you be more successful creating a focused promotion that targets women between the
ages of 30-50 who are runners, have a full-time job and 2-3 kids living at home, and are vegetarians?
By getting laser-focused about your niche and ideal client, you begin to understand what
drives their actions, their hopes, and their pain points. This is the key to effectively selling your
products or services….without even really selling at all. If enough care is taken to really get to know
what motivates your ideal client, you will have unlocked the secret to attracting an unlimited number
of clients and creating a thriving business.
The first step is to understand why it is that you do what you do. To gain some perspective
and insight, take a few moments of silence right now and think about what actually motivates you or
inspires you to work in your chosen field.
Activity: Write down as many reasons as you can think of for wanting to work in the field you"re
drawn or attracted to.
In the second step, we will get closer to identifying who you truly want to work with. Here,
you need to define your clients by their key pain points and frustrations, and identify how your
service can help address these pain points and frustrations.
This is probably THE MOST IMPORTANT work you"ll do in launching your Holistic
Therapy business. You will refer back to this information time and time again as you develop your
website, your marketing materials, and any products or services you plan to offer.
To get you started, here are a few questions to ask yourself about who you serve:
1. What are my clients" key pain points and frustrations?
2. How would my clients" lives be different if their pain points or frustrations were solved?
3. What do I provide as a solution to their pain points or frustrations?
4. What results can my client expect from receiving my products or services?
Remember, you need to figure out your niche and identify your ideal client. By doing this,
you are not only clear about your marketing; you also let your passion shine through. You can
connect with clients and your message can better resonate with those you"ll truly enjoy working with.
Your ideal client needs to know, like, and trust you. They need to identify with what you"re
selling; and they need to know that you"re talking specifically to them – not to just anyone with a
wallet.
Keys to identifying your ideal client:
Identify people you"re passionate about serving. If you target everyone, you"re being too
vague.
Identify the key characteristics of your ideal client and know where they hang out.
Identify their pain points and how you can improve their lives with your products or
services.
Understand what motivates them to buy.
If you would really like to get a clear vision about your true ideal client, I have put together
an easy fill-in-the-blank template you can download and use as many times as you need. You can get
your free TRUE Client Template here: http://www.robbinsimons.com/holistichandbooktemplates
Tip to Inspire You:
Look back at some of your favorite clients and take note of why you liked them so much.
The next time you need to write an email to your client list, write it with ONE person in mind.
Notice how much easier it will be to craft your message. You will likely get a better response too!
Chapter 2
How & Where to Find Your
FIRST 10 CLIENTS
In this chapter, you will:
1. Learn some ideas on how to get your first clients
2. Know how to make the most of your email signature
3. Visualize the future that you want and take action
It"s difficult for any new practitioner to get started as a Holistic Therapy Entrepreneur. Many
schools and trainers are great at teaching their students about a modality or how to provide therapy.
However, they spend little time educating future practitioners on how to attract clients or build a
thriving and prosperous business. Here are 5 ideas you can begin with:
Work with 10 clients for free
I"m not typically a fan of providing anything for free. However, in a world full of sceptics, I
believe there is truly some merit to offering a complimentary session to establish trust and provide a
beneficial experience for a potential client.
When advertising your free session, be sure to protect yourself by stating that the session is
a one-time only offer. Have them sign any client forms you would typically have any paying client
sign, such as a Client Intake Form, or an Informed Consent Form.
Your attorney should be able to provide you with templates of these forms at little cost. If
you would like to see the basics of what is included on these forms, I have provided samples you
can download at http://www.robbinsimons.com/holistichandbooktemplates.
DISCLAIMER: I am not a lawyer, and these templates are to be used as samples only, and for no
other legally binding purpose.
Give a free talk, tele-class, or information session
Free talks and information sessions are very easy to arrange. You can start by contacting
groups, stores, and clubs where your ideal client hangs out and simply offer a free discussion on your
topic. Again, it"s vitally important to emphasize the benefits your modality or service provides.
Tele-classes are becoming very popular due to busy schedules and active lifestyles. This
strategy offers a convenient venue to get visibility and establish yourself as an expert in your field.
There are some great easy-to-set up tele-conferencing services available. Some are even free!
Keep your session to no more than one hour, including time for Q&A, and encourage
participants to engage and interact throughout the call. This can be one of the most successful
strategies for attracting TONS of new clients FAST.
Get out of the house and NETWORK
You must get out from behind your computer and enter the world of the living. There"s only
so much trust and credibility you can build in the safety of online chat rooms, forums, Facebook,
LinkedIn, and other cyber hideouts.
If you really want to build your reputation and attract new clients, you must get out and
network occasionally. Start by joining networking groups for your area of expertise, and always
carry business cards with you wherever you go.
Use your email signature line intelligently
This is one of the most under-utilized, attention getting marketing opportunities available to
everyone with an email account. Did you know that 95% of all people use the internet for email?
Only 65% use it for social networking.
By including your contact information, upcoming eBook title, classes, special offer, web
address, eZine sign up, etc., every email you send will advertise for you, wherever it goes. Just think
about all the emails that get forwarded to people we barely know, each and every day. Why not make
it work for you?
Instead of ending your emails with the standard "Thanks, <Your name>" or "Regards,
<Your name>", try something like this email signature:
Warmest regards,
Robbin
Go to www.robbinsimons.com to receive Robbin's COMPLIMENTARY eBook
"The Holistic Entrepreneur's Essential Handbook"
Robbin Simons International, Coach & Mentor to Holistic Entrepreneurs
1235 Fairview Street, Suite 206, Burlington, Ontario, Canada L7S 2K9
www.robbinsimons.com
Every day, determine your one single goal-oriented action
What is the one thing you can do today that will guarantee the success of your practice or
business?
I"m a believer in the Laws of Attraction, as are many Holistic Entrepreneurs and
Practitioners. Many books have been written on the subject. However, I find that they tend to leave
out the most important factor with regards to this subject: ACTION.
Last year, I was at a Chinese restaurant and received the customary fortune cookie at the end
of my meal. The message was one that changed the way I viewed everything I do. "The only sure
way to predict the future is to create it." It did not say "wait for it" or "do it tomorrow." It said
"create it."
I still have that fortune cookie message. It"s taped to my bathroom mirror where it"s the first
thing I see when I begin my day, and the last thing I see before I go to bed each night. It keeps me
accountable each and every day for the success of my business, as well as to myself, my goals, and
my dreams.
Do something every day to grow your business or move towards your goals. Post on your
blog. Send a tweet. Check up on a client. Reach out to a potential new client. Even the smallest of
actions can cause a ripple effect and create the momentum you need to attain the abundance you
seek for your business and your life.
Keys to finding your first 10 clients:
Be consistent and relevant in the information you provide in social media posts.
Offer free sessions, and be sure to follow up and get feedback. It"s always good to
understand the client"s experience, good or bad.
Encourage engagement and interaction with your current clients and prospective clients.
Get out there, meet people in person, and make your mark on the world!
Tip to Inspire You:
Utilize social media, but be smart about it. Know where your ideal clients hang out and hang
out with them. For example, if you"re a trainer, healer, nutritionist, or therapist whose ideal client is a
runner or other sports enthusiast, you may find great success in utilizing Linked In or Facebook
groups, and joining sports related networking groups. Add value to the conversation, but do not
blatantly sell. Consistently posting useful tips or information articles about the work you do while
highlighting the benefits your clients have experienced will definitely score some points and get you
noticed before you know it!
Chapter 3
Your Website: Just Start
with the Essentials
In this chapter, you will:
1. Learn the steps you should take in developing your own website
2. Know the big mistakes to avoid when setting up your website
3. Learn the number one thing you should include on your website
New to websites? Start with These Essential Steps First
1. Buy your own domain name (.com) and hosting at a site like www.GoDaddy.com..
2. Go to www.Wordpress.org to get started with their free templates and more. (Note: Do NOT use
WordPress.com because then you technically won"t own your website. You want to get your own
hosting but use the WordPress.org templates.)
Start with these essential pages for your website:
Home Page – Think of your homepage as the front door to your house. It needs to be inviting and
welcoming to your visitors so they will want to stay, socialize with you, and visit you again and again.
This page will explain what you offer and why they should work with you. Be careful to ensure your
homepage is easy to read by including bullet points for key or important information you want your
readers to know. Also, include graphics or images to brighten up your page and make it visually
pleasing.
Blog – Post in your blog often, at least once per week. Frequent and consistent blog posting will
drive your Google ranking up quickly. You"ll want to write really good, informative, content- rich
posts so your visitors find value in visiting your site.
About – Tell your visitors who you are and why you do what you do. Be sure to include a clear,
color headshot picture of yourself. This will provide the credibility your potential clients are looking
for and allows them to feel a connection with you before you even meet.
Contact – This really should be a no-brainer, but I"m often amazed by the number of websites I
visit that do not have a contact page or form. You must make it easy for visitors to contact you for
information or opportunities.
The BIGGEST, BADDEST Mistakes You Can Make With Your
Website
1. Using a free website – Nothing says unprofessional quite like using a free website. To
potential clients, this says that you"re not willing or able to invest in your own branded
website and that you may be risky to deal with.
2. Broken links – It can be really frustrating for visitors to your website to click a link only to
discover that the link is broken. Be sure to test all links a few times to make sure they work.
It"s also a good idea to check them from time to time to make sure they all continue to work.
3. Unfinished web pages – Pages that say "coming soon" are pointless. Just don"t publish those
pages.
4. Using a Gmail or Hotmail email address.
5. No graphics or pictures – No one wants to see a webpage that is nothing but text. Google
loves pictures and graphics but you"ll need to balance this and make sure your graphics are
relevant to the text copy.
6. No logo – This is your branding, your identity, your image. Your website is incomplete
without it.
7. Using a picture of yourself that"s old, blurry, black & white, or shows you in an
unprofessional manner.
8. No Headshot – This is even worse than #7. Potential clients want to know that you"re a real
person. A professional, clear, color headshot is a worthwhile investment and helps people
feel a connection with you before they even meet you.
9. Not having social media presence – At the very least, every business owner should have
accounts with Linked In, Twitter, and especially Facebook.
10. An out-of-date copyright notice or a missing copyright notice. – Don"t make it any easier for
others to take your copy or articles.
I"m calling these two out separately because they are THE ABSOLUTE WORST mistakes of all:
11. Not making it obvious to your website visitors how they can contact you.
12. Not collecting email addresses – This is the single most important asset you have. If you"re
not constantly and consistently collecting email addresses and building your client list, you
will never grow your business.
ALWAYS have an opt-in form on your home page. Make sure it"s located near your header,
preferable of the right side of the page, if not in the header itself. Visitors to your site should never
have to scroll down to the bottom of the page to opt in.
To entice visitors to give you their email address, it"s always good to create an "ethical bribe."
Give something of perceived value to the people who visit your website, like a free report, tip sheet,
top 10 list, or a downloadable audio.
A client in one of my coaching groups has created a short meditation audio that can be
downloaded once they complete the opt-in form on her website. We set this up together in about 20
minutes, and she immediately started to see her efforts pay off. Her list grew by 214% in a period of
one week, and continues to increase on a steady basis.
Tip to Inspire You:
To get maximum value from your opt-in form, ensure that it is placed above the fold on
your website. This means that visitors don"t need to scroll down to see the form and the free gift
you"re offering for their registration. Your main goal should be to make it as easy as possible for
visitors to opt-in.
Chapter 4
Your Client List:
The Single Most Important
Asset You Need to Focus On
for SUSTAINABLE PROFITS
In this chapter, you will:
1. Learn what your most important business asset is
2. Learn free and easy-to-implement strategies for growing your list in a meaningful way
What would you consider to be the greatest asset to your business?
Your store?
Your massage tables or other equipment?
Your inventory?
If you chose any of the above, you would be mistaken!
The single greatest asset to your business is your CLIENT LIST.
Does size matter?
Holly is a Holistic Nutritionist with an extensive email list of 5,000 people that she has
acquired over the past few years. Her list consists of people she attended Nutritional Counselling
training with, some family members, a few ex-boyfriends, and all of her Facebook friends.
Justine is also a Holistic Nutritionist and has a much smaller list of 1,100 people. Her list
grew from some of the same sources like Facebook friends, family, and a few former classmates.
However, the majority of Justine"s contacts came from her website, followers on her twitter account,
and from a weekly running group she belongs to.
Who would you think is better positioned to have a successful Holistic Nutritional
Counseling practice?
You would be correct if you chose Justine. If the goal was to simply have a huge list, all you
would need to do is pick up your phone book. That will give you tens of thousands of people and
you could literally grow your list exponentially overnight. But that would be a big waste of time and
energy.
The difference is that the majority of people on Justine"s list have CHOSEN to be there and
receive emails, promotions, tips, newsletters, and anything else Justine wants to send them. This is
one reason why becoming clear on your niche and identifying your ideal client is so important. It all
boils down to the likelihood that these people will buy from you.
Holly"s list, although she personally knows almost everyone in it, is not made up of qualified
buyers. Justine"s list chose her and looked to her for advice and knowledge about the services she
provides. Justine"s people will want to do business with her because they know, like, and trust her.
List building is so crucial to building a successful business.
Here are 10 free and easy-to-implement strategies for growing your
list in a meaningful way:
Use blogging and social media to drive traffic to your website.
You absolutely must have an opt-in box on your home page and every other page of your
website.
Offer a free gift for opting in and providing their email.
Include your opt-in offer and web link on your business cards.
Write a weekly or monthly eZine to keep your list engaged.
Hold free information sessions.
Request customer emails at your POS (point of sale).
Collect business cards from people who would like to receive your emails.
If you"re at an event, bring a sign-up sheet.
Ask your Facebook or Twitter followers to sign up.
Tip to Inspire You:
The free gift you offer in your opt-in should be relevant to your products or services and
should be perceived as having high value. After all, people will be giving up their email addresses for
this.
Chapter 5
The ONLY 3 Ways to
Increase Your Revenue
In this chapter, you will:
1. Learn 3 strategies you can quickly and easily implement to increase your income
2. Learn the cheapest and the most effective way to market your business
When you"re trying to grow your practice or business, it"s really easy to convince yourself
that you have to come up with something completely new in order to get big results. Guess what?
The truth is that business growth is really just about bringing in more money – that"s all.
So what if I told you that you could bring in more money without creating anything new?
Wouldn"t that be great? Well, you absolutely can! It"s all about making little changes or small shifts in
things you"re already doing. How great is that?!
In this chapter, I"ll share 3 strategies that you can quickly and easily implement to increase
your income simply by sharpening your pencil and getting a little creative.
The first way we're going to look at is INCREASING YOUR
NUMBER OF CLIENTS OR CUSTOMERS.
Very simply, this just means getting more NEW people to buy from you.
So, how do you do this? You need to start using marketing tools to get more visibility. There
are many options and outlets, such as referral systems, advertising, affiliates, promotions, media
exposure, networking, speaking, and centers of influence. I will focus on referral systems here as I
think it is one of the most powerful marketing tools around.
REFERRAL SYSTEMS
So why Focus on Referrals?
Many of the most successful businesses are referral-based businesses. This is by far the
cheapest, most effective way to market your business. People love giving referrals. It makes them
feel good and it makes them look good. Besides, when your clients refer others to you, those
referrals will very often become some of your best clients and customers too.
Think about it: People get so distracted with all of these really cool internet tools that we
forget good old-fashioned word-of-mouth. You see, prospects will automatically trust you more if a
friend sent them to you. These kinds of prospects require much less selling to in order to get them
engaged enough to purchase your products and services. Like I said, referrals often make better
clients and customers.
So I"m now going to give you some really quick and easy steps to building a great referral
system.
The first step is simply to identify your referral network. All I want you to do here is to
brainstorm about who can conceivably send you business. These will typically come from three
groups of people.
The first group is your past and current clients, people you"ve worked with, and people
you"re currently working with. Oftentimes, those are great referral sources.
The second group is called your "centers of influence." These are people who have direct
contact with your ideal client. For example, if you sell jewellery, you want to connect with stylists.
If you do cosmetics, you want to connect with dermatologists or salon employees. If you"re a life
coach, your centers of influence would be people like fitness trainers and healers. If you"re a healer,
your centers of influence might be people from spas and salons, or even life coaches.
You"re looking for complementary rather than competitive relationships here. Let"s just take
a moment and give this some thought. Who, out there in your community, in your network, would
be an excellent center of influence for you?
The third group is going to be your personal network. These are your friends, family, and
everyone else who doesn"t fall into the other two groups.
Now that you"ve identified your network, let"s go to the second step in building your referral
network. Step number two is to simply identify your ideal client.
Now, you may or may not have done this already, but what I really need you to do is to
identify them in a way that is going to be communicated to these people - your network. These are
the people we were just talking about - your past clients, your current clients, and your centers of
influence.
Your referral sources need to be able to communicate and understand who your ideal client
is. Keep in mind that you are creating this communication for them so they know what business to
send you – who to refer to you. All you need to do is put together a simple and brief description in
every day common language that anybody can understand.
It might look something like this, "My ideal client is a 30 to 50 year old female who has a
medium to high level of stress in her life. She is experiencing problems with sleeping or weight gain.
Typically, she will talk about frustrations with her current situation and wants more energy or calm
in her life."
That"s what I mean by clearly identifying your ideal client in easy to understand language.
That was step number two.
Now, for step number three, you need to be able to sum up your marketing message again,
in a way that your referral source will be able to repeat. You need to say what you do in as few
words as possible. Just communicate the big benefit that they get in a simple and clean way, and in
everyday conversational language.
Just so you completely understand where I"m going with this, let me give you an example of
what NOT to do. Just picture this: Let"s say you have a friend who"s going to be a referral source.
Let"s say you say, "Tell your friends that I help women in transition overcome their core values so
they become more brilliantly aligned with their radiant core."
Your friend is never going to say that in everyday conversational language, no way! So how
are you going to say that in a really clean way that they could actually repeat to their friends?
OK then, let"s move on to step number four. All you"re doing in this step is defining what
you offer for your referral sources. All you need to do is to identify the actual thing that you offer.
Let"s say that a referral comes to you. What"s the first thing that you offer them? In many
cases, especially if you primarily provide services or therapies, it"s going to be a discussion where
you"re describing the benefits of the therapy that you offer. You just want to define that.
Just write up a short description so you"re clear and have a well thought out way to sell the
benefits of the service or therapy you"re offering. Here"s a tip: You may also want to consider
preparing a small information sheet that tells the prospect what to expect from the therapy and its
benefits.
Again, this is something you"re going to hand over or tell your referral source.
Basically you would say, "Hey, for everyone you send me, I"m actually going to have a free
15-minute energy healing session with them. I call it the "Get to Know Reiki Session." It"s absolutely
free. All I do there is let them experience what Reiki can do for them, and see if they find it as
beneficial as you and I do.
Then, you"ll tell your referral source, "Just so you know, everyone you send me will receive
this same offer. That"s the first thing I"m going to offer them and it"s absolutely free."
Step number five is to identify the referral source incentive. Now, this one is optional.
Basically, the idea here is to decide if you would like to give your referral sources a little nudge or
reward so they refer more business to you. You might choose to give them a gift, or even money or
a percentage of the first sale. This might be necessary, but oftentimes you actually don"t need to do
it. You"ll just have to gauge for yourself.
If it"s something that will actually get people to send you more business then hey, totally do
it! Some incentives that you can offer your referral sources include money, a percentage of the
initial purchase, or a referral fee. You could also give them gift cards from maybe Starbucks,
Amazon, or Whole Foods.
You could give them a product that you sell, or a percentage discount for a service or a
product that you provide. Maybe you give them a free session, a free product or a sample. There"s a
ton of options to choose from.
Another variation that some people like is to tell them, "Hey I"m going to donate 10% of
that first sale to your favorite charity." That also works really well.
Just think for a moment about what is going to encourage your referral sources to send you
a lot of people. What would resonate with them? What would they appreciate receiving?
The thing you need to remember when setting up your referral network is that the visibility
you"ll get by using tools like these will get you prospects, not clients. They only become clients when
they actually spend money on you. A part of your overall strategy is to not only get more visibility,
but to also increase your ability to close the sale.
One way to do this is to offer something irresistible to your prospects. This could be a free
15-minute mini-session or consultation, which is very effective for energy healing, massage
therapists, and just about any other type of holistic therapy. This gives both you and your prospect
the opportunity to get acquainted and make a connection with each other. This is very effective for
converting a warm prospect into a loyal customer.
For those of you who have an online business and want your web visitors to buy from your
site directly, you should consider ways to increase your online conversion with follow-up emails. This
can be done through auto-responders. Free samples or gifts, coupons, or discounts are other really
great offers for online businesses. I go in depth and spend a lot of time on this subject in my Rookie
2 Riches Tele-class program.
Auto responders, in my opinion, are the best thing ever invented for a business owner with a
website. I really encourage everyone to take advantage of any system that can automate part of your
business. By utilizing systems and tools, you will be able to focus your time and energy on the
revenue generating aspects of your practice or business.
The second way to increase your income is to INCREASE
YOUR AVERAGE TRANSACTION VALUE.
There are a number of really great and easy strategies for increasing your transaction value.
For example, you could package more value into what you already offer. If what you offer is worth
the price, you"ll likely get repeat business from satisfied customers who know that they will get what
they pay for.
Bundling your products or services is another really great way to increase your transaction
value. Here"s an example: If you"re currently offering Reiki or Massage sessions, bundle them
together at a discounted rate. Something like if one session is $80, then 3 sessions could be
purchased as a package for $200.
Another great bundling strategy is to throw in a free service with every package purchased.
An example of this would be that same 3-session Reiki or massage treatment package; and then
throw in a complimentary facial or axiotonal alignment therapy session.
This is a great way to create more visibility on therapies or products that don"t sell very well
or those you would like to promote. It"s also a great way to launch new products or services because
clients have an opportunity to try them out.
Up-Sell and Cross Sell
Offering extra value or a better deal right at the point of sale, when your customers are at
their most receptive, is one of the easiest and most effective ways of instantly improving the size
and profitability of your sales.
Up-selling is getting your customers to buy a better, more expensive, or more sophisticated
product that genuinely adds value to their purchase.
Cross-selling is getting your customers to buy an additional product or service that will give
them a superior outcome. If you make a worthwhile offer to your customers, such as a 30-50%
discount, they will normally say yes. Virtually every penny of the extra profit goes right into your
pocket. It doesn"t require any more time and effort, and there is no additional cost to reach the
customer.
Offer Larger Units of Purchase
Increasing the size of the purchase unit is a powerful and remarkably easy way for you to
increase your average transaction value. If people buy a one week supply, you can offer them in
monthly or yearly consumption units at an attractive price. Your customers will appreciate the extra
value, the awesome savings and the extra convenience of buying in bulk. At the same time, your
average unit of sale will be increased in a huge way. You"re also locking your customers in for longer.
As an added bonus, a lot of people who say no to purchasing larger volume units, and would
never have otherwise bought anything at all, will now buy your smaller units.
Positioning Yourself Further Up Market
If you"re good at what you do, moving your products or services further up market and
positioning your business at a higher level of distinction or quality than your competition can
improve your business a lot.
By repackaging your product or service to appeal to a more sophisticated or affluent market
that you currently don"t cater to, you can usually command higher prices and leave behind the type
of business that gives you all your headaches.
The more you raise your market positioning, the more your existing customers are likely to
respect and appreciate what you do. This can result in even more loyalty and referrals.
The last strategy for increasing your transaction value is kind of crazy but it"s actually the
most effective – Just simply...
Increase Your Pricing and Margins.
There"s no law that says your product or service has to be a commodity that"s merely bought
on price. People will willingly pay more for most products or services as long as they believe they"re
getting better value. Your customers will value you more if you provide them with a more unique
product or service, and if you educate them about this.
Raising your prices typically means that you can afford to service your customers better,
work with them better, include additional products or services in the transaction, and do more than
your competitors. This will set you and your business apart in a favorable way in the eyes and minds
of your customers. It will also allow you to charge what you"re really worth.
The third way to increase your revenue is to....INCREASE
THE FREQUENCY OF REPURCHASE.
This means getting more sales from the same client or customer.
One example of how to do this is to offer a membership program. This could be for access
to regular meditation classes for a $20-30 per month fee. Participants get a 1 hour meditation session
and tea. You could even throw in a discount card that gives members a 10% discount on purchases
anytime, and a 20% off on purchases made on meditation nights.
This type of strategy works EXREMELY well to drive customer loyalty and earn extra
income.
Now, let"s take a look at the concept of "bounce backs." A bounce back is a promotional
offer that you would give to a customer after a recent sale to encourage them to revisit soon, or
"bounce back" to your business.
This is where you take a first-time customer and encourage them to come back for a second
time by offering an incentive, or a "bounce back." You all know that first impressions are very
important. After all, a customer does not form a commitment or develop any loyalty after a single
visit or purchase. To create regular customers, you need to get people to return at least once more.
Another really great strategy to try as "bounce back" is to offer a special deal to customers
who return during off-peak hours. This can really go a long way to increase your overall profitability.
Bounce backs can also include any post-purchase promotion that encourages new customers to
return again in the near future.
And finally – STOP OFFERING GENERAL DISCOUNTS
These discounts are not exciting. They also hurt your revenue and make customers feel that
your product is not really worth the full price.
Tip to Inspire You:
Only use bounce backs with new customers or with customers who might otherwise be lost.
Before you offer someone a bounce back, just ask yourself, "Do I expect this customer to return
again soon?" If the answer is "no" or "maybe," then a bounce back could be an effective marketing
tool. If the answer is "yes," you should consider asking the customer to enrol in your loyalty
program, instead.
Chapter 6
How to Turn New
Customers into Repeat
Clients with LOYALTY
PROGRAMS
In this chapter, you will:
1. Learn how Loyalty Programs can help grow your business
2. Get ideas on the type of rewards you can give
The point of a loyalty program is to make regular customers even better customers by
offering them rewards for their repeat business. A loyalty program can include point systems, or it
can simply involve giving regular customers special treatment. Now, loyalty programs are different
from bounce backs. While the main goal of bounce backs is to get customers to come back, loyalty
programs focus on strengthening the bond with repeat customers, in order to increase sales and
improve reputation through word-of-mouth.
Loyalty programs or rewards programs work best on customers who already enjoy your
products and services. The purpose is to take a good customer and turn them into a great customer.
Every holistic practice or business should have some kind of loyalty program in place. It can
be as simple as using a punch card frequency program. A punch card frequency program is very easy
to implement. You just punch the card for every item purchased over a certain dollar amount; or,
you could punch it for every $5 spent or for each visit.
I know one business owner who sells bath bombs, and punches the card for each bath bomb
a customer buys. When they"ve gotten 10 punches, the customer gets a free bath bomb. You can do
this with any product or service.
You could punch the card for each massage or Reiki treatment, and give the 10th one free.
You can also give something else on the 10th punch, like a free facial or a free gift basket of their
favorite products.
The loyalty card is another option to consider. You don"t need to invest in expensive plastic
cards with the magnetic stripe or expensive software to implement loyalty cards.
I would recommend just going to Vista Print.com and getting some free cards printed up.
This is very easy to design. You can just use the business card format and edit it and call it a loyalty
card. Put the terms of the program on the card too so that it"s clear.
Offering "top customer" rewards is another popular strategy for creating engaged and loyal
customers. Instead of a point or reward system, you could create a customer competition where the
top 10 or 20 customers receive a special reward, like a free facial or treatment of some sort. You can
simply keep track of regular customers" names and count the frequency of their visits and how
much they spend.
A card filing system is another great way to encourage customer loyalty. It would be really
great if a customer wanted to carry around their card. Seeing the card in their wallet will remind
them of your products or services. However, many customers have full wallets, and would probably
appreciate it if you kept their card at your place of business.
With a good filing system, finding the cards can be fast and easy. Just ask customers their
name and find their card alphabetically. If you have computer software, you can simply keep track
of their purchases electronically.
As you decide on the best loyalty program strategies for your practice or business, you
should try to build up your database or your list. Having access to frequent customers" names and
emails will allow you to send rewards or other special offers conveniently. This is for special
promotions, or if business slows down and you"re trying to drive more traffic.
You should also consider sending your best customers, or all of the customers in your
database, a free birthday gift certificate or a special holiday offer. This will encourage them to
patronize your practice or business for their special occasion. Plus, they"ll associate your business
with a special experience.
You can be really creative in the types of rewards you give. To be sure you"re offering a good
incentive, you need to:
1. Ensure the reward is attainable for your customer
2. Create customer specific rewards
What I mean by this is to reward different frequent customers with different gifts.
Customers" purchasing habits will actually show you what they enjoy. If one customer always buys
French Lavender essential oil, offer him or her a free small bottle of Lavender essential oil or maybe
even a free bar of French Lavender soap.
Unfortunately, the market is flooded with loyalty programs. For many people, joining
another program just means another card to keep in their bulging wallet. The average consumer
already belongs to 7 to 10 frequency programs. You need to make sure yours is desirable
Tip to Inspire You:
By adding a little element of surprise to your rewards program, you can increase a
customers" emotional bond to your business. You can keep track of your most frequent customers
and surprise them with a free gift or coupon randomly, or after they have visited x number of times
or spent x dollars.
To get the best emotional bond though, make sure it is a surprise to the customer. Also,
make sure that they don"t feel embarrassed or singled out by the reward.
Chapter 7
Choosing the RIGHT Social
Media
In this chapter, you will:
1. Learn the different social media platforms, and which of these can work best for you
2. Learn how to optimize your usage of Twitter, Facebook and Linked In
3. Discover the possibilities with Pinterest
I"ve been asked so many questions about how to best use social media. It is actually a good
topic to discuss in this book because Holistic Practitioners and Entrepreneurs need to use social
media. We need to look at ways to best leverage the different social networking alternatives in order
to reach out to new clients and grow our list.
Here, the first goal should always be to create a social media presence that can effectively
send new and interested clients to your business website. This is important because you do most of
your interaction and selling from your website.
This can be a bit difficult now because the social media landscape is changing so fast. The
rate by which new social media options grow is so fast; it's hard to keep up sometimes. The good
news is that you do not need to keep up with everything.
You need to focus your time and energy on the social media that your target audience use. It
doesn't make sense to spend time on Google+ if your ideal clients don't use Google+. The key is to
know which social media venues are used by your target market. Once you know, you can create
your presence there and reach out to your audience.
In the Holistic and Wellness Therapy industry, I"ve had the best results primarily from two
sites: Facebook and LinkedIn. Recently though, Pinterest is gaining ground, and I also know of easy
strategies you can use there so you can create buzz and reach out.
There are more than 20 Social Media venues on the web. The more successful ones
include:
Facebook
Twitter
Linked In
Netlog
Flickr
Tumblr
Pinterest
SoundCloud
LiveJournal
Orkut
StumbleUpon
YouTube
Badoo
deviantART
Myspace
Google+
Yelp
delicious
Tagged
For you to take advantage of the Social Networking phenomenon, you should at least have a
strong presence in Facebook, LinkedIn, and Twitter.
Ok, before we go 100% into this, remember that everything that you do and every post that
you make in these venues will be judged by your audience. You should always be aware of how your
actions add or take away from your credibility.
Also, there"s so much to know about Social Networking that it deserves its own book. For
this one, I"ve selected key components and opportunities that are important to us. These include
tested strategies that have worked for some clients I"ve coached.
Let's begin with Twitter.
It is quite simple to build a successful Twitter following. You just need time and persistence
to get this done.
One of the important things to keep in mind here is your target audience. You need to
spend your efforts engaging your ideal clients, not everyone else. Your ideal clients should make up
the target audience that you will build. Through regular tweets, you will actively engage and share
valuable information with them.
The first step is to think like your target market. Who are they likely to follow on Twitter? In
my case, since my target market is "holistic therapists and health coaches," I make sure to follow
holistic therapists and health coaches.
Of course, once you begin to follow and gain followers, it is crucial to remember to not use
the platform to sell anything. Never sell using your Tweets. You are only there to build a large group
of targeted followers.
Throughout the day, I make sure to tweet around 10 to 15 new articles. I read somewhere
that the best practice is actually to tweet around 35 to 75 articles. That"s a little too much for me. I
think it"s more important to tweet articles that can actually add value to the lives of your followers. A
focus on the quality of tweets is always better than a focus on the quantity of tweets. It is important
that you are able to communicate with your followers that you understand their needs and interests
by hand-selecting articles that they would appreciate. Of course, you should also re-tweet articles
that are relevant to your followers. This does not add to our 10-15 tweet target.
A good way to track your progress in Twitter is to pay attention to the times you are retweeted, your @mentions and your direct messages. I also note the articles that are re-tweeted and
sometimes, after 15 days, I will tweet these again for the second time.
Whenever I get a follower on Twitter, I make sure to follow them back. Of course, I need to
check first that these are not bots or spammers. Aside from this being a matter of courtesy, I also
consider the possibility of getting useful information and trivia from them if their subject or focus is
interesting to me, my follower base and target audience.
The timing of your tweets is also important. Based on reports by social media experts and
statistics, Thursdays and Fridays are the most active days in Twitter. On these days, people seem to
be twitter-happy from 11 AM to 2 PM. I guess now we know what people do during lunch breaks.
My Mondays are spent "cleaning up" my Twitter account. I unfollow people I"ve followed
who didn"t follow me back. This is when I also begin to look for new followers.
One last word about Twitter: This platform has encouraged people to engage directly with
others, sometimes in offensive ways. I believe that it is always important to be respectful of your
followers. I think it"s essential that you value their time and attention, and acknowledge them. This
way, you also communicate that you appreciate it when they engage with you.
Now, let's move on to FACEBOOK.
If you"re still not on Facebook, you should get started quickly, and devote time to building a
community and interacting. Facebook helps your business grow. There are so many things you can
do in it to market your services.
Network
Of course, the primary goal with having a Facebook page is to network with customers,
suppliers and your target audience. Facebook is a platform that allows you to connect with people by
adding them as friends or suggesting your page to them so they can "like" it. You can add your
current roster of clients, partners, suppliers and friends. Then, from there, you can expand and
include a broader network. One thing to keep in mind here is that the people you invite to add as
friend or like your page should be interested in what you have to offer. Otherwise, you will risk being
labelled as a spammer.
Once you have a network, there is a possibility of expanding your email list, and begin to
network with your friends and likers outside Facebook. For example, you may discover that some of
your fans and friends have LinkedIn profiles too. You can also get their direct mail addresses and
email addresses if you plan to send them offers through these means.
Share
It is important to not just have a network on Facebook. You should also be active in it. Share
on Facebook. This could be an update about your products/services, new photos, or a video or
photo you find interesting. The idea is to have regular activity on your page. This reminds people
about you and the services or products that you are offering.
Sharing is actually an important function in Facebook. It has become second nature for
people to share using this social media venue. By sharing an interesting article, a relevant photo or a
post, you can engage your current network or fans.
If they like your shared status, photo, link or video enough, they will be inclined to share this
with their friends too. This can potentially increase your network by letting other people know about
you, your page, and the products/services that you offer.
Engage
Of course, you should not limit yourself to just sharing. Being on Facebook gives you an
opportunity to engage your friends and likers. This is important because it makes your page and
posts participative. When you post, you are also starting a conversation with your network.
People generally appreciate it when you engage them through Facebook. When they
comment on your post, it is always nice to get a "like" or a reply. It makes them feel appreciated. It
keeps them interested in getting updates and shares from you.
Another way to engage your friends and likers is to encourage them to post photos and
videos on your page. This could be of them using your products or availing of your services. In the
case of holistic therapists and health coaches, it could be a photo or video of them getting therapy,
like a "before and after" montage Instagram photo.
This can potentially increase the participation of your audience. At the same time, it will
increase the visibility of your page from their profile pages. You can get more friends and likers
through this.
There are applications on Facebook that you can use to engage your network. Examples here
are the Events application and the Poll application.
You can create events and invite your network. This could be an online event where you give
a talk about a topic of interest to your target audience. Or, it could be an actual event wherein you
actually meet up with those on your Facebook network. If you do this, make sure to empower your
invitees to invite their friends and contacts. This way, you audience can multiply beyond your
network.
With polls, you communicate with your network that you are interested in what they have to
say. For holistic therapists and health coaches, a poll could be something like this: What are your top
3 questions about Essential Oils? This question not only engages your network; it can also help you
improve your current line-up of offerings.
Help
Facebook is also a good venue for you to reach out and help your network. Encourage your
audience to ask you questions. Let them know about your expertise, and the areas where you can
help. This is a good way to gain their confidence. People will always appreciate someone willing to
help. Plus, it communicates to them that you are the go-to person – the expert – in your field. If you
are successful in helping people out, they will be more inclined to use your products or services.
Expand
Once you get out there, and start sharing, engaging and helping, you will find that you can
easily expand your current network of friends and likers through your network"s friends, Facebook
Groups, and by leading your Twitter followers to Facebook.
Constantly work towards increasing your number of friends and likers. Add people who
might be interested in what you offer. More friends and likers on Facebook mean that you have a
bigger audience, which you can convert to actual customers.
Sell
Unlike Twitter where it is a no-no to sell, it is ok to do some selling on Facebook. The key is
to not overdo it. The ideal is to post a sales status just once a day. The rest of your posts should be
status updates, and shared articles, photos and videos. You don"t want to be labelled as a spammer.
Your sales post could be a preview of new products and services. This can include Facebook
albums of these products and services, with descriptions and prices. For the actual selling, you need
to lead your audience to your website. So, always make sure to include a link to this when you post
product photos and sales statuses.
You can also remind your network about your loyalty programs (if you have any) through
status updates. Loyalty programs target your existing clientele so it pays to remind them to revisit
you whenever possible.
When you sell online, you need to make it easy for your audience to buy from you. This
means that you need to be clear about what you want them to do and where you want them to click.
On your sales statuses, use statements like "Click here to sign up for the webinar" or "Click here to
buy the ebook."
Now, let's take a look at Linked In.
Linked In is mainly a business networking site. There are no frills and such to it, unlike
Facebook. It is straightforward, and it is powerful that way.
To date, there are now more than 135 million professionals on Linked In. This includes
executive-level professionals, and the movers and shakers of industry. They are there not necessarily
to look for clients. Many of the people in Linked In are there to represent their companies, and
promote their brands. They are also on the lookout for gems in the rough.
A holistic wellness and life coach can definitely benefit from having a profile on Linked In.
The key is that your profile needs to be optimized. Profile optimization is a necessity. This ensures
that you have a bigger chance of being found by your prospects. At the same time, whoever
stumbles into your profile will have a good first impression about you.
Here are ways to making your Linked In profile count:
Completion Counts
This is the first and most important rule: complete your profile. You should think of your
Linked In account as your online résumé. It is what prospects see first. It is also what they"ll
consider first if they are looking for your products or services.
All fields should be filled out with the appropriate information. You should make sure to
highlight your expertise, and the unique solutions and services that you offer. Don"t forget to include
your photo where you appear friendly and professional. If it is possible to have a pro photographer
take this picture for you, do so. You want to put across that you are a capable and reliable
professional.
Use unique relevant keywords when describing what you offer professionally. This helps
your prospects easily focus on the gist of what you want to say. Remember to keep this natural
though. You should never spam your Linked In account. (The offense in this case is keyword
stuffing.)
Choose a Powerful Headline
You get to create a Headline about yourself on your profile, right after your name. You are
limited to 140 characters so whatever you write should be concise and attention-grabbing. The point
of the Headline is to enable you to quickly pitch your business. It"s a time-saver. Anyone not
interested in what you offer can skip reading further. Anyone who is interested will read on, and
probably initiate contact with you.
It"s a good idea to draft different versions of your headline and ask for your colleagues"
opinions on what works the most. If you have time, you can also go live with these different
versions and see which works best. Once you"ve decided on one, stick with it for a while. This will
be how you brand yourself on Linked In.
Make Use of Sections
There is a new Sections area in Linked In, where you can highlight your skills, expertise and
publications. Include eBooks, videos, CDs and other media work here. This is especially good when
you want to impress your online audience. Making use of this sets you apart from the rest.
Be Active in Relevant Groups
Being in a Linked In group lets you expand your network with the social media site. You can
join in discussions, offer your opinions and suggestions, and touch base with the other group
members.
To optimize this aspect of Linked In, you need to join groups that your ideal clients will join
in. However, once you find your prospects, don"t sell to them yet. The point is to listen, observe and
help. You have to communicate to them that you are there to understand their problems and pain
points. You are there to listen and learn. When they know that you are sincere in this, in your giving
of your full attention, then they will trust you and like you. People are drawn to people they trust
and like, even when it comes to business.
Only once you"ve gained your prospect"s trust can you begin to offer your products and
services as a way to add value to the conversation. The approach should never be the gung-ho "buy
this product, now" approach. Linked In is not a place for that. Be subtle. Offer it as a solution to
their problems after you"ve listened to what they have to say.
Get Introduced
I find this to be a great function on Linked In. The "Get Introduced" is something you use
when you"ve found a prospect that you want to begin a conversation with. For a holistic wellness
entrepreneur looking to offer a corporate wellness program, the best way to do this is to look at a
target company, and search for their Human Resources or Benefits employees. Then, "Get
Introduced." This is an option you click on for profiles that you find interesting.
Network
Of course, when on Linked In, network. This is one of the best things about social media,
especially for people who don"t enjoy going to events to network. Linked In is a good online
alternative.
On that note, if you are on Linked In and still not connected to me, simply go to my website
(www.robbinsimons.com) and click on the Linked In icon. Add me and let"s build our network
together.
Link
It"s a wonder how some people have been on Linked In for the longest time and still do not
know that they can customize their My Website section. This is a crucial feature that can increase
your website"s traffic.
Instead of using the default "My Website," change it to "Download My Wellness Guide
Free" or "Best Stress Reducing Tips." This will definitely pique your prospects" interest more than
"My Website."
Be Creative
Like we talked about earlier, you want to make your profile stand out. This isn"t really that
hard to do on Linked In because many people here haven"t taken the time to get creative with their
profiles. Many have bland and overly simple profiles – this is your opportunity.
To stand out, you can do something as simple as adding a "Welcome" video on your profile
that automatically plays when someone lands on it. If not that, add a video with testimonies from
your past clients about how great working with you was to them.
The point is that you should utilize all possible media to get your message across. Linked In
lets you do that so you should take advantage of it.
Be Proactive: Ask to Connect
You don"t have to be shy about it. The main point of being on Linked In is to expand your
network. You will only get to do so if you Ask to Connect. When people land on your profile page,
make sure there is a call to action for them to connect with you. Reach out and use your profile to
extend an introductory handshake.
Create an Event on LinkedIn
Creating an actual event is a great way to convert online prospects into actual clients.
Conceptualize an event that will interest the group that you belong to. Coordinate with the group
owners and other interested parties on the agenda of the event. Make it a free (or minimal fee) event
and invite people. You can use the events application on Linked In to promote. Once you"ve gotten
enough people interested, you can look forward to new actual clients from your online social media
profile on Linked In.
Recommend Others
Linked In allows you to recommend the expertise of another person. If you"ve worked with
someone in your network and know that they provide good products or services, by all means,
recommend them. This is a nice gesture, which can benefit the other person. There might also be
some reciprocity here, wherein they will return the favour and recommend you. Whatever the case,
you are investing in "good karma" when you do this.
Lastly, I would like to talk a little bit about Pinterest.
Pinterest is still not regarded as something that you must have if you want to market online.
However, tech savvy holistic practitioners and entrepreneurs will benefit from what this new social
networking site offers.
Pinterest is a social networking site that's like your online pinboard. If you are interested in
anything, you can 'pin' it online using videos and images. Users can upload their own images or
videos, or link to an images and videos from the website that you like. Some sites feature the Pin It
button or the Pinterest bookmarklet, which can be used to pin images from these sites. Else, just
putting in the website URL works on Pinterest.
I recommend giving Pinterest a chance. Even though it's a new player amongst social
networking sites, it has gained an impressive number of users. Between December 2011 and January
2012 alone, its membership rose by 155%. "Hitwise" even gave it the #5 slot in their Top Ten Social
Networks, beating the likes of Linked In and Google+. Some research studies even claim that
Pinterest is more effective than Facebook in driving traffic to a website, as in the case of Time Inc.'s
Real Simple for October 2012.
In Pinterest, anyone can see and browse your pinboard. They can "like," "re-pin" or
"comment" on other people's pins. Users can interact and share through other social networking
sites, like Facebook and Twitter. You can even embed pinboards on websites or blogs.
The point of Pinterest is the visual emphasis on actual things that people are interested in. It
is a way for like-minded people to discover others like them, as well as new things that they could be
interested in – this can include you, and your products and services.
Building Your Pinterest Following
Like the other social networking sites, you can only begin to benefit from having a Pinterest
presence if you are able to build a following. Your followers can either follow you as a user or just
follow one of your pinboards. So, before getting started in marketing your Pinterest account, make
sure that it has interesting pinboards already. This is just the same for blogs, wherein you need to
have a few blog posts first before telling people about the blog. Pinboards are the main reasons why
people will follow you on Pinterest so make sure these are interesting.
Here are a few quick tips to get you started on Pinterest:
1. Be specific about your topic and create the best pinboards for this. This means using specific
keywords, not general ones. For example, a pinboard on "Massage" is too general. You can
get to your target market more if you create a pinboard on "Aromatherapy Massage." This is
an SEO strategy that makes sure you zoom in on your niche market.
2. Promote your boards through other social networking sites, such as Facebook, Google+,
Twitter and Linked In.
3. Engage with other Pinboard users. Start conversations by liking their pins and commenting.
Usually, people get interested about your own pins when they see you interacting with theirs.
They may even choose to follow you on Pinterest.
Maximizing Your Use of Social Media
We've discussed a lot of social media strategies in this chapter. These will help you create a
significant social media footprint that will make it easy for your niche market – your ideal clients – to
find you.
Of course, all this takes time; and, with maintaining a business as well as your personal life,
this can be a lot.
My advice is to focus your online activities on the online influencers of your niche market. It
is a hard task to be everywhere online, especially when you don't have to be. Do research about the
online activities that will benefit your business and focus your attention there.
When you do get into the social media platforms that work for your holistic business, be
active in it. Even on a bad day, make sure to interact. Post and share daily. Encourage your friends,
likers and followers to share your online content if they enjoyed reading it or viewing it.
The ideal is to do something online daily. You can actually compare it to exercise, which you
need to do daily for at least an hour. This is consistent work that's more effective (and less painful!)
than one 8-hour monthly marathon session.
On that note, when you're active online, it can become tempting to "spam" your audience.
Don't. This is equivalent to jamming your business down their throats, which leaves many people
nauseous. You risk being unliked, unfriended or unfollowed.
You should also be prepared to get your share of flamers, trolls and negative reviews. That's
the way it goes on the net: Not everyone will like you and they will tell you so. Hopefully, some of
these are constructive enough that you can actually learn from them. Use what you imbibe to
improve your products and services.
And always remember that your back story matters. This makes it personal. This makes you
real; and not just an online entity. When you engage in the social media, weave a little about yourself
when you can.
Tip to Inspire You:
Social media networking will help you and your holistic business. Turn a deaf ear on those
who criticize you for this; they are just afraid to embrace change. Just remember to maximize and be
consistent in your online presence. Share quality content. Engage your friends, likers and followers.
Be present – smartphones and iPads are great tools here. As long as you are consistent, results are
guaranteed.
Chapter 8
EASY eZines & Newsletters
In this chapter, you will:
1. Learn the benefits of having an eZine
2. Know the basics of eZine creation
3. Learn how to grow your eZine email list
Why have an eZine
There are many reasons why a holistic practitioner/ entrepreneur should have an eZine. Here are my
top three reasons:
Turn Leads into Hot Prospects
What"s better than having leads? Gaining hot prospects, that"s what!
First, let"s draw the line between leads and prospects. Some people make the mistake of
thinking that leads and prospects mean the same. In marketing, especially for those who use email to
keep in touch, a lead is a person who has given you permission to be included in your email list. This
can be anyone, even someone who is continents away from you and can"t possibly buy your service.
This is good as it is because you get to reach out to many people. However, gaining hot prospects
off your list of leads is better. The prospect may actually be interested in buying from you.
Your eZine is a great tool to convert leads into prospects. When you consistently keep in
touch via email, you allow your leads to get to know about you and your services over time. This is
an aspect of what marketers refer to as "relationship marketing." With an eZine, you build a
relationship with your email list, your leads. This relationship can progress, and some leads may soon
become hot prospects.
The contention is that your eZine should add value to the lives of those on your email list. It
should be interesting enough that your leads look forward to receiving it.
Establish Credibility
It is possible that people who sign up for your eZine don"t really know much about you.
They may have just found your website and your eZine, and became interested.
Sending out your eZine regularly is your opportunity to let them know more about you and
your holistic business. If you consistently send quality content, with information, resources and
expert advice on holistic health and wellness issues, then you are building yourself up as the expert
on this topic. You are establishing your credibility, and gaining their trust.
Increase Your Knowledge
For me, one of the best motivations to teaching is the learning that comes with it. When you
impart information and industry knowledge through your eZine, you will need to back these up with
research. You read up on trends and developments. You find new information that"s relevant to your
topic. At the end of the day, you are also increasing your knowledge and expertise on the topic.
Developing your eZine
There are 4 major things to consider when developing your eZine: Frequency, Content,
Format and Delivery Method
Frequency
Deciding on how often you send out your eZine is important. There is some balancing that
you need to do here. If you send too often, you might come off as a spammer. If you send too
infrequently, your leads are not reminded about you regularly. They might even forget that they
signed up for your eZine in the first place.
The frequency of your eZine will also affect what you write about. If you decide on a
monthly eZine, then you have a lot of topics to cover. It should be like friends catching up, with
news, updates and new information. If you send your eZine once a week, then you can write shorter
messages on just one or two topics.
Content
This is the hard part of developing your eZine: regularly coming up with interesting content.
Here are some tips to remember:
Choose a Topic that is Relevant to Your Target Market
People who sign up for your eZine are likely to be interested in the holistic wellness industry.
It is possible that they are potential clients or colleagues who want to improve their practice. You
should keep this in mind every time you write your content. Your eZine will be reaching out to them
so it"s important to keep it interesting for your target audience. Your content should "speak" to
them, and communicate to them that you know their pain points and wellness needs.
Zoom in on Your How
It becomes easier to write when you have a Who (target audience) and a What (niche). You
will be able to come up with so many topics and issues to talk about if these two are clear to you.
However, don"t forget that you are also marketing yourself through your eZine. To market yourself,
you should also discuss your How – that is, how you approach your holistic practice. This will
distinguish you from others and help establish your brand.
Be Concise
Each time you come up with your eZine, make sure that the content is concise about what it
wants to communicate to your audience. There should be an obvious theme for each eZine. Focus
on a topic of interest and write about the different issues concerning this topic. Keep it short
though – people have shorter attention span these days.
Be Personal
With an eZine, you are also establishing a relationship with your audience. They don"t just
need to know that you are the expert in your field. They should also like and trust you, and you can
only get this if you inject a little bit about yourself in your eZine. Let your personality shine through
and stand out even when you are talking about, say, aromatherapy.
Be a "real" person to your audience -- this matters. As an example, think of the many reality
shows that we have on. People keep tuning in to Survivor or American Idol because of the different
personalities on the show. With each show, they begin to know these people, relate to them, and
somehow care for them. It works the same for your eZine. While establishing your credibility, you
are establishing a trusting relationship too.
Include Other Content Ideas
Don"t limit yourself to just discussing the issues that concern your selected eZine topic.
There are other things that you can include in your eZine. This varies up the content a bit so it can
keep the attention of your audience, even if it"s a lengthy eZine.
You can begin with a summary and locate this on the upper right corner of your eZine. This
works best if you are writing about several topics on your theme. It also previews the different
sections, which might compel some people to stay on and read some more.
Ask your audience a question. It communicates that you are thinking about them. It makes
your eZine interactive. Plus, people love Q&As. To start with this, you need to create a Reader
section on your eZine. This would encourage your audience to reply to your questions.
Include expert quotes and book recommendations. These are little things that readers
appreciate because they"re interesting.
Have some fun. EZines are not all serious stuff. Make space for a joke or a TV/ movie
review.
Format
For years, this has been a topic of debates. Which is best: Plain Text or HTML?
First of all, let"s define these. An HTML eZine is an emailed eZine with graphics and HTML
formatting. It looks like an emailed web page. Plain text is just that… plain text, with no formatting
nor images.
There are pros and cons to using either. Plain text eZines are not visually attractive but these
are seldom marked as spam by email filters. HTML eZines, on the other hand, are more likely to
catch the attention of your audience. The looks and design of an HTML eZine can compel them to
read on. The downside is that these can be tagged as spam by email filters because of the HTML
codes.
The best approach is to go with what works for you. Try each format out and see what gets
you more good feedback. If you are going with HTML eZines, make sure to instruct your audience
to add your email address to their email filter"s safe list.
You can also do a quick survey to ask your audience what kind of eZines they would prefer
to get. Be sure to ask why too. This way, you get a clearer picture of your target audience and their
concerns.
Delivery Method
There are two approaches to delivering your eZine. You can do it yourself or you can use a
service. Here"s my take on these options.
Do It Yourself
Doing it yourself is a good idea if you are still starting out with your eZine. Expectedly, your
subscribers won"t be a lot at first. A small group of recipients is easy to manage with any email
client.
If you decide to do this, make sure to create a group for your subscribers. When it"s time to
send your eZine, send to yourself and then add your group to the blind carbon copy (BCC) section
of your email. This keeps their email addresses private.
However, if you are certain about maintaining your eZine and growing your subscriber list, it
is a good idea to use a paid service even on the onset. Consider it as an investment in eZine
distribution and list management. You can benefit from the management and distribution system
from the get-go, and just focus on creating your content.
Use a Service
A good distribution and list management system can cost somewhere between $10 and $20
per month. With this, you get an online system where you can manage your subscriber list and
automate your eZine distribution, among other useful functions. You can even automate the
subscribe/unsubscribe process. Some services offer ready HTML templates for your eZine, which is
a good time saver. You would want to focus on your content and building your subscriber list.
Growing your eZine Subscriber List
The size of your subscriber list matters when you want to grow your business. You would
need to focus some of your time here. Here are some tips for getting results fast:
Ask Your Readers to Forward your eZine
This is a direct way to extend your reach and involve your readers at the same time.
Encourage your readers to forward your eZine. A simple line, such as "Forward to a Friend," is a
constant reminder for them to do so.
Collect Names and Email Addresses at Business Gathering
Consider speaking engagements, local meetings and business gatherings as opportunities for
you to network. When you network, make sure to get other people"s names, email addresses and
business cards. These can be added to your lead list. Make sure to offer an incentive for them to
share their email addresses, such as a raffle or emailed discount offers.
Offer a Gift
One of the best ways to encourage people to subscribe to your eZine is to promise them a
reward, such as a free audio download, a free special report, or a free eBook. This is sometimes
referred to as an "ethical bribe" to get people to sign up for your eZine.
Publish Articles
There are several benefits to publishing online articles. This can help direct traffic to your
website. It can also help establish you as an industry expert. Plus, it can also encourage people to
sign up for your eZine. Articles work like previews to your eZine. Readers will know what topics you
usually discuss and, if they are interested, they can get your articles directly through your eZine.
Just be sure to make it easy for them to find where they should sign up. Include an invitation
to subscribe to your eZine and even offer a free gift at the bottom of every article.
Promote Using Your Website
People land on your website because of your topic and the information you provide. If they
are interested enough, they might want to hear updates from you through your eZine. Make it easy
for them to subscribe. Put your Opt-In box on the upper portion of your website, where it"s easy to
spot. Offer a gift to encourage them to sign up.
Tip to Inspire You:
It will take time and work to get your subscribers to become interested in actually purchasing
your product or service. Studies peg it at 3 to 7 messages before you can stir up some interest. Add
to that, not all of your eZines will be read. They say that only one of three marketing emails is read.
Some eZines don"t reach your subscribers because of spam filters. Some will even unsubscribe from
you. Don"t get encouraged by all this. EZines are there to get your message across; and, people who
are really interested will stay on and listen to what you have to say.
Chapter 9
Networking for Newbies
In this chapter, you will:
1. Learn to use networking as a long-term strategy in gaining prospects and clients.
2. Determine if networking is for you.
3. Change your expectations about networking
4. Practically guarantee effective networking by focusing on your target market and niche
Networking can help you grow your holistic practice. However, it is not for everyone. It
could also be a major waste of your time. It really depends on you. It is perfectly okay to not want to
network. People succeed in networking because they enjoy it. If you abhor this part, it is very likely
that you won"t be good at it. You can do with the other marketing strategies I"ve included in this
book.
However, if you are willing to give it a shot and have the right attitude towards it, then I can
help you maximize the networking opportunities that you get.
Remember that networking doesn"t have to be your primary marketing strategy. You have to
be comfortable with your innate networking abilities, and be "real." Just be yourself, and enjoy
meeting people. There are no "should"s" here.
Defining Networking
Many use networking as a verb. Networking then just means interacting with people for the
purpose of growing your business. This entails going to events where you meet people who would
be interested in your product or service.
Networking is more than that. If you look at networking as a noun, the word "network"
comes to the forefront. Network pertains to a "large and widely distributed group of people or
things that communicate with one another and work together as a unit or a system." Networking
then becomes a long-term marketing strategy where you connect with people and the group they are
associated with.
This new perspective actually makes networking easier to do. Instead of pressuring yourself
to make clients out of each prospect you network with in the events you attend, you can relax and
just enjoy meeting people and improving relationships with those you already know. It is not about
making a sale right there. It becomes about building relationships.
Benefits of Networking
Some holistic practitioners who do networking to build their business make the mistake of
spreading themselves too thin and being all over the place. They belong to too many networking
groups, and keep on doing this and that, without focusing on their goals and measuring how
successful they"ve actually been. While networking is good for your business, an unfocused approach
might just burn you out, with goals unmet.
Here are some of the benefits of networking. These are actually measurable goals, which
you can use to assess your agenda whenever you find yourself in a networking event.
Get New Clients Fast
An event is a great way to get new clients fast. All you need to do is meet someone in your target
market, talk a little about your product or service, and then there! You get a new client.
Generate Prospects
Most of the people that you will meet in events will not become your clients immediately.
They can be considered prospects, as long as you follow through and cultivate your relationships
with them.
As example, say you meet a prospect at an event. Your next step would be to touch base with
them online, and invite them to sign up for your eZine or join your free online class. Provide value
in what you offer to this prospect. You may even offer a free session, like we discussed in the earlier
chapters. If the prospect appreciates what you"ve provided, they may soon sign up as a paying client.
Attending events to generate prospects takes a load off the pressures of networking. When
you get out there, just enjoy the event and meet people. In time, you will reap the benefits from
connecting with your prospects.
Gain Exposure
You can also gain exposure when you attend networking events. Not everyone will know
about your product or service; and meeting people and telling them about what you do is a great way
to "advertise." The key is choosing the right event to go to. The events you choose should be
attended by people who will actually want your product or service.
Improve Your Communication Skills
Much of marketing is about getting what you want to say across to your ideal client. You
must do so clearly, and with the charisma and passion that win people over. It takes practice to get to
that level. Joining events to network is a great way to get practice. The more you are forced to talk
about your business, the better you become at it.
Learn About Your Target Market
When you begin to talk with your target market at networking events, you are likely to find
out more about them, their needs, struggles and passions. These are the needs, struggles and
passions that you will need to address when these prospects become clients. You can learn from this
and later on improve what you provide to your clients.
How do you start? Foremost is to pay attention. Ask the right questions and listen to what
they have to say.
Develop Relationships
You have to always remember that the best networking is one that develops relationships,
not just one-time sales. When we network, we connect with individuals and learn more about them.
We get to understand them more. At the end of the day, you want to be able to assess how you can
better improve their lives and respond to their needs. This type of attitude is what affects people
positively in the long run. It is also what will draw your ideal clients towards you and your product or
service.
How to Network Effectively
Now that we"ve set our goals, let"s get ready to network. Here are basic step-by-steps that
you can follow:
Realign your expectations.
I advise you not to go into an event with an "I am going to get a client" mind-set. You are
only setting yourself up for disappointment if you do so. The better approach is to review the
benefits of networking that we talked about earlier. There are other benefits to networking and these
are also worthwhile outcomes when you go to an event.
Set your goals
Once you"ve realigned your expectations, it"s time to set your goals. Goals get to the specifics of
what you want to achieve based on your new expectations. It could be something like "Give 2 free
aromatherapy sessions, meet 4 new people and reconnect with 3 friends."
You should also keep in mind the other opportunities that may come up when you network
in events. It"s not just about promoting your product or service. You may potentially meet someone
who can use you as resource person in speaking engagements, or meet marketers who can help you
sell your holistic products and services.
Don't Forget the Who and the What
This is the most important thing to keep in mind when you set out to network. Don"t forget
your Who or your ideal clients. Don"t forget your What or their needs and wants. This means that
you don"t need to attend every networking opportunity that comes along. Choose only those which
will be attended by your target market. Then, to be able to reach out to them, know their needs and
wants, and be effective in communicating with them how you can help.
Be there to serve
Some people make the mistake of focusing on themselves and their needs when they go to a
networking event. They wonder about how they can get clients, how they can get people interested
in them and such. This does not draw people in. In fact, it can be a turn-off to be around someone
who is self-centered even when around other people. What draws people in is someone who reaches
out and tries to really talk to people. Think: "How can I serve today? What can I give? How do I add
value?" This gets better results.
Sample the networking opportunities available to you
Not every networking event will reap the same results. Attendees vary and the response to
what you offer varies. If you can visit for free at the start just to get an idea about the members, do
so. It usually takes around 2 visits for you to determine if the club or organization is for you. If this
is not possible, then try to do some research. Call ahead and ask.
Be confident
When you go out to speak to people, it is not just about your message. What you have to say
is important, yes. But, you should also think about how you come across, how confident you are
when you say your message. Before you can convince others to believe in your product or service,
you should be able to convey how much you believe in it. That"s the only way you can market
yourself and what you offer.
Follow up
Networking doesn"t end once the event"s done. Maintain the connections that you gain
during the event by effectively following up. Email them a "thank you" or begin conversations. Offer
a free gift online as a sign of appreciation. The goal is to have them remember you and what you
offer even after meeting with you.
Find Networking Events
Remember that the success of your networking depends on your choosing the best events to
go to. These events should be attended by your ideal clients. Here are venues where you can scope
for events:
Encyclopaedia of Associations
Networking groups like BNI, Elite Leads, eWomen Network, NAWBO, and the Chamber of
Commerce
Local events calendars in newspapers and business journals, and on the net
Meetup.com groups
Tip to Inspire:
What makes a big difference when you network is the value that you provide. Remember, it
should not be about you. Think of ways you can get involved and contribute to the organization.
Think of how you can serve them better. This can mean that you will be putting more effort and
time in the relationships that you establish in the organization. Just think of this as a long-term
investment. As your credibility and stature rise within your networking group, your business will reap
the benefits.
Chapter 10
The KEY TO SELLING
Holistic Services to
Conservative Clients
In this chapter, you will:
1. Learn marketing strategies that target conservative clients
2. Learn to put together information packets that work for conservative clients
3. Know about the "Wellness Lunch Hour Treatment Day" and how to use it for your business
The challenge you face in finding clients is unfortunately not unique. Many holistic
modalities are not mainstream enough to benefit from traditional marketing tactics, such as flyers
and newspaper advertisements. There are, however, a few really great strategies that you can use to
build your client base. These have proven to be very successful for other practitioners.
The first and most critical step is to create a positive awareness of the health and well-being
benefits your holistic modality provides. There are a few ways to do this. You"ll want to start by
putting together some really great information about all the good things your modality provides –
stress relief, better sleep, quicker recovery time from injury, more energy, less pain, etc.
Add a few "real-client" testimonials, as well. This gives apprehensive newcomers someone to
mentally connect with. It also provides validation that the modality is not just some hocus pocus
kind of treatment. If you get really stuck on identifying the benefits you provide, ask your current
clients to describe why they continue to come to you. You might hear things like this:
"I never have to sit in a waiting room full of sick people."
"My treatment always includes soft music and a peaceful environment."
"I feel peaceful, rested, and relaxed after a session."
Next, you could take the content you created and use it in other venues. You can build a
website or a blog. You can publish articles online and use Twitter to broadcast the links to these
articles. You can even turn your information into a print flyer – just be sure to include the
testimonials.
For flyer distribution, try to coordinate with local businesses to see if you could leave your
flyers or other marketing materials for their clients. Offer to place some of their flyers or business
cards at your place of business in return.
You"ll want to carefully choose which businesses you approach. Try to stay within
complimentary areas of business, such as gyms, hair or nail salons, tanning salons, etc. These are
great places to work with due to the high volume of traffic they generally produce. These types of
businesses are also more likely to agree to cross-promote with you than doctors or other allopathic
professionals.
One of my favorite and most successful promotional strategies is to approach some of your
local businesses and offer a free "Wellness Lunch Hour Treatment Day." Start with small- to
medium- sized businesses, and then work your way up.
This works best if the business owner or manager will allow for a full week rather than just
one day. Of course, one day is better than nothing! What you"ll do is provide free 30 minute holistic
therapy treatments between the hours of 11:00 am and 1:00 pm. If you"re a Reiki practitioner or
Energy Healer, I suggest focusing on the head and neck regions during these sessions. These are
likely the most receptive areas to your energy in this situation. Plus, this can easily be done with a
comfortable chair rather than a massage table.
Nutrition Coaches and Personal Trainers may also find great success with this strategy, as
these are services that many people don"t often seek out due to the presumed cost.
This type of event is very appealing to many business owners because it positions their
company as an organization that really cares about their employees" health and well-being. This is a
great selling point to use with the business owner as well. Your best bet is to first try to speak to the
Human Resources Manager.
Put a lot of thought into how you will position this to the prospective client. A proposal
outlining benefits and ROI (Return on Investment) is customary. Make sure you bring your
informational flyers and lots of business cards with you.
During the event, try to book a follow up appointment when finishing up with the client. If
they are not able to commit right away, provide them with a discount coupon for their first visit with
you. Another thing you could offer is an additional discount coupon that they can give to a friend.
You"ll have a captive audience for about 2-5 minutes once you"ve concluded their free
treatment. Make the most out of it and sell them on the health and well-being benefits of your
modality. This type of information is especially important to communicate when dealing with
conservative communities where holistic therapies are not well known.
Keys to selling holistic services to conservative clients:
Speak in terms that resonate with your potential clients" physical pain points
Emphasize that your modality is a complimentary therapy to allopathic therapies, not a
replacement
Create a real connection with people in a way they can relate to and that isn"t too far out of
their comfort zone or personal belief systems
Offer free trial sessions for potential clients to experience your treatment, and be sure to
follow-up afterwards
Tip to Inspire You:
Do one thing every day to promote your business. Eventually, people become curious and
can"t help but to check out what all the hype is about.
Chapter 11
Build Your Business & Help
More People with eBooks
In this chapter, you will:
1. Discover the benefits of writing an eBook
2. Learn where to start when writing an eBook
If you simply want to have an eBook to use on your website as your free gift for opting in to
your newsletter, then this can easily be done in a just a couple of hours.
It"s really unbelievable how easy it is to put together a 5-10 page eBook or special report to
use for this purpose. It"s also a great way to get your feet wet if you"re just launching a new business
or just want to try your hand at writing.
All it takes is compiling a few of your previous blog posts, putting it into a word document
and saving it as a PDF. It"s really that simple. You can then ask your web designer to post it to your
email opt-in page if you"re not so technically inclined. Then, you"re good to go!
But the real benefit comes in using your eBook as a lead generation tool, and posting or
selling it online in places like Amazon or Barnes & Noble.
Everyone has a story to tell. If you"re reading this today, I know you have AT LEAST one
book in you that is dying to be written. You have a message that the world needs to hear, and people
who are waiting to hear it from YOU right now.
Why eBooks?
There is no other tool that"s better at generating qualified leads, growing your business, and
positioning you as an expert, all at the same time, than the eBook.
There is NO financial risk. It costs you absolutely nothing to publish your book on Amazon.
This has to be the easiest and most effective list building tool that you will come across. You
already have the information that you can use. You just need to learn the system behind it.
It has been the number one tool that I have used in my business to build my list. With your
own eBook, you will reach more people who you can help and it will also work to establish you as an
expert in your area of expertise
We do a lot of things to try to attract people to our work. Your eBook, if strategically
written and positioned, is the number one thing that you can create to draw people to your website
and become a "go-to" trusted source and advisor in your field. You could put everything you know
into a book that communicates your message to the world.
So where do you start? Very simply, you begin with a good idea, your own expertise, a
process you have developed, or a personal experience. If you"re still not sure, one of the best forms
of market research is to reach out to your ideal clients or target market. The best way to do this is to
join Facebook groups, Linked In groups, or other niche forums where your people hang out.
Participate in discussions and pose questions. This is really where your listening and
observation skills come in and will serve you well. This is where you want to listen and pay attention
to the problems or challenges facing group members. And if it isn"t clear, then ask them. Simply
post a question asking what they most struggle with. This information is pure gold. This is what
your ideal client wants to know about and this is the information – the solution – that they"d be
interested to buy from you. You can find out more about how to write and structure your own
eBook
so you can share your knowledge or your gift with the world while, at the same time,
generating qualified leads, attracting clients to your website, and building your list at
www.robbinsimons.com
There, you will find a free eBook writing tool kit as well as programs and information to get
you started and help you along your journey.
Tip to Inspire You:
Your eBook is a way to share your message. It is a way to share your knowledge and
experiences. But I want you to start to shift your thinking for a moment and think about your eBook
as a vehicle to give people real, genuine value. Invite people to read your book and give them a ton
of value. By going this, you will build a relationship with your reader based on trust.
Wrapping Things Up...
All that I"ve provided in this book is not a reinvention of the wheel. The strategies that I"ve
outlined have helped many Holistic & Wellness Practitioners, as well as my own past and current
clients, find success in doing what they love to do. These are strategies that have helped many to
navigate the changing, and sometimes, treacherous business landscape. I consider this a practical
approach to having the ability to work at what we"re passionate about every day. It is how we survive
financial realities, without needing to put our passions aside.
I am addressing holistic practitioners and business owners in this book because I feel that
they need to be reminded of these realities and what they must to do to survive. I also feel that they
need to be reminded that they can be successful. Very often, spiritually-minded people and other
creative types will feel guilty about charging what they are really worth because they feel it goes
against their core values and beliefs of giving, creating and being of service.
If you have a hard time implementing the strategies we discussed, you might consider if you
have some deep-rooted issues around money. The truth is that you can do all the affirmations and
manifesting meditations in the world; but if you still hit the wall with this aspect of your practice or
business, then you need to be ready to make some big inner shifts.
These strategies are really clear and I think you"ll find that, once you implement them, you"ll
see results. However, you have to recognize if and when you"re getting in your own way, and be
willing to do the inner work as needed.
If you are a holistic practitioner or business owner and you are reading this right now,
remember that you can do what you are meant to do, and still be able to create the abundance you
desire. You can make it work.
Thank you for purchasing The Holistic Health & Wellness Entrepreneur"s Essential
Handbook for Success. I hope you found the content in this book helpful as you continue along
your journey.
I would be so grateful if you could take a minute or two and provide an honest review for
this book on my sales page at:
http://www.amazon.com/Holistic-Health-Wellness-Entrepreneurs-Handbook-for-Success
Wishing you inspiration & success,
Robbin Simons
Resources
Complimentary forms and templates mentioned in this book are available for instant download
at:
www.robbinsimons.com/holistichandbooktemplates
For information about writing eBooks for attracting more clients and growing your business, go
to:
www.robbinsimons.com
About Robbin Simons
Robbin Simons has fast become regarded as the voice for entrepreneurial success within the Holistic
Therapy and Wellness Industry.
Over the past 20 years, she has enjoyed a very successful corporate career in the field of Supply
Chain, working with global Fortune 500 companies in the information technology, retail, and life
sciences industries. She has even been fortunate enough to be recognized by Supply & Demand
Chain Executive as a "2011 Practitioner Pro to Know." However, even with all of this, she felt the
desire to do something more meaningful with her life… something more authentic where she could
truly make a difference in peoples" lives.
Natural health modalities have always interested her so she decided to study the fascinating area of
Iridology. She then created her own practice where she has performed hundreds of Nutritional
Health, Personality, and Spiritual Iridology assessments.
In addition to her work in Iridology, Robbin is also a certified Reiki Master and trainer, as well as a
student of Holistic Nutrition.
One of her greatest passions is working with Holistic Therapy practitioners to de-mystify and
simplify the many elements that a business owner needs to know about starting and growing a
wellness & natural health business.
Robbin"s current focus is educating emerging entrepreneurs on how to attract more clients and
grown their businesses with new forms of technology and media such as eBooks, tele-seminars,
webinars, videos, podcasts, and many others.
All of her products and programs contain simple, easy to implement tools and strategies that are
specifically designed to address the unique challenges faced by new and emerging business owners. .
Legal Disclaimer: Every effort has been made to accurately represent this material and its
potential. Any claims made of actual earnings or examples of actual results can be verified upon
request. The testimonials and examples used are exceptional results, don't apply to the average
purchaser and are not intended to guarantee that anyone will achieve the same or similar results.
Each individual's success depends on his or her background and commitment.