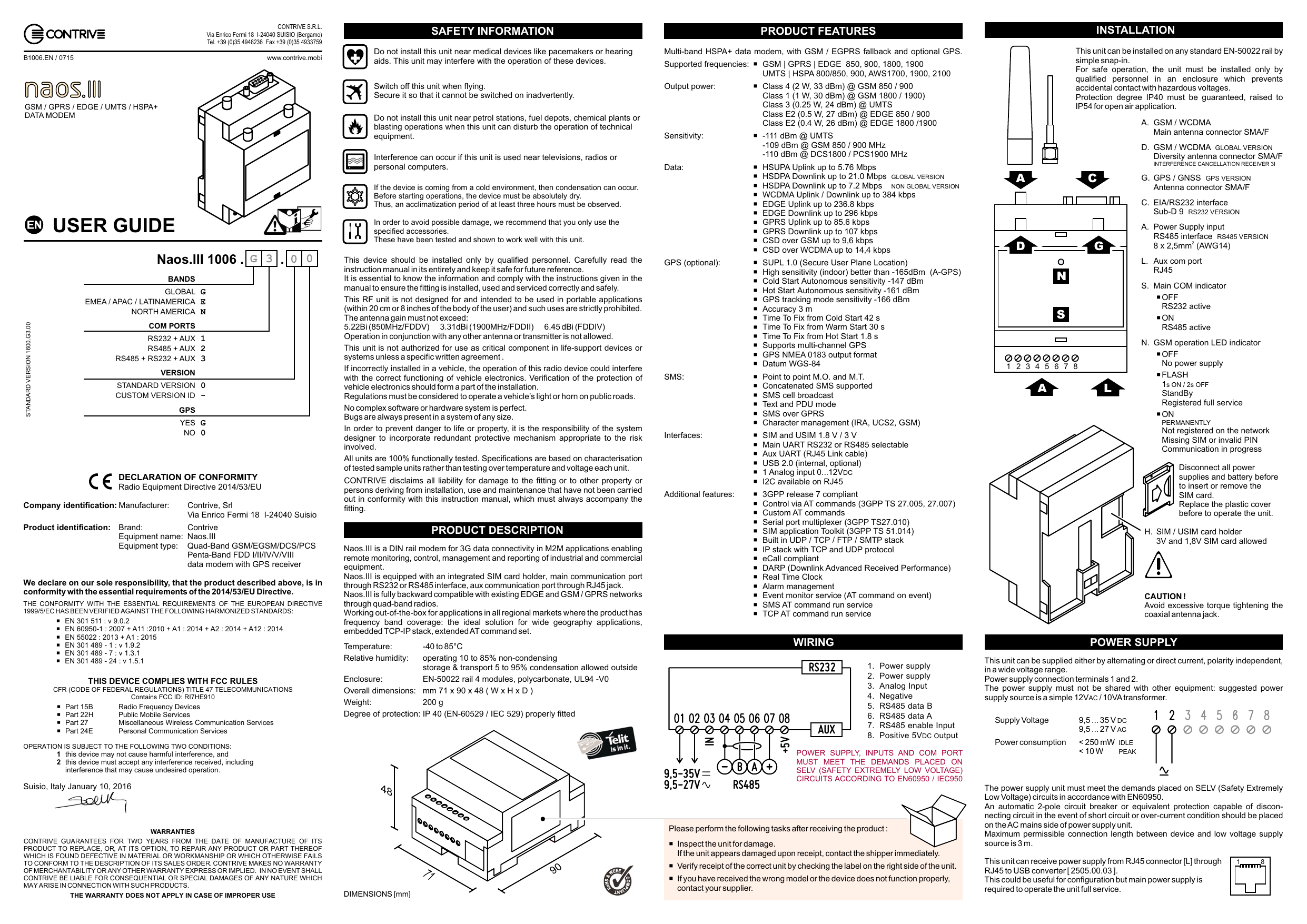 CONTRIVE S.R.L.
Via Enrico Fermi 18 I-24040 SUISIO (Bergamo)
Tel. +39 (0)35 4948236 Fax +39 (0)35 4933759
B1006.EN / 0715
www.contrive.mobi
i
naos.III
GSM / GPRS / EDGE / UMTS / HSPA+
DATA MODEM
Do not install this unit near medical devices like pacemakers or hearing
aids. This unit may interfere with the operation of these devices.
Multi-band HSPA+ data modem, with GSM / EGPRS fallback and optional GPS.
Switch off this unit when flying.
Secure it so that it cannot be switched on inadvertently.
Output power:
¡ Class 4 (2 W, 33 dBm) @ GSM 850 / 900
Class 1 (1 W, 30 dBm) @ GSM 1800 / 1900)
Class 3 (0.25 W, 24 dBm) @ UMTS
Class E2 (0.5 W, 27 dBm) @ EDGE 850 / 900
Class E2 (0.4 W, 26 dBm) @ EDGE 1800 /1900
Sensitivity:
¡ -111 dBm @ UMTS
-109 dBm @ GSM 850 / 900 MHz
-110 dBm @ DCS1800 / PCS1900 MHz
Do not install this unit near petrol stations, fuel depots, chemical plants or
blasting operations when this unit can disturb the operation of technical
equipment.
Interference can occur if this unit is used near televisions, radios or
personal computers.
r
Data:
¡
¡
¡
¡
¡
¡
¡
¡
¡
¡
HSUPA Uplink up to 5.76 Mbps
HSDPA Downlink up to 21.0 Mbps GLOBAL VERSION
HSDPA Downlink up to 7.2 Mbps NON GLOBAL VERSION
WCDMA Uplink / Downlink up to 384 kbps
EDGE Uplink up to 236.8 kbps
EDGE Downlink up to 296 kbps
GPRS Uplink up to 85.6 kbps
GPRS Downlink up to 107 kbps
CSD over GSM up to 9,6 kbps
CSD over WCDMA up to 14,4 kbps
¡
¡
¡
¡
¡
¡
¡
¡
¡
¡
¡
¡
SUPL 1.0 (Secure User Plane Location)
High sensitivity (indoor) better than -165dBm (A-GPS)
Cold Start Autonomous sensitivity -147 dBm
Hot Start Autonomous sensitivity -161 dBm
GPS tracking mode sensitivity -166 dBm
Accuracy 3 m
Time To Fix from Cold Start 42 s
Time To Fix from Warm Start 30 s
Time To Fix from Hot Start 1.8 s
Supports multi-channel GPS
GPS NMEA 0183 output format
Datum WGS-84
STANDARD VERSION 1600.G3.00
COM PORTS
RS232 + AUX 1
RS485 + AUX 2
RS485 + RS232 + AUX 3
VERSION
STANDARD VERSION 0
CUSTOM VERSION ID GPS
YES G
NO 0
DECLARATION OF CONFORMITY
Radio Equipment Directive 2014/53/EU
Company identification: Manufacturer:
Contrive, Srl
Via Enrico Fermi 18 I-24040 Suisio
Contrive
Product identification: Brand:
Equipment name: Naos.III
Equipment type: Quad-Band GSM/EGSM/DCS/PCS
Penta-Band FDD I/II/IV/V/VIII
data modem with GPS receiver
We declare on our sole responsibility, that the product described above, is in
conformity with the essential requirements of the 2014/53/EU Directive.
THE CONFORMITY WITH THE ESSENTIAL REQUIREMENTS OF THE EUROPEAN DIRECTIVE
1999/5/EC HAS BEEN VERIFIED AGAINST THE FOLLOWING HARMONIZED STANDARDS:
¡
¡
¡
¡
¡
¡
EN 301 511 : v 9.0.2
EN 60950-1 : 2007 + A11 :2010 + A1 : 2014 + A2 : 2014 + A12 : 2014
EN 55022 : 2013 + A1 : 2015
EN 301 489 - 1 : v 1.9.2
EN 301 489 - 7 : v 1.3.1
EN 301 489 - 24 : v 1.5.1
THIS DEVICE COMPLIES WITH FCC RULES
CFR (CODE OF FEDERAL REGULATIONS) TITLE 47 TELECOMMUNICATIONS
Contains FCC ID: RI7HE910
¡
¡
¡
¡
Part 15B
Part 22H
Part 27
Part 24E
Radio Frequency Devices
Public Mobile Services
Miscellaneous Wireless Communication Services
Personal Communication Services
This device should be installed only by qualified personnel. Carefully read the
instruction manual in its entirety and keep it safe for future reference.
It is essential to know the information and comply with the instructions given in the
manual to ensure the fitting is installed, used and serviced correctly and safely.
This RF unit is not designed for and intended to be used in portable applications
(within 20 cm or 8 inches of the body of the user) and such uses are strictly prohibited.
The antenna gain must not exceed:
5.22Bi (850MHz/FDDV) 3.31dBi (1900MHz/FDDII) 6.45 dBi (FDDIV)
Operation in conjunction with any other antenna or transmitter is not allowed.
This unit is not authorized for use as critical component in life-support devices or
systems unless a specific written agreement .
If incorrectly installed in a vehicle, the operation of this radio device could interfere
with the correct functioning of vehicle electronics. Verification of the protection of
vehicle electronics should form a part of the installation.
Regulations must be considered to operate a vehicle's light or horn on public roads.
No complex software or hardware system is perfect.
Bugs are always present in a system of any size.
In order to prevent danger to life or property, it is the responsibility of the system
designer to incorporate redundant protective mechanism appropriate to the risk
involved.
All units are 100% functionally tested. Specifications are based on characterisation
of tested sample units rather than testing over temperature and voltage each unit.
SMS:
¡
¡
¡
¡
¡
¡
Point to point M.O. and M.T.
Concatenated SMS supported
SMS cell broadcast
Text and PDU mode
SMS over GPRS
Character management (IRA, UCS2, GSM)
Interfaces:
¡
¡
¡
¡
¡
¡
SIM and USIM 1.8 V / 3 V
Main UART RS232 or RS485 selectable
Aux UART (RJ45 Link cable)
USB 2.0 (internal, optional)
1 Analog input 0...12VDC
I2C available on RJ45
CONTRIVE disclaims all liability for damage to the fitting or to other property or
persons deriving from installation, use and maintenance that have not been carried
out in conformity with this instruction manual, which must always accompany the
fitting.
¡
¡
¡
¡
¡
¡
¡
¡
¡
¡
¡
¡
¡
¡
3GPP release 7 compliant
Control via AT commands (3GPP TS 27.005, 27.007)
Custom AT commands
Serial port multiplexer (3GPP TS27.010)
SIM application Toolkit (3GPP TS 51.014)
Built in UDP / TCP / FTP / SMTP stack
IP stack with TCP and UDP protocol
eCall compliant
DARP (Downlink Advanced Received Performance)
Real Time Clock
Alarm management
Event monitor service (AT command on event)
SMS AT command run service
TCP AT command run service
GPS (optional):
Additional features:
PRODUCT DESCRIPTION
Naos.III is a DIN rail modem for 3G data connectivity in M2M applications enabling
remote monitoring, control, management and reporting of industrial and commercial
equipment.
Naos.III is equipped with an integrated SIM card holder, main communication port
through RS232 or RS485 interface, aux communication port through RJ45 jack.
Naos.III is fully backward compatible with existing EDGE and GSM / GPRS networks
through quad-band radios.
Working out-of-the-box for applications in all regional markets where the product has
frequency band coverage: the ideal solution for wide geography applications,
embedded TCP-IP stack, extended AT command set.
-40 to 85°C
operating 10 to 85% non-condensing
storage & transport 5 to 95% condensation allowed outside
Enclosure:
EN-50022 rail 4 modules, polycarbonate, UL94 -V0
Overall dimensions: mm 71 x 90 x 48 ( W x H x D )
Weight:
200 g
Degree of protection: IP 40 (EN-60529 / IEC 529) properly fitted
RS232
OPERATION IS SUBJECT TO THE FOLLOWING TWO CONDITIONS:
1 this device may not cause harmful interference, and
2 this device must accept any interference received, including
interference that may cause undesired operation.
Suisio, Italy January 10, 2016
WARRANTIES
CONTRIVE GUARANTEES FOR TWO YEARS FROM THE DATE OF MANUFACTURE OF ITS
PRODUCT TO REPLACE, OR, AT ITS OPTION, TO REPAIR ANY PRODUCT OR PART THEREOF
WHICH IS FOUND DEFECTIVE IN MATERIAL OR WORKMANSHIP OR WHICH OTHERWISE FAILS
TO CONFORM TO THE DESCRIPTION OF ITS SALES ORDER. CONTRIVE MAKES NO WARRANTY
OF MERCHANTABILITY OR ANY OTHER WARRANTY EXPRESS OR IMPLIED. IN NO EVENT SHALL
CONTRIVE BE LIABLE FOR CONSEQUENTIAL OR SPECIAL DAMAGES OF ANY NATURE WHICH
MAY ARISE IN CONNECTION WITH SUCH PRODUCTS.
THE WARRANTY DOES NOT APPLY IN CASE OF IMPROPER USE
9,5-35V
9,5-27V
48
B A
RS485
AUX
1.
2.
3.
4.
5.
6.
7.
8.
Power supply
Power supply
Analog Input
Negative
RS485 data B
RS485 data A
RS485 enable Input
Positive 5VDC Output
POWER SUPPLY, INPUTS AND COM PORT
MUST MEET THE DEMANDS PLACED ON
SELV (SAFETY EXTREMELY LOW VOLTAGE)
CIRCUITS ACCORDING TO EN60950 / IEC950
¡ Inspect the unit for damage.
If the unit appears damaged upon receipt, contact the shipper immediately.
DIMENSIONS [mm]
90
õ õ
õ õ
A
C
D
G
INTERFERENCE CANCELLATION RECEIVER 3I
G. GPS / GNSS GPS VERSION
Antenna connector SMA/F
C. EIA/RS232 interface
Sub-D 9 RS232 VERSION
A. Power Supply input
RS485 interface RS485 VERSION
2
8 x 2,5mm (AWG14)
L. Aux com port
RJ45
N
S. Main COM indicator
¡ OFF
RS232 active
¡ ON
RS485 active
S
à à
1 2 3 4 5 6 7 8
A
D. GSM / WCDMA GLOBAL VERSION
Diversity antenna connector SMA/F
L
N. GSM operation LED indicator
¡ OFF
No power supply
¡ FLASH
1s ON / 2s OFF
StandBy
Registered full service
¡ ON
PERMANENTLY
Not registered on the network
Missing SIM or invalid PIN
Communication in progress
Disconnect all power
supplies and battery before
to insert or remove the
SIM card.
Replace the plastic cover
before to operate the unit.
H. SIM / USIM card holder
3V and 1,8V SIM card allowed
CAUTION !
Avoid excessive torque tightening the
coaxial antenna jack.
POWER SUPPLY
Please perform the following tasks after receiving the product :
71
A. GSM / WCDMA
Main antenna connector SMA/F
WIRING
Temperature:
Relative humidity:
+5V
BANDS
GLOBAL G
EMEA / APAC / LATINAMERICA E
NORTH AMERICA N
In order to avoid possible damage, we recommend that you only use the
specified accessories.
These have been tested and shown to work well with this unit.
IN
Naos.III 1006 . G 3 . 0 0
This unit can be installed on any standard EN-50022 rail by
simple snap-in.
For safe operation, the unit must be installed only by
qualified personnel in an enclosure which prevents
accidental contact with hazardous voltages.
Protection degree IP40 must be guaranteed, raised to
IP54 for open air application.
Supported frequencies: ¡ GSM | GPRS | EDGE 850, 900, 1800, 1900
UMTS | HSPA 800/850, 900, AWS1700, 1900, 2100
If the device is coming from a cold environment, then condensation can occur.
Before starting operations, the device must be absolutely dry.
Thus, an acclimatization period of at least three hours must be observed.
USER GUIDE
INSTALLATION
PRODUCT FEATURES
SAFETY INFORMATION
¡ Verify receipt of the correct unit by checking the label on the right side of the unit.
¡ If you have received the wrong model or the device does not function properly,
contact your supplier.
This unit can be supplied either by alternating or direct current, polarity independent,
in a wide voltage range.
Power supply connection terminals 1 and 2.
The power supply must not be shared with other equipment: suggested power
supply source is a simple 12VAC / 10VA transformer.
Supply Voltage
9,5 ... 35 V DC
9,5 ... 27 V AC
Power consumption
< 250 mW IDLE
PEAK
< 10 W
The power supply unit must meet the demands placed on SELV (Safety Extremely
Low Voltage) circuits in accordance with EN60950.
An automatic 2-pole circuit breaker or equivalent protection capable of disconnecting circuit in the event of short circuit or over-current condition should be placed
on the AC mains side of power supply unit.
Maximum permissible connection length between device and low voltage supply
source is 3 m.
This unit can receive power supply from RJ45 connector [L] through
RJ45 to USB converter [ 2505.00.03 ].
This could be useful for configuration but main power supply is
required to operate the unit full service.
1
8
MAIN COM PORT
AUX INTERFACE
Naos.III is a DCE (Data Communication Equipment) managed by AT commands
according to the GSM/UMTS specification.
The supported commands are listed in the AT Commands Reference Guide.
The main communication port is the interface for the application software and the
connection to DTE (Data Terminal Equipment): RS232 or RS485 available (USIF0).
The AUX interface provides via RJ45 modular jack the following options:
¡
¡
¡
¡
Auxiliary communication port, RS232 with RX and TX signals only (USIF1)
RTS / CTS signals (managed through GPIO control)
I2C SDA/SCL (managed through GPIO control) 3VDC
Power supply input/output 5VDC
Cable adapters available:
2505.00.01 RJ45 to DB9 RS232
2505.00.03 RJ45 to USB converter
RS232
CAN BE USED TO POWER THE UNIT
This is the default interface providing data and control signals, implemented as DB-9
FEMALE connector [C], circuit type SELV, max 15 m length, shielding not required.
DCE
FEMALE
DTE
MALE
RI
CTS
RTS
DSR
GND
GND
DTR
DTR
TxD
TxD
RxD
RxD
DCD
DCD
RI
CTS
RTS
1.
2.
3.
4.
5.
6.
7.
8.
AUX.RxD
GND
AUX.TxD
I2C.SCL - GPIO8
AUX.CTS - GPIO3
I2C.SDA - GPIO9
AUX.RTS - GPIO10
+5V SUPPLY IN-OUT
DSR
GSM ANTENNA
DB9 DB25
V24
RS232
SIGNAL
I/O
FUNCTION
1
8
109
CF
DCD
O
DATA CARRIER DETECT
2
3
104
BB
RxD
O
RECEIVE DATA
3
2
103
BA
TxD
I
TRANSMIT DATA
4
20
108
CD
DTR
I
DATATERMINAL READY
5
7
101
AB
GND
-
SIGNAL GROUND
6
6
107
CC
DSR
O
DATA SET READY
7
4
105
CA
RTS
I
REQUEST TO SEND
8
5
106
CB
CTS
O
CLEAR TO SEND
9
22
125
CE
RI
O
RING INDICATOR
The main antenna [A] should be placed away from electronic devices or other
antennas, recommended minimum distance between adjacent antennas operating
in a similar radio frequency band is at least 50 cm.
If signal strength is weak, it is useful to face a directional antenna at the closest radio
base station. This can increase the strength of the signal received by the modem.
Some versions provide an additional RF connector [D] for a Rx diversity antenna
which improves the quality and reliability of the wireless connectivity.
The modem's peak output power can reach 2W. RF field strength varies with antenna
type and distance: at 10cm from the antenna the field strength may be up to 70V/m
and at 1m it will have reduced to 7V/m. In general, CE products for residential and
commercial areas and light industry can withstand a minimum of 3V/m.
Antenna gain should be less or equal to 3dBi.
The antenna must fulfil the following requirements:
Frequency Range
GSM
850/900/1800/1900 MHz
WCDMA 850/900/1900/2100 MHz
The RTS control line indicates permission to the DCE to send data to the DTE.
The CTS control line indicates permission to the DTE to send data to the DCE.
Impedance
50 ohms
VSWR
< 2 : 1
Input power
> 2 W peak
RS485
The RS-485 differential line consists of two pins:
A
B
or
or
D+
D−
or
or
TxD+ / RxD+
TxD− / RxD−
NON INVERTING PIN
INVERTING PIN
THE B LINE IS POSITIVE (COMPARED TO A) WHEN THE LINE IS IDLE
SC
or
−
or
G
REFERENCE PIN
The SC line is the optional voltage reference connection specified by EIA standard as
common reference ground (sometimes called C).
GPS ANTENNA
An active GPS/GNSS antenna must be connected to SMA female coaxial jack [G].
The use of combined RF/GPS/GNSS antenna is NOT recommended.
Power supply is provided by Naos.III.
The antenna must fulfil the requirements given below:
Frequency Range
The recommended arrangement is as a series of point-to-point (multidrop) nodes.
Ideally, the two ends of the cable will have a termination resistor connected across
the two wires (typically, 120 ohms for twisted pairs).
and set baud rate within the limit allowed by line length, maximum data rate is 500
kb/s for very short lines
AT+IPR=...
This interface is activated when a +5V is
provided at terminal 7, RS232 receiver is
disabled but output signals are available.
For permanent selection link terminal 7
to +5V output available at terminal 8.
GPS/L1
Power Supply
3...5 VDC
Impedance
50 ohms
Gain
14...17 dBi
ANALOG INPUT
One analog input is available at terminal 3 respect to negative terminal 4.
An AT command is available to read the measured value :
AT#ADC?
The command returns the last valid measure expressed in V x 100.
#ADC=1200
READING A FULL SCALE VALUE OF 12,00V
Power supply at terminal 8 (respect to
negative terminal 4) could be used for
small external loads.
Output voltage:
Output current:
5V CC ± 5%
100mA MAX
Enable or disable the RS485 interface from
the application by means of external +5V
control line.
Input voltage:
Input current:
4,5 ... 5,5V CC
3mA MAX
1575.42 MHz
GLONASS 1597.55-1605.89 MHz
Disable flow control
AT+IFC=0,0
Input range
Resolution
Accuracy
Impedance
0 ... 12 V
0,01 V
± 2%
20 kW
Use +5V available at terminal 8 to read a
digital status (i.e.: a contact).
FACTORY PROFILE
Insert a valid SIM card and verify that the antenna is connected.
Connect a PC running a terminal emulation program to main (or aux) interface.
Naos.III is factory set to 115200 bps (or autobaud) mode, 8 bit data, no parity, 1 stop.
Send an AT command to test the communication:
AT<cr> and wait for response OK
If no response is received within the timeout period of 200 ms, retry.
Set the preferred port rate:
AT+IPR=<rate><cr> and wait for response OK
rate is the port speed, most used settings are:
300, 600, 1200, 2400, 4800, 9600, 19200, 38400, 57600, 115200 bps.
Naos.III stores the values set by several commands as profiles in the internal non
volatile memory (NVM), allowing to remember this setting even after power off.
There are two user customizable profiles and one factory profile in the NVM of the
device: by default the device will start with user profile 0 equal to factory profile.
Enable the extended error result codes:
AT+CMEE=<format><cr> and wait for response OK
<format>
0 numeric format
1 verbose format
8
1
QUICK START
Query SIM presence and status:
AT+CPIN?<cr> and wait for response:
+CPIN: SIM PIN SIM found and PIN is required to continue operations
+CPIN: SIM PUK SIM found and SIM PUK is required
+CPIN: READY
SIM found and no PIN is required to proceed
+CME ERROR: 10 SIM not present
+CME ERROR: 13 SIM failure
+CME ERROR: 14 SIM busy
+CME ERROR: 15 SIM is wrong type
Provide SIM PIN (only if required):
AT+CPIN=****<cr> and wait for response OK
where **** stands for the SIM PIN code (e.g. 1234)
When receiving the ERROR message, repeat query SIM presence and status
since after 3 failed attempts SIM PIN is not anymore requested: you must provide
SIM PUK instead (AT Commands reference guide for full command description).
Select cellular network:
AT+WS46=12<cr> select GSM (GERAN)
AT+WS46=22<cr> select UMTS (UTRAN)
AT+WS46=25<cr> select both (GERAN + UTRAN) factory default
the parameter is stored and the command will take effect at next power on.
If both technologies are available, UTRAN is preferred.
Band selection:
AT#AUTOBND=2 to enable automatic band selection
AT#AUTOBND=0 to disable automatic band selection, then
AT#BND=<gsmband>,<umtsband> to manually select active bands
Query network status:
AT+CREG?<cr> and wait for response:
+CREG: 0,0 / +CREG: 1,0 Not registered, not searching
+CREG: 0,1 / +CREG: 1,1 Registered on its home network
+CREG: 0,2 / +CREG: 1,2 Waiting for network registration
+CREG: 0,3 / +CREG: 1,3 Registration not allowed
+CREG: 0,4 / +CREG: 1,4 Unknown network status
+CREG: 0,5 / +CREG: 1,5 Registered in roaming
Check the received signal quality:
AT+CSQ<cr> and wait for response: +CSQ: <rssi>,<ber>
the value of <rssi> parameter reported should be more than 10
<rssi> 99 means no signal available
To place a CSD Data call (not GPRS) set the device in data mode:
AT+FCLASS=0<cr> and wait for OK response
Stored in memory: no need to repeat if +FCLASS setting is not changed.
Set the desired modulation and speed for the connection:
AT+CBST=<mod>,0,<ce><cr> and wait for OK response
(AT Commands Manual for full command description).
Dial a given phone number:
ATD <PhoneNumber><cr> and wait for response:
CONNECT 9600 The called modem is now on line
BUSY
The line called is busy
NO ANSWER
The receiver did not answer the call
NO CARRIER
The modem handshaking has not been successful
Once data transfer has been completed, hang up the data call:
ATH<cr> and wait for response NO CARRIER
Before to send SMSs, the device has to be properly set up.
Select SMS format type:
AT+CMGF=<mode><cr> and wait for response OK
where <mode> is the SMS format type 0=PDU 1=Text
This setting is stored and remains until the device is turned off.
Check (or set) SMS Service Centre number:
AT+CSCA?<cr> (AT Commands Manual for full command description).
A new SMS can be sent directly to the network:
AT+CMGS="<da>"<cr>
where <da> is the destination address (phone number)
wait for prompt ">"
enter SMS text (MAX 160 characters), close with CTRL-Z char (0x1A hex) or
abort with ESC char (0x1B hex) and wait for response:
ERROR
Some error occurred
+CMS ERROR: 330 SMSC address unknown
+CMS ERROR: 41
Temporary Failure, maybe the device isn't registered
+CMGS: <mr>
Message has been successfully sent
<mr> represents the message reference number
&W
&Y
&P
&F
&F1
is used to save the actual values of both sections into the NVM user profile.
instructs the device to load at start-up only the base section
instructs the device to load at start-up the full profile: base+extended sections
resets to factory profile values only the command of the base section
resets to factory profile values the full set of base + extended section
The values set by following commands are stored in the profile base section:
DTE SPEED:
+IPR
DTE FORMAT:
+ICF
GSM DATA MODE:
+CBST
COMMAND ECHO:
E
RESULT MESSAGES:
Q
VERBOSE MESSAGES:
V
EXTENDED MESSAGES:
X
DSR (C107) OPTIONS:
&S
DTR (C108) OPTIONS:
&D
RI (C125) OPTIONS:
\R
POWER SAVING:
+CFUN
DEFAULT PROFILE:
&Y
S REGISTERS:
S0;S2;S3;S4;S5;S7;S10;S12;S25
The values set by following commands are stored in the profile extended section:
+FCLASS
+CSCS
+CR
+CREG
+CLIP
+CRLP
+CRC
+CLIR
+CSVM
+CCWA
+CUSD
+CAOC
+CSSN
+CIND
+CMER
+CPBS
+CMEE
+CGREG
+CGEREP
+CMGF
+CSDH
+CNMI
#QSS
#ECAM
#SMOV
#MWI
#NITZ
#SKIPESC
#CFF
#STIA
+CSTF
+CSDF
+CTZU
+CAPD
+CCWE
+CSIL
#CESTHLCK +COLP
+CTZR
#NWEN
#PSNT
#SIMPR
+DR
$GPSNUM
+CSTA
+NCIH
The values set by following commands are stored in the profile extended section and
they don't depend on the specific AT instance (see +CMUX):
+CALM
+CRSL
+CMUT
+VTD
#SIMDET
+CLVL
#CAP
#SRS
#SRP
#STM
#TSVOL
#PSEL
#E2SMSRI
#CODEC
#SHFEC
#HFMICG
#HSMICG
#SHFSD
#SPKMUT
#NITZ
#E2SLRI
#HFRECG
#HSRECG
#SHFAGC
#SHSAGC
#SHSEC
#SHSNR
#SHFNR
#SHSSD
#DVI
#DVIEXT
#PSMRI
+CSCB4F4F5
The values set by following commands are always stored in NVM, independently
from the profile (unique values):
#SELINT
+COPS5F5F6 +CGCLASS +CGDCONT
+CGQMIN
+CGQREQ
#ENS
#SCFG
#AUTOATT #ICMP
#GSMCONT #DNS
+CGSMS
+CGEQMIN
+CGEQREQ #SMSMODE
CARE AND MAINTENANCE
Your Naos.III is the product of advanced engineering, design and craftmanship and
should be treated with care.
¡ Do not expose the unit to any extreme environment where the temperature or
umidity are out of operating range.
¡ Do not use or store the unit in dusty or dirty areas. Its moving parts (SIM holder for
example) can be damaged.
¡ Do not use chemical cleaning agent on the unit or the SIM card.
¡ Do not attempt to disassemble the unit or remove any part or label.
There are no user serviceable parts inside.
¡ Do not expose the unit to water, rain or spilt beverages. It is not waterproof.
¡ Do not abuse the unit by dropping, knocking or violenty shacking it.
Rough handling can damage it.
¡ Do not place the unit alongside computer discs, credit or travel cards or other
magnetic media. The information contained on these devices may be affected.
¡ This unit is under your responsibility. Please treat it with care respecting all local
regulations. It is not a toy. Therefore, keep it in a safe place at all times and out of
the reach of childrens.
¡ Treat the SIM card with the same care as your credit card: do not bend or scratch
or expose it to static electricity.
¡ Try to remember your unlock and PIN codes. Become familiar with and use the
security features to block unautorized use and theft.
Both fixed and mobile applications are allowed, as defined below:
Fixed means that the device is physically secured at one location and is not able
to be easily moved to another location.
Mobile means that the device is designed to be used in other than fixed locations
and generally in such a way that a separation distance of at least 20 cm (8 inches)
is normally maintained between the transmitter's antenna and the body of the user
or nearby persons.
Do contact an authorized service center in the unlikely event of a fault in the unit.
THE INFORMATION CONTAINED IN THIS DOCUMENT ARE SUBJECT TO CHANGE WITHOUT
NOTICE. PRODUCT NAMES, CORPORATE NAMES OR TITLES USED WITHIN THIS DOCUMENT
MAY BE TRADEMARKS OR REGISTERED TRADEMARKS OF OTHER COMPANIES AND ARE
MENTIONED ONLY IN AN EXPLANATORY MANNER TO THE READERS' BENEFIT, AND WITHOUT
INTENTION TO INFRINGE. WHILE EVERY EFFORT HAS BEEN MADE TO MAKE SURE THE
INFORMATION IN THIS DOCUMENT IS CORRECT, CONTRIVE CAN NOT BE LIABLE FOR ANY
DAMAGES WHATSOEVER FOR LOSS RELATING TO THIS DOCUMENT.