Canon`s New 8.2-Megapixel EOS 30D The Versatile High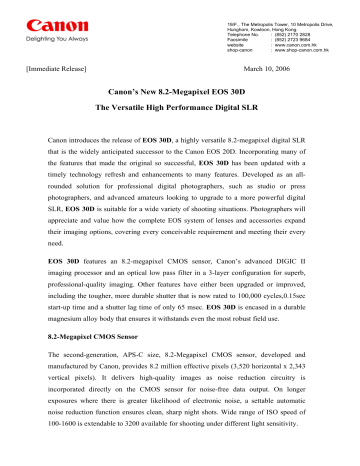 19/F., The Metropolis Tower, 10 Metropolis Drive,
Hunghom, Kowloon, Hong Kong.
Telephone No.
: (852) 2170 2828
Facsimile
: (852) 2723 9684
website
: www.canon.com.hk
shop-canon
: www.shop-canon.com.hk
[Immediate Release]
March 10, 2006
Canon's New 8.2-Megapixel EOS 30D
The Versatile High Performance Digital SLR
Canon introduces the release of EOS 30D, a highly versatile 8.2-megapixel digital SLR
that is the widely anticipated successor to the Canon EOS 20D. Incorporating many of
the features that made the original so successful, EOS 30D has been updated with a
timely technology refresh and enhancements to many features. Developed as an allrounded solution for professional digital photographers, such as studio or press
photographers, and advanced amateurs looking to upgrade to a more powerful digital
SLR, EOS 30D is suitable for a wide variety of shooting situations. Photographers will
appreciate and value how the complete EOS system of lenses and accessories expand
their imaging options, covering every conceivable requirement and meeting their every
need.
EOS 30D features an 8.2-megapixel CMOS sensor, Canon's advanced DIGIC II
imaging processor and an optical low pass filter in a 3-layer configuration for superb,
professional-quality imaging. Other features have either been upgraded or improved,
including the tougher, more durable shutter that is now rated to 100,000 cycles,0.15sec
start-up time and a shutter lag time of only 65 msec. EOS 30D is encased in a durable
magnesium alloy body that ensures it withstands even the most robust field use.
8.2-Megapixel CMOS Sensor
The second-generation, APS-C size, 8.2-Megapixel CMOS sensor, developed and
manufactured by Canon, provides 8.2 million effective pixels (3,520 horizontal x 2,343
vertical pixels). It delivers high-quality images as noise reduction circuitry is
incorporated directly on the CMOS sensor for noise-free data output. On longer
exposures where there is greater likelihood of electronic noise, a settable automatic
noise reduction function ensures clean, sharp night shots. Wide range of ISO speed of
100-1600 is extendable to 3200 available for shooting under different light sensitivity.
DIGIC II Imaging Processor
Canon's proprietary DIGIC II imaging processor enables ultra high-speed processing
and employs original Canon algorithms to produce crisp, high-resolution images with
natural, lifelike colours and rich gradations of shade. In addition, DIGIC II features
faster processing times, which in turn, translates to nearly instantaneous start-up times
of 0.15 seconds, high continuous shooting speed of 5 fps (with a new second option of 3
fps for longer continuous shooting) and faster burst frame rate of up to 11 frames
(RAW) and 30 frames (JPEG). EOS 30D is highly efficient in terms of energy
consumption, thus allowing it to function for longer and snap more images on a single
battery charge.
Enhancements in Response to Users' Needs
In response to feedback from users of previous Canon EOS digital SLRs, a number of
improvements have been incorporated into EOS 30D. A long anticipated spot-metering
(3.5%) function is now available after improvements to the optical engine and the EOS
30D features 4 metering modes: Evaluative, Partial, Centre-weighted average, and Spotmetering. To increase its flexibility, finer ISO adjustments are now possible to suit
fluctuating shooting conditions—ISO adjustments can now be made in either 1/3-stop or
1/2-stop increments. A high precision 9-point AF function with f/5.6 cross-shaped
sensors and high-precision AF at f/2.8 (horizontal sensors) ensures rapidly taken
snapshots remain sharply focussed for professional applications. In addition to that, a
full range of custom functions is available for easy customisation.
New Digital 'FILM' – Picture Style
In the analog era, photographers would select the brand of film that suited their own
shooting style or the subject being photographed. In the digital era, they have to rely on
the image quality features and settings provided by the camera manufacturer. Some
users, though, have experienced confusion about what effects these settings would have
on the image. To provide better clarification, a new feature called Picture Styles
combines processing parameters and color matrix settings into easy settings designed to
obtain the desired effect, almost like choosing a type of film to obtain a specific result.
Picture Style can be adjusted to 6 different modes including: Standard, Portrait,
Landscape, Neutral, Faithful, Monochrome. In addition to that, 3 settings in User
Define are included. Users can also download new Picture Styles from the internet to
EOS 30D.
2.5" LCD Screen
Image playback functions have also been upgraded in the EOS 30D. Users can check
their images using the 2.5" TFT screen with a 170° viewing angle. The enhanced info
screen allows users to access important image information like file size, file format and
even an RGB histogram.
Printing & Connectivity
EOS 30D is PictBridge-compatible for camera-direct printing and features USB 2.0 HiSpeed connectivity for faster file transfers. When used with a compatible Canon
PictBridge printer, a full range of enhanced PictBridge functions become available such
as 35-image contact sheet index printing; Exif information printing; Face-brightener
function, support of additional paper sizes and many more. Trimming function is also
available to make fine adjustments to size of the trimming frame. For accurate printouts,
EOS 30D also comes with the ability to print using the camera's colour characteristics
without any auto correction feature by the printer.
Optional Accessories & Softwares
Softwares bundled together with EOS 30D include the EOS Digital Solution Disk 12.0
and Digital Photo Professional 2.1 for processing and alteration of images. Optional
accessories to partner with EOS 30D include the Battery Grip (BG-E2) and data
verification kit (DVK-E2) when a high level of image authentication is required.
Genuine Canon EF & EF-S Lenses
Canon is widely recognised as a leading manufacturer of photographic equipment with
over 70 years of legacy. As such, with the use of EF mount, EOS 30D users can look
forward to expanding their creative options with the full EOS system of lenses and
accessories. In conjunction with its latest digital SLR release, Canon has released two
new high performance lenses EF 85mm f/1.2 L II USM and EF-S17-55mm f/2.8 IS
USM.
EF 85mm f/1.2 L II USM
The long awaited EF 85mm f/1.2 L II USM is a medium telephoto lens targeted at
professionals and advanced amateur users looking for faster auto-focus speeds. This lens
features 1.8x faster auto-focus, a circular aperture and provides distance information.
Part of Canon's premium "L" series, the EF 85mm f/1.2 L II USM guarantees superb
image quality.
EF-S17-55mm f/2.8 IS USM
The other lens released is the EF-S17-55mm f/2.8 IS USM, a large-aperture standard
zoom lens that is also targeted at professionals and advanced amateurs. The large
aperture minimises blurring combined with high-speed shutter, and is particularly
effective for low-level light shooting and soft-focus shots. The incorporated Image
Stabiliser (IS) operates at an equivalent of 3 shutter speed increments and effectively
counteracts camera shake. The f/2.8-compatible sensor allows extremely precise auto
focusing.
Canon's EOS 30D digital SLR will be available in Hong Kong on March 10th onwards
with suggested retail price:
EOS 30D
EOS 30D Kit Set (with EF-S 17-85mm f/4-5.6 IS USM)
EF 85mm f/1.2 L II USM
EF-S 17-55mm f/2.8 IS USM
Canon Enquiries Hotline: 2170-2888
Website: www.canon.com.hk
Retail Price (HK$)
$9,880
$14,300
$18,180 (available in late March)
$9,180 (available in mid-May)
Specifications for EOS 30D
Specifications
Type
Digital, SLR, AF/AE SLR with built-in flash
Recording Media
Type I or II CF card
*Compatible with Microdrive and 2GB or larger CF Cards
Image sensor size
22.5 x 15.0mm
Compatible lenses
Canon EF lenses (including EF-S lenses)
(35mm-equivalent focal length is equal to approx. 1.6 times the
marked focal length)
Lens Mount
Canon EF mount
Imaging Element
Type
High-sensitivity, high-resolution, large single-plate CMOS sensor
Pixels
Effective pixels: Approx. 8.20 megapixels
Total pixels: Approx. 8.50 megapixels
Aspect Ratio
3:2
Color Filter System
RGB primary color filter
Low-pass Filter
Located in front of the image sensor, non-removable
Recording System
Recording Format
Design rule for Camera File System 2.0
Image type
JPEG, RAW (12bit)
RAW+JPEG
Simultaneous Recording
Possible
File size
(1) Large/Fine:
Approx. 3.6 MB
(3504 x 2336 pixels)
(2) Large/Normal:
Approx. 1.8 MB
(3504 x 2336 pixels)
(2) Medium/Fine:
Approx. 2.2 MB
(2544 x 1696 pixels)
(3) Medium/Normal:
Approx. 1.1 MB
(2544 x 1696 pixels)
(4) Small/Fine:
Approx. 1.2 MB
(1728 x 1152 pixels)
(5) Small/Normal:
Approx. 0.6 MB
(1728 x 1152 pixels)
(5) RAW:
Approx. 8.7 MB
(3504 x 2336 pixels)
* Exact file sizes depend on the subject, ISO speed, Picture Style,
etc.
File numbering
Consecutive numbering, auto reset, manual reset
Color space
sRGB, Adobe RGB
Picture Style
Standard, Portrait, Landscape, Neutral, Faithful, Monochrome,
User Def. 1- 3
Interface
USB Port (USB 2.0 Hi Speed): For Connection to a personal
computer and direct printing
Video output terminal (NTSC/PAL)
White Balance
Settings
Auto, daylight, shade, cloudy, tungsten light, white fluorescent
light, flash, custom, color temperature setting,(Total 9 settings)
Auto white balance
Auto white balance with the image sensor
Color temperature
Compensation
White balance correction: +/-9 stops in full-stop increments
White balance bracketing: +/-3 stops in full-stop increments
* Blue/amber bias or magenta/green bias possible
Color temperature
information transmission
Provided
Viewfinder
Type
Eye-level pentaprism
Coverage
Vertical/Horizontal approx. 95%
Magnification
Approx. 0.9x (-1 diopter with 50mm lens at infinity)
Eyepoint
Approx. 20 mm
Built-in dioptric
adjustment
-3.0 - +1.0 diopter
Focusing screen
Fixed, precision matte
Mirror
Quick-return half mirror (Transmission: reflection ratio of 40:60)
Viewfinder information
AF information (AF points, focus confirmation light), exposure
information (shutter speed, aperture, ISO Speed, AE Lock, spot
metering circle, exposure level, exposure warning), flash
information (flash ready, red-eye reduction lamp-on indicator,
high-speed sync, FE lock, flash exposure compensation), white
balance correction, maximum burst, CF card information
Depth-of-field preview
Enabled with depth-of-field preview button
AutoFocus
Type
TTL Secondary image-registration, phase detection
AF points
9 AF Points
Metering range
EV -0.5-18 (at 20oC, ISO 100)
Focusing modes
One-Shot AF (ONE SHOT) /AI Servo AF (AI SERVO) /AI Focus AF
(AI FOCUS)/ Manual focusing (MF)
AF point selection
Automatic selection, manual selection
Selected AF point display
Superimposed in viewfinder and indicated on LCD panel
AF-assist beam
Small series of flashes fired by built-in flash
Effective range: Approx. 4.0m at center, approx. 3.5m at
periphery
Exposure Control
Metering Modes
35-zone TTL full aperture metering
(1) Evaluative metering (linkable to any AF point)
(2) Partial metering (approx. 9% of viewfinder at center)
(3) Spot metering (approx. 3.5% of viewfinder at center)
(4) Center-weighted average metering
Metering range
EV 1-20 (at 20oC with EF50mm f/1.4 lens, ISO 100)
Exposure control
Program AE (Full Auto, Portrait, Landscape, Close-up, Sports,
Night Portrait, Flash Off, Program), shutter-priority AE, aperturepriority AE, depth-of-field AE, manual exposure, E-TTL II
autoflash
ISO speed
Basic Zone modes: ISO 100-400 set automatically
Creative Zone modes: Equivalent to ISO 100-1600 (in 1/3-stop
increments),
ISO speed can be expanded to 3200
Exposure compensation
Manual: +/-2 stops in 1/3- or 1/2-stop increments (can be
combined with AEB)
AEB: +/-2 stops in 1/3- or 1/2-stop increments.
AE lock
Auto: Applied in One-Shot AF mode with evaluative metering
when focus is achieved.
Manual: By AE lock button in all metering modes.
Shutter
Type
Electronically-controlled, focal-plane shutter
Shutter speeds
1/8,000 to 30 sec. (1/3- or 1/2-stop increments), bulb, X-sync at
1/250 sec.
Shutter release
Soft-touch electromagnetic release
Self-timer
10-sec. delay
Remote control
Remote control with N3 type terminal
Built-in Flash
Type
Retractable, auto pop-up flash
Flash Metering
ETTL II autoflash
Guide No.
13 (ISO 100, in meter)
Recycle Time
Approx. 3 sec.
Flash-ready indicator
Flash-ready icon lights in viewfinder
Flash Coverage
17mm lens angle of view
FE Lock
Provided
Flash exposure compensation
+/-2 stops in 1/3- or 1/2-stop increments.
External Speedlite
EOS-dedicated Speedlite
E-TTL II autoflash with EX-series Speedlite
PC terminal
Provided
Zooming to match lens focal length
Provided
Drive System
Drive modes
Single, High-speed continuous, Low-speed
continuous, and Self-timer (10 sec.)
Continuous shooting speed
High-speed: max. 5 shots per sec.,
Low-speed: max 3 shots per sec.
Maximum burst
JPEG (Large/Fine): Approx. 30 shots
RAW : Approx. 11 shots
RAW+JPEG(Large/Fine): Approx. 9
* Based on Canon's testing conditions with a 512MB
CF card for high-speed continuous shooting.
* Varies depending on the subject, ISO speed,
Picture Style, CF card, etc.
LCD Monitor
Type
TFT color liquid-crystal monitor
Monitor size
2.5 inch
Pixels
Approx. 230,000
Coverage
Approx. 100% with respect to the effective pixels
Brightness adjustment
Five levels provided
Interface languages
15
Image Playback
Image display format
Single image, shooting information, 9-image index,
magnified view (approx. 1.5x - 10x), autoplay,
image rotation, and jump (by 10 or 100 images, by
date)
Highlight warning
In the shooting information mode, any overexposed
highlight areas with no image information will blink.
Histogram
Brightness, RGB
AF point display
Enabled
Image Protection and Erase
Protect
Single Image can be erase-protect or not.
Erase
One image or all images in the CF card can be
erased (except protected images).
Direct Print
Compatible printers
PictBridge, CP Direct and Bubble Jet Direct -compatible
printers
Printable images
JPEG image compliant to Design rule for Camera File
System (DPOF printing possible)
Easy Printing Feature
Provided
DPOF: Digital Print Order Format
DPOF
Version 1.1 compatible
Direct Image Transfer
Compatible images
JPEG and RAW images
*Images to be used for wallpaper on the personal computer
screen must be JPEG images.
Customization
Custom Functions
19 Custom Functions with 53 settings
Power Source
Battery
One Battery Pack BP-511A, BP-514, BP-511, or BP-512
* AC power can be supplied with ACK-E2 AC adapter kit.
* With Battery Grip BG-E2, size-AA batteries can be used.
Battery life
[Number of shots, approx.]
Temperature
At 20oC
At 0oC
Shooting Condition
No flash
50% flash use
1100
750
900
600
* The
above
figures
apply
when a
fully charged Battery Pack BP-511A is used.
* With Battery Grip BG-E2, size-AA batteries can be used.
Battery check
Automatic
Power saving
Provided. Power turns off after 1, 2, 4, 8, 15, or 30 min
Back-up battery
One CR2016 lithium battery
Startup time
Approx. 0.15 sec.
Dimensions & Weight
Dimensions (W x H x D)
144 x 105.5 x 73.5 mm
Weight
700 g (body only)
Operating Environment
Working temperature range
0oC- 40oC
Working humidity:
85% or less
•
•
All the specifications above are based on Canon's testing standards.
The camera's specifications and physical appearance are subject to change without notice.

* Your assessment is very important for improving the work of artificial intelligence, which forms the content of this project