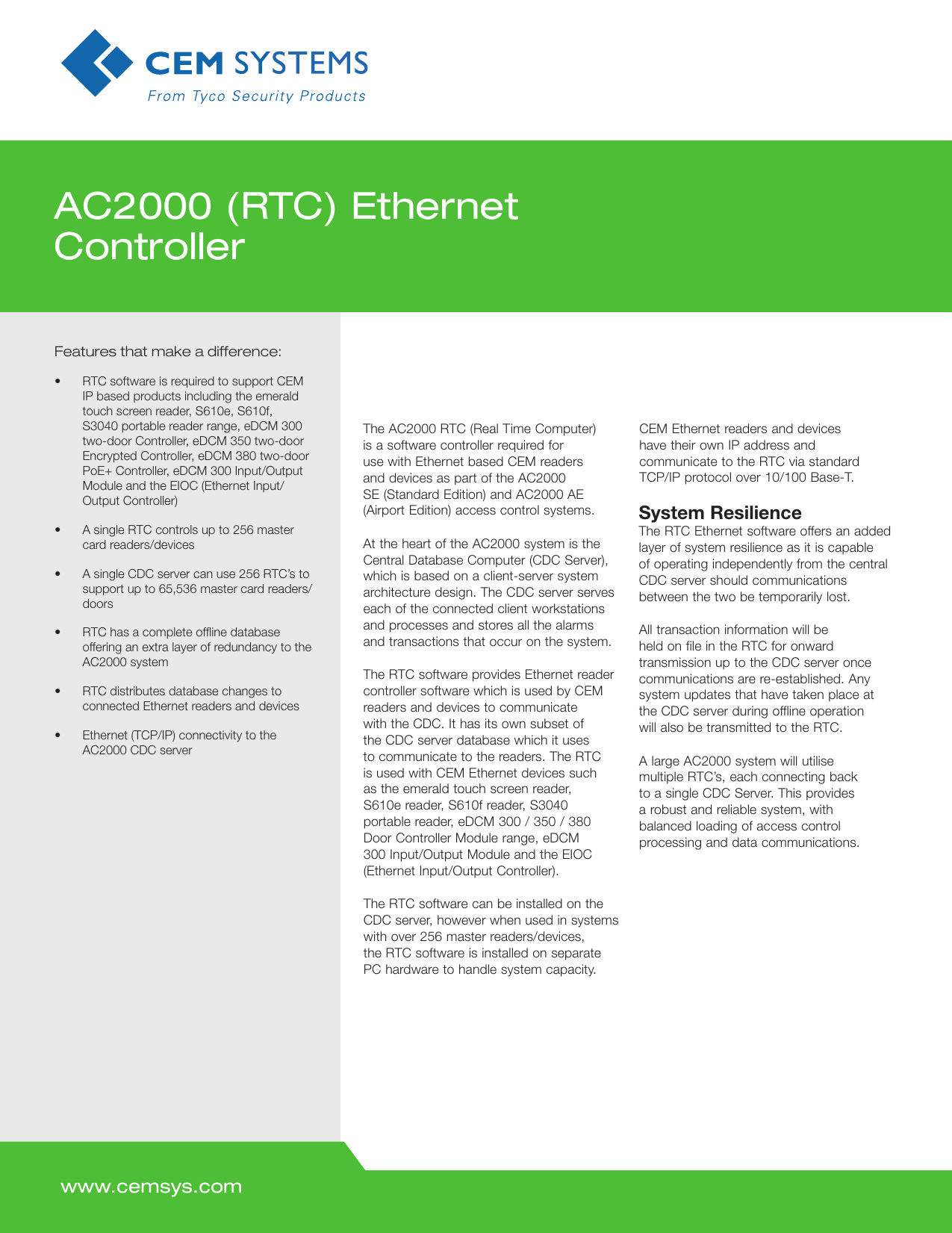 AC2000 (RTC) Ethernet
Controller
Features that make a difference:
•
RTC software is required to support CEM
IP based products including the emerald
touch screen reader, S610e, S610f,
S3040 portable reader range, eDCM 300
two-door Controller, eDCM 350 two-door
Encrypted Controller, eDCM 380 two-door
PoE+ Controller, eDCM 300 Input/Output
Module and the EIOC (Ethernet Input/
Output Controller)
•
A single RTC controls up to 256 master
card readers/devices
•
A single CDC server can use 256 RTC's to
support up to 65,536 master card readers/
doors
•
RTC has a complete offline database
offering an extra layer of redundancy to the
AC2000 system
•
RTC distributes database changes to
connected Ethernet readers and devices
•
Ethernet (TCP/IP) connectivity to the
AC2000 CDC server
The AC2000 RTC (Real Time Computer)
is a software controller required for
use with Ethernet based CEM readers
and devices as part of the AC2000
SE (Standard Edition) and AC2000 AE
(Airport Edition) access control systems.
At the heart of the AC2000 system is the
Central Database Computer (CDC Server),
which is based on a client-server system
architecture design. The CDC server serves
each of the connected client workstations
and processes and stores all the alarms
and transactions that occur on the system.
The RTC software provides Ethernet reader
controller software which is used by CEM
readers and devices to communicate
with the CDC. It has its own subset of
the CDC server database which it uses
to communicate to the readers. The RTC
is used with CEM Ethernet devices such
as the emerald touch screen reader,
S610e reader, S610f reader, S3040
portable reader, eDCM 300 / 350 / 380
Door Controller Module range, eDCM
300 Input/Output Module and the EIOC
(Ethernet Input/Output Controller).
The RTC software can be installed on the
CDC server, however when used in systems
with over 256 master readers/devices,
the RTC software is installed on separate
PC hardware to handle system capacity.
www.cemsys.com
CEM Ethernet readers and devices
have their own IP address and
communicate to the RTC via standard
TCP/IP protocol over 10/100 Base-T.
System Resilience
The RTC Ethernet software offers an added
layer of system resilience as it is capable
of operating independently from the central
CDC server should communications
between the two be temporarily lost.
All transaction information will be
held on file in the RTC for onward
transmission up to the CDC server once
communications are re-established. Any
system updates that have taken place at
the CDC server during offline operation
will also be transmitted to the RTC.
A large AC2000 system will utilise
multiple RTC's, each connecting back
to a single CDC Server. This provides
a robust and reliable system, with
balanced loading of access control
processing and data communications.
AC2000 Ethernet System Toplogy
Recommended RTC PC Specification
Ordering Information
Processor Type . . . . . . . . . . . .
Processor Speed . . . . . . . . . .
Internal Cache . . . . . . . . . . . .
Standard Memory . . . . . . . . . .
Internal Hard Drive . . . . . . . . .
Optical Drive Type . . . . . . . . .
Other Drives . . . . . . . . . . . . . .
Chassis Type . . . . . . . . . . . . .
PSU . . . . . . . . . . . . . . . . . . . .
Product Code
Description
SWENET128
RTC – Ethernet Reader Controller
SoftwareOnly (1-128 doors)
SWENET256
RTC – Ethernet Reader Controller
Software Only (128-256 doors)
SWENETUPG
128-256
RTC – Ethernet Reader Upgrade
LicenseController Upgrade
License (128-256 doors)
SYS/101/300
RTC – Ethernet Reader Controller (PC
with SWENET256 software installed)
Intel® Xeon® E3-1240 Processor
3.4GHz
8MB
2 GB (2 x 1GB) Standard Memory
1 x 500GB, 7200rpm, 3.5inch, SATA Hard Drive
48 x DVD ROM SATA
None
Tower
Single
Related Products
AC2000
AC2000 Airport
www.cemsys.com
© 2016 Tyco Security Products. All Rights Reserved. CEM/B/203 Rev C
Tyco and the product names listed above are marks and/or registered marks. Unauthorized use is strictly prohibited.
Product offerings and specifications are subject to change without notice. Actual products may vary from photos. Not all products include all features. Availability varies by region; contact your sales representative.

* Your assessment is very important for improving the work of artificial intelligence, which forms the content of this project