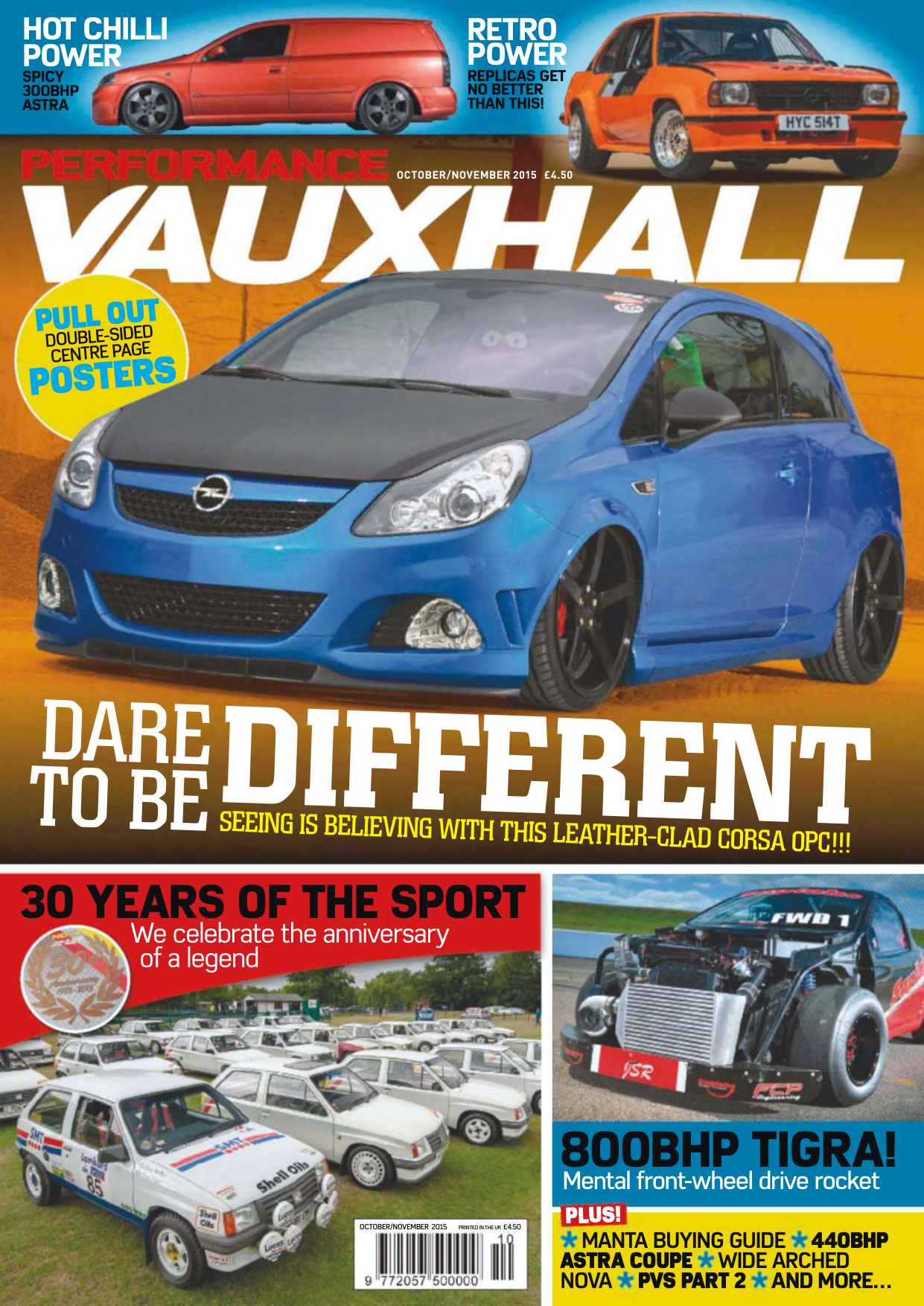 HOT CHILLI
POWER
RETRO
POWER
REPLICAS GET
NO BETTER
THAN THIS!
SPICY
300BHP
ASTRA
OCTOBER/NOVEMBER 2015 £4.50
LLLE-SOIDUEDT
PU
OUB
D
CENTRE PAGE
POSTERS
DARE
TO BE
DIFFERENT
SEEING IS BELIEVING WITH THIS LEATHE
R-CLAD
CORSA OPC!!!
30 YEARS OF THE SPORT
We celebrate the anniversary
of a legend
800BHP
TIGRA!
Mental front-wheel drive rocket
OCTOBER/NOVEMBER 2015
PRINTED IN THE UK
£4.50
PLUS!
MANTA BUYING GUIDE 440BHP
ASTRA COUPE WIDE ARCHED
NOVA PVS PART 2 AND MORE…
LEADING THE WAY
E U R O P E ' S
L E A D I N G
VAU X H A L L
T U N E R
F40 Differential
£785 (Introductory Price)
SHOWROOM & TUNING CENTRE
Regal Autosport
Saleslines Open:
72-82 Belgrave Road
Mon-Fri: 9.00am - 5.30pm
Portswood
Saturday: Telephone enquiries
Southampton
Sunday: Closed
SO17 3AN
EMAIL US: [email protected]
United Kingdom
F O R
E U R O P E
FOLLOW US
D E A L E R S
regalautosport
regalautosport
regalautosport
WWW.REGALAUTOSPORT.COM | TEL : +44 (0)2380 558 636
LOWEST PRICED
GENUINE VAUXHALL
PARTS IN THE UK!!
THE UK'S NUMBER 1
VAUXHALL PARTS
SPECIALIST
Vauxhall Trained Advisors
Right Part First Time
Huge thanks to Autovaux for the
speedy turnaround and delivery of our
engine rebuild parts for this coming
seasons new engine! Any of our followers that are fellow Vauxhall drivers I'd
recommend you you look up Autovaux
(www.autovaux.co.uk) if you need any
parts for your cars, local company to
us and always a pleasure to deal with!
D&M Motorsport
Trade Club parts at discounted prices
Vauxhall told me my
Redtop parts were
discontinued and these
guys had the genuine GM
bits on the shelf
Rob Hawkins
THE REAL DEALER
ALTERNATIVE - AUTOVAUX
If you think a part is dealer only think again
Everything the dealer offers and much more
Trade and Retail Enquiries Welcome
FREE MAINLAND UK
DELIVERY
Same working day despatch on orders placed
before 4pm
Never had service like
this, put my Holden Dealer
to shame for service ,
information and price
Leo – Australia
Call Now on 01924 376003 to enter to
win a Genuine GM Service Kit*.
Quote PVAUG to win a kit worth up to
£120.00 for your Vauxhall
No purchase necessary.
* includes UK mainland delivery – UK spec vehicles only
KELSEY MEDIA
Cudham Tithe Barn,
Berrys Hill,
Cudham,
Kent
TN16 3AG
E-mail: [email protected]
Web: www.performancevauxhall.co.uk
EDITORIAL
Editor: Dan White, [email protected]
Art Editor: Julian Jefferson
CONTRIBUTORS
Damian Hock, Matt Woods, Sebastian Brühl, Michael Whitestone, Dan
Sherwood, Matt Dear, Jamie Burr, Robert Fisher, Rob Hawkins
ADVERTISEMENT SALES
Advertising Manager: David Nettleship, 01733 353362
Email: [email protected]
Commercial Manager: Jeff Blackmore
Email: [email protected]
PRODUCTION
Production Supervisor:
Joe Harris, 01733 353382, [email protected]
Production Manager: Charlotte Whittaker
MANAGEMENT
Managing Director: Phil Weeden
Chief Executive: Steve Wright
Chairman: Steve Annetts
Finance Director: Joyce Parker-Sarioglu
Creative Directors: Vicky Ophield & Emma Dublin
Retail Distribution Manager: Eleanor Brown
Audience Development Manager: Andy Cotton
Subs Marketing Manager: Dan Webb
Brand Marketing Manager: Rebecca Gibson
Events Manager: Kat Chappell
Events Marketing Manager: Sarah Jackson
SUBSCRIPTIONS
6 issues of Performance Vauxhall are published per annum
UK annual subscription price: £26.70
Europe annual subscription price: £33.99
USA annual subscription price: £33.99
Rest of World annual subscription price: £36.99
UK subscription and back issue orderline: 0845 241 5159
Overseas subscription orderline: 0044 (0) 1959 543 747
Toll free USA subscription orderline: 1-888-777-0275
UK customer service team: 01959 543 747
Customer service email address: [email protected]
Customer service and subscription postal address:
Performance Vauxhall, Kelsey Publishing Ltd, Cudham Tithe Barn,
Berry's Hill, Cudham, Kent TN16 3AG
Find current subscription offers on our website: shop.kelsey.co.uk/tvx
Already a subscriber? Manage your subscription online: shop.kelsey.
co.uk/site/loginForm
KELSEY SHOP
www.kelseyshop.co.uk
Back Issues: 0845 873 9270
Books: 0845 450 4920
DISTRIBUTION Seymour Distribution Ltd, 2 East Poultry Avenue,
London, EC1A 9PT Tel: 020 7429 4000
PRINTING William Gibbons and Sons LTD
CLASSIFIEDS
Tel: 0906 802 0279 (premium rate line, operated by Kelsey Publishing Ltd. Calls
cost 61p per minute from a BT landline; other networks and mobiles may vary.
Lines open Monday-Friday, 10am-4pm)
Email – [email protected]
Kelsey Classifieds
c/o Classified Central Media
Central House
4th Floor
142 Central Street
London
EC1V 8AR
Fax: 020 7216 8557
Kelsey Media 2015 © all rights reserved. Kelsey Media is a trading name of
Kelsey Publishing Ltd. Reproduction in whole or in part is forbidden except
with permission in writing from the publishers. Note to contributors: articles
submitted for consideration by the editor must be the original work of the
author and not previously published. Where photographs are included,
which are not the property of the contributor, permission to reproduce
them must have been obtained from the owner of the copyright. The editor
cannot guarantee a personal response to all letters and emails received.
The views expressed in the magazine are not necessarily those of the Editor
or the Publisher. Kelsey Media accepts no liability for products and services
offered by third parties.
Kelsey Publishing Ltd uses a multi-layered privacy notice, giving you
brief details about how we would like to use your personal information.
For full details, visit www.kelsey.co.uk, or call 01959 543524.
If you have any questions, please ask as submitting your details
indicates your consent, until you choose otherwise, that we and our
partners may contact you about products and services that will be of
relevance to you via direct mail, phone, email or SMS. You can opt out
at ANY time via email: [email protected]y.co.uk or 01959 543524
Performance Vauxhall is available for licensing worldwide. For more
information, contact [email protected]
NEW 'N' OLD!
Many of you die-hard fans will already
have got wind of the all new Astra Mk7,
but for those of you who haven't we've
taken a closer look over on
page 16.
In order to gauge your reaction we
posted it up on our Facebook page. Now
normally posting new models brings out
the grumpy brigade, likening the car to
umpteen other new models, moaning that
it's "not as good as their Mk3", or just
being downright offensive. But we were
surprised, and not a little relieved that
there were plenty of positive comments
from people who were genuinely excited
about it. Obviously we're waiting on the
performance models, and while there
are rumours of a GSi variant, nothing is
official, not yet at least.
Vauxhall are also taking the rather
unusual step of retailing the Mk6 VXR
MEET THE TEAM
SUBSCRIBE
PERFORMANTO
CE
VAUXHALL
SEE PAGE 120
FOR DETAILS
The people who bring you Performance Vauxhall,
and what we've been up to this month...
DAN WHITE
EDITOR
Nagging Jarkle
to get on with
his Carlton!
[email protected]
kelseymedia.co.uk
Performance Vauxhall is entirely independent of Vauxhall Motors. Contents may
not be reproduced in any form or stored on any electronic system without
written permission. All rights reserved. No responsibility is accepted for any
unsolicited material. Performance Vauxhall recognises and abides by copyright
and attempts to credit correctly all material used in the magazine. If we have
used and/or credited some of your material incorrectly, please contact us and
we will do our best to address the error.
alongside the Mk7 (presumably until a
Mk7 VXR gets signed off ).
If all this talk of new stuff is having you
pining for a bit of retro nostalgia, then
you need to get yourself over to page 82
where we've had a closer look at the
Nova Sports assembled by the Nova
Sport Register (www.novasportregister.
com) at Billing. It really was a fantastic
gathering, and was just one of the many
highlights of the annual VBOA event,
which we've also covered in detail on
page 72.
As you've hopefully come to expect
from Performance Vauxhall we've tried
to give you an exciting blend of old and
modern, and we very much hope you
enjoy the read.
JULIAN
JEFFERSON
ART EDITOR
Getting the
Vectra certified
for a further year
of estate-dom.
[email protected]
kelseymedia.co.uk
JAMIE ARKLE
CONTRIBUTOR
DAN FURR
CONTRIBUTOR
DAVE REID
CONTRIBUTOR
Being sadly too
busy to devote
any time to the
Carlton yet again.
[email protected]
kelseymedia.co.uk
Sold one of my
Cavalier Turbos,
but about to
start work on the
remaining two!
Put the wheels
back on the
Turbo, and
cleaned mould
off the seats.
Progress is
progress right?
ER 2015
NEXT ISSUE ON SALE: 20 NOVEMB
CONTENTS
OCT/NOV 2015
every month
this month
16 NEWS
08 TIGRA
Barely believable mini drag coupe
with nigh on 800bhp!
The latest news from the Vauxhall
and Opel scene, right here!
20 CORSA OPC
18 GEAR
08 TIGRA
Intriguing German Corsa with leather
on the outside – ooh, err!
Our guide to the latest Vauxhallrelated products hitting the shops.
62 HALL OF FAME
28 ROLLING ROAD
ZLET Lovers take to the dyno to
measure their power.
Got a cool Vauxhall? Send us some
pics and it could end up here.
32 NOVA
102 BUYING GUIDE
Clean and simple pocket rocket with
some neat twists.
20 CORSA OPC
Buying, owning and tuning the
Manta GT/E.
112 Q&A
40 ASCONA
Retropower once again show why
they're the best in the business.
Dave shares his ample knowledge
to help fix your Griffins.
48 PVS PART 2
116 STAFF CARS
All the goings on with our cars.
A second bite at the Performance
Vauxhall Show cherry.
32 NOVA
54 ASTRAVAN
The best Vauxhalls from our FB page.
Big power Chilli van which is the
complete package.
72 VBOA BILLING
The Billing Aquadrome took centre
stage for another great event.
40 ASCONA
82 NOVA SPORT
We celebrate the 30th Anniversary
of a Vauxhall legend.
86 ASTRA COUPE
Cool Coupe with more than its
fair share of bhp.
54 ASTRAVAN
96
TECH
GUIDE
C20LET Cambelt
and pulley swap
06 PERFORMANCE VAUXHALL
122 FACEBOOK CARS
94 BRAKES
In-depth Q&A
session with PB
brakes.
ACCIDENT?
POINT YOUR INSURER IN OUR DIRECTION.
An accident is the worst thing that can happen to
Why use an Approved Bodyshop?
your Vauxhall. The next is getting it repaired with
We'll collect your car and return* it to you as good as new.
non-genuine parts. At an Approved Bodyshop
we use only Vauxhall-approved equipment and
genuine Vauxhall parts to return your car to its
original high standard. Your insurance company will
probably recommend a repair centre who won't be
Only Vauxhall-trained technicians will work on your vehicle.
They'll fi t genuine parts and use only Vauxhall-approved repair methods.
Your repair will be Vauxhall-certified, preserving your warranty
and maximising your car's value.
so picky. So give them a steer in the right direction
and insist on a Vauxhall Approved Bodyshop.
Visit your local Retailer to find out more.
*Refers to vehicle collection and return between mainland UK address and nearest Vauxhall Approved Bodyshop. Accident Recovery Service is not provided. Available at participating Vauxhall Approved Bodyshops. Subject
to availability. General Motors UK Limited t/a Vauxhall reserves the right to modify the terms of this promotion at Vauxhall's discretion at any time. Correct at time of going to press.
DRAG TIGRA
Sam Bolton's 800bhp turbocharged Tigra
A drag car proves that Vauxhall's onceprominent coupé is experiencing a new
lease of life at the race track...
WORDS Dan Furr PHOTOS Matt Woods
08 performance VaUXHaLL
FAST FACTS
800bhp forged c20ne/Z20LeT hybrid
Sapinho cambios f18 gearset
precision 6870 turbocharger
Quaife limited-slip differential
Single-piece fibreglass front end
performance VaUXHaLL 09
drag tigra
W
hen was the last
time that you saw a
first-generation
Tigra pootling down
the road? Unless
you happen to be
the owner of one of these Griffinbadged coupés, we'll bet that it was a
while back, which is surprising when
you consider how popular Vauxhall's
diminutive 2+2 was with car buyers
during a six-year production run that
ended at the turn of the century.
Perhaps the reason for this absence
of tidy Tigras from the nation's
highways can be explained by the
model's increasingly popular presence
at the race track; recognised as
possessing finer aerodynamic qualities
than its Corsa B stablemate, the Tigra A
has become something of an attractive
choice for modifiers participating in
competitive motorsport series ranging
from Time Attack to front-wheel drive
drag racing championships.
Slippery cuStomer
Peterborough man, Sam Bolton, is a
prime example of a petrolhead who has
decided to try his hand at Tigra trickery
at the track, and to say that he has
been reaping the rewards of his
That little lot dishes
out around 800bhp!
10 performance VaUXHaLL
"I removed a lot of metal In a bId to reduce overall
weIght, and I replaced the entIre front end of the
car wIth a sIngle-pIece fIbreglass nose."
flip front gives near-instant
access to the oily bits
exhaust and 'screamer' exit
straight out of the bonnet
decision to use the cool coupe as his
chariot of choice would be something
of an understatement. "I used to
compete along the quarter-mile strip at
Santa Pod in a nitrous-fuelled Nova,"
he recalls. "I found it difficult to hold
my own against some of the more
potent machinery that the car would
find itself up against, leading to the
purchase and modification of the Tigra
that I race with today," he adds, safe in
the knowledge that his switch between
Vauxhalls has delivered him not one,
but two drag series championship titles
to date.
Once a humble 1.6-litre runabout,
Sam's Tigra found itself equipped
with a turbocharged eight-valve
OWNER
SAM BOLTON
AGE 29
JOB Bodyshop engineer
FIRST VAUXHALL A 1.2-litre Nova
FAVOURITE VAUXHALL This one
BEST THING ABOUT THE CAR
It's quick!
WHAT'S NEXT? Preparing for the
2016 FWD drag series championship
performance VaUXHaLL 11
drag tigra
TEch SpEc
ENGINE
c20ne block and crank, fcp engineering
X-beam connecting rods, Wössner
forged pistons, arp studs and bolts
throughout, acL race bearings, Z20LeT
cylinder head, newman 288 camshafts,
JSr alloy plenum and inlet manifold,
front-mounted 'drag' manifold, precision
6870 Gen2 ball bearing turbocharger,
precision 46mm wastegate, JSr 3.5-inch
front-mounted intercooler, JSr oil
breather tank, megasquirt efI
standalone engine management, JSr
radiator and header tank, evans
waterless coolant, two-gallon fuel cell,
twin Bosch 044 fuel pumps, Turbosmart
fuel pressure regulator, Denso 1600cc
fuel injectors, an8 Teflon braided fuel
lines, Sunoco maxnoS 119 race fuel,
black nylon braided hoses
pERfORMANcE
Last season (2014) produced 716hp @
2.2 bar, and 591 lb/ft. now runnng
3.0bar, estimated 800hp
Best et last season (2014) 10.04
Best trap last season(2014) 152 mph
TRANSMISSION
front-wheel drive, f18 four-speed
Sapinho cambios dog-engagement
gearset, Quaife limited-slip differential,
Ikeya sequential shifter, 7.25-inch
competition clutch twin plate clutch,
billet flywheel
SUSpENSION
aVo adjustable front coilovers with
600lb springs, GaZ adjustable rear
coilovers with 1000lb springs, JSr
adjustable rose-jointed front suspension
arms, wheelie bar
BRAKES
lump shortly after it arrived at his
Cambridgeshire residence in
2009. "I'd ditched the NOS system on
the Nova and added forced induction in
a bid to improve my quarter-mile
times," he explains. "Eventually, I
decided to retire the hot hatch, and I
dumped its guts into the Tigra. At that
time, the latter was still a road-legal
vehicle, yet it was apparent that I'd
need to dedicate it to track use if I was
going to make the kind of progress that
would secure victory in the
competitions that I was hoping to
conquer," he says.
road illegal
Sure enough, the new arrival parted
ways with roundabouts and zebra
crossings in favour of a life attacking
race-ready asphalt, and Sam began to
transform the car's appearance into the
monster that it is today. "Considering
the small size of the model, it's quite
heavy in its standard guise," he
continues. "I removed a lot of what I
considered to be supplementary metal
in a bid to reduce overall weight, and I
replaced the entire front end of the car
with a single-piece fibreglass nose. Not
only did this result in significant weight
loss, but it also enabled me to reach
the engine with ease thanks to a
simple 'clip-on, clip-off' construction,"
he smiles.
That ease-of-access proved to be
worth its weight in silverware following
12 performance VaUXHaLL
cavalier Turbo front calipers and discs,
factory rear drums, JSr servo deletion,
custom pedal mechanicsm, Wilwood
hydraulic handbrake, Deist drag
parachute
WhEELS & TYRES
9.5x10in Weld front wheels with m&H
drag tyres, 3.5x10in Lenso Skinnie rear
wheels and tyres, wheel centres painted
candy red, satin black outer rims, m&H
rim screws
BODY
1995 Tigra, custom twin tone paintwork,
flat underside leading to rear diffuser,
drag rear wing, bespoke fibreglass onepiece front end, fibreglass tailgate,
polycarbonate single-piece windows,
sponsor graphics
INTERIOR
Stripped cabin, Kirkey alloy racing seat,
TrS six-point safety harness, mSa
rollcage, full dashboard and front
carpet, false floor in passenger footwell
to house fuel system, a'pexi aVcr boost
controller
ThANKS
Jay (my brother) for his involvement in
building, driving and mapping the car,
and to my sponsors: Sapinho cambios,
fcp engineering, precision Turbo and
competition clutch
Some people question the need for wheelie
bars on a fWD car... But it would more
accurately be called a 'traction bar'
the discovery that the 'charged eightvalve that had served Sam so well in
the past was reaching the end of its
service life. With the Tigra taking the
shape of a serious drag demon, a new
powerplant was deemed necessary,
although the resulting unit is less
conventional than you might think...
Making use of the outgoing engine's
C20NE block and crank, Sam
introduced a Z20LET sixteen-valve
cylinder head to the proceedings. His
decision to double the size of the car's
valvetrain initially saw him looking at
C20XE and C20LET heads, but as the
man himself points out, the newest
Cavalier/Calibra Turbo lump is close to
two decades old, whereas low-mileage
Z20LET parts are available in
abundance. In terms of future-proofing,
it made perfect sense to opt for a
Z-series head.
As you'd expect, this unorthodox
machinery has undergone a number of
changes since its inception, with
sponsors supplying parts to help hike
horsepower and improve reliability
during each successive race season.
The engine's current DNA is made up of
FCP Engineering X-beam connecting
rods, Wössner forged pistons, ACL race
bearings, ARP bolts, Newman
camshafts and a Precision 6870 dual
ceramic ball-bearing turbocharger, all
of which have helped the car to
produce an estimated 800bhp!
Fuelling is controlled by Megasquirt
EFI standalone management, twin
Bosch 044 fuel pumps, Denso 1600cc
injectors and a Turbosmart fuel
pressure regulator. Sunoco MaxNOS
race fuel is fed to the engine via Teflon
braided lines from a two-gallon fuel cell
located beneath a false floor in the
passenger side foot well. Further
bespoke metalwork can be seen in the
form of the car's giant front-mounted
intercooler, its oil breather system and
a trick alloy plenum with a matching
inlet manifold.
changing vroomS
"The engine is constantly evolving. It's
not a unit that remains in situ for very
long before it is pulled out and
disassembled, usually being bolted
"the engIne Is constantly
evolvIng. It's not a unIt
that remaIns In sItu
for very long"
Grab this, and
hold on tight!
back together with new equipment!"
laughs Sam. The same can be said for
his Tigra's transmission – an impressive
affair comprising a four-speed Sapinho
Cambinos dog-engagement gearset
housed in a Getrag F18 case and joined
by a Competition Clutch 7.25in twinplate clutch, a Quaife limited-slip
differential, a billet flywheel and an
Ikeya sequential quick shifter.
Not that tuning gear alone is enough
to guarantee success in the fast-paced
world of drag racing. "Constantly being
around the sport is as valuable to a
competitor as building a fast car,"
confirms Sam. "I'm always at Santa
Pod, keeping tabs on what teams
across different race series are doing to
improve the performance of their
vehicles. It's a case of constantly
monitoring the best practice of
seasoned professionals and
newcomers to quarter-mile motorsport,
taking influence and tips that I can
apply to the Tigra in areas of the car
that I think are open to improvement,"
he admits.
While outright speed and
The interior is surprisingly complete
for such a focussed drag car
drag tigra
aerodynamics play a key
role the faster you go
finely honed handling are traits
often cited as the key to racing
success, championships can also be
won thanks to a participating car's
reliability. As if to prove the point, Sam
tells us of his momentous front-wheel
drive drag series title win in 2014. "I
faced stiff competition from the likes of
Richard Batty and his Mitsubishi FTO –
a car recognised as being the first frontwheel drive motor in the UK to achieve
quarter-mile times in the eights. My
Tigra might not have had the same
pace, but it did have the security of
Weld drag wheels are almost as
wide as they are tall – 9.5x10in!
14 performance VaUXHaLL
rock solid nuts and bolts, meaning that
I was able to finish more races across
the season than many of my rivals. It
was this that enabled me to romp to
victory and secure the title!" he grins.
Brazillian WaX
Sam and his top Tigra had already
bagged a championship title win in
2011 before finishing as runner-up in
2012, but his efforts in 2014
encouraged new sponsors to join the
party; FCP Engineering, Competition
Clutch, Saphinho Cambios and
Precision are parts suppliers that are
hoping to help Sam bag another trophy
for his cabinet, although 2015 is being
treated as a year of development and
data analysis in advance of a serious
crack of the whip in 2016. To that end,
team Tigra was recently flown to Brazil
on a sponsor-led fact-finding mission to
witness front-wheel drive drag racing,
South American style!
"The UK has a single front-wheel
drive drag series, whereas the
Brazilians can pick and choose between
multiple classes in various
tournaments!" remarks Sam. "The trip
was a real eye-opener, and I returned
home with plenty of ideas that I'm
looking forward to trying out on the
Tigra," he beams.
It might be something of a rare
breed, but the seldom-spotted Tigra
is well and truly earning itself a
reputation as a force to be reckoned
with at the track. Bear that in mind if
you're fortunate enough to spot one
out on the public highway – you could
be looking at a championship winning
race car in waiting!
01858 433599
lmfvauxhall.com
Unit M3 Harrison road, airfield BUsiness
Park, Market HarBoroUgH, leics le16 7Ul
[email protected]
eMail:
sPECIaL DEaLs
Corsa D £199
Astra H (MkV) £199
Astra J (MkVI) £289
Zafira B £199
Insignia £249
Astra G (MkIV) GSi replica front
bumper, ABS plastic, includes fog
lamps £299
Astra H (MkV) VXR replica bumper
made from ABS plastic, including
grilles £269.95
Bumper with plain fog lamps
£309.90 or smoked fog lamps
£319.90
Corsa D VXR genuine bumper
complete with fog lamps £595
nEW!! M32 Short Shifter £124.95
SPECIAL Irmscher Corsa C iRS
spoiler £129.95 (limited stock)
GREat
Low
PRICEs
GRILLEs
Corsa B slatted £19.95
Corsa C facelift, genuine Irmscher £189.95
Astra G (MkIV) cross-hatch £29.95
Astra G (MkIV) OPC-look £49.95
Astra H (MkV) three-door £34.95
Astra J (MkVI) five-door £59.95
Insignia £109.95
Zafira B honeycomb £74.95
Corsa B
£19.95
nEW! Astra
J £59.95
nEW! Astra g
£49.95
AStRA h
mkV VXR
m32 short
shifter
£124.95
from £309
AStRA g
mkIV gSi
£299
gEnUInE PARt
Irmscher Corsa
C iRS spoiler
£129.95
£595
Astra g
£29.95
nEW! Zafira
B £74.95
EXCELLEnt
VALUE
BILStEIn DAmPERS
Bilstein shocks give outstanding handling without
compromising ride comfort. Use Bilstein as 20% uprated
replacements for standard components or matched to
Eibach Pro springs.
BILStEIn B12 kIt InCLUDES BILStEIn B8
BILStEIn B4 DAmPERS
DAmPERS AnD EIBACh SPRIngS
Astra h
£34.95
mODEL
Astra F (MkIII)
Astra G (MkIV) coupe
Astra G (MkIV) hatch/sal
Astra H (MkV)
Astra J (MkVI)
Calibra
Corsa B
Corsa C
Corsa D
Insignia
Omega saloon
Signum
Tigra TT
Vectra B
Vectra C
Zafira A
Zafira B
ELRInG GasKEt KIts
gasket kits
£69.95
from
HEKo
cheaper?
Let us know
and we
will beat it*
CORSA D VXR
nEW! Insignia
£109.95
bILstEIn
Z20LEH gasket top kit inc head bolts £79.95
Z20LET head gasket kit inc head bolts £69.95
Uprated C20XE head gasket £24.99
PRICE
PRomIsE
Been quoted
RRP
£572.87
£625.05
£625.05
£666.78
£666.78
£625.05
£593.74
£666.78
£666.78
£708.52
£750.26
£677.22
£729.40
£666.78
£677.22
£677.22
£729.40
PRICE
£515.58
£562.54
£562.54
£600.11
£600.11
£562.54
£534.36
£600.11
£600.11
£637.67
£675.24
£609.50
£656.46
£600.11
£609.50
£609.50
£645.46
FROnt
REAR
£28
£28
from £28
£36
£36
£36
£30
£52
£38
£36
£36
£44
£44
£37
£38
£38
£44
C20XE/LEt
steel head
gasket £22
GEnUInE HEKo smoKED DEFLECtoRs
£24.95
£24.95
£28.95
£24.95
£24.95
£24.95
£22.95
£24.95
£24.95
£24.95
£24.95
£24.95
£24.95
£24.95
£24.95
£24.95
£31.95
£24.95
£24.95
£24.95
FROnt
LmF ConvERsIon PaRts
2.0 8v baffle plate £19.95
C20XE cool-running thermostat £18
Agila A
Agila B
Astra F (mkIII)
Astra g (mkIV) from
Astra h (mkV) from
Astra J (mkVI) from
nova
Corsa B from
Corsa C from
Corsa D from
Frontera from
Insignia from
meriva A from
meriva B from
Vectra B from
Vectra C from
Vivaro from
Signum from
Zafira A from
Zafira B from
mODEL
Nova
£42
Corsa B/Tigra A
£42
Corsa C/Tigra B
from £47
Astra MkI
£46
Astra MkII
£46
Astra F (MkIII)
£46
Astra G (MkIV) hatch/sal
£47
Astra H (MkV)
£65
Zafira A
£74
Zafira B
£42
Cavalier MkIII
£47
Cavalier GSi
£47
Calibra
£47
Vectra B
£49
Vectra C ('01-'06)
£47
Vectra C ('06-'08)
£74
Omega
£77
FROnt & REAR
£29.95
£29.95
£29.95
£29.95
£29.95
£29.95
£29.95
£29.95
£29.95
£29.95
£29.95
£29.95
£29.95
£29.95
£29.95
£29.95
£29.95
nova and Corsa
LmF motorsport
driveshafts £69
Nova/Corsa B/Tigra/Astra MkIII 288mm
four-stud discs, pair
£95
Lightweight flywheels, made from billet steel
X20XEV, C20XE (Red Top)
£199
C20LET, Z20LET, Z20LEH
£240
C25XE, X25XE
£250
VXR injectors
£109.95
C20XE/LET steel head gasket
£22
F28 2WD conversion kit
£49
Anti-roll bar spacers
£17.50
Corsa B rubber offside engine mount
£25
C20XE 82°C cool-running thermostat
£20
Z20LET 82°C cool-running thermostat
£20
2.0 8v 82°C cool-running thermostat
£20
C20XE power cap in red, blue or silver £89.95
C20XE power
cap in red, blue or
silver £89.95
LmF motorsport
hubs £64.95 £37.50
Flywheels
from
01858 433599 lmfvauxhall.com
Jom CoIL-ovERs
£199
Don't see what you're looking for? Our shelves are stacked with big brands including, Siemens, Bosch, Delphi, Pagid, ICC, Ultra, Apex, OPC, FSE, Rieger and many more. All prices include VAT unless stated
otherwise. Next-day delivery from £10 depending on size and weight. Prices subject to change without notice. *Terms and conditions apply. Trade enquiries welcome.
Newsfeed
All the latest from the world of Vauxhall/GM/Opel
ALL NEW ASTRA
Vauxhall haVe released deTails of Their impressiVe 7Th generaTion
model.We Take a closer look...
T
he Astra is more than just
a household name, with
over 2.9 million sold in the
UK over the last 36 years and
over 50,000 sold last year alone.
But that's not stopped Vauxhall
from launching a completely new
Mk7 to be built at the Ellsemere
Port factory in Cheshire. The new
Astra range, promises to not only
be more roomy than previous
versions, but also cheaper, more
efficient, and, contrary to the trend
of ever increasing waistlines, with
smaller exterior dimensions than
the preceding model.
The range includes some familiar
names including the Design, Tech
Line, Energy, SRi, and Elite, with
NEWS>
SHORTS
16 performance VaUXHaLL
the 1.6 (200PS) SRi coming in at
£20,435. Other engines include
the 1.6 "Whisper Diesel" with 110160PS, the impressive 1.4-litre
ECOTEC (145PS) and the little 1.0
ECOTEC (105PS).
The all new vehicle architecture
plays a major role in weight
reduction with the car being, on
average, 130kg lighter than its
predecessor, which should go a
long way to improving performance,
handling and economy.
Externally it's significantly
different to the Mk6, and while
it may not exactly be particularly
ground breaking in appearance,
it's an undeniably handsome car,
and one that you just know is going
*SURF'S UP
to look great lowered over a set of
wheels! The interior is particularly
impressive, with some cool chrome
trim, integrated display and some
very nice looking seats which in top
spec include 18-way adjustment, a
massage function, ventilation and
adjustable seat-width!
You'd expect a car such as this
to be loaded with tech, and it
certainly doesn't disappoint us
there – options include: Traffic
Sign Assistant, Lane Keep Assist,
Lane Departure Warning, Following
Distance Indication, Forward
Collision Alert with Collision
Imminent Braking, Cruise Control
with Speed Limiter, Advanced Park
Assist, Rear View Camera, and
This is a Vivaro Surf concept – which on the face of it isn't
particularly 'concept-like' other than being a van with a nice paintjob
that you can chuck surfboards on the roof. Still, looks pretty cool,
and with the 1.6 bi-turbo diesel with 340nm torque, it should go
pretty well too. There are rumours of a limited edition model.
Side Blind Spot Alert. There is also
the option to equip the Astra with
'OnStar', which is a clever safety
feature which, when an airbag is
deployed, will activate. An advisor
will then contact the vehicle to
determine whether help is required.
If there is no response, emergency
responders are immediately sent
to the exact location of the vehicle.
The OnStar function also turns the
Astra into a 4G mobile Wifi hotspot,
enabling you to connect up to seven
devices.
Speaking of devices the new
IntelliLink function will also be
making its debut. It's compatible
with Android Auto and Apple
CarPlay to give you increased
Like us on Facebook at:
www.facebook.com/TotalVauxhall
www.performancevauxhall.co.uk
AT A GLANCE
starting from £15,295
*prices
range topping 200pS 1.6 Sri
*110-160pS diesel options
*new onStar and IntelliLink
*functions
and lighter than
*cheaper
outgoing model
interior space
*Increased
*Huge list of safety options
The interior looks particularly
impressive. It's loaded with 'toys' too
We've no doubt the usual detractors will
moan – but we think it looks very smart
control and connectivity with your
smart phone. Android Auto is built
around Google Maps, and the ability
to talk to Google, as well as an ever
expanding audio and messaging
app ecosystem that includes
WhatsApp, Skype, Google Play
Music, and Spotify. Apple CarPlay
takes the iPhone features you'd
want to access while driving and
puts them on the vehicle's display,
allowing drivers to make calls, send
and receive messages and listen to
music right from the touchscreen
or by voice via Siri. All the functions
can be controlled via the large, up to
8in touch-screen located high on the
centre console, via remote control
on the steering wheel (volume) or
*BILLIONS!
The c-pillar treatment is a nice touch, giving
the car a 'floating roof' appearance
via voice control. Let's just hope
GM have made very sure it's secure,
to prevent the unwanted hacking
attempts that have plagued the
'internet equipped' Jeep Cherokee.
The onStar feature may be new to Vauxhall and to the UK (see astra
story above) but it's been going for nearly 19 years in america.
Launched in 1996 Gm have proudly announced that it has had its one
billionth customer interaction. That includes 156 million mobile app
requests, roadside assistance delivered 3.9 million times and more
than 390 million vehicle diagnostic reports delivered.
Along with the 5-door comes the
Sports Tourer (Estate to you and me)
which looks particularly good. It's
got a huge 1,630 litres load capacity,
with the flexibility of 40-20-40 spit
rear seats. The rear tailgate can be
used with the 'Keyless Entry and
Start' option with a rear sensor that
both opens and closes the boot with
a simple small kicking motion under
the rear bumper. It's clever enough
so as not to activate if it detects an
obstruction.
As yet there is no official mention
of either a 3-door GTC, or a VXR
model as Vauxhall intend to run the
current Mk6 GTC VXR alongside the
Mk7. There are however, rumours
of a 250bhp ST-rivalling GSi model,
possibly in hatch and estate guises.
We'll bring you official news as soon
as we get it. For more details check
out the Vauxhall website –
www.vauxhall.co.uk
*WRIGHT ON
Vauxhall love a bit of football sponsorship (something to do with the
top brass loving the game) and they've recently signed up for their
second four-year term as official Home nations football sponsors.
The former england striker Ian Wright is the latest in a long line of
'footballists' to become a Vauxhall ambassador, and he becomes the
proud owner of an astra VXr, the lucky fella!
performance VaUXHaLL 17
Gear
More great products and deals that we've tracked down for you.
amd tUninG paCKaGe
amD has just released a power upgrade package
consisting of a performance remap and a cobra
Sport performance exhaust system. The new
exhaust system uses larger diameter stainlesssteel pipework and mandrel bent curves to improve
gas flow, minimise back pressure and optimise
throttle response. The amD software remap then
enhances these benefits and produces strong power
gains. amD Tuning also offer free fitting on all
cobra Sport exhausts, or 10% off the price and free
delivery if you mail order the exhaust. furthermore,
if you buy an amD Tuning performance remap at the
same time as a cobra Sport exhaust you can have
the remap at HaLf the usual retail price! contact
amD Tuning for further details.
Price Poa
contact amD tuNiNG 01708 861827
www.amDtuNiNG.com
bilStein adam
damperS
While the little adam hasn't
exactly been the success story
Vauxhall hoped, it's not
stopped the suspension
maestros at Bilstein from
releasing a range of dampers
for the diddy hatch. You can opt
for their B4 dampers, which,
according to Bilstein are
"perfect for anyone looking to
refresh an earlier, or higher
mileage car back to 'day one'
condition", upgrade to a set of
B6s which offer more damping
capability which will translate
into better handling without
compromising ride comfort.
finally there is the B8 kit with
shorter stroke for lowered cars.
Price b4 - £97 eacH
b8 - £130 eacH
contact bilsteiN uk 0116
247 8930 www.bilsteiN.De
Ultra raCinG CorSa d loWer
Front StrUt braCe
Ultra racing have released details of this lower front strut brace
for all corsa D models. fitting neatly and easily to all variants,
including the VXr, this bar is will increase the torsional rigidity of
the car, which should improve handling both on road, and on track.
The bar fits quickly and easily to the existing lower chassis pick-up
points and is formed from a one-piece steel construction, making it
more rigid than some other multi-piece designs. each Ultra racing
bar is claimed to be more rigid and therefore more effective than
many 'flexible' or multi-piece designs.
Price £133.67 contact ultra raciNG 01933 685840
www.ultraraciNGuk.co.uk
18 performance VaUXHaLL
www.performancevauxhall.co.uk
FoliateC Clear
Spray Film
Here's a novel idea – We're sure many of
you have seen the coloured spray film
foliatec offer, which is a cheaper
alternative to wrapping – But what if you
want the protection of a spray film, but
don't want to change the colour of your
car? Well, foliatec have just released this
clear film spray, which they claim will
protect paint, and hide swirl marks and
minor scratches. If the finish does get
damaged, just peel it off and spray some
more on! Two thin coast and 30mins drying
time and you're done. foliatec even reckon
it's car-wash and pressure-washer-proof!
The large 400ml cans allow you to cover a
decent sized area too.
Price 400ml £25
contact www.Foliatec.co.uk
TESTED
TeSTeD BY mIDGe
AuTo FinESSE
ViSion GlaSS poliSh
Price £11.95 (500ml) contact www.autofinesse.co.uk
Cobra Seat
This is the new cobra players classic Sports Seat. It's designed
primarily to look right at home in any retro car, yet retains the
comfort and support you'd expect from cobra. The tubular steel
framed seat is hand-finished and there are loads of trim options
from the entry level vinyl and corduroy number which comes in at
£349, right up to a high end black leather
and houndstooth combo at a whopping
£1109! cobra's bespoke division are also
happy to tailor the seat in whatever
material you choose!
Price From £349
contact www.
cobraseats.com
relatively speaking, there's not
many detailing companies that
produce an actual glass polish
and that makes this new
product pretty interesting.
obviously a cream is more like
something you'd use to clean
your paintwork and the
principle is exactly the same
here. The only real difference is
Vision isn't a normal abrasive
polish, it cleans off the grime
chemically meaning it's safe for
use on tints and chrome films
as well as normal glass. Sprayon cleaners typically contain a
lot of solvents enabling them to
evaporate to (hopefully)
eliminate smearing, that's why
many cheaper ones take more
than their fair share of wiping
for a clear finish. With a polish
like this the product doesn't
need to evaporate totally, it
simply hazes over and you buff
off the residue. one mistake
people also make with a spray
is using too much, you don't get
that so much with a polish. Just
whack a couple of pea-sized
drops on your applicator pad
and away you go.
VerdiCt
auto finesse are an undeniable
favourite on the UK show scene
and it really shows that they
listen to feedback and bring to
market the products you ask
for. I'll be the first to admit I
thought it would be a lot more
arsing around than using a
conventional spray bottle
product but, considering how
much buffing you have to do
to get all the smears out with
a spray, I actually found this
much less effort. Vision hazes
quickly and it's not like a wax
where you have to put in some
serious elbow grease to buff
off the residue either – I like
that a lot.
In A nutshell: Great value,
excellent cleaning power,
easy to use.
perfomance VaUXHaLL 19
Corsa oPC
Two
Tribes
Over in Germany, they do things very
differently, often with spectacular results...
Photos Sebastian Brüh
20 performance VaUXHaLL
FAST FACTS
Z16Ler with forged internals
Ta Technic air suspension kit
8.5x19in advance Wheels aV1.0
Brembo 4-pot front calipers
Laquered-in dollar bills throughout
Bonnet and roof may look like they've
been vinyl wrapped – but they're
actually covered with leather!
performance VaUXHaLL 21
Corsa oPC
If you want 8.5x19s to sit this far in
the arches you're going to need both
metalwork and air suspension!
Yup, that's a leather covered
wing mirror. madness!
i
t's easy to see the odd tweaked
Opel, and think that we 'get'
what the German tuning scene
is all about. But the reality is
that it's really quite different
from what we're used to in the
UK. There's a much bigger
distinction between owners who are
all about power and speed, and those
who want an out-and-out show car.
We tend to blur the lines a little over
here, and most of the cars you see
featured in Performance Vauxhall are
cool amalgam of both show and go –
but flick through the pages of a
German Opel tuning magazine, and
while some of the cars are rather
familiar feature car fodder, some look
22 performance VaUXHaLL
like mutated outcasts from the 90s,
with big crazy bodykits, lashings of
chrome tat, and airbrushed murals of
skull-faced mermaids writhing around
a slightly misshapen image of Patrick
Swayzee. But there are an increasing
number of German tuning fans who
are keen to distance themselves from
the mural brigade, yet still want a car
that is capable of both snapping
knicker elastic at 20 paces, and
delivering the goods in the
performance department.
emergency Flare
One such individual is Christian
Theegarten, who's made a point of
distancing himself from any particular
'camp'. The 33 year old master
mechanic has gone all out to take the
best of both worlds to create his ideal
Corsa OPC (their variant of the VXR).
Aside from the obvious crazy drop
and big wheels, from a distance
Christian's Corsa OPC looks relatively
subtle – some might even be tempted
to label it as OEM+, what with the
Nurburgring Edition splitter, and
textbook Arden paintjob. But look a
little closer, and it's clear that it's
anything but OEM. For a start off the
wings have been flared with the
bumper mounts modified to match,
giving the Corsa an extra dose of
aggression – something the
standard car isn't exactly lacking!
"eDs inTercooler, ForgeD pisTons, anD
FrieDrich moTorsporT exhausT give a
sTrong anD reliable 250bhp"
Dollar bills, gold plated components and
white hoses give this Z16Ler real presence
performance VaUXHaLL 23
Corsa oPC
rear diffuser is also leather
coated – something tells us this
isn't christian's daily driver
And then there's Christians
choice of 'covering'. Not content
with a paint job or a simple wrap –
Christian's has had the bonnet, roof,
rear diffuser and mirrors trimmed in
leather! Now we're not going to lie,
when we first heard that it has us
wincing in disbelief – but the reality is
that it actually looks pretty good, and
while it isn't something we'd be rushing
out to get done, it definitely adds an
extra dimension to this Corsa.
Dollar bill y'all
Over here hydro-dipping is gaining in
popularity, but Christian ignored the
'simple' route to getting a distinctive
finish and went so far as to get actual
dollar bills and laminate them over
strategically chosen components both
in the engine bay, and on the exterior.
24 performance VaUXHaLL
It's another bold move that could have
gone oh so wrong, yet manages to
keep just on the correct side of 'oh so
right' – including on the inner rims of
the 8.5x19in AV1.0 alloys! There's a lot
to appreciate on this Corsa, even if
you're not about to replicate the whole
car there's certainly a feast of
imaginative touches.
And speaking of dollars, there's
certainly been a few dollars spent in
getting this hot hatch to where it is
today. One large expense is on the
suspension system. Simple coilovers
would never have sufficed, so instead
Christian has opted for components
sourced from the Berlin-based air
suspension experts at TA-Technix.
They've tailor-made one of their airride systems which, we're
assured, rides and handles a lot
We bet you spotted
this slab of leather –
but did you spot
the struts?
"chrisTian's has haD The bonneT,
rooF, rear DiFFuser anD mirrors
TrimmeD in leaTher!"
tech spec
engine
Z16Ler, eDS intercooler. forged Je
pistons and con rods, Klasen
software, all bolts and hose clamps
gold plated, white silicone hoses,
laminated engine cover with actual
US dollars, various parts leathered,
friedrich motorsport exhaust system
with plated tailpipe
suspension
full Ta Technix-air suspension kit
Wheels/tyres
8.5x19in advance Wheels aV1.0
wheels painted in gloss black and
inner rim with US Dollar finish,
Hankook Ventus S1 evo tyres in
215/35x19, shotgun shell wheel
nut covers
Brakes
Brembo 4-piston calipers,
uprated pads
interior
recaro Sport seats, rear seats and
dashboard retrimmed in leather,
floor mats and first aid kit also in
leather, headlining black porsche
alcantara with opc lettering, various
parts (dash, door panels etc)
painted in gloss black, central
display with US dollar motif,
integrated additional dials for air
ride pressure, carbon inlays on door
handles, multimedia Ze-nc2011D
headunit, Kenwood amplifier,
emphaser eX10T-G5 subwoofer and
Hifonics monitor
exterior
nürburgring edition front spoiler lip,
front wings flared by 30mm,
widened rear wings by 10 mm,
smoothed front bumper and widened
bumper mounts, fog lamps housing
and opel badge laminated with
dollars, mirrors, rear diffuser and
petrol flap covered in leather, roof
and bonnet trimmed in leather,
leathered wipers (!), Dectane LeD
rear lights
performance VaUXHaLL 25
Corsa oPC
There are quite a few
cows in there!
better than common perception
would have you believe.
One area that no one's questioning
is in the engine department, where the
1.6 Z16LER has been warmed over with
a Klasen remap. This complements the
EDS intercooler, forged JE pistons, and
Friedrich Motorsport de cat exhaust
system to give a strong and reliable
250bhp.
Stopping that 250bhp is a beefy set
of Brembo four pots painted in a
contrasting bright red hue. The equally
red factory rears will suffice for now,
but there are plans for more power, and
we suspect bigger brakes will follow.
DiamonD back
It goes without saying that Christian
has followed through with his special
blend of modifying madness to the
interior. First up notice the familiar
Recaro seats are slightly less familiar
thanks to addition of some very neat
retrimming. The same black leather and
diamond stitching can be found on the
door cards, the rear seats, boot lid, and
even under the bonnet. Not content
with that, the floor mats, and even the
first aid kit have been expertly
retrimmed. The headlining is, as you'd
no doubt expect, pretty special too –
black Alcantara with the OPC logo
embossed into it. Gloss black paint is
also in abundance in the cockpit, and
the contrast of the matt leather and
gloss finish works brilliantly to enhance
26 performance VaUXHaLL
both the hard materials and the soft
furnishings.
As no show car is complete without
a multimedia install, this too has been
comprehensively upgraded with the
likes of Emphaser, Hifonics and
Kenwood coming along to the party.
Just look at it – this is no thrown
together affair, this is modifying detail
at its finest.
So while there are many differences
between our tuning culture and the
theirs – it's pretty clear that we can
learn a lot from the Germans – maybe
not when it comes to airbrushed
mermaids, but definitely with the levels
of attention to detail, and most of all
that they dare to be different!
The contrast between the leather
and gloss black paintwork is spot on
Performance Exhausts…
…Driven to be Better
LIFETIME
WARRANTY
UK
MANUFACTURER
T304
STAINLESS STEEL
TIG
Over 40 Years Experience in Designing Sports Exhausts
Cutting Edge Engineering Technology
WELDED
T304 Stainless Steel & TIG Welded Systems
cobrasport.com
+44 (0) II4 244 7I23
HIGH PERFORMANCE PUMPS
£94.10
FAST ROAD
'IN TANK PUMP'
From
Pump kits...... £63.40
'OUT OF TANK'
(3 BAR) REPLACEMENT PUMPS
4OO LTR/HR
'OUT OF TANK'
'IN TANK PUMP'
350
£65.80
Upto 600 BHP
Pt.No. GST400 (PUMP ONLY)
GST400K (PUMP KIT)
from
£102.10 45O LTR/HR
From
BHP ........
Tel: +44 (0)1784 493 555
Email:[email protected]
From
FAST ROAD
UPGRADES
From£59.00
UK Distributor / Warehouse
5 BAR FUEL PUMP
(270 LTR / HR @ 3 BAR)
500
From
BHP ........
£74.64
Prices exclude VAT @ 20%
From
£99.50
www.glencoeltd.co.uk
Upto 750 BHP
Pt.No. GST450 (PUMP ONLY)
GST450K (PUMP KIT)
from
£123.20
On the rolling road this month…
HIGHEST
579 BHP
>
DYNO
HIGHLIGHTS
>
DYNO
LOWEST
275 BHP
Z20LET LOVERS
DYNO DAY
PHOTOS Ricky Neal
When the well known Facebook group decided to get
a RR day together we had to take a closer look…
F
acebook group 'Z20LET
Lovers' admins Carl Scrivens,
Rix Sidhu and Jo Sheridan
decided it was time to
organise a rolling road day
for 2015 for the group. Teaming up with
Dan Newman, the owner of Flow
Dynamics, and official Z20LET
Sponsor, meant they were able to
organise a rolling road day for
members on their brand new state of
the art Dyno Developments dyno.
Carl operated the rollers alongside
28 TOTAL VAUXHALL
Dan and Matt from Flow Dynamics,
while Rix and Jo assisted by rounding
up cars ready to run.
Members from around the country
made an appearance for this event
including Andy Carr from Norwich (his
GSi ran an amazing 579bhp), and
members even came from as far afield
as Dorset, making the long drive up to
meet other members and enjoy a great
Vauxhall day out.
Other sponsors of the group such as
NKK Turbos also made an appearance
to show support and ran their new test
car on the dyno to show off their newly
developed turbos.
The turnout was great, and as
expected a wave of Arden Blues took
over the event and proved to be the
most dominate colour out of the
selection. Along with the dominant
GSis, SRi Turbos and VXRs also made
an appearance for the event and a
special appearance from Kris Mitchell
in his mint Nova C20LET (Yup a C20LET
invaded a Z20 day).
The group has grown since first
being established in 2013, making a
name in the Vauxhall scene, hitting
shows such as PVS each year, and
welcoming all Z20 engine types.
Find out more and check out the
group on Facebook by searching for
'Z20LET Lovers'
CONTACT
Search for 'Z20LET Lovers
on Facebook
ROLLING ROAD
TOP COMMENT
"Needs gearbox - Where's second gear?"
12th
INNES DEAL | 275BHP | ASTRA VXR
ENGINE Stage 2 K06,
high flow inlet, TX
intercooler, SM map
CLAIMED 305bhp
ACTUAL 275bhp
& 288lb/ft
OPERATOR Dropping
boost, actuator needs
setting up.
OWNER Fitted recently,
I'll get it set up!
11th
RYAN RODGER | 313BHP | ASTRA SRi
ENGINE TD K06, VXR
injectors/AFM, TX
intercooler, EDS inlet,
Courtenay top hat
CLAIMED 310bhp
ACTUAL 313bhp
& 370lb/ft
OPERATOR Comes on
boost very well.
OWNER Happy!
10th
KRIS MITCHEL | 320BHP | NOVA LET
ENGINE C20LET,
K06 turbo
CLAIMED 320bhp
ACTUAL 319.7bhp
& 306lb/ft
OPERATOR That's a
fast little Nova.
OWNER No comment,
just a smile!
9th
RICKY NEAL | 321BHP | ASTRA VAN
ENGINE Forged, GT28,
FMIC, EDS inlet, 3in
exhaust
CLAIMED 340bhp
ACTUAL 321.1bhp
& 372lb/ft
OPERATOR Needs
injectors, and map.
OWNER Will be track
van next year!
8th
NIGEL RUSSELL | 324BHP | ASTRA SRi
ENGINE Forged,
Omega pistons, EDS
inlet, billet turbo
CLAIMED 325bhp
ACTUAL 324.1bhp
& 366lb/ft
OPERATOR Pulls well,
pulls fast.
OWNER Happy with
the result.
TOTAL VAUXHALL 29
DYNO
7th
DANIEL MURRAY | 325BHP | ASTRA SRi
ENGINE Forged, K06
turbo, Milltek, custom
intercooler, SM Tuning
map
CLAIMED 297bhp
ACTUAL 325bhp
& 420lb/ft
OPERATOR Needs 'box!
Where's 2nd gear??
OWNER Yeah second
gear's missing!
6th
RIX SIDHU | 325BHP | ASTRA GSi
ENGINE Forged, ported
head, EDS inlet and top
hat, K06, 3in exhaust
CLAIMED 280bhp
ACTUAL 325bhp
& 318lb/ft
OPERATOR Pulls well,
comes on boost quick.
OWNER Impressed
with that considering it
needs remapping.
5rd
JOJO SHERIDAN | 361BHP | ASTRA GSi
ENGINE Forged, Turbo
Dynamics Stage turbo
CLAIMED 275bhp
ACTUAL 361bhp
& 401lb/ft
OPERATOR Pulls very
hard very fast, very
quick car on road.
OWNER Shopping car
strikes again.
4th
ROSS HART | 403BHP | ASTRA SRi TURBO
ENGINE Forged, TD05
turbo, EDS Inlet, FMIC
CLAIMED 380bhp
ACTUAL 403.5bhp
& 419lb/ft
OPERATOR Misfire
at 5k revs.
OWNER Needs
remapping.
3rd
CARL SCRIVENS | 480BHP | ASTRA GSi
ENGINE Fully forged,
Piper cams, EDS Inlet,
GTX2867, external
fuel pump
CLAIMED 450bhp
ACTUAL 480.2bhp
& 470lb/ft
OPERATOR Picks up
fast and holds power
to the limiter.
OWNER Can't
complain.
30 TOTAL VAUXHALL
ROLLING ROAD
2nd
KARL DOBBS | 570BHP | ASTRA GSi
ENGINE Fully forged,
GT2876, EDS Inlet, FMIC
CLAIMED 501bhp
ACTUAL 570bhp
& 545lb/ft
OPERATOR Impresive.
Picks up fast and
holds well.
OWNER Didn't expect
that!
1st
ANDREW CARR | 579BHP | ASTRA GSi
ENGINE GTX3076R,
Meth inj, forged engine,
cams, FMIC
CLAIMED 550bhp
ACTUAL 579.1bhp
& 472lb/ft
OPERATOR Fast!
OWNER Happy
with that.
Wanna
play?
If you're running a rolling
12
road day with AT LEAST
non-standard cars, then
let us know:
[email protected]
kelsey.co.uk
TOTAL VAUXHALL 31
nova fun
32 performance VaUXHaLL
FAST FACTS
nova GSi engine and gearbox conversion
aVo GTX coilovers
powerflex bushes
Speedline alessio 2 wheels
custom leather interior
n
u
f
r
o
t
c
fa
ys
a
s
t
i
hat atch is
w
ctly hot h
a
x
es e classic
o
d
Fun xhall's
a
v
No r Vau as!
d
e
er ove fo ver w
w
o
i-p that l as it e l Whitestone
S
G
y 's roves trong OTOS Michae
e
n
as s DS Dan Furr PH
Pow nd it p
n
a
a
R
h
WO
Nat he tin,
on t
performance VaUXHaLL 33
nova fun
I
f there's one Griffin that you can
rely on to remain popular
regardless of scene trends,
fashions or fads, it's the trusty
Nova. We've reported on heavily
tuned, mildly modified and
sensationally styled specimens
of this awesome hot hatch (and its
rarer saloon-shaped variant) over the
years, and it comes as no surprise to
us to discover that almost every Nova
feature car pilot that we speak to has
owned multiple examples of what is
arguably the greatest supermini to
wear a Vauxhall badge.
Fuel station design engineer, Nathan
Powney, is a case in point, and he can
even lay claim to being the owner of a
Nova overhauled by Norfolk tuning
firm, Courtenay Sport. "The car was a
stock 1.6-litre GSi before the guys at
Courtenay worked their magic on it,"
he explains. "They carried out one of
34 performance VaUXHaLL
their famous forced induction
conversions before an RJ Automotive
body kit, a major ICE install, a loud
exhaust and big wheels were added to
the mix," he says.
Fun Factory
The pearlescent green street star soon
found itself in the spotlight thanks to a
feature in the sadly-now-defunct
Redline magazine, although this wasn't
Nathan's first foray in the world of Nova
ownership. In fact, he's owned four to
date, each a different special edition.
"The aptly-named 'Fun' that I'm in
possession of right now is actually the
second Nova that I bought after
passing my driving test," he tells us.
"The Courtenay-fettled GSi came later,
after I decided to treat the Fun to a
restoration," he adds, confirming that
the green machine was enlisted as his
daily driver while the project
It may not have ball-busting
power, but it looks utterly fantastic
tech spec
eNGINe
e16Se 1598cc 8-valve, block painted
black, ported and polished cylinder
head, polished cam cover, K&n
panel filter, stock GSi exhaust
manifold, 2in powerflow stainless
steel exhaust system with 3.5in
outwardly rolled tailpipe, stock GSi
fuel injection system and ecU,
Iridium spark plugs, Bailey header
tank, stainless washer reservoir,
roose motorsport silicone hoses
pOWeR
100bhp @ 5600rpm (estimated),
overall weight: 900kg
tRANsMIssION
front-wheel drive, five-speed GSi
manual gearbox, lightweight clutch,
short shift linkage
sUspeNsION
aVo GTX coilovers, ride height
lowered approximately 70mm (front)
and 90mm (rear), omp front strut
brace, nova GSi anti-roll bars, front
hubs, arms and rear beam
powdercoated black, powerflex
polybushes throughout
BRAKes
nova GSi front calipers and rear
drums, GSi servo, Brembo drilled
and grooved performance discs,
Brembo pads, Goodridge braided
hoses
WheeLs & tYRes
7x16in Speedline alessio 2 alloys
refurbished and painted Volvo Grey,
opel GSi centre caps, 30mm (front)
and 25mm (rear) wheel spacers,
Toyo proxes T1-r 195/40x16 tyres
BODY
Lamborghini White, underbody
cleaned and resealed, nova GSi front
and rear bumpers painted Volvo Grey,
semi-wide cID Design wheel arch kit,
inner wheel arches boxed and
widened, smoothed doors, louvered
bonnet, smoothed scuttle panel, mk1
nova semi-smoothed tailgate, GSi
spoiler, tinted red rear light clusters,
GSi window surrounds, flocked single
windscreen wiper, opel wind
deflectors, fuel cap relocated to door
shut
INteRIOR
nova GSi black dashboard and
plastics, leather-trimmed GSi seats
with silver piping, leather door cards
and rear quarters, painted boot cover,
mk1 nova dark grey carpets, black
parcel shelf, black headlining and sun
visors, omp steering wheel, mk2 astra
GTe digidash, flocked door handles,
corsa B windscreen wiper and
indicator stalks, omp gearknob,
leather handbrake gaiter, Sparco
pedals, LeD interior light conversion
Ice
false boot floor housing Black Widow
750w amplifier, alpine mp3 head unit,
fli 1in tweeters, Kicker 5in front
speakers, JVc 3-in rear speakers, Sony
Xplod 12in subwoofer in custom boot
box
thANKs
my parents and brother for all their
help and support with the project,
Kelly Bond for giving me the time to
get the car finished, Jason Gwynne
and Luke Browning for their help and
advice, Ultimate audio for the great
detailing work, and to Waboo
automotive for the interior updates.
1992 nova fun, full respray in
common they may be, but
with very good reason
"I dIdn't really have a plan oF
actIon other than to replace old
parts For new where possIble"
progressed further.
A standard example bought for just
£250, the Fun was in far better
condition than Nathan's first car (yes,
that was a Nova too!), encouraging him
to use the 1.2-litre pocket rocket as the
subject of what would become a
lengthy labour of love. Not that he
didn't get his kicks out of it before the
dismantling started – two years of
commuting to work and back in the Fun
preceded its deconstruction and the
purchase of the GSi.
"I noticed that the Fun's wheel
arches and sills were beginning to
show their age," continues the 28-yearold from Herefordshire. "It was that
discovery that signalled the start of the
build. To be honest, I didn't really have
a plan of action other than a desire to
replace old parts for new wherever
possible, although I was adamant that
wide wheel arches would be applied to
the car's refreshed bodywork," he
admits.
The Fun was stripped to a bare shell
as planned, yet the project didn't
adopt a firm direction until a
performance VaUXHaLL 35
nova fun
neat retrim really lifts
the class of the interior
second GSi (a Vauxhall owned by
one of Nathan's friends) offered
itself up as a parts donor. "My intention
was to restore both Novas, but it soon
became clear that the latter was
beyond saving," sighs Mr Powney.
Indeed, some poking and prodding
proved that the car's floor was about to
give way following years spent parked
up on wetland – the ideal setup for Fred
Flintstone, but not for our man in
Credenhill!
Instead, the rotting GSi's modelspecific trim, E16SE engine and fivespeed manual gearbox were removed
for use on the project car. By this time,
the Fun's aging sills had been replaced
by fresh metal, while fibreglass CID
Design wheel arches that are an inchand-a-half wider than the factory
panels, that they replace, were expertly
fitted with the Nova on Nathan's mum's
driveway (along with a smoothing of
the car's door handles, rear quarters,
scuttle panel, tailgate and the
relocation of its fuel filler into the
nearside door shut).
Paint, however, was applied at a
local bodyshop. "I wanted a pure white.
The guy who was charged with
spraying the car suggested a
36 performance VaUXHaLL
Lamborghini colour that was up to the
job," says Nathan. "I agreed after
seeing a test pot, and I asked for my
car's restored shell and its newlyacquired GSi body parts to be covered
accordingly. Meanwhile, I decided to
make use of a set of Porsche D90 alloys
that I had kicking around. The flat
multi-spokes were painted silver before
being added to my ever-growing parts
pile!" he grins.
It's not all whIte
Following their time in the spray booth,
a trial fit of the whiter-than-white
bumpers made the car look more like
an entry-level Nova 'Club' than an
aggressive GSi. This was less than
satisfactory, and resulted in
consultation with Nathan's brother, a
panel beater who had suggested the
use of a shade of grey lifted from the
Volvo paint catalogue.
Sure enough, the bumpers and
Porker rims were soon being treated to
a coat of the Swedish tint. They looked
fantastic alongside other exterior
updates including a louvered bonnet,
but as with so many Nova owners,
Nathan couldn't resist the
temptation to buy a set of
"I was adaMant that wIde wheel
arches would be applIed to the car's
reFreshed bodyworK"
Subtelty is most definitely
the key with this one
OWNeR
NAthAN pOWNeY
AGE 28
JOB Fuel station design engineer
FAVOURITE VAUXHALL Astra J VXR
BEST THING ABOUT THE CAR The
wide wheel arches
WHAT'S NEXT? A C20XE engine
conversion
performance VaUXHaLL 37
nova fun
It may not be the quickest a-to-B
car, but we bet it's a load of fun
Speedline Alessio 2 16-inchers.
Of course, we don't blame him –
they might have appeared on small
Vauxhalls so many times that the
uneducated would be forgiven for
thinking that these wheels were a
factory cost option, but it's plain to see
that the appearance of almost every
Nova can be greatly enhanced by this
classic five-spoke design.
The Performance Nova Group
arranged a discount-friendly order of
AVO GTX coilovers that Nathan was
only too happy to take advantage of,
and he has also added to his car's
improved suspension by applying the
donor GSi's anti-roll bars and a
selection of Powerflex polyurethane
bushes. An OMP strut brace tightens
the front end even further, an area that
now houses the rotten GSi's perfectly
serviceable eight-valve powerplant.
hIgh standards
"The donor car supplied a Powerflow
stainless steel exhaust system," smiles
Nathan. "Other than that and a K&N
panel filter, the engine is pretty much
as you'd expect from a GSi, although
I've added polished fluid tanks, a
matching cam cover and Roose
Motorsport silicone hoses in an effort
to improve the appearance of the car's
engine bay, now that the 1.6-litre lump
is in place," he says.
It's not just this Nova's under-bonnet
components that benefit from well
executed cosmetic updates; the
Vauxhall's interior is decked out with
black plastics and a corresponding
dashboard housing a Mk2 Astra GTE
38 performance VaUXHaLL
digidash. The car's cabin also boasts a
set of re-trimmed Recaros removed
from the long-gone Redline feature GSi.
Finished in black leather with silver
piping, these super seats suit the Fun
down to the ground, and they're joined
by matching door cards and inside rear
quarter panels.
A common feature of the modified
Novas of yore was a big boot build, but
advances in technology mean that
audiophiles no longer need to rely on
massive subwoofers and trillion inch
speakers to get the best out of their
in-car entertainment systems. As if to
prove the point, Nathan – a long time
ICE enthusiast – has positioned a
modestly-sized amplifier into his Fun's
spare wheel well, covering it with a
false floor beneath a 12in Sony XPlod
subwoofer in a bespoke housing.
Kicker, Fli and JVC speakers combine to
deliver exceptional sonic quality, even if
the nearby centre console's factoryissue cassette holder suggests that a
vintage head unit might still be in use!
And so we arrive at the Performance
Vauxhall Show of 2015, where Nathan
and his fantastic Fun first caught our
attention. The car was well received by
the heaving masses in attendance, and
the announcement of an imminent
C20XE conversion and big brake kit
leaves us excited for the future of this
great Griffin. Not that we need to worry
– as history has proven time and time
again, Novas will remain popular no
matter what the modified motor scene
has in store. Expect us to be writing
about Vauxhall's classic hot hatch for a
very long time to come!
Big tunes, yet a
surprisingly useable boot
SM TUNING CAN PROVIDE A NUMBER OF SERVICES
FOR YOUR VEHICLE REMAPPING NEEDS.
• Fully Custom Remapping
• Dual (Switchable) Maps • Economy Remaps
• Tricore Remaps • And more……
We do our very best to answer the phone but due to the mobile
nature of our business you may prefer to email us!
T: 07738 948 109 (Sean McGarry)
W: www.smtuning.co.uk E: [email protected]
SM TUNING
supercharged ascona
LEADING THE
charge
WORDS Dan Furr PHOTOS Damian Hock
Fresh from the Retropower workshop comes this 294bhp,
supercharged, 400-kitted, bright orange Ascona B track machine...
40 performance VaUXHaLL
FAST FACTS
fully rebuilt c20Xe
eaton m90 supercharger
modified '400' bodykit
Bilstein Group 4 coilovers
BBS rS multi-spokes
performance VaUXHaLL 41
supercharged ascona
Supercharger installation required a bespoke
water-to-air chargecooled inlet manifold
OWNER
JASON JOHNS
AGE 43
JOB Marketing assistant at
Demon Tweeks
FIRST VAUXHALL Mk1 Astra 1300
FAVOURITE VAUXHALL Either the Mk1
Astra or the Firenza
BEST THING ABOUT THE CAR The fact
that it's mine!
WHAT'S NEXT? A Wilwood four-piston
brake kit
T
alk about a
coincidence! Imagine
losing touch with one
of your mates before
catching up with him
ten years later, only
to discover that he's
in possession of the very same model
of car that you've got tucked away in
your garage. Then consider how
remarkable it would be if the model in
question was a right-hand drive, twodoor Ascona B – one of the rarest
42 performance VaUXHaLL
Opels to be found on British shores.
"I couldn't believe it!" gasps
Wrexham resident, Jason Johns, a man
who found himself in this exact
scenario. "The odds of us both having
a surviving example of a genuine
UK-issue Ascona must have been
stacked to the sky!" he laughs. The two
cars were in dramatically different
states, however, a fact that was
highlighted during the VBOA National
Rally at Billing Aquadrome in 2011.
"My mate's car had just been
released from the workshop of Vauxhall
restoration and tuning outfit,
Retropower," continues Jason. "The
firm is operated by Opel nuts, Callum
and Nat Seviour, and the lads had
completed the transformation of my
friend's Ascona from a rust-ridden mess
into a pristine 400 rally replica for the
road. The VBOA show acted as the
finished car's grand unveiling, while the
tired rolling shell of my ride was parked
up alongside it in order to provide
punters with a 'before and after'
demonstration of Retropower's work,"
he adds.
reTiremenT age
Jason bought his Ascona back in 1999.
It was used as his daily driver for
twelve months until he decided to retire
it from the road due to a need for a
four-wheeler capable of handling the
huge number of miles that he was
clocking up each day. "The car's factory
1.6-litre lump and four-speed gearbox
weren't coping well with heavy use,
fitting an eaton supercharger to
the Xe wasn't without its issues
"i wanTed a car ThaT would be willing
To deliver close To 300bhp"
There's no doubting the quality
of retropower's workmanship
and I couldn't help but notice that the
engine was burning a lot of oil," he
recalls. Recognising that his Opel was
reaching the end of its service life, he
parked it in his workshop where it
would collect dust until the Billing
outing almost twelve years later.
The quality of work carried out by
Retropower encouraged Jason to leave
his Ascona in the capable hands of the
Seviour brothers with an instruction to
use the rolling shell as the foundation
for another 400 replica. "I'd always
dreamed of owning a white 400 with
the model's signature black and yellow
graphics plastered down each side, but
I didn't want to end up with a clone of
my friend's car," explains the 43-yearold Demon Tweeks marketing assistant.
"I faced some tough decisions
regarding the appearance and technical
specification of my Ascona, although a
graphic designer friend made my life a
little easier by loading an image of a
400 into Photoshop in advance of
showing me renders of the vehicle in
various colours and with a range of
different wheel designs," he says.
charging poinT
An unexpected suggestion of bright
orange paintwork and BBS RS multispokes with gold centres and polished
lips had Jason jumping for joy.
Furthermore, time spent behind the
wheel of an ex-works Group N Mk2
Astra rally machine convinced him of
the merits of turning his Ascona into a
track warrior, and he promptly
discussed the powertrain options at his
disposal with the Retropower boys.
"I wanted a car that would be willing
to deliver close to 300bhp," he
continues. "Nat had undertaken a
significant amount of research and
development work with regard to
supercharging a C20XE that he was
intending to install in a grass racer. The
project failed to materialise due to his
ever-increasing workload, but my
Ascona provided the perfect
opportunity to attend to
performance VaUXHaLL 43
supercharged ascona
"afTer sTripping and blasTing The shell, we
repaired or replaced almosT every panel"
unfinished business!" he smiles.
An Eaton M90 blower, lifted
out of the engine bay of a four-litre, sixcylinder Jaguar XJR, willingly donated
itself to the project, and it was soon
bolted onto a fully-rebuilt 'Red Top'
comprising Wiseco low compression
pistons, Farndon steel rods and a
custom sump. A standard cylinder head
containing stock camshafts was
decorated with a crackle-black cam
cover, while the increased airflow
demands of the pokey powerplant were
addressed by the inclusion of a Jenvey
throttle body and the creation of a
bespoke four-into-one exhaust
44 performance VaUXHaLL
manifold mated to a 2.5in stainless
steel exhaust system.
hard labour
DTA S40 engine management, VXR
injectors (and a matching fuel rail), a
Bosch 044 fuel pump, Aeroquip fuel
lines and a boot-mounted swirl pot
were added to a list of performance
parts intended to keep the engine fed
with a plentiful supply of happy juice.
The nuts and bolts were forming an
impressive parts pile, but time spent
dealing with the mechanical aspects of
the build paled in comparison to the
hours invested in perfecting the car's
bodywork. In fact, Callum tells us that
over 300 hours were spent stripping,
blasting, repairing and remanufacturing
the Ascona's metal!
"Jason's Ascona was original insofar
as we couldn't find any signs of
previous welding work," he confirms.
"That said, the car's floor was rotten,
its inner and outer wings were
corroded, and surface rust blisters were
bursting through faded blue paintwork.
After stripping and blasting the shell,
we repaired or replaced almost every
panel; the front end, valance, wings,
back panel, floor pan, boot floor, sills
and chassis rails were all in need of a
new lease of life. We also added a solid
roof skin that did away with the factory
sunroof," he says.
The Opel's rear wheel arches were
cut out before its inner arches were
tubbed in order to accommodate the
fat BBS rims that Jason had managed
to source. Further cutting took place
up-front, where triangular bonnet vents
were added before the application of a
full 400 bodykit. "Getting a kit like this
to sit pretty isn't as easy as it might
seem," stresses Callum. "We applied
the individual components to the
freshly prepared shell, and then built
them up with fibreglass while they were
tEcH SpEc
ENGINE
a satisfying blend of
luxury and race car
freshly restored 15in BBS rS
alloys are just perfection
with black pVc coating, brake
plumbing hidden from engine bay
1998cc c20Xe DoHc 16-valve, bare
block rebuild, Wiseco low comp
pistons, farndon steel connecting
rods, retropower sump, crackle-black
cam cover, custom spark plug cover,
eaton m90 supercharger painted VW
platinum Grey, retropower water-toair chargecooled inlet manifold,
dedicated chargecooler coolant
system, electric chargecooler pump,
supercharger bypass system using
Turbosmart wastegate, Jenvey throttle
body, retropower 4-2-1 manifold &
2.5in stainless steel exhaust system,
DTa S40 ecU, Bosch 044 fuel pump,
fuel filters and external swirl pot,
-6 aeroquip fuel lines with black nylon
finish, adjustable fpr, VXr 440cc
injectors and fuel rail, Grp4
fabrications alloy rad with Spal fan,
retropower coolant hoses
Two-door opel ascona shell stripped
and restored, full respray in raL 2009
orange, replacement panels
throughout (front end, inner wings,
outer wings, floors, rear panel, roof,
doors), '400' bodykit modified to
create split front bumper, modified
manta GT/e side skirts, modified boot
spoiler, bonnet vents, parts smoothed
and remoulded, custom '400' decals to
match wheels
pOWER
INtERIOR
294bhp, 235lb/ft torque
tRANSMISSION
rear-wheel drive, Getrag 265 'doglegfirst' gearbox, Salisbury 4Ha axle with
limited-slip differential, quick steering
rack, corsa electric power assisted
steering with adjustable assistance
controller
SUSpENSION
Bilstein front dampers with 400lb
springs, Bilstein Group 4 rear coilovers
with 180lb springs, rear axle fully fivelinked with heavy duty rose-jointed
link bars, Superpro polybushes
BRAKES
calibra Turbo 4x4 front calipers with
machined and re-drilled Sierra
cosworth discs, mk4 astra rear
calipers and discs, adjustable bias
pedal box with master cylinders
behind dash, -3 aeroquip brake hoses
WHEELS & tYRES
8x15in (front) and 10x15in (rear) BBS
rS muti-spokes with polished lips and
powdercoated gold centres, custom
barrels and outer rims, new BBS bolts
and caps, Toyo proxes r888
225/45x15 tyres
BODY
omp rollcage painted VW platinum
Grey, Sparco racing seats, momo
prototipo steering wheel, flocked alloy
door cards, alloy door handles, custom
flocked alloy rear quarter panel and
bulkhead trims, flocked dashboard,
manta GT/e centre console, custom
instrument panels, VDo gauges,
custom switch panel (battery cut-off
switch, spotlight switch, brake bias
controller, start button), custom wiring
loom, compact de-mister hidden
behind dashboard, drilled pedals
tHANKS
The guys at retropower, Luke
at WoSp who supplied the starter
and alternator, andy at aJ's Decals,
roger at The Wheel restorer for the
excellent job on the BBS wheels,
phil ridge for the many photoshops
while deciding on colour choice
race-style switchgear
is very neat
It'll come as no surprise that
the underside is so immaculate
attached to the car's body. It was a
drawn-out process, but it ensured that
every piece of the kit was a perfect fit,
and it enabled us to combine parts for
a smoother finish," he adds,
referencing the rear arches, Manta
GT/E side skirts, and front flares that
were moulded into a single piece
each side before being separated
with clean cuts.
perfecT painT
A coat of RAL 2009 (that's 'bright
orange' to you and I) was applied to the
completed bodywork before the
supercharged engine, a Getrag 265
transmission with a Ford Type 9
bellhousing and adaptor plate, a
Salisbury 4HA rear axle and diff, a quick
steering rack and Corsa electric powerassisted steering were installed.
Bilstein dampers with Group 4 rear
coilovers joined a five-link suspension
setup, while braking power was
enhanced by Calibra Turbo 4x4 front
calipers with modified Sierra Cosworth
discs, Mk4 Astra rears and an
adjustable bias pedal box.
The Ascona's cabin is a
straightforward 'race car' affair thanks
to a rear bench deletion, an OMP
rollcage, a MOMO Prototipo
performance VaUXHaLL 45
supercharged ascona
"we ensured ThaT every piece of The KiT
was a perfecT fiT, as iT enabled us To
combine parTs for a smooTher finish"
steering wheel, flocked dash and
door card panels, and a variety of
gauges and switches designed to help
Jason keep in touch with the underbonnet working conditions of his
German gem. Not that getting it to run
without fault was as easy as it
sounds...
heaTsTroKe
It may not be on original hue, but when
it looks this good who's complaining!
46 performance VaUXHaLL
"We had problems with the amount of
heat being generated by the
supercharger," sighs Callum. "We had
to manufacture a bespoke water-to-air
chargecooled inlet manifold that
reduces operating temperatures by
around sixty degrees. A custom belt
pulley was also required in order to
maintain the correct operational speed
of the Eaton unit, and we used a
Turbosmart wastegate to make a
supercharger bypass valve that
effectively kills off any heat when the
car is idling or has closed throttle,"
he explains.
With a safe 294bhp registered on a
subsequent rolling road session, this
extraordinary Opel was ready for Jason
to collect in time for this year's VBOA
National Rally. "I drove to Retropower
from Wrexham before taking the rebuilt
car on its maiden voyage to Billing. The
reaction from those in attendance at
the event was overwhelmingly positive,
and that includes a number of 400
purists who I was sure would take
exception to my choice of colour!" he
smiles. He need not have worried; for
many, this awesome Ascona was the
car of the show, and with plans for
further mechanical updates and plenty
of track action on the horizon, its
popularity is only going to spiral
upwards. Coincidence? We think not!
%*
+(%'+, %#-&!
,
(
)
,!!'
$"%*
%#! $$
"
'"!"$&%#
'!*%
0*.1!%
)%+
02!#-$%+ &#!(%.
'!/,"
# ,7, -.*!3
# &!5' .)8(+*6'5*
-.5"' ,$0/ 2 9/0/ 41%
8 O<QN0<QN1 150 K2511/25 8 2<NS5 M3 RM15 )$99$U';
TR5PK1 .Q0R O<KKQNSJ
8 PQSR0.5QSR0 <P/OQNQ/O
8 </-H S</S5 KM20
O2: FFD
[email protected]? GW6V$U$6V E=GC!+9
LDF&H%F
LDF#H"(
LDDDHBF
LDD*HFF
L&H"F
/+!($* $"(1%&$ #,' . )-0
0+WX I** TFJD%#* *", (((
444H'[email protected][email protected]!
5VG$WX ;GW+;>'[email protected][email protected]!
FULL FACTORY
BLUETOOTH FOR
ASTRA J AND
INSIGNIA JUST
£360 INC VAT
M32 GEARBOX
REPAIRS FROM £300
www.asautocare.co.uk
pvs 2015
Tough looking nova went
well down the strip
a winning combo
48 performance VaUXHaLL
sHOW 2
REpORT
PART
We take a second look at the awesomeness
that was the Performance Vauxhall Show
2015… WORDS Dan White PHOTOS Dan Sherwood
I
f there's one thing that we always find
tricky, it's picking the photos for a huge
show report. There's always so much
variety, and so many great shots that we
reluctantly have to leave many out. Which
is why, even though the show will be little
more than a hazy memory for some, we
decided to give you a second dose of PVSbased awesomeness.
The number of well turned out cars was
as staggering as ever (given a helping hand by
a large dose of sun!) and really displayed the
vibrant Vauxhall tuning scene. Everyone who
took part should be proud to be part of a
thriving scene, and we should celebrate all
different forms of modifying within our slice of
car culture, even if we may not specifically
want to do the same to our cars. There's
always much discussion after any large event
such as this about the similarity of many cars,
yet one quick look over this feature will see
there is anything but a lack of originality!
While some like to follow there are also many
who prefer to lead!
pair of tidy cabbies make
the most of the sunshine
performance VaUXHaLL 49
pvs 2015
We've got a lot of time for the
original touches on Luke's 'B'
Luke DiLLon Corsa B
Here's a cheeky little number. Luke's neat B is propelled by an Xe
running twin 45 Webers, courtenay cams, a ported head, arp bolts, and
a 4-1 manifold. But it's the interior which really caught our eye – check
out the bum-numbing Kirkey seats, Safety Devices cage and bare steel
mk1 escort dash! a cool corsa and no mistake.
WHeeLs
It's undeniably one of the
single most important
aspects when it comes to
personalising your car –
wheels make or break a
build. for many years the
Vauxhall tuning world has
become a little intrenched
and inward looking, with
very few wheels out of
the 'chosen few' being
accepted. But in more
recent times it seems that
more and more choices
have sneaked in – Here's
a selection just to show
breadth and depth of
options out there.
50 performance VaUXHaLL
old or new, which would you choose?
adam chamberlain's nova was
proudly displayed on our stand
amusing astra estate
with matching trailer
another ex-feature car in the shape of
this super rare Irmscher kitted creation
performance VaUXHaLL 51
pvs 2015
That's something you
don't see every day!
Some properly aggressive
aero on this astra
The big drag boys
came out to play too
52 performance VaUXHaLL
.COM
VAUXTECH
INDEPENDENT VAUXHALL SPECIALISTS
ECU REMAPPING
INCREASE YOUR BHP AND Torque BY
UP TO 35%
PHONE: 01392 825674
Email: [email protected]
YOUR COST EFFECTIVE ALTERNATIVE
TO MAIN DEALERSHIP SERVICING
SERVICING REPAIRS DIAGNOSTICS MOTS
BRAKES CAMBELTS TYRES EXHAUSTS
WE AIM TO BE AT LEAST 40% CHEAPER THAN MAIN DEALERS
WE A
AIM
IM T
TO
O BE A
AT
T LE
LEAS
AST
AS
T 40
40%
% CH
CHEA
EAPE
EA
PER
PE
R T
THA
HAN
HA
N MA
MAIN
IN D
DEA
EALE
EA
LERS
LE
RS
astraVan
FAST FACTS
mk4 astravan in corsa VXr chilli orange
Z20LeT engine with hybrid astra VXr turbo
flocked omp roll cage
Irmscher Sport Star alloys
Sparco r333 bucket seats
Vantastic
WORDS Jarkle PHOTOS Matthew Dear
It might be that eye-popping shade of Chilli Orange that first draws you to this
Mk4 van, but there's a whole lot more to get to grips with under the surface!
54 performance VaUXHaLL
Four
performance VaUXHaLL 55
astraVan
n
othing, with the
possible
exception of the
Hertz rental car,
is faster in real
world terms than
the humble
Astravan. A combination of carderived chassis, good range of
engines (8v power in a Bedford
Astramax was something to crow
about twenty odd years ago) and a
driver without a personal financial
stake in the van itself all combined to
make them the undisputed king of the
outside lane. The Astravan sadly died
with the Astra H, Vauxhall opting
instead to push sales of the Corsa
Combo and full-sized Vivaro instead,
but that still leaves would-be van
tuners with plenty of choice – just pick
the generation of Astra that most
appeals and get stuck in!
Of course while all Astravans were
created equal, they didn't all remain so.
We've featured a fair few of them over
the last few years and the vast majority
sported perfect paint and loading bays
that hadn't seen a sack of cement or a
set of rusty gardening tools for many,
many years. The one you see here is
56 performance VaUXHaLL
much the same. Owned and built by
Adrian Worthy and with thumping
Z20LET power up front, it's packed with
the kind of details that add up to
something very special indeed.
"I've always broken Vauxhalls and
moved with what's popular at the time,
so I've gone through a fair few Cavalier
GSis, Astra SRis and fast
Vectras,"explains Adrian. "At the
moment it's Mk4 Astras and I've always
had a soft spot for the van."
in the beginning
It helped that Adrian had three vans
and a sickly Mk4 GSi sitting in his yard
at the time, so doing something with all
of them certainly made a lot of sense
and cut down the amount of time spent
hunting for parts considerably! Of the
three vans at his disposal it was
actually the oldest that was in the best
condition; yes it had tired white paint
and a few parking dings, but it was
solid where it mattered – the ideal base
for a project. Adrian began stripping it
down and readying it for a new coat of
paint, though at the time he had no
idea what the new colour would be.
"Arden Blue was on my list at first,
but there are just so many Vauxhalls in
There's something satisfying about using a factory
colour on a model it was never intended for
painted 17in Irmscher
Sport Stars look the part
"it Was onlY When i saW a chilli
orange corsa VXr at billing that
mY minD Was maDe up!"
ZLeT is the natural choice
for a big power swap
OWNER
ADRIAN WORTHY
AGE 48
OCCUPATION Painter
FIRST VAUXHALL A Chevette – I
bought it from my parents.
WORST PART OF THE BUILD Getting
those seats in!
BEST PART OF THE BUILD Putting it
all back together again.
WHAT'S NEXT More power, a forged
bottom end and a new turbo of
some description.
everywhere you look
there are orange details
that colour nowadays," chuckles
Adrian. "It was only when I saw a Chilli
Orange Corsa VXR at Billing 2013 that
my mind was made up!"
With the van sent off to Martin at
Courtney Bodyworks, attention turned
to the type of powerplant the re-born
van would have. Adrian couldn't help
but look to the forlorn looking Mk4 GSi
residing in the corner of his workshop
at this point, and within hours its
Z20LET had been removed from
performance VaUXHaLL 57
astraVan
"Iin the enD i DeciDeD that
300 or so bhp Was plentY in
something liKe this"
TECH SPEC
ENGINE
rebuilt Z20LeT with VXr hybrid
turbo, injectors, fuel rail, fpr and
afm, cDTi air box, TX autosport
solid boost pipes, silicone hoses
and fmIc, phase 3.5 map, pre-cat
removed, 3in Scorpion stainless
steel exhaust with 200 cell sports
cat, collins performance twin piston
dump valve, carbon hydrographic
dipped air box, rocker cover, injector
wiring cover, fuse and relay boxes,
brake fluid reservoir cover and strut
top covers
POWER
(estimated) 300bhp
TRANSMISSION
f28 gearbox, astra GSi driveshafts
SUSPENSION
Gaz Gold coilovers all round
BRAKES
astra GSi discs and calipers all
round, uprated pads, braided lines
WHEELS AND TYRES
17in Irmscher Sport Star alloys with
Toyo proxes T1r tyres
INTERIOR
Sparco r333 bucket seats,
dashboard, door cards, centre
console, sun visors and omp roll
cage all flocked in black or orange,
door handles, speaker covers, air
vents, kick panels and B-pillars
carbon hydrographic dipped, ply
lined and carpeted floor, pioneer
DVD player with rear view camera,
alpine V12 amp, Directed 12in
subwoofer
EXTERIOR
mk4 astravan in chilli orange, GSi
front bumper and side skirts, opc
rear bumper, de-badged grille, GSi
headlights with HID bulbs and cree
sidelight bulbs, carbon dipped front
grille, bumper grilles, rear number
plate bulb holder, handle and roof
trims, tinted windows
THANKS
martin at courtney Bodyworks,
nikki at Banbury flocking, Wicked
coatings, poole for all the
hydrographic work
58 performance VaUXHaLL
its moorings and stripped down
to its component parts. At this
point Adrian was faced with a decision;
forge the bottom end and push for
mega power, or save some money and
build something with a decent, useable
bhp figure.
"In the end I decided that 300 or so
bhp was plenty in something like this,
plus there's nothing stopping me
forging it at a later date. All the VXR
stuff went onto the engine at the same
time, so it went from 200bhp to
300bhp in one hit."
Adrian wasted no time in ditching
the standard turbo for a hybrid KO4,
plus VXR injectors, fuel rail, FPR and
airflow meter, solid boost pipes and a
TX Autosport intercooler. Factor in the
stage 3.5 remap and it swiftly becomes
clear how he's managed to arrive at the
magic 300bhp figure, and that really is
plenty of power in a front wheel drive
van with an open diff.
straight sWap
The engine was finally fitted to the car
at the start of last year, a process that
Adrian says was both simple and very
enjoyable. In fact he goes on to say
that rebuilding the van, adding
suspension, engine, brakes and
everything else, was the most
pleasurable aspect of the whole
project. This all makes a lot more sense
when you take the time to look at the
little details that litter every aspect of
this van, and nowhere is this more
apparent than in the interior. For
starters there's an OMP roll cage, a rare
one that was designed specifically for
the fourth gen Astra van, plus the
lashings of carbon dipping.
Dipping source
"I'll admit that I did get a touch carried
away with the carbon dipping side of
things," laughs Adrian. "A trip to
Wicked Coatings in Poole resulted in a
£2,500 bill and most of the engine bay
carbon hydrographic dipped, plus a
fair number of the interior fixtures
and fixings."
The attention to detail present in the
interior extends further than just the
hydrodipping work; check out the roll
cage, dashboard, door cards, centre
console, and sun visors, all of which
now sport either black or orange flock.
"The OE plastics looked out of place
once I'd started working on other
aspects of the van, and a trip up to
Banbury Flocking convinced me that it
was the correct route to go down. I
ended up having most of the interior
done in one three-day period!"
The end result certainly isn't subtle,
but it does lend the van a suitably eyecatching interior, something it certainly
needed once the exterior panels had
been treated to a coat of Chilli Orange.
Factor in the GSi bumpers and skirts,
lowered stance courtesy of a Gaz
coilovers, de-badged panels,
Banbury flocking did a
superb job with the interior
performance VaUXHaLL 59
astravan
It's hard to imagine the van in
its former life as a builder's hack
flocked roll cage is
an innovative touch
tinted glass and the flawless
nature of that paint job, and it
suddenly becomes all too clear why
Mk4 Astra vans are such a popular
base for a Vauxhall project – they have
the potential to look truly fantastic.
Keep it simple
Discussing the build story of this van
with Adrian paints a deceptively simple
picture, particularly when it comes to
things like the engine swap. That
aspect of the project was actually fairly
simple – "I've done more than a few
conversions in my time," explains
Adrian – but some areas were anything
but. Adrian is quick to cite the
installation of the natty Sparco R333s
as being the most troublesome aspect
of the whole tale, specifically the
hassle he had when trying to properly
anchor them to the van.
"I made sure to get the correct
runners for the seats, so fitting them
should've been a piece of cake! Not
only did they not fit properly, they also
left me sitting far too high and peeking
out from behind the sun-strip."
60 performance VaUXHaLL
There's no doubting that all that
effort, the muttered curse-words and
skinned knuckles was worth it though,
particularly as this van is now closer to
an out and out track car than a haggard
load-lugger. Those 17in Irmscher Sport
Star alloys are very much the icing on
the cake, the perfect balance of subtle
style and performance, particularly in
that shade of dark grey.
So, what's next? Adrian's quick to
point out that 300bhp in a front wheel
drive Astravan is more than enough for
now, certainly enough to surprise an
interesting selection of posh sports
cars and over confident BMW drivers.
That said, he certainly hasn't ruled out
forging the bottom end of that ZLET and
fitting some kind of LSD at some point,
additions that will enable this belting
looking van to truly realise its full
performance potential. We can't wait to
see how he gets on, but for now just
take the time to take in this once
unassuming looking van. It isn't hard to
see why the mighty Astravan is such a
popular car, and we're fairly sure that
many of you reading this are already
mourning its replacement in Vauxhall's
current model range.
Wheels and Tyres
NOW
PERFORMANCE
FULL
RANGE
ONLINE
All prices quoted are from and inclusive of VAT
WHEELS AND TYRES I SUSPENSION I BRAKES I FILTERS I TUNING I BUSHES
TEAM
DYNAMICS
Le Mans
17", 18", 19"
OZ
Superturismo
GT
14", 15", 16",
17", 18", 19"
FOX
FS004
14", 15", 16",
17", 18", 19"
ROTA
Grid Drift
8x16",
8.5/9.5/10x18",
10.5x19"
3SDM
0.05
16", 17", 18"
5 STUD
VAUXHALL
FITMENT
BOLA
B1
18", 19"
NEW
TEAM
DYNAMICS
Pro Race 1.2
13", 14", 15",
16", 17", 18"
AVAILABLE
NEW
WE HAVE
THE LOT!
FINANCE
Tyre Pressure
Monitoring System
Prices are
per tyre
NEW
from
£83.00
from
£41.00
LOWER PRICES
GO ONLINE FOR
DETAILS
PROXES
ROAD LEGAL TRACK DAY TYRES
ZE914
PROXES R888
YOKOHAMA
FALKEN
AD08R ADVAN NEOVA
FK453
YOKOHAMA
POPULAR SIZES
FALKEN
TOYO
ADVAN SPORT
Largest specialist high performance tyre stockist in the UK
Hoses
FREE
CLIP KIT WITH
SAMCO HOSE
KITS
Suspension
Applications
Type
Astra Mk2 16v GTE
Astra GSi 2.0 C20XE
Astra VXR 2.0 240PS
Coolant
Astra VXR 2.0 240PS
Turbo
Cavalier GSi 2.0 C20XE
Coolant
Cavalier/Calibra 16v Turbo
Turbo
Corsa B 1.6 16v GSi
Coolant
Corsa C 1.8 SRi Z18XE
Coolant
Corsa 1.2 16v (Non Twinport)
Coolant
Corsa VXR 1.6 Turbo
Coolant
Corsa VXR 1.6 Turbo
Turbo
VX220 Turbo (with or w/out DV take-off) Turbo
£100.00 20%H&ROFF
OFF SPAX
9% OFF
SAVE OVER
Tuning
ST
Adam
Astra Mk3
Astra Mk4
Astra Mk5
Astra Mk6
Calibra
Corsa
Tigra
Vectra B
ST
Spring
Kits
£135.00
£165.00
£165.00
£165.00
£165.00
£165.00
£135.00
£130.00
£165.00
Eibach
H&R Spax RSX
KW
Spring
Spring
Coilover
Coilover
Kits
Kits
Kits
Kits
- £143.03
£166.00 £148.75
- £876.00
£161.00 £125.87 £514.25 £833.00
£171.00 £142.08 £514.25 £920.00
£161.00 £136.36
£166.00 £164.02
- £876.00
£148.00 £109.66 £471.73 £526.00
£201.00 £157.33 £471.73 £526.00
£228.00 £145.90 £577.99 £938.00
AP
Coilover
Kits
£455.00
£482.00
£500.00
£455.00
£482.00
PICK YOURS
UP NOW!
FREE 2015
£30.78
£66.00
£60.19
0906 250 1582
OR VISIT US ONLINE FOR YOUR FREE COPY
£44.12
£66.15
£79.29
Full range of Eibach
spacers now available.
Visit demon-tweeks.co.uk
or call for details.
DBA AUTHORISED UK STOCKIST
Astra Mk4 GSi
Astra Mk5 VXR
Corsa C SRi 1.8
Corsa D VXR
Insignia VXR
Vectra C VXR
Faster response.
Smoother driving.
Better acceleration.
Safer overtaking.
Insurance options.
No mechanical or
technical skill required.
• Supplementary warranty.
• Manufacturer's lifetime guarantee.
NEW
LOWER
PRICES
Astra J VXR
Astra H VXR
Corsa D VXR
Insignia VXR
FORGE MOTORSPORT
£598.80
£399.00
£359.00
£359.00
£399.00
EBC
Pads
Discs
£74.12 £180.19
£82.68 £161.98
£43.06 £127.95
£61.55 £180.19
£96.12 £174.93
£91.82 £246.49
Pads
£69.60
£94.80
£69.60
£78.00
£118.80
-
Air Filters
Tarox
Black Diamond
Goodridge
Discs
Pads
Discs
Lines
£258.00 £40.45 £145.99 £74.95
£252.00 £54.23 £249.07
£192.00 £38.30 £101.16 £74.95
£258.00 £55.49 £145.99 £114.95
£342.00 £40.60 £209.41
- £50.31 £346.00
-
CLEANING KIT
WITH ALL BMC
PANEL FILTERS
K&N
K&N
Panel
Induction
Filter
Kit
£41.99 £95.98
£39.59 £57.59
£39.59 £83.99
£35.59 £91.18
£47.99
£47.99 £105.59
£46.79
£46.79 £100.79
Astra Mk3 GSi
Astra Mk4 GSi
Astra Mk5 VXR
Corsa C SRi 1.8
Corsa 1.4 Turbo
Corsa D VXR
Insignia
Vectra C GSi
Richbrook
FREE
UP TO
25% OFF
Pipercross
Panel
Induction
Filter
Kit
£35.98 £80.22
£35.98
£71.30
£35.98 £80.22
£35.98 £80.22
£35.98
£35.97
£89.12
£35.99
£35.97 £124.76
Exhausts
£19.95
Green
Panel
Filter
£48.29
£48.29
£48.29
£41.78
£48.29
£48.29
£62.39
£55.88
ITG
Panel
Filter
£58.80
£55.20
£55.20
£48.00
£48.00
£48.00
£79.20
-
10% OFF 17%UP TOOFF
JETEX, MILLTEK,
VXR
INTERCOOLER
SPECIAL OFFERS
SCORPION
PIPER
£14.95
£6.77
£5.95
£12.70
In car rechargeable torch
Anti-theft valve caps
Anti-theft number plate bolts
Boot lip and bumper protector
Gear knob 5 and 6 speed
Air freshener
Door lock pins (pair)
£9.31
£13.56
£11.00
£25.46
£31.40
£8.46
£12.70
This is only a small selection of our
Richbrook officially licenced Vauxhall
products. Call for details.
Bushes
Full range of Powerflex
front, rear and engine
kits now available.
PERFORMANCE
CATALOGUE
RING NOW
195/50/15
205/40/17
225/40/18
Direct replacement discs and pads from all the leading suppliers. We also stock brake fluid, calipers and
lines. Visit demon-tweeks.co.uk for details.
•
•
•
•
•
•
Corsa VXR subframe
brace
£33.96
Corsa VXR intercooler
£498.00
Save £107.27
Astra VXR intercooler
£598.80
Save £293.70
Astra VXR brace bar
£33.96
Spec-2
Yokohama Parada Spec 2
195/50/15
205/45/17
225/40/18
Brakes
Price
£320.23
£320.23
£106.50
£147.36
£180.94
£208.65
£156.88
£85.58
£175.33
£128.64
£184.36
£215.74
PARADA
T1R
Toyo T-1R
from
£498.00
QUAIFE DIFFERENTIALS
Corsa/Nova
£678.30
Astra/Corsa VXR £587.27
Astra Mk4 GSi
Astra Mk5 VXR
Astra J VXR
Corsa 1.4 Turbo
Corsa VXR
Insignia VXR
Milltek
Systems
£360.70
£415.88
£856.21
£453.38
£708.05
SALES ORDER LINE:
Scorpion
Jetex
Systems
Systems
£409.31
£438.48
£629.10 £763.58
£265.50
£380.70 £487.90
£764.10
-
Piper
Systems
£358.80
£358.80
£689.52
£397.20
£556.40
-
WHEELS TYRES AND EXHAUSTS:
www.demon-tweeks.co.uk 0844 375 5597 0844 375 5598
75 Ash Road South,Wrexham Industrial Estate,Wrexham, North Wales, LL13 9UG
Low rate call. Lines manned 8.30am - 5.30pm, Monday - Saturday
Follow us
All major credit cards accepted and Paypal transactions. Cheques, postal orders or bankdrafts made payable to DemonTweeks. Goods despatched on express carrier service £8.70 or economy carrier service £7.50
MEDIA CODE:
NZ144A
HALL of FAME
Some top readers' cars to feast your eyes on!
STEVEN RICKWOOD
ASTRA
CABRIOLET
We do like an Astra cabby. Done
right, they can look really nice,
and Steven Rickwood's is a great
example. His wheel game is
strong with a set of Porsche
'twists', and the bodywork,
including the custom smoothed
handles and paintwork, has all
been done by Steven! The original
engine has been junked in favour
of the much loved ZLET with, in
Steven's own words, "the usual
VXR upgrades".
CRAIG GREATHEAD
ASTRA VXR
Craig has owned his tidy VXR since 2010, and it
has undergone a lot of changes since then. He's
recently decided to carry out a load of hydrodipping, and has covered loads of parts
including external trim, and the wheels! It's a
daring effect, and while not to everyone's taste,
is certainly different. Power wise Craig
believes it's running over 300bhp, with more
to come with a Garrett high up on the wish list
for next year.
62|PERFORMANCE VAUXHALL
Want to appear in the Hall Of Fame? We want to see your car. Just email us your name,
phone number, no more than four photos, car spec and tell us a bit about yourself –
where you're from, what your job is etc to: [email protected]
IAN WATERFIELD
ZAFIRA VXR
There's something amusing about a big power Zafira. While
they did come in VXR flavour, the majority of other road users
simply see them as 'mum chariots' and wouldn't expect them
to have over 230bhp. So you can imagine their surprise when
they come up against Ian
Waterfield's example.
With a load of engine
work including a custom
tubular manifold, Tial
exhaust housing and
wastegate, and water/
methanol injection Ian
is hoping to see getting
on for 500bhp!
Impressive stuff.
OWEN OBRIEN
ASTRA
SALOON
The humble Astra Saloon is an
overlooked member of the Griffin
family, having never had a sporty
model, and selling in tiny numbers
compared to its hatchback sibling. But
Owen O'Brien has added his own
touches to make his stand out. Bilstein
dampers and 60mm lowering springs
make it sit nicely over Astra Sport
steels, and an Irmscher splitter adds a
bit of styling subtlety. Inside you'll find
a full GSI interior, and under the bonnet
lives the original C14SE livened up with
a cam and filter.
HARLEY STEVEN
CORSA 1.4T
19 year old Harley from Yorkshire is very proud his
"smoothed static Black Edition", particularly the
ride height which he claims is lower than you'd get
using bag-over-coil air ride. He's also stripped out
the interior and slotted in a couple of Suzuka
buckets. Despite his young age, and associated
insurance woes Harley has managed to squeeze a
claimed 170bhp from the 1.4 Turbo.
PERFORMANCE VAUXHALL|63
www.gazshocks.com
Can be
used
inverted
Bump and
Rebound
Adjustable
GAZ Monotubes
A new quality damper to satisfy the needs of the discerning competition
and track day enthusiasts. Built from high tensile alloy to withstand the
high stresses that are involved in race conditions.
Coilover kits and fully adjustable dampers available for most Vauxhall/Opel models.
Special applications (classic, race, historic) can be made to order.
Black zinc plated
steel outer tube
Easy height
adjustment
TÜV and IS9000
Certification
Manufactured from
High Tensile Alloy
Bump and
rebound
adjustable
GAZ GT Shock Absorbers
Zinc Plated Body
Spring rates can be
altered on request.
Silicone Chrome
springs available
GAZ GHA kits
Bump and
Rebound
Adjustable
Self lubricating
spherical bearings
GAZ Gold Coilover Kits
A very extensive range of telescopic
dampers for both modern and classic car
applications.
Gaz GHA height adjustable kits are
primarily made for the modified road car
market.
Premium height adjustable kits for
tarmac motorsport and the serious track
day enthusiast.
• These units can be built in various open
and closed lengths.
FEATURES:• On car damping adjustment
• Shortened body and stroke lengths to
allow a -25 to -65mm ride height
adjustment
• Coarse acme form thread for ease of
adjustment
• Zinc plated to minimise corrosion
• Includes high quality coil springs in
various rates and diameters.
• Spring rates can be altered on request.
• When a coilover is unable to be
installed a separate damper and rear coil
spring with a variable spring platform is
used so the kit retains full height
adjustment all round.
FEATURES:• On car damping adjustment
• 62mm bodies for increased oil
capacity.
• Induction hardened piston rods
• Multi lip sealing.
• Gas cell in the outer reservoir to
prevent cavitation and reduce fade in
motor racing conditions.
• Lightweight billet alloy bases, end
fittings, seats, lockrings, rod guides and
gland nuts.
• Nickel coated steel outer tube to
provide the best anti corrosive finish
possible.
• Anodised outer alloy components
• Bump and rebound is adjustable by
means of a a single control knob.
All units in all our ranges can be
purchased individually or repaired, by
return, in the event of an accident. Leda
rebuild service also available.
A full range of springs are stocked at
the factory for road and motorsport use.
www.gazshocks.com
[email protected]
Gaz Shocks Ltd
Rayridge House, Swinborne Road
Burnt Mills Industrial Estate
Basildon, Essex, SS13 1EH
GAZ Gold Pro
Premium range designed for fast road,
track day and tarmac motorsport use.
FEATURES:• Multi point on-car adjustable control
knob to adjust bump and rebound
• Filled with high viscosity index fluid
to alleviate cavitation
• Induction hardened piston rods
• Manufactured from high
tensile alloy
• Internal gas cell to reduce fade in
motor racing conditions.
• Lightweight billet alloy bases, end
fittings, seats, lockrings, rod guides and
gland nuts.
• Gaz Gold Pro range
are offered with self lubricating
spherical bearings and progressive
bump stops.
Telephone:
01268 724585
VBOA 2015 Billing
We headed along to the annual gathering of Vauxhalls at Billing 2015!
B
WORDS Jarkle PHOTOS Dan Sherwood
illing lives and dies
on the whims of
Northamptonshire's
weather; a scorching
hot weekend almost
inevitably leads to a
cracking show (and
more than a few well cooked
Vauxhall nuts), while torrential rain
means... well, if you were there in
2012 then you'll already know what
it means! This year Billing
Aquadrome gave us a bit of
everything, with Saturday bringing
baking hot sun and Sunday serving
up threatening looking clouds and,
come 2pm, torrential rain. The
72 performance VaUXHaLL
turnout was excellent though and
the whole show felt busier than it
has done for years, something no
doubt helped by the calibre of cars
in attendance and the sheer
number of milestones and
anniversaries that had to be
celebrated. The Nova Sport turned
30 this year and there was a mass
gathering of cars to mark the
occasion, the mighty Lotus Carlton
blasted through the quarter of a
century mark, and the humble
Chevette and Mk1 Cavalier both
reached the grand old age of 40,
and all these superb milestones
were celebrated accordingly.
custom 2-door cresta is packing
a monster 5.7 litre engine
oh so retro Victor estate
performance VaUXHaLL 73
VBOA 2015 Billing
The good old nova was well
represented, with some
stonking examples on display
now that's extreme
weight saving!
There's no denying there was
a superb variety of cars on show
74 performance VaUXHaLL
Victor duo looked superb
Jarkle had to be physically manhandled away from this manta
Jason Johns
oPel asCona
The standard of cars was seriously high this
year and there were plenty of cars in contention
for our 'car of the show,' though it's probably
fair to say that this ascona stood ever so
slightly higher than pretty much everything
else there on the day. It's been built by the
chaps at retro power, something that should
tell you all you need to know about the
standard of the work involved, and was finally
screwed together mere days before Billing.
Jason Johns is the lucky owner and he was
more than happy to talk us through some of
the spec highlights, including that screaming,
supercharged Xe. It isn't that hard to see why
we were bowled over by this car – so much so
that you can read all about it over on page 40.
performance VaUXHaLL 75
MarC Corsa a
novas (and indeed corsas like this
one) weren't exactly in short supply
at Billing, but few were as well
realised as this. owned by marc and
looking utterly flawless despite a
mammoth trek to northamptonshire
from Germany, this corsa stood out
because of the number of well thought
out and beautifully applied little
touches dotted throughout. of course
there is the more obvious exterior
stuff that first drew us to the car in the
first place; those lovely exip alloys,
Sr front 'plough' and fantastic (and
factory applied) coat of platinum
Gold paint, but it's only when you take
a peek under the bonnet that you can
truly grasp what makes this little car
so good. There you'll find a stunning
small block, a 13SB to be precise,
running twin 40 Webers, an Irmscher
manifold, and lashings of gold
and chrome. It really is a work of art
under there, plus it's great to see
something other than an Xe or a LeT
getting some much deserved love and
attention.
Who doesn't have a soft spot
for a wide-arch chevette?
ex-feature corsa B
was iooking minty fresh
performance VaUXHaLL 77
VBOA 2015 Billing
mk2 GTe perfection?
Super rare michalak corsa Spider
made the trip over from Germany
78 performance VaUXHaLL
Charlie Middleton
asCona a
charlie's ascona is the result
of a painstaking restoration
old opels are a rare sight on British
roads thanks to a combination of
relatively low volume sales when
new, a small (but dedicated) following
and, of course, rust. all of this makes
charlie's ascona a a very rare car
indeed, and we counted just two other
examples of these pretty little saloons
over the course of the weekend. This
one was undoubtedly the cleanest
though, thanks to a comprehensive
restoration carried out entirely by
charlie himself over the course of
the last two years, with no expense
having been spared along the way.
The end result isn't a particularly fast
car (though that carb-fed 1600 can
hustle the lightweight opel along
at an impressive rate of knots when
required), but it is a stunning one;
monza Blue paintwork, arrow straight
panels (some of which had to be
sourced from Germany), and tasty aTS
alloys tucked under each arch. proof
that less really is more when it comes
to old opels.
VXr8 in Jungle Green
looks properly menacing!
How many of you
recognised this as a Bitter
cD – built on a shortened
opel Diplomat floorplan?
performance VaUXHaLL 79
VBOA 2015 Billing
ian PasKin
astra MK4
Billing has its roots in older Gm machines
from the '50s, '60s and '70s so of course
models from that period make up a large
part of the show, and though we're massive
fans of all things retro with a Griffin badge,
it's also nice to see something a little more
modern getting some love and attention.
That's why we were so pleased when we
clocked this cool little mk4 astra. Keen eyed
readers may have already noticed that all is
not as it seems, and that there are a number
of components on this car that certainly
didn't start out life attached to a Vauxhall!
a quick chat with Ian paskin, the car's
builder and owner reveals that, thanks to the
running gear from an unfortunate Impreza,
this is now a four wheel drive astra. That
means that pretty much everything other
than the shell itself originated in the land
of the rising sun, including that famously
punchy 'boxer' engine (sorry), transmission,
hubs, brakes and suspension. It's a car that's
taken shape over the last three and a half
years and still has a long way to go, with Ian
admitting that he plans to raise power far
and above the current figure of 250bhp or so,
something that should make this innocuous
looking car an even more formidable
prospect when out on track.
Dave Boon's original
'Silver aero' concept car
80 performance VaUXHaLL
Take your Vauxhall's style up a notch or three with oh-so-sweet accessories from Irmscher.
For over 40 years they've been partnering with Vauxhall to make perfect styling kits, grilles,
exhausts and lower skirt packages.
To find out more contact your local Vauxhall Retailer, or visit vauxhall.co.uk/accessories
NOVA SPORT ANNIVERSARY
E
H
T
F
O
S
R
A
E
Y
30
OS Dan
WORDS Jarkle & Dan White PHOT
Sherwood
T
R
O
P
S
A
V
NO
ration to mark three decades
leb
ce
ial
ec
sp
ry
ve
a
s
rve
se
de
r
ca
A very special
for this ex traordinary gathering.
e
nu
ve
the
s
wa
g
lin
Bil
.
ce
en
ist
ex
of
T
here were plenty of
milestones to pick
from at Billing this
year, but it's probably
fair to say that the
guys over at the Nova
Sport Register went
further than most in their attempt to
celebrate the Sport's thirtieth
birthday. A whopping 27 Sports (out
of an original run of 502) were
assembled on Sunday afternoon, a
sight made all the better by the
inclusion of Colin McRae's iconic rally
version and the Nova Spider that
shared the Vauxhall stand with the
Sport when both were launched at the
NEC. Sports of every conceivable
condition had made the pilgrimage,
everything from jaw-droppingly
spotless cars, to slightly tired looking
82 PERFORMANCE VAUXHALL
shells awaiting comprehensive
restoration. Accompanying this
historic meeting (we're almost certain
it marked the largest gathering of
Sports ever, as they were sent out to
individual dealers when new) was an
underlying atmosphere of friendly
bonhomie, a shared sense of
achievement and recognition – and
rightly so! It was only fitting that the
Nova Sport Register were awarded the
gong for Best Stand and that Sean Kell
took home the coveted Chairman's
Cup in his truly spotless Sport.
While many were original,
others sported tasteful mods
A BRIEF HISTORY OF
THE SPORT
What's the collective noun for a gathering
of Nova Sports? A Homologation?
Born out of a desire to make the
Nova more competitive in the
'up to 1300cc class' Vauxhall
teamed up with GM Dealer
Sport and, following
homologation rules, produced
502 Nova Sports.
The 13SB engine from the
1.3SR was used, but with the
addition of a twin 40mm Weber
carb, Irmscher inlet manifold,
Irmscher airbox, Ashley backbox, and optional Irmscher/
ENEM cam, power went from
75bhp to an impressive 93bhp
(87bhp without cam). It went
on to be very successful, and
took the fight to its rivals from
Skoda and Talbot. The road
cars were, and still are,
impressive performers, and
are now very sought after.
For more on this cool little
car check out www.
novasportregister.com – it's
packed with definitive
information and their mission
is to keep a record of every
known Sport to keep the
history of the car alive for
generations to come.
PERFORMANCE VAUXHALL 83
NOVA SPORT ANNIVERSARY
IAIN TALBOT NOVA SPORT
The Nova Sport Register managed to
assemble 27 Sports for the model's
30th birthday, so it goes without
saying that there were plenty of
stunning cars to choose from on the
day, though Iain's car stood out from
all the others thanks to its blend of OE
and aftermarket hardware. The vast
majority of Sports are now kept
exactly as Vauxhall intended them to
be, and in some ways this is a good
thing – it's not exactly like there were
that many to begin with! That said, it
was nice to look round an example
that had had some aftermarket tweaks
added (though Iain was at pains to
point out that everything is easily
reversible), especially as everything
had been carefully chosen to work
with the Sport's motorsport infused
character. Those Wilwood four-pot
front calipers are actually from
another Nova, though it was one
that'd met a fiery demise, and Iain
managed to get them for a fiver each
– the bargain of the century?! We're
massive fans of some of the little
details that litter the car like that
one-off CNC machined exhaust
manifold, the flawlessly prepared
and presented engine bay and those
Compomotive alloys. Basically this
is a masterclass in how to modify a
Sport without ruining it!
A justifiably proud
bunch of Sport owners
84 PERFORMANCE VAUXHALL
Proof that you can modify a Sport and still
retain it's originality and style
Bringing along a work in progress
Sport is proper dedication
Not all the Sports were still in
possession of their original power plants!
MCRAE NOVA
Strictly speaking this isn't Colin McRae's
Nova, but it is a very faithful replica of the
car that took him to his first WRC event
way back in 1987 in Sweden. He finished
36th overall, and a very creditable third in
class. This original car was campaigned in
anger for some time (being piloted by
Harry Hockley before McRae), and went
through several hands before ending up
in a very sorry state, and being broken for
spares. Around a decade ago the McRae
family decided to gather together a
collection of their most significant rally
cars – which included finding a Sport in
good condition to 'recreate' the original
car. The Nova they settled on (after much
searching and hunting for the correct
spec) was rebuilt by Barrie Lochhead into
an almost perfect replica of Colin's
original example, down to the decals and
'A681 DNT' numberplate.
PERFORMANCE VAUXHALL 85
astra coupe
cheap
tricks
Stuart Lovell's 440bhp Mk4 Astra Coupe
demonstrates just how good Vauxhall's
two-door bargain-busting sports car is
as a platform for modifiers to toy with...
WORDS Dan Furr PHOTOS Rob Fisher
86 performance VaUXHaLL
FAST FACTS
440bhp forged Z20LeT
owen Developments hybrid turbo
Bilstein B14 coilovers
modified GSi front bumper
VXr front brakes
performance VaUXHaLL 87
astra coupe
Z20LeT has been at the
receiving end of some
serious engine work
Discs are next on
Stuart's shopping list!
S
o many trim and
engine options. So
much fun to be had
for remarkably little
money. Yup, we're
talking about the
Mk4 Astra Coupe –
arguably one of the finest Griffins of
recent years, and a car that continues
to enjoy popularity among
petrolheads over a decade after it
disappeared from dealer showrooms.
Assembled by defunct Italian styling
house, Bertone, the Mk4 Coupe offered
itself up in the guise of a huge number
of special editions during its factory
production run. The success of the
model in competitive motorsport
generated further variants, thus
affording owners of this sleek roadgoing two-door the freedom to 'mix and
match' parts from across the range,
88 performance VaUXHaLL
enabling personalisation with little
effort.
Forced induction was also an option
thanks to the use of the near-200bhp
Z20LET powerplant found beneath the
bonnet of the model's GSi-badged hot
hatch sibling. "My cousin owned a
turbocharged Mk4 Astra Coupe kitted
out with cool red leather seats," recalls
Datchet resident, Stuart Lovell. "He
took me out for a spin in the car. I was
bowled over by its performance, its
looks and its handling abilities, and I
promised myself that I'd buy an
example to call my own as soon as
funds and insurance premiums
allowed," he says.
Fast-forward to late 2012, and Stuart
followed up on his plan of action by
purchasing an '01-plate Ural Mountain
Green Astra Coupe equipped with a
Milltek exhaust system, a GSi front
"i found MYself Making
arrangeMents to collect
the car Within Minutes
of spotting it online"
extracting a safe and reliable
440bhp is no easy feat
bumper and Zafira GSi snowflakes. "I'd
been monitoring Mk4 prices on eBay,
biding my time and saving my cash for
the right car," he continues. "Almost
every other Astra that I came across
was dressed in Europa Blue, but the
lure of the rare green paintwork seen
on the coupe that I would go on to buy
was too difficult to ignore. Ultimately, I
found myself making arrangements to
collect the car within minutes of
spotting it online!" he chuckles.
break it doWn
A fault-free 2000 miles of motoring
followed the purchase of Stuart's
awesome Astra. Unfortunately, the first
of many mechanical failures
materialised thereafter. "I'd spent a
long time preparing the car for action
before putting it to use as my daily
driver," he explains. "Work included the
application of a new oil return for the
stock K04 turbocharger, but I guess
that my lead foot must have
contributed to the unit's untimely
demise," he admits, before telling us
that the incident gave him all the
excuse that he needed to replace the
faulty turbo with one lifted out of an
Astra VXR.
A Milltek pre-cat decat pipe and
sports cat soon joined the car's existing
exit pipework, and a Stage 2 map
pushed performance well past quoted
factory figures. The lean green Vauxhall
machine's Z20LET seemed only too
happy to be on the receiving end of
these power upgrades, but disaster
struck when engine failure occurred as
a consequence of a damaged piston
ringland (the portion of a piston that
supports the ring itself ).
Lost compression and scored
OWNER
STUART LOVELL
AGE 25
JOB Office maintenance engineer
FAVOURITE VAUXHALL
Lotus Carlton
BEST THING ABOUT THE CAR
The colour
WHAT'S NEXT? A new gearbox
and a Quaife ATB differential
performance VaUXHaLL 89
astra coupe
bores rendered the once-poky
lump as scrap. All was not lost,
however, as Stuart sourced a
replacement tall engine and swapped
surviving parts from the dead Z20LET
onto its successor. "I took the
opportunity to add more tuning gear in
the form of a Mishimoto M-Line frontmounted intercooler, an 80mm throttle
body, VXR fuel injectors, and a Z22SE
airbox with a dedicated cold air feed,"
he tells us. "I spoke to Dan Robson and
Mark Reilly at York-based Vauxhall
tuning specialist, RnD Motorsport,
before handing the reassembled car
over to them for the addition of a Stage
3.5 map complete with anti-lag. I knew
that the resulting 290bhp would be
teetering on the edge of what the
engine's stock internals could cope
with, but I was confident in the car's
abilities and looked forward to seeing
what it could do," he smiles.
dÉJÀ Vu
Sure enough, the cool coupe took to
the tarmac like a dream. In fact, 20k
miles of spirited road use passed
before disaster reared its head once
again. "The car suffered another engine
failure!" gasps Stuart. "Aggressive heat
cycles and hard use had resulted in the
exact same complaint that had caused
the premature death of the earlier
Z20LET!" he adds.
The affected parts were sent to RnD
Motorsport for inspection. It was clear
that the driving style that the car was
being subjected to – coupled with
Stuart's desire to squeeze every last
ounce of performance out of his Astra's
nuts and bolts – was likely to result in
another catastrophic mechanical failure
if a like-for-like engine was supplied in
place of the lifeless powerplant. With
that in mind, Dan and Mark highlighted
the potential for prolonged reliability
with the possibility of big power if
Stuart would agree to their suggestion
of dropping a fully forged Z20LET into
the engine bay.
TECH SPEC
ENGINE
Z20LeT 1998cc DoHc turbo,
modified Wössner 86.5mm forged
pistons, pec I-beam con rods, acL
race bearings, ported and polished
cylinder head, piper valve springs,
X20XeV inlet camshaft, rnD
motorsport adjustable pulleys, nGK
Iridium spark plugs, aSnU 1050cc
fuel injectors and 340lph in-tank
fuel pump, custom mafless map on
factory ecU, 3-bar map sensor, aem
Dryflow cone air filter, reflanged
nissan 200SX inlet manifold, owen
Developments GT2871HTa hybrid
turbocharger, rnD motorsport
custom turbo air feed pipe,
mishimoto m-Line front-mounted
intercooler, forge motorsport large
recirculation valve, rnD motorsport
custom stainless tophat and boost
pipes, rnD motorsport 3in stainless
steel exhaust system, all new
sensors, nuts, bolts, engine covers
and pumps
POWER
440bhp (estimated)
TRANSMISSION
front-wheel drive, Getrag f23 fivespeed manual gearbox, Helix sixpaddle clutch, courtenay Sport
lightened flywheel, powerflex 'Black
Series' mount
SUSPENSION
Bilstein B14 coilovers, astra H
TwinTop front anti-roll bar, Whiteline
adjustable rear anti-roll bar, rnD
motorsport solid subframe bushes,
rnD motorsport spherical bearing
wishbones and rear beam
BRAKES
astra H VXr front calipers and discs,
factory rears, eBc Yellowstuff pads,
HeL braided hoses
WHEELS & TYRES
7.5x17in Vectra B GSi phase 2 alloy
wheels painted Lotus carbon Grey,
Uniroyal rainsport 3 tyres
BODY
2001 astra G coupe Turbo, Ural
mountain Green paintwork,
smoothed and flushed GSi front
bumper with meshed opening,
Irmscher front grille with stainless
insert, rear wing, Hella quad
headlight and indicator units, clear
side repeaters, hydraulic bonnet
lifters, electric sunroof, reverse
parking sensors
INTERIOR
factory cream leather upholstery
and heated seats, Irmscher door
pins and pedals, centre console
painted ford champagne Gold,
Irmscher gear knob, twin pillar-pod
gauge holder housing boost and air/
fuel ratio gauges, white LeD dash
and interior light conversion, dashmounted boost switch, pioneer head
unit, alpine e door speakers
THANKS
Dan and mark at rnD motorsport,
Scott mcGough, Steven rickwood for
help with the bumper and wheels,
my other friends for the help and
advice that they have offered me
during the build, and to my parents
for their ongoing support.
90 performance VaUXHaLL
Look really carefully and you can just
about see an astra hiding in the bushes
"We decided upon a specification
that would result in an engine capable
of chucking out close to 500bhp," says
the 25-year-old office maintenance
engineer. "Running the car at a much
lower top end figure provides
headroom that ensures safe operation
under load, although 440bhp is still
pretty impressive!" he laughs. We're
inclined to agree, and it's clear that the
use of Wössner oversized forged
pistons, PEC rods and ACL bearings
beneath a ported and polished cylinder
head packing Piper valve springs, an
X20XEV inlet camshaft and adjustable
pulleys have gone some way towards
delivering peace of mind whenever the
car is being used in anger.
forging on
ASNU 1050cc injectors, a high-flow fuel
pump and a custom map on the car's
stock ECU also join the party, while
airflow improvements can be detected
by the use of an AEM cone air
filter, a reflanged Nissan 200SX
cream leather shouldn't
work… but it does
"We decided upon a spec that
Would result in an engine
capable of chucking out
close to 500bhp"
performance VaUXHaLL 91
astra coupe
Deceptively simple styling
hides a big power bruiser
exhaust manifold, an Owen
Developments GT2871HTA hybrid
turbo and a turbo-back RnD 3in
stainless steel exhaust system with a
4in outwardly rolled tip.
The car's handling abilities are
managed by Bilstein B14 coilovers
accompanied by uprated anti-roll bars
and solid subframe bushes. Further
chassis upgrades are seen through the
spokes of Vectra B GSi Phase 2 alloy
wheels painted in a Lotus shade known
as 'Carbon Grey'; Astra VXR front
anchors stuffed full of EBC Yellowstuff
joy, performance discs and HEL hoses
bring this green-eyed monster to a
sudden halt whenever Stuart taps his
92 performance VaUXHaLL
foot on the brake pedal, although he is
intending to improve upon this alreadyeffective stopping power by investing in
AP Racing four-piston calipers in the
not-too-distant future.
sMoothlY does it
His Astra's exterior remains largely
unaltered – testament to the excellent
job that Bertone did when drawing out
the model's clean lines and simple
details. "A friend and I worked together
in producing a smoothed and flushed
GSi bumper with a meshed opening
designed to increase the amount of air
hitting the Mishimoto intercooler. Hella
quad lights also sit up-front,
sandwiching themselves around an
Irmscher grille," confirms Stuart.
Similar subtle styling updates
populate the car's cabin, with a
smattering of goodies lifted from the
Irmscher parts catalogue sitting
alongside a centre console covered in a
lick of Ford Champagne Gold. The latter
is a nice touch that works well with the
factory cream leather seats and door
cards, but once again, it's the
mechanical aspects of this neat
Vauxhall that concern Stuart when we
ask him what the future holds. "I've
just killed the car's transmission!"
he groans, referencing the smashed
fourth and fifth gears that have forced
him to nurse the car since its
Performance Vauxhall feature photo
shoot. "Don't worry, I've bought a lowmileage replacement gearbox equipped
with a Quaife ATB limited-slip
differential!" he assures us,
acknowledging the opportunity for
improvement that broken parts
continually provide him with.
And therein lies the beauty of the
Mk4 Astra Coupe ; a super sports car
that is a joy to drive, available to buy at
a knockdown price and open to the
application of a massive range of
tuning parts makes this a no-brainer for
those looking for four-wheeled fun on a
budget. What are you waiting for?!
Oe Original Groovers
Stunt driver and Tarox founder Gianni Taroni set about revolutionising the braking game as
far back as the mid 70s. ANer developing F1 world championship winning brakes for Keke Rosberg,
aMentions turned to the road car market. In 83 Tarox manufactured the world's first ever grooved
brake disc, which has since been developed into the range of styles that we offer today.
Every one of our discs are manufactured from the highest quality casts and steel billets
before being heat treated and balanced by hand for the smoothest possible surface.
For a brake manufacturer with innovation in its DNA, look no further than Tarox.
Since 76
Tel +44 1706 222 872 / www.tarox.com / [email protected]
All Tarox products are manufactured in Italy
under stringent ISO9000 and TUV regulations
VAUX
TECH
■ ASK THE EXPERTS
BRAKES
YOUR QUESTIONS ANSWERED
This month we ask Dan Newton, boss of PB Brakes,
your questions about brakes. WorDS Midge
Why do performance
brake discs have grooves
and holes in them?
There are a couple of reasons for
having drilled holes or slots (or both)
in your discs. The friction created
between the pads and disc produces a
lot of heat, which can lead to brake
fade. The holes and grooves help both
the heat and the resultant gases to
escape. They also help to channel
water and other unwanted material
away from the contact surface to
maintain maximum friction.
The discs are actually cast plain,
then once they have been milled down
to a smooth surface the pattern is
engraved onto them by CNC machine.
The pattern on most brake discs flows
in the same direction as the internal
veins, which reduces the strength of
the discs. Ours flow in the opposite
direction as we found this doesn't
decrease the strength as much without
affecting the function.
Why do people fit braided
hoses? What do they do?
Braided hoses comprise of a Teflon
inner wall, with strands of stainless
steel braided on the outside for
increased durability. One advantage is
that they expand less than your OEM
rubber hoses, which allows you a
firmer brake pedal. A firmer brake
pedal means more feedback and
ultimately better braking. The other
big advantage is safety – They're
almost bulletproof! Useful if you have
problems with people sabotaging your
brake lines as you sleep.
Why is it important to
change your brake fluid
regularly?
Glycol-based brake fluid is hydroscopic
which means that it loves to absorb
moisture, which is always going to find
a way into the brake system via micro
pores in the cap, lines and seals. This
is a bad thing since it dramatically
reduces the boiling temperature of the
94| performance VaUXHaLL
brake fluid – 3 percent water in DOT4
fluid can reduce the boiling point by
up to 50 percent! That's dangerous
because bubbles are compressible,
which causes at best a spongy pedal
feel, and in extreme cases it may go all
the way to the floor without actually
stopping the car!
needs to rotate is going to have an
effect on your acceleration. This
maximum recommend size of discs
depends on the car, but generally
speaking, heavier cars require larger
discs for effective braking, and lighter
cars can get away with running
smaller discs.
Why are bigger discs
better than smaller discs?
Why are some discs/
rotors one-piece and
others two-piece?
One word – Torque! When you increase
the diameter of the disc, the amount of
braking torque also exponentially
increases. So in theory the bigger the
disc, the faster you'll stop. However,
there is a limit to how big you can go.
You're limited by how much grip your
tyres allow, once your discs are over a
certain size you'll brake so hard that
the ABS will initiate in order to prevent
the tyres from losing traction, and
whatever gains you made are out the
window. Brake pads can also be a
limiting factor as your bog-standard
street compound will just melt if
subjected to more torque than it can
handle. You also need to consider that
brake discs are fairly heavy items, and
increasing the weight that each wheel
It all comes down to cost really. Your
bog-standard OEM discs are usually
cast in one solid piece as this is most
cost effective way to manufacture
them. One-piece discs are fine for
normal use and the odd spirited drive,
but push them too hard or take them
on the track and they will fade within a
couple of laps at race speed. When
you're flying down the straight at
130mph and you hit the brake pedal,
the last thing you want is for it to sink
right down to the floor because of
fade. One solution is to upgrade to a
set of two-piece discs with billet
aluminium centre caps. The contact
area between the actual disc and
centre cap is minimal, which greatly
brakes
road cars is around about 70-percent
front and 30-percent rear.
Can you get uprated drum
brakes?
improves heat dissipation by allowing
the heat to escape, whereas one-piece
discs tend to retain it. Another
advantage of having centre caps is
aluminium dissipates heat more
effectively than steel, and it's a lot
lighter too. The next step up would be
2-piece floating rotors. The centre caps
on these bad boys have even less
contact area with the disc, allowing
ridiculously efficient cooling! A little
bit of an overkill for most street cars,
but worth every penny for a full-blown
race car.
Why are ceramic brakes
silly money?
Ceramic brake discs are made from a
compound of carbon and ceramic. The
manufacturing process is complicated
and lengthy, with one disc taking
around a month to produce. That
accounts for some of the cost, and the
rest? Well, ceramic brakes are usually
sold as add-ons for supercars so
they're bound to be over-priced!
What does the DOT mean
in brake fluid and what
should I look for?
DOT is a system created by the
Department Of Transport in the US to
grade brake fluids based on their
boiling points. DOT4 is the one you
want to go for as it's minimum boiling
point is 230°C, more than enough for
street applications. DOT5 has a higher
boiling point, but it's silicone based,
which isn't suitable for most braking
systems.
What are brake pads
actually made of?
Brake pads can be made from a variety
of different materials. Your standard
street compound pads are usually a
non-metallic composite of various
synthetic materials. They offer great
cold bite and very low noise, but the
drawbacks are they lack friction and
will start to fade at relatively low
temperatures. At the other end of the
scale you have race compounds, which
are either fully metallic or ceramic in
composition. They offer much higher
levels of friction and are a lot less
susceptible to fade, but usually need
warming up to optimal temperature in
order to work properly. The cold bite is
poor, they munch down your discs like
there's no tomorrow, can be quite
noisy, and you'll be lucky to get 1000
miles out of them. Great on the track,
awful on the street. A good middleground option is a sport compound
pad. Made from semi-metallic
materials, the cold bite is good, and
the warm bite is even better. You may
or may not get a little noise depending
on the application, but it's a small price
to pay for big gains in friction and
reduced fade.
My BMW has an ebrake,
can I still have a big brake
conversion?
Up until recently, you couldn't upgrade
the rear brakes on a car with an
electronic handbrake without losing
that function, which wouldn't be street
legal. However, we have spent the last
couple of years developing a new
electronic line lock system that will
retain the OEM handbrake on these
cars, and it's finally ready! So far we
have adapted the system to work with
a few Audi models and the new BMW
5-Series F10, but we are working to
increase the available applications all
the time. You can order it from our
website as part of a rear brake kit.
Why do all cars have
bigger brakes on the
front than on the back
even when they're rear
wheel drive?
It's a simple question of physics.
When you brake heavily the weight
transfers to the front, requiring much
more stopping power than the rear.
This is why the brake bias on most
You can, but it's much more advisable
to opt for a disc conversion kit instead.
Drums are inherently flawed as their
design traps both heat and dust. If
you've ever removed a drum that's
been on for a while you'll know just
how much dust they can create.
sensible size limit for every vehicle.
Remember that episode of Top Gear
where they spent 3 grand upgrading
the brakes on a Renault Avantime, only
to find it actually made the car's lap
times slower? That's because they went
too big and the car didn't have enough
power to handle the added weight and
increased wheel diameter. Had they
gone for a smaller kit and retained the
same wheel size the lap times would
definitely have shown improvement.
What is bleeding brakes
and why does it have to
be done?
Over time air will find it's way into the
brake system, so it needs to be
released every couple of years. The
problem with having air in the system
is, unlike brake fluid, it's compressible.
This cause your pedal to become
spongy, and if too serious can lead to
complete brake failure, so it's really
important to bleed the brake lines
before it gets to that stage.
Why are fixed calipers
better than floating
calipers?
I've been told I need a spot
caliper for a rear
conversion. What's that?
Most cars as standard come with
floating/slider calipers that have one,
or if you're lucky, two pistons in the
inner side of the caliper only. So when
the hydraulic pressure from the master
cylinder forces the piston(s) against the
pad, the whole caliper is pulled inward
as the pads clamp down on the disc,
hence the name 'floating'. One
downside of this is the pads on the
outer side of the caliper can wear
unevenly and you can end up with
something that resembles a door
wedge. Another is that since the
piston(s) needs to travel so much, the
brake pedal can feel spongy and
unresponsive. They can also become a
bit sticky as they age. On the other
hand you have fixed calipers with
multiple pistons on either side. Since
the pistons are clamping from both
sides, the caliper doesn't move and
remains 'fixed' in place. This allows for
much more even pad wear and a firmer,
more responsive pedal feel. But the
benefits don't end there. Our PB fixed
calipers are all forged from aerospacegrade 6061 T6 aluminum which makes
them a hell of a lot harder, stiffer and
lighter than their cast-iron
counterparts. The monster 8-pot
calipers that we include with our
405mm kit take toughness to next level
with their monoblock design.
Handbrakes on many vehicles still use
brake shoes and drums that are
integrated into the rear discs.
Upgrading the rear brakes with this
system is fairly straight forward as
most conversions also have integrated
drums fixed to their rear discs.
However, recently more and more cars
are moving toward systems where rear
OEM calipers double-up as
handbrakes. One solution is a spot
caliper, which is basically a small
single-piston caliper that connects
directly to your handbrake cable, and
must be used in conjunction with your
main rear caliper. There are drawbacks;
namely they usually don't come with
any form of installation hardware, so
you have to make a set of custom
mounting brackets yourself. They're
also pretty expensive. it wouldn't be
unreasonable to expect to pay around
£300 for parts and labour. Then once
it's installed you now have 6 calipers to
buy replacement pads for, rather than
4. Fortunately PB Brakes have a much
more convenient and cost effective
solution in the form of our patented
line-lock system. This allows our rear
calipers to act as handbrakes much like
the OEM parts. The line lock modules
come already attached to our caliper
mounting brackets, so they are a direct
bolt on and require no modification.
And the best part, they are a fraction of
the cost at £100 a set!
What's the biggest brakes
I can fit on my car?
Well, the only real physical obstruction
is the size of your wheel, but there is a
For more inFo go to:
www.pbbrakes.com
performance VaUXHaLL |95
VAUX
TECH
USEFUL INFO
DIFFICULTY
RATING 3/5
TIME TAKEN
Half a day
ESSENTIAL TOOLS
Spanners/sockets:
Metric - 10, 13, 15, 17, 25 mm
Allen keys - 5, 6 mm
Torx - E10, E20
Torque wrench - 20-50 Nm
Various screwdrivers
and a scraper
Multi-purpose grease
C20LET CAM BELT AND
CAM UPGRADE
Here's how to renew the timing belt, tensioner and idlers on the C20LET
and fit an XE inlet cam with a Vernier pulley. WORDS AND PHOTOS Rob Hawkins
T
he turbocharged 2-litre
C20LET is a relatively
straightforward engine
with a twin cam head
and a single timing belt
wrapped around two
idler pulleys and one tensioner. While
it was originally fitted to the Cavalier
and Calibra Turbo, it's now a common
sight under the bonnet of many a
modified Nova, Corsa, Tigra and
Astra thanks to its factory 204 bhp at
5600 rpm and the availability of
numerous tuning options.
Whether you're new or well-attuned
to the C20LET, it's worth knowing
what's involved in maintaining this
popular motor, so we've teamed up
with M J Motors to show how to renew
the timing belt, idlers, tensioner and
96| PERFORMANCE VAUXHALL
water pump. This should be done
every 40,000 miles and typically takes
half a day to complete, depending on
how much space you have in the
engine bay. For the sake of photos and
to avoid lots of shots of fingers and
thumbs, we removed the engine from
a Calibra Turbo to make it easier to
outline the work involved.
Typical problems associated with
renewing the timing belt on the
C20LET start with the timing belt cover.
This plastic cover is secured with three
10mm bolts, which sit in 1mm studs in
the front of the engine. These studs
can shear off and the solution when
this happens is drill them out, which
can be tricky. Leaving the timing belt
cover off is the easy way around this,
but you don't want road dirt and
debris wrapped around your timing
belt.
When changing the timing belt, it's
worthwhile renewing the water pump if
you're unsure how old it is. This is
sometimes stuck in the engine block
and will need some persuasion with a
long screwdriver to help release it.
We've not only shown how to renew
the timing belt, idlers, tensioner and
water pump, but we've also provided
step-by-step instructions on one of the
popular C20LET mods – namely fitting
the XE inlet cam with a Vernier pulley.
The XE inlet cam has a higher lift over
the standard C20LET inlet cam, but has
to be accurately timed using a Vernier
pulley. A standard pulley will fit, but
the timing will be wrong.
Many people chose to fit a second-
hand XE inlet cam, but this can
sometimes defeat the point of the
modification, unless you're sure it's in
good condition. A visual inspection of
a second-hand cam will hopefully spot
any cracks or excessive wear, but there
has to be a significant saving over
brand new parts for a second-hand
part to make sense. SBD Motorsport
for instance, sell a brand-new XE inlet
cam made by Kent Cams for £288
(including VAT) and a pair of Kent
Vernier pulleys for £229.
The following 20 steps show
what's involved in renewing the
timing belt, idlers, tensioner and
water pump on the C20LET and
swapping the standard inlet cam
and pulley for an XE cam and
Vernier pulley.
C20LET CAM UPGRADE
1
Slacken the auxiliary drivebelt tensioner with a 15mm spanner. This is springloaded, so hold it in position and carefully remove the belt. If the engine is in situ,
the tensioner can be accessed through the offside front wheel arch.
2
Remove the front timing belt cover, secured with three 10mm bolts. Once
removed, undo six E10 bolts from the front crankshaft pulley and remove the
pulley. This is usually easy to remove, but if it's stuck, use a puller.
3
Turn the crankshaft in a clockwise direction, using an E20 socket, until the timing
marks on the camshafts align with the notches on the camshaft cover. A mark on
the crank timing cog should also line up at 6 o'clock with a notch in the backplate.
4
With the engine timed up, the camshaft cover can be removed to make it possible
to change the inlet cam. First, remove the HT lead cover, fitted with two 5mm Allen
key bolts. The cam cover is fitted with 20 5mm Allen key bolts. There are also
three breather hoses to detach.
5
Slacken the timing belt tensioner via its 13mm centre bolt. This will release the
tension on the timing belt and it can be removed with your fingers, and discarded.
PERFORMANCE VAUXHALL |97
VAUX
TECH
6
7
Renew the timing belt tensioner and both of the
timing belt idlers. Plastic idlers can break, so it's
best to renew them. All of the idlers and the
tensioner are secured with 13mm bolts.
8
Crack the 13mm inlet camshaft cap bolts from the outside inwards. There are five
caps. Undo all nuts, remove the caps and store in order of fitting (they are
numbered). Remove the camshaft, noting how it's fitted to help fit the XE cam.
10
Check the new Vernier pulley is the correct size (compare it
with the old pulley) and that the timing marks line up. Fit the new pulley to the
end of the XE camshaft, grip it with a 25mm spanner (look for hexagonal flats)
and tighten the pulley's 15mm bolt to 50Nm, followed by 60 and 15 degrees.
98| PERFORMANCE VAUXHALL
Slacken the 15mm inlet cam pulley bolt and remove the pulley. If you don't have
an impact wrench, the cam may spin when undoing the pulley bolt, so grip it with
a 24mm spanner (look for flats on the cam to secure the spanner).
9
Take the XE inlet camshaft and check it matches the C20LET. The lobes will be
taller on the XE camshaft. Lower the XE cam into the same position as the old cam
with lots of engine oil. Refit the cam caps in their original order and initially tighten
from the inside out, then tighten to 20Nm with a torque wrench.
11
Refit the camshaft cover with a new gasket (removed in step 4) and check the
timing marks on both camshaft pulleys line up with the notches in the cover.
If the cams need to be moved, turn them on their cam pulley bolts.
C20LET CAM UPGRADE
12
It's worth renewing the water pump when changing the timing belt. This is secured
with three 6mm Allen key bolts and is usually stuck to the engine block. To release
it, hit the old water pump pulley with a hammer and long screwdriver.
13
Once the old water pump has been removed, clean the mating surface on the
engine block with a scraper or sharp flat blade screwdriver – it needs to be clean
to ensure that the new water pump doesn't leak.
15
Fit two new timing belt idler pulleys with the original mounting bolts. Fit a new
timing belt tensioner with a new centre bolt. Fully tighten the idler pulley bolts,
but not the timing belt tensioner bolt – this will be fully tightened after fitting the
timing belt.
14
Fit a new O-ring to the new water pump with a smear of grease. Fit the new water
pump onto the engine, ensuring the notch on its body lines up with a cutout on
the rear timing belt cover. Refit the 6mm Allen key bolts.
16
Take the new timing belt and make sure it's the same length as the old one. Fit it
around the crank timing cog first, then move anti-clockwise up to the exhaust
cam, round the new inlet cam and down to the tensioner. This is the awkward
part, so check the cam pulleys don't move.
PERFORMANCE VAUXHALL |99
VAUX
TECH
17
Using a 6mm Allen key, adjust the timing belt tensioner so that its pointer is at the
'new' mark, then tighten the 13mm centre bolt. Complete two manual turns of the
engine via the crank pulley bolt, then recheck all of the timing marks on the
camshaft pulleys and crank pulley.
19
If any of the 17mm mounts for the timing belt cover are fixed to the back of the
cover, they will need to be removed and refitted into the engine block. These
fixings can also shear when removing the timing belt cover.
18
Turn the crankshaft to line up the timing
marks, then slacken the 5mm Allen key bolts on the Vernier pulley. Turn the crank
until the marker on the pulley is seven degrees retarded, then retighten the bolts.
20
Refit the crankshaft pulley with its six E10 bolts. The front timing belt cover can
then be refitted and secured with its three 10mm bolts, followed by the auxiliary
drivebelt (renew if its ribs are cracked or worn).
CONTACT
M J Motors Ltd
01924 472404
SBD Developments
0208 391 0121
www.sbdev.co.uk
100| PERFORMANCE VAUXHALL
VAUX
TECH
VAUX
TECH
Buy & modify
MANTA GTE
Built to take on the Ford Capri, the Manta became a huge success in Europe
and is Opel's longest running production car.
T
he Manta B was conceived
with one purpose in mind;
to beat Ford at its own
game and steal as many
sales from the Capri as
possible. By the time the Manta B
arrived in 1975 the Capri had firmly
established its place in popular British
culture. Unfortunately, in the UK the
dynamically superior Manta never
managed to capture the public's
imagination in the way the Capri had
but it still established a loyal
following. The Manta B was kept fresh
throughout its production with a
facelift during the 1980s and
considerable motorsport success to
boot. The cars had a reputation for
strong performance in the early '90s
and many have been tracked,
thrashed, crashed or pinched over the
102 PERFORMANCE VAUXHALL
years, though that does mean that the
cars that have survived tend to be well
looked after (unless you're looking at
an oxide coloured project of course!).
Prices have increased but the car's
inherent character, keen handling and
decent performance still remains.
The Manta came in two body styles,
a coupe and a hatchback. The coupes
generally fetch higher premiums owing
to their obvious link to the mighty rally
cars. By the time the Manta arrived on
the scene GM had decided to merge
Vauxhall and Opel in an attempt to
save money and rationalise the
European arm of their empire, hence
the Manta, the Ascona B and Mk1
Cavalier shared a chassis and many
panels and trim pieces. Power was
provided by a range of trusty CIH
engines in a variety of states of tune
and capacity; buyers initially had the
choice of a 75bhp 1.6-litre or 90bhp 1.9litre, followed by a 2-litre version with
100bhp. These early cars are very rare,
so our main area of interest is the
facelifted 1981-onward range. The 1982
model year saw the launch of the
facelifted Manta, the B2. The engine
options were either a 1.8-litre OHC unit
(the trusty GM 8v found in pretty much
every Vauxhall from this period)
producing 90bhp or a 110bhp 2-litre
CIH, as fitted to the new GT/E model.
The rubber bumpers were replaced
with body-coloured plastic, front and
rear spoilers, sideskirts, a re-styled grill
and a new bonnet. The GT/E also got
Recaro sports seats, low profile tyres
and uprated sports suspension. A steel
sunroof appeared in 1985 and the
range was facelifted again in 1986 with
new interior trim. The final notable
revision was the GT/E Exclusive model
which had twin headlights.
Production of the Manta ceased in
1988 and the last cars are on F-plates.
The final car to roll off the line was a
white GT/E destined for Opel's
museum. During its thirteen year
history 550,000 Manta Bs were sold,
making it the marque's longest running
production car.
Since then the car has developed a
large following and its exploits in group
B rallying have become stuff of legend,
meaning that prices for all Manta Bs from the scabbiest bare shell to the
cleanest GT/E - have increased
dramatically in the last ten years. As
such you have to be prepared to either
pay a premium for a good example or
put the graft into restoring one that's
BUY & MODIFY
BUYING A MANTA GTE
■ BODYWORK
The Manta special editions are now
after
massively rare and highly sought
seen better days. Don't be put off
though as the Manta B has huge tuning
potential and has the ability to be
highly impressive when fully specced
up. Plus, what you'll pay for one is a
fraction of what you would for an
equivalent Ford. Here's how to pick up
a piece of good old fashioned rearwheel drive goodness!
SPECIAL EDITIONS
Opel certainly knew how to market a
special edition in the '80s and the
Manta was treated to a number of
special iterations over its life, some of
which are incredibly sought after
nowadays. Irmscher fettled cars were
built to promote Opel's various rally
programmes and four were eventually
made; the i200, i240, i300 and, of
course, 400. All could be had with a
variety of special competition
orientated accessories, such as big
valve heads, sophisticated diffs,
uprated suspension, body kits and
graphics packs. The i200 came with a
warmed over GT/E engine with a
chunky cam, the i240 with a 2.4 CIH,
the i300 with a beefy straight six, and
the 400 with the DOHC 16v 2.4 found in
the rally cars. All are stupidly cool and
all command big money!
Like all Opels and Vauxhalls from the
period, rust is your biggest enemy.
Yes it's a bit of a cliché, but when it
comes to Mantas it rings true; buy on
condition, not spec. Where the
chassis meets the bulkhead can be
an area of concern as the seams have
been known to split, while jacking
points can begin to turn porous if not
looked after carefully. Chassis legs
will rot from the outer skin inwards
and will mean re-manufacturing or
buying replacements, the former a
harder task than it may appear as
they're a 'swan neck' shape. The inner
wings and sills are areas to watch as
the wings are welded on, meaning
getting inside to have a good look is
near impossible. The sills require the
same level of inspection. If you're
looking at a Manta with a sunroof pay
close attention to the water channels.
They're designed to empty onto the
sills and over time become clogged
with gunk and with water constantly
running down the sills, rust in these
areas is common. At the back it's
important to check for water ingress
due to perished seals and rubbers,
and if there are pools of water in the
boot then expect it to have taken its
toll on the metal. Areas to be wary of
under the bonnet are strut-tops and
the battery tray, the latter a known
water collection point. Finally, front
valances and the area where the
nosecone meets the wings can suffer
from salt and moisture ingress, a
problem compounded on the B2
because of its plastic air-dam which
prevents it escaping. It's an '80s GM
product at the end of the day, so be
wary of rot anywhere there's metal
and be prepared to get MIG-ing if
you're considering buying anything
other than an immaculate car.
Check the underside for corrosion,
especially sills and jacking points.
PERFORMANCE VAUXHALL 103
BUYING
BUYING
VAUX
TECH
■ ENGINE
Both the carburettor'd 1.8 OHC and
the Bosch fuel-injected 2.0 CIH are
tough engines with few inherent
faults in the design but careful
checks should be paid to fluids and
service items. Attention should be
paid to excessive oil splashes along
the sides of the block, as well as the
usual head gasket inspections. The
CIH's timing chains rattle as a matter
of course, but this shouldn't
continue once the engine is warmed
up. Start the car from cold as it
allows you to check for any suspect
knocking as well as blue or white
smoke from the exhaust. 'Tappety'
heads are a common occurrence and
shouldn't really be a deal breaker as
they can be rectified fairly easily.
Replacement engines should be
fairly easy to find via the Opel Manta
Owners Club if the one in your
prospective purchase be in poor
order. The 1.8-litre cars are very
popular with those looking to fit later
C20XE and C20LET engines due to
the compatibility of running gear.
The 2-litre engine could propel the
Manta to 60 mph in 8.5 seconds
■ SUSPENSION
The Manta's suspension made that
of its chief rival, the Ford Capri, look
positively stone age (leaf springs?
Pah!), though of course the passage
of time will have taken its toll on any
104 PERFORMANCE VAUXHALL
car still sporting original dampers and
springs. The Manta shared the same
suspension setup with the Opel
Ascona B and the Cavalier Mk1, so
expect independent wishbones with
Bilstein gas-filled dampers and coil
springs at the front, and a live axle
with trailing arms, telescopic
dampers, torque tube and Panhard rod
at the rear. Look out for the
usual causes of woolly handling,
such as corroded rubber bushes,
snapped springs and weeping
dampers.
BUYING
BUY & MODIFY
■ INTERIOR
Manta Bs stayed in production for a
full 13 years and interior options
were updated throughout its life.
These cars are functional rather than
luxurious places to be, but all trim is
hard wearing and durable and most
looks distinctly cool in a very retro
■ TRANSMISSION
The facelift B2 models all came with a
five-speed gearbox as standard, a
fairly rare feature back in the early
'80s. All were praised at the time for
their chunky, rewarding cog-swapping
actions, though of course even the
most recent of Mantas could be
forgiven for having a worn 'box by
now! Listen very closely for rattling
and vibration from the box itself
which can point to the input shaft
bearings being neglected and
un-oiled. If left unchecked they will
seize up and fail. The gearboxes
between the CIH and OHC differ, with
the latter's Getrag 240 sought after
for fitment to the aforementioned
C20XE and C20LET powerplants.
The Manta may have survived
most of the '80s but that dash
is definitely from the '70s!
Handling can be dramatically
improved with fresh dampers
■ BRAKES
As standard the 1.8 and
2.0 models came with
discs at the front and
drums at the back. While
hardly dustbin sized
supercar stoppers, this
setup should be more
than capable of hauling a
standard-ish Manta to a
stop with minimum fuss
– providing it's in good
working order of course.
Pulling to one side is
often down to sticking
callipers, so not exactly
a difficult fix,
particularly as Mantas
are very much a DIYfriendly car.
BUYING
BUYING
Chicago cloth
Recaro seats
fitted to later
GT/E Manta
fashion. The non-GT/E models didn't
get the benefit of Recaro seats,
instead making do with rather
unsporty items in the usual selection
of GM colours including beige, grey
and black. Be wary of ripped and
collapsed bolsters on the Recaro seats
and worn fabric on the base. As
you might expect, finding
replacement trim and model
specific fixtures and fittings is
increasingly tricky, though diligent
online hunting and trips to the
VBOA show at Billing should help
out with most items. Joining the
Manta Owners Club is pretty much
essential for anyone looking to
restore or even tidy up a Manta.
PERFORMANCE VAUXHALL 105
VAUX
TECH
Coupe outline still
looks smart today
MODIFYING THE MANTA GTE
■ ENGINE
The 1.8 and the 2.0CIH are very
different engines with distinct
characters, though both will benefit
from old school tuning. The 1.8 8v
benefits from being a GM Family 2
unit, though don't go thinking that all
the tuning hardware for front wheel
drive Vauxhalls will simply bolt into
place. Aftermarket cams, induction
(ideally with throttle bodies or
throaty carbs) and exhaust will soon
see your 8v making much more
respectable power. Vauxhall Carlton
crankshafts and con-rods can be
made to work in the bottom end of
the larger CIH, while larger valves
and chunkier cams can be fitted to
the head. Kent Cams stock a good
selection of camshafts for the CIH
ranging from mild-road
specification right up to full-blown
race spec.
A wide range of engines have
found their way between the front
wings of the Manta over the years,
though the perennial C20XE and
C20LET are the most popular
transplant candidates by a large
margin. There is a wealth of in depth
fitting guides online and plenty of
fantastic first hand advice on the
likes of the Opel Manta Owners Club
(not to mention hundreds of friendly
people), so it's well worth having a
go yourself. Starting with a 1.8 is
advisable as it means you've already
got the correct sump, pickup and
gearbox, though don't let that put
106 PERFORMANCE VAUXHALL
C20LET in a Manta? Yes,
that's going to be fun isn't it?
you off XE-ing a CIH car. A C20LET
clutch and pressure plate assembly
will help you mate the Redtop to the
Getrag, while you'll need to invest in a
rear wheel drive manifold from the
likes of Retropower, Ashley or SBD.
Fitting an early XE with a distributor
will involve modifications to the
bulkhead (it makes contact here),
though a later dis-pack car will be fine.
Fitting a C20LET is similar but you'll
need to consider strengthening the
engine bay and fitting an Omega
gearbox – the Getrag 240 will soon
throw in the towel if asked to deal with
tuned LET bhp figures. An Omega R25
28 can be made to work and will
certainly be able to handle more
power, though you will need to convert
from a hydraulic clutch setup to a
cable one using parts from the 8v
Carlton range. Fitting an Omega
gearbox will also entail finding
and using a beefier V6 clutch
and flywheel.
A raft of Manta specialists will be
only too happy to do these
conversions for you, and we've listed
some of the best around at the end
of this feature.
MODIFYING
BUY & MODIFY
■ SUSPENSION
The B is well catered for in terms of
aftermarket suspension kits, no
doubt helped by their continued
popularity in the world of rallying.
Various packages are still available,
and all will leave you with a fine
handling Manta that's fun to push to
the limit. Replace tired rubber bushes
with brand new ones where possible
or go the whole hog and opt for
polyurethane replacements, ideal if
you're building a competition Manta.
Resist the urge to 'slam' Mantas –
their suspension geometry suffers
There are plenty of aftermarket
suspension options
terribly and you'll certainly not improve
the handling. Anti-roll bars are very
beneficial but are rare and command a
premium when they do come up for
sale. Similarly, strut braces will help,
but if you plan on fitting an XE or
C20LET you'll struggle to make one
clear the engine itself. Several firms
offer coilover kits for the Manta B and
these can offer the perfect balance
between looks and performance,
though it's important to take into
consideration the increased bump and
rebound you'll incur from cheaper kits.
PERFORMANCE VAUXHALL 107
MODIFYING
VAUX
TECH
■ BRAKES
The most common upgrades are the
vented twin-discs from the Vauxhall
Carlton and Cavalier callipers. The
setup is a like-for-like replacement of
the Manta's originals, however they're
10mm smaller in diameter resulting in
brake pad overhang. Remember to
upgrade hoses and fluid as well.
Much like suspension, a number of
■ WHEELS
aftermarket brake caliper and disc
packages are available thanks to the
Manta's close association with stage
rallying. You'll need to dig fairly deep
to net one of these kits but the
massive improvement in stopping
power they offer is certainly worth it,
especially if you plan on pushing for
big power or intend to compete.
CONTACTS
Quaife
01732 741144
www.quaife.co.uk
Retropower
01455 619514
www.retropower.co.uk
[email protected]
A&M Conversions
01244 818 868
www.amconversions.com
amconv[email protected]
Opel Manta Owners Club
www.mantaclub.org
SBD Motorsport
0208 391 0121
www.sbdev.co.uk
Bilstein
www.bilstein.de/en/home.html
108 PERFORMANCE VAUXHALL
Kent Performance Cams Ltd
01303 248666
[email protected]
Big fat sexy Revolution alloys on a
wide-arch Manta are nice
■ TRANSMISSION
As already stated, the Getrag 240
should be more than happy dealing
with up to 200bhp or so, though of
course you'll have to make some
allowances for the age and condition
of your particular engine. The Omega
route is perfect if you're chasing big
bhp and these units are still cheap
and easy to find, plus there's a lot of
useful fitting info available online.
Ford Type 9 and T5 transmissions
have been made to work in the past
and firms like SBD will be able to sell
you conversion kits, though of course
you'll need to 'convince' your
transmission tunnel to accept them.
Various limited slip differentials are
available, though you'll only truly
need one if you're setting out to build
a big-power nutter of a Manta.
MODIFYING
Suffolk County Mantas
www.suffolkcountymantas.co.uk
[email protected]
Manta B GT/Es came with Ronal
6x14 inch alloys with an offset of
ET30. These work very well with
the '80s styling. If you want to
swap them then dished
motorsport style wheels can
work very well. Minilites, ATS
Classics and Compomotives
have been fitted to great effect
in the past, as have staggered
BBS wheels. If you're building a
400 replica then you're pretty
much obliged to fit chunky fivespoke Ronals or Revos, which is
no bad thing!
HOW TO BUY YOUR SUBSCRIPTION
PRINT EDITION: COMPLETE THE ORDER FORM BELOW
DIGITAL EDITION: VISIT pktmags.com/kelsey
DELIVERY / PAYERS DETAILS
Mrs/Ms/Miss/Mr ............... Forename .............................................................
Surname ........................................................................................................
Address .........................................................................................................
......................................................................................................................
......................................................................................................................
.................................................................... Post / Zip code .........................
Country ..........................................................................................................
Daytime phone ............................................. Mobile ......................................
Email ..............................................................................................................
PRINT EDITION
3 ISSUES FOR £5
ORDER
POST
Fill in the form and send to:
FREEPOST RTKZ-HYRL-CCZX, Subscriptions,
Kelsey Publishing Ltd., Cudham Tithe Barn,
Berry's Hill, Cudham, Kent, TN16 3AG
CALL OUR SUBSCRIPTION TEAM
0845 241 5159
UK only and quote offer code: FEST1
UK SUBSCRIPTIONS (DIRECT DEBIT ONLY)
Hotline open: Mon - Fri 8am - 6pm.
Please note that calls are charged at your local rate, for further information
please check with your service provider.
!YES! I wish to pay by Direct Debit paying just £5 for the first 3 issues.
Please send me Fast Car (SAVING 65%). I understand that after 3 issues
my subscription will continue at £24.96 still saving 20% every 6 months.
Please send me Fast Ford (SAVING 62%). I understand that after 3 issues
my subscription will continue at £23.40 still saving 20% every 6 months.
Please send me Classic Ford (SAVING 62%). I understand that after 3
issues my subscription will continue at £23.40 still saving 20% every 6 months.
Please send me Retro Cars (SAVING 62%). I understand that after 3 issues
my subscription will continue at £21.12 still saving 20% every 6 months.
Please send me Custom Car (SAVING 60%). I understand that after 3 issues
my subscription will continue at £22.10 still saving 20% every 6 months.
Please send me Performance Vauxhall (SAVING 62%). I understand that
after 3 issues my subscription will continue at £21.60 still saving 20% every 6 months.
DIGITAL EDITION
ALL OF THESE MAGAZINES CAN
BE PURCHASED AS A DIGITAL
SUBSCRIPTION FOR THE IPAD,
IPHONE, KINDLE FIRE AND
ANDROID DEVICES.
Please send me 4x4 (SAVING 62%). I understand that after 3 issues
my subscription will continue at £22.88 still saving 20% every 6 months.
Please send me Modern Mini (SAVING 62%). I understand that after 3 issues
my subscription will continue at £12.32 still saving 20% every 6 months.
BEFORE AND FASTER
Put your car on a diet with our
essential guide to losing weight!
181,000,000 HITS
Steve Meade's Tahoe: the most
famous audio system on wheels!
Special
Please send me Mini Mag (SAVING 62%). I understand that after 3 issues`
my subscription will continue at £22.88 still saving 20% every 6 months.
defining car culture
TESTED:
Bluetooth receiver, liquid wax,
Alpine CarPlay headunit
Instructions to your Bank or Building Society
Name of Bank ................................................................................................
Address .........................................................................................................
......................................................................................................................
......................................................................................................................
............................................................... Postcode .......................................
Account name ...............................................................................................
Sort code
Account number
The juiced Zetec S that
proves real men wear,
erm, Fuchsia
We feature the cars that smashed this
season's TRAX event!
BEFORE AND FASTER
Special
181,000,000 HITS
Put your car on a diet with our
essential guide to losing weight!
Steve Meade's Tahoe: the most
famous audio system on wheels!
defining car culture
TESTED:
Bluetooth receiver, liquid wax,
Alpine CarPlay headunit
The juiced Zetec S that
proves real men wear,
erm, Fuchsia
Super-slick Stepside
Awesome Audi A3
Bagged Beemer Z4
Epic EP3 Type R
Slammed SEAT Ibiza
#360
We feature the cars that smashed
this season's TRAX event!
Since Nineteen Eighty-Seven
ISSUE 360 OCTOBER 2015
TRAX: Huge report and products special from The Ultimate Performance Car Event
Signature ........................................................ Date ....................................
Originator's Id number
8 3 7 3 8 3
Direct Debits from the account detailed in this instruction subject to the safeguards
assured by the Direct Debit guarantee. I understand that this instruction may remain
with Kelsey Publishing Ltd. and, if so, details will be passed electronically to my Bank
or Building Society.
(UK ONLY) PLEASE SEND COMPLETED FORM TO:
FREEPOST RTKZ-HYRL-CCZX, Subscriptions, Kelsey Publishing Ltd.,
Cudham Tithe Barn, Berry's Hill, Cudham, Kent, TN16 3AG
Offer/prices available until 31st December 2015. Kelsey Publishing Ltd., uses a Multi Layered Privacy Notice giving you
brief details about how we would like to use your personal information. For full details visit www.kelsey.co.uk or call 01959
543524. If you have any questions please ask as submitting your data indicates your consent, until you choose otherwise,
that we and our partners may contact you about products and services that will be of relevance to you via direct mail,
phone, email and SMS. You can opt-out at ANY time via email on [email protected] or call 01959 543524.
Offer code: FEST1
£4.80
Super-slick Stepside
Awesome Audi A3
Bagged Beemer Z4
Epic EP3 Type R
Slammed SEAT Ibiza
#360
Since Nineteen Eighty-Seven
ISSUE 360 OCTOBER 2015
TRAX: Huge report and products special from The Ultimate Performance Car Event
pocketmags.com/kelsey
£4.80
SUBSCRIBE TODAY
3 ISSUES FOR £5
BEFORE AND FASTER
FURIOUS
FOCUS
181,000,000 HITS
Put your car on a diet with our
essential guide to losing weight!
Steve Meade's Tahoe: the most
famous audio system on wheels!
Special
510BHP
ESCOS
VATANEN'S MK2 FLEET CORTINA
EX-WORKS RS1800 BACK TO BASICS MK1
Seriously sorted Cossie!
Mighty Mk2
packing
500bhp!
www.classicfordmag.co.uk
PLUS
defining car culture
THE
TESTED:
UK'S
NUMBER
ONE
FORD
OCTOBER 2015
ISSUE 362
£4.50
Bluetooth receiver, liquid wax,
Alpine CarPlay headunit
The juiced Zetec S that
proves real men wear,
erm, Fuchsia
TUNING
October 2015
EUROPE'S
BIGGEST FORD
EVENT!
WORTH
THE WAIT!
SERIOUSLY TRICK
320BHP RS TURBO IS
FINALLY READY FOR THE
ROAD AFTER AN EPIC
7-YEAR BUILD!
PLUS
PULL-OUT
POSTER
TINY
TITAN
season's TRAX event!
We feature the cars that smashed this
upSAVE
to
Super-slick Stepside
8 PAGES OF
PHOTOS FROM
MAGAZINE
Awesome Audi A3
Bagged Beemer Z4
65%
Epic EP3 Type R
#360
Slammed SEAT Ibiza
£4.80
TRAX: Huge report and products special from The Ultimate Performance Car Event
THAN JUST
WITH MORE
RBO
CORTINA TU
AN ENGINE
SWAP
MIXED-UP MK2
FYING RULE
RES THE MODI
THAT IGNO
AL al Fords: How do you like
ADIC
R
sus exception
Extreme ver
IA DELUXE
OR
00
CAPRI RS31
COMPLETE
G THE ULTIM
GUIDE TO BUYIN
TRAX
ANGL
VERY EARLY
ATE MK1
105E RESTORED
upSAVE
to
TOP TEN
HOW TO
ESCORT VAN RESTO DIZZY
PROJECT
TOOLS REBUILD
£4.50
In the build: Mk1 turbo All the gear
van that's going drifting you need
RSOC NATIONAL DAY
Step-by-step
Lucas 25D guide
13 ISSUES A YEAR
Good things
HYBRID
STROKED
CORSA
come t
to those who wait
it
OCTOBER
ER 2015 £4.5
£4.50
50
modified classics
ROAD WARRIOR
COMPETITION!
Win an
indoor car dust
cover from Metex
See page 16
A 330BHP INTERCEPTOR
GETS US VERY EXCITED
STANDARD
62%
GRAFTERS
PRINTED IN THE UK
TO FACTORY
INSIDE: MK2 GRANADA ESTATE IDEAS + PLAYERS CLASSIC
+ PROJECTS FOR SALE + TEN RADICAL MODS + YPRES RALLY
FORD FAIR
OCTOBER 2015 ISSUE 362
S
!
RESTOREyouDrs?
BHP SHOW
SPECIAL
80
Budget built
'90s Touring car!
Expertly crafted
M3-powered E30
MK1 ESTATE
13 ISSUES A YEAR
BTCC
CAVALIER
HOMAGE
FROM
325 TO
M3
Home-brew
build done right…
62%
SHOW
13 ISSUES A YEAR
FORD
FIESTA
ZETEC
upSAVE
to
FULL REPORTS FROM
THE SUMMER'S
BIGGEST FORD
EVENTS, INCLUDING:
Since Nineteen Eighty-Seven
ISSUE 360 OCTOBER 2015
1.0 Fiesta
kicks out over
200bhp!
0
ESCORT S200
UNIQUE Z18LER
HYBRID VXR
SHOW REPORT
AUGUST/SEPTEMBER 2015 £4.50
WHERE BEING DIFFERENT IS NORMAL
AWESOME
VXR'D VAN
Urban legend
400bhp Z20LEH
powered load
lugger!
The truth about this Anglia is out there...
Junior
Johnson
nshine
from moo to
runner
hero
NASCAR
TRANSPLANT TRIO
3 GREAT CARS, 3 GREAT ENGINE SWAPS
GATHER 12
YEARS OF THE WE
COSSIES AT SANTA
POD FOR OUR SHOOT
OCTOBER 2015 Issue 88 £4.40
PLUS: COMMER CAMPER ! PROJECT GOLF ENGINE SWAP ! PROJECT ALFA Q4
! SCRAPPAGE SCENE ! READERS' RIDES ! NEWS & PRODUCTS ! EVENTS LISTING
www.retrocarsmag.com
www.facebook.com/RetroCarsMagazine
60%
Plus: Supernats and NitrOlympX
@RetroCarsMag
ROLLING AND ROCKING JEEP WRANGLER SPECIAL
www.4x4i.com
MAGAZINE
The original Off-road and 4 Wheel Drive magazine
October 2015 £4.50
modifying the 16v
62%
PLUS!
AWESOME LET NOVA MAD
KADETT PICK-UP WRAPPING
EXPLAINED READER RESTO
COMBE ACTION, AND MORE…
6 ISSUES A YEAR
THE NO.1 NEW MINI MAGAZINE
E
COUNTRYMAN VS FIVEDOOR - WHICH WINS?
1275 GT ESTATE
THE MINI THE FACTORY
SHOULD HAVE BUILT
Hot rod mods
made the grade
for this R53
Cooper S
S
LUS
PL
PLU
PLUS:
TUNING
GUIDE
UIDE
SEE PAGE 20
NEW MITSUBISHI
L200 PICK-UP
PICK UP
REVEALED!
REPORTS FROM
MINI IN THE PARK,
CAUSEWAY COAST
AND FUJI MINI
FESTIVAL
HIDDEN FURY:
1293cc MED motor,
T3 turbocharger,
straight-cut 'box,
Image split-rims...
PLUS:
TECHNICAL
TOWING
Let's hook up
13 ISSUES A YEAR
4x4 October 2015 £4.50
Big o
off-roader proves a
popular second-hand choice
popula
Storm Warrior build
62%
Up the pace
to
Bigger IS better for this Paceman fan
BRIGHT
FUTURE
Orange alloys are the least
of this Cooper SD's tricks
7 ISSUES A YEAR
RULING THEupSAVE
HOME-BUILT CUSTOM
SALOON GETS 150BHP
TURBO TRANSPLANT
SUPER SLEEPER 1380 MKI MINI-MINOR
to
BOOST
62%
BTCC STAR ANDREW JORDAN IN A MINI ON THE DRIVEWAY CLUBMAN REBUILD
TECH CALVER ON BRAKE DISCS TECH FIT AN OIL TEMP GAUGE
13 ISSUES A YEAR
PRINTED IN THE UK £4.40
62%
➤ Audio fix
➤ Track build
➤ Diary dates
SUMMER 2015 | £4.50
to
upSAVE
MAY 2015 ISSUE
2015 ISSUE
237 243
minimag.co.uk OCTOBER
upSAVE
GREENLANING
BUYING
GUIDE
Owning, tuning &
upSAVE
to
ROAD RACER FIA HISTORIC REPLICA
Old school
Intrepid overlanders
take their retro Toyota
to one of the wildest
places on earth
Through rural France
Replica rally racer with a YB!
CORSA
12 ISSUES A YEAR
modern
13 ISSUES A YEAR
COSSIE
ASCONA 400
AUGUST/SEPTEMBER 2015
30 COSWORTH
62%
to
Turbo-swap
Cavalier
£4.50
to
upSAVE
PRINTED IN THE UK
upSAVE
SAAB B204
CAV SRi
Q&A
All your tech questions
answered by our experts
USEFUL CONTACTS
LMF Vauxhall www.lmfvauxhall.co.uk
Autovaux www.autovaux.co.uk
Vauxhall Motors www.vauxhall.co.uk
A&M Conversions www.amconversions.com
Courtenay Sport www.courtenaysport.co.uk
TX Autosport www.txautosport.co.uk
Cobra Sport exhausts www.cobrasport.com
STOP IT
@
Hi, I'm looking to upgrade to
a bigger set of brakes for my
Mk3 Astra. Seemingly I can
fit the 308mm vented discs and use
Cavalier calipers but I can only seem
to find 308mm discs in 4-stud plus
the Calibra has the same calipers as
the Cavalier. Can you tell me how I
would go about doing this conversion
please as my current brakes are
useless. Also, how much will this cost
and where is the best place to get the
parts from. Thanks.
Upgrading the Mk3's brakes gets a
little complex if you want to go 5-stud
Jack.
A
As you'll be aware, the Astra Mk3
is 4-stud and shares the same
PCD as most other 4-stud Vauxhalls.
The GSi has the standard 256mm
discs and calipers as fitted to the
Cavalier SRi and GSi plus various
Calibras. Changing the 4-stud brakes
isn't the most straightforward of tasks
however you can run Meriva CDTi
discs which are 280mm along with the
Calibra / Cavalier Turbo late spec
calipers and carriers which are the
same as Vectra V6 items. Or, you can
buy 308mm 5-stud discs intended for
the likes of the Mk4 Astra GSi Turbo
and redrill them to suit and then
source a set of Vectra B GSi carriers.
You will need to turn down the edge of
your hub to fit the discs though.
On the other hand you could upgrade
your standard sized brakes to fast
road spec with Mintex MDB1144 or
EBC pads, grooved discs and HEL
braided lines and then refresh the rear
while you're at it. Which of the two
options is best is down to a matter of
personal opinion.
feel this far exceeds the normal life of
such fluids. Should I carry on with the
same fluids regardless and top them
up or would you change them
instead? Thanks in advance.
on track then it could be argued that
fresh fluids would be beneficial and
would arguably be worth the cost of
replacing them. If the car was a short
term solution or is used very
sparingly, then the expense of
replacing said fluids may be deemed
a little pointless.
Extended service intervals are as
a result of fleet and private buyer
demands, bear in mind back in the
good old days of the C20LET turbo,
Vauxhall recommended oil changes
every 3000 miles. This then
changed to every 10,000 miles
with the Z20LET and then changed
to every 20,000 miles with the
Z20LEx. Fluids are the blood of a car,
changing them certainly won't do it
any harm. The actual task of
replacing these fluids is time
consuming and a bit messy so if
you don't fancy taking it on yourself
on the drive, your dealer or one of
the specialists will be only too happy
to assist.
ALL CHANGE
@
I am a regular reader of
Performance Vauxhall and
I would like to ask your
advice on the following issues: I
drive a Vauxhall Zafira VXR with
75,000 miles and Vauxhall
recommend that the coolant,
gearbox oil, and the power steering
fluid don't need to be changed at
any stage. My dealer tells me these
fluids should be checked at
regular servicing schedules and be
topped up. What would you do as I
Marvin
A
There are no recommended
replacement intervals for the
other critical fluids. What we would do
is down to personal preference. If the
car featured in our long term plans or
was extensively modified or was used
It pays to ignore the recommended
service intervals, and change fluids more
frequently, especially if you have a turbo
112 PERFORMANCE VAUXHALL
QUESTIONS & ANSWERS
BELT UP
@
I've got a Corsa with a
C20LET fitted and last week
the head gasket failed. I
stripped it down and replaced the
gasket but now that I'm putting it
back together I've hit upon a
problem with the timing belt. I've
followed all the online guides and
the Haynes manual for a 2.0 16v but
the belt is slack down the front side
and then it's too tight to go on the
exhaust cam. Or, if it does go on fine
it ends up being one tooth out. I've
tried it loads of times but it's just
not playing ball and my patience is
about to expire so gonnie help me
please!
Most of the 16V Vauxhall engines
are fundamentally the same
A
@
Guys, been told my 2006
Astra SRi's random misfire
could be down to the plugs.
Been a while since I tinkered
with cars but is this still a
straight forward task?
A
Like many models of this
era, it has a coil pack.
Remove the plastic engine cover,
take out the Torx bolts that hold
the coil pack in place, disconnect
the multi-plug, gently lift the coil
pack out, replace the plugs and
rebuild. Very simple task.
Q
mark on the crank is lined up with the
mark on the oil pump at 6 o'clock. We
always remove the auxiliary drive belt
pulley when doing belts, it's much
easier than leaving it in place…
unless it's seized on the crank.
Start by placing the new belt round
the exhaust pulley and use a peg or a
mate to temporarily hold in place.
Work down the front, go round the
first pulley and then rotate the crank
anti-clockwise by about 5degs, then
feed the belt round the crank
sprocket. Turn the crank back
clockwise on to its mark and if you've
judged it right, the belt should now be
pulled tight down the front. If so, then
go round the tensioner, water pump
and finally the inlet cam sprocket
again making sure the belt's pulled
nice and taught as you go. Set the
correct tension by turning the
tensioner cam with a 7mm Allen key
until the pointer is on its mark, nip
the 13mm bolt up and then turn the
engine over a few times by hand.
Check and readjust the tensioner if
required. Turn it over again and
ensure everything lines up. Recheck
all your bolts, fit the crank pulley,
timing cover and drive belt. If you're
still unsure, enlist some help as
timing belt errors are usually very
expensive.
options, I'm really not sure what to go
with or whether it's better to get one
made up by a specialist company. The
other issue is people have said the
standard exhaust is fine and it'd be a
waste of money and I'd be better
getting the car remapped first. Any
thoughts? Cheers.
EXHAUST-TING
Morning gents. I'm
looking at getting an
exhaust for my 2009
Corsa VXR but there are so many
Q
Ben
Tom.
The majority of multi-valve
Vauxhall belt setups are
fundamentally the same and so the
same basic process applies. The DIY
manual is fine but there are a few
things to be aware of and a few wee
tricks. Start by making sure the
rollers are fitted correctly, too tight is
as bad as too loose. Make sure the
water pump locating lug is seated in
the recess in the block and you've
used a new seal and a smear of
sealer. Next, check the automatic
tensioner is on but slack enough to
turn the adjusting cam freely with an
allen key. Align the marks on the cam
pulleys with the notches on the cam
cover and use a lock tool to hold
them in place and finally, check the
Ouick fixes
Hi there, my 2014 Insignia
has just had its flywheel
replaced under warranty. I want
to know if this can be replaced
with a standard clutch and if so,
how much would it cost?
Sav
A
The clutch isn't an integral
part of the flywheel and
whilst dual mass flywheels are
prone to wear a) it's under
warranty and b) there is no solid,
one piece replacement available.
Limited details but perhaps ask
your dealer to comment if you
feel it's failed prematurely. It's
not uncommon.
Q
Chaps, my Vectra VXR has
developed an oil leak after
it's been driven. It seems to be
towards the rear of the engine.
Any common faults or
suggestions? Cheers,
Kelly.
Umar.
There are plenty of
exhaust options for the VXR
A
As with many questions of this
nature, there is no right or wrong
answer but what we would say is
that yes, the standard systems are
fine however they are always
designed to fulfil certain parameters,
i.e noise restrictions, gas flow and
longevity. The other issues being, as
soon as you start increasing the
power you will soon find the
standard system is restricting the
gains, hence larger bore exhausts
along with pre-cat removal and
sports cats are favoured. There is no
'best' but it could be argued that a
custom system could be tailored to
your exact needs, but beware as
there are a number of shoddy outfits
out there so do some research first.
A remap is good but it's always
worth planning ahead. Fit the
hardware (intercooler, exhaust etc)
then get it mapped to get the best
possible gains.
A
The 2.8T is actually pretty
robust and even scouring
the forms didn't throw up any
common issues. Best bet would
be to clean the area with brake
cleaner, give it a run then get
under it and try and pinpoint the
source. Could be a number of
things – cam cover seals, turbo,
crank seal etc.
Q
I've almost finished doing a
top end rebuild on my
Z20LET however I've just been
asked if I want stretch bolts for
the head. I wasn't aware there
was a choice… so, what's the
score?
Daniel.
A
Honestly… we're with you on
that one. Most GM
applications use stretch bolts,
hence they need to be torqued
down in specific stages. If in
doubt, give the chaps at
Autovaux a shout and they get a
set out to you in double quick
time.
PERFORMANCE VAUXHALL 113
Q&A
Ouick fixes
CRACK PIPE
@
Guys… I've got a weird issue
with the intercooler and top
pipe on my Astra VXR. The
car has a Forge front mount fitted
and a mate of mine made me up
some stainless steel boost pipes
which run up beside the battery and
to the top hat with an enlarged EDS
one. It was fine for ages but then it
cracked one of the welds on the
pipes so I had it fixed and now it's
split the top hat. I've checked that
everything is secure so I can't
understand what will be moving and
causing the cracks? My local garage
are no use but have confirmed the
engine mounts are fine. I'm stumped!
Silicone joiners
can actually be
beneficial for
boost pipes
A
Yes, you'll be fine with a pair
of good quality discs though
expect them to wear a bit faster
then they would when using
standard pads. Braided hoses
improve pedal feel so are worth
considering and whilst you're at
it, do a brake fluid change.
Q
A
In line oil filters for turbos?
Yes or no guys! Craig.
In normal applications, you
really shouldn't need one.
We'd be tempted to use a very
good grade oil and change it
regularly. A lot of the turbo guys
recommend changing it every
5,000 miles.
A
especially if you fit the Powerflex insert
to the front lower bush but bear in
mind, poly bushes can increase
harshness and vibration… which isn't a
huge issue but just something to be
aware of. The same applies to
exhausts, they do need an element of
give or else you'll stress the system
and it'll fail at the weakest point.
Cheers.
I do anything to sort it? Thanks.
about the front here!) which means the
wheels tip in more at the top. The
other issue with excessive lowering is
the steering arms out of the rack would
normally sit parallel to the ground but
as you go lower, the arms start to
angle up… in turn this shortens their
reach which in turn creates a bigger
toe out angle, ie the wheels are no
longer parallel to each other.
Bump steer is a by-product of this
change in reach and increase in
steering angle. In essence, as the
suspension compresses down while
you drive, the wheel moves up,
negative camber increases, the
steering arm angles up, shortens the
reach and increases the steering angle.
The solution is to try and keep the
steering angles level, even when the
car is lowered. Some people move the
rack down. Some people fit the track
rod ends under the hub mounts rather
than on top. The pros will use bespoke
fabricated rose jointed track rod ends
and extension pieces. Sounds
technical and it is… as a result it's not
something to be taken lightly. Seek
advice, buy the best as getting it
wrong could be fatal in extreme cases,
so we'd say leave it be. It's an issue but
you'd struggle to notice it on the road
or on a track day.
MR BUMP
@
Hi lads. I'm putting the
finishing touches to my Astra
GSi Turbo track car and
having just fitted GAZ coilovers and
had them set up and the car corner
weighted, the guy at the alignment
centre said I might suffer bump steer
because it's now quite low. He then
went off on a rant about steering
inclination angles and increased toe
wear and I was like "What…?" but is
this something to be aware of and can
Dev.
A
Honest answer…. get Googling!
Steering angles and the like are a
pretty complex topic so nigh on
impossible to explain so some
diagrams and Youtube videos will
enlighten you, but basically, the more
you lower a car, the more negative
camber you introduce (unless it has a
solid rear beam, but we're talking
Lowering a car properly isn't as
simple as bolting parts on
114 PERFORMANCE VAUXHALL
I'm thinking of a brake
upgrade for my Astra VXR.
Would fast road pads be ok with
the standard discs and also, are
braided hoses worth the
investment? Thanks in advance,
Callum.
Matt.
Without knowing the exact setup
up you have it's hard to say for
sure but we've seen issues like this
before with solid boost pipes. It's not
so much the pipes, it's the fact the
cooler and pipes are fixed but the
engine is moving and thus,
something will give. The solution
would be to add a couple of extra
silicone sections and don't clamp the
boost pipe to the body. You'd be
amazed at how much an engine will
move under load so even with good
mounts, there can still be a good
couple of inches of movement. Poly
mounts will help reduce movement,
Q
STUD MUFFIN
@
I have 1997 Calibra 16v and
have bought Astra Turbo
wheels on the internet. My
Calibra is 4-stud and the wheels are
5. I know the wheels will fit because
I have my 17in wheels with a
215/45x17 tyre now. How difficult
would it be to change to have the
5-stud and what parts would I use?
Lukas
A
Your Calibra, like Cavaliers, Mk3
Astras, Novas and Corsas will
have a PCD (pitch circle diameter) of
4 x 100mm and the Astra Turbo
alloys you have bought will have a
PCD of 5 x 110mm, the same as
Vectras, Cavalier Turbo and V6, Mk4
Astra etc. The Astra Turbo wheels
are 7.5x17 (7.5 wide, 17 diameter)
with an ET47 (47mm offset) and
came as standard with 215/40/x17
tyres.
You will need to convert the
Calibra from 4-stud hubs to 5 and
then the Turbo alloys will bolt on.
The Calibra is relatively simple to
convert. A Cavalier Turbo or Calibra
V6 will be the ideal donor car as you
can remove the entire 5-stud front
strut assembly and bolt it directly to
your car. At the rear, you can fit the
hubs from the Cav Turbo or Calibra
V6/Turbo or you could swap the
entire rear trailing arms, though
this is quite a big job. These 5-stud
conversion parts are getting quite
difficult to find these days but try
the likes of Migweb, Club Calibra or
the Cavalier pages on Facebook.
BRAKE PADS ­ Choose from grippy Greenstuff for spirited use on lighter
hot hatches, Redstuff for fast street on medium weight cars, Yellowstuff for
all out grip and track use on lighter cars or Bluestuff for the ulQmate street
and trackday pad that has set the Impreza and EVO community buzzing.
Latest compound is the Orangestuff full race grade pads.
THREE SPORT DISC CHOICES
WANT A QUALITY DAILY DRIVER PAD?
Try the new UlQmax 2 premium replacement pad.
✓ The world's first and only true ECO friendly pad
✓ Great brake feel for everyday driving and
✓ A new lower price point
GD series sloOed and dimpled (black) for fast street,
USR fine sloOed (black) or new high carbon BSD
series BLADE discs (silver) for fastest street and
track day use. For daily driver cars the EBC premium
OE replacement discs are a great choice with a
superb price point and great value for money.
EVERYONE
LOVES THAT
FAST CAR
SMELL.
NOW ANYTIME CAN BE GO-TIME.
K&N® high-flow air filters are designed to increase
horsepower with up to 50% more airflow.
And with five-minute installation, better performance
doesn't get much easier. Order yours online today.
KNFILTERS.COM
SUPERIOR AIRFLOW. SUPERIOR PERFORMANCE.™
STAFF
CARS
What we've done with
our cars this month
THE TV FLEET/THIS ISSUE
JULIAN VECTRA C 1.8VVT
DAVE CAVALIER TURBO
BOUGHT 2013
STATUS The MoT's good for
another year now and the
front wheels are now facing
the right way!
BOUGHT 2003
STATUS Ah, excuses
excuses – yet another
month has passed with no
activity.
DAN FURR IRMSCHER MV6
JAMIE CARLTON
BOUGHT 2014
STATUS The MV6 nears
completion with some engine
work and new screen.
BOUGHT 2012
STATUS Jarkle's still at
something of a stalemate
with the Carlton. Progress
soon hopefully!
DAN FURR MV6
WINDOW SHOPPING
B
uying car parts through
necessity rather than choice can
be a frustrating exercise, but
almost every failed, tired or broken
automotive component presents an
opportunity to upgrade with a vastly
improved replacement item (that's what
I've been telling myself, anyway!). A
prime example of this train of thought
comes in the form of my MV6's nifty
new windscreen.
I noticed a hairline crack stemming
from a delaminating nearside bottom
corner of the car's factory glass while I
was tidying the engine bay. Spreading
at an alarming rate, the damage was
soon making its way up and across the
body of the windscreen. As I had no
choice but to source a suitable
replacement, I softened the blow by
getting hold of new glass complete
with fittings for a variable speed
windscreen wiper rain sensor kit. A
kindly Vectra C donated its rain sensor,
interior mirror, wiring and plastic
housing to the cause, and I'm looking
forward to seeing this novelty feature in
action as soon as the car is up and
running.
Talking of which, I've been sourcing
plenty of new parts for the MV6's
Y32SE engine; both cylinder heads
have been stripped, cleaned and rebuilt
with new valve stem seals, and I
enlisted the assistance of the guys at
Injectortune when it came to refreshing
the 3.2-litre lump's Bosch fuel injectors.
Over time, dust particles and other
contaminants can cause injectors to
run below their full potential, and spray
patterns can be vastly affected by loose
matter floating around a car's fuel
system. Injectortune stripped,
ultrasonically cleaned and rebuilt each
of my injectors (complete with new
filters and o-rings) before shipping
them back to me with a 'before and
after' report highlighting the improved
static flow of each unit. Better still, a
forward leak detected on injector
number two has now been completely
eradicated thanks to this excellent
cleaning process, and I already know
Refreshed injectors
courtesy of Injectortune
Y32SE heads have been stripped,
cleaned and rebuilt
116 PERFORMANCE VAUXHALL
that smoother engine operation and
quicker response is a given thanks to
the exact same work carried out on the
injectors of my V6-equipped Mk3
Cavalier CDX a few years ago. Nice!
Meanwhile, parts continue to pile up
as I tinker: a new GM header tank, oil
cooler kit, throttle body gaskets, oil
filter screw plug, coolant temperature
sensor, double layer steel head gaskets
and various performance filters and
fluids are ready to roll, as are the car's
Falken-wrapped refurbished 18in
staggered Irmscher Sport Stars. I've
also been amassing a collection of
interior upgrades (including a Signum
Elite in-car refrigerator, a factory-option
double DIN head unit with integrated
satellite navigation and a full-colour
information dash display) and I'm
determined to fit a variety of trick
Monaro VXR suspension parts to the
car. I suppose I'd better crack on, eh?!
New screen will be kitted out
with rain sensing wipers
THANKS
Injectortune
www.injectortune.co.uk
Not long now before it's running
under it's own steam. Dan can't wait!
PERFORMANCE VAUXHALL 117
STAFF
CARS
JULIAN VECTRA C 1.8VVT
MOT PHOBIA?
A
h yes, the annual nail-biting
marathon commences once
again. There were the usual
groundless fears, imagined issues and
potential pitfalls. Surely the Vectra
can't wing it through again without a
problem? I had checked everything I
reasonably could without access to a
ramp to check the car fully underneath,
but I still had one fear which was the
whirring whiney noise coming from the
front nearside. Various second opinions
and checks had so far come to nought,
but I had noticed the N/S front tyre had
worn somewhat on the Proxes'
shoulder, and more general wear right
across the tread than on the opposite
wheel, which suggested something not
right. The Vectra is very much guilty of
some freakish tyre noises when they're
worn (I remember the low rear tyres not
long after I bought the car that had me
totally convinced there was a wheel
bearing going), so with that in mind I
switched the front tyres over before the
recent MoT, not by way of trying to con
anyone you understand, but in the
interests of evening out wear.
Test day came and I sweated it out in
the garage's reception expecting bad
news. There wasn't any! Really? Yes, a
somewhat worn, now offside, front tyre
was the only advisory. I all but blurted
out "Are you sure that's all?" Following
Putting the wonky wheels
straight, or tracking, as
it's sometimes known
this non-event I went and got the
tracking checked at Bathwick Tyres,
Midsomer Norton branch and
unsurprisingly it was discovered that
the front wheels were toeing in, which
might explain the tyre wear. But that
noise? Well, it's certainly abated
somewhat, but still to be heard on
occasions. Ah well, no-one's found
anything life-threatening, so I'll keep an
eye, or ear out for that one, not to
mention fingers crossed.
Apart from that, there have been the
usual minor issues to sort, and a very
long-awaited oil change – too long
really. My main problem was access to
the underside of the car, and not
having the old company workshops any
longer at my disposal, I need an
alternative. I paid a visit to good old
eBay and purchased a pair of Cougar
steel ramps – the wide ones, which are
about the right fit for the width of
Vectra's tyres (the 'standard' ones must
be made for Model T Fords or
something!). Unfortunately they were
MoT inspector has a bit of a
tap around under the Vectra,
to check it's still there
not the right angle and height to drive
the Vectra onto without first removing
the bumper either purposely or
otherwise. I already knew the ramp
extensions were a distinct possibility,
so I purchased those too – for 'low
clearance cars'. Seriously?! It's a
standard Vectra! Oh well, they do the
job just fine and an oil change was duly
effected while managing to destroy a
small (and cheap) socket wrench while
trying to remove the Torx-fit sump plug.
A can of engine flush was added and I
emptied the old slops into a large
plastic paint bucket – which I then had
to very tediously funnel into one of the
used oil packs for disposal.
At least the ramps have been a
blessing and I can access and check
much more of what's happening or
going wrong under the car. Wish I'd
remembered to check the N/S front
foglight while I was under the car doing
the oil change. The lamp housing has
been harbouring condensation for
some time, but still working okay. So
having forgotten to check it while under
the car, only a matter of days later I got
the warning on the display panel and
bulb warning on the dash for that
foglight bulb! Anyway, with the car back
on the ramps once more, I wriggled
underneath, extracted the lamp
housing from the bumper from behind
(the Haynes manual says to remove the
bumper!). It was a bit of a fiddle as
there's one bolt over the top of the
housing that you can't see from
beneath, so that was done largely by
feel and some cursing. And... the bulb
looked absolutely fine to me, but after
some checking over the unit, I found
the male terminals for the external plug
connection were corroded, and after a
quick scrape with a screwdriver, all
appears well. For now anyway.
Cougar ramps, do the job
Swapping wheels,
checking brakes and stuff
118 PERFORMANCE VAUXHALL
samcosport.com
Photo Credits: Tony DeSantis (Focal-Photo.com) Jimmy Crook (Crookslife.com)
Performance Silicone Hose Kits
SamcoSport hoses are developed, used and trusted by the
world's best teams and drivers. This means you can rely
on SamcoSport to perform every time you drive and with a lifetime
warranty, it is a true fit & forget product. Each kit is designed and
developed by an in-house team of engineers who use only original
factory parts as guides to ensure design accuracy and fitment.
WE ARE
SILICONE
HOW TO BUY YOUR SUBSCRIPTION
PRINT EDITION: COMPLETE THE ORDER FORM BELOW
DIGITAL EDITION: pktmags.com/performancevauxhall
!YES! I WOULD LIKE TO SUBSCRIBE TO PERFORMANCE VAUXHALL MAGAZINE
DELIVERY / PAYERS DETAILS
Mrs/Ms/Miss/Mr ............... Forename .............................................................
Surname ........................................................................................................
Address ..........................................................................................................
......................................................................................................................
.................................................................... Post / Zip code .........................
Country ..........................................................................................................
Daytime phone ............................................. Mobile ......................................
Email ..............................................................................................................
GIFT DELIVERY DETAILS
Mrs/Ms/Miss/Mr ............... Forename .............................................................
Surname ........................................................................................................
Address ..........................................................................................................
......................................................................................................................
.................................................................... Post / Zip code .........................
Country ..........................................................................................................
Daytime phone ............................................. Mobile ......................................
BEST UK DEAL BEST UK DEAL BEST UK DEAL
I WISH TO PAY BY DIRECT DEBIT (UK ONLY)
£27.00 taken every 12 months PLUS FREE BEADING MARVELLOUS
Instructions to your Bank or Building Society to pay by Direct Debit
Name of Bank ................................................................................................
Address .........................................................................................................
................................................................ Postcode ......................................
Account name ...............................................................................................
Sort code
Account number
2 EASY OPTIONS...
OFFER 1. DIGITAL EDITION
FREE PERFORMANCE
VAUXHALL MAGAZINE APP
AND SAMPLE ISSUE
PAY JUST £16.99
FOR 6 ISSUES
AND SAVE 5%*
HYBRID
STROKED
CORSA
UNIQUE Z18LER
SHOW REPORT
HYBRID VXR
AUGUST/SEPTEMBER 2015 £4.50
Signature ........................................................ Date ....................................
Originator's Id number
8 3 7 3 8 3
Direct Debits from the account detailed in this instruction subject to the safeguards
assured by the Direct Debit guarantee. I understand that this instruction may remain
with Kelsey Publishing Ltd. and, if so, details will be passed electronically to my Bank
or Building Society.
PAY BY CHEQUE / DEBIT / CREDIT CARD
AWESOME
VXR'D VAN
400bhp Z20LEH
powered load
lugger!
TRANSPLANT TRIO
3 GREAT CARS, 3 GREAT ENGINE SWAPS
SAAB B204
CAV SRi
UK: 12 issues at £54.00 SAVING 10% £48.60 PLUS FREE BEADING MARVELLOUS
Turbo-swap
Cavalier
AWESOME
VXR'D VAN
400bhp Z20LEH
powered load
lugger!
PRINTED IN THE UK
£4.50
Replica rally racer with a YB!
CORSA
BUYING
GUIDE
Owning, tuning &
LANT TRIO
TRANSP
PLUS!
AWESOME LET NOVA MAD
KADETT PICK-UP WRAPPING
EXPLAINED READER RESTO
COSSIE
ASCONA 400
COMBE ACTION, AND MORE…
3 GREAT CARS, 3 GREAT ENGINE SWAPS
Please debit my
Visa
Visa Debit
MasterCard for £...................
SAAB B204
CAV SRi
Turbo-swap
Cavalier
Replica rally racer with a YB!
PRINTED IN THE UK
£4.50
modifying the 16v
AUGUST/SEPTEMBER 2015
I enclose a cheque for £........... made payable to Kelsey Publishing Limited (drawn from a UK account)
HYBRID VXR
AUGUST/SEPTEMBER 2015 £4.50
COSSIE
ASCONA 400
AUGUST/SEPTEMBER 2015
REST OF WORLD: 6 issues at £36.99 SAVING 10% £33.29 (NO GIFT)
HYBRID
STROKED
CORSA
UNIQUE Z18LER
SHOW REPORT
USA / EUROPE: 6 issues at £33.99 SAVING 10% £30.59 (NO GIFT)
CORSA
BUYING
GUIDE
Owning, tuning &
modifying the 16v
PLUS!
AWESOME LET NOVA MAD
KADETT PICK-UP WRAPPING
EXPLAINED READER RESTO
COMBE ACTION, AND MORE…
Card number
Security number
*5% saving based on digital cover price
of £2.99 per issue.
Valid from ............ / ............ Expiry date ............ / ............
Signature ............................................................. Date ...................................
(UK ONLY) PLEASE SEND COMPLETED FORM TO:
FREEPOST RTKZ-HYRL-CCZX, Performance Vauxhall, Kelsey Publishing
Ltd., Cudham Tithe Barn, Berry's Hill, Cudham, Kent, TN16 3AG
AVAILABLE ON
THE APP STORE AND
POCKETMAGS.COM
(INTERNATIONAL ONLY) PLEASE SEND COMPLETED FORM TO:
Performance Vauxhall, Kelsey Publishing Ltd., Cudham Tithe Barn,
Berry's Hill, Cudham, Kent, TN16 3AG, UK
TVXP1115
PHONE TOLL FREE FROM USA:1-888-777-0275 (7am-3pm EST)
INTERNATIONAL ONLY PLEASE CALL: 0044 (0)1959 543 747
*FREE gift subject to availability, we reserve the right to offer an alternative product at the same or higher retail value. On
receipt of your order your free gift will be delivered within 25 working days. Offer/prices available until 27th November
2015. Kelsey Publishing Ltd., uses a Multi Layered Privacy Notice giving you brief details about how we would like to
use your personal information. For full details visit www.kelsey.co.uk or call 01959 543524. If you have any questions
please ask as submitting your data indicates your consent, until you choose otherwise, that we and our partners may
contact you about products and services that will be of relevance to you via direct mail, phone, email and SMS. You
can opt-out at ANY time via email on [email protected] or call 01959 543524.
Search for: performance vauxhall
SUBSCRIBE TODAY
WHICH ONE SUITS YOU?
OFFER 2. UK PRINT EDITION WITH FREE GIFT
FREE BEADING MARVELLOUS
CARNUABA WAX
FREE
The Valet Pro Beading Marvellous is very simple and easy to use, and
has a reputation for its gorgeous smell. Simply swipe a buffer pad across
and apply to your already cleaned paintwork. Leave it for a few minutes,
then buff off for a mirror finish. It's a win – win situation; you get your
favourite magazine every month and your car gets a treat too!
WORTH
£35
HYBRID
STROKED
CORSA
Z18LER
UNIQUE
HYBRID VXR
SHOW REPORT
AUGUST/SEPTEMBER 2015 £4.50
AWESOME
VXR'D VAN
400bhp Z20LEH
powered load
lugger!
RIO
TRANSPLANT T
3 GREAT CARS, 3
PS
GREAT ENGINE SWA
PAY FROM JUST
SAAB B204
CAV SRi
£27.00
Turbo-swap
Cavalier
COSSIE
ASCONA 400
a YB!
AUGUST/SEPTEMBER 2015
PRINTED IN THE UK
£4.50
Replica rally racer with
CORSA
EVERY 12
MONTHS
PLUS!
AWESOME LET NOVA MAD
KADET T PICK-UP WRAPPING
EXPLAINED READER RESTO
COMBE ACTION, AND MORE…
BUYING
GUIDE
Owning, tuning &
modifying the 16v
3
EASY
WAYS
TO
ORDER
1
2
ONLINE
shop.kelsey.co.uk/tvx
POST
Fill in the form and send to: FREEPOST RTKZ-HYRL-CCZX,
Performance Vauxhall Subscriptions, Kelsey Publishing Ltd.,
Cudham Tithe Barn, Berry's Hill, Cudham, Kent, TN16 3AG
3 0845 241 5159
CALL OUR SUBSCRIPTION TEAM
UK only and quote offer code TVXP1115
Hotline open: Mon - Fri 8am - 6pm. Please note that calls are charged at your local rate, for further information please check with your service provider.
FACEBOOK CARS
Upload your car and we might print it in the mag!
SHOW US YOUR
FACEBOOK FAVES
Want to see your car in PV? Well it just got
even easier.
Simply take a nice, non-blurry,
un-watermarked image that's reasonably large,
then upload it to our Facebook page. We'll pick
our favourites at the end of the month and print
them next issue.
Please DO NOT send us photos via private
message, we won't be able to repost them
for you.
David Pablo Wilkinson
To post a picture from
a smart phone or tablet:
● Go to the Total Vauxhall page
● Scroll down and click on 'share photo'
● Choose your pic and select 'done'
To post a picture from
a laptop/computer:
● Go to the Total Vauxhall page
● Click on 'Photo/Video'
● Click on the '+' and choose your photo
Steve Lacey
Nicolas Guldemont
122|PERFOMANCE VAUXHALL
Dave Cashmore
Dave Somerville
Nick Brouwer
Duncan Wyatt
Matthew Prior
Matt Owen
Martin Brouw Pedersen
Chris Cowling
PERFORMANCE VAUXHALL|123
FACEBOOK CARS
Matt Reid
Matthew Maff James
Tom Spencer
Daniel Medlicott
Ryan Milne
Andi Bahr
Uwe Gollnick
Ashley 'Dunny' Dunn
124|PERFOMANCE VAUXHALL
Stephen Wykes
Andrew Lowis
Steven Mcbride
Sue Clarke
Shaun Pontin
Chris Bergman
PERFORMANCE VAUXHALL|125
e
c
n
a
r
u
s
n
I
l
l
a
Vauxh
YEARS
L LENC E
O F E XC E
Benefits available include:
Agreed Value
Modified Cover
FREE Legal Cover
Club Member Discounts
Breakdown Cover
Limited Mileage Discounts
Specialist Car Insurance
Adrian Flux know how much you love your Vauxhall, which is why
we are dedicated to finding you an insurance policy tailored to
your own personal requirements and driving history.
Call us today for a free, no obligation quote.
0800 081 8989
Authorised & regulated by the Financial Conduct Authority
NEXT ISSUE...
DEC/JAN
ISSUE ON SALE
NOV
20TH
DRAG
NOVA
IT DOESN'T GET ANY MORE
EXTREME THAN THIS!
RALLY DAY
REPORT
2015
UP CLOSE AND
PERSONAL WITH
RALLYING LEGENDS
INCLUDES:
AWESOME BTCC CAVALIER
500BHP ZARIFA!
COURTENAY SPORT
ROLLING ROAD DAY
MANTA READER RESTO
PLUS LOADS MORE...
All information correct at time of going to press, but Jarkle has decided to sell up and go and fight against ISIS. He's taken a Webley Tempest and a month's supply of CurlyWurlys to keep him going, so he should be just fine.