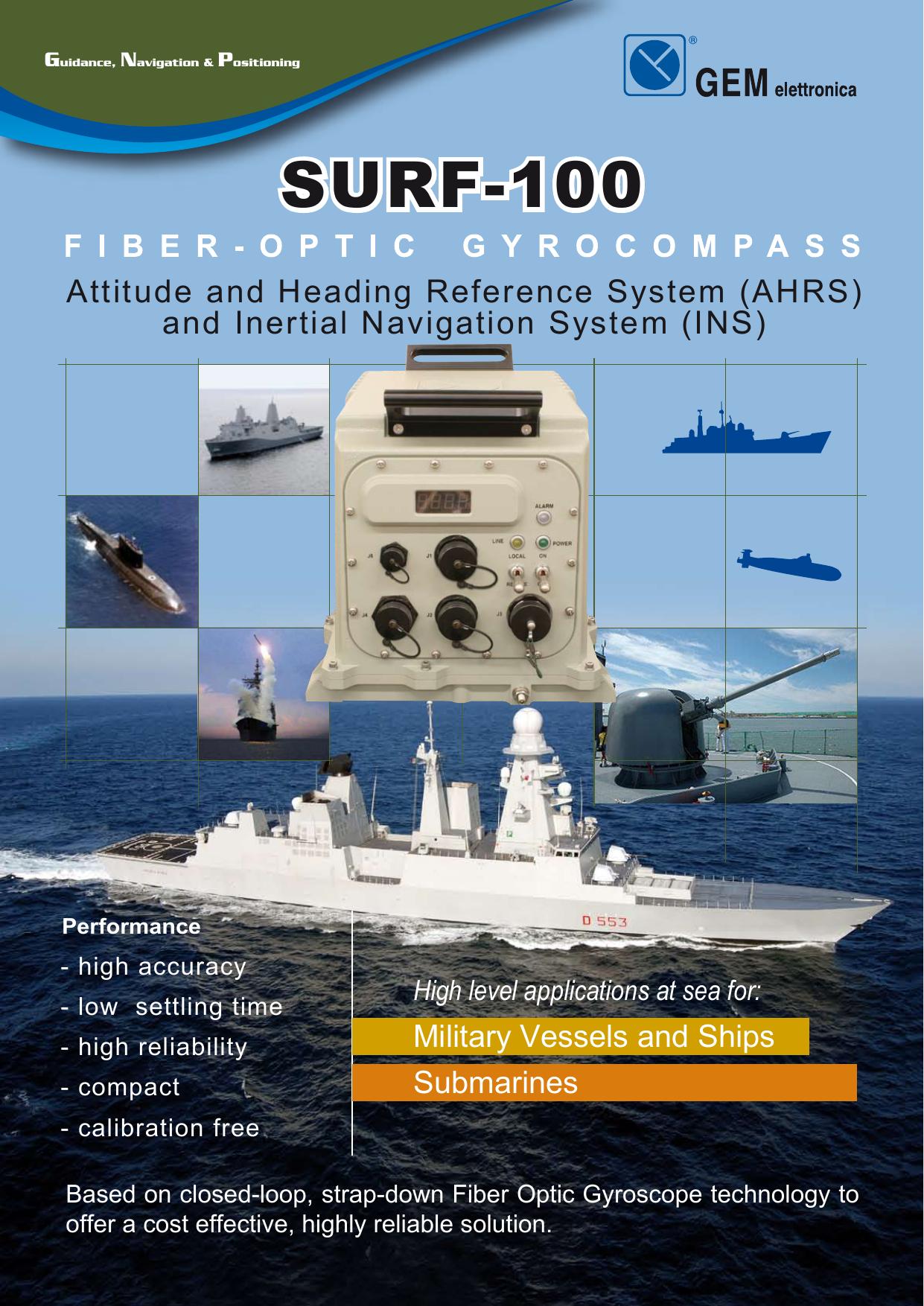 Guidance, Navigation & Positioning
SURF-100
Attitude and Heading Reference System (AHRS)
and Inertial Navigation System (INS)
Performance
- high accuracy
- low settling time
- high reliability
- compact
High level applications at sea for:
Military Vessels and Ships
Submarines
- calibration free
Based on closed-loop, strap-down Fiber Optic Gyroscope technology to
offer a cost effective, highly reliable solution.
SURF-100
Technical data
AHRS General features
INTERFACES
Settling time:
Full accuracy settling time:
Ship speed range:
Follow-up speed
(Roll, Pitch, Heading):
Output serial:
Input serial:
I/O serial Display:
Output protocol:
I/O type:
USB
Wireless (optional)
Ethernet LAN:
Input pps or pulse log
RF Input for internal GPS/Galileo receiver:
Synchro output (optional)
< 5 min. (in port)
< 20 min. (all sea conditions)
- 20 kn < V < 70 kn
< 40°/s
AHRS Accuracies
Heading
< 0.05° sec (lat) rms no GPS aiding
< 0.01° sec (lat) rms with GPS aiding
Roll / Pitch
< 0.01° rms
Heading resolution 0.01°
Roll/Pitch resolution 0.005°
AHRS Range
Heading
Roll/Pitch
Synchro input (optional)
0° ÷ 360°
± 45°
ENVIRONMENTAL FEATURES
INS accuracy - pure inertial
Position
Heave
Velocity
1Nm/12h CEP
0.05 m or 5% (whatever is bigger) rms
< 0.3 kt rms
Operating temperature
Storage temperature
Damp heat
Vibrations
Shock
Waterproof
Electromagnetic interference
MTBF
POWER SUPPLY
Voltage:
Power absorption:
Protection:
6 serial lines up to 100 Hz (200 Hz optional)
2 serial lines up to 100 Hz (200 Hz optional)
1
NMEA 0183, binary
Serial RS232 and RS422
2 USB 2.0 Host
USB dongle for Wi-Fi, Bluetooth, modem HSDPA
N. 1 available
N. 2 available
N. 2 available
Attitude output: 115V AC, 400 Hz
Heading: 1x and 36x
Roll and Pitch: 2x and 36x or 4x and 36x
Log speed input: 115V AC, 400Hz
0° C ÷ 55° C
-40°C ÷ 80°C
up to 95% at 40° C
MIL-STD -167-1A (type 1)
MIL-STD-901D (grade A, type A, class II)
in accordance with IP66 standard
MIL-STD-461
≥ 50000 hours
24 Vdc
115V 400 Hz Vac (optional for Synchro I/O)
< 40 W
against over-voltage, low voltage and inversion of polarity
dimensions in mm
This brochure should not be considered a contractual offer to sell. The specifications given herein may be changed by the manufacturer, GEM elettronica S.r.l., without notice.
[email protected]
www.gemrad.com
© May 27, 2016
Weight: 27 kg.

* Your assessment is very important for improving the work of artificial intelligence, which forms the content of this project