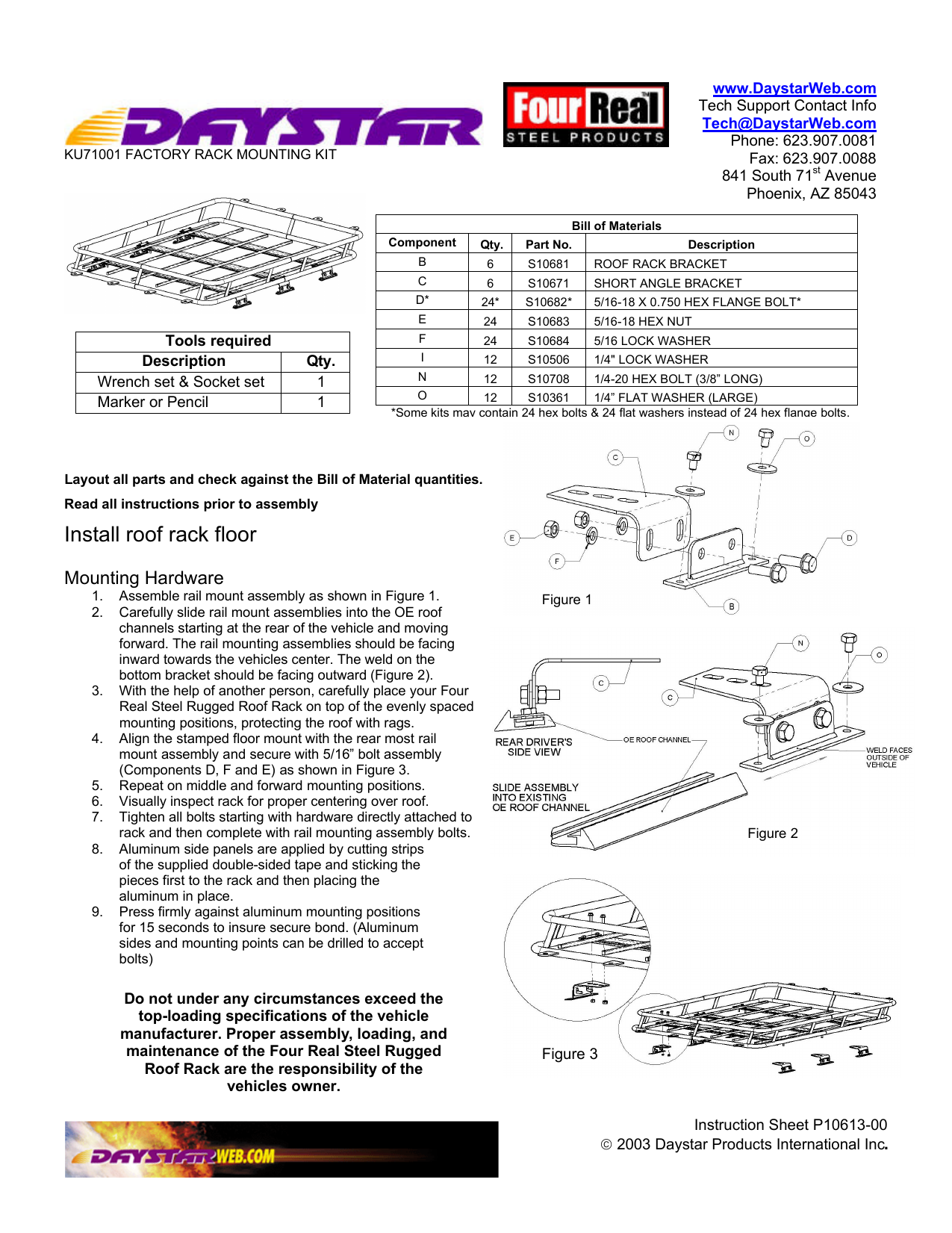 www.DaystarWeb.com
Tech Support Contact Info
[email protected]
Phone: 623.907.0081
Fax: 623.907.0088
841 South 71st Avenue
Phoenix, AZ 85043
KU71001 FACTORY RACK MOUNTING KIT
Bill of Materials
Tools required
Description
Wrench set & Socket set
Marker or Pencil
Qty.
1
1
Component
Qty.
Part No.
B
6
S10681
ROOF RACK BRACKET
Description
C
6
S10671
SHORT ANGLE BRACKET
D*
24*
S10682*
5/16-18 X 0.750 HEX FLANGE BOLT*
E
24
S10683
5/16-18 HEX NUT
F
24
S10684
5/16 LOCK WASHER
I
12
S10506
1/4" LOCK WASHER
N
12
S10708
1/4-20 HEX BOLT (3/8" LONG)
O
12
S10361
1/4" FLAT WASHER (LARGE)
*Some kits may contain 24 hex bolts & 24 flat washers instead of 24 hex flange bolts.
Layout all parts and check against the Bill of Material quantities.
Read all instructions prior to assembly
Install roof rack floor
Mounting Hardware
1.
2.
3.
4.
5.
6.
7.
8.
9.
Assemble rail mount assembly as shown in Figure 1.
Carefully slide rail mount assemblies into the OE roof
channels starting at the rear of the vehicle and moving
forward. The rail mounting assemblies should be facing
inward towards the vehicles center. The weld on the
bottom bracket should be facing outward (Figure 2).
With the help of another person, carefully place your Four
Real Steel Rugged Roof Rack on top of the evenly spaced
mounting positions, protecting the roof with rags.
Align the stamped floor mount with the rear most rail
mount assembly and secure with 5/16" bolt assembly
(Components D, F and E) as shown in Figure 3.
Repeat on middle and forward mounting positions.
Visually inspect rack for proper centering over roof.
Tighten all bolts starting with hardware directly attached to
rack and then complete with rail mounting assembly bolts.
Aluminum side panels are applied by cutting strips
of the supplied double-sided tape and sticking the
pieces first to the rack and then placing the
aluminum in place.
Press firmly against aluminum mounting positions
for 15 seconds to insure secure bond. (Aluminum
sides and mounting points can be drilled to accept
bolts)
Do not under any circumstances exceed the
top-loading specifications of the vehicle
manufacturer. Proper assembly, loading, and
maintenance of the Four Real Steel Rugged
Roof Rack are the responsibility of the
vehicles owner.
Figure 1
Figure 2
Figure 3
Instruction Sheet P10613-00
 2003 Daystar Products International Inc.

* Your assessment is very important for improving the work of artificial intelligence, which forms the content of this project